This Vegan Cannelloni is filled with a blend of spinach, vegan ricotta, and basil for a family-friendly meal that's bursting with Italian flavors! Not only is this dish healthy and oil-free, but it's perfect for dinner parties and meal prep.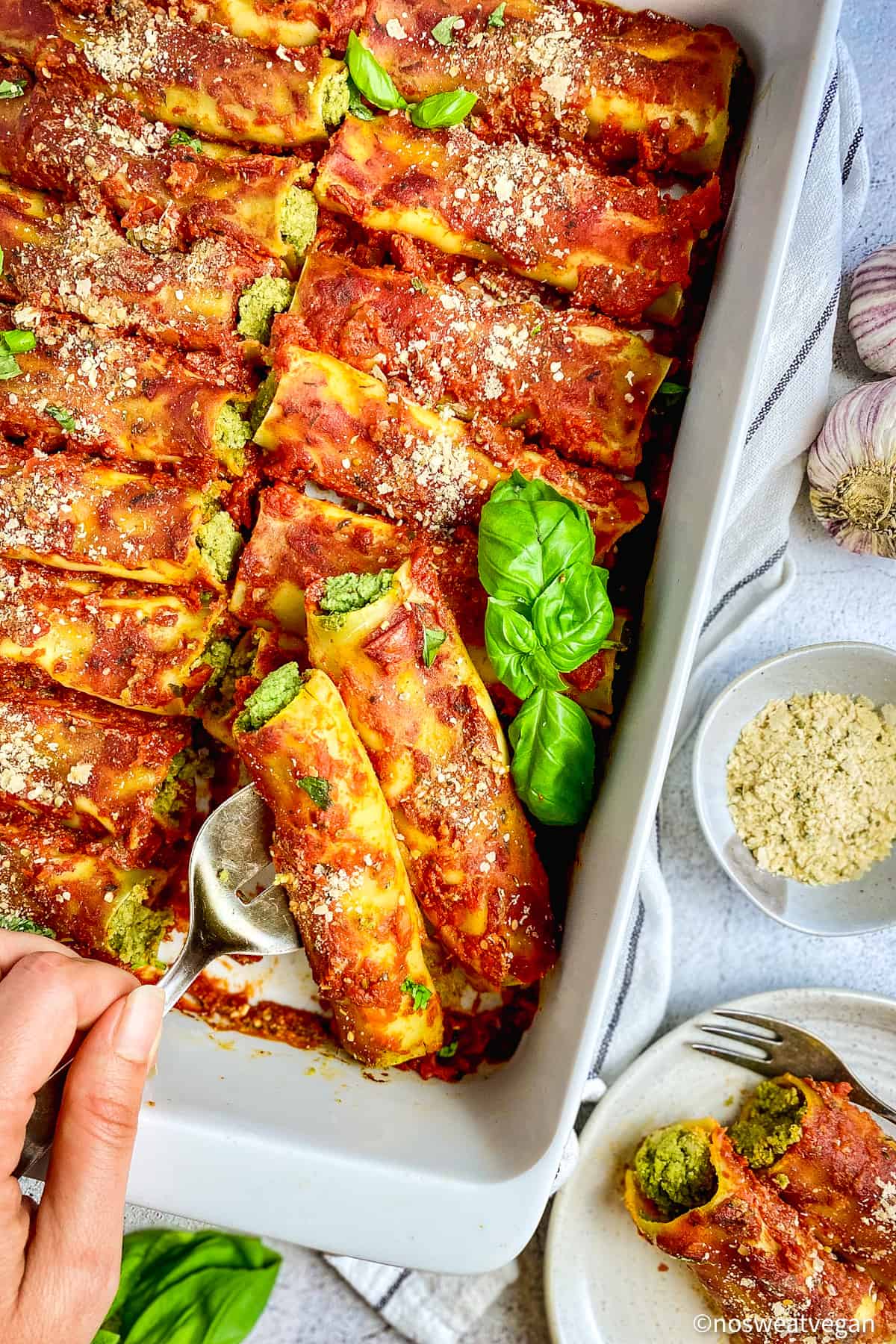 If you know me, you know I love Italian food--and who can blame me! Not only are dishes like this Vegan Cannelloni super flavorful and comforting, but they're also family favorites. You really can't go wrong.
The stuffing for this veggie cannelloni is made with spinach and vegan ricotta--and it's absolutely delicious! It's reminiscent of pesto and is prepared like the filling in my Vegan Stuffed Mushrooms recipe, so if you're into it, give that one a try, too.
I really can't say enough about how much I enjoy this vegan pasta bake. It might be a little extra work up front, but once it's in the oven, you can just sit back and relax. This cannelloni is ideal for make-ahead meals and dinner parties. You could even serve this as the centerpiece of your vegan Christmas dinner! (With these Christmas Sprinkle Cookies as dessert!)
This spinach ricotta cannelloni is healthy, kid-friendly, and delicious. The whole package, you could say. I hope you love it as much as I do!
Jump to:
You'll love this recipe because it's:
Quick & Easy
Vegan / Vegetarian
Dairy-free
Can be WFPB (use whole wheat pasta)
Oil-free (use the linked recipes for ricotta and marinara)
Perfect make-ahead meal
Great for holidays and dinner parties
Absolutely Delicious!
---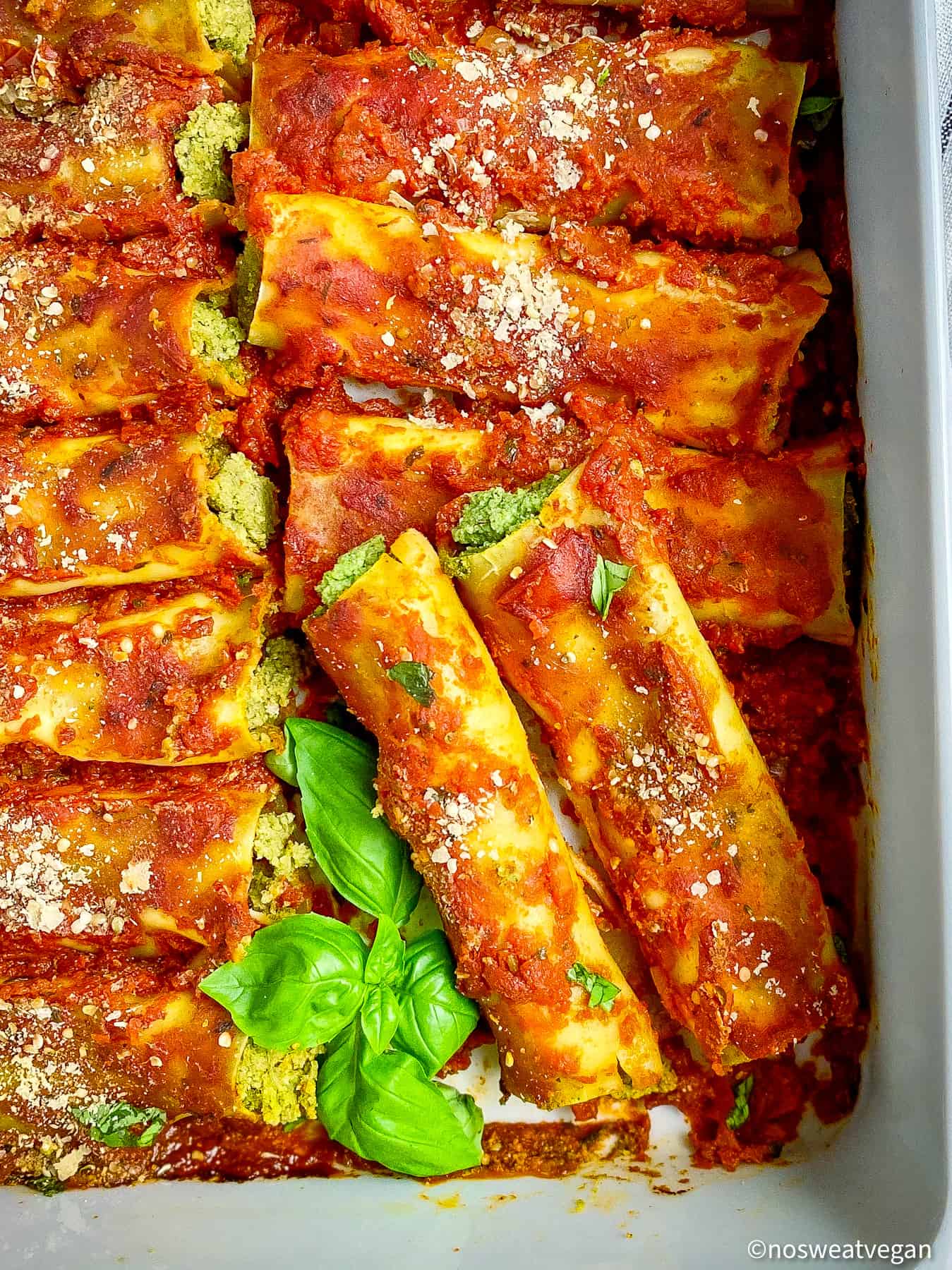 What is Cannelloni?
Cannelloni are long tubular pasta similar to manicotti but without the ridges.
Cannelloni falls into the category of Baked Pasta. It's is a fun and meal-prep-friendly way to serve pasta. It also works well for big groups and potlucks. Unlike my Vegan Baked Feta Pasta dish, this one requires a little more upfront effort, but once it's in the oven, your work is done.
Can this be gluten-free?
To make this gluten-free you just need to use gluten-free pasta.
Can this be nut-free?
To make this nut-free, you would need to use nut-free vegan ricotta. You can try substituting sunflower seeds for the almonds in this vegan ricotta recipe. Alternatively, you could make tofu ricotta or buy nut-free vegan ricotta from the store.
Can I use a food processor?
You can definitely use a food processor instead of a blender to make the ricotta and spinach filling. However, the texture will be different (less fully blended). Unfortunately, you can't use a food processor to make the almond ricotta, so if you're making it all from scratch, just stick with the blender for the filling.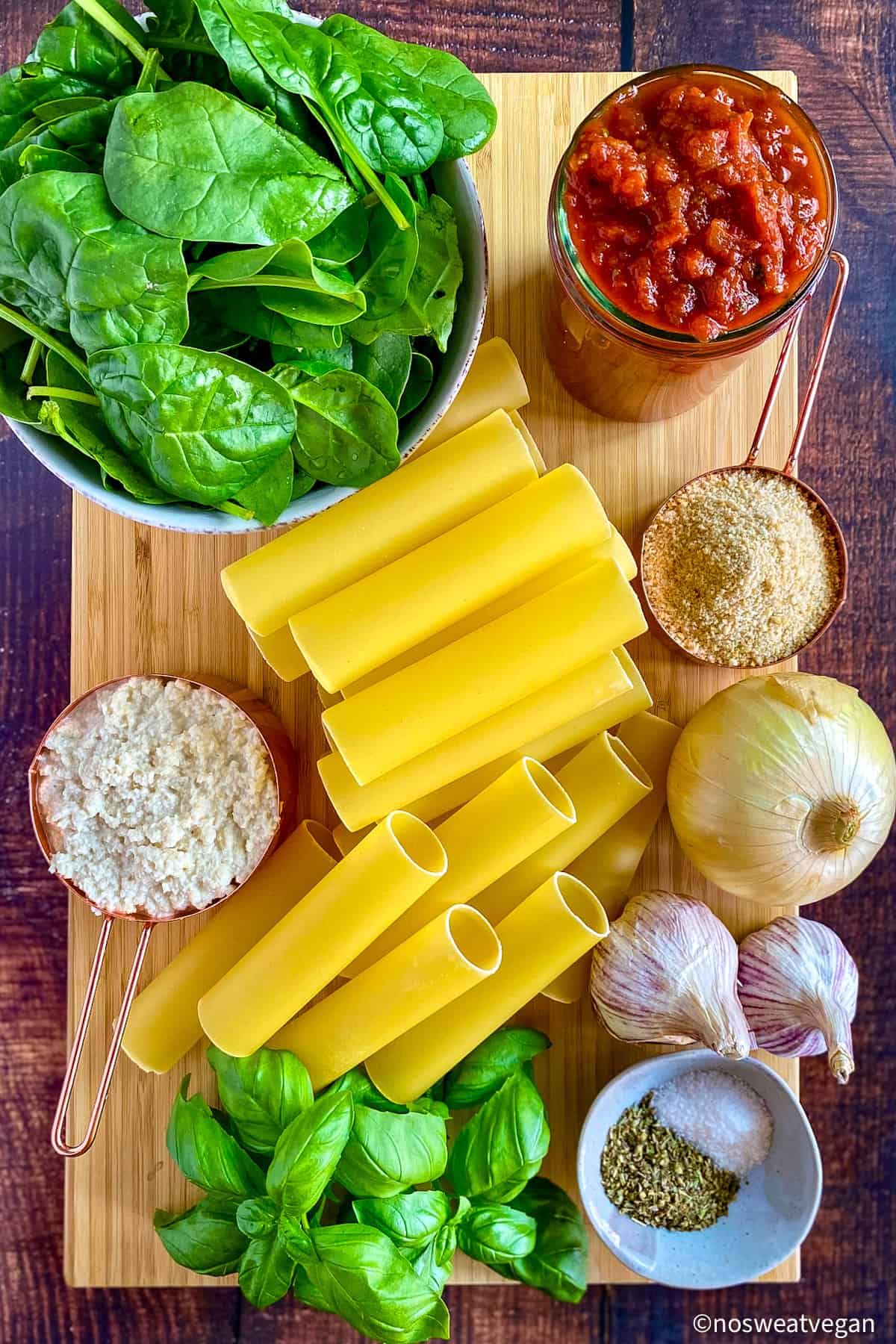 Ingredient Notes
vegan ricotta: I use my homemade vegan ricotta (linked) but feel free to substitute with any recipe or store bougth version you like.
Vidalia onions: I like how sweet and flavorful these Vidalia onions are, but any type of onion will suffice.
garlic cloves: You could also substitute with pre-minced garlic or granulated garlic.
Italian seasoning: This is a blend of oregano, marjoram, thyme, basil, rosemary, and sage. If you don't have it, just make a quick mix from whatever dried herbs you have on hand.
spinach: Frozen spinach could also work, but you will need significantly less since frozen spinach is ually already cooked down. 8 to 12 oz should be enough.
fresh basil: frozen basil could also work in a pinch.
breadcrumbs; I used whole wheat breadcrumbs, but any type should work. This will just help give some texture and body to the filling.
marinara sauce: Homemade or store-bought are both fine.
pre-cooked cannelloni: Using the no-precooking variety will save time. If you can't find that, just cook the pasta for about 1 minute less than directed and cool completly before filling.
Optional
Vegan parmesan: I like to sprinkle my homemade parmesan over the top but it's optional. Or you could just use nutritional yeast.
---
Variations
You can sprinkle Vegan Mozzerella over the top if you want some melty cheese.
If you prefer to use manicotti pasta, this recipe also works perfectly.
This filling can also be used for vegan stuffed shells. For a large pan of stuffed shells you'll just need half the amount of filling.
Add Vegan Italian Sausage Crumbles to the marinara for a meaty sauce.
Instructions
If you are making the vegan ricotta from scratch, start with that first.
Next, prep the vegetables: Dice the onion, chop the garlic, wash the spinach.
Sautee the onions over medium-high heat for 3 to 5 minutes, or until they are translucent and aromatic. Then add the garlic, salt, and Italian herbs and sautee for 1 more minute.
Add the spinach and cook until the spinach has reduced.
Add the spinach mixture, vegan ricotta, and basil to a blender and blend until combined.
Transfer to a mixing bowl, add the breadcrumbs, and stir to combine.
Preheat the oven to 350F/175C.
Spread 1 cup of the marinara sauce evenly in the bottom of the baking dish.
Use an icing bag or ziplock bag with the corner cut out to fill the cannelloni tubes. (Place the filling into the bag and squeeze it into the tubes). Alternative, you could use a small spoon or butter knife. (I ended up having to do it this way the day I took the photos because I didn't have the right type of bag at home. Eek! Not ideal but it worked.)
As you fill each tube, place it into the baking dish. When all of the tubes are in the dish, spread the remaining tomato sauce evenly over the top, making sure to cover the pasta as much as possible (for better cooking).
Sprinkle with vegan parmesan (optional) and bake for 40 minutes, uncovered.
Serve and enjoy!
---
Tips
Before you start cooking, place the cannelloni tubes into the dish to see how many you can fit and what configuration works best. I used two vertical rows of 9 tubes, but other baking dishes might need different configurations.
Be sure to cover all of the cannelloni completly so that the pasta doesn't dry out while cooking.
How to serve
Serve this vegan cannelloni with spinach as a main course. It's great for both make-ahead weeknight meals and holidays.
Serve with an air-fryer easy side dish to free up oven space. Some of my favorites include:
If you're serving this as part of a dinner party or multiple course meal, I'd recommend starting with this Vegan Leek and Potato Soup, then moving on to Chopped Italian Salad with Creamy Italian Dressing.
For an easy dessert pairing, try these Girl Scout Cookie Bliss Balls or pop a Berry Crumble or Apple Crisp into the already warm oven while you enjoy the main course.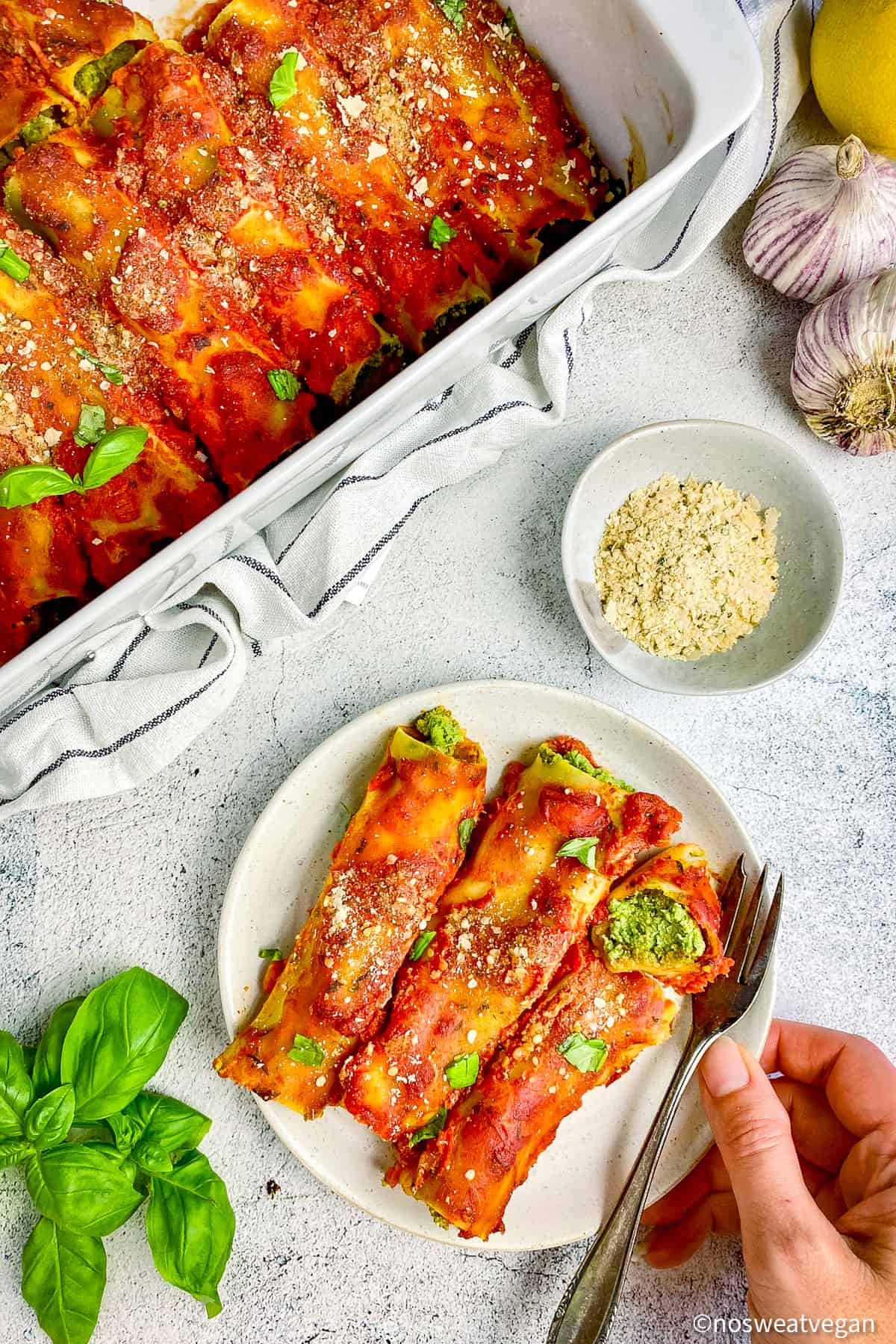 Can I make it ahead?
Yes! You have a few options. You could make the filling ahead and wait to actually fill and bake the pasta. Just store the filling in an air-tight container for up to 2 days in the refrigerator. (You could even freeze it if you make it far enough in advance.)
Or you could fill the pasta, prepare it in the baking dish, and store, covered in the fridge until baking time--for this, I would recommend no more than 24 hours in advance.
Another possibility would be to make and prebake the dish, then cool and store covered in the refrigerator. To reheat, just cover with aluminum foil and bake at 350F/175C for 10 to 15 minutes. (I tried it this way once when my kids had a late sports practice. We came home, I popped it in the oven, and 10 minutes later dinner was ready. Worked like a charm!)
How to store
Store any leftovers in an airtight container in the refrigerator for up to 5 days.
More vegan pasta recipes
---
📖 Recipe
Want access to my Exclusive Meal Planning Tips & Printables page?
Did you try this recipe? Have a question? Just leave a comment below and I'll get back to you ASAP!