This easy Vegan Cornbread is delicious, oil-free, and comes together in minutes. It's lightly sweetened and makes a perfect side dish or snack. Crisp on the edges and fluffy on the inside, this healthier version of the classic is perfect for holidays or any day of the week.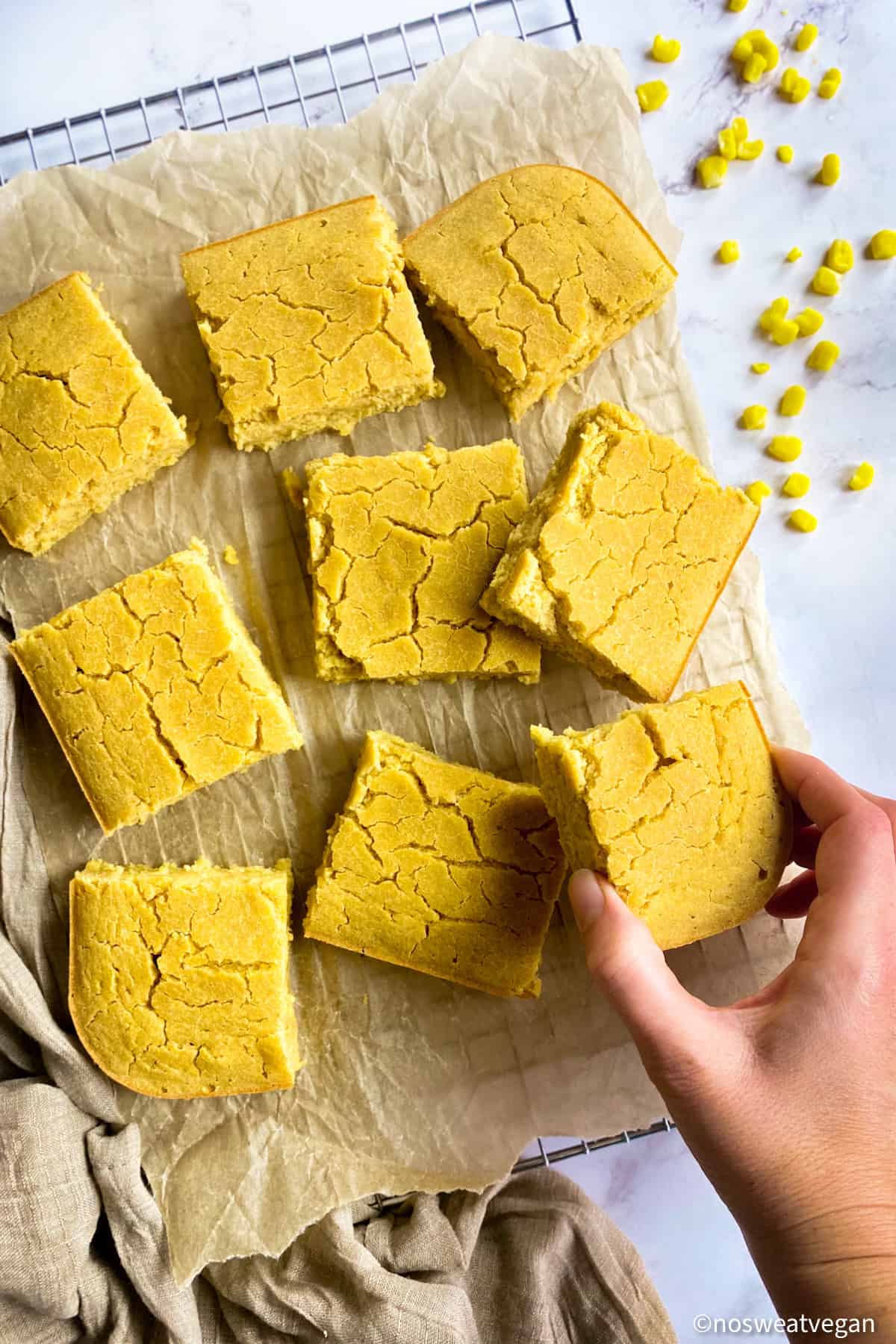 I've always loved buttery cornbread, so when I set out to make a healthier oil-free, vegan version of the recipe, I knew I'd need to get creative. Then it hit me. I've been seeing recipes for vegan "butter" made from corn, and corn would be an easy addition to cornbread... so I figured I'd give it a try and I'm so glad I did!
One thing I love about this vegan cornbread recipe is that it's so easy! You literally just add all of the ingredients to a blender, mix, and then pour the batter into a baking pan. Pop it in the oven and 20 minutes later it's done!
Not only does blending the batter save a little time, but it helps to fully incorporate all of the ingredients, giving the batter a smooth consistency that helps create a softer finished product. And as a bonus, the corn gives this cornbread a vibrant yellow color!
Jump to:
You'll love this recipe because it's:
Simple & Easy
Quick to Cook
Vegan / Vegetarian
Dairy-free
Oil-Free / Made without Butter
Easy to make WFPB
Comforting & Delicious
---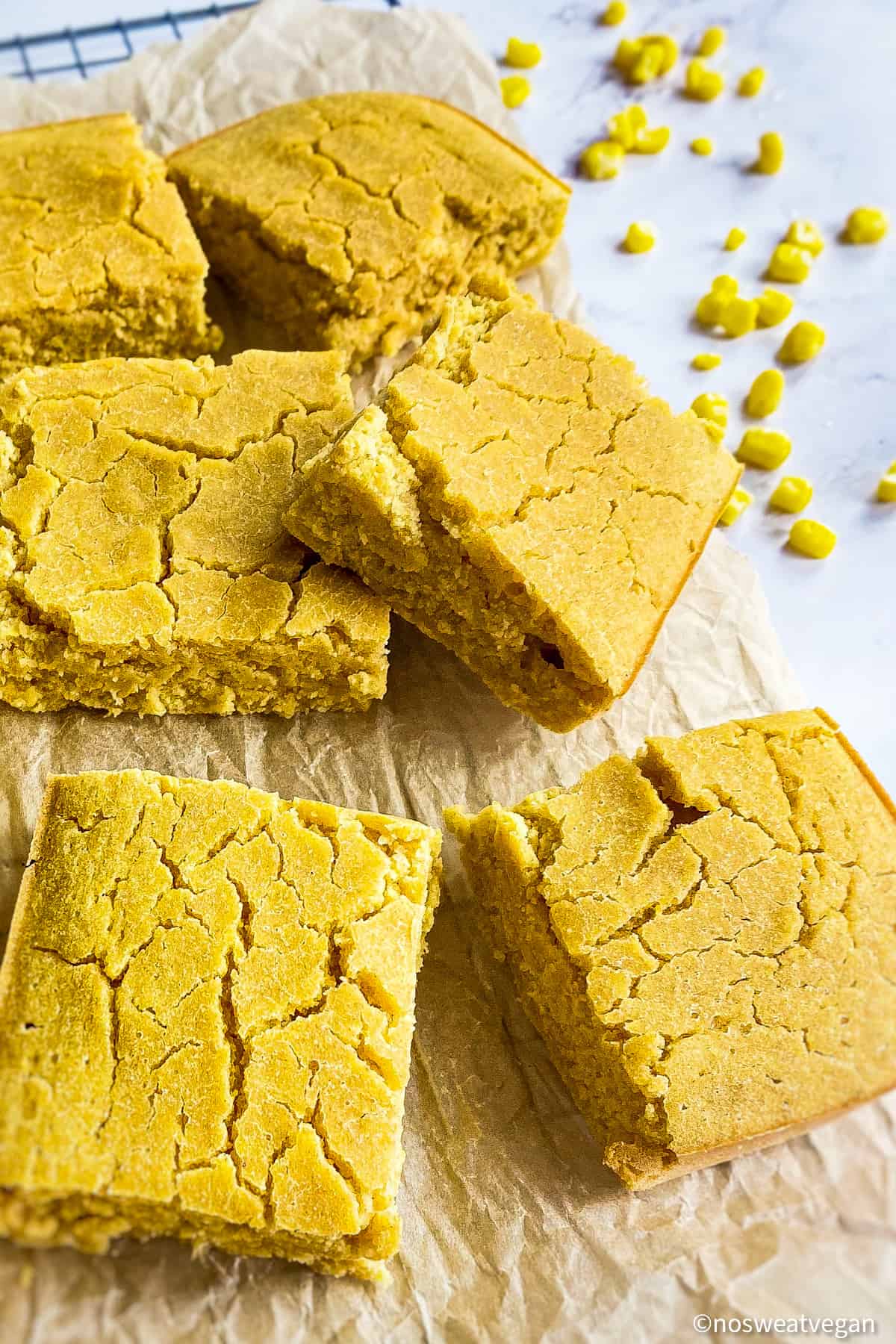 Can I use cornmeal?
I don't recommend using cornmeal for this recipe. Cornmeal is much drier and coarser than cornflour. In the ingredient shot below you can see how the texture of the cornflour is light and fluffy.
Can I use a food processor?
Food processors don't tend to blend quite as smoothly as a blender. I definitely recommend using a blender if you have one. In a pinch, you could try a food processor but the batter won't be as smooth.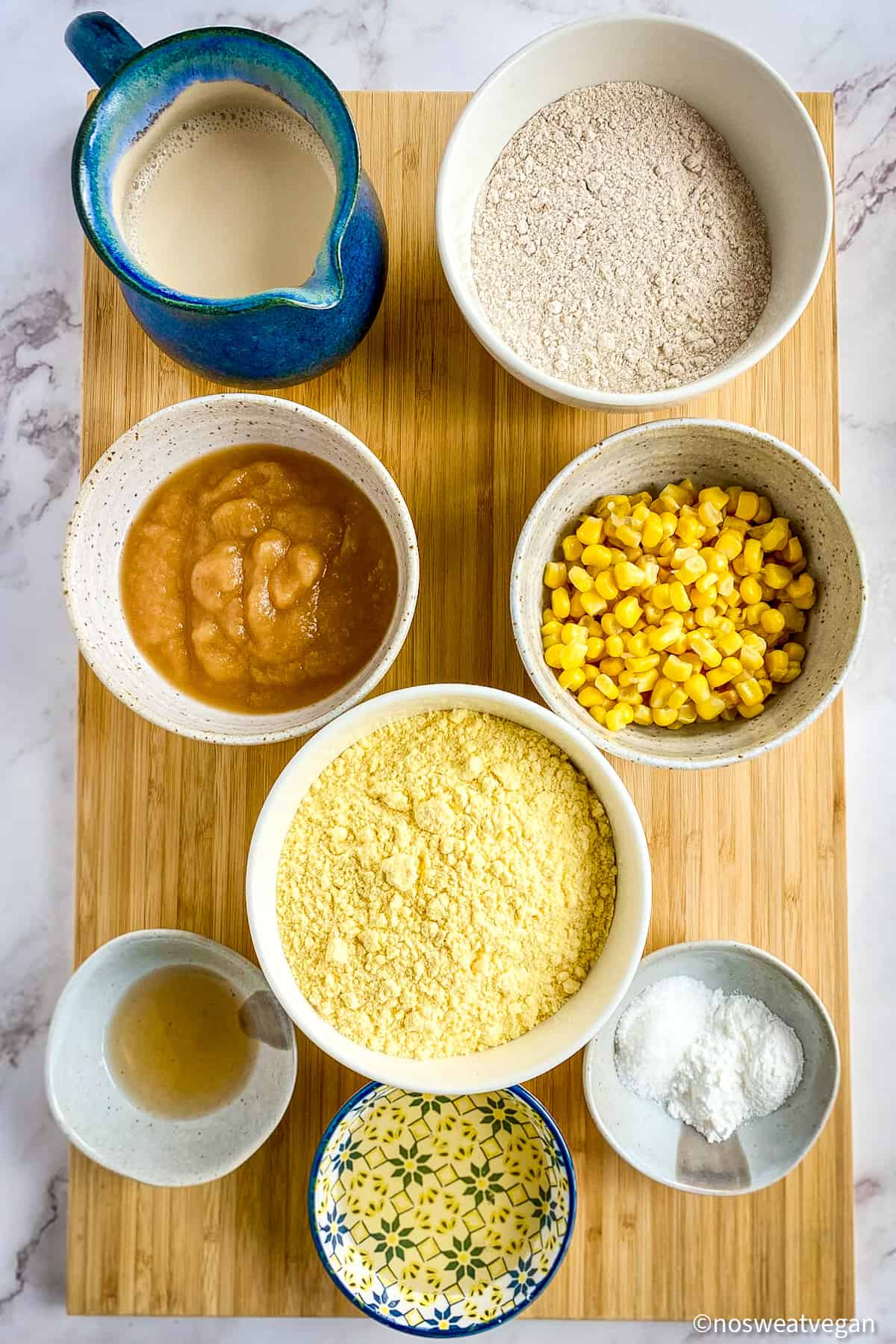 Ingredient Notes
Wet Ingredients
soy milk: Any type of unsweetened plant milk will work.
corn kernels: You can either use canned corn that's been drained and rinsed or frozen corn kernels that have been dethawed. Be sure to check the label for added salt. If using canned corn with high salt content, you might need to reduce the amount of added salt.
agave or maple syrup: Either is fine. Agave is more remiscent of honey, but if you don't have any on hand or you want to keep this recipe WFPB, then use maple syrup.
Dry Ingredients
cornflour: Do not use cornstarch (which is too fine) or cornmeal (which is too gritty).
whole wheat flour: All purpose flour could also be used.
*See recipe card for quantities.
---
Variations
Reduce the sweetener to 1 tablespoon and add jalapenos and vegan cheddar for Chedder Jalapeno Cornbread.
After you pour the batter into the baking dish, you can sprinkle corn kernels over the top for decoration or texture.
Instructions
Preheat the oven to 400F or 200C.
Add all of the wet ingredients to the blender. Then add the dry ingredients. (Do this in the opposite order if you're using an upside down smoothie blender, like a Nutribullet). Blend until smooth. (Adding the wet ingredients first just ensures than the flour doesn't get stuck under the blades.)
Pour the batter into a nonstick or lightly sprayed baking dish. I recommend an 8x8inch dish.
Place the baking dish in the center of the oven and cook for 18 to 22 minutes. You'll know its done when you can insert a toothpick into the center and it comes out clean. (For me, 20 minutes was the right amount of time, but oven temperatures can vary.)
Remove from the oven and let cool. Serve and enjoy or save for later.
---
Troubleshooting
Why didn't my cornbread cook all the way through? You probably just need to cook it for a few minutes longer. To check for doneness, insert a toothpick into the center of the cornbread. If it comes away clean it should be done. If there is still wet batter on the toothpick then cook for another 2 minutes and check again.
Why is my cornbread dry? You probably overcooked it. Cornflour is unfortunately much grittier than wheat flours, and its very easy to overcook cornbread. Next time, try reducing the cooking time by 2 to 3 minutes.
How to serve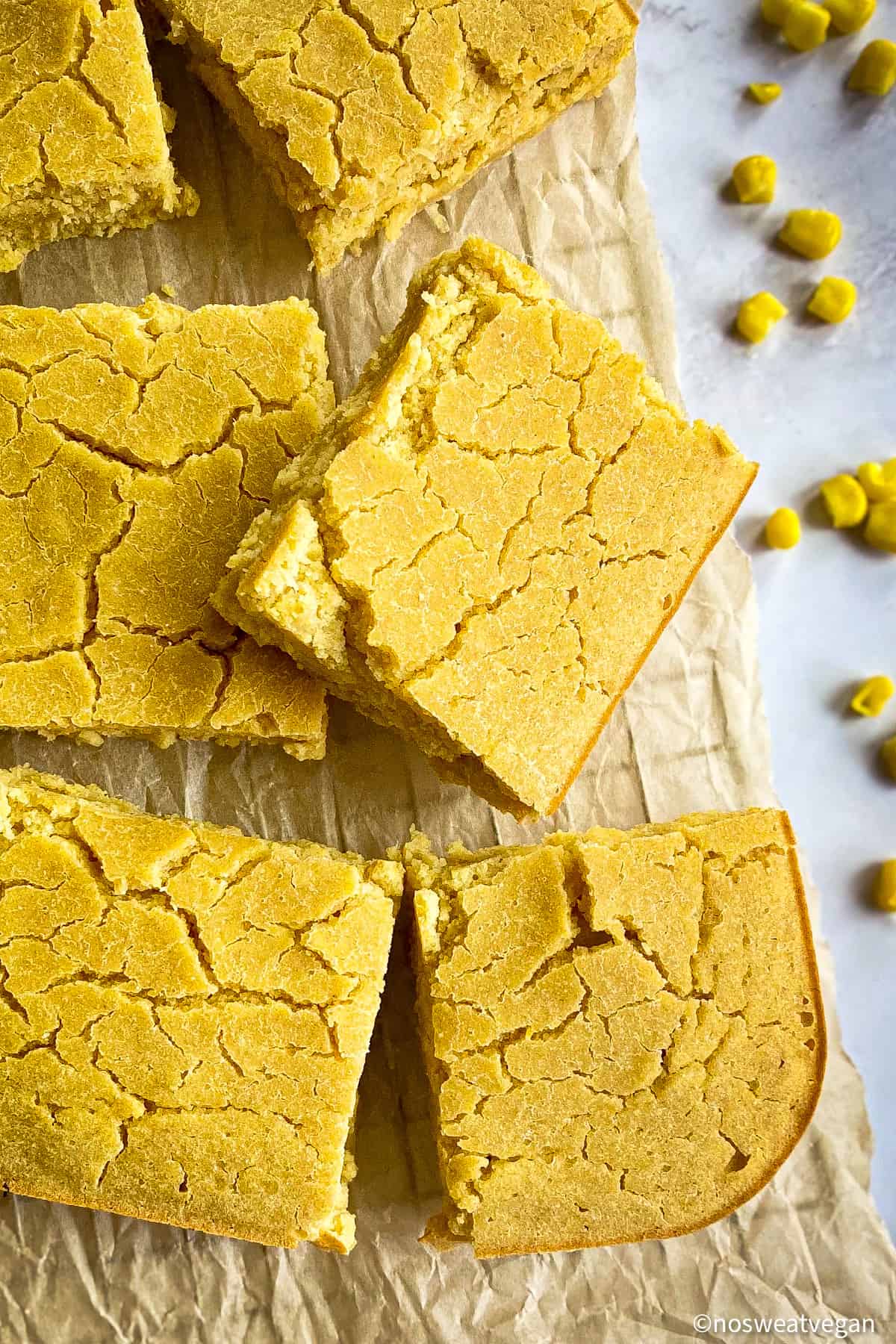 Can I make it ahead?
You can definitely make this ahead. However, keep in mind that cornbread starts to dry out more quickly than other types of baked goods. I think this cornbread tastes the best right out of the oven, but making it up to a day in advance would be acceptable. Wait to cut the cornbread until it's time to serve.
How to store
Store any letovers in an airtight container in the refrigerator for up to 3 days. (Sometimes I recommend adding a paper towl to collect moisture, as I do in this Blackberry Muffin Recipe. However, in the case of cornbread, which tends to get drier over time, I don't suggest this.)
Cornbread dries out quickly. If you store it for much longer than 3 days, it will still be edible but it might be very crumbly. However, if you cut the leftovers into small cubes, and dry them out on the counter, they could be used to make cornbread stuffing or cornbread pudding.
More vegan comfort food recipes
---
📖 Recipe
Want access to my Exclusive Meal Planning Tips & Printables page?
Did you try this recipe? Have a question? Just leave a comment below and I'll get back to you ASAP!