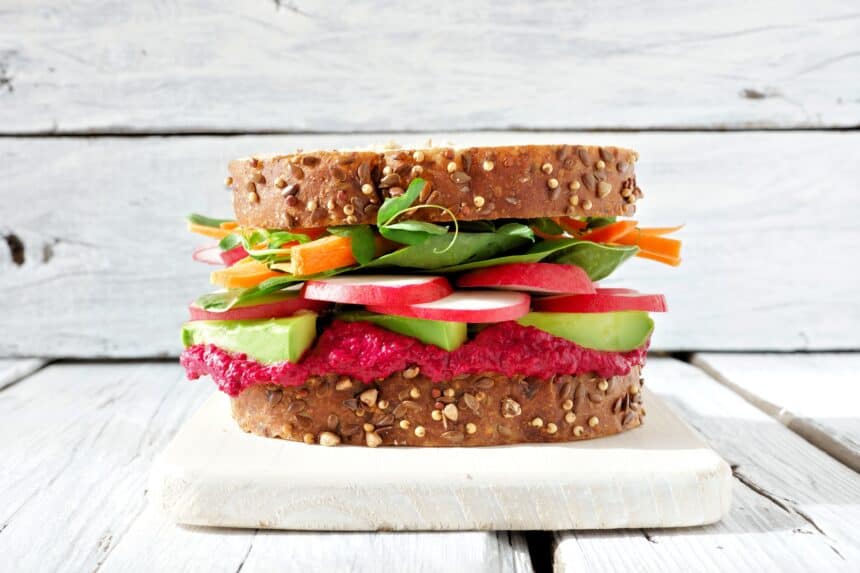 So you've decided to cut or reduce meat. Congratulations! But . . . now you're craving a sandwich and not sure what to substitute for the star ingredient. Salads and soups are easy enough to veganize, but what are you supposed to put between bread when you want a quick, on-the-go lunch?
Most supermarkets carry vegan deli slices, but they aren't always so tasty and they're almost never healthy. So what's an herbivore to do? Check out these vegan sandwich options.
1) Hummus & Veggies
If you're in the mood for a classic vegan sandwich, simply spread your favorite hummus over a hearty wheat bread and pile on the veggies. Cucumbers are a must: they add a nice crunch and can be sliced thin to sub for the deli slices. Strips of bell pepper, avocado, and tomato slices are more great options. Top with a few pieces of romaine or broccoli sprouts, and you're in business! Or get creative. I love a veggie sandwich with kalamata olives for that deep, salty kick. Or add spicy pickled cabbage for a little zing. Crumbled vegan feta adds a nice touch of creaminess. Customize to fit your tastebuds!
2) Tempeh B.L.A.T.
What about bacon tho? If you've been vegetarian or vegan for more than a minute, someone's probably asked you this exact question. And while new vegan bacon products are coming on the market every day, if you're looking for a no-fail and super simple way to make vegan bacon at home, I have your answer.
Enter Tempeh, aka fermented soybeans that have been formed in blocks. The fact that the soybeans are whole gives Tempeh a unique mouthfeel; there's an almost meaty element. Just slice it thin, marinade in a mixture of soy sauce, maple syrup, smoked paprika, apple cider vinegar, and liquid smoke, and sauté until crispy. Then pile it on sliced sourdough and top with lettuce, tomato, and avocado. Add a smear of vegan mayo or yogurt for creaminess, and you're in business. (For the full recipe, just click here!)
3) Jam & Nutbutter
When I was visiting my parents last summer, my dad admitted that his favorite meal of all time was the humble PB&J. And guess what--it's already vegan! You don't have to do a thing to it. I actually don't like peanut butter (GASP!), but I love almond butter (weird, right?). So for a slightly elevated, homemade version of this childhood favorite, I like to start with a seedy, wholewheat bread, smear on my Homemade Almond Butter, sprinkle with hempseeds, and then pile on a thick layer of Berry or Apricot Jam. But you can make it however you like! So easy and tasty!
4) Vegan "Meat"ball Sub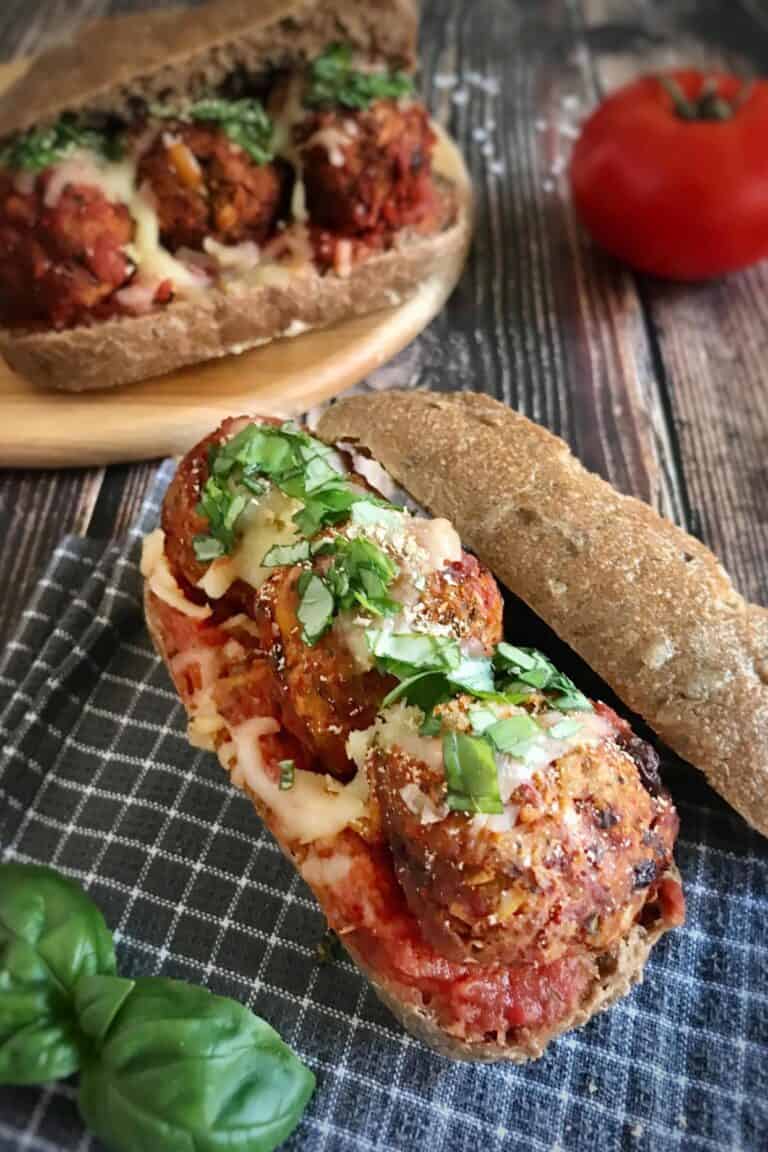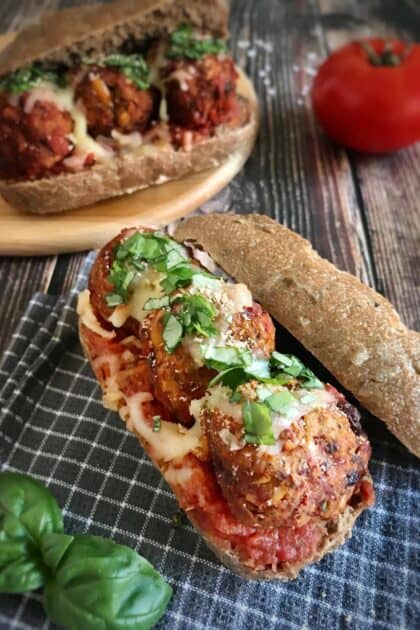 Soft Italian bread, sweet marinara, stretchy cheese, and flavorful meat--oh, right, no meat or cheese here. Thankfully, you can make vegan meatballs with lentils or chickpeas. Check out my recipe for Vegan Sicilian-Style Meatballs. Then layer on a sub with marinara, vegan cheese, and strips of basil. Ba-da-bing, ba-da-boom!
5) BBQ Jackfruit
Jackfruit is the latest golden child of the vegan world. This large, spiky green fruit might seem a bit intimidating, but thankfully, many grocery chains are now stocking canned jackfruit. Just be sure to get young jackfruit because the ripe variety is sweet and often canned with sugar.
The beauty of jackfruit is the stringy, meaty texture that's almost indistinguishable from shredded chicken or pulled pork. Young jackfruit has a neutral flavor that's easily masked by BBQ sauce or other seasonings. To prepare, just follow this recipe. Pile on a bun along with pickled cabbage or a creamy vegan coleslaw. Your Omni freinds won't even know the difference!
6) Chickpea Salad Sandwich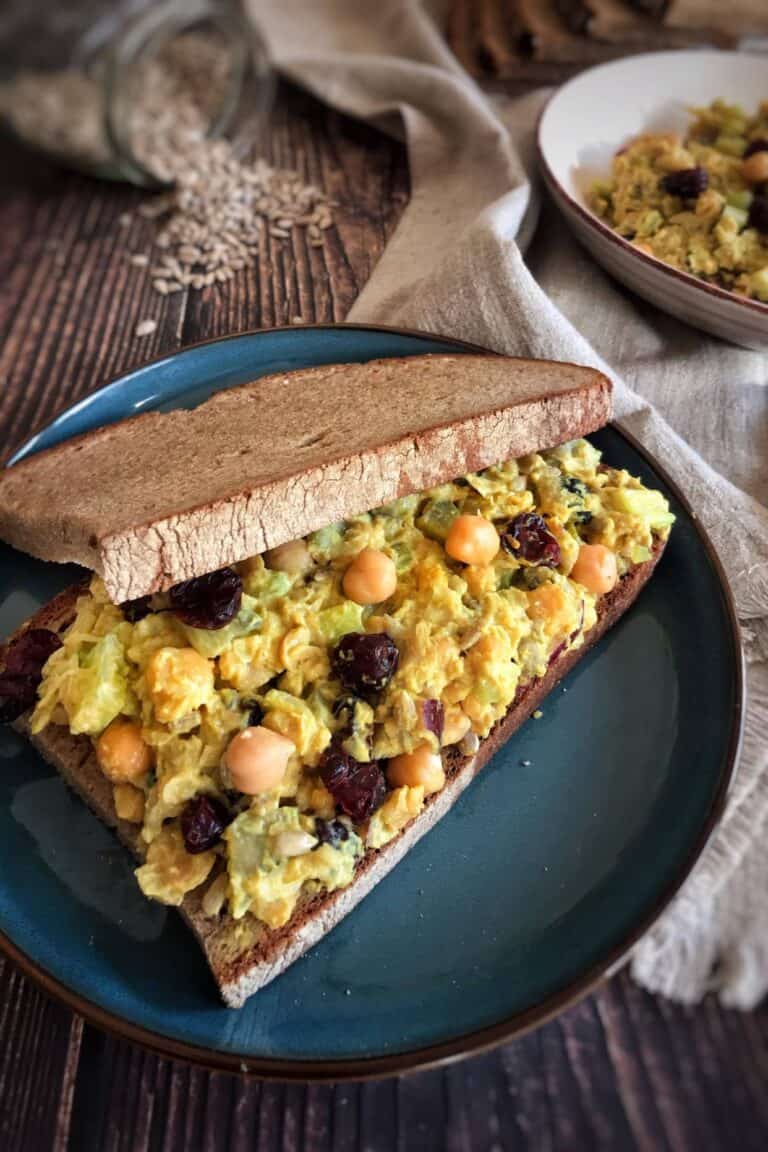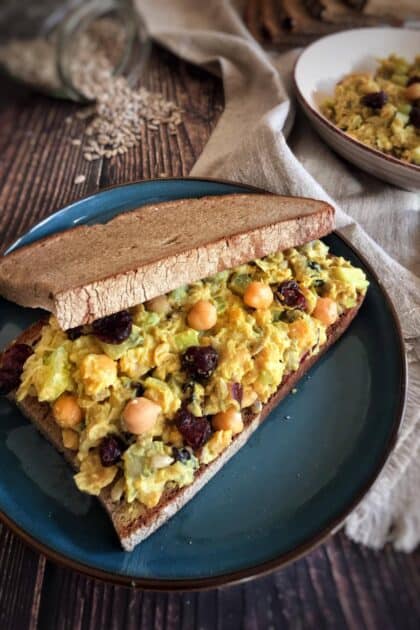 If you love a chicken salad sandwich, then you're going to love a chickpea salad sandwich even more. Why? Because it's cheaper, healthier, and cruelty-free. All you have to do is sub a can of drained chickpeas for the chicken and vegan mayo or yogurt for the creamy factor. Place your drained chickpeas in a bowl and do a partial mash with a fork. Then just add whatever you'd normally add. I love it with celery, onion, craisins, walnuts, Curry Powder
, and soy yogurt. But you do you. Pile on crusty bread or a vegan croissant. Done!
---
For more sandwich ideas, check out my roundup of 20 Amazing Vegan Sandwiches. Whatever your tastes, there's a vegan sandwich out there for you!
---
Want access to my Exclusive Meal Planning Tips & Printables page?