If you're in the mood for carrot cake, but not for baking, then these no-bake carrot cake bites are absolutely perfect. Not only are they healthy (no sugar!), but they're also delicious. Bet you can't eat just one!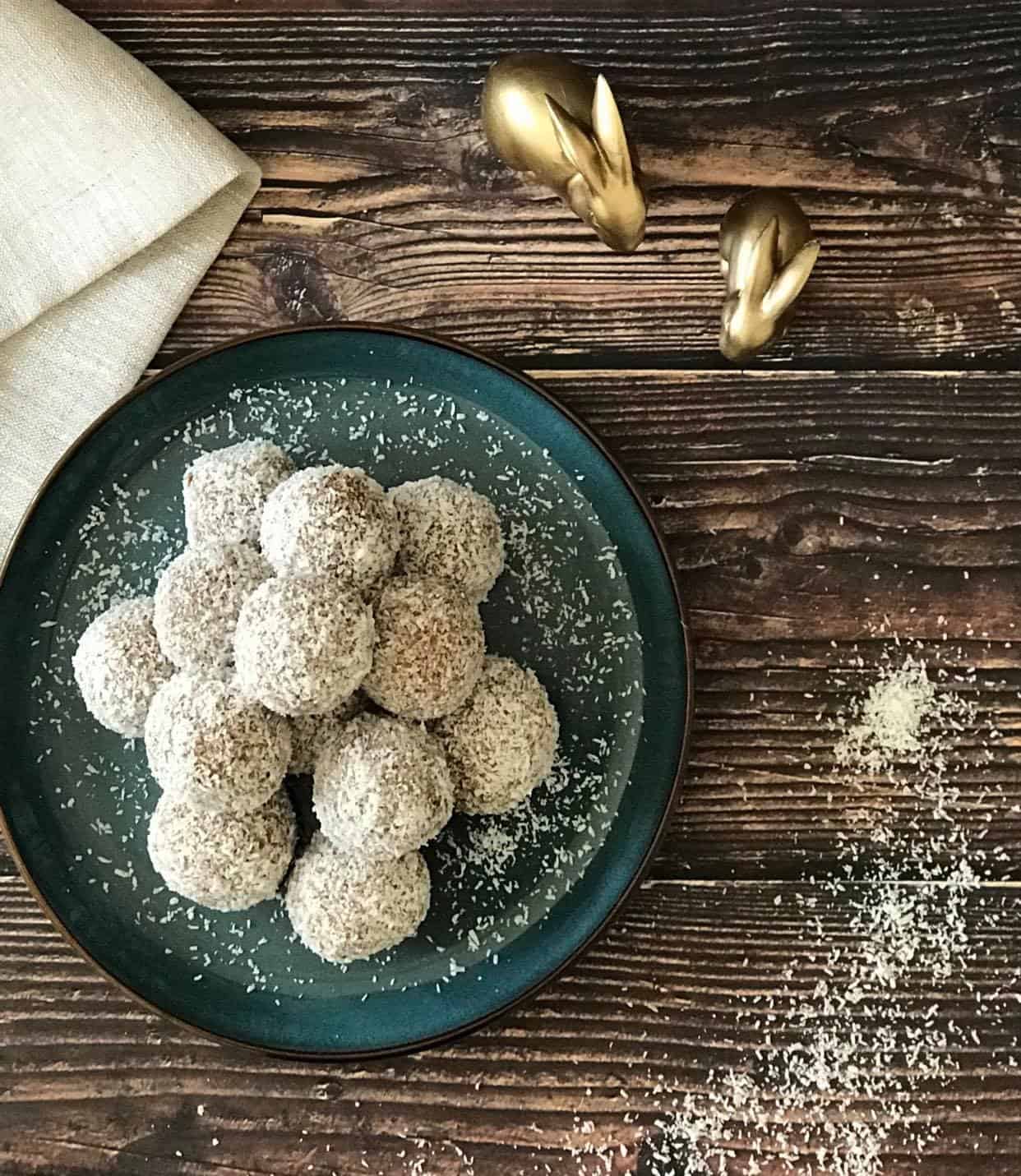 These carrot cake bites require no baking, no sugar, and no fuss. You just assemble six ingredients, pulse them in the *food processor,
and then roll them in coconut. Boom! Done! Each bite is sweetened by the dates, gets an earthy richness from the pecans and walnuts, and a little kick from the allspice and cinnamon.
Bliss balls are perfect for a healthy dessert, holiday brunch, or lunchbox treat. Or store them in the refrigerator for quick snacks throughout the day--because even though they're scrumptious cake bites, they're also super healthy. That's a magical combination if ever there was one!
Jump to:
This recipe is
Simple
Healthy
Quick & Easy
Made with just 7 ingredients
Require absolutely no baking
Absolutely delicious!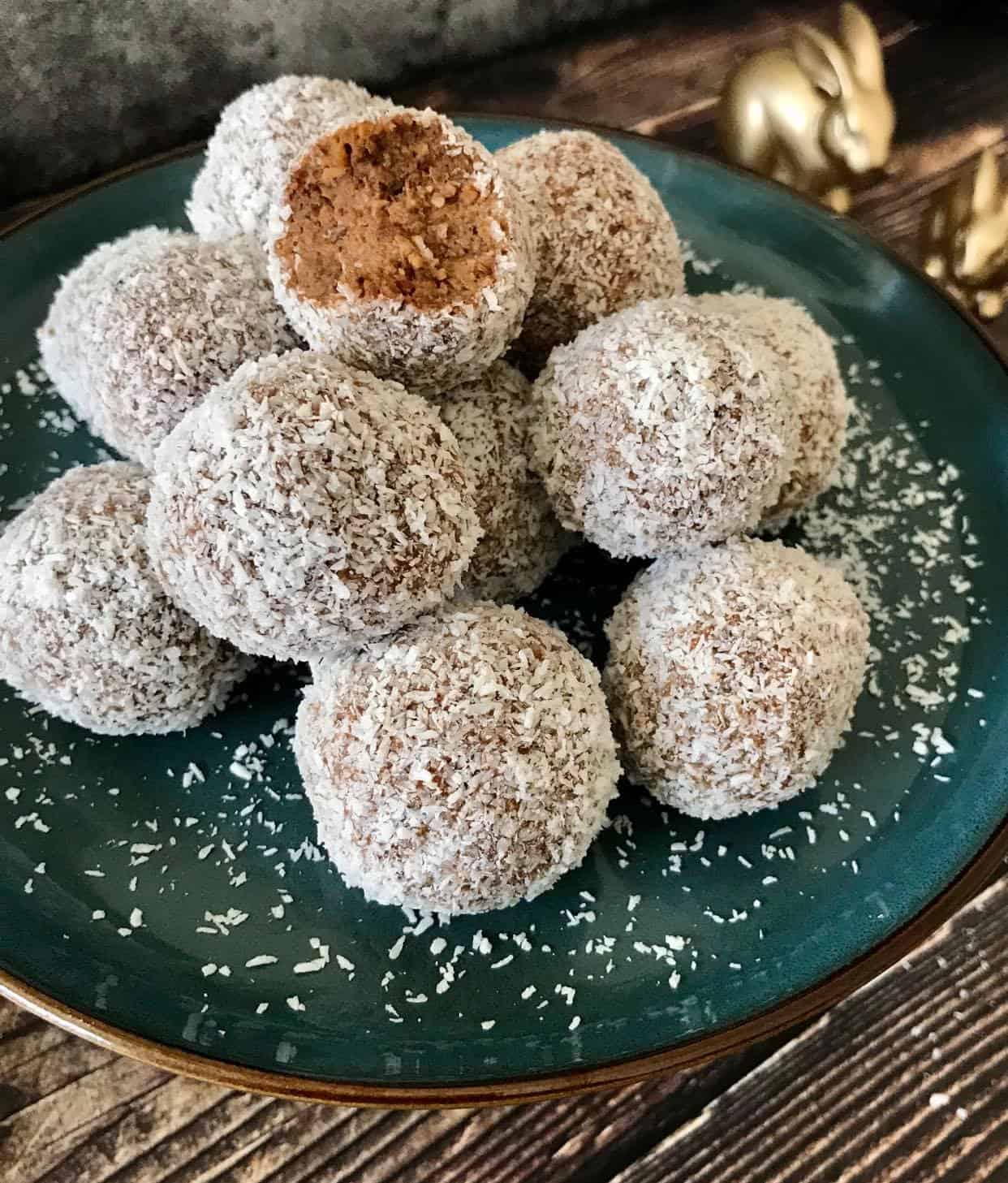 Are these called energy balls, bliss balls, or cake bites?
Some people would call them Carrot Cake Energy Balls, other people call them Bliss Balls, and still others might say Protein Balls. All of those names are fine, but I prefer to think of them as cake bites because, well, CAKE. Whoever said you can't have your cake and eat it too, never tried these heavenly bites.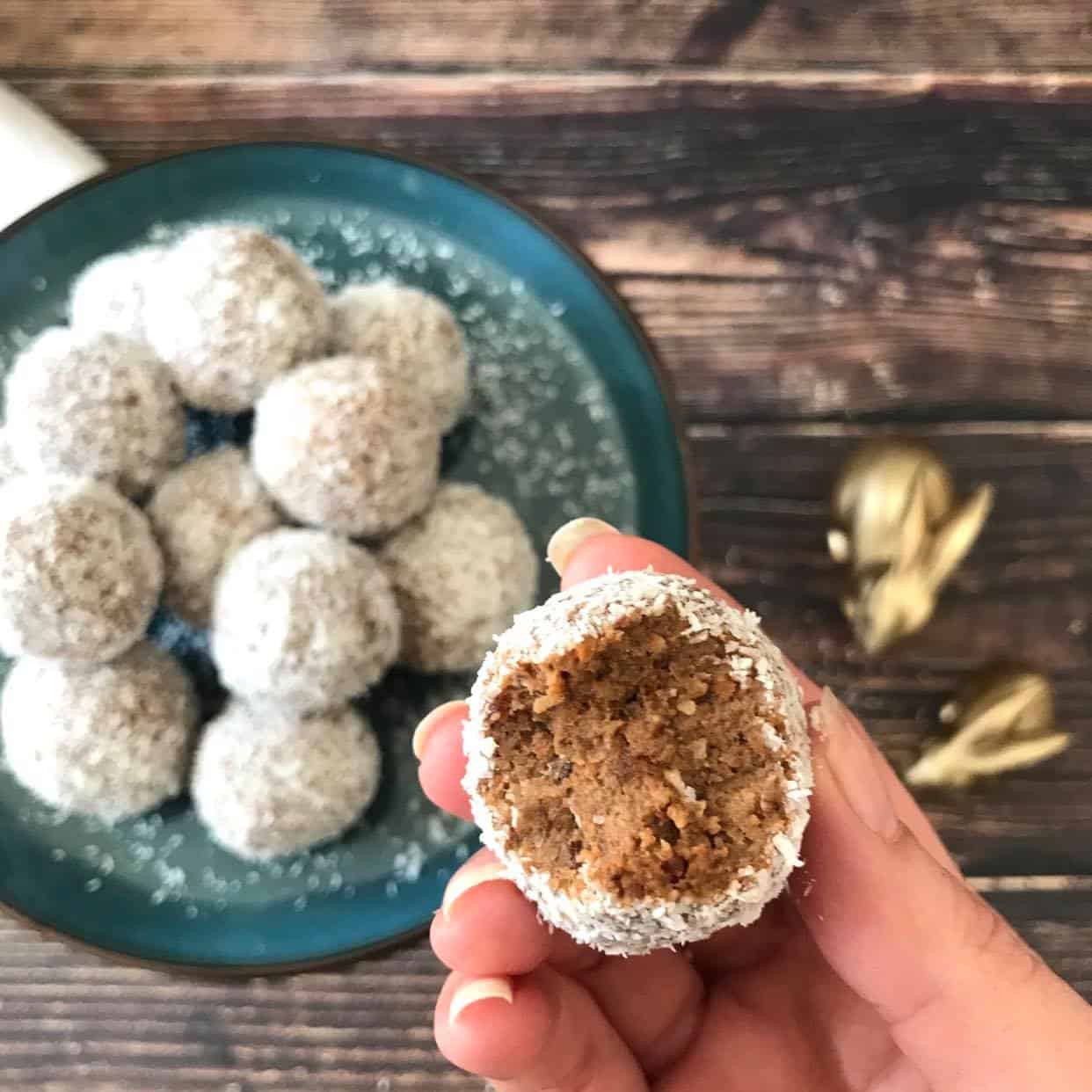 ---
Ingredients
Carrots (peeled and washed): These are the star of the show. I use baby carrots, so no washing or peeling is necessary.
Dried, pitted dates: This is where the sweetness comes from. A word of advice, make sure there are no pits because they can damage your food processor blade!
Walnuts and Pecans: For a protein and flavor boost.
Coconut flakes: For rolling and an extra touch of sweetness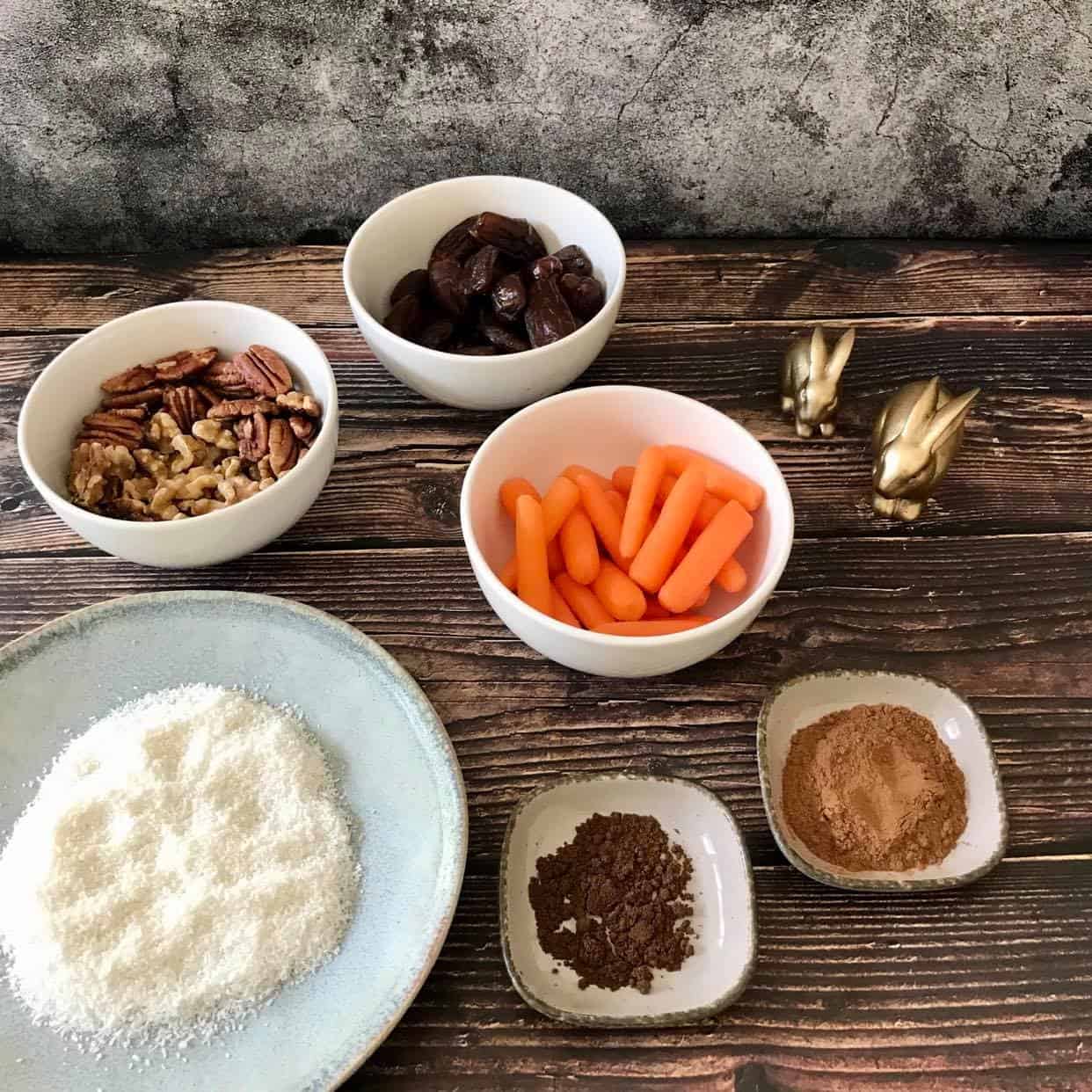 Instructions
If you use baby carrots, then there's zero prep work. Just assemble your ingredients, pop everything (except the coconut) into the *food processor
and pulse until a slightly damp dough forms. Then roll the dough into balls, roll the balls in the coconut, and voilà! You're Done.
Now that you've assembled your carrot cake bites, just refrigerate for an hour and they're ready to eat! Serve as a dessert at your Easter brunch or store in the fridge for easy grab-and-go snacks throughout the week.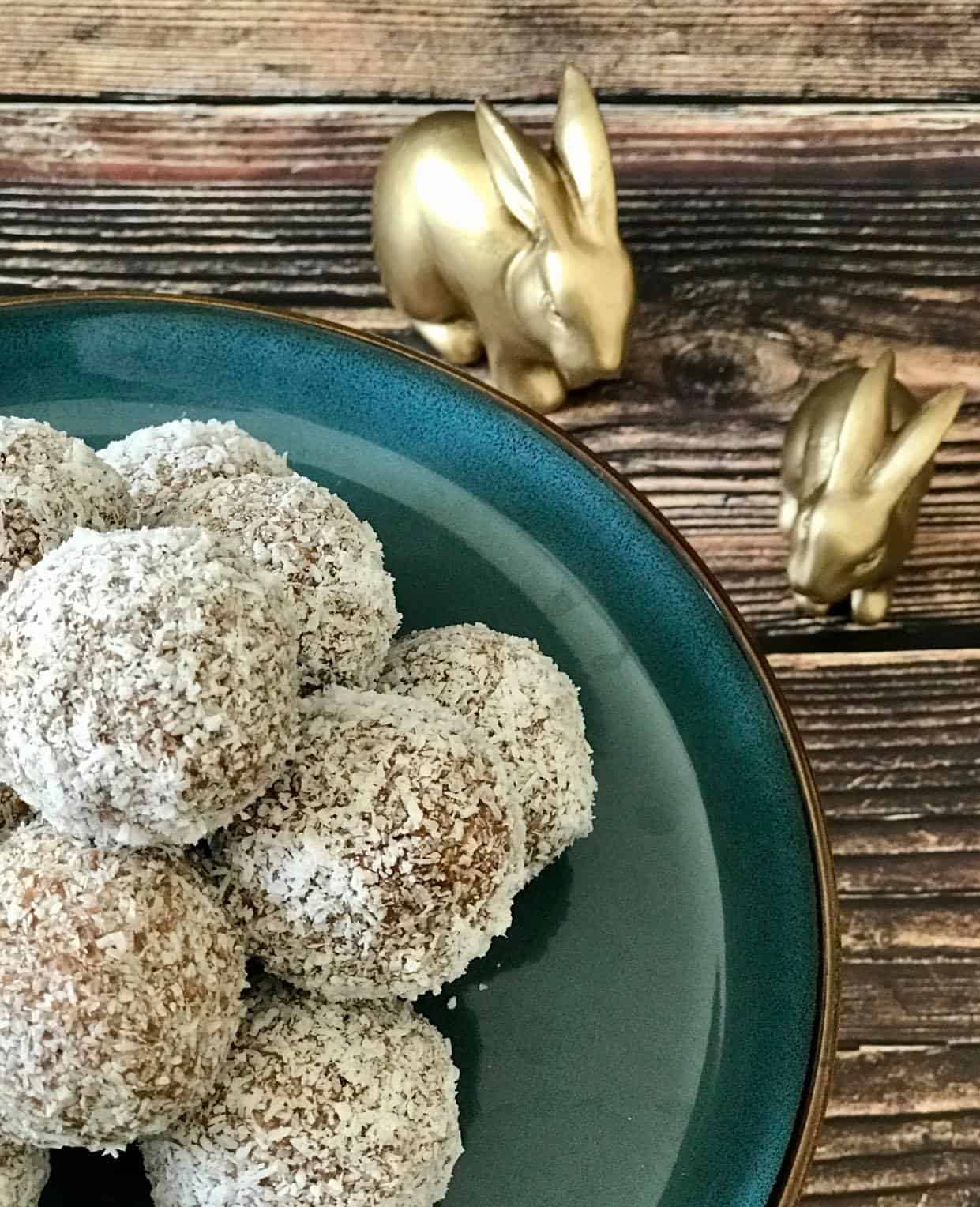 Substitutions
One of the things I love about this recipe is how versatile it is. So if you don't have all of these ingredients, if you have special dietary need/food allergies, or you just don't like one of the ingredients, don't fear! I've talked to a lot of readers about substitutions. Here are a few I can recommend:
If you don't have both walnuts and pecans, you can just use one or the other (just double the amount).
If you are allergic to nuts, you can try this recipe using sunflower seeds or a combination of sunflower seeds and rolled oats.
Don't have dates? Just use raisins.
Don't like or don't have coconut? You can roll these carrot cake bites in hemp hearts, cinnamon, crushed nuts, cocoa powder, powdered sugar . . . or nothing at all!
If you have a question or you've tried a substitution not listed above, let me know in the comments!
How to serve
Even though you can eat these carrot cake bites right away, I recommend chilling for at least an hour before eating, as they will be denser and the flavors will be more pronounced. Serve on a platter as part of a holiday brunch or dessert spread, or keep these in the fridge for a quick snack throughout the week. These little bites would make the perfect addition to a healthy lunch box. You could even eat them for breakfast! Who says you can't have dessert in the AM?
How to store
You can store these carrot cake bites in an airtight container in the refrigerator for up to a week. I haven't tried freezing the carrot cake bites, but I'm sure it can be done. My only concern would be that the exterior moisture during thawing could impact the color and texture of the coconut. If you try it, let me know in the comments, and I'll update the post.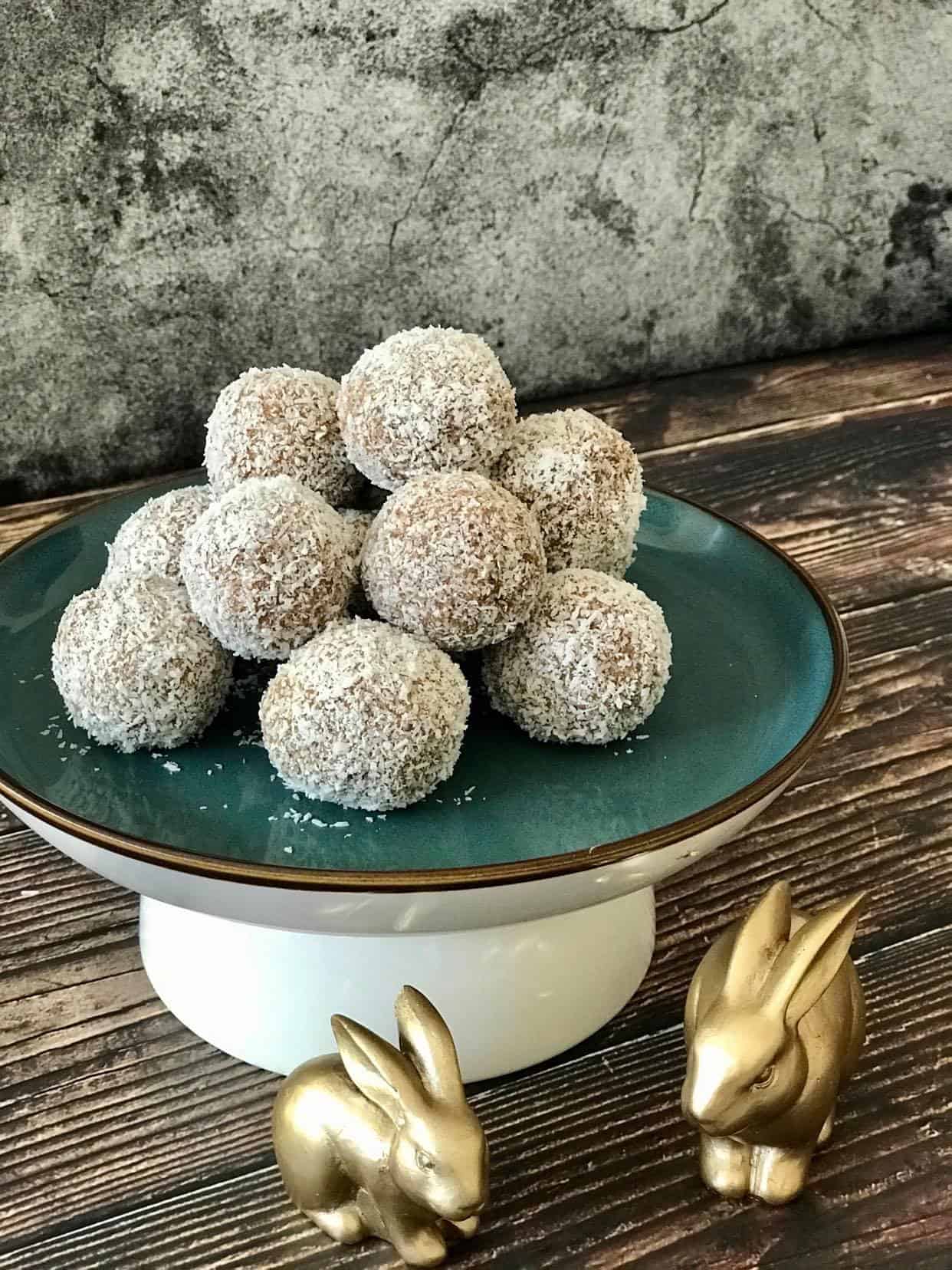 ---
Related recipes:
More tips for plant-based eating:
📖 Recipe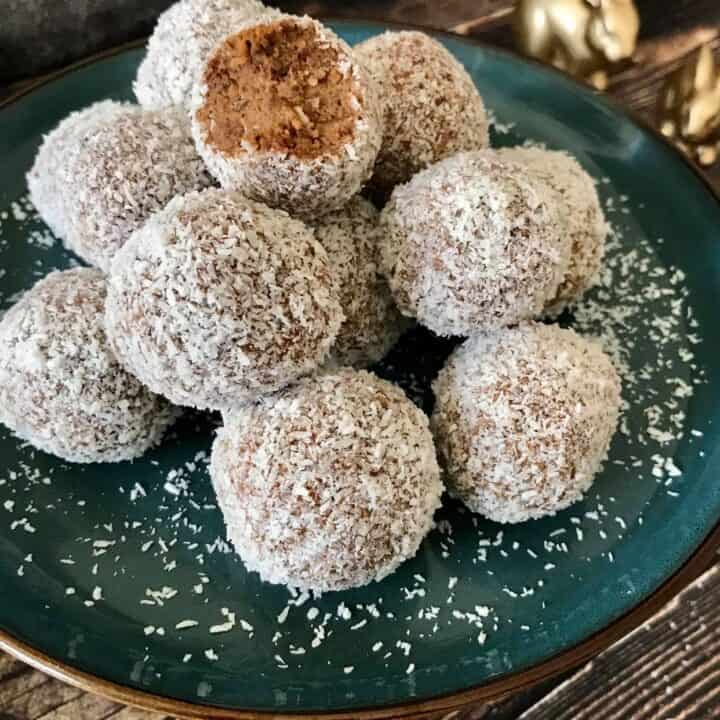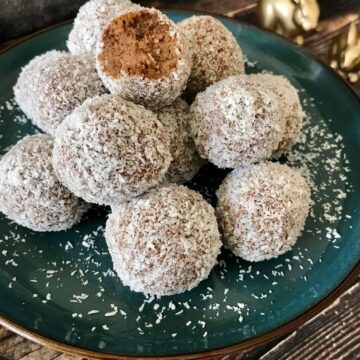 Carrot Cake Bites
If you're in the mood for carrot cake, but not for baking, then these no-bake carrot cake bites are absolutely perfect. Not only are they healthy (no sugar!), but they're also delicious. I bet you can't eat just one!
Ingredients
Instructions
Place the carrots in the food processor and pulse for 30 to 60 seconds or until they are broken down into small pieces and just starting the release their liquid.

Add the dates, walnuts, pecans, cinnamon, allspice to the food processor and run on high for several minutes, stopping a few times to scrape down the sides, until the ingredients and fully combined and have formed a damp dough.

Taking about 2 tbps of the dough at a time, roll the dough into balls. To do this, place the dough in the palm of one hand, and then close your other hand over the dough so that you can use the palms of both hands to gently shape the dough into balls. The balls should be about the size of a large chesnut (a little smaller than a golfball).

Pour the coconut onto a plate. Roll the balls in the coconut, making sure to coat all the sides. Use the palms of your hands to reshape the ball, and then roll in the coconut again.

The carrot cake bites can be eaten right away, but they are denser if you chill in the refrigerator for an hour before serving. Enjoy!
Save this Recipe
Saved!
Notes
Store in an airtight container in the refrigerator for up to one week.
If you're not a fan of coconut, substitute cocoa powder, powdered sugar, or crushed nuts.
If your dried dates are hard, you can soak in warm water for ten minutes to soften them up. Just be sure to drain off the water and pat them dry before adding to the food processor.
If you don't have dried dates on hand, you can substitute with raisins.
Nutrition
Calories:
109
kcal
Carbohydrates:
12
g
Protein:
2
g
Fat:
7
g
Saturated Fat:
2
g
Polyunsaturated Fat:
1
g
Sodium:
15
mg
Potassium:
118
mg
Fiber:
3
g
Sugar:
8
g
Vitamin A:
2423
IU
Vitamin C:
1
mg
Calcium:
24
mg
Iron:
1
mg
---
Want access to my Exclusive Meal Planning Tips & Printables page?
---