These Bliss Balls are inspired by three of my favorite Girl Scout Cookies: Caramel deLites, Lemonades, and Thin Mints. You just need a food processor and a handful of simple ingredients for a delicious, vegan, WFPB version of these nostalgic treats!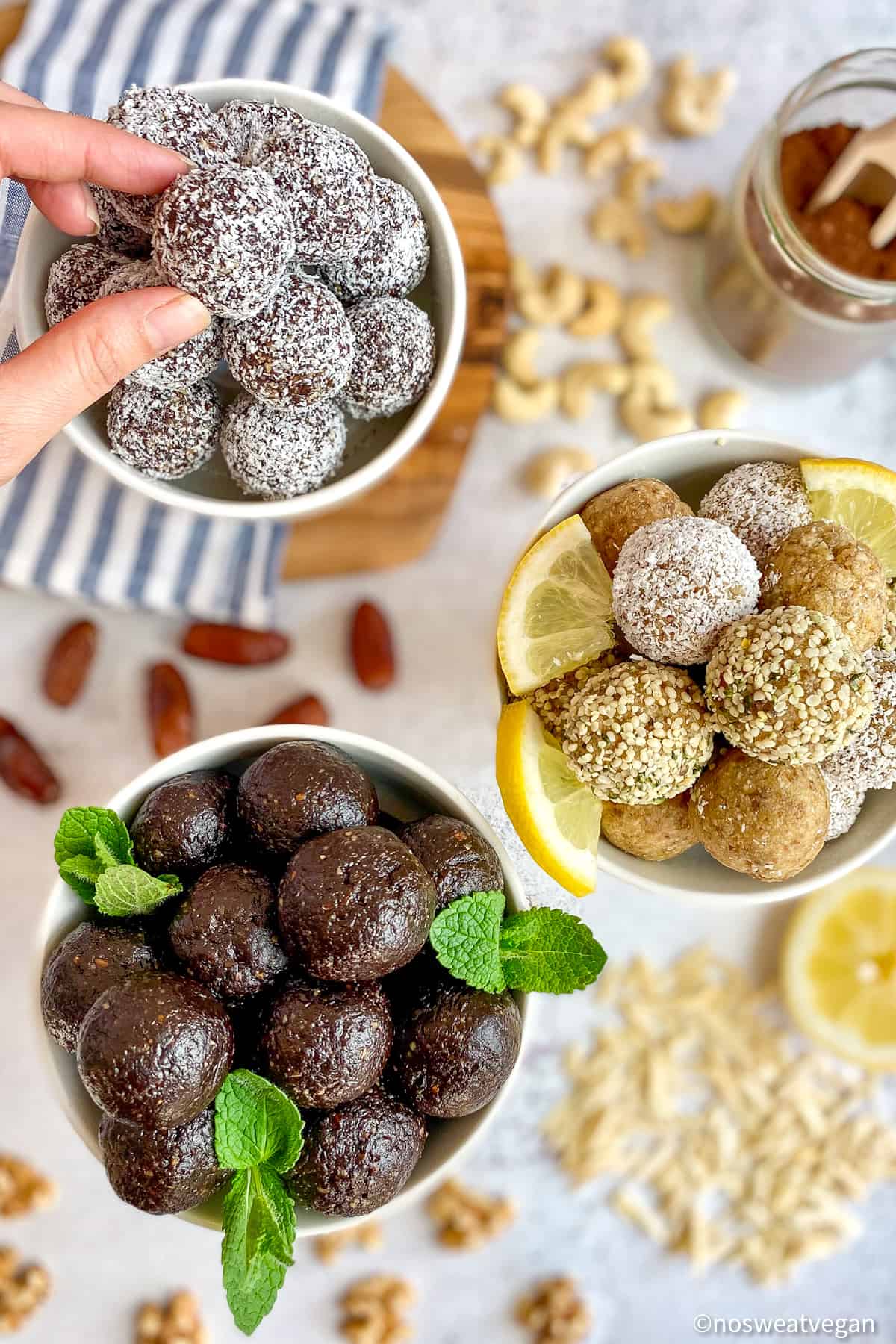 As a former Girl Scout, I spent a lot of time selling boxes of cookies to my neighbors and parents' coworkers. These cookies represent something special to so many people, and I wanted to replicate the flavors in a way that was easy, vegan, and WFPB. There are plenty of healthy Girl Scout Cookie Recipes online, but they tend to be a bit more complicated. However, these Bliss Balls are super simple, require no oven, and can be made in about 15 minutes. Plus they make an absolutely delicious snack, dessert, or even an on-the-go breakfast!
Jump to:
You'll love these Bliss Ball recipes because they're:
Inspired by your favorite Girl Scout Cookies
Quick & Easy
No-bake/Oven-free!
Vegan/Dairy-Free/Egg-Free
Refined Sugar-Free
WFPB (Whole Foods Plant Based)
Gluten-Free
Raw
Healthy
High Protein
Kid-friendly
Perfect for a make-ahead dessert or snack
Absolutely Delicious!
---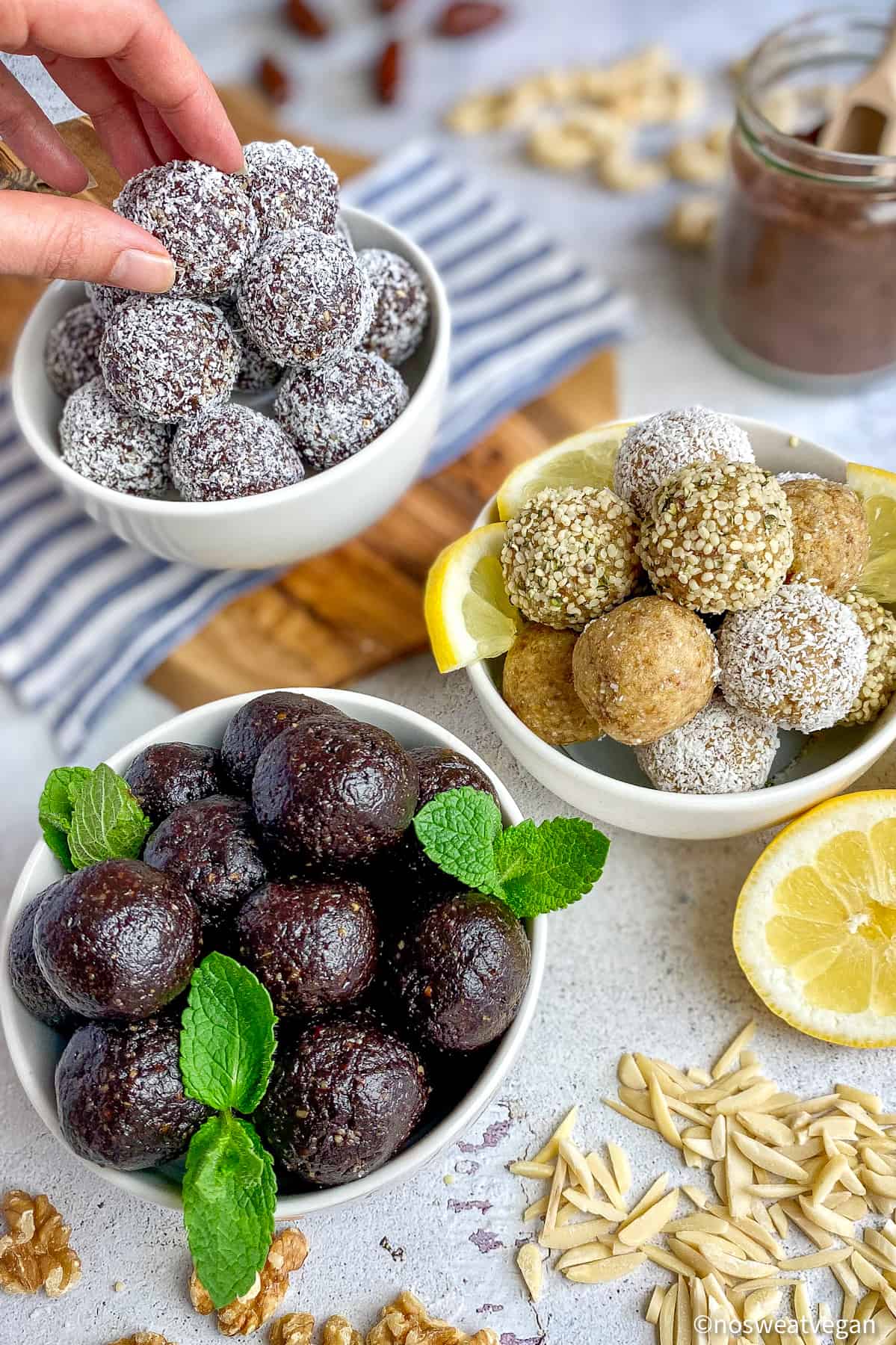 What are Bliss Balls?
Bliss balls generally consist of some kind of dried fruit (most often dates or apricots) and nuts (or sometimes oats). These are blended together with other ingredients to create different flavor variations. They're also sometimes called protein balls, protein bites, energy balls, energy bites, raw bites--okay they go by a lot of names.... But for this recipe, I choose Bliss Balls because that's exactly what they are: little balls of bliss!
Can these be nut-free?
While I haven't tested these as nut-free, most recipes like this will work with sunflower seeds or pumpkin seeds. I also think hemp seeds (hemp hearts) would make a good substitute.
Caramel deLites Bliss Balls
Sometimes called Samoas (or Caramel Delights), Caramel DeLites have long been my favorite type of Girl Scout Cookie, and therefore my favorite of this bunch. The combination of sweet dates, buttery cashews, rich cocoa powder, and coconut just brings these Bliss Balls together for a perfect treat!
Ingredients
Substitutions & Variations
Just about any nut (almonds, walnuts, pecans) could be substituted for the cashews. Each will offer a slightly different flavor profile, and while I think cashews work best here, the others would still be tasty.
If you don't have pitted dates, you could try raisins.
If you can only find coconut shreds, try blitzing them in the food processor or a spice grinder first for a finer consistency.
For an even closer replication of Caramel deLites, melt some dark vegan chocolate in the microwave or a double boiler and drizzle over each bliss ball!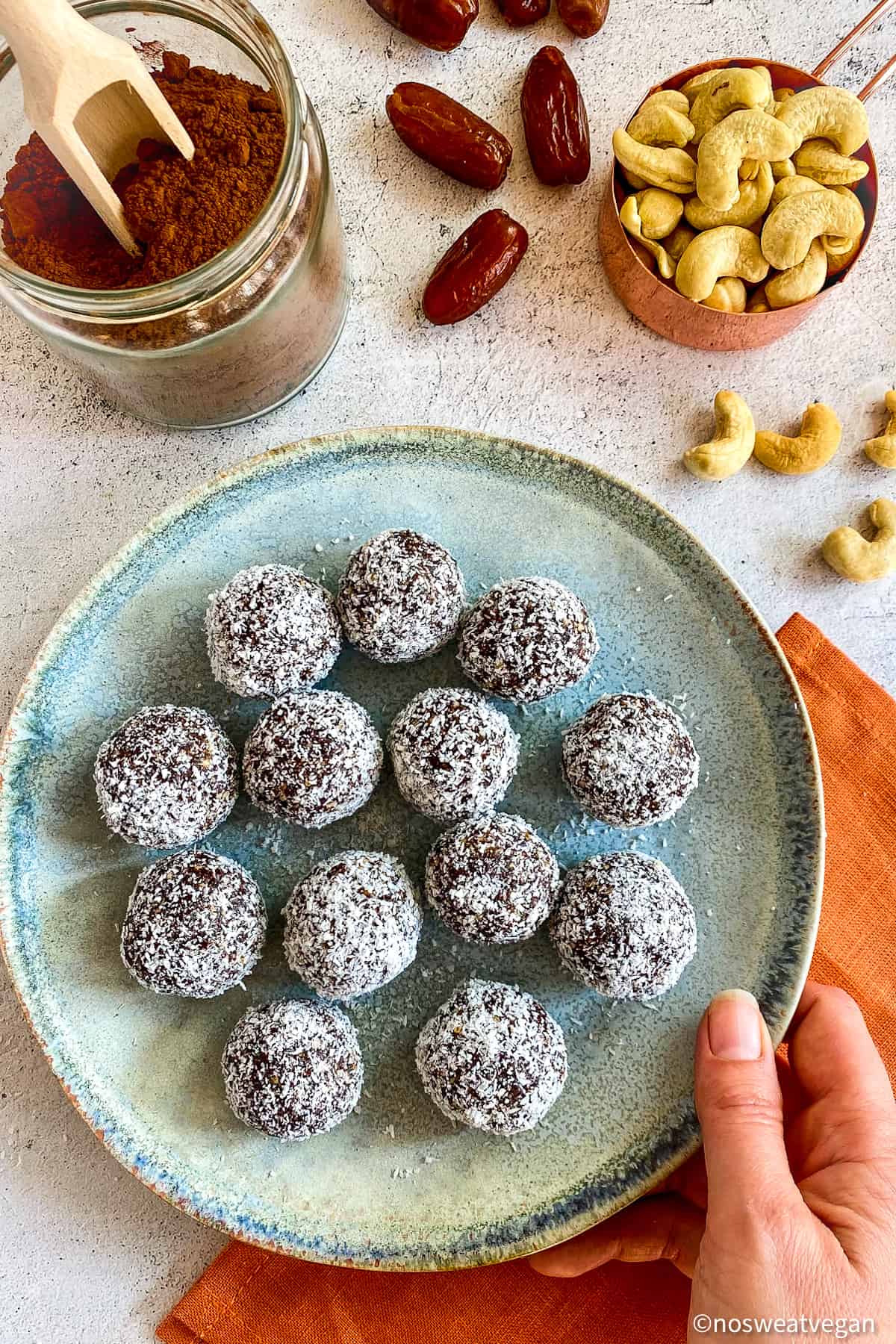 ---
Lemon Bliss Balls
There have been a few different lemon-flavored Girl Scout Cookies over the years and my favorites were the Lemon Sandwich Cookies--aka Lemonades. For this recipe, I think blanched almonds work best (though cashews would also be great). I decided to add a little coconut to this recipe and found that it gives just the right amount of creaminess without overpowering. My favorite ingredient for rolling is hemp seeds because they add a little crunch, but the coconut is also great.
Ingredients
Substitutions
Oat flour or coconut flour could be substituted for the almond flour. Do not use wheat flour!
Cashews or macadamia nuts could be substituted for the almonds. I would not use pecans or walnuts.
My favorite way to roll these was in the hemp seeds but you could roll them in whatever you like or nothing at all!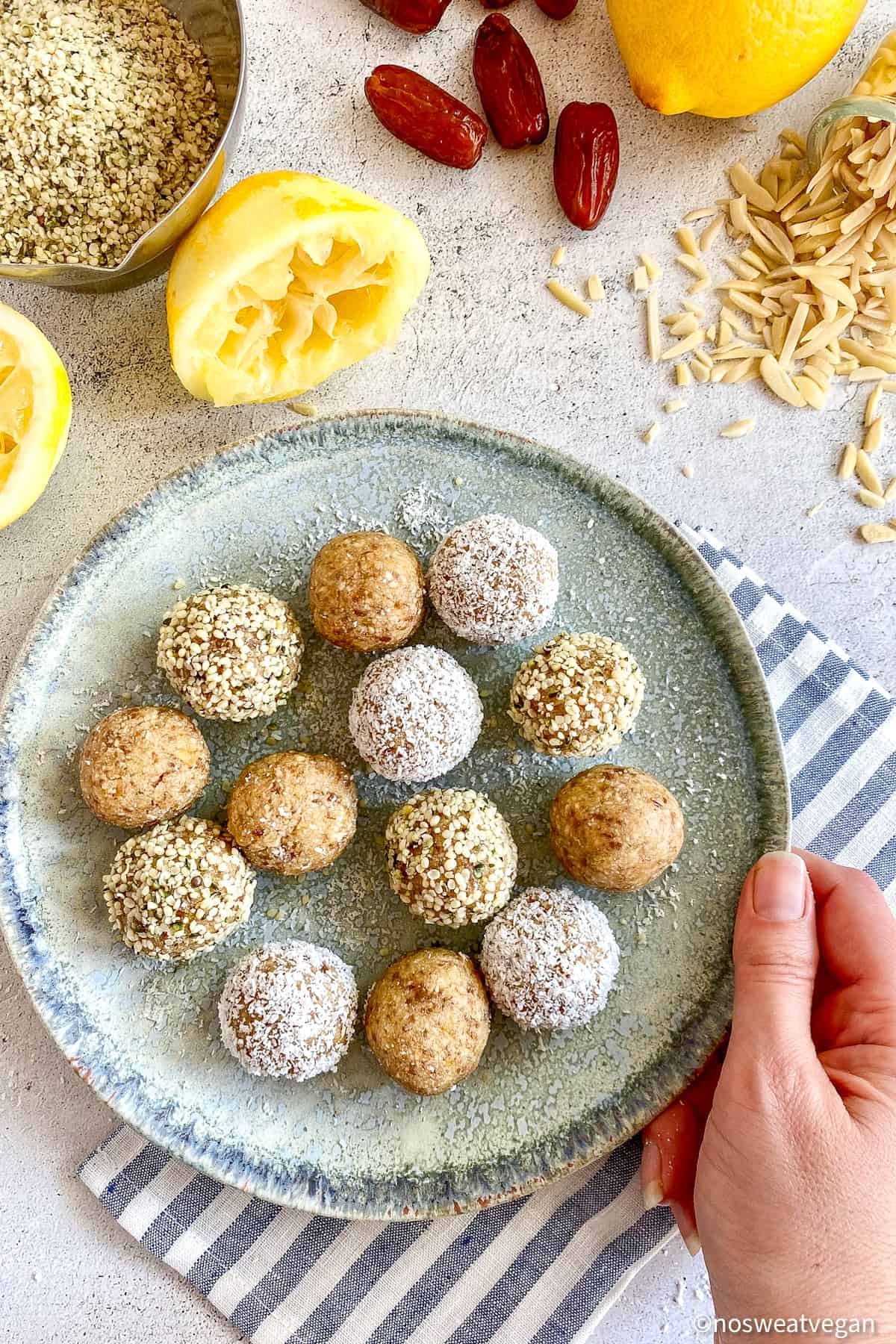 ---
Thin Mint Bliss Balls
There is something so cool and refreshing about the combination of mint and chocolate! When I created this recipe I was a little nervous that the walnuts wouldn't pair right, but I was wrong! They add just the right kind of rich cookie feel. These Thin Mint Bliss Balls bring all the flavor of the classic treat!
Ingredients
Substitutions & Variations
Cashews would make a fine substitute for the walnuts. I'm not sure how the almond flavor and mint would play together. I would avoid strongly flavored nuts like pecans.
I prefer these "naked" (aka, not rolled in anything), but you could roll them in more cocoa powder or mini vegan chocolate chips. For color, mint powder (if you can find it) would look really striking, though I would be concerned about how overpowering the mint flavor would be.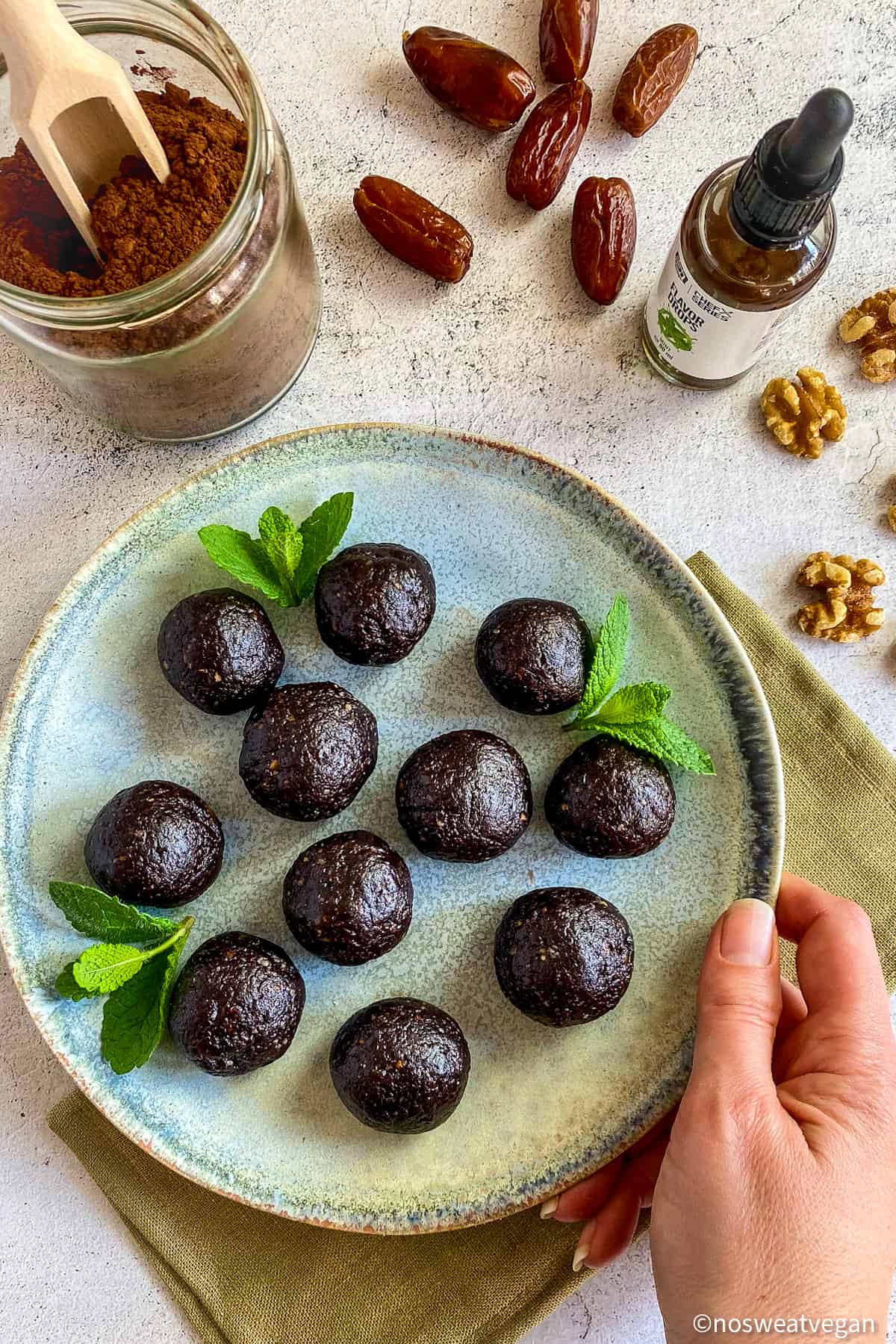 Instructions
Each of these Bliss Ball Recipes follows the same basic steps. The main variation is in the ingredients and whether or not you choose to roll them in the something at the end. For these photos, I'll show you how to make Caramel deLite Bliss Balls. You can also check out this video for No-Bake Brownie Bites, which is basically the same process.
Whichever recipe you choose, start by blending 1 cup of the main nut ingredient (cashews, almonds, walnuts, etc.) in the food processor until a coarse meal forms.
Next, add 1 cup of dried, pitted dates. (Be sure that none of the dates have pits because they can ruin your food processor blade.)
After the dates and cashews are incorporated, add the other ingredients (except the optional rolling ingredient) and blend until a loose dough forms. (In the case of the lemon bliss balls, a slightly denser dough will form.)
Pour the dough into a bowl. Take about 1.5 tablespoons of the dough into your hands, pressing and rolling it between your palms to form a ball. Place the finished ball on a plate and repeat until all of the dough is used up. You'll have 12 to 16 balls, all just a little smaller than a pingpong ball.
If you choose to roll the balls in an outer layer, place about ⅓ cup of the rolling ingredient on a plate. Lightly roll the bliss ball around in the ingredient until the entire exterior is fully coated.
For best flavor and texture, store the bliss balls in the refrigerator for 30 to 60 minutes before eating.
Check out this video for No-Bake Pretzel Brownie Bites to watch the blending and rolling in action! Even though it's a different recipe, the process is very similar.
---
Tips for Making Perfect Bliss Balls
Start by blending the nuts first. Then add the dates and blend again before adding the other ingredients. In my experience, this results in a better, more even result.
Be sure to remove the pits from the dates! If you have pitted dates, give each date a quick check before adding it to the food processor. There's usually 1 date per pack that somehow didn't get properly de-pitted. Trust me--the pits will destroy your food processor blade, so it's worth a quick check.
The softer your dates, the easier they are to blend. Some brands are quite soft to begin with. However, if your dates feel hard on the outside, you can easily soften them by letting them soak in hot water for ten minutes. Just be sure to thoroughly drain them before adding them to the food processor or else the dough will become too wet.
How to serve
I love keeping protein balls in a container in the refrigerator for a quick snack or sweet treat throughout the day.
Both kids and adults love them for a healthy lunchbox dessert.
They're also perfect for a high-protein post-workout snack.
A platter of bliss balls is also impressive on a dessert buffet or holiday.
How to store
Store in an airtight container in the refrigerator for up to a week.
You can also store bliss balls in the freezer for up to 3 months. Just transfer the bliss balls to the refrigerator a few hours before you want to eat them.
More no-bake vegan dessert recipes
---
📖 Recipe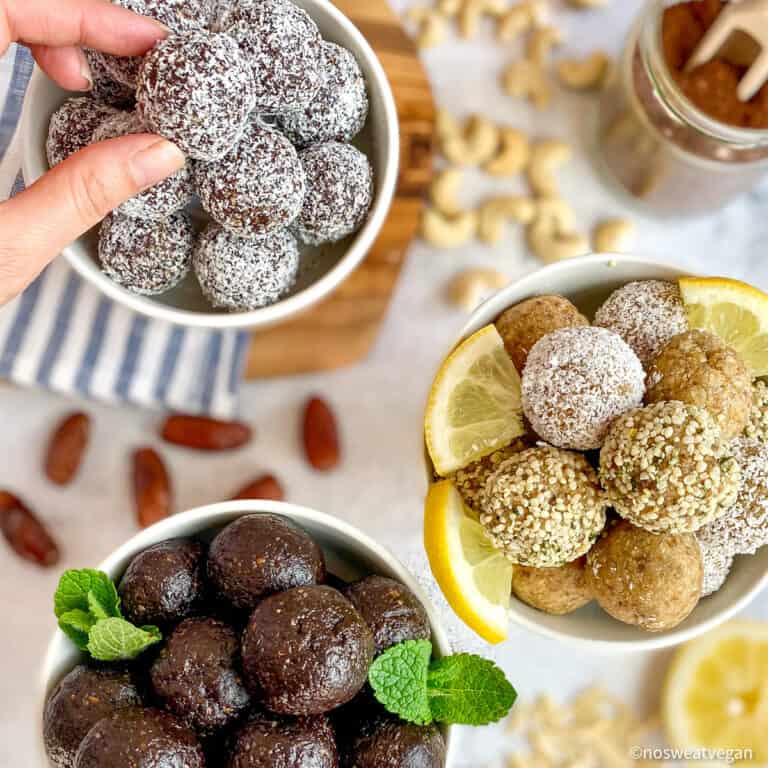 Bliss Balls! 3 Girl Scout Cookie Inspired Recipes (Vegan & Oil-free)
These Bliss Balls are inspired by three of my favorite Girl Scout Cookies: Caramel deLites, Lemonades, and Thin Mints. You just need a food processor and a handful of simple ingredients for a delicious, vegan, WFPB version of these nostalgic treats!
Ingredients
Caramel deLite Bliss Balls
Instructions
Choose 1 of the recipe variations above.

Add the first ingredient (1 cup of walnuts, cashews, or almonds) to the food processor. Blend until a coarse meal forms. (10 to 30 seconds).

Add 1 cup of pitted dates. Blend 30 to 60 seconds, until the dates are evenly chopped and loosely incorporated with the nuts.

Add all of the other ingredients for that bliss ball flavor *except optional ingredients for rolling.* Blend until everything is loosely incorporated. (In the case of the lemon bliss balls, a more solid dough will form.)

Take about 1.5 teaspoons of the dough in your hands and roll it between your palms until a smooth ball forms (see video above as reference.) Repeat until all of the dough has been used. You will have 12 to 16 bliss balls.

Optional step: Add ⅓ cup desiccated coconut, hemp seeds, or crushed nuts to a plate. Lightly roll each ball in the rolling ingredient until the bliss ball is covered.

You can serve right away, but the flavor and denisty improves after 1 hour in the refrigerator.
Save this Recipe
Saved!
Notes
For the Thin Mint Bliss Balls, each brand of peppermint extract will have a different level of intensity. The first time you make them, start with a few drops and then add a few more as needed. I use about 7 drops, or a little over ¼ teaspoon. Keep in mind that the flavor will deepen somewhat after the bliss balls have been in the refrigerator for 1 hour.
For the Lemon Bliss Balls, I use a Microplane to grate the lemon zest, but you can also use a regular box grater. The trick to grating lemon zest is that you just want to lightly grate off the yellow outer layer of the peel. 1 large lemon will give you the right amount of zest for this recipe.
Nutrition
Calories:
92
kcal
Carbohydrates:
11
g
Protein:
2
g
Fat:
5
g
Saturated Fat:
1
g
Trans Fat:
1
g
Sodium:
84
mg
Potassium:
137
mg
Fiber:
2
g
Sugar:
8
g
Vitamin A:
2
IU
Vitamin C:
1
mg
Calcium:
19
mg
Iron:
1
mg
Want access to my Exclusive Meal Planning Tips & Printables page?
Did you try this recipe? Have a question? Just leave a comment below and I'll get back to you ASAP!