This collection of festive Vegan Christmas Dinner Recipes contains everything you need to plan your holiday meal. Start off with a selection of mouthwatering appetizers, then move on to exceptional sides and mains, and finally finish with sweet and delicious Christmas desserts!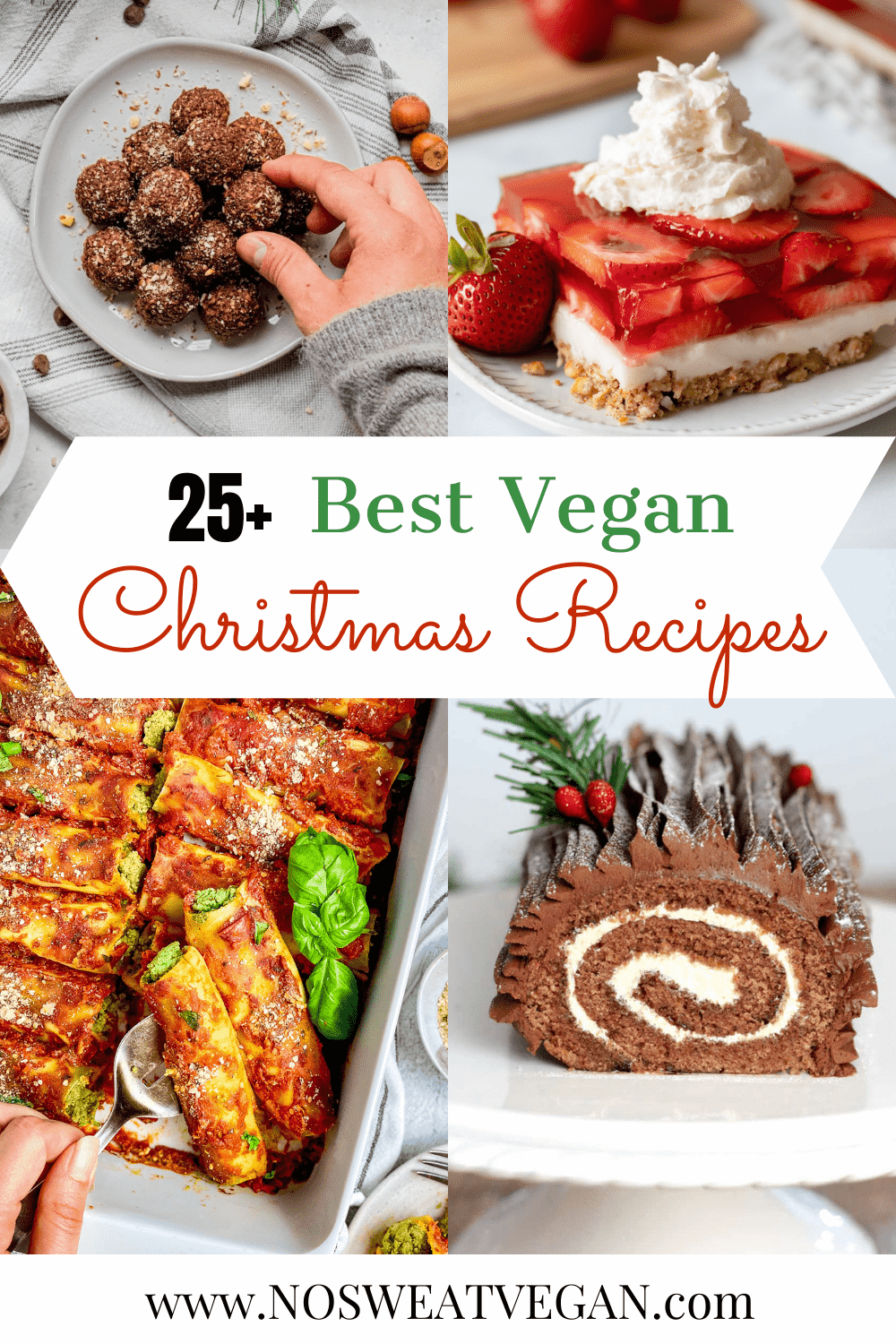 Planning a vegan dinner during the holidays might seem daunting at first, but if this selection shows anything it's that you don't have to miss out on any of your favorites just because they're plant-based.
Making Christmas dinner vegan doesn't have to be complicated. To show you what I mean, I've collected some of the very best Vegan Christmas Recipes. From drool-worthy appetizers and side dishes to showstopping mains and charmingly sweet desserts, this list is sure to inspire you this holiday season.
Jump to:
You'll love this collection of Vegan Christmas Recipes because everything is:
Festive & Delicious!
Vegan / Vegetarian
Dairy-Free / Egg-Free
Perfect for Sharing
Kid-friendly
Great for Holiday Dinners and Parties
What do vegans eat for Christmas?
The short answer is, there is no right answer.
To me, Christmas dinner has always felt a lot more flexible than Thanksgiving. But if there's a specific dish that you absolutely must have to give yourself the right amount of Christmas cheer, fear not. Someone, somewhere, has veganized it.
But don't forget, you aren't under any obligation to have a traditional dinner with a typical main course. Sometimes we just enjoy appetizers and a vegan grazing board. Or you can make a meal of side dishes. Want to make pasta your main dish? Go for it!
The good news is that when it comes to vegan Christmas food, you have options. In this collection, I've rounded up more than 25 delicious vegan holiday recipes to help get you started and inspire your Christmas feast.
Tips for planning a vegan Christmas dinner
Pick your Battles: If you're planning to make a more complicated main course, then consider going for easier appetizers and sides, like this vegan Charcuterie Board for a starter and Air Fryer Green Beans to go with your main.
Plan Ahead: It probably goes without saying, but you should definitely take advantage of make-ahead dishes like cookies, cakes, and casseroles. Make or prep them a few days in advance and save yourself as much headache as possible on the big day.
Map it Out: Whenever I"m planning a big, complicated holiday meal, I make a labeled sketch of my dishes and where they need to be cooked or reheated.
For instance, I just have a four-burner stove and a smallish oven, so it's really important that I don't plan more dishes than I can fit. Small appliances like air fryers and instant pots can really come in handy here, giving you extra cooking or warming spaces if your oven or stove are full. Mapping it out will also help so that you don't forget a dish, as I am wont to do.
Vegan Christmas starters & munchies
Start off on the right foot with these plant-based appetizers. Whether you just want something light to hold you over to dinner or you want to make a whole meal, these recipes will give you what you need.
For even more appetizer ideas, be sure to check out my collection of Must-Try Vegan Appetizer Recipes!
Now that you've had some time to munch and mingle, let's move on to dinner!
---
Vegan Christmas dinner sides
What makes a great Christmas side dish can vary from family to family. And while I can't capture every tradition here, I can get you started.
For more side dish ideas, check out these Easy Vegan Sides or this collection of Vegan Thanksgiving Recipes!
---
Vegan Christmas dinner mains
Welcome to the main course! For many people going meatless, the main course can be the hardest choice. But not to worry! I've got you covered with a selection of vegan options. Some of them replicate traditional meat dishes, while others stand on their own.
One thing is for sure--these Vegan Christmas Main Dishes are sure to leave everyone satisfied!
And last, but not least... dessert!
Vegan Christmas desserts
Who doesn't love a good dessert after a special meal? But Christmas desserts are very special indeed. Most of the things we think of as Christmas desserts are recipes we only make once a year, so we want to make them count!
I happen to be a big fan of Christmas cookies, but I've also included some other vegan Christmas treats that are sure to fill you with the Christmas spirit!
---
That's it! I hope you love these Vegan Christmas Recipes. If any of your favorites are missing, please let me know in the comments.
Want access to my Exclusive Meal Planning Tips & Printables page?
More vegan collections