These Maple Balsamic Roasted Brussels Sprouts are crispy, beautifully caramelized, and full of rich flavors. Elegant enough to be the perfect vegan side dish for your next holiday meal but easy enough to serve on a busy weeknight.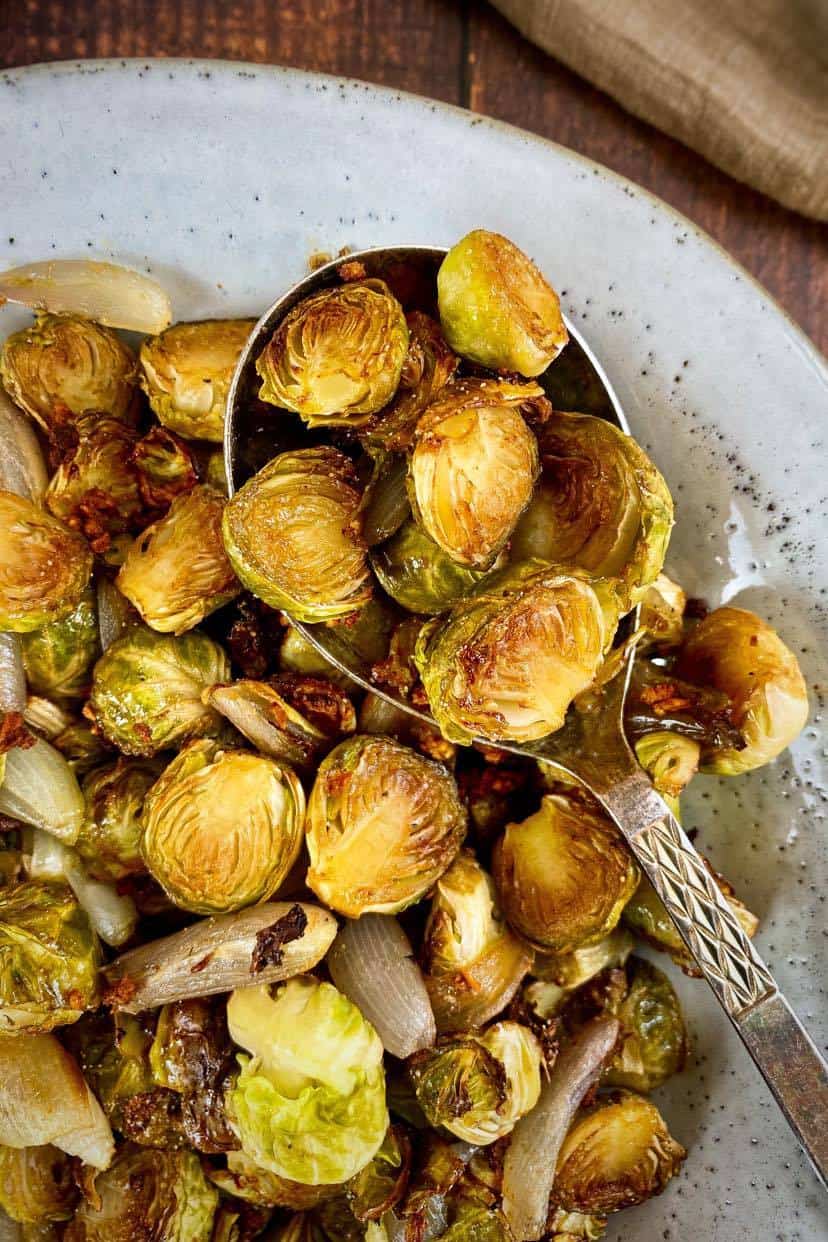 Remember when the humble Brussels sprout used to strike fear in the hearts of children everywhere? Back then, most of us only knew Brussels sprouts as a bland, boring, boiled substance we had to choke down to earn dessert. But these days, Brussels sprouts have done a complete 180. People actually want to eat them! And the reason? It's all in the roasting. Because of the layers in a Brussels sprout, they manage to get both caramelized and crunchy on the outside, while staying soft and warm on the inside.
The trickiest part of this recipe was figuring out how to make them oil-free. I've long enjoyed Roasted Brussels sprouts cooked in olive oil, but since I try to follow a Whole Food Plant-Based Diet that's low in oil, I wanted to figure out a way to make them without oil. I tried a variety of methods but ultimately decided on this one. The maple syrup helps the sprouts caramelize and the balsamic glaze offers a richness that counteracts the sweetness of the syrup.
Jump to: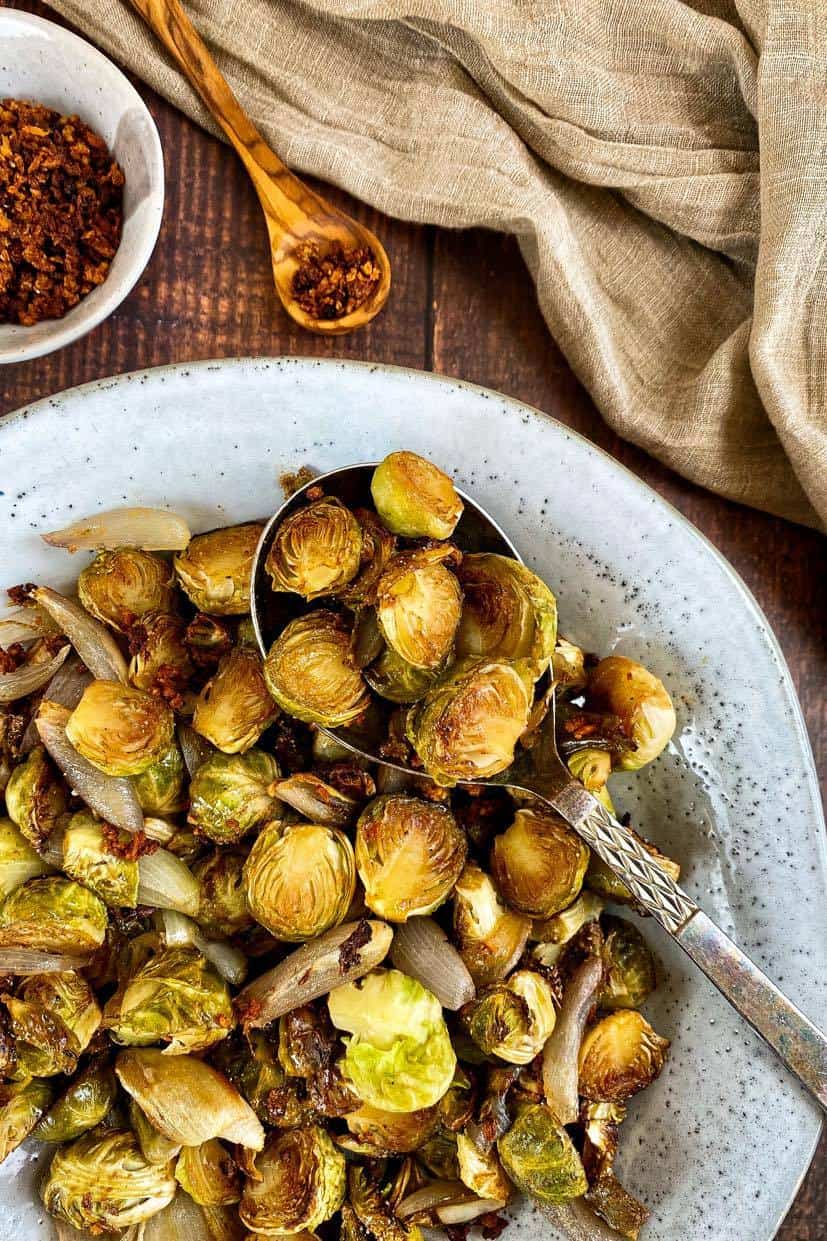 ---
You'll love this Roasted Brussels Sprouts Recipe because they're:
A classic holiday side dish
Easy enough for a weeknight meal
Full of healthy vitamins, antioxidants, and fiber
Oil-Free
Gluten-Free
A delicious side for any meal!
---
Fun Facts about Brussels Sprouts:
Brussels sprouts are named after the city of Brussels, where they have long enjoyed popularity. How many other veggies can make that claim?
In German, Brussels sprouts are called Rosenkohl, literally "rose cabbages," which I absolutely adore. It's also a great reminder that Brussels sprouts are part of the cruciferous family, making them some of the healthiest veggies around.
Not only are they loaded with fiber, antioxidants, and vitamins, but they can also reduce inflammation and help with blood sugar regulation, so if you suffer from things like arthritis or diabetes, Brussels sprouts can make a great addition to your diet.
---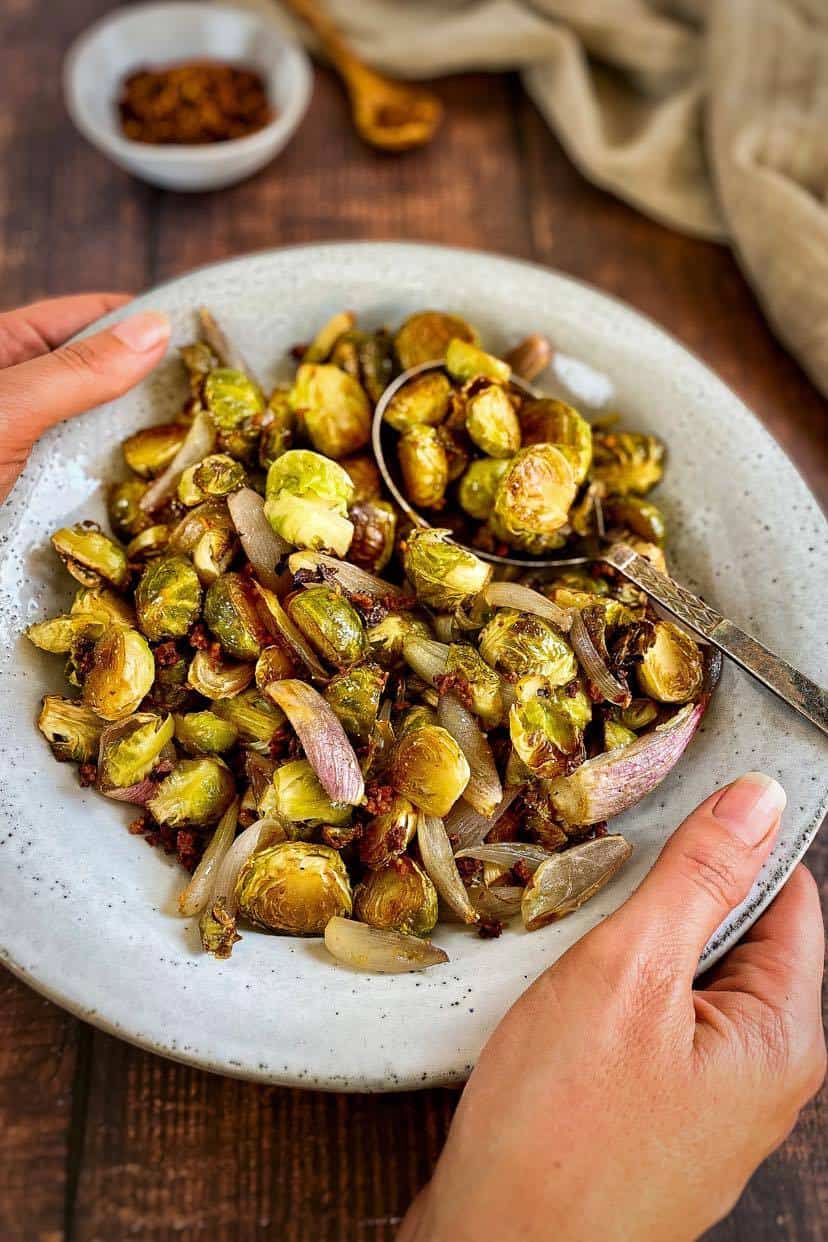 When are Brussels sprouts in season?
Brussels sprouts are in season from September to late February or early March. If you live in the US, you might not even notice, since the stores generally stock them year-round.
But where I live in Germany, it can be hard to find Brussels sprouts out of season. This isn't necessarily a bad thing since it makes you appreciate them more! When I start to see the bunches of Brussels sprouts appearing, it gives me a distinct fall feeling, which I love. That's just one of the many reasons these Roasted Brussels Sprouts make such an amazing holiday side dish!
Can I make these in the Air Fryer?
Yes! To make these in the air fryer, prep them as described here, and then cook them at 375F or 190C for about 10 minutes, stopping halfway to shake the basket. For full instructions and more flavoring ideas, check out the full post for Air Fryer Brussels Sprouts.
Ingredients
Brussels sprouts--The star of this dish! These cruciferous veggies are packed with vitamins and nutrients.
Shallots--These subtle cousins of the onion elevate this dish and give it that extra special holiday feel. (You can substitute with red onion if you don't have shallots on hand).
Balsamic Glaze--This ingredient adds depth, richness, and a touch of tang.
Maple Syrup Maple syrup not only gives the dish sweetness but also helps with the caramelization.
Water--Just to thin out the marinade.
Dijon Mustard --This adds a lovely little kick and a hint of mustard.
Granulated Garlic --Granulated Garlic works better than fresh in this recipe since fresh garlic would burn. If you prefer fresh, just wait to add about halfway through the cooking process.
Salt (optional)
Garnish with Vegan Bacon Bits and Vegan Parmesan
---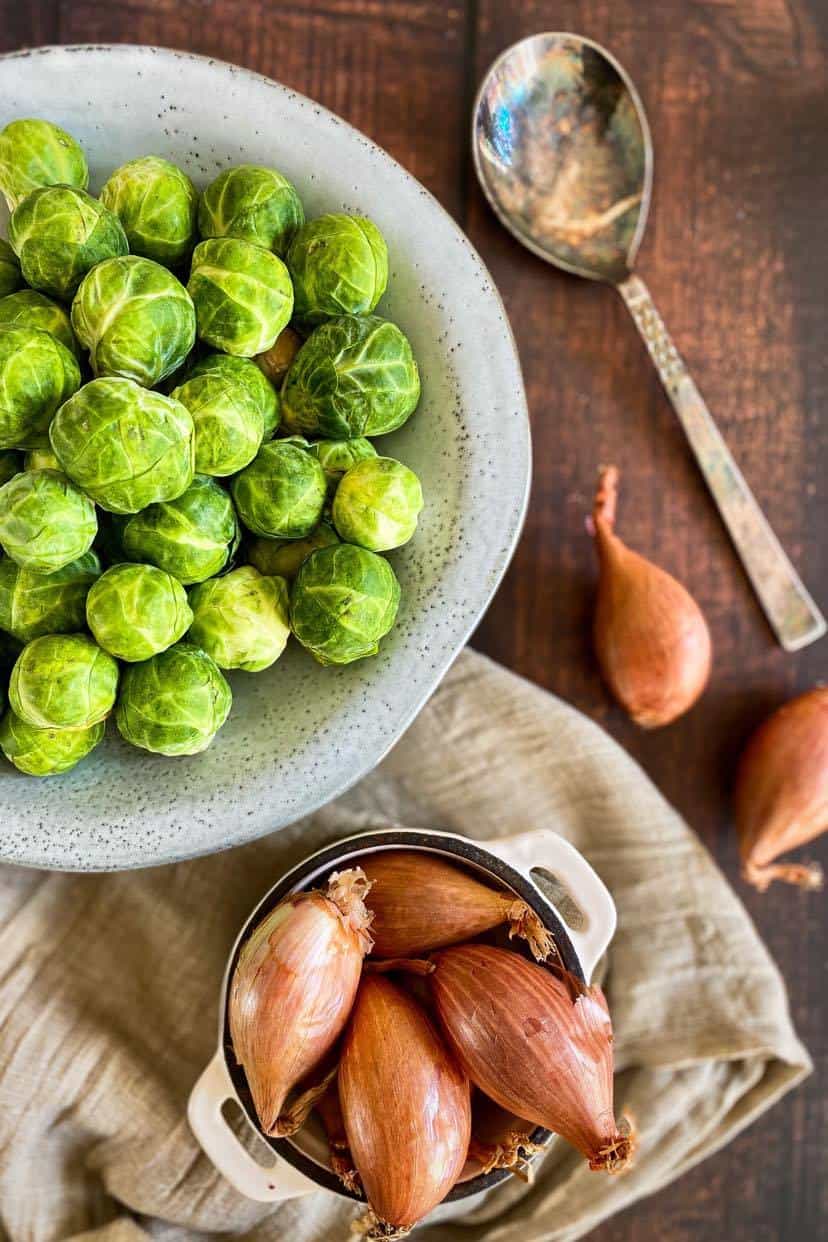 ---
How to Make
This recipe requires a little prep work upfront, but once the sheet pan goes into the oven there's not much left to do.
After you wash the Brussels sprouts and remove any discolored outer leaves, you will need to cut off the stem of each sprout. Then turn the sprout lengthwise and chop it in half. Some of the outer leaves might fall off. You can roast those, but they cook more quickly than the full sprouts and therefore burn easily. They also crowd the sheet pan. So I recommend either discarding them or roasting on a separate tray.
Once the sprouts are prepped, mix your liquid and spice ingredients in a bowl to create a thin sauce. Place the Brussels sprouts in the bowls and stir until all the sprouts are evenly coated.
To prep the shallots, start by chopping off the top and bottom. Cut the shallot in half and peel off the skin. Then chop each half into 2 to 3 strips (lengthwise).
Next, place the sprouts and shallots on a lined baking tray. The easiest way to do this is to dump all of the Brussels sprouts onto the tray, spread them out, and then turn over the ones that aren't already facing down (this is faster than placing each on by hand). Remove any excess leaves and make sure the sprouts are evenly spaced. Then add the shallots and place the tray in the oven. Bake about 20 minutes, or until they are golden brown and crispy.
After the bake, taste and adjust seasonings if necessary. Garnish with Vegan Bacon Bits and Vegan Parmesan and serve right away!
How to Serve
How to store & reheat
Store any leftover Brussels sprouts in an airtight container in the refrigerator for up to 5 days. I don't recommend freezing, as this will change the texture and result in soggy Brussels sprouts.
To reheat, place the Brussels sprouts in a skillet with 1 tablespoon of water and saute until crispy and warm.
A few notes on recipe doubling or holiday meal prep
If you plan to double this recipe, consider using two baking sheets so that the Brussels sprouts are not crowded on the pan. If your oven if large enough, placing the sheet trays side by side will give you the best results. If your oven is small (like mine!) and you need to place one tray above the over, switch the position of the trays halfway through the bake. You might need to add a few minutes to the roasting time.
If you are making this as part of a holiday meal, you can prep the Brussels sprouts and shallots, mix everything with the marinade and store in the refrigerator up to 24 hours before roasting.
If your oven space is at a premium, you can pre-roast the Brussels sprouts for 18 minutes (or until almost but not quite done). Keep them on the lined tray and pop them back in the oven for another 2 to 4 minutes just before serving. This will help them reheat and crisp up again.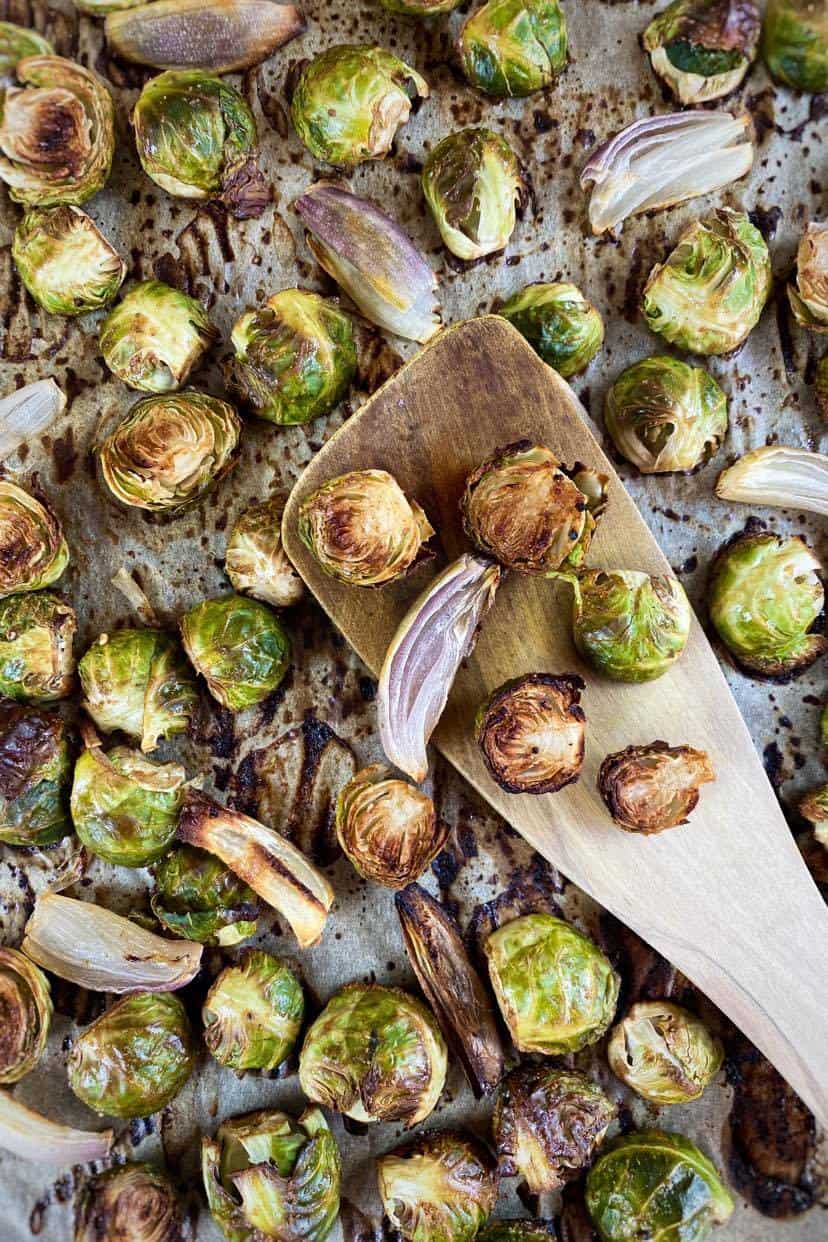 ---
More Plant-Based Sides:
---
📖 Recipe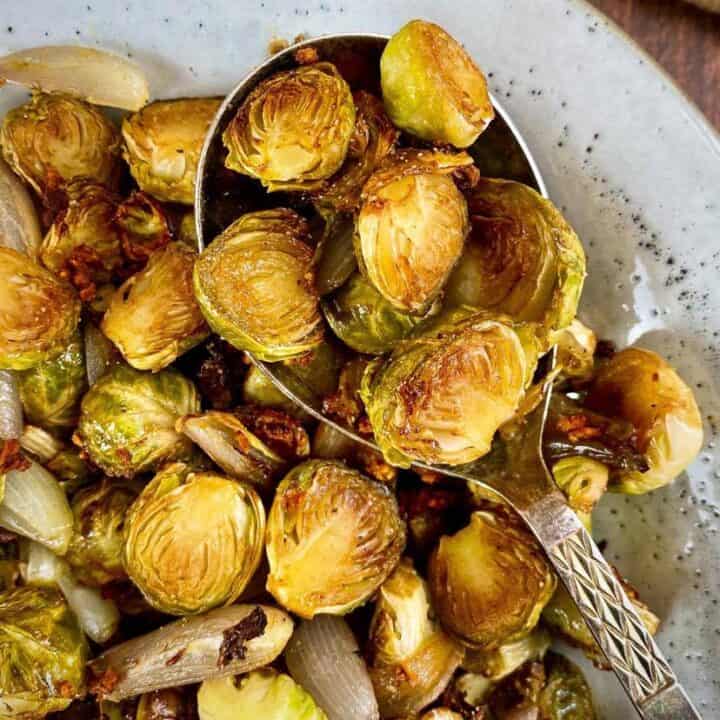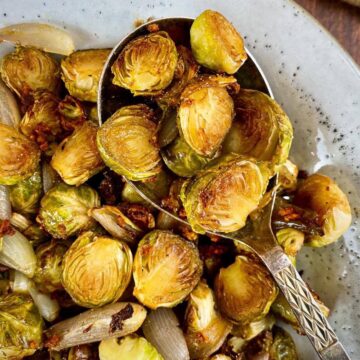 Maple Balsamic Roasted Brussels Sprouts
These Maple Balsamic Roasted Brussels Sprouts are crispy, beautifully caramelized, and full of rich flavors. Elegant enough to be the perfect vegan side dish for your next holiday meal but easy enough to serve on a busy weeknight.
Ingredients
Optional Garnish
Instructions
Preheat oven to 425°F or 220°C.

Prep the Brussels Sprouts: Place the Brussels sprouts in a colander and rinse with water. Remove any discolored leaves. For each sprout, chop off the stem then turn and chop lengthwise. Remove any leaves that fall off. Repeat for each Brussels sprout. (for full prep details and photos scroll up to the blog post).

Prep the shallots: For each shallot, cut off the stem and the top. Cut the shallot in half lengthwise, remove the outer skin, and cut each into 2 or 3 strips. (See photos above).

Add the balsamic glaze, maple syrup, mustard, water, and spices to a mixing bowl. Stir to combine. Add the Brussels sprouts to the mixing bowl and stir until the sauce evenly coats all of the Brussels sprouts.

Spread the Brussels sprouts on a lined baking sheet. Place each sprout cut side down and remove any excess leaves. Add the shallots to the baking sheet. Try not to crowd the baking sheet as this will cause the vegetables to steam rather than roast.

Place the baking sheet in the oven and roast for 20 minutes, or until the Brussels sprouts and nicely browned and crispy.

Garnish with Vegan Bacon Bits or Vegan Parmesan (optional). Serve and enjoy right away.
Save this Recipe
Saved!
Notes
I like to remove any extra Brussels sprout leaves before roasting. They burn easily and crowd the pan, resulting in mushy Brussels sprouts (yuck!).
Placing the sprouts cut-side down will help them crisp and brown.
If you don't have shallots, you can easily substitute with ½ a medium red onion, sliced into strips.
For tips on recipe doubling and holiday meal prep, scroll up to the blog post.
Nutritional info is calculated for 4 servings.
Nutrition
Calories:
108
kcal
Carbohydrates:
24
g
Protein:
6
g
Fat:
1
g
Saturated Fat:
1
g
Polyunsaturated Fat:
1
g
Monounsaturated Fat:
1
g
Sodium:
344
mg
Potassium:
751
mg
Fiber:
7
g
Sugar:
8
g
Vitamin A:
1284
IU
Vitamin C:
146
mg
Calcium:
84
mg
Iron:
3
mg
---
Want access to my Exclusive Meal Planning Tips & Printables page?