These mashed potatoes are luscious, creamy, and rich--but without any butter or oil! The flavor comes from the nutritional yeast and powdered vegetable broth. Perfect for a holiday meal or any night of the week.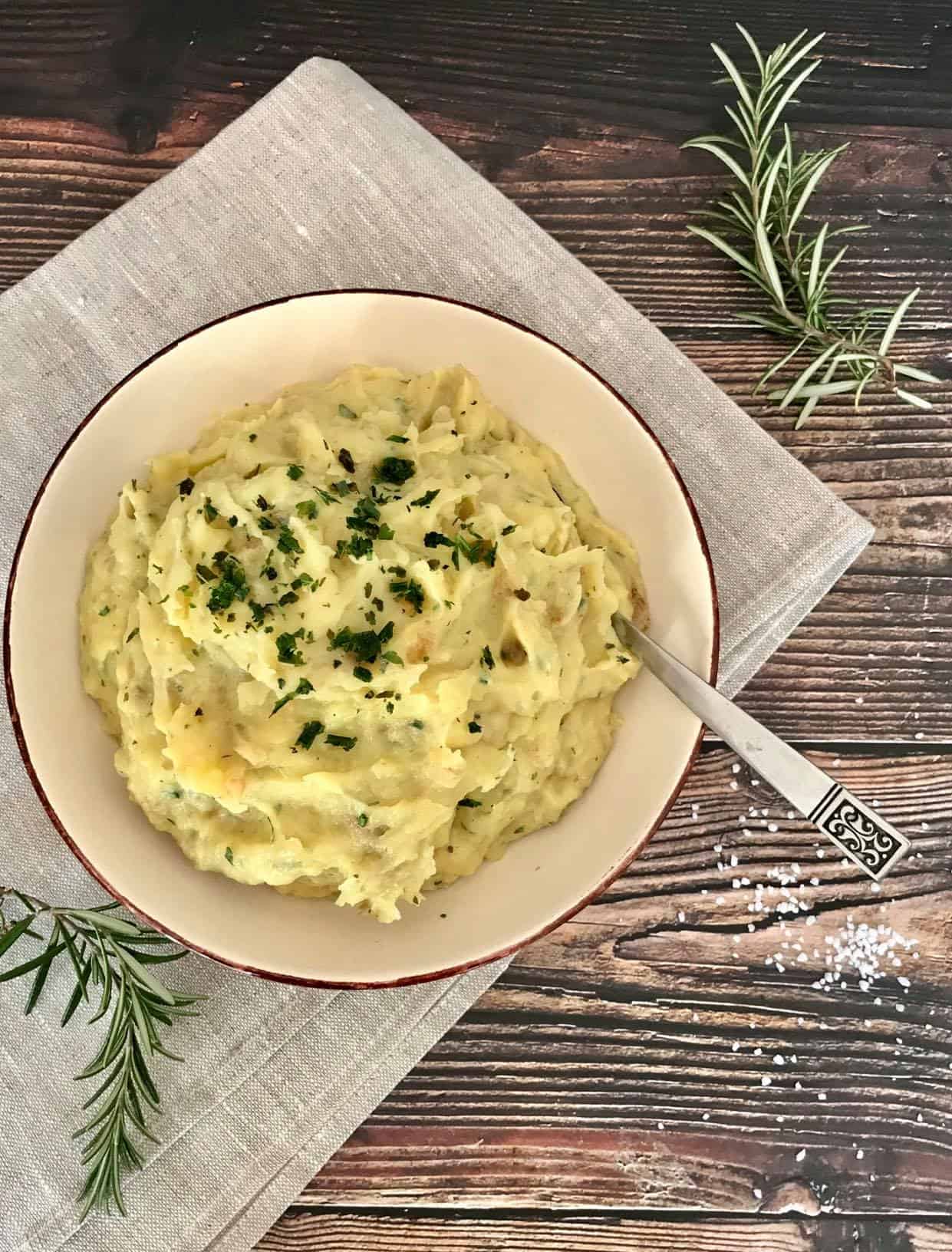 When I was a kid my favorite food was mashed potatoes. Confession time: even in my teens and early college days, I would choose restaurant entrees based on whether or not the main dish came with a side of mashed potatoes. I loved the buttery, rich flavor and the comforting starchiness of the potatoes. But as I grew up and my palate expanded, I forgot about my childhood favorite. It wasn't until I had kids of my own—and I was frantically trying to come up with meal ideas that they'd not only be willing to try but be excited to eat—that I turned back to my roots.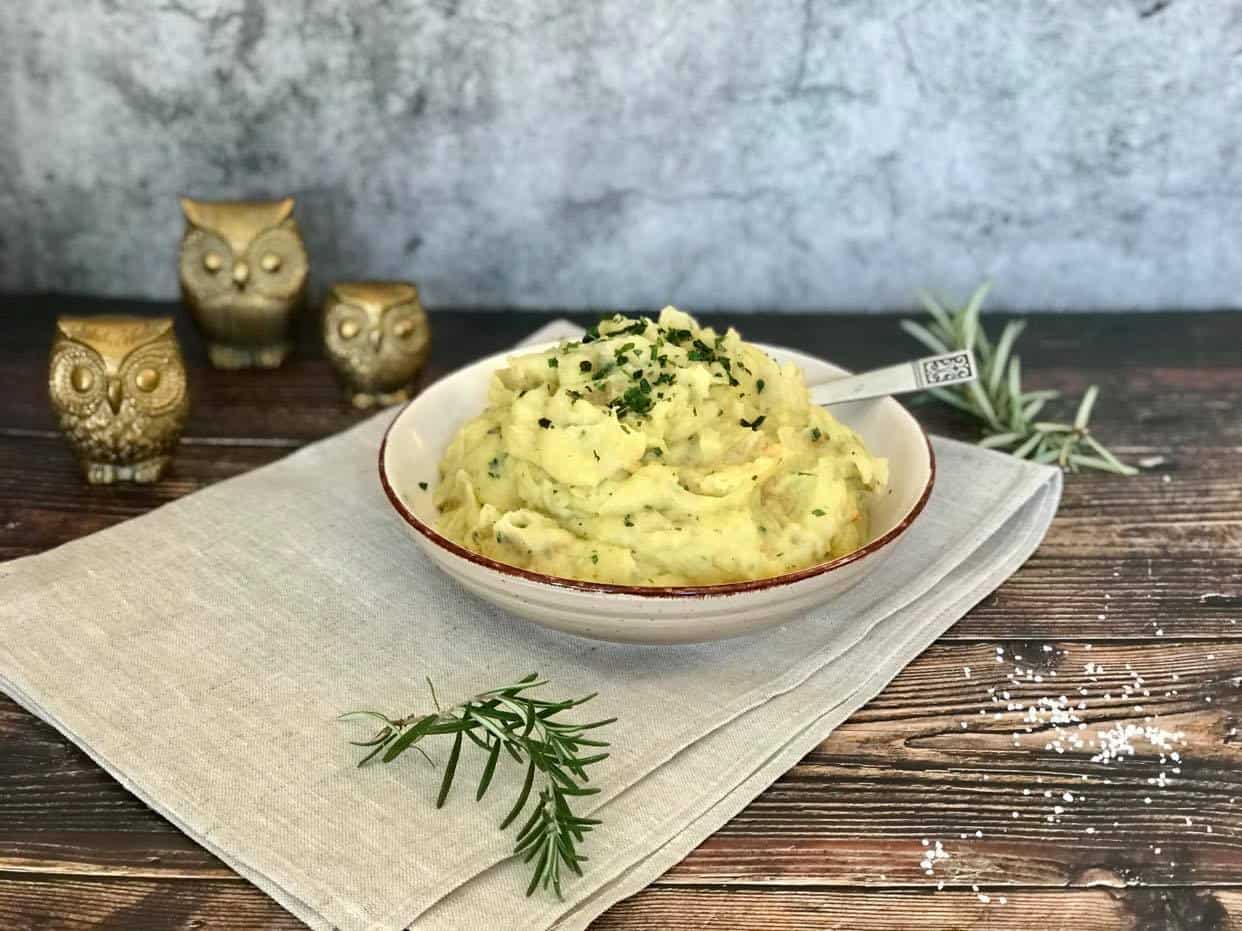 Veganize It!
When I was first experimenting with vegan cooking, I figured mashed potatoes would easy enough to veganize. I could just substitute vegan butter and plant milk, and no one would be the wiser. And it's true. You can do that. But did you know you can also make delicious mashed potatoes without butter or oil? Reader, I did not believe such a thing was possible!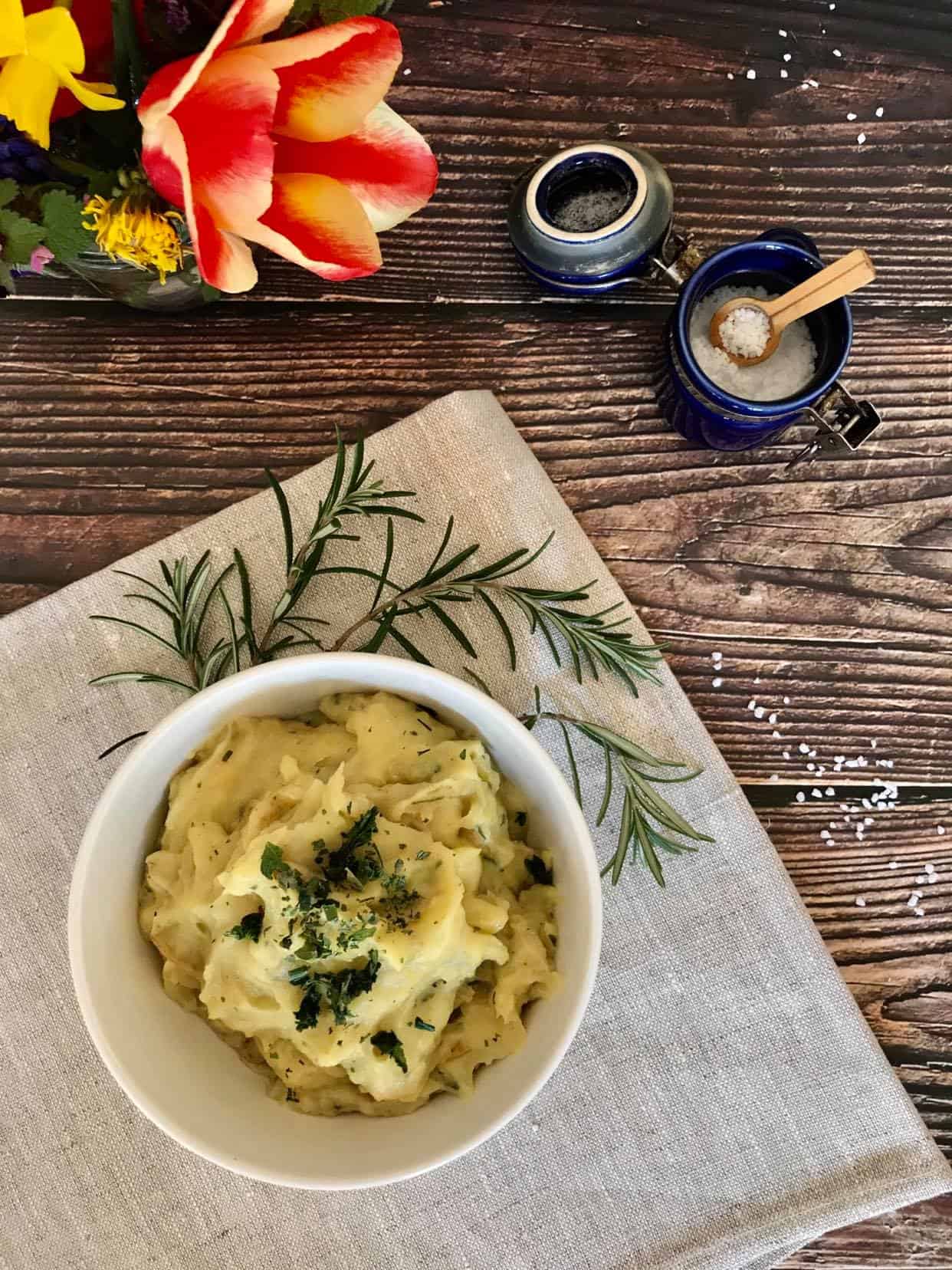 ---
Can I make Mashed Potatoes without Butter?
I was convinced I couldn't possibly recreate REAL mashed potatoes without the rich, creamy, and flavorsome addition of gratuitous amounts of congealed fat butter. I resigned myself to a life without. Sigh.
But then--lightbulb!--I thought, what if I could replace the butter with the right flavors and add extra plant milk to maintain creaminess? Would such a thing even be possible? In fact, it is possible. And thus, this recipe for Healthy Vegan Mashed Potatoes (Without Butter) was born.
And as if they don't taste delicious enough, you can bet that by skipping the oil and butter you're cutting down on fat and calories. Add in the flavor, take away the fat. That's the kind of math I like. Why would you ever want to go back to butter?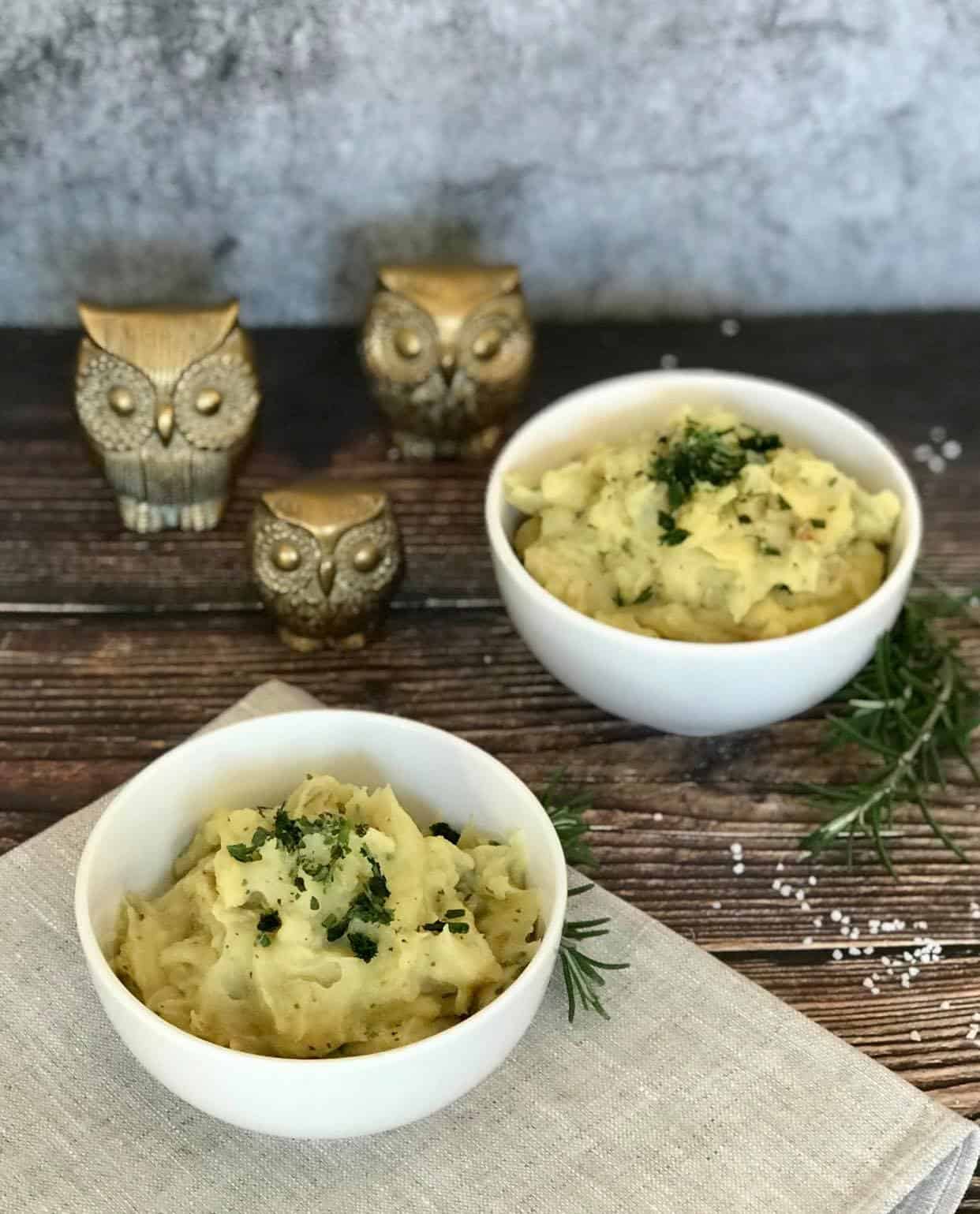 How to Serve these Vegan Mashed Potatoes
These No Butter Mashed Potatoes are so fluffy, so flavorful, and yes, dare I say it--even buttery! They pair great with tofu nuggets, make the perfect topping for a vegan Shepherd's Pie, and will wow the crowd at your next holiday feast.
How to Make Vegan No-Butter, No-Oil Mashed Potatoes
The process for making these mashed potatoes is just the same as most mashed potatoes recipes. First, you wash and clean your potatoes. I like to keep the skins on, but you can peel them if you like.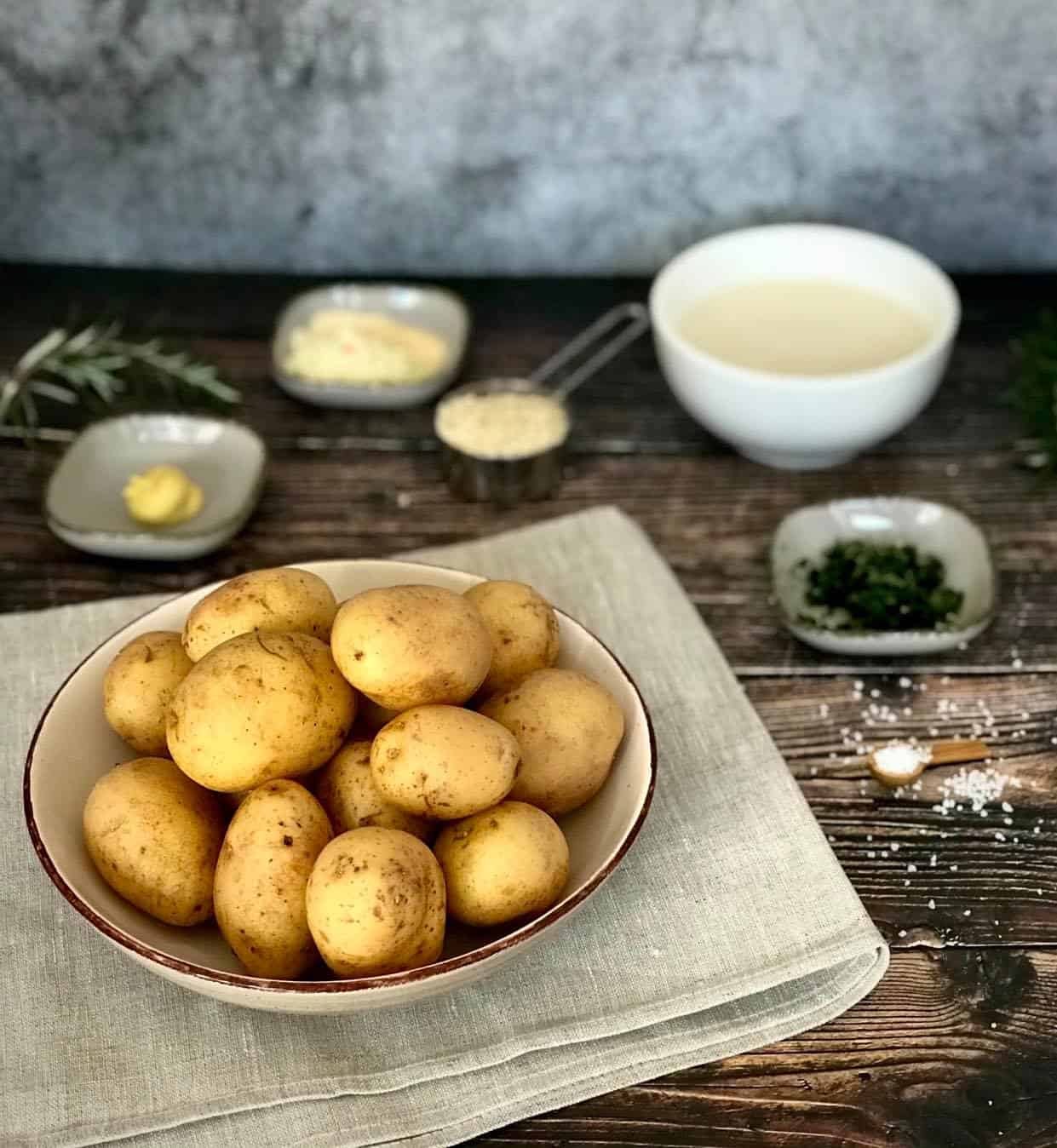 Next, you chop the potatoes into 1-inch cubes, add to a pot with cold water, and boil until fork tender. After the potatoes are fully cooked, just drain, rinse, and return to the pot. Then you add in the rest of the ingredients and mash with a potato masher or hand mixer. Serve and enjoy!
If this recipe for Vegan No-Oil Mashed Potatoes speaks your language, you might also love:
Never heard nutritional yeast?
Nutritional yeast is a deactivated yeast that has a cheesy, buttery flavor that is the holy grail of vegan cheeses, sauces, and creamy dishes. You can usually find it in the health-food section of your grocery store. Or order *Nutritional Yeast online right here. For more info check out my post on Essential Vegan Pantry Staples.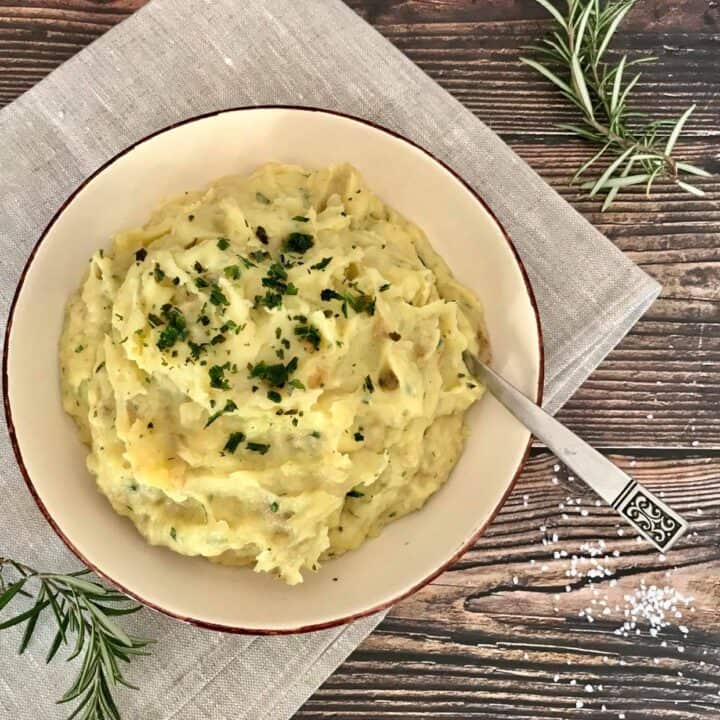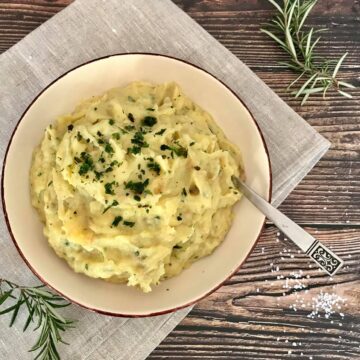 Vegan No-Oil Mashed Potatoes (WFPB)
These mashed potatoes are luscious, creamy, and rich--but without any butter or oil! The flavor comes from the nutritional yeast and powdered vegetable broth.
Ingredients
2

pounds

Yukon Gold Potatoes

¾

cup

plant milk of choice (I use soy milk)

(plus ¼ extra)
Instructions
Wash potatoes and scrub off any eyes or bad spots. Depending on your preference you can either peel the potatoes or leave the skins on.

Dice potatoes into cubes 1 inch cubes. Place potatoes medium sized pot and add enough cold water to cover the potatoes with 1 inch of cold water.

Bring to a boil for roughly 10 minutes or until potatoes are fork tender. Drain in a colander and let the potatoes steam for a few minutes. While the potatoes are steaming, add plant milk and and all of the other ingredients to the warm pot. (Turn the heat off, but keep the pot on the warm burner for the rest of the preparation so that the mashed potatoes don't get cold.)

Return potatoes to the pot. Stir to combine with warmed liquid and seasonings.

Mash with a potato masher or hand mixer until you reach your desired creaminess. (I like mine extra creamy but some people prefer chunky. You do you!).

If the potatoes seem too dry, add more plant milk, a little at a time. If the there is too much liquid, cook the mash over a low heat, stirring with a wooden spoon to keep them from sticking to the bottom of the pan.

Taste and adjust seasonings if necessary. Serve!
Notes
If you prefer to use liquid vegetable broth, simply reduce plant milk by half, and add ½ cup liquid broth instead of powdered broth.
Unlike cooking pasta (where you boil the water first), when cooking potatoes, you want to start with cold water and bring everything to a boil at the same time.