These baked Tofu Nuggets are so delicious, you'll argue over who gets to eat the crumbs. Dip these easy vegan nuggets in ketchup or add them to a buddha bowl. There is no limit to how you can incorporate these little nuggets of joy into your life!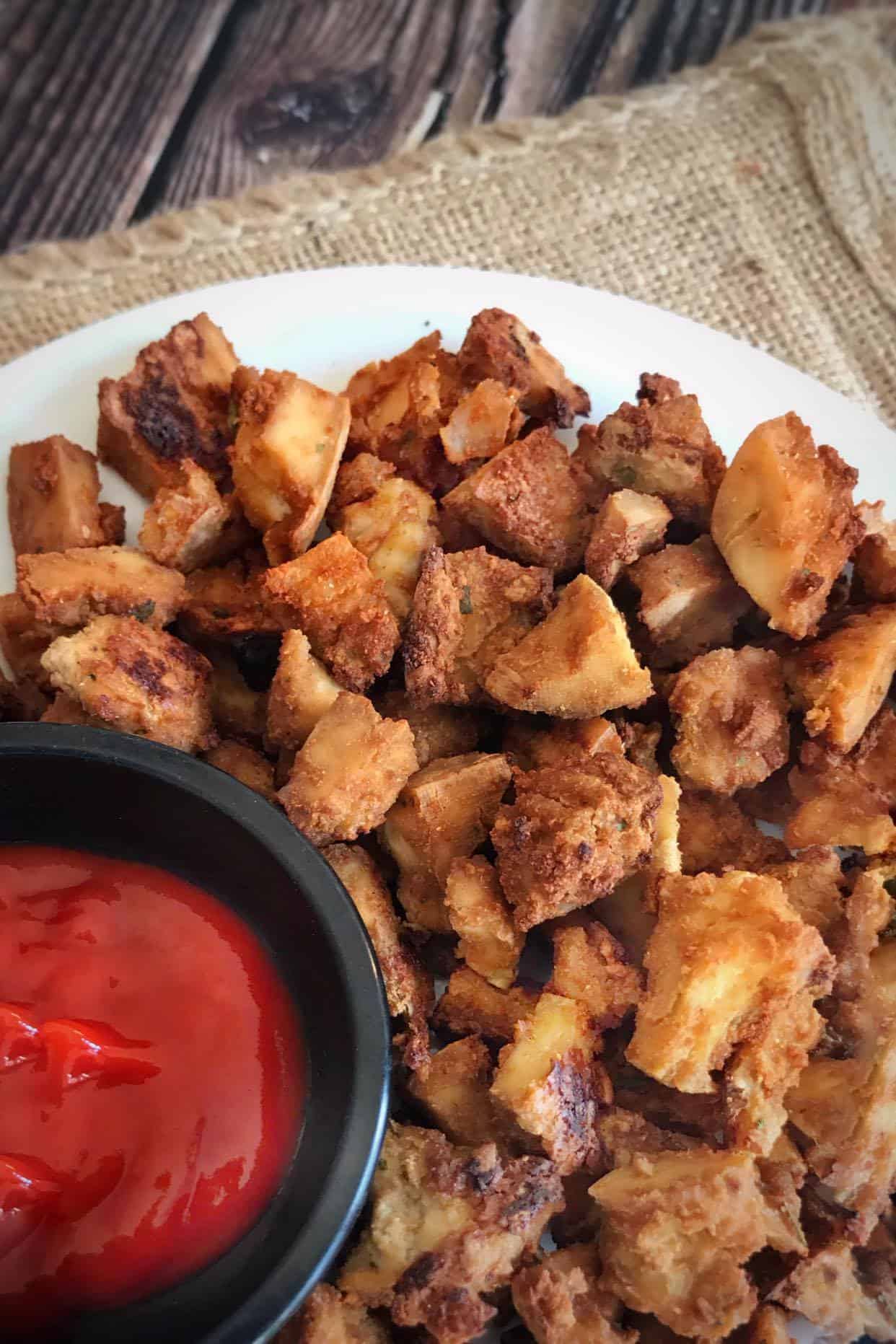 I love tofu! There. I said it. In fact, I love tofu so much that I sometimes forget other people aren't so crazy about it. I also sometimes forget that there was a time in my life when I didn't know how to cook tofu. That said, once I started experimenting with tofu, I realized that not only was it a versatile ingredient, but it was also one of my favorites--especially as these Easy Oil-Free Tofu Nuggets!
Now that I've been cooking tofu longer, I've come to the conclusion that there are two types of tofu, that which is cooked right and everything else. If you've had tofu at a restaurant, chances are good, it tasted like a bland, wet sponge. Just FYI, it wasn't cooked right. And if that's been your only experience with tofu, it's easy to see how you might fall into the trap of believing you don't like tofu.
Don't fall into the trap! You just need a simple and versatile recipe to get the ball rolling. My family and I love these so much we literally argue over who gets to eat the crumbs. That's how delicious they are! Plus, these are super quick to prepare. We eat them about once a week and never get bored.
You can pair them up with my No-Butter Mashed Potatoes for a traditional-looking American plate. Toss them in Vegan Buffalo Sauce for "boneless wings." Pair them with ketchup or teriyaki sauce. Or add them to a buddha bowl, tacos, or wraps. There is no limit to how you can incorporate these little nuggets of joy into your life.
Jump to:
You'll love these Vegan Tofu Nuggets because they're:
Baked & Oil-Free
Simple & Easy
Vegan / Vegetarian
Perfect for dipping in your favorite sauce
Kid-Friendly
Healthier than store-bought vegan chicken nuggets
Super versatile
Absolutely delicious!
---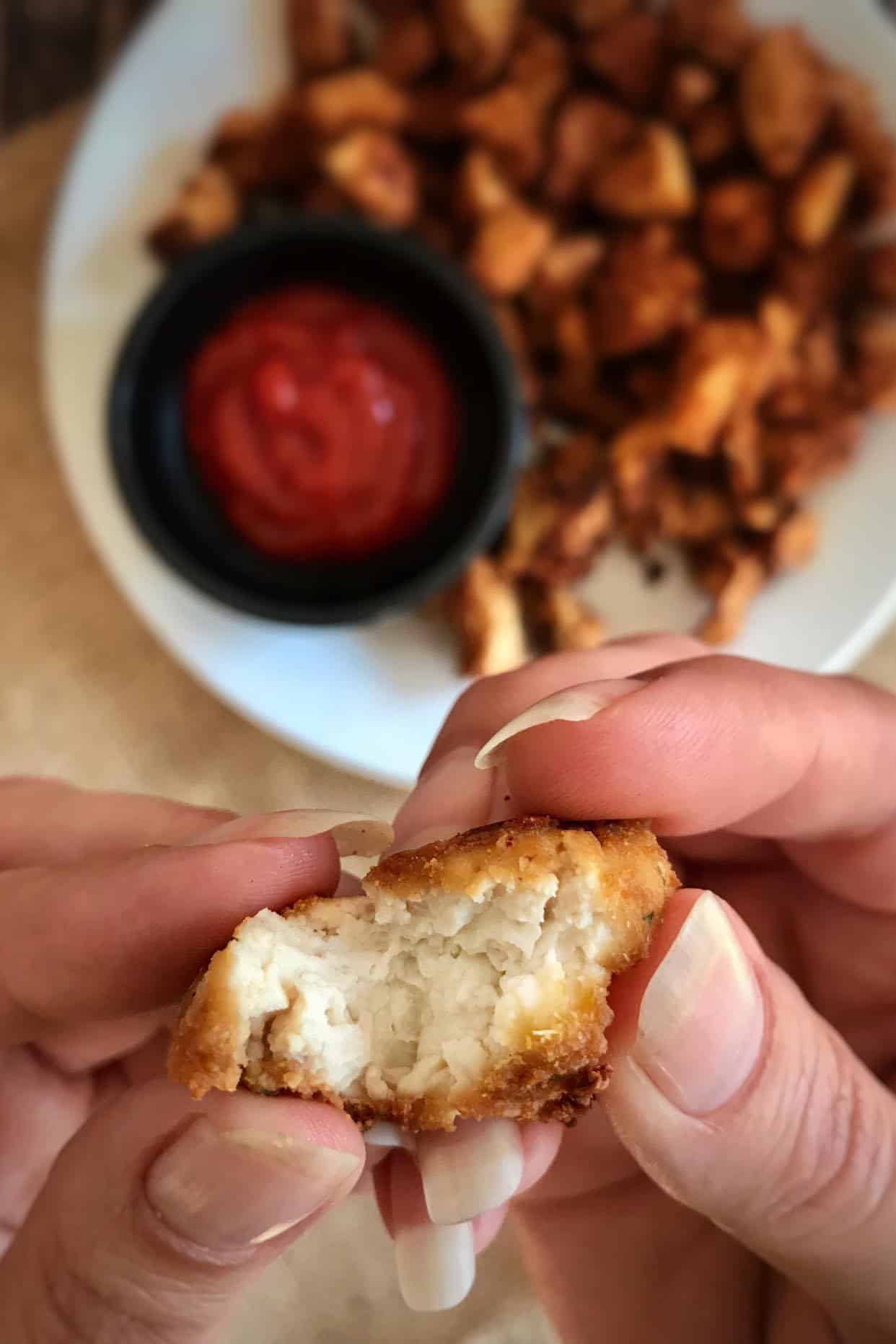 Ingredients
Super firm tofu: Super firm tofu comes vacuum sealed and doesn't need to be pressed. If you can only find extra firm tofu, you'll need to press it first. Wrap the tofu blocks in a paper towel or clean tea towel and stack something heavy (like a cast-iron skillet) on top. Press for 15 to 30 minutes. Here are more tips on how to press tofu.
Paste
See recipe card for quantities.
Instructions
Here are step-by-step instructions with photos.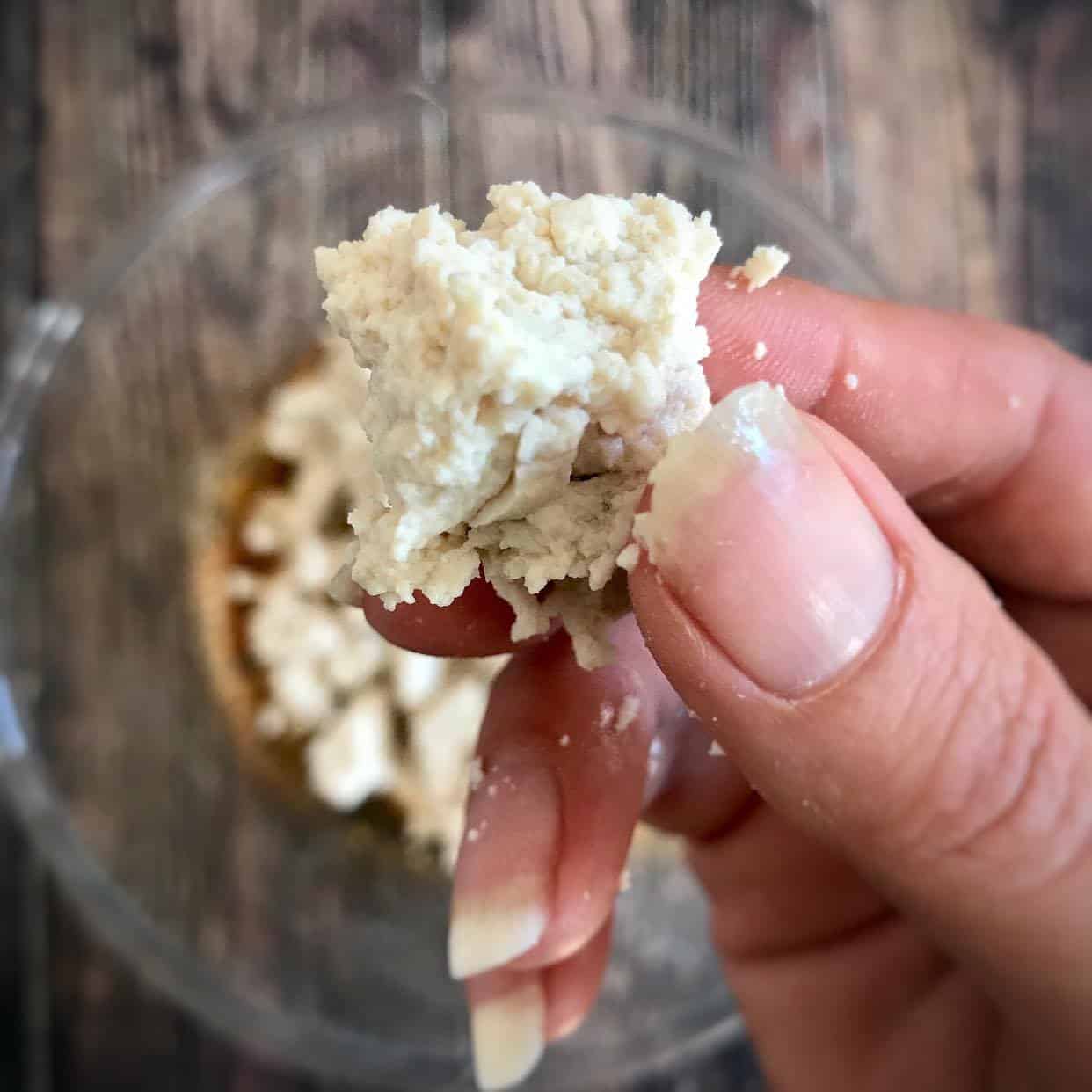 Preheat the oven to 425°F or 220°C
Add the paste ingredients to a bowl and mix to combine. The paste should be thick enough to stick to the tofu but not so thick that it doesn't coat evenly. (Thinner than a pesto but thicker than cream.)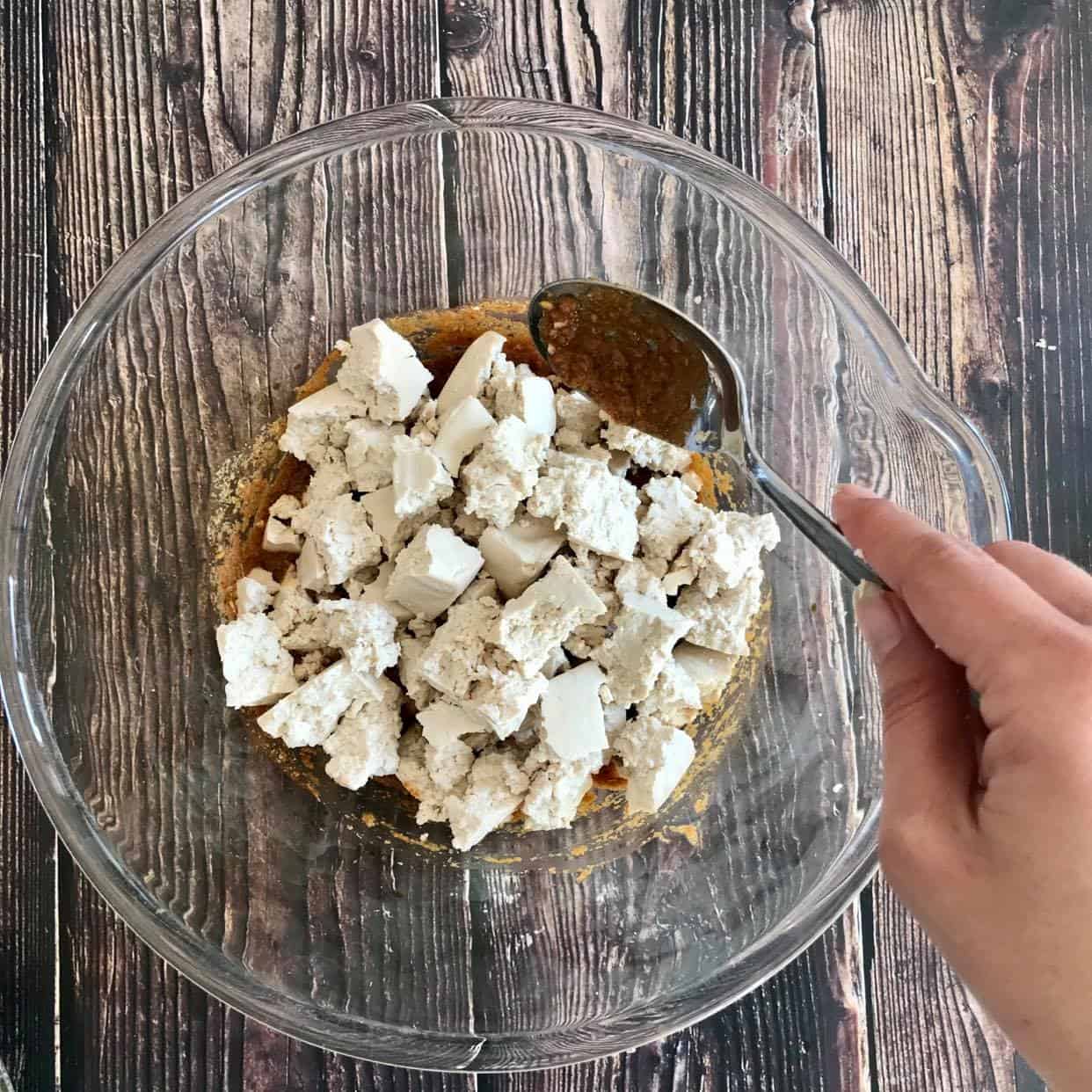 Break the tofu blocks into bite-sized chunks. Try not to crumble the tofu but also don't worry about making the nuggets perfectly uniform. You're going for a kind of nugget shape that's a bit rounded and has nice nooks and crannies for your paste to cling to.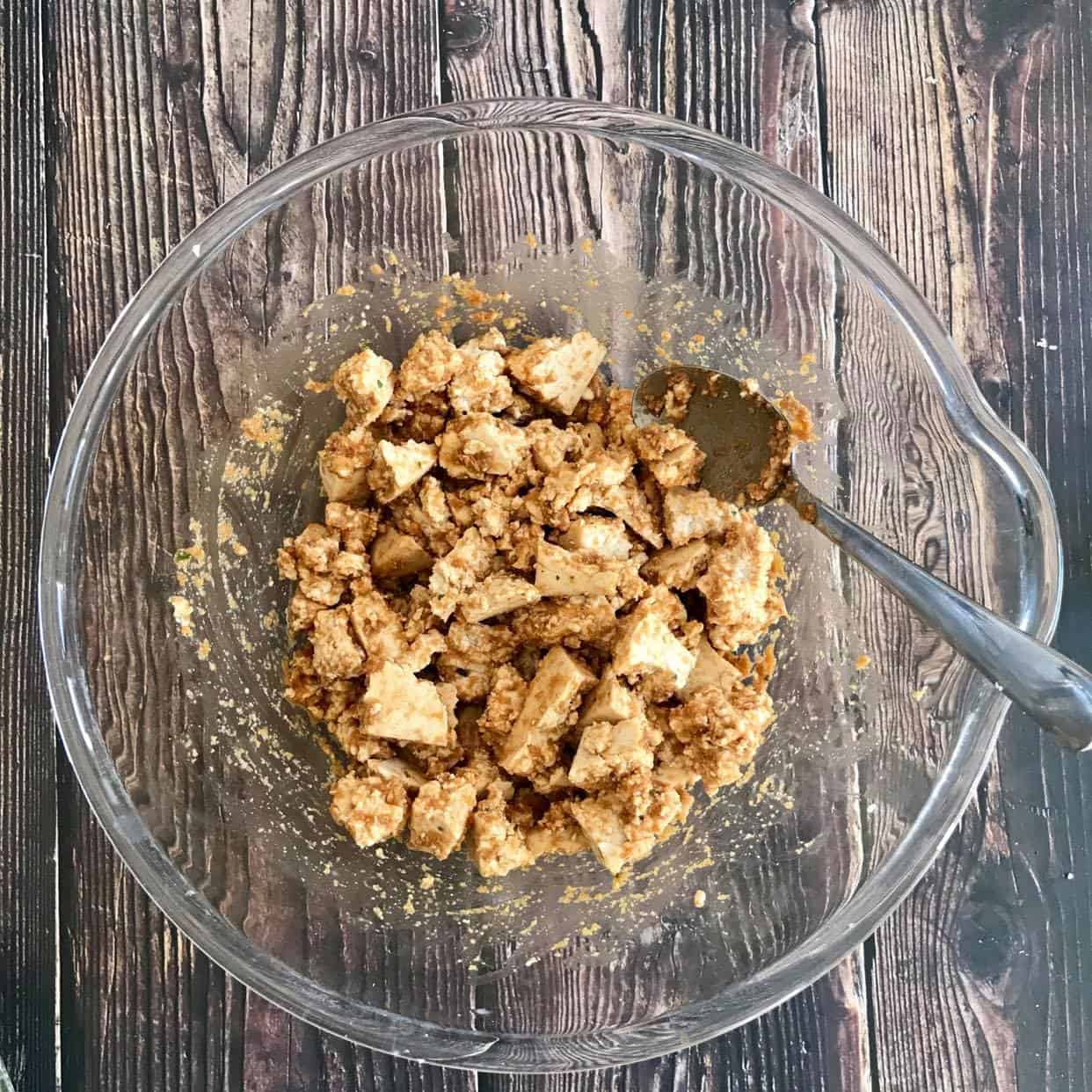 Carefully fold the tofu chunks into the paste, making sure each piece is coated.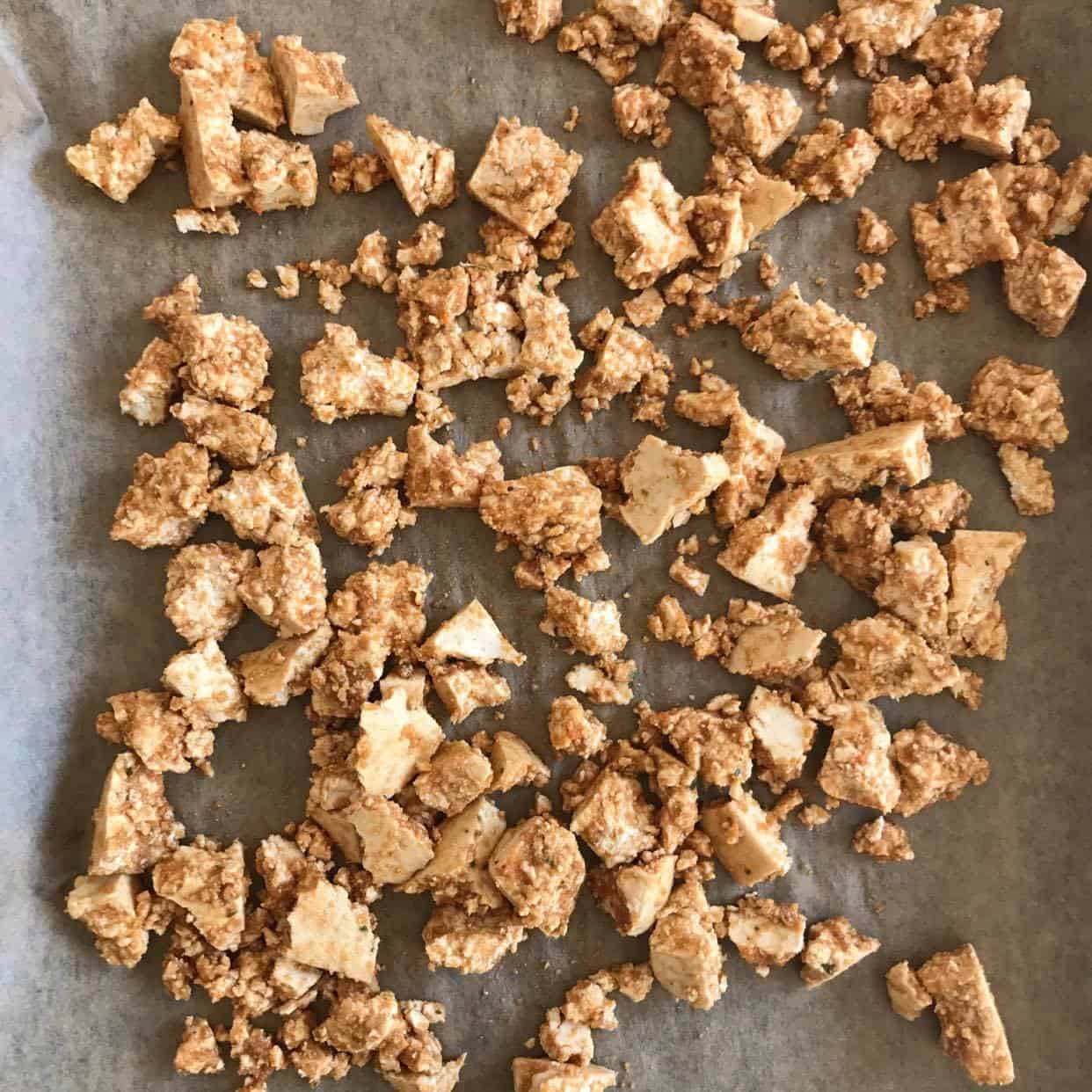 Use tongs to transfer the nuggets to a lined baking sheet. Bake for 30 to 35 minutes, or until crispy and nicely browned.
Hints: Don't use aluminum foil to line the baking sheet, as this can cause the nuggets to burn. (trust me! I made this mistake once!) Instead, use baking paper.
Also, be sure to transfer the tofu to the baking sheet with tongs or a spoon. This will keep you from getting any excess paste of the sheet (which can also cause burning!)
Variations
One thing I love about this baked tofu nugget recipe is how easy it is to swap out different spices and flavors. Here are some of my favorite variations!
---
Freeze/Thaw Method
*I do not recommend using this method with super firm tofu because it just doesn't make enough of a difference. However, it works well with firm or extra firm tofu.*
The freeze/thaw method for cooking tofu is simple. Take a block of tofu (still in the package), freeze it overnight, and move it to your refrigerator to defrost on the morning of the day you want to cook the tofu. Some people also repeat this freezing and thawing a second time.
Why would you do this? The freezing and thawing creates little ice crystals that (when thawed) form pockets of air. This makes for a chewier and more "chicken-like" texture.
If you choose to use this method, be sure to give yourself extra time to press the tofu before you bake it. You will need at least 15 to 30 minutes to remove the excess water. To press, simply wrap the tofu in a clean kitchen towel, place a heavy pot or pile of plates on top, and let it rest until most of the excess water has been "pressed" out.
Can I use an air fryer?
Yes! You can make these tofu nuggets in the air fryer. Just click here for my Air Fry Tofu Nuggets recipe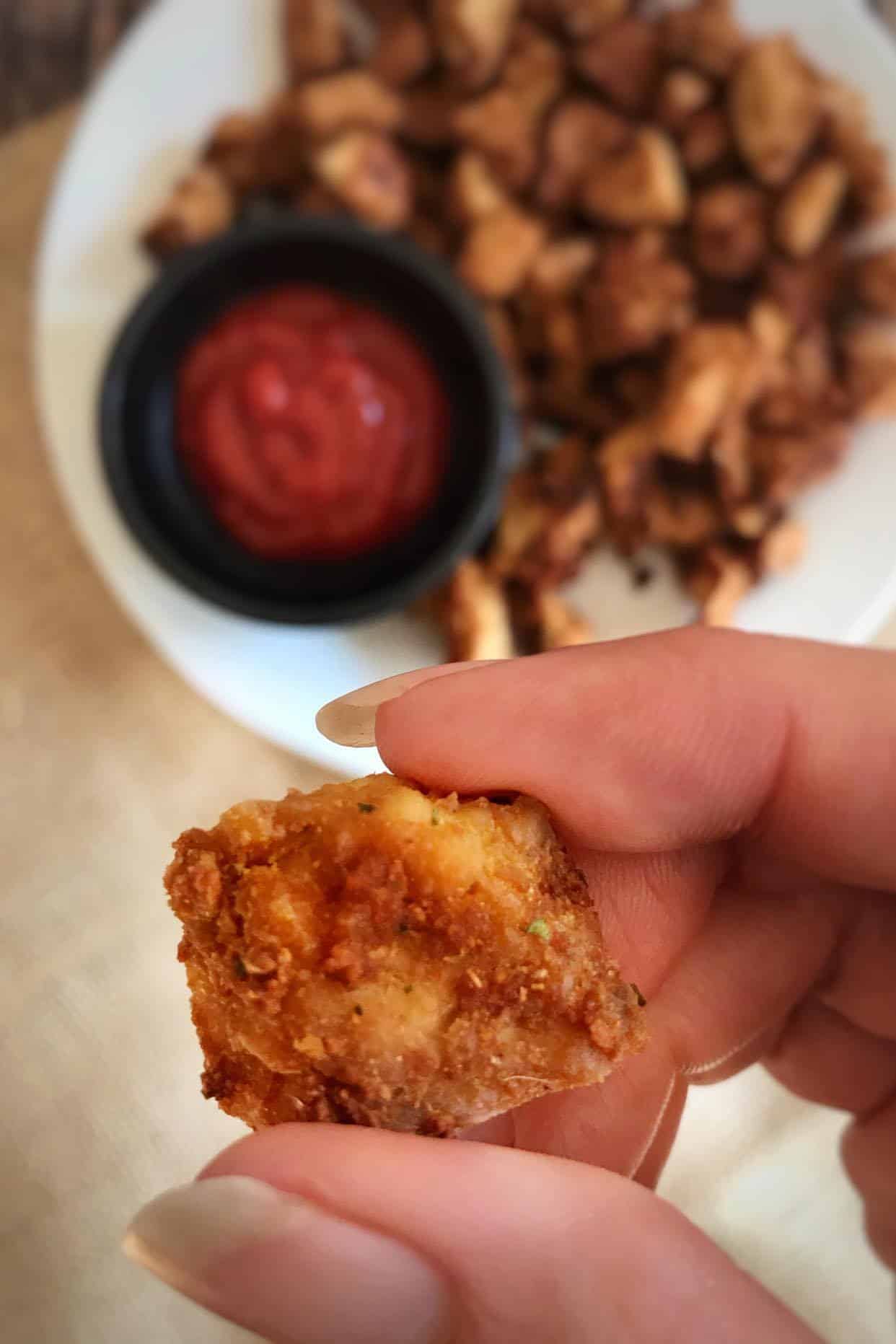 Equipment
For this recipe you just need a mixing bowl and a baking sheet. Tongs will also be useful for transfering the tofu from the bowl to the baking sheet but you could also use a spoon.
All of my favorite products and kitchen tools can be found in my Amazon shop.
How to serve
Serve these tofu nuggets as a main protein for lunch of dinner. I love to dip them in ketchup, BBQ sauce, Teriyaki Sauce, or Vegan Honey Mustard.
Some side dishes that go with vegan nuggets include mashed potatoes, air fryer broccoli, or vegan pumpkin mac and cheese.
Tofu Nuggets also make a great addition to a salad, buddha bowl, wrap, or even tacos!
Storage
If you have leftovers, store them in an airtight container in the fridge for up to five days. Reheat in the microwave or oven. You can also serve them cold as a topping for salad. They really take on a nice "cold fried chicken" consistency when you do this!
---
More tofu recipes
📖 Recipe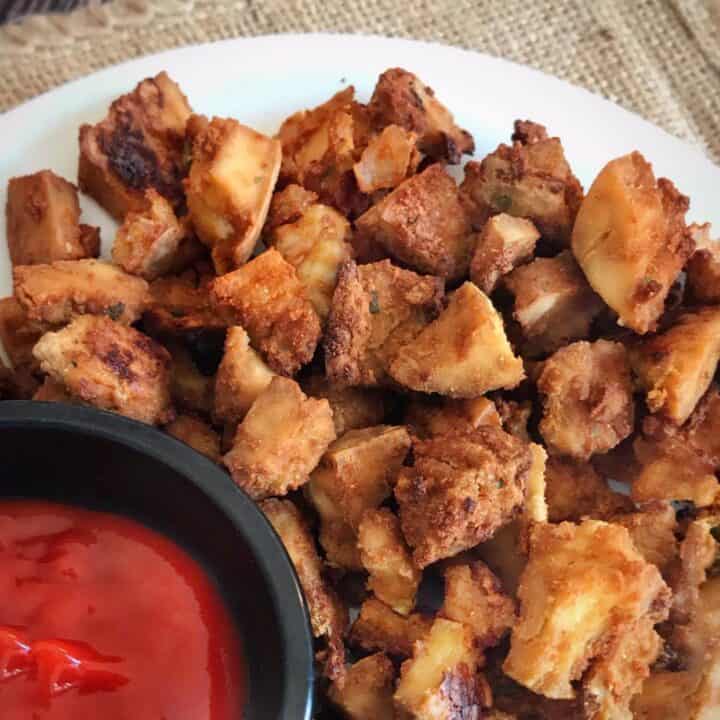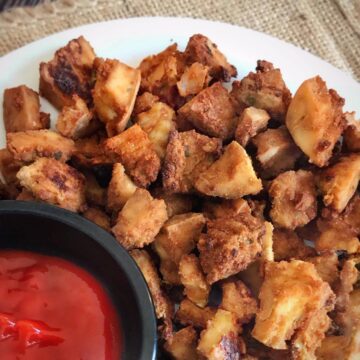 Easy Tofu Nuggets
These baked tofu nuggets are quick and tasty, yet they're oil-free! Dip them in ketchup or BBQ sauce or add them to tacos or stir fry. Yum!
Ingredients
14

oz

super firm tofu

(or firm tofu, pressed)
Instructions
Preheat oven to 425°F or 220°C.

In a large glass mixing bowl, combine all of the "Paste" ingredients and stir to combine. This should create a thick-ish paste. If the mixture is too thin, add more nutritional yeast. If the mixture is too thick, add water in small increments.

Unwrap tofu and break into bite-sized chunks over the bowl. As you do this, use your thumb to create craggy, rounded edges. (They're still edible if they're blocky and smooth, but the pieces will hold the paste better and take on a more nugget-like shape if they're rounded and have craggy edges.)

Lightly fold the chunks into the paste, being careful not to break the tofu too much.

Scoop tofu onto a lined sheet pan and place in the oven. Cook for 30 minutes or until the tofu is nicely browned on the outside.
Save this Recipe
Saved!
Notes
If you aren't using super-firm tofu, you might need to press to remove excess water.

Remove tofu from packaging and wrap in a paper towel or clean kitchen towel. Place wrapped tofu on the counter and press with the heel of your hand, applying enough pressure to release some of the water (not so hard that you crush the tofu).

Interested in trying the freeze/thaw method for getting chewier, more chicken-like texture? Check out the instructions in the blog post above.
Do *NOT* use silken tofu for this recipe.
Do *NOT* use aluminum foil to line the baking sheet, as this might cause the nuggets to burn.
If you want to reduce the sodium, you can use light soy sauce or halve the soy sauce and replace the difference with water.
Want to use an air fryer? Just click here.
Nutrition
Calories:
83
kcal
Carbohydrates:
6
g
Protein:
11
g
Fat:
2
g
Saturated Fat:
1
g
Sodium:
568
mg
Potassium:
280
mg
Fiber:
2
g
Sugar:
1
g
Vitamin A:
246
IU
Calcium:
31
mg
Iron:
2
mg
Did you try this recipe? Have a question? Just leave a comment below and I'll get back to you ASAP!
*This recipe was originally inspired by Tofu Bites by It Doesn't Taste Like Chicken. I altered the recipe by adding different spices and eliminating the oil.