Whether you want to incorporate more Tofu Recipes into your meal rotation or you're just looking to change things up, this collection of my favorite Vegan Tofu Recipes is sure to have something for everyone. These recipes are quick, easy, WFPB, and delicious! Take a look and see what you like!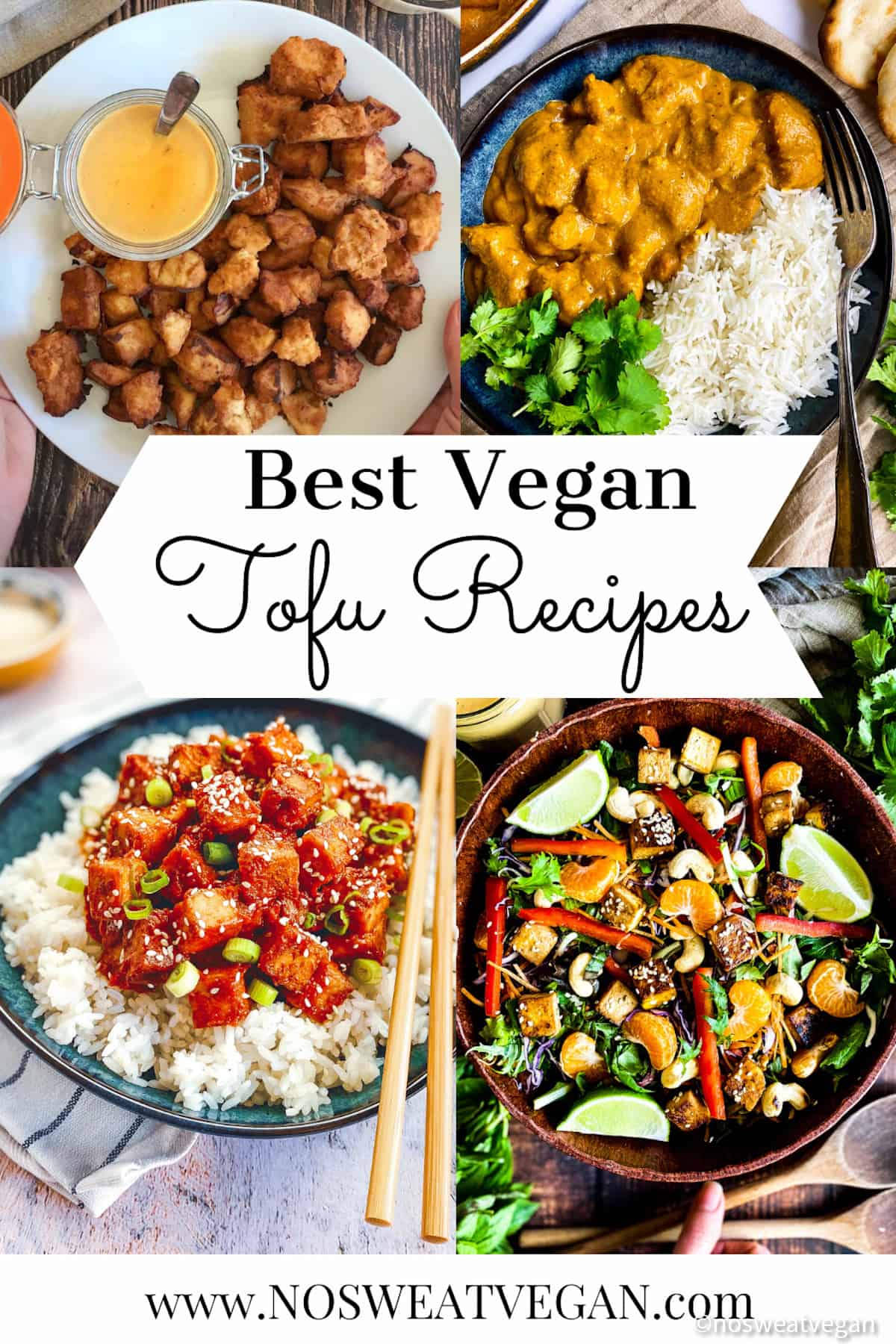 Whenever someone tells me they don't like tofu, I always ask what types of tofu recipes they've eaten. I have a theory that most people who say they don't like tofu just haven't had tofu prepared in a flavorful way. People often have their first brush with tofu at a restaurant, but unfortunately, many chefs just aren't that familiar with preparing tofu, so what you often get is a bland, squishy sponge that no sane person would want to eat.
Thankfully there is no end to how you can prepare tofu that is flavorful, delicious, and texturally appealing. With a little knowledge and a little experimentation, you're sure to find a vegan tofu recipe that's right for you.
In this post, I'll start by breaking down the different types of tofu and answering a few frequently asked questions, and then I'll share some of my favorite recipes! Let's get started!
Jump to:
You'll love these tofu recipes because they're:
Quick & Easy
Vegan / Vegetarian
Kid-friendly
Easy to make Gluten-Free
WFPB & Oil-Free
Simple & Delicious
---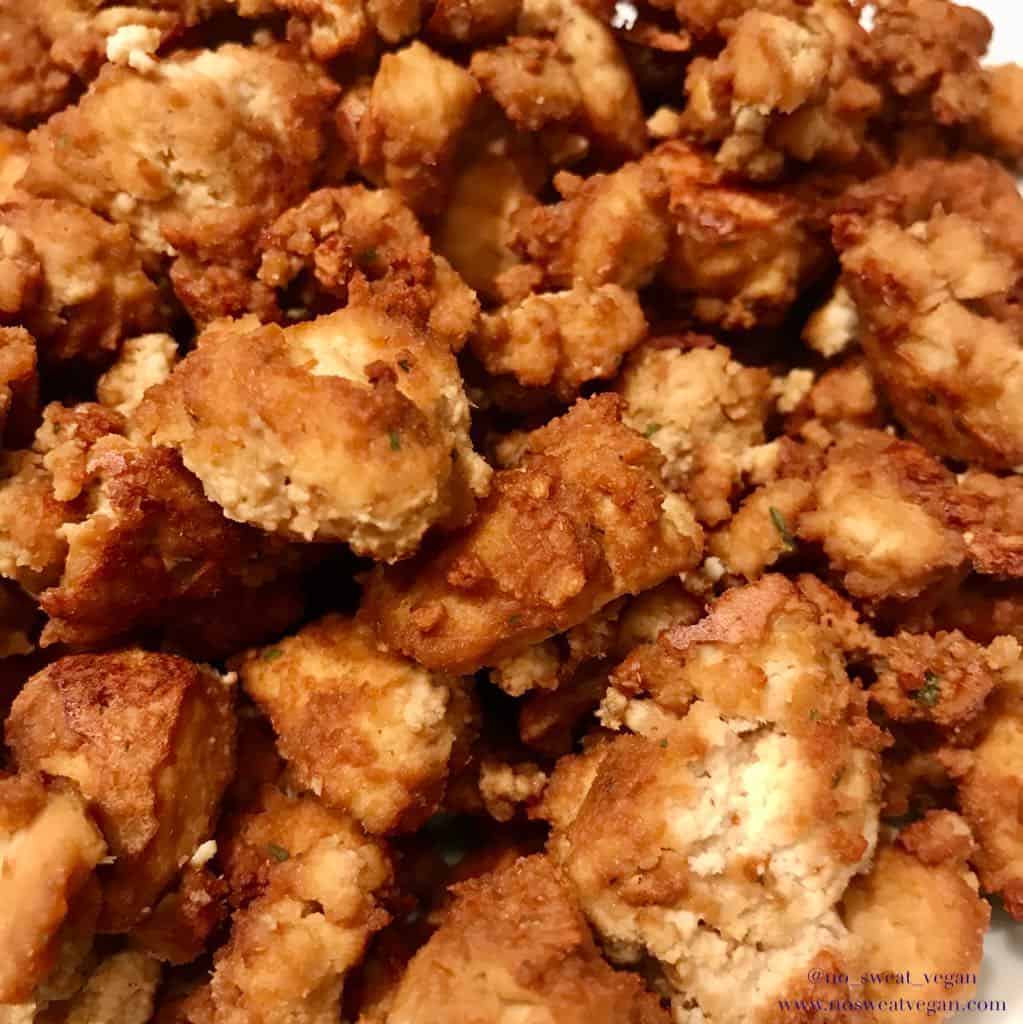 What is Tofu?
Tofu is most often made with soybean curd that has been pressed into blocks in a process similar to making fresh cheese. Tofu can also be made from chickpeas (Burmese Tofu) or even hemp. So even if you have a soy allergy, there are still ways to enjoy tofu.
What are the different types of tofu?
The types of tofu you can buy vary somewhat depending on where you live in the world, but generally speaking, most tofu can be broken down into two main categories: silken and regular. The firmness level is related to how much water is in the tofu. The less water, the firmer the tofu.
Regular Tofu
Regular tofu (sometimes called block tofu) comes in a variety of firmness levels ranging from regular to super firm. This type of tofu is springy and a bit spongy. It usually comes packed in water and can be frozen and thawed to create a more chicken-like texture. Tofu is usually pressed before eating to give it a denser and more appealing texture.
The super firm tofu (pictured below) comes vacuum sealed with just a little excess water. This is my favorite type of tofu to use because it doesn't really need to be pressed and has a nice, chewy texture. If you can't find super firm tofu, then you can substitute with extra-firm that has been pressed.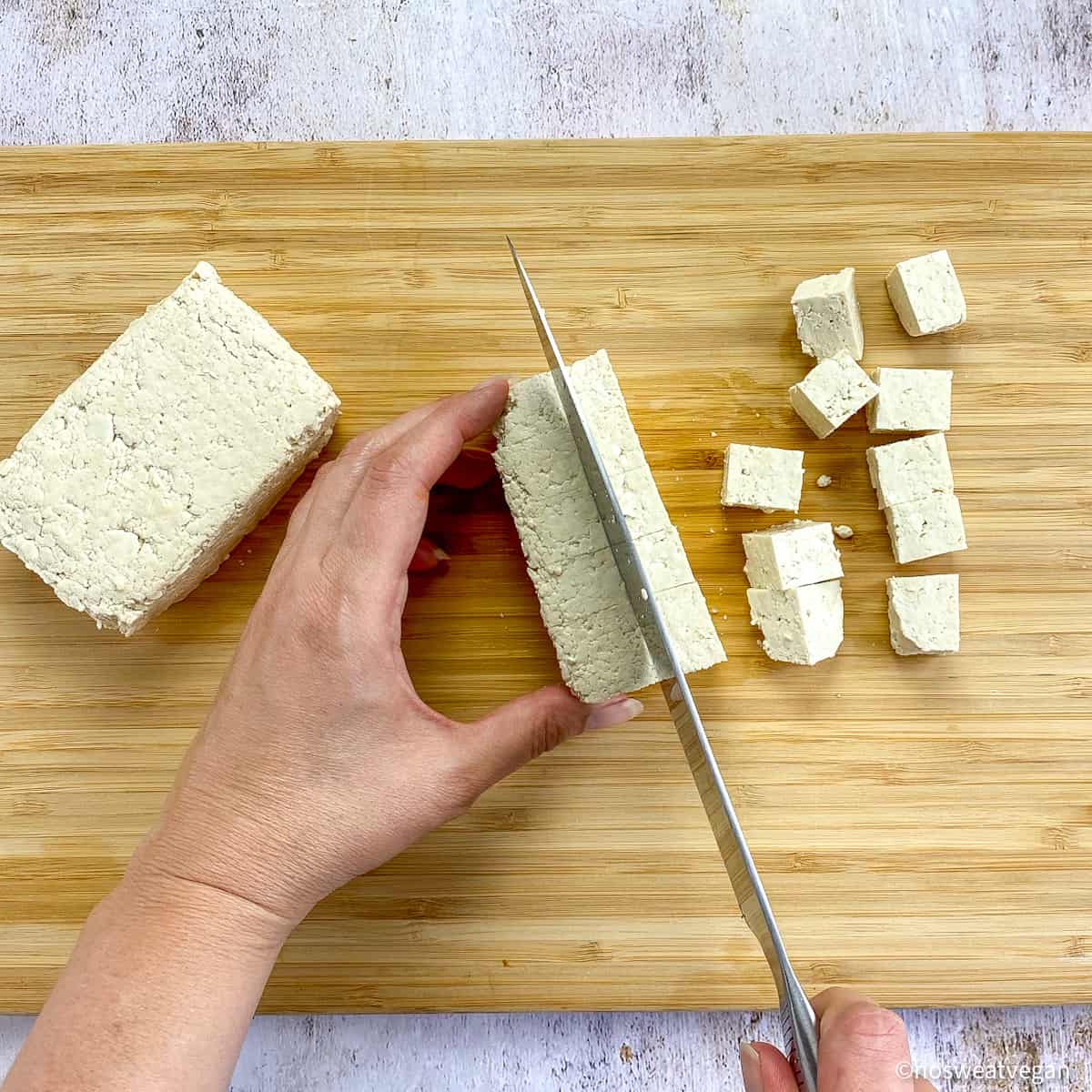 Regular tofu is sometimes sold pre-seasoned/marinated. Pre-seasoned tofu is great for quick meals where you just want to cook the tofu and pair it with a side of veggies and rice.
Where I live smoked tofu is also very common. It has a firm texture and a delicious smokey flavor. I like to eat it raw and sliced thin on sandwiches or cubed for a warm dish.
Silken Tofu
I don't use silken tofu as often because it tends to be a bit pricier than regular and I don't like the texture as much. It is most often blended and used in sauces and desserts, although it is possible to buy firm silken tofu, which some people like to use for tofu scramble.
Other types of tofu
Outside of regular and silken tofu, there are a few less common varieties that include things like tofu puffs, tofu pockets, and tofu skin. These are most common in Asian dishes and can add a lot of unique texture to the dish.
If you are fortunate enough to live near an Asian market or specialty store, you might also be able to get your hands on Fresh Tofu--basically homemade firm tofu. Fresh tofu is one of my favorite types of tofu! If you can't find it in stores, you can make your own at home.
How do you press tofu?
If you are working with medium-firm to extra-tofu, you will probably want to press it before cooking. There are two ways to press tofu. You can buy a tofu press online or you can wrap the tofu in a paper towel and stack heavy things on top of it. Some people use plates, others use a pot filled with water. You could use bricks, books, or anything you want. Just press the tofu for 15 to 30 minutes to remove the excess water.
Confession: I almost never press tofu. When I want to make a tofu dish with a firmer texture, I buy super firm tofu.
What does tofu taste like?
Tofu by itself has a very neutral, bland flavor. If you've ever tried tofu at a restaurant and you didn't enjoy it, it's probably because the tofu wasn't properly seasoned or cooked. In these recipes, you'll notice that the tofu is seasoned and often added to or paired with a sauce for maximum flavor.
Is tofu healthy?
Tofu has a bad reputation because it's made from soy, which contains plant estrogens that were thought to be harmful to humans. However, new research shows that soy does not cause breast cancer, as previously thought.
Tofu actually has many health benefits. It's low in calories, high in fiber, and contains healthy doses of vitamins and minerals like Iron, Potassium, and Magnesium.
In order to make tofu from soybeans, it has to be processed, so if you are following a Whole Foods Plant-Based diet, you should consider consuming tofu in moderation.
Why are so many of these recipes made with tofu nuggets or chunks?
I frequently use tofu nuggets in my recipes because I like the texture. They tend to hold a bit more flavor. As a bonus, tofu nuggets seem to be more kid-friendly.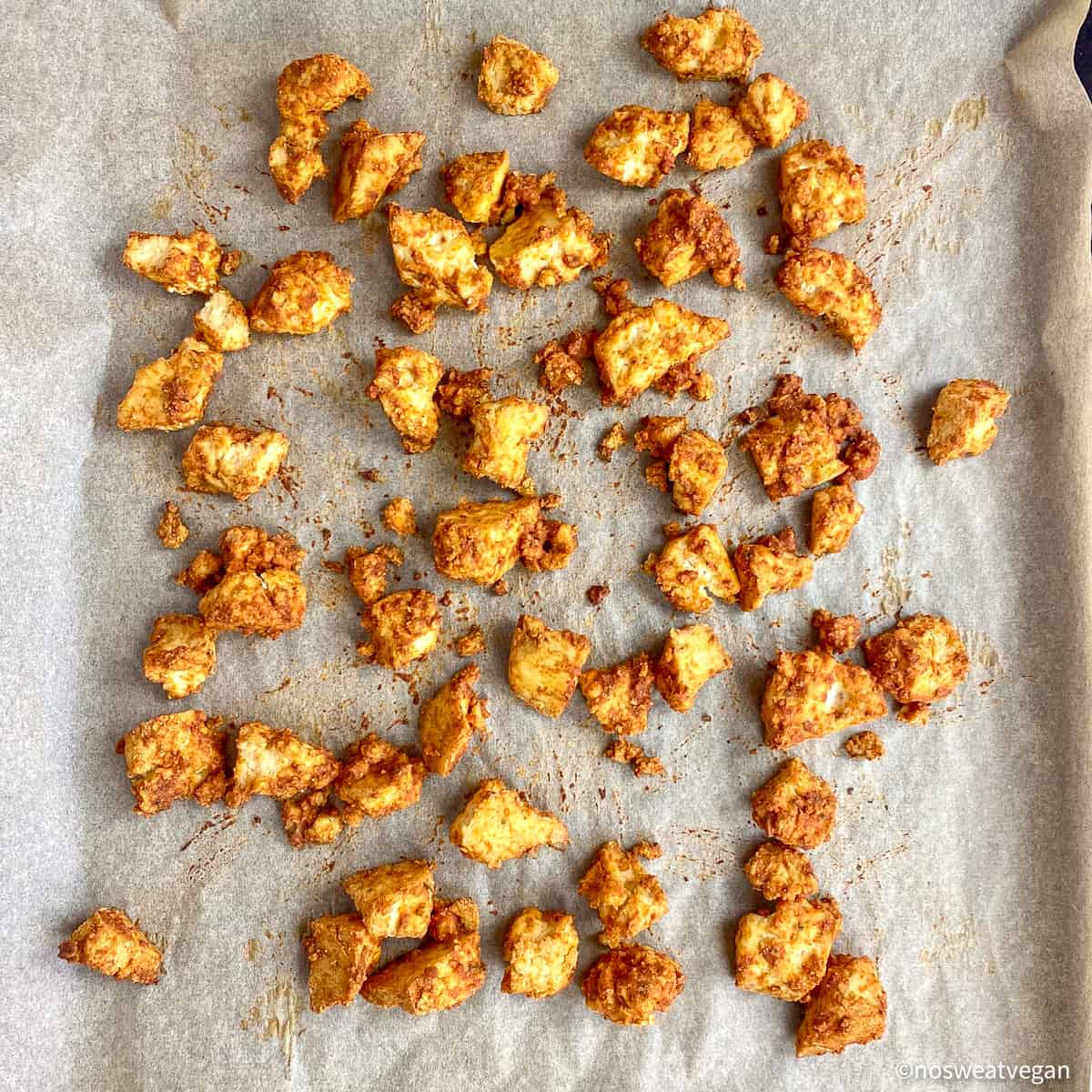 Are these recipes gluten-free?
Most of these recipes are either gluten-free already or can be made gluten-free with a simple swap. If the recipe contains soy sauce, be sure to use gluten-free soy sauce or tamarind. Check each recipe individually for instructions.
Tofu E-book
If you're looking to add more tofu to your life, be sure to grab my free Tofu Recipes E-book!
---
Classic Tofu Recipes
These simple yet delicious tofu recipes make a great base for any meal. The Chick-fil-A Style Nuggets and Air Fryer Tofu Nuggets are both variations on my Easy Tofu Nugget recipe. Add them to a salad, stir fry, burrito, or more. Or just enjoy them as the main course!
I've also included a basic Tofu Scramble here. Feel free to mix it up however you like by adding sauteed veggies or piling it on a breakfast burrito.
---
Indian-Inspired Tofu Recipes
Tofu makes a great substitute for the main protein in most Indian recipes. Here I have two examples. In the Vegan Butter Chicken recipe, you make tandoori-style tofu that could potentially take the place of meat in dishes that normally use chicken or lamb.
The Vegan Palak Paneer recipe uses Paneer-style tofu that could be substituted for Paneer cheese in any Indian dish that normally calls for paneer. Both of these recipes are incredibly delicious and versatile. Enjoy!
---
Asian-Inspired Tofu Recipes
Tofu and Asian flavors are a match made in heaven. In the following recipes, you see both cubed and chunk-style tofu as well as a variety of preparation possibilities including sauteeing, baking, and air frying. These recipes were inspired by several styles of cooking.
Both the Korean Tofu and Sticky Orange Tofu taste great paired with rice and vegetables. The Thai Curry is an incredibly simple preparation that could be added to any type of curry dish, and the Thai Salad with Sesame-Crusted Tofu is a delicious meal unto itself.
---
Mexican-Inspired Tofu Recipes
Mexican is one of my favorite cuisines, and it's no surprise that tofu appears as the main protein in many of my favorite Mexican dishes.
The tofu can be crumbled to resemble beef, like these Baked Vegan Taquitos. Or it can be seasoned, cooked in chunks, and added to tacos, burritos, salads, and more!
---
Unique Tofu Recipes
These tofu recipes are a little harder to classify. They don't exactly fit into any of the above categories, but they're all delicious! The Po' Boy Sandwiches use my easy tofu nugget recipe as the main protein in a veganized version of the Cajun classic, while the Deviled Egg Crostini are my take on deviled eggs.
The last recipe is an Oil-free Vegan Aioli that's made with silken tofu. This easy recipe can take the place of mayo in almost any dish including Vegan Potato Salad, Chickpea Salad, Honey Mustard Sauce, and more.
---
I hope you found a tofu recipe that you love! If there's a certain kind of recipe you'd like to see please let me know in the comments, and I'll try to add it in!
More Recipe Collections
---
Want access to my Exclusive Meal Planning Tips & Printables page?
Did you try this recipe? Have a question? Just leave a comment below and I'll get back to you ASAP!