This Vegan Southwest Salad is bright, delicious, and filling enough to be your main course! The Chili-Lime Tofu adds the perfect protein and the Cilantro-Lime Avocado Dressing offers a creamy, citrusy finish.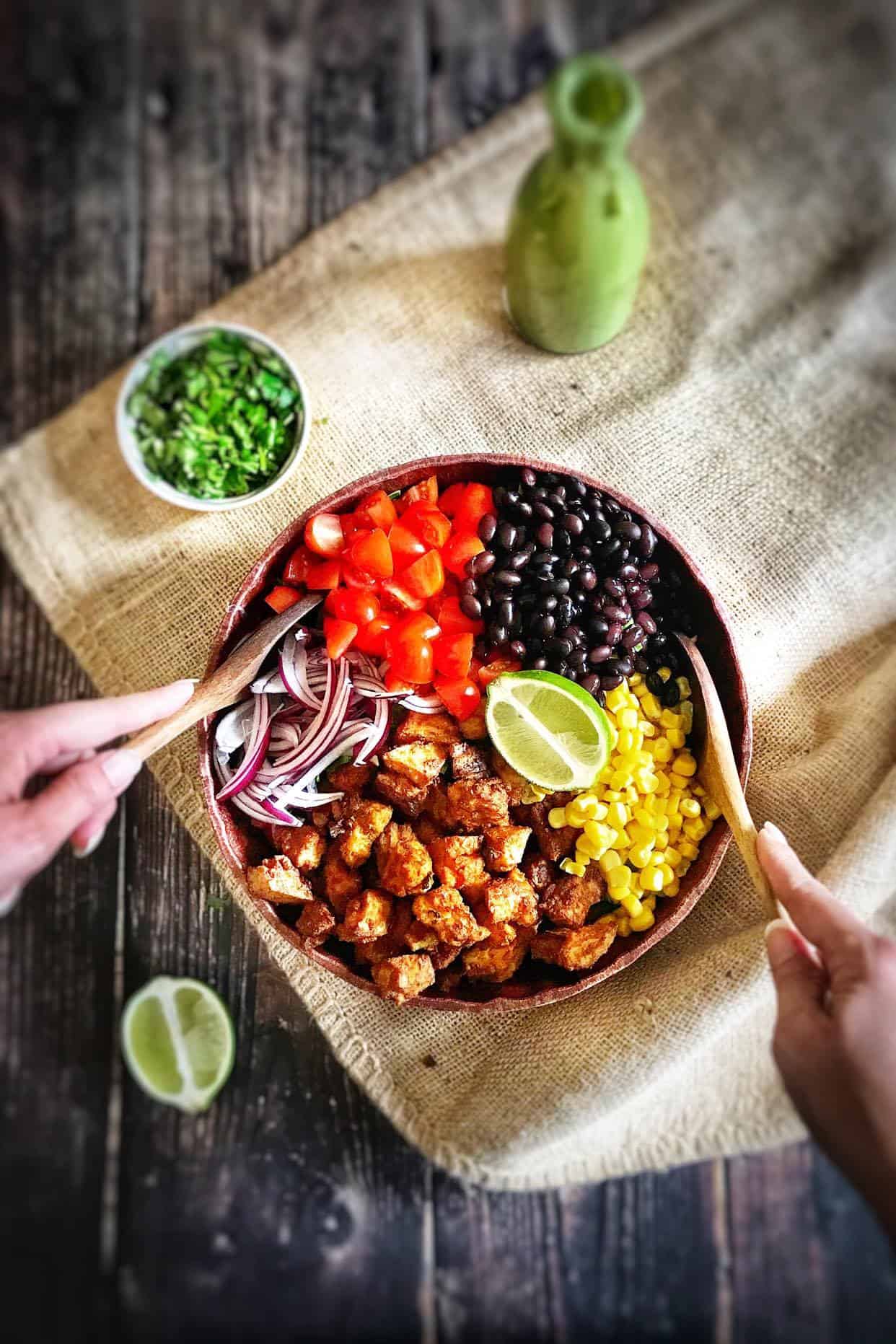 I have a rule about salads. To be really satisfying, they have to contain something that tastes sinfully good. Something fried or sweet or rich. You get the idea. Something that elevates the salad and makes it stand out.
What I love about this Southwestern Salad is the combination of delicious flavors: the sweetness of the corn and tomatoes, the deep earthy flavor of the beans, the citrusy tang of the dressing, and of course, the seemingly sinful Chili-Lime Tofu Nuggets. But since the tofu nuggets are baked and contain no oil, they're actually not sinful at all! If you're a fan of big restaurant-style entree salads, then you have to give this one a try.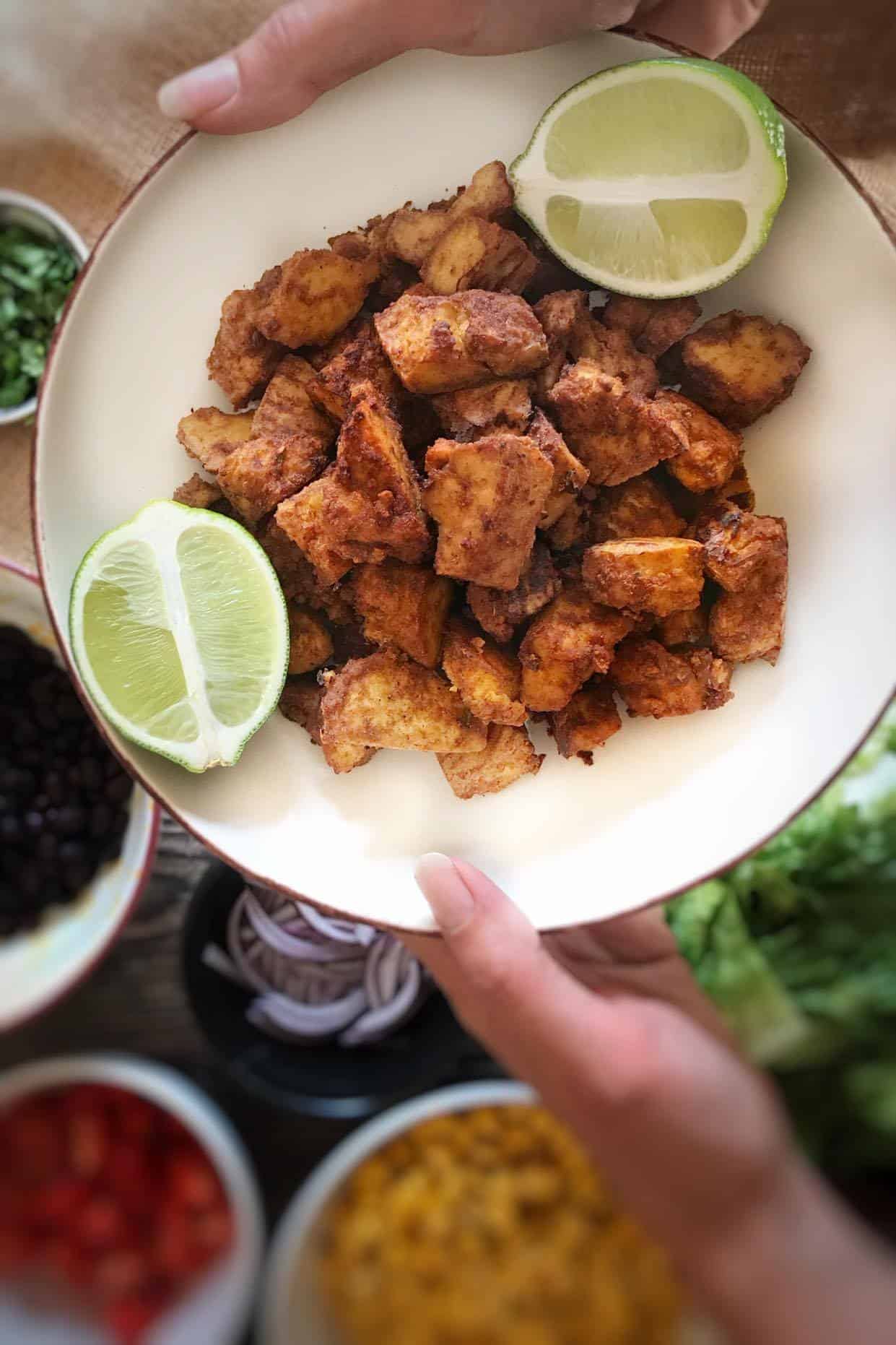 How to Make Chili-Lime Tofu Nuggets
This recipe is actually a variation of my Easy Oil-Free Tofu Nuggets. I've changed out some of the seasonings and flavors, and the result is an absolutely delicious tofu nugget that mimics Fried Chicken with Southwestern kick. Just like you might get when you order Southwestern Fried Chicken Salad at a restaurant. Except that there's no chicken, no frying, and no oil. You bake these bad boys in the oven!
To start, simply add the paste ingredients to a bowl and mix. If you've never used nutritional yeast, check out my post: 6 Essential Vegan Pantry Staples. Find in the organic or health-food section of your local store or order Nutritional Yeast online.
The paste should be thick enough to stick to the tofu but not so thick that it doesn't coat evenly. (Thinner than a pesto but thicker than cream.) If the paste is too thin, it could cause sticking, so add more nutritional yeast to thicken it up a bit.
After you make the paste, remove your tofu from the packaging. If you use extra-firm tofu, pressing is not necessary for this recipe. (If your tofu needs to have the excess water removed, you can wrap the tofu blocks in a paper towel or clean tea towel and press firmly with the heel of your hand for 10 to 15 seconds.)
Next, you break the tofu blocks into bite-sized chunks. Try not to crumble the tofu but also don't worry about making the nuggets perfectly uniform. You're going for a kind of nugget shape that's a bit rounded and has nice nooks and crannies for your paste to cling to.
Once you're done breaking up the tofu blocks, carefully fold the tofu chunks into the paste, making sure each piece is coated. After that, simply spread the nuggets on a lined baking sheet.
Pop them in the oven for 30 to 35 minutes on 425°F or 220°C. (About halfway through, take the nuggets out to move them around the pan a bit to avoid sticking).
You'll know they're done when they've nicely browned. The inside should no longer be soggy but should have a texture similar to a chicken nugget.
Now Assemble the Southwestern Salad
While the tofu is baking, you can start to assemble the other salad components. First, wash, dry, and tear or chop your romaine. (Feel free to use any type of greens you have on hand. I just like the crunch of romaine in this salad).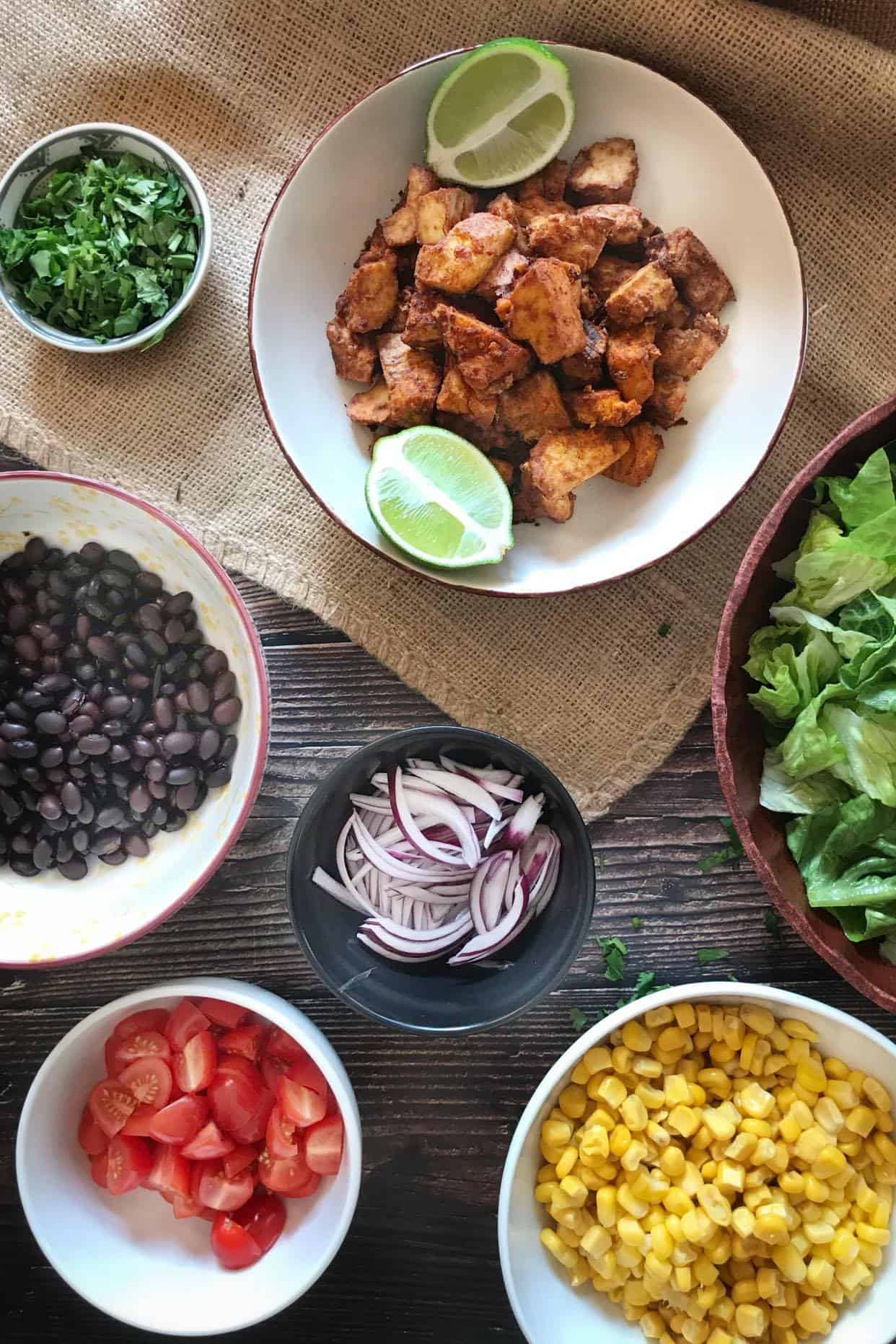 I like my salad ingredients cold, so I simply drain and rinse the black beans straight from the can. You could also heat the beans in a pot over medium and add cumin and coriander. Likewise, I simply defrost the corn (under warm water or in a microwave). If I'm using corn from a can, I drain and rinse it.
Next, wash and cube the plum tomatoes. I love using plum tomatoes for this recipe because they're so sweet and flavorful while also being firm and not too seedy, but any kind of fresh tomatoes would work. I also love the crunch and sharp flavor of red onion slivers, but if you find them to be too strong, you could leave them out.
Finally, use a blender (I like this NutriBullet Pro
) to prepare the Cilantro-Lime Avocado Dressing. You could also substitute with a vegan chipotle ranch or your favorite store-bought brand.
Now just add your ingredients to a large or individual bowls, toss to combine, and then add the Chili-Lime Tofu, the dressing, and extra cilantro. And you're done! A bright, gorgeous, and satisfying Southwestern Salad.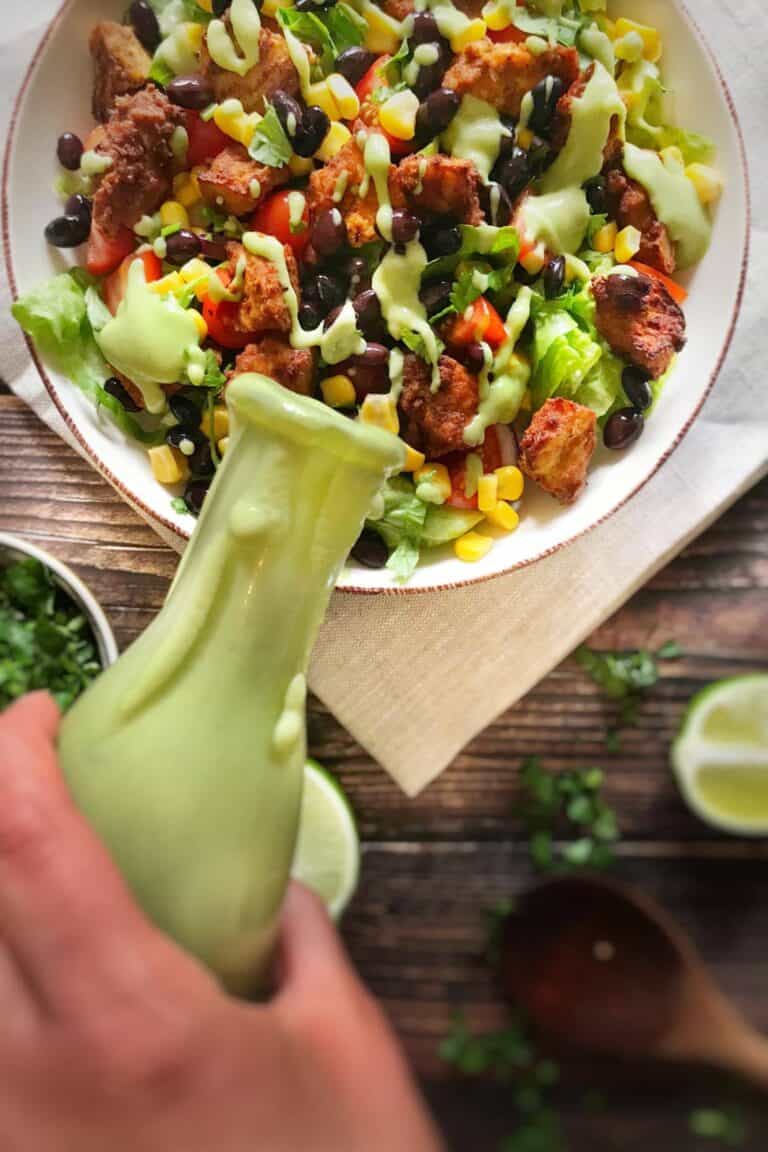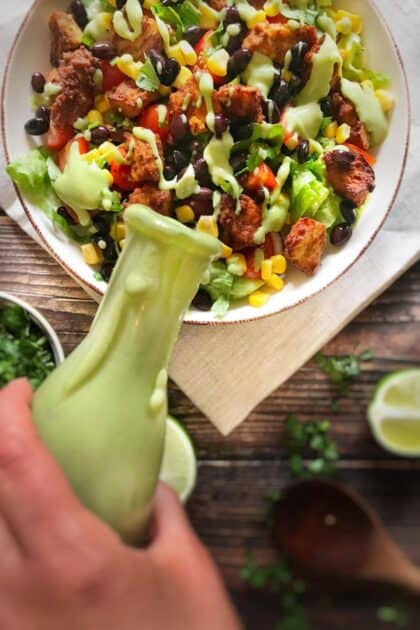 Related Recipes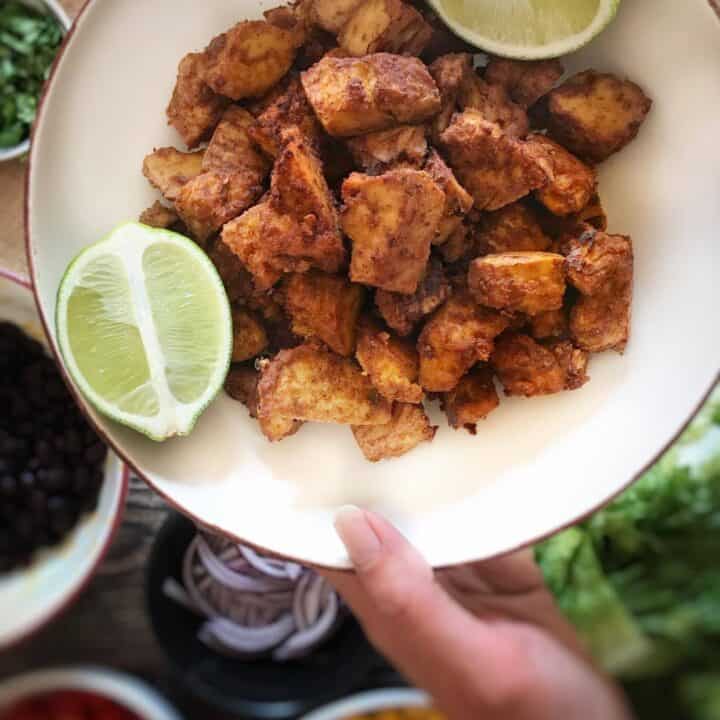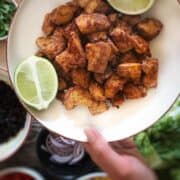 Print Recipe
Chili-Lime Tofu Nuggets
These Chili-Lime Tofu Nuggets are crispy on the outside and firm on the inside--and they're oil-free! The chili powder gives them a little kick of spice while the lime juice offers citrusy notes. Use as a topping for Southwestern Salad, a burrito bowl, or a main course.
Ingredients
14

oz

or 400 g super firm tofu

(Do not use silken tofu)
Instructions
Preheat oven to 425°F or 220°C.

In a large glass mixing bowl, combine all of the "Paste" ingredients and stir to combine. This should create a thick-ish paste. If the mixture is too thin, add more nutritional yeast. If the mixture is too thick, add water in small increments.

Unwrap tofu and break into bite-sized chunks over the bowl. As you do this, use your thumb to create craggy, rounded edges. (They're still edible if they're blocky and smooth, but the pieces will hold the paste better and take on a more nugget-like shape if they're rounded and have craggy edges.)

Lightly fold the chunks into the paste, being careful not to break the tofu too much.

Scoop tofu onto a baking-paper lined sheet pan and place in the oven. Try to avoid getting excess paste on the baking sheet, as it could cause the nuggets to stick.

Cook for 30 to 35 minutes or until the tofu is nicely browned on the outside. (About halfway through, take them out to move them around the pan a bit so they don't stick). Enjoy right away or let cool before adding to a salad!
Notes
If you aren't using super-firm tofu, you will need to press to remove excess water.

Remove tofu from packaging and wrap in a paper towel or clean kitchen towel. d Wrap the tofu in a clean towel and place it on a plate. Put a cast-iron skillet or something heavy on top of it and let the tofu press for 15 to 30 minutes. Once you start using tofu often you'll get to know the different styles and whether you need to press it for a certain recipe.

If you want to reduce the sodium, you can use light soy sauce or halve the soy sauce and replace the difference with water.
If the tofu paste is too loose and there is excess liquid on the baking sheet, it might cause the tofu to stick. Try to avoid getting excess paste liquid on the sheet.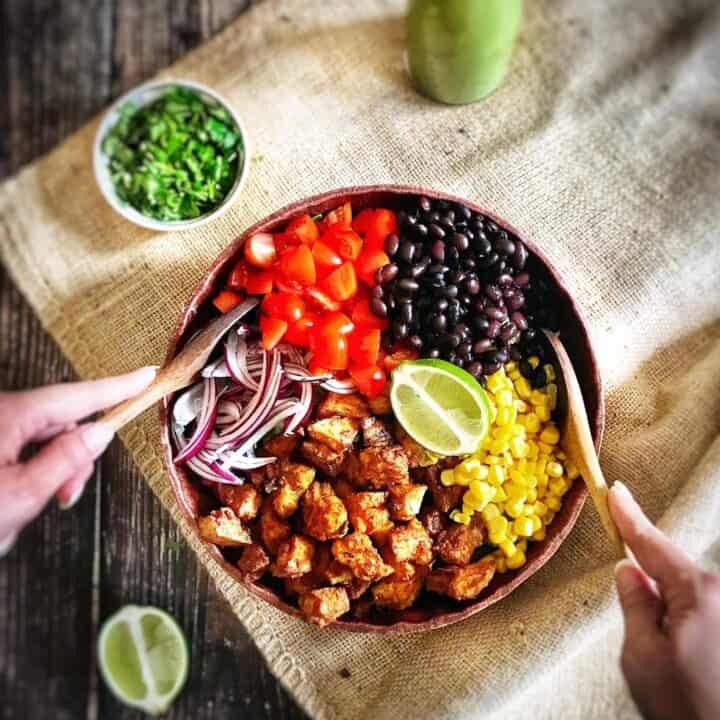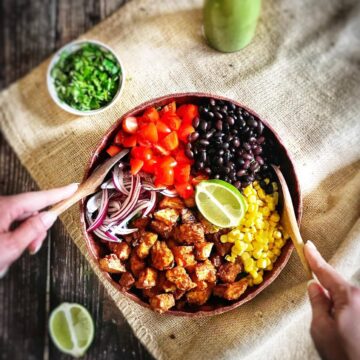 Vegan Southwest Salad with Chili-Lime Tofu
This Southwestern Salad is bright, delicious, and filling enough to be your main course! The Chili-Lime Tofu adds the perfect protein and the Cilantro-Lime Avocado Dressing offers a creamy, citrusy finish.
Ingredients
4

cups

romaine or other lettuce

1 ½

cups

black beans

1 ½

cups

corn

(frozen or canned)

1 ½

cups

cherry or plum tomatoes (cubed)

½

cup

red onion (slivered)

⅓

cup

chopped cilantro

chili-lime tofu

(see additional instructions)

Cilantro-Lime Avocado Dressing

(or vegan dressing of choice)
Instructions
Prepare the chili-lime tofu (see separate instructions)

Wash, dry, and chop or tear your lettuce. Rinse and drain black beans. Rinse and drain canned corn OR heat the corn over low heat until it is fully defrosted. Wash and cube the tomatoes. Peel and sliver the onion. Wash, dry, and chop the cilantro.

Prepare the Cilantro-Lime Avocado Dressing (see link below).

Assemble your salad, either in separate bowls or one large bowl. Toss the ingredients to combine. Top with tofu nuggets and dressing. Serve and enjoy!
Save this Recipe
Saved!
Notes
I love this salad with crunchy romaine, but other great choices include spinach, kale, and mixed greens.
If you prefer to make this salad without the tofu, roasted sweet potatoes are another great option.
Feel free to use your own dressing of choice, but I think the Cilantro-Lime Avocado Dressing is particialrly nice for this salad.
You can heat the black beans over low heat if you choose.
If using canned corn, choose a brand with low salt and other preservatives.
Did you try this recipe? Have a question? Just leave a comment below and I'll get back to you ASAP!