These No-Bake Brownie Bites are quick, easy, and sugar-free! The dates add sweetness, the walnuts and pecans offer depth, while the Dutch-process cocoa gives a rich, chocolatey flavor. But the real surprise are the pretzels, which both bind the mixture and give these high-protein energy balls the perfect salty crunch.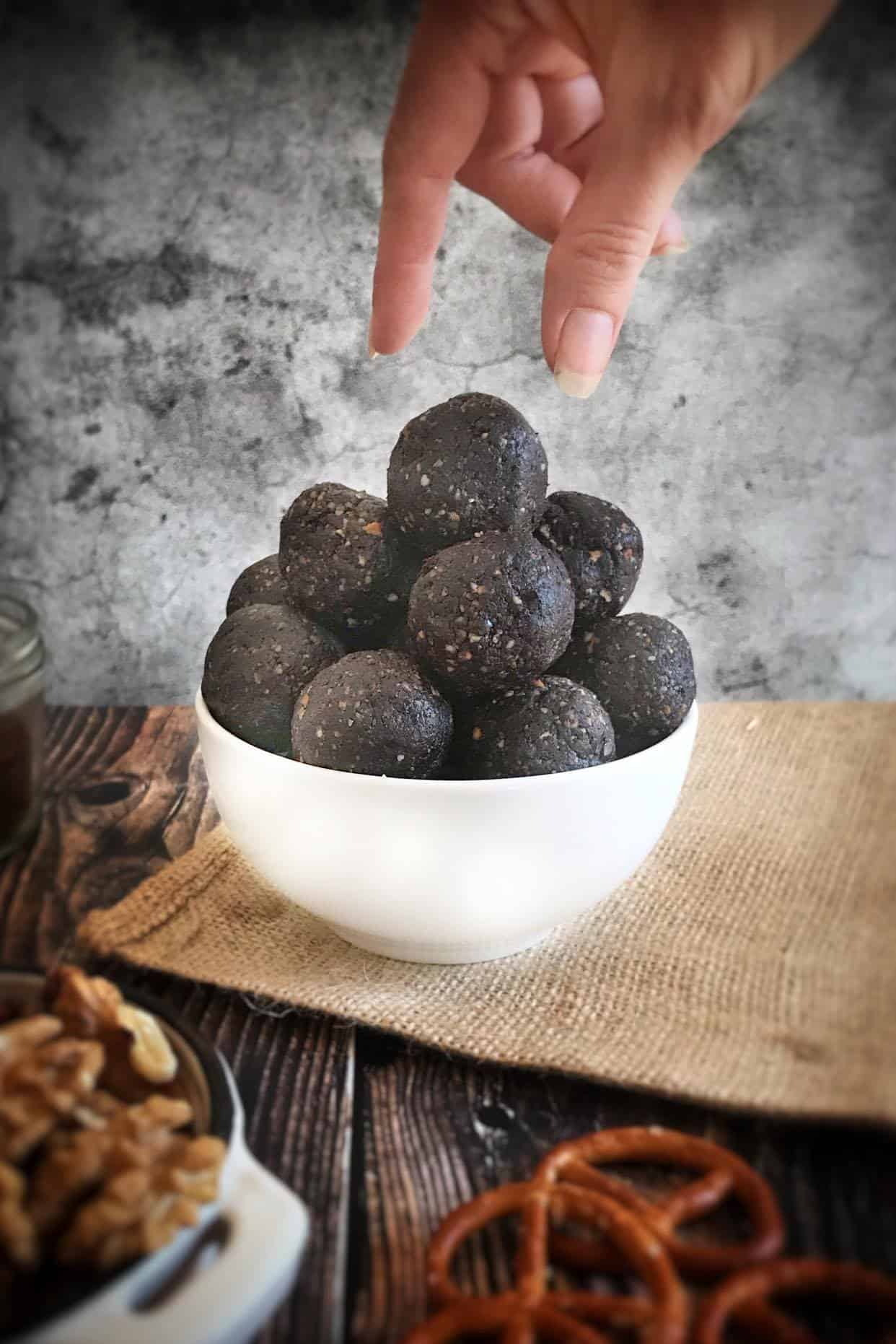 If I had to pick my favorite indulgent dessert, I think it would have to be brownies. I'm particularly fond of the dense, rich sort of brownie that's, um, not very healthy. And while those are fine for special occasions, they're not something I'd want to eat every day. What do I want to eat every day? These No-Bake Pretzel Brownies, of course.
The good news about these no-bake pretzel brownie bites is that they are (as far as super indulgent treats go) on the healthier end of the spectrum. Made with dates, walnuts, pecans, cocoa powder, maple syrup, and the special ingredient, pretzels, these high-protein bites of heaven manage to be amazingly delicious while surprisingly not so bad for you.
Another bonus--absolutely no baking is involved. Turn off your ovens, ladies and gentlemen, this chocolate treat needs no heat!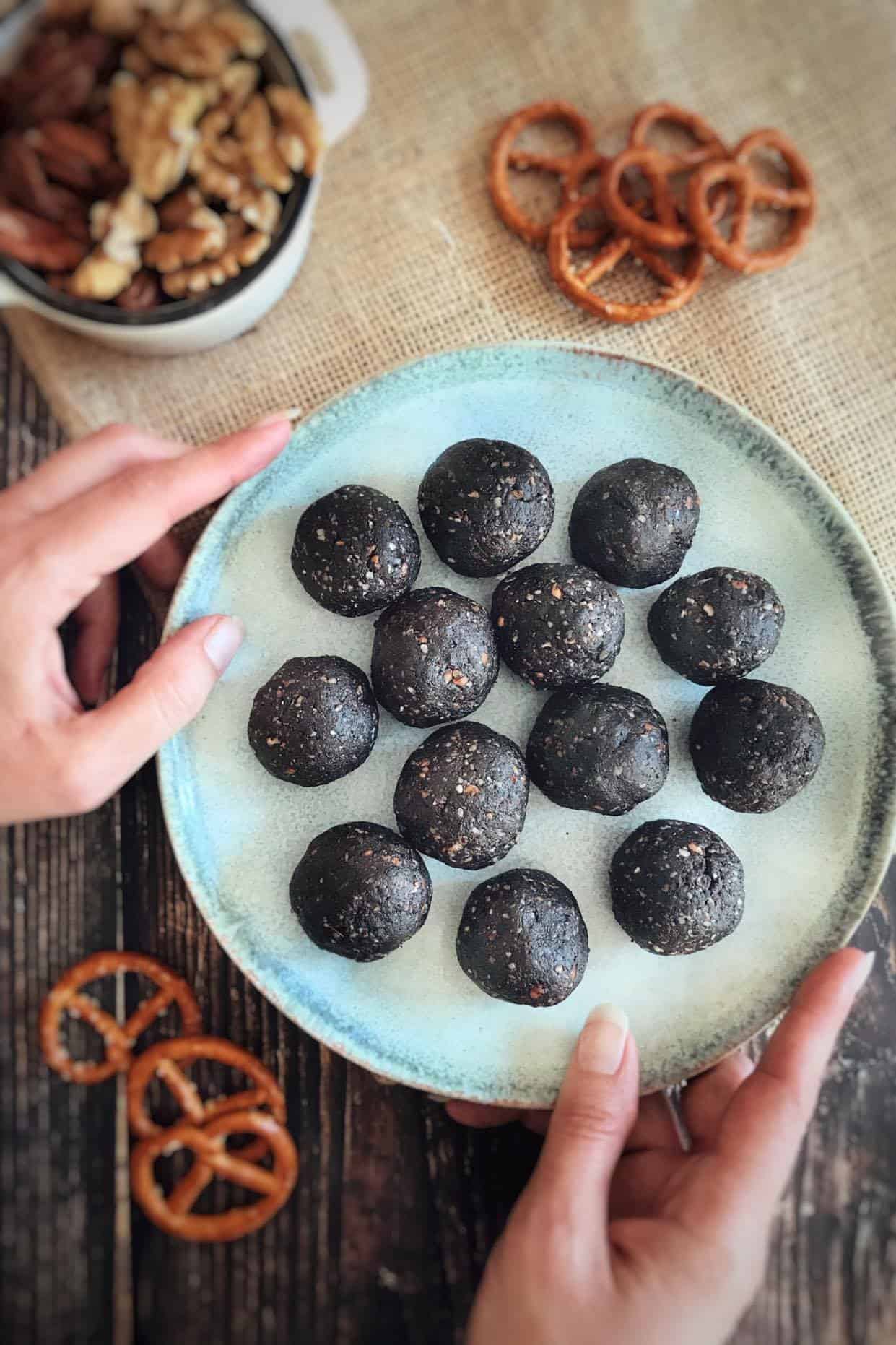 You'll love these Protein Brownie Bites because they're:
Healthy & Delicious
High-Protein
Perfect for an On-the-Go Snack or Treat
Vegan & Dairy-Free
Sweetened by Dates & Maple Syrup
Refined-Sugar-Free
Oil-Free
No-Bake
Pure Bliss!
---
Why I chose Pretzels for this Protein Brownie Bites Recipe
When I was developing this recipe, I didn't immediately think of pretzels as an ingredient. But I knew I needed SOMETHING to hold it all together. I didn't have any almond flour or coconut flour. I thought of using oats, pulsed into oat flour, and I'm sure it would have worked just fine--yet I found the idea underwhelming. But as I was literally scanning my kitchen for ideas, my eyes fell on a container of hard pretzels, the chosen snack of my children. And I knew I'd struck gold!
That punch of pretzel salt truly elevates these from okay to Ah-mazing. Don't believe me? Just try it for yourself. Plus, the little bits of pretzel pieces add a crunchy factor that's perfectly satisfying. As far as desserts go, these brownie bites definitely check all the boxes.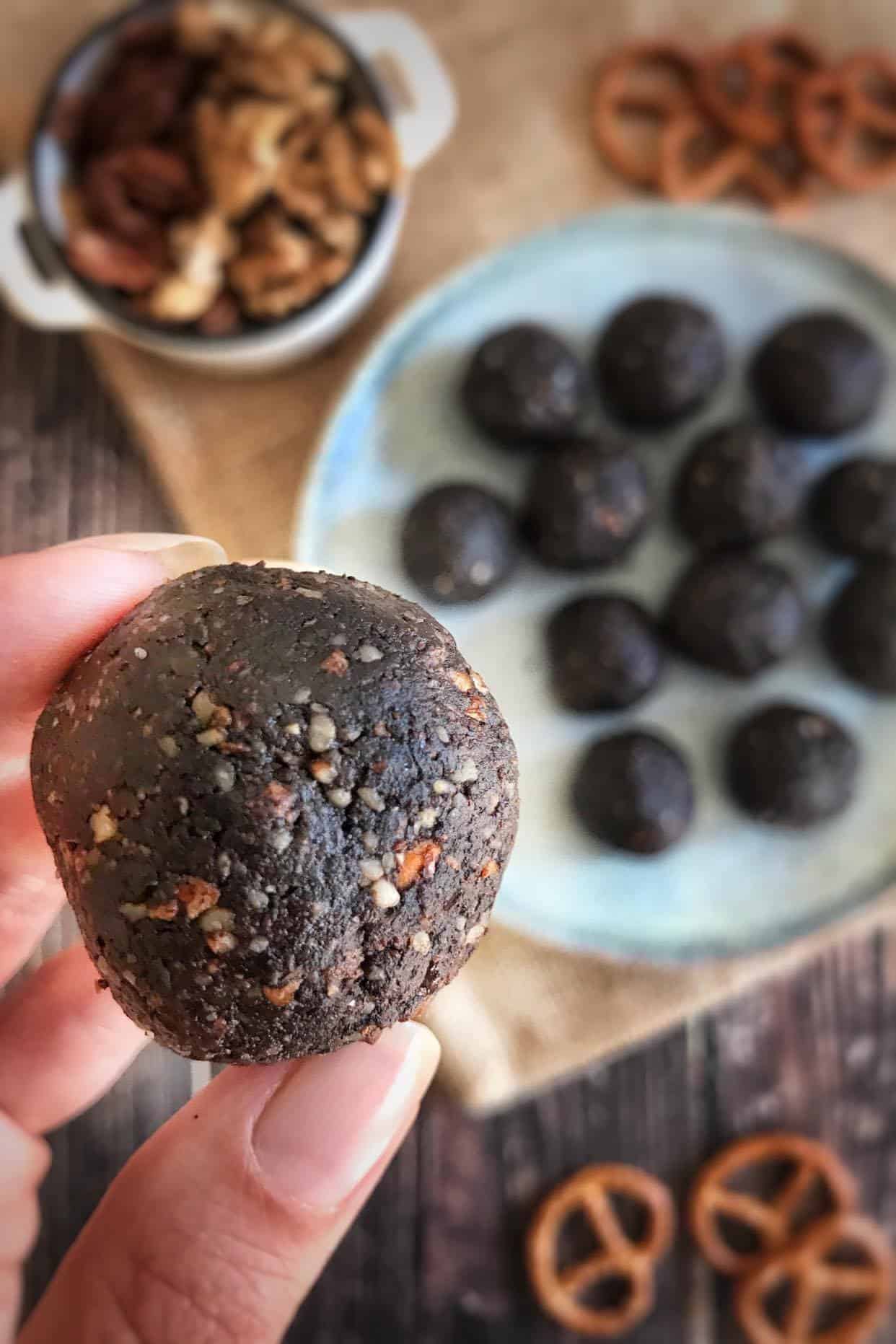 ---
Why Dutch Process Cocoa Powder?
Regular cocoa powder is more acidic and lighter in color. Whereas Dutch process cocoa powder is darker and has a more pronounced "chocolatey" flavor. You can find Dutch Process Cocoa Powder
online or in the baking section of most large grocery stores. You can also substitute with regular cocoa powder, but you might have a less pronounced flavor. I'd love to hear your experience in the comments below!
Do I need a food processor to make these Healthy Little Brownie Bites?
You do need a full-sized food processor for this recipe. Here's a good mid-range food processor that I can recommend. The great thing about investing in a food processor is that if you utilize it properly, it will pay for itself (check out my almond butter tutorial to see what I mean.)
How to Serve these Two-Bite Brownies
These mini brownie bites are perfect for a make-ahead grab-and-go treat. Add them to a lunchbox or refuel with this high-protein snack after a workout. You can even eat these chocolate energy balls for breakfast (shh, I won't tell). Or serve them as an easy dessert at your next cookout or holiday gathering.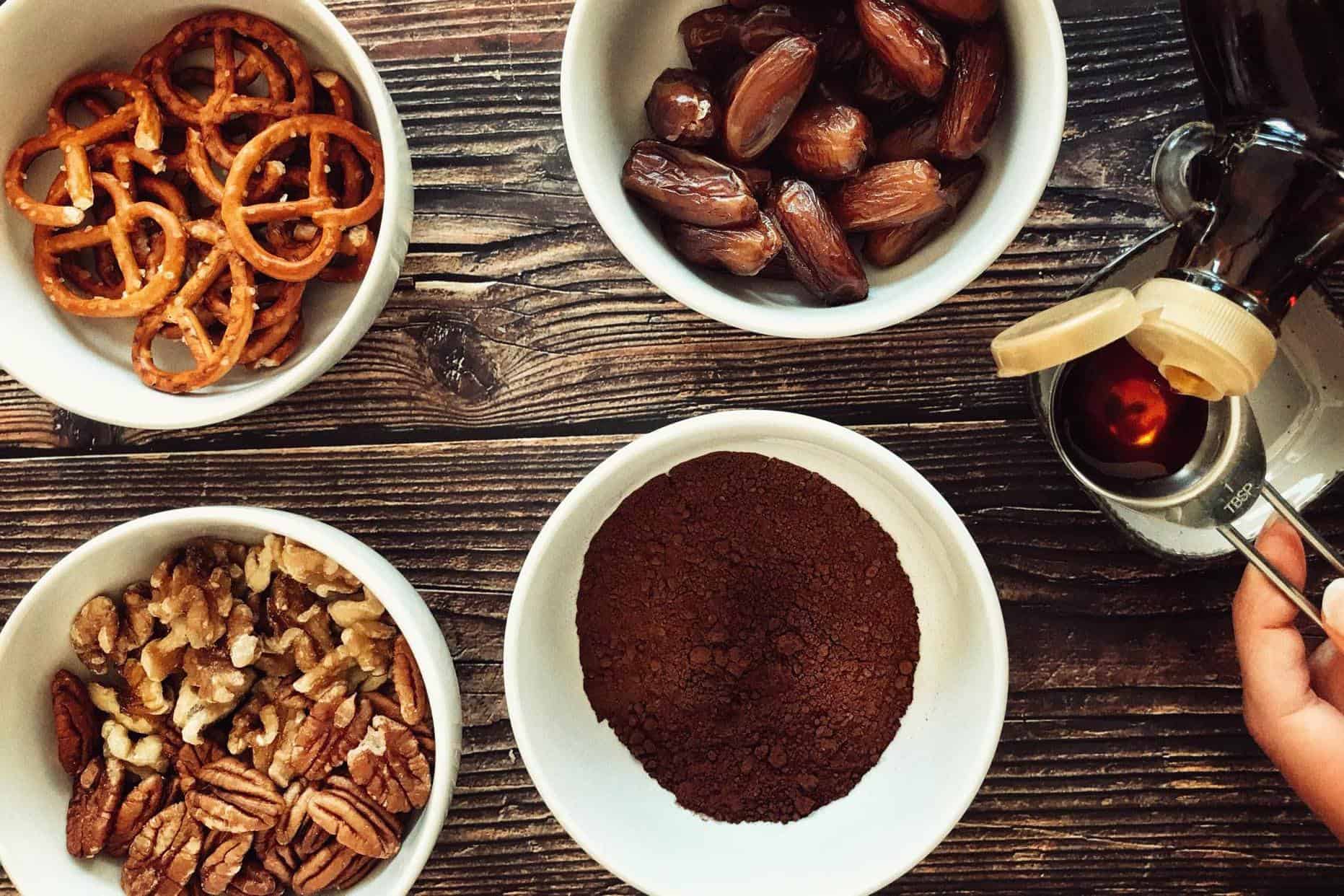 ---
How to Make No-Bake Pretzel Brownie Bites
To make these brownie bites, you just combine the ingredients in a food processor and blend. I like to add the pretzels first to break them up, and then the other ingredients second. But that's really about it. (Check out the video below to see how I do it!)
Once you've made the mixture, just roll it into balls and chill in the fridge for an hour before serving. Technically you could even eat these right away (guess how I know that), but they get denser and more brownie-like once they've chilled a bit. Don't we all.
---
How to Store Protein Brownie Bites
You can store these Vegan Brownie Bites for up to 1 week in an air tight container in the refrigerator or 3 months in the freezer. To defrost, simply place the container in the refrigerator for a few hours, or on the counter for 1 hour.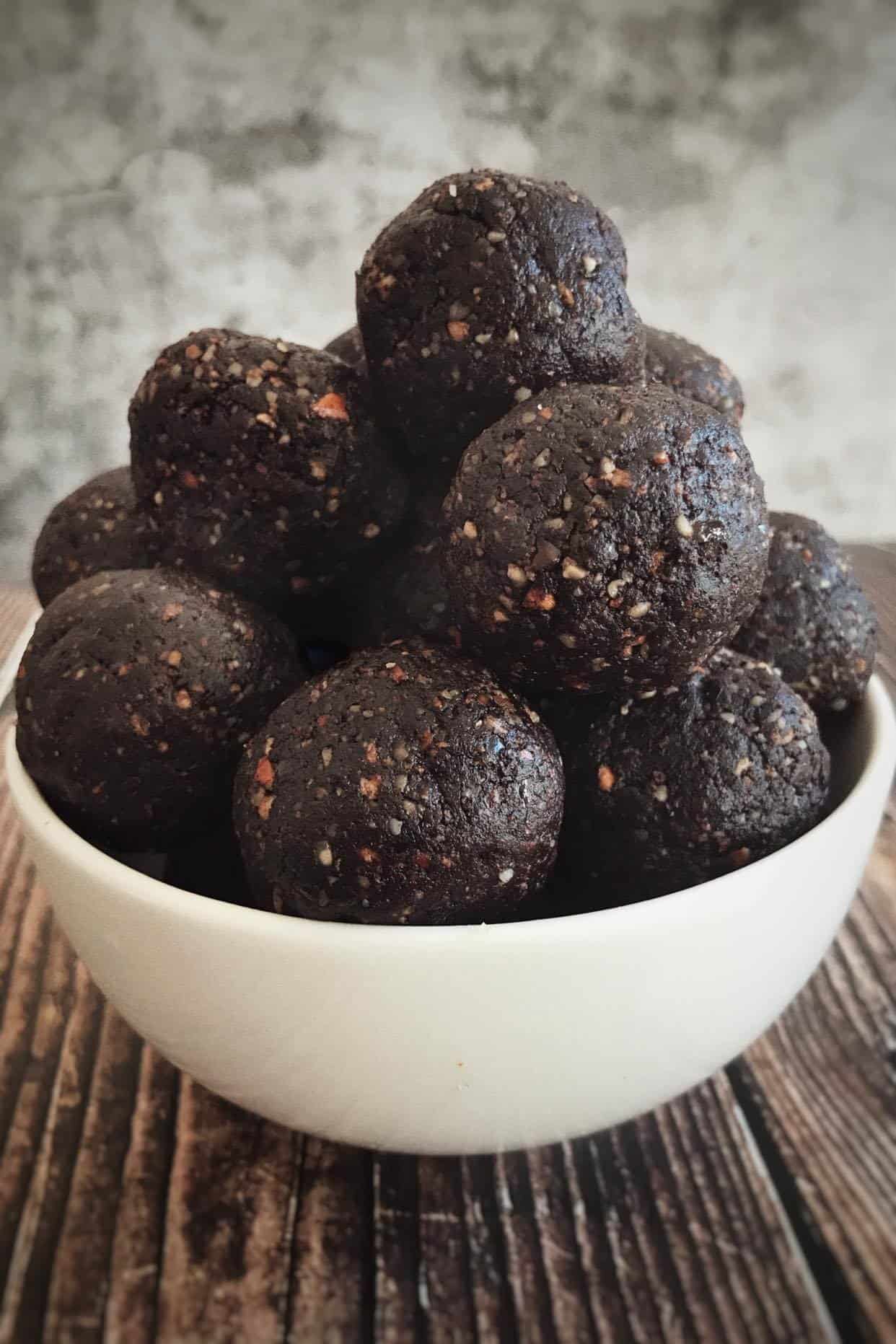 ---
You might also love
📖 Recipe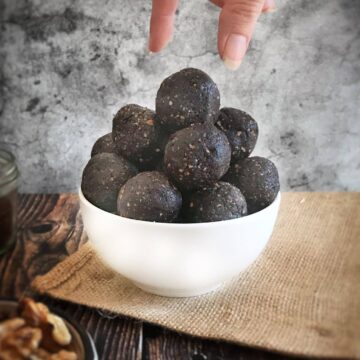 No-Bake Pretzel Brownie Bites
These no-bake brownie bites are quick, easy, and sugar-free! The dates add sweetness, the walnuts and pecans offer depth, while the Dutch-process cocoa gives a rich chocolatey flavor. But the real surprise is the pretzels, which both bind the mixture and add the perfect salty crunch.
Instructions
Add the pretzels to the food processor and blitz until the pretzels are mostly broken up.

Next, add the walnuts, pecans, and dates to the food processor. Turn onto the highest setting and blend for about 30 seconds, or until the dates and nuts are broken down.

Finally, add the cocoa powder, maple syrup, and water. Again, blitz on the highest setting until the mixture is fully combined. Blend shorter for a crunchier brownie bite and longer if you prefer something smoother.

Pour the mixture into a bowl. Use your hands to roll about 1.5 to 2 tablespoons of the mixture into a bite-sized ball. Repeat until all the mixture is used up.

For best result, cool for 1 hour before eating.

Store in an airtight container in the refrigerator for up to one week.
Save this Recipe
Saved!
Notes
If your dates are on the harder side, you can soften them up by soaking in warm water for 5 minutes. (Be sure to drain before adding to the food processor).
If the mixture won't stay together when you try to form the balls, just add another tablespoon of water, combine, and everything should come together.
I love dutch-process cocoa powder for a deeper and richer taste, but any cocoa powder will work.
If you don't have walnuts, simply sub with pecans and vice versa.
Almonds could also be used in place of the other nuts in this recipe, but the flavor will be slightly different.
Raisins or prunes can be subbed if you don't have dates.