These Vegan Oatmeal Chocolate Chip Cookies, are chewy and delicious! You just need 1 bowl and a few minutes to make this healthier version of your favorite childhood treat. Not only are they a perfect weeknight dessert, but they make a great after-school or post-workout snack!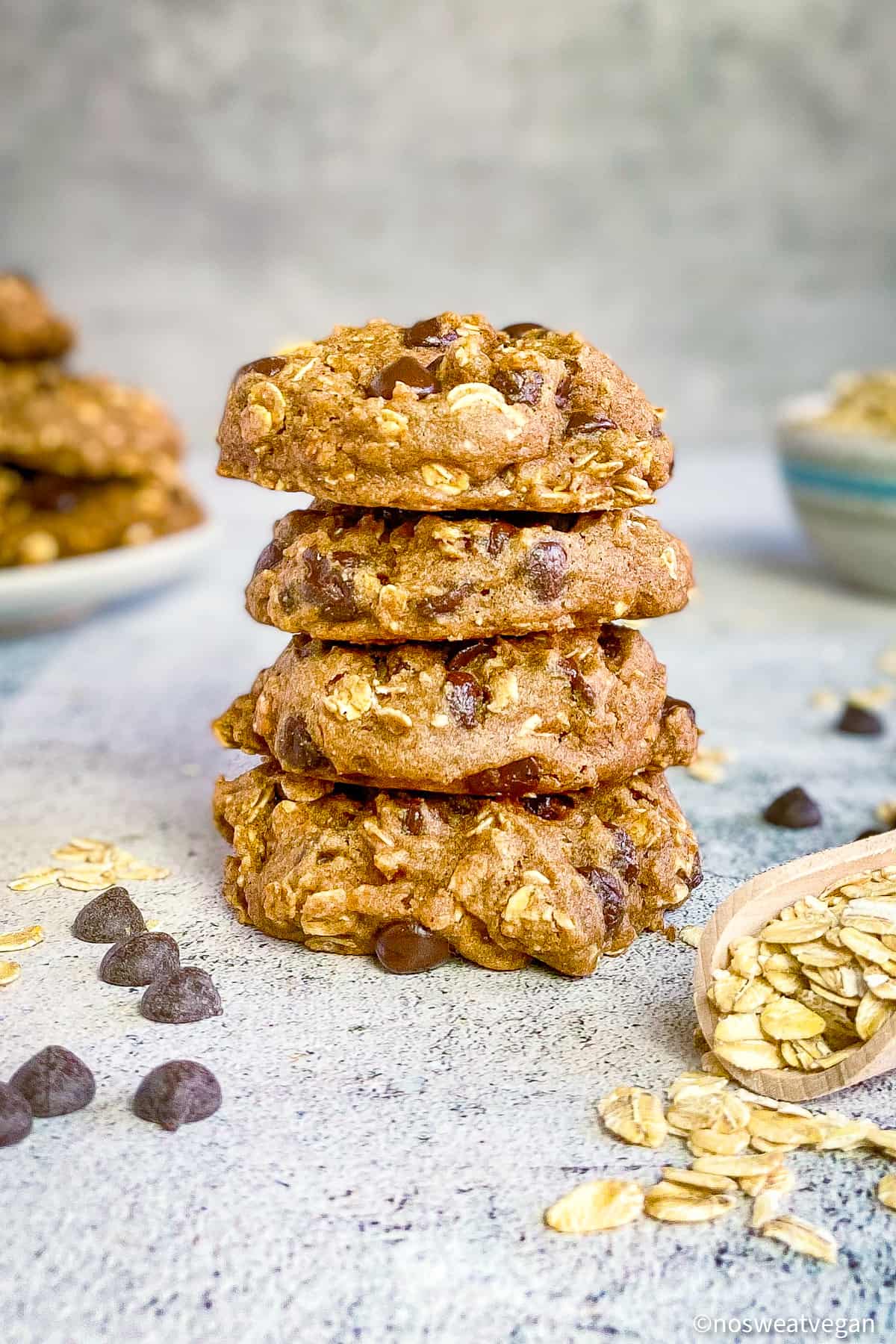 If you love cookies but want a healthier version that's oil-free but still full of flavor, then I have you covered. These Vegan Oatmeal Chocolate Chip Cookies are a chewy and delicious treat the whole family will love.
Not only are these cookies quick and easy to make, but you only need 1 bowl, so there's less clean-up. Just mix all of the ingredients, fold in the chocolate chips, and scoop the batter onto a baking sheet. These cookies bake up in 15 minutes, making them a perfect weeknight dessert.
And since these vegan oatmeal cookies are made with healthier ingredients, they also make a great after-school or post-workout snack!
Jump to:
You'll love this Vegan Oatmeal Chocolate Chip Cookie recipe because it's:
Quick & Easy
Vegan / Vegetarian
Dairy-Free
WFPB & Oil-Free
Perfect for Christmas & Holidays
Healthy & Delicious!
---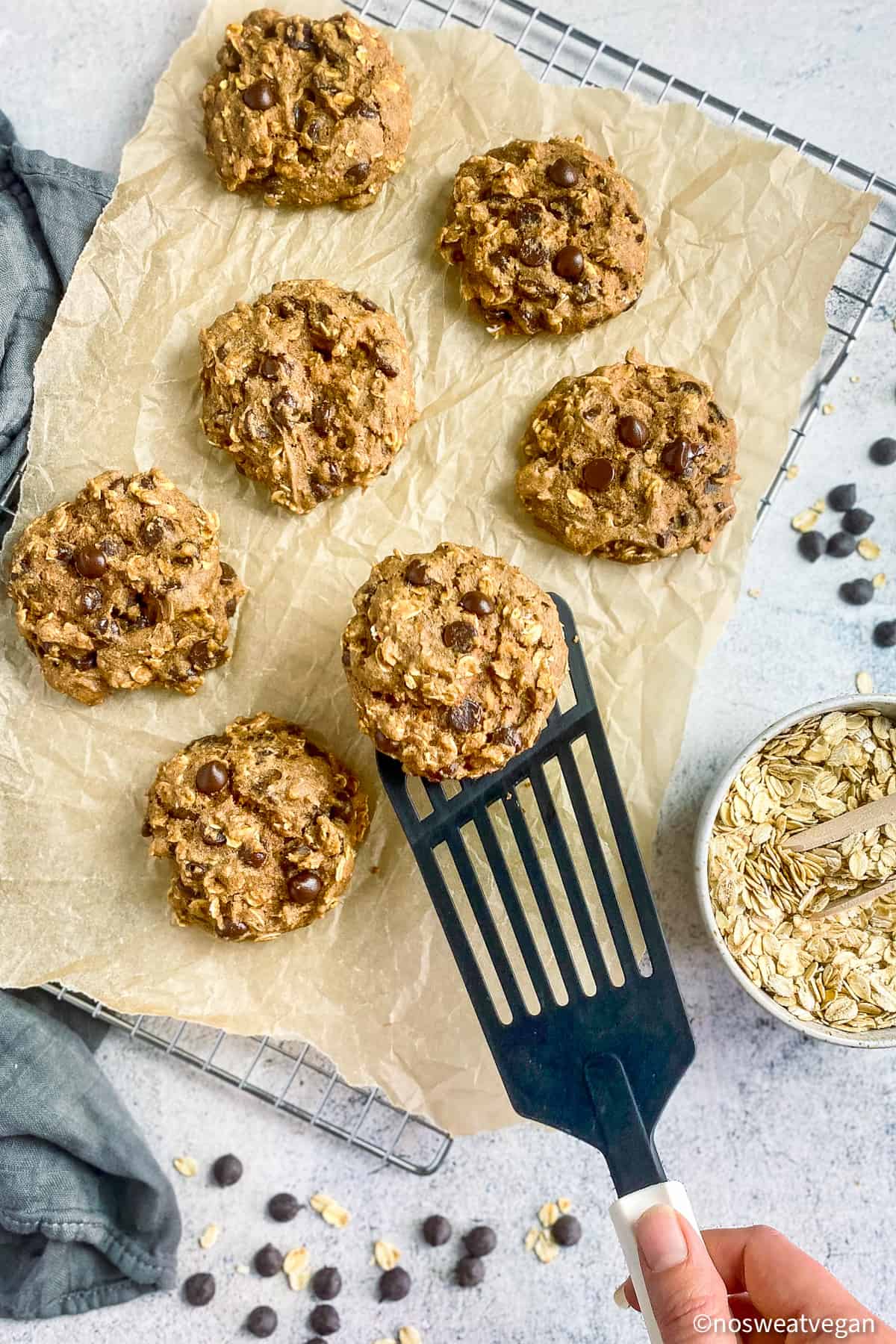 What kind of chocolate chips should I use?
I used the Enjoy Life Dark Chocolate Chips, and I highly recommend them! But if you can't find those, just be sure to choose a brand of chocolate chips that are vegan.
I tend to prefer semi-sweet or dark chocolate chips in cookies. But be cautious because while dark chocolate is often vegan by default, there are a few well-known brands of dark chocolate chips that aren't.
Can this be gluten-free?
To make this gluten-free, you would need to substitute the whole-wheat flour with gluten-free flour. I have not tested this recipe with gluten-free flour, but if you try it, please let me know in the comments.
Can this be nut-free?
To make this nut-free you would need to substitute the nut butter with sunflower seed butter.
---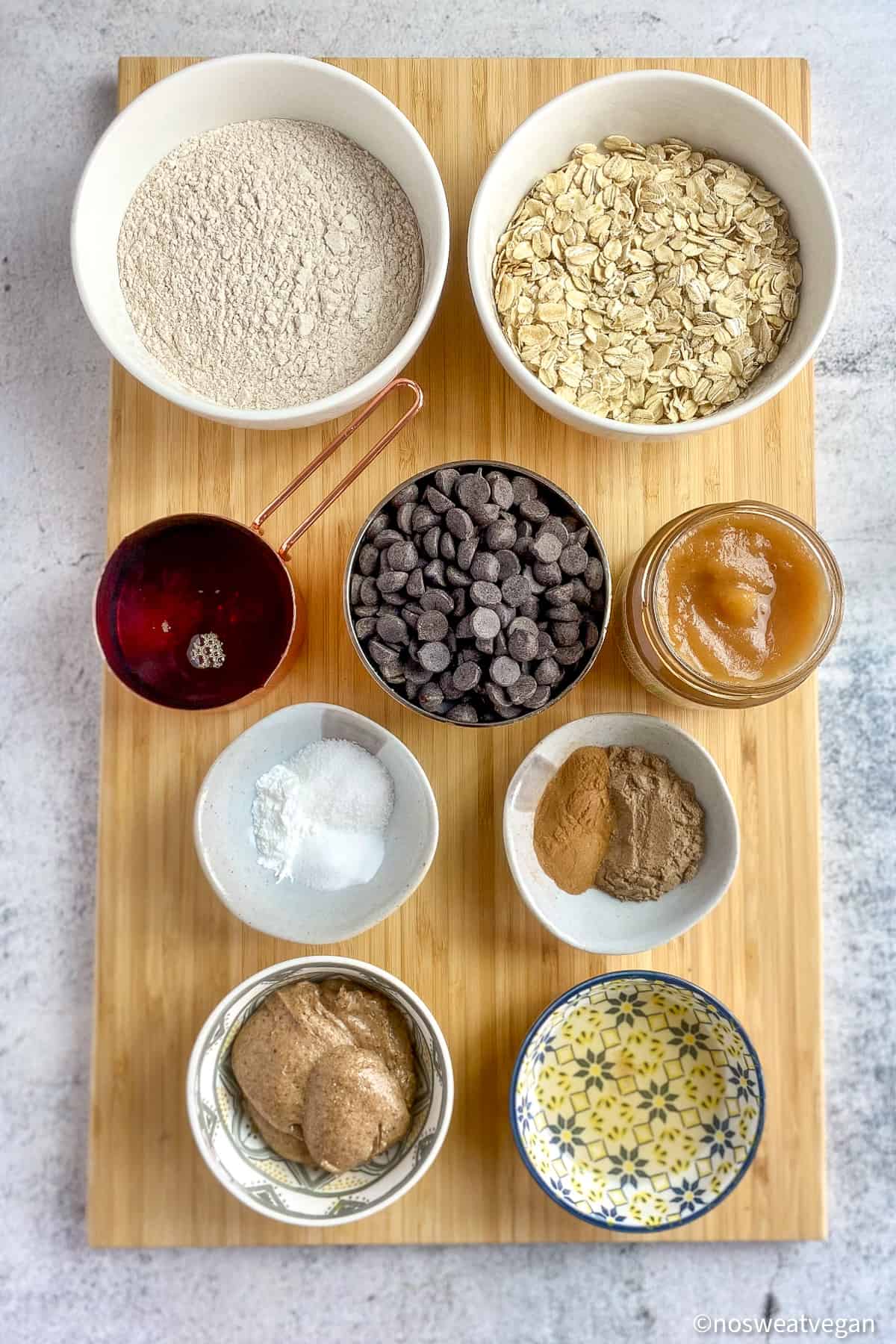 Ingredients
Dry Ingredients
whole-wheat flour: You could also use white whole-wheat flour.
rolled oats: Don't use instant oats.
milled flax seed: This will help the cookies hold together.
cinnamon: This just adds a little extra bump of flavor. You could leave it out if you want.
baking soda: Although I tested this recipe both with and without the baking soda, overall, I prefer the result with the baking soda. The cookies spread better and had a better cookie texture with the baking soda.
Wet Ingredients
unsalted almond butter: If you only have salted almond butter, be sure to skip the extra salt in the dry ingredients.
Add-In
*See recipe card for quantities.
---
Variations
Instructions
Preheat your oven to 350F or 175C.
Add all of the dry ingredients to a mixing bowl and whisk to combine.
Then add all of the wet ingredients to the same bowl. Use a spatula to mix, making sure to scrape the bottom and sides of the bowl, until everything is combined. (Make sure you get all of the flour from the bottom.)
Next you can add your chocolate chips and fold into the batter. I think ¾ cup is the perfect amount, but you could add more or less as you wish.
Use an ice-cream scoop or a spoon to transfer the batter to the cookie sheet. Be sure to evenly space the cookies, leaving a little space in between. You'll have about 12 cookies.
Bake the cookies for 14 to 17 minutes, or until fully cooked.
Remove the baking sheet from the oven and tansfer the cookies to a cooling rack. When the cookies have cooled a little, you can serve and enjoy right away or store for later.
---
Troubleshooting
Why are my cookies rounded on top? Since these healthy cookies don't have butter, they don't spread quite as much. Before you put them in the oven press them with extra baking paper or a spatula to help flatten them.
Why are my cookies dry? They are probably overcooked. Different ovens run at slightly different temperatures. For me, these cookies took exactly 15 minutes. In other ovens they could take a little more or less.
How to serve
Serve these delicious oatmeal chocolate chip cookies as a snack or dessert. Since they're made with healthier ingredients, they also make a perfect post-workout snack for you or an after-school snack for kids.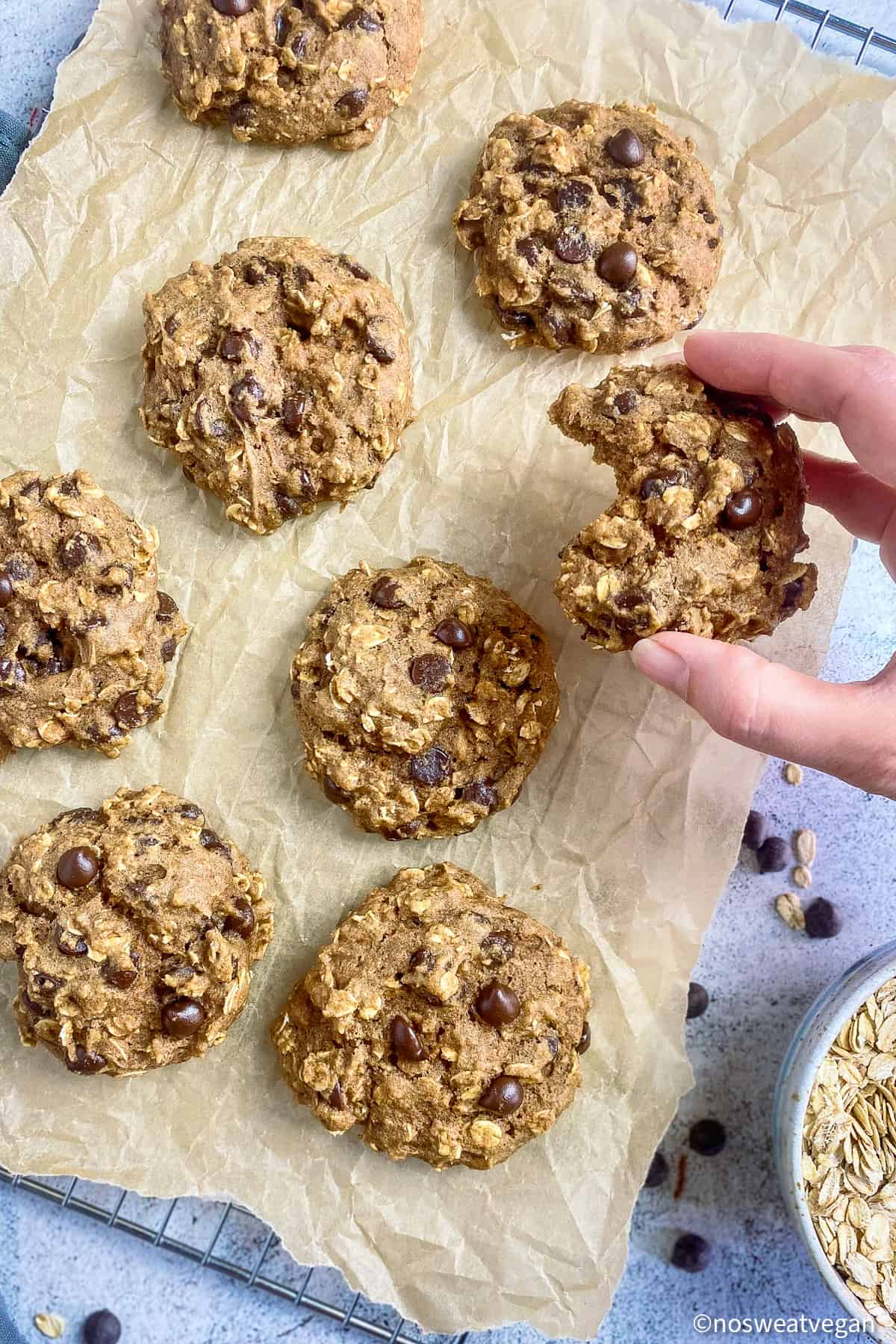 How to store
Store any leftovers in an airtight container. They will last about 3 days at room temperature or 1 week in the refrigerator. Adding a paper towel to the container will help absorb extra moisture.
If you want to double the recipe and freeze half, these cookies can be frozen for up to 3 months.
More vegan cookie recipes
---
📖 Recipe
Want access to my Exclusive Meal Planning Tips & Printables page?
Did you try this recipe? Have a question? Just leave a comment below and I'll get back to you ASAP!