These Vegan Christmas Cookies are soft and chewy on the inside, with a satisfyingly crunchy exterior. Swap out different types of sprinkles for a versatile and delicious winter treat. Perfect for adding to your holiday table or giving out as an edible gift!
For many years my family had a tradition of baking dozens upon dozens of Christmas cookies every year. We'd make up plates and tins to give out as gifts and take to holiday parties. Of all the cookies we ever made, these Christmas Sprinkle Cookies were by far my favorite.
The recipe was inspired by a snowman cookie recipe my mom had in one of her many Christmas cookie cookbooks. The first time we made them following the instructions as given, but I found them to be really work-intensive and a little oversweetened.
In an effort to streamline the recipe, I made some changes (including reducing the sugar and dropping the coconut extract). I also stopped making them into snowmen and simply started rolling the dough into balls and rolling the balls in sprinkles before baking. And just like that, a new recipe was born.
Now I've taken this recipe one step further by veganizing them. To make these Christmas cookies vegan, I swapped the butter and cream cheese for their vegan counterparts. I found that a separate egg substitute wasn't necessary since the cream cheese already has similar binding properties.
And thus, I present to you my very special Vegan Christmas Sprinkle Cookies recipe! Unlike other recipes on my website, I won't argue that this one is healthy. However, it is fun, delicious, and perfect for the holidays.
If you have young kids, this is also a fun recipe to make together. If measuring and mixing are stressful with kids, you can even make the dough ahead of time and have the kids help roll the dough into balls and roll the balls in the sprinkles.
Jump to:
You'll love this vegan Christmas cookie recipe because it's:
Soft & Chewy with a Crunchy Exterior
Simple & Easy
Vegan / Vegetarian
Dairy-free
Kid-friendly & Fun
Versatile
Sweet & Delicious
Perfect for Holiday Parties and Christmas Eve!
---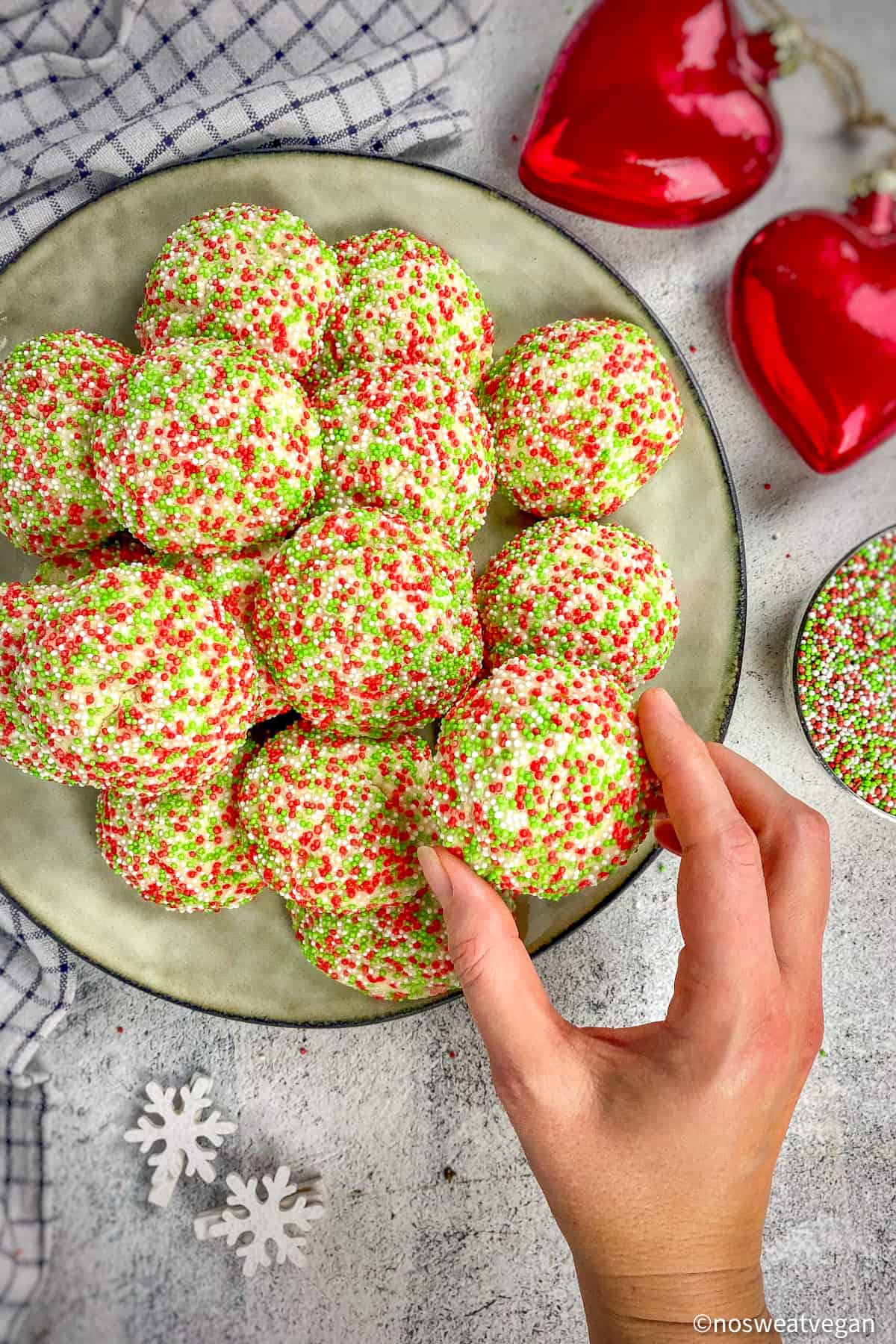 Are sprinkles vegan?
Many brands of sprinkles (aka jimmies) have an ingredient called shellac, which is derived from insects, so you'll want to steer clear of that. Depending on what you have available at your grocery store you might need to order vegan sprinkles online.
Can I make this without a mixer?
Having a mixer (either a hand mixer or stand mixer) is important both for creaming the vegan butter, cream cheese, and sugar, as well as evenly incorporating the flour. It could be done by hand but it would require significantly more effort.
Why does the dough need to chill?
There are a couple of reasons. For one thing, in order to roll these into balls without making a complete mess, the dough needs to firm up.
More importantly, chilling the dough first will help the cookies keep their shape in the oven. (Trust me--I forgot this step once and the dough spread so much I basically got one giant flat cookie.)
Ingredients
vegan butter: Ideally use stick butter or european style block butter. I always splurge on this to get the highest quality vegan butter available.
vegan cream cheese
sugar: Regular white sugar can sometimes not be vegan, so be sure to choose a brand that is (organic or fair trade are usually safe bets.)
almond extract: This adds a light almondy flavor that sets these cookies apart!
all-purpose flour
vegan sprinkles: I chose a red, white, and green sprinkle mix, but feel free to use whatever color combo you like.
*See recipe card for quantities.
---
Variations
You can use any color of sprinkles you want. If I make these for a birthday, I use rainbow sprinkles.
You could make these cookies without sprinkles, but I think the crunch and flavor of the sprinkles is what really puts these cookies over the edge.
Instructions
Add the vegan butter, sugar, and vegan cream cheese to a large mixing bowl. Use a hand mixer or stand mixer to cream the ingredients together. (This is a fancy way to say mix them at a high speed untilthe are fully incorporated and fluffy).
Add the vanilla and almond extract to the creamed ingredients and mix a few more seconds until just incorporated.
In a separate mixing bowl, whisk together the flour and baking powder.
Add the flour/baking soda to the creamed ingredients, about 1 cup at a time, using the hand mixer to incorporate the flour each time. You will also need to scrape down the sides and bottom of the bowl.
When all of the flour is mixed in and fully incorporated, cover the bowl and place it in the freezer for 30 minutes or the refrigerator for 1.5 hours. (Don't skip this step! If you do the cookies will not hold their form in the oven.)
Remove the cookie dough from the freezer and preheat the oven to 325F or 165C.
Set up a rolling station with the cookie dough, sprinkles, and a lined cookie sheet. For each cookies, scoop out about 1.5 tablesspoons of cookie dough and roll between your bowls to create a golf-ball-sized dough ball.
Lightly roll the dough ball in the sprinkles until fully coated. Place the dough ball on a lined cookie sheet. Repeat until there are about 12 cookies on the cookie sheet.
Bake the cookies for 20 to 22 minutes, or until they are lightly browned on the bottom.
The cookies are very delicate when they first come out of the oven, so let them cool for about 5 minutes before transferring them to a cooling rack to let cool completely.
This recipe makes between 24 and 36 cookies (depending on the size). You can make all 3 batches at once or make one batch and freeze the rest of the dough for another time.
Serve and enjoy or store at room temperature in an airtight container for up to 2 weeks.
---
Troubleshooting
Why did my cookies spread so much? The dough needs to chill (at least 30 minutes in the freezer or 1.5 hours in the refrigerator) before rolling it into balls. If the dough has not been chilled the cookies will spread too much when they are baking.
How to serve
Serve these delicious vegan Christmas cookies as part of your Christmas dinner or buffet. Or add them to tins with other cookies like Vegan Oatmeal Chocolate Chip or Vegan Oatmeal Raisin Cookies, and give them out as gifts.
These Vegan Christmas cookies are also perfect for putting out for Santa on Christmas Eve.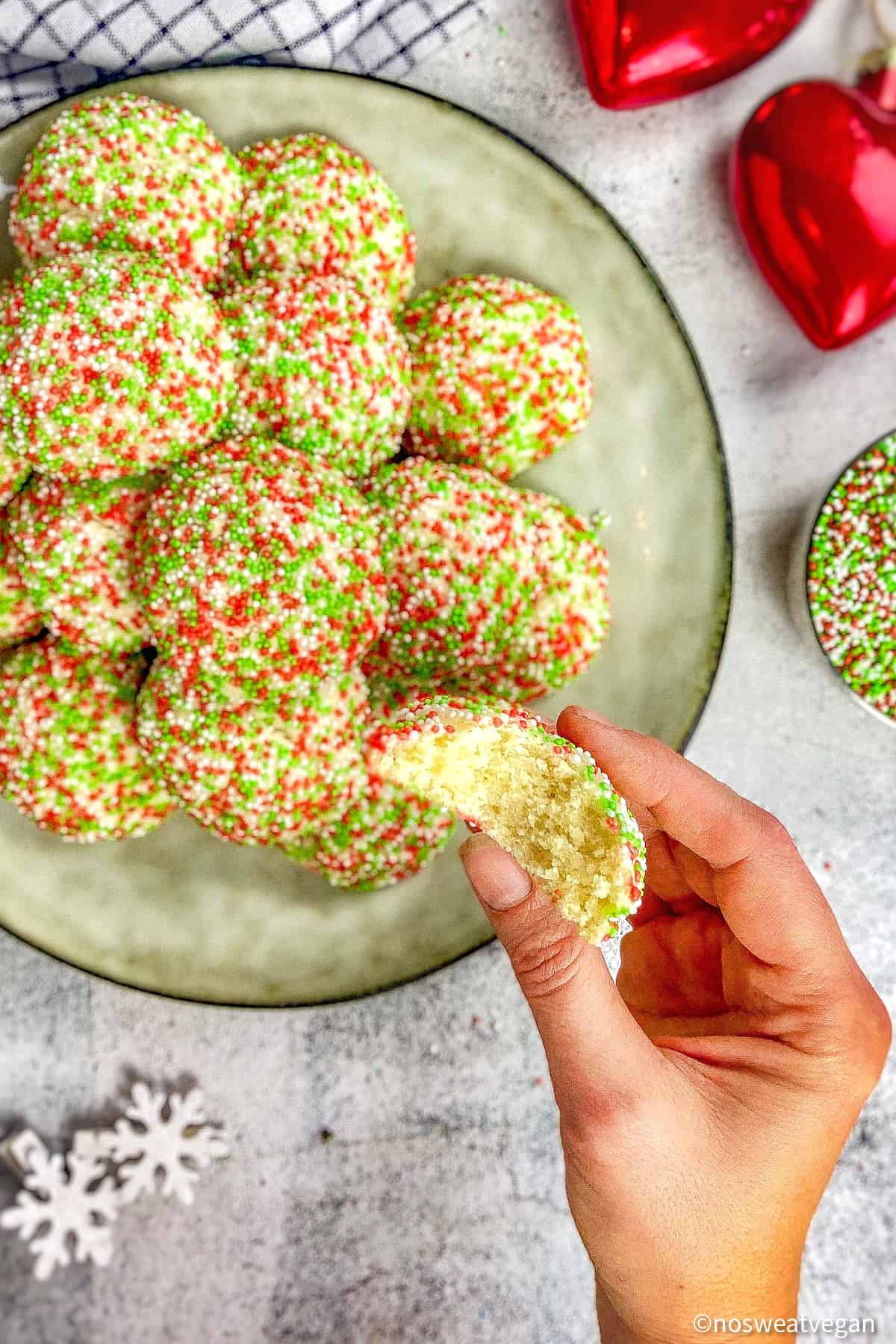 Can I make it ahead?
You can make the dough and store it in the refrigerator up to 24 hours in advance or in the freezer up to 1 month in advance. If the dough is frozen, let it defrost at room temperature before beginning to roll the balls.
How to store
Store these Christmas Sprinkle Cookies in an airtight container at room temperature for up 2 weeks.
More vegan cookie recipes
---
📖 Recipe
Want access to my Exclusive Meal Planning Tips & Printables page?
Did you try this recipe? Have a question? Just leave a comment below and I'll get back to you ASAP!