If you're looking for an Oil-Free Vegan Pesto that doesn't skimp on flavor and richness, then I have a solution for you. This healthy pesto recipe substitutes nutritional yeast for the parmesan and aquafaba for the oil. Bump up the nutrition with spinach and the brightness with lemon juice, and you have an absolutely decadent vegan pesto.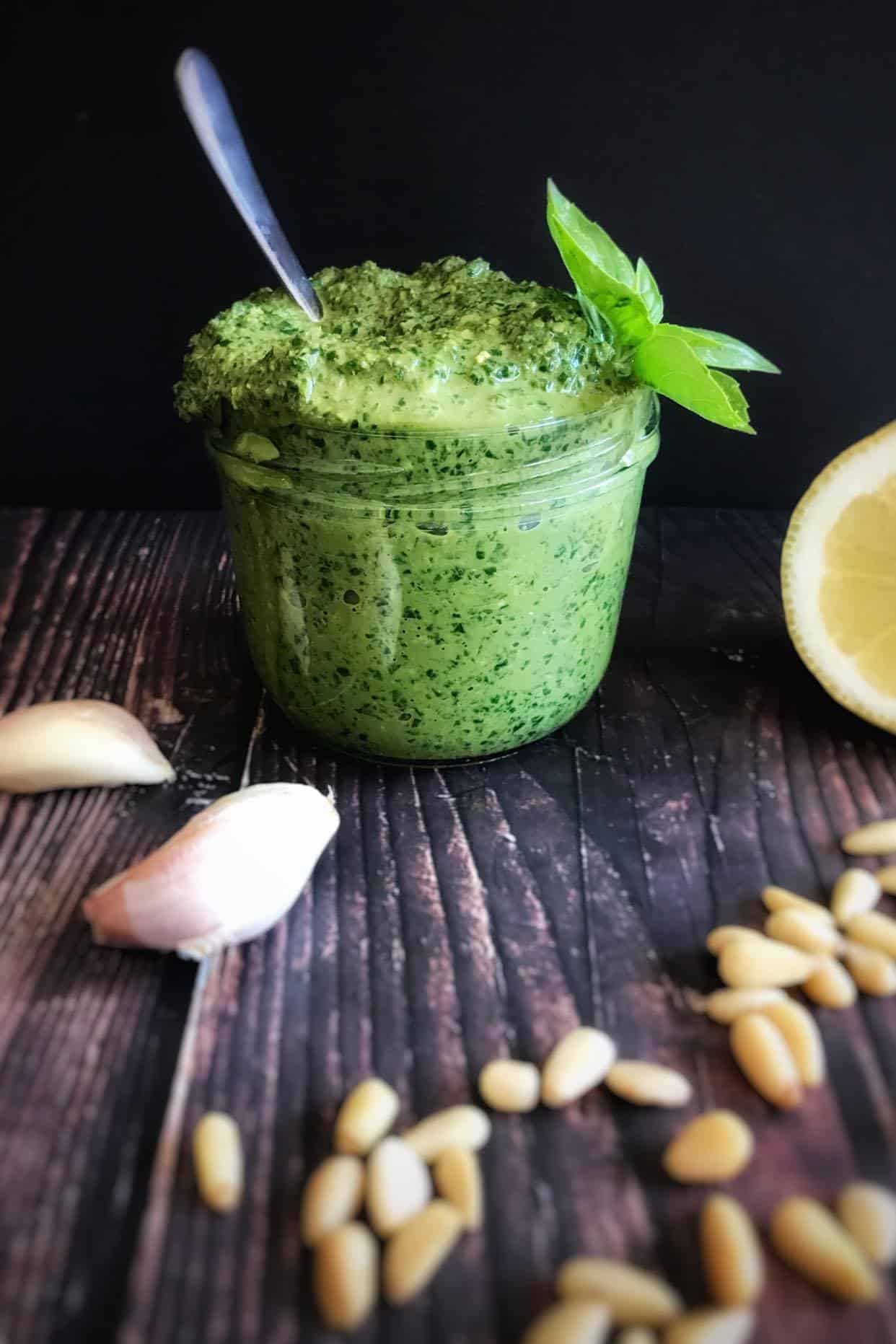 I've got big love for pesto--it's so bright and flavorful! And it tastes amazing on pasta, pizza, bread, veggies--just about anything, really. But while it's a no-brainer for most vegans to swap out nutritional yeast for the parmesan, figuring out how to make a rich and delicious pesto without oil left me in a bit of a pickle.
Can you enjoy a pesto sauce made with olive oil? Of course, but if you want a lighter and healthier version, I've got great news for you! You can have an oil-free, healthy, wfpb pesto without skimping on flavor.
I've tried various oil-free pesto recipes, but none of them really hit the right notes until I had an epiphany. And after that revelation, it seemed pretty obvious because I've used this ingredient as an oil substitute in other recipes. You may know it as "the leftover liquid from the can of chickpeas," but those of us who are up on this trendy ingredient know it as aquafaba.
Jump to:
You'll love this Vegan Pesto because it's:
Decadent & Delicious
Vegan / Vegetarian
Oil-Free & WFPB
Lower in Calories and Fat than traditional Pesto
Full of nutrition and flavor
Kid-friendly
Perfect for topping pasta, sandwiches, and more!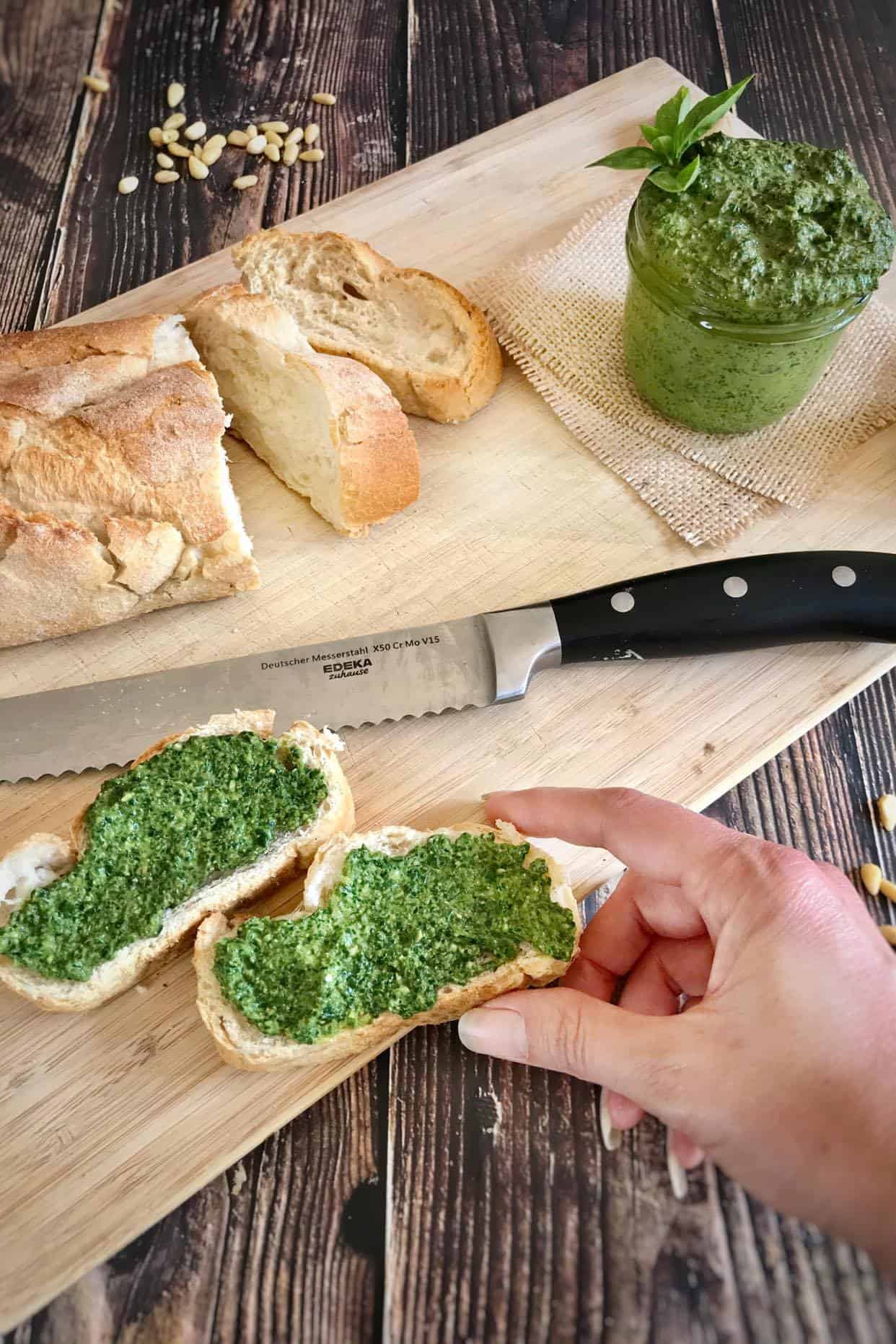 What is aquafaba?
Oh yes, aquafaba. The great, strange component in many a vegan chocolate souffle. This shiny, viscous liquid shares many of the properties of oil (it's flavorsome and full of body) but without all that . . . you know . . . saturated fat. I promise, whether you're following a strict no-oil diet or just trying to cut back, you're going to love this oil-free vegan pesto!
Aquafaba is a fancy word for the liquid in a can of chickpeas. So the next time you open a can of chickpeas be sure to save the aquafaba! You can incorporate it into all sorts of recipes as an oil substitute. It also makes a great egg replacement and can even be whipped like egg whites.
This vegan pesto is incredibly versatile
I always hate that feeling of finding a delicious recipe but not having the right ingredients on hand. But there are so many swaps you can make with pesto. If you don't have pine nuts or want to save money you can use sunflower seeds, walnuts, almonds, or cashews. If you're short on basil, you can add more spinach or other herbs (cilantro pesto is delicious). You can even use a mix of frozen basil and spinach. If you don't have aquafaba on hand, you can try the liquid from any white beans or plain water. (Obviously, you could also use olive oil, but the recipe would no longer be oil-free).
---
Is pesto good for you?
Most of the ingredients in a classic pesto are healthy. Basil, pine nuts, garlic, and lemon are all full of good things. However, the amount of oil in normal pesto counteracts some of that goodness. And the Pecorino or Parmesan cheese doesn't help (did you know those types of cheese aren't even vegetarian because they contain rennet!). Plus leaving out oil and cheese makes this more low calorie and low fat, which is great if you are trying to lose weight.
Is store-bought pesto vegan?
Most store-bought pesto contains cheese, which, as I mentioned above, isn't even vegetarian. Although you can sometimes now find jars of pesto that are labeled as Vegan, they are usually full of cheap oils and who knows what else. Thankfully pesto is so easy to make from scratch!
What can I use instead of basil?
In addition to basil, pesto can be made with a variety of greens and herbs including spinach, arugula, and parsley. However, if you want to replace the basil, my choice would be cilantro, since it has such a fresh and distinctive flavor.
What is a good substitute for pine nuts?
Pine nuts are a bit pricey, so if you want to replace them you could try almost any kind of nut. My favorites are walnuts or almonds. If you want to keep this nut-free, you can make it with sunflower seeds or a bit of tahini.
How to Make Vegan Oil-Free Pesto
Pesto is such a simple thing to make. For this recipe, you'll need a Food Processor
(or a good high-speed blender). A Mini Food Processor
will work, but you might have to make the pesto in two batches.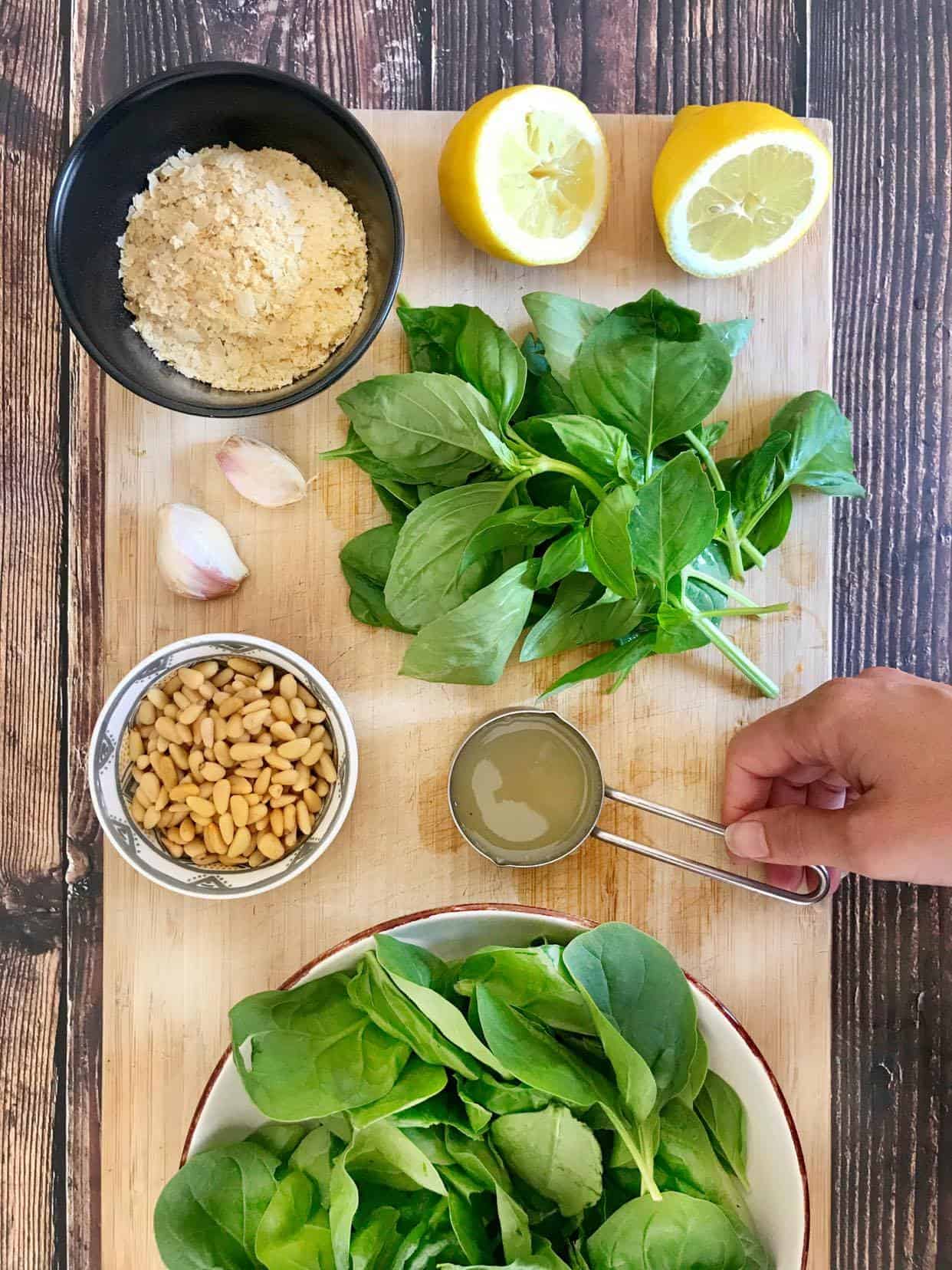 To make this healthy pesto, start by lightly roasting the pine nuts for about 3 minutes or until golden. Then wash the basil and spinach leaves and add to the food processor with the pine nuts. Blend everything together, add the other ingredients (click here for more info on Nutritional Yeast), and blend again.
If you are using a full-sized food processor, you can add the aquafaba by pouring it slowly into the opening while the food processor is running, but you don't absolutely have to do it that way. Just blitz everything together until it reaches your desired consistency and you're done!
---
How to Serve
Pesto is traditionally served cold or cool. I love it tossed with linguine or penne pasta. It makes an ideal sauce for a cold Pasta Salad. It's also great on sandwiches or roasted veggies. Spread it across a slice of fresh baguette or use it as a filling for a wrap. Dollop it on a Mediterranean-themed buddha bowl or add to Vegan Pesto Pizza. However you like it!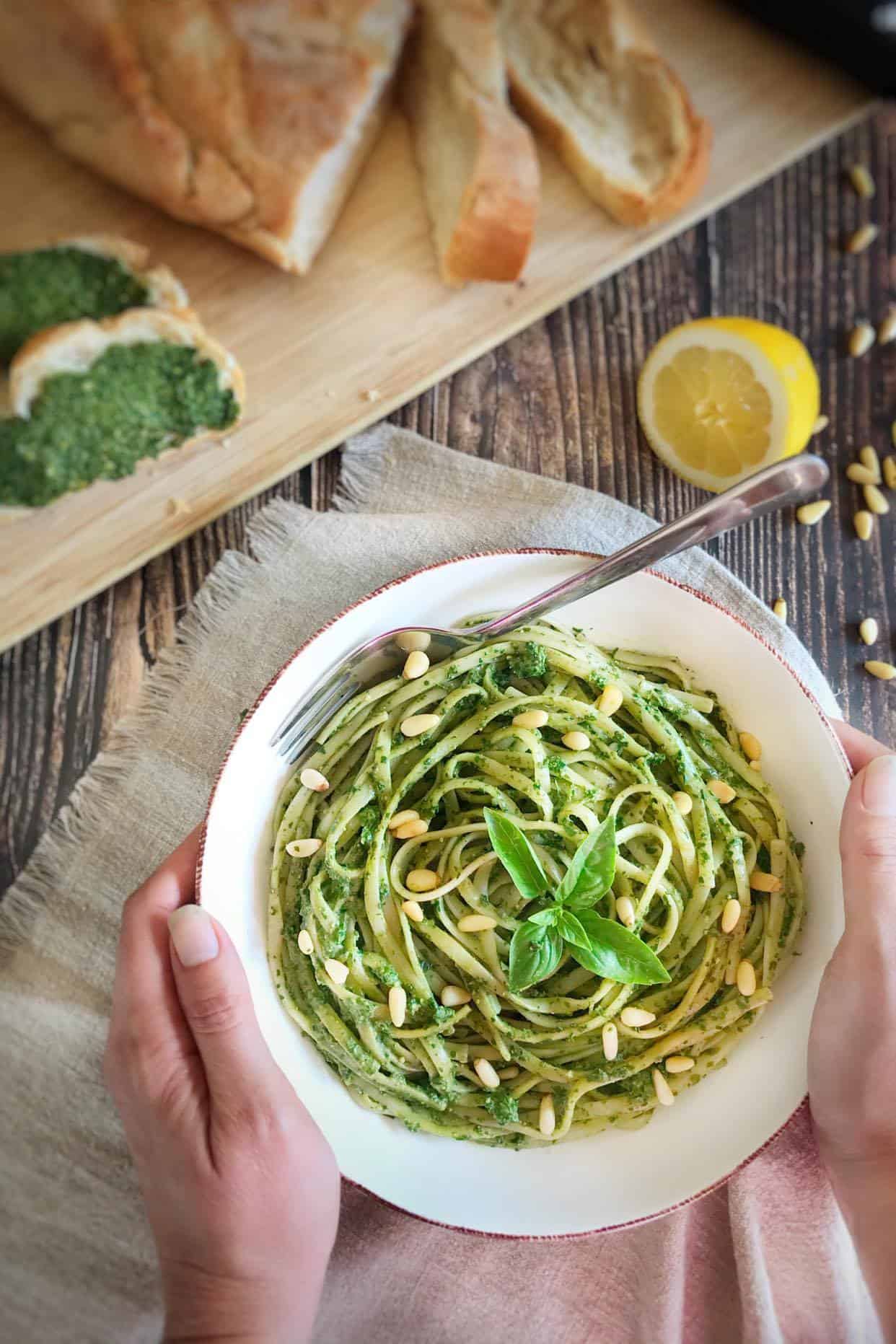 How to store
This vegan pesto sauce will store up to five days in an airtight container in the refrigerator. An extra squeeze of lemon juice over the top will help keep it from discoloring. You can also freeze pesto for up to 6 months. I love making a big batch of pesto and then portioning it into little jars for freezing. For a quick weeknight meal just defrost in the refrigerator overnight, boil up a pot of pasta the next evening, and enjoy!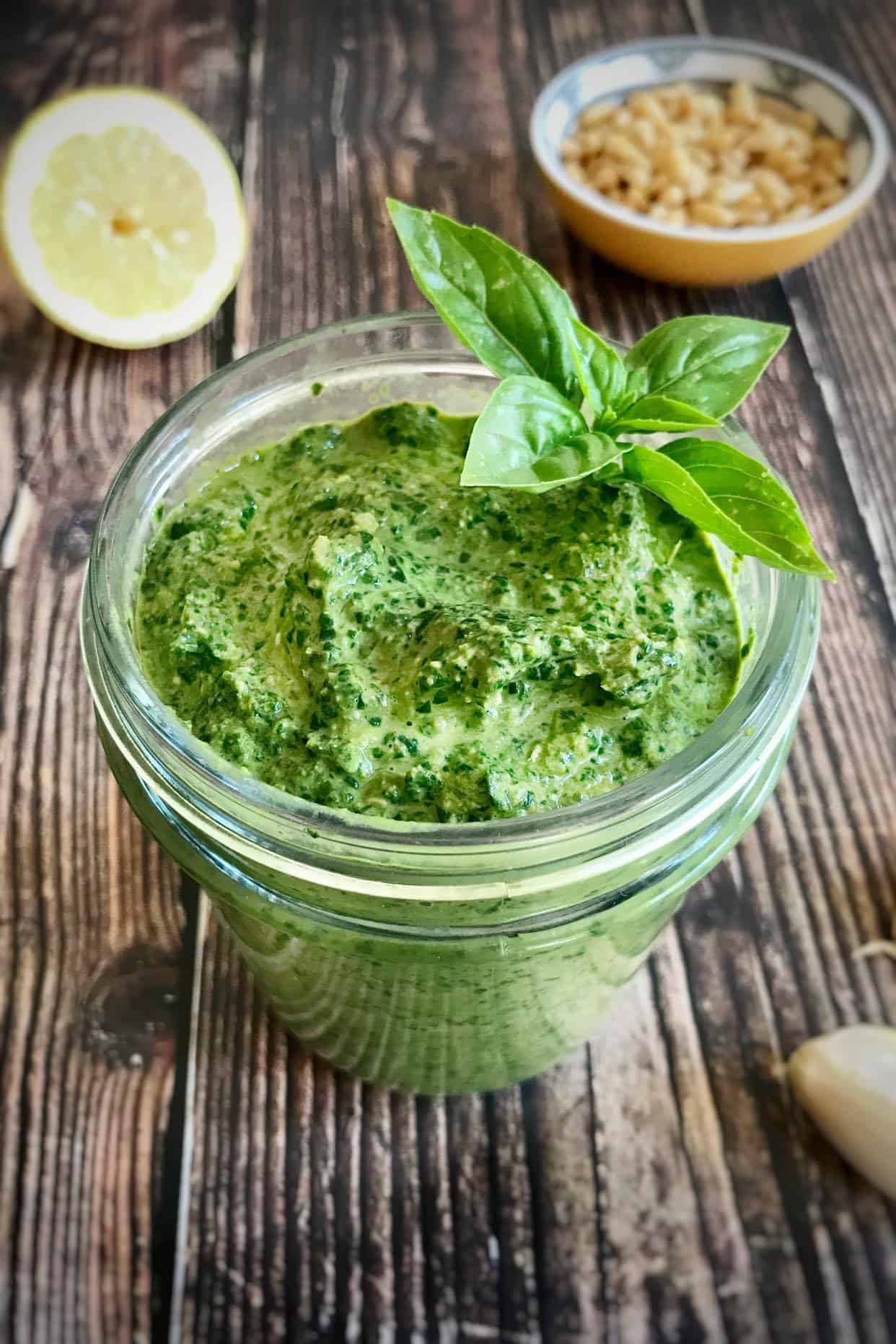 ---
You might also love
📖 Recipe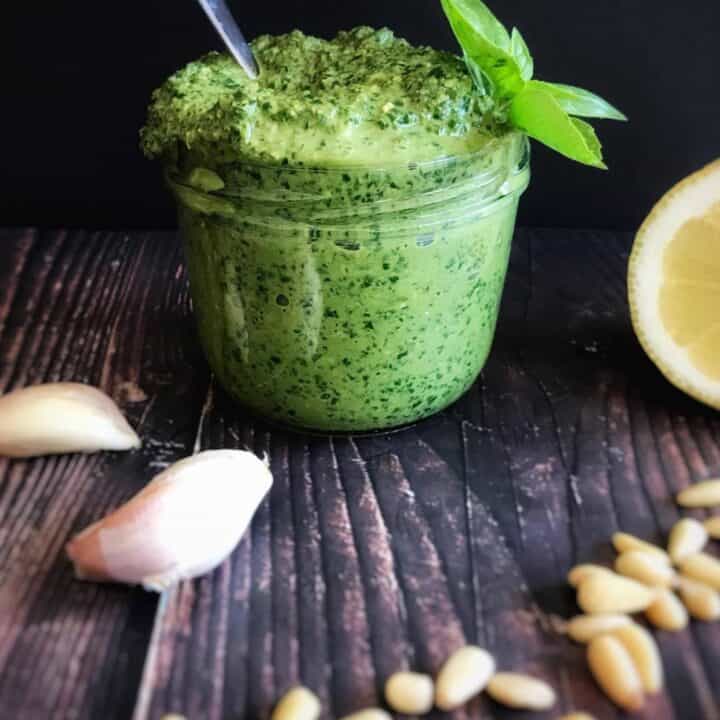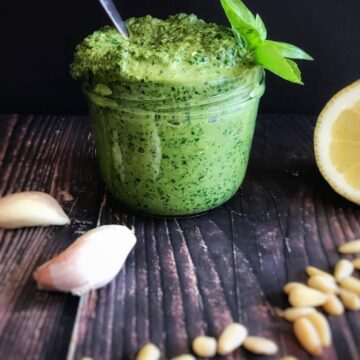 Quick Oil-Free Vegan Pesto
If you're looking for an oil-free vegan pesto that doesn't skimp on flavor and richness, then I have a solution for you. This classic pesto recipe substitutes nutritional yeast for the parmesan and aquafaba for the oil. Bump up the nutrition with spinach and the brightness with lemon juice, and you have an absolutely decadent vegan pesto.
Ingredients
4

cups

tightly packed fresh basil

(see notes for frozen)

2

cups

fresh spinach

⅓

cup

pine nuts

2

cloves

fresh garlic

½

cup

nutritional yeast

¼ to ⅓

cup

aquafaba

2

tablespoon

lemon juice
Instructions
Heat a skillet on medium. Lightly roast pine nuts until golden brown (or buy pre-roasted pine nuts and skip this step). Set aside to cool 1 to 2 minutes.

Place the basil, spinach, and pine nuts in the food processor and blend to combine.

Add the nutritional yeast, garlic, lemon juice, and black pepper to the food processor. Blend again.

Open the top of the food processor and slowly add the aquafaba with the food processor running. (Or skip this step and add aquafaba in previous step.)

Serve immediately over pasta or roasted vegetables. OR store in an air-tight container up to 5 days in the refrigerator or 6 months in the freezer.
Save this Recipe
Saved!
Notes
4 cups of tightly packed fresh basil is just a tad less than 3 oz. If you buy a big 3oz container of basil just use that and you won't have to measure.
If you don't have fresh basil, you can use a mixture of frozen basil and spinach, though the consistency might change slightly.
The ratio of spinach to basil is not set in stone. Feel free to use just basil and no spinach, or an equal amount of spinach and basil. I don't recommend using more spinach than basil, as you will start to lose flavor.
The pine nuts can be substituted for any kind of nuts or seeds you prefer, but walnuts, almonds, cashews, or sunflower seeds will work best.
Save the chickpeas from your aquafaba and add them to your pasta or save for another dish.
Want access to my Exclusive Meal Planning Tips & Printables page?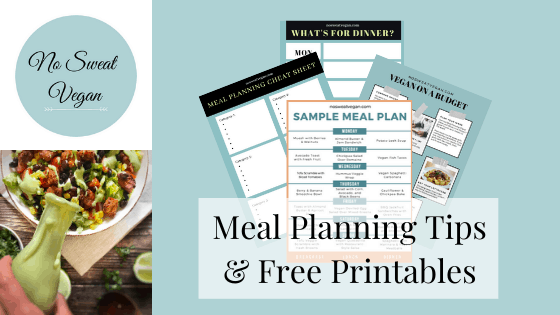 ---
Did you try this recipe? Have a question? Just leave a comment below and I'll get back to you ASAP!