Take any dish to the next level with this Vegan Chipotle Mayo. It's creamy and delicious, with a spicy kick that can't be beat! Perfect for pairing with tacos, oven fries, roasted veggies, and more.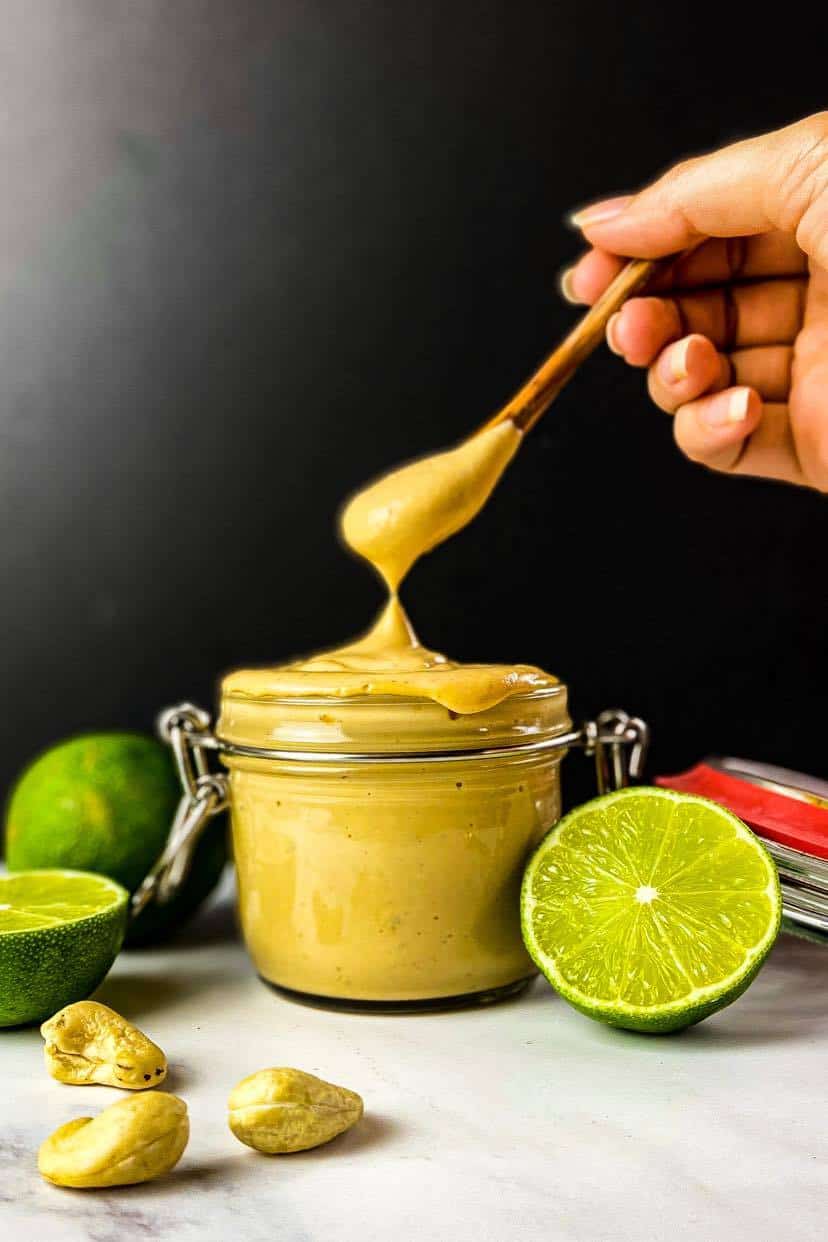 Chipotle Mayo is one of those perfect condiments that makes a dish go from ordinary to extra special without a lot of hassle. You just need a handful of simple ingredients and a blender. In less than 15 minutes, you'll have this amazing mayo to drizzle over tacos or spread on a sandwich.
Use it as a chipotle aioli for dipping baked oven fries or add it to a black bean burrito bowl. You could even thin it out with a little water to turn it into a salad dressing.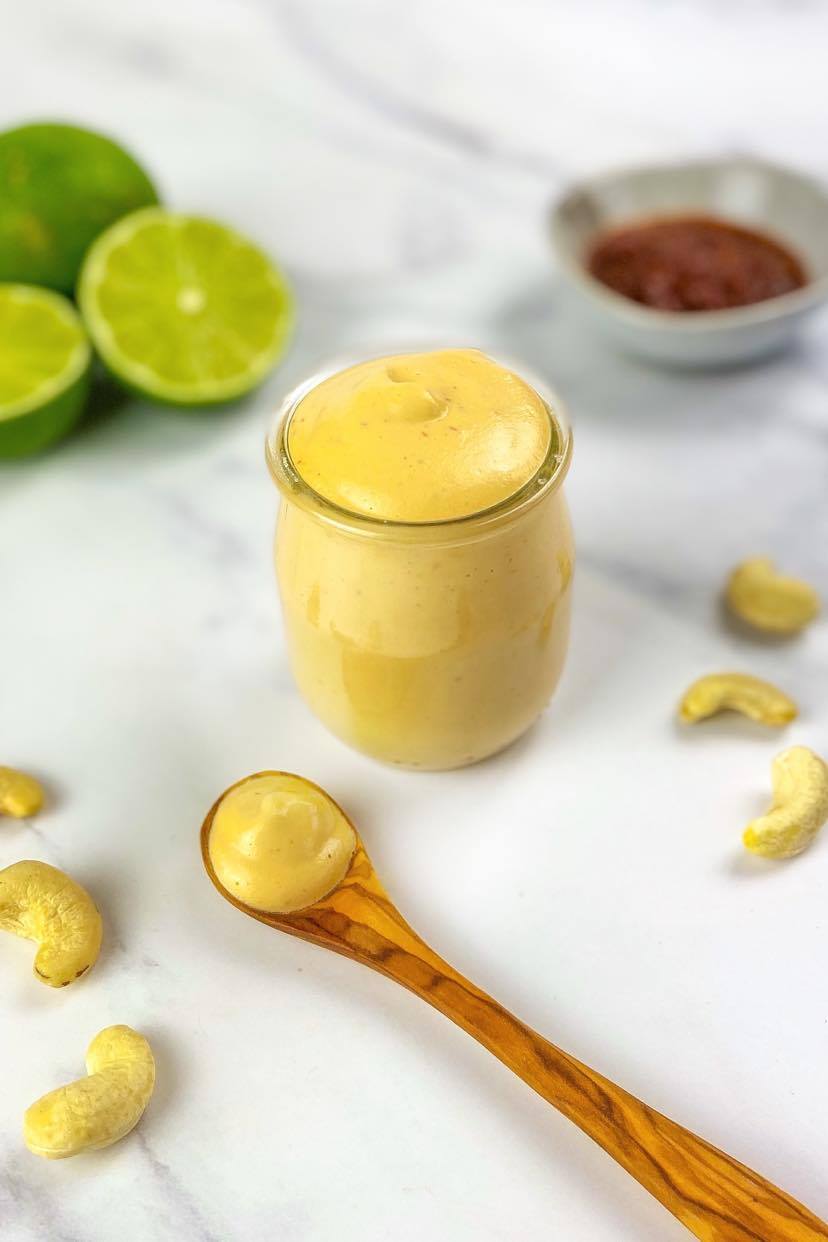 ---
You'll love this Vegan Chipotle Mayo because it's:
Quick & Easy
Vegan / Vegetarian
Dairy-free
Soy-free
Spicy, Creamy, & Tangy
Healthy and Packed with Protein
Versatile
Full of Simple Ingredients
A Flavor Powerhouse!
---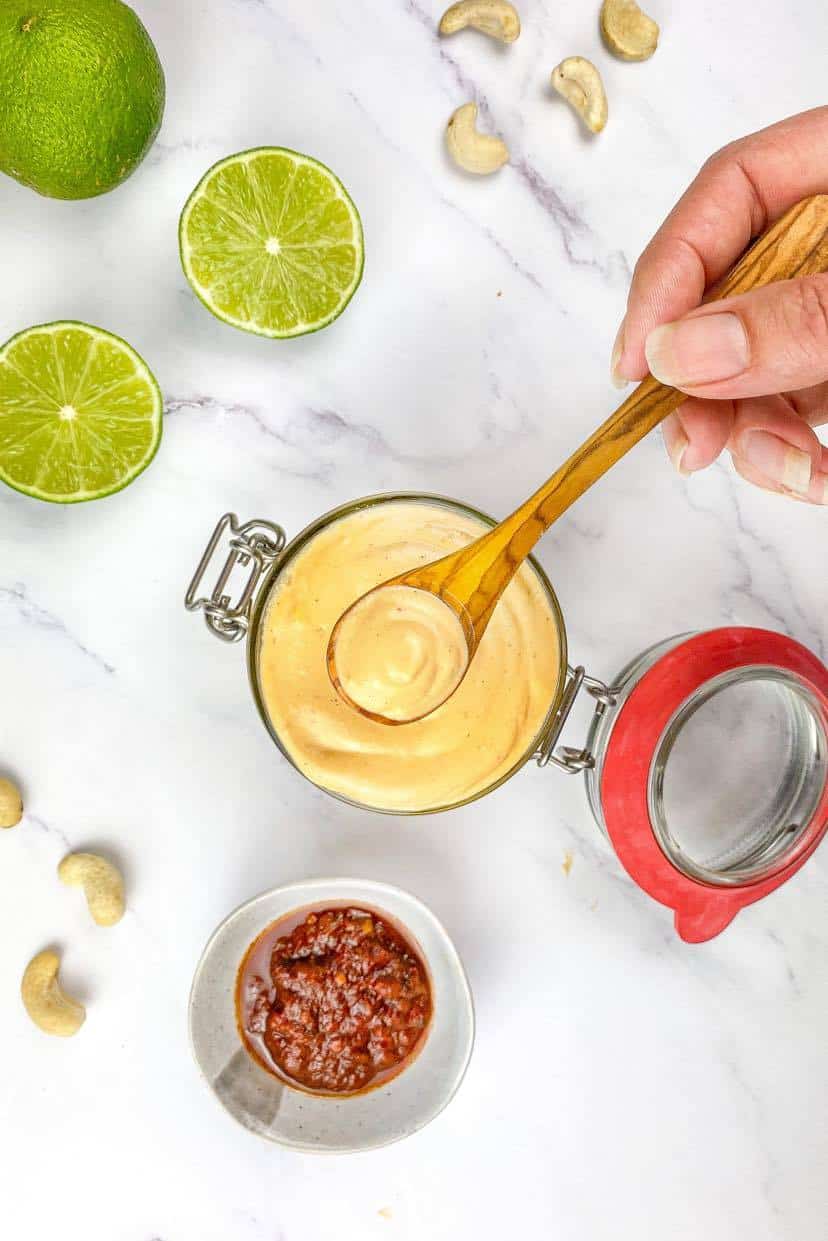 ---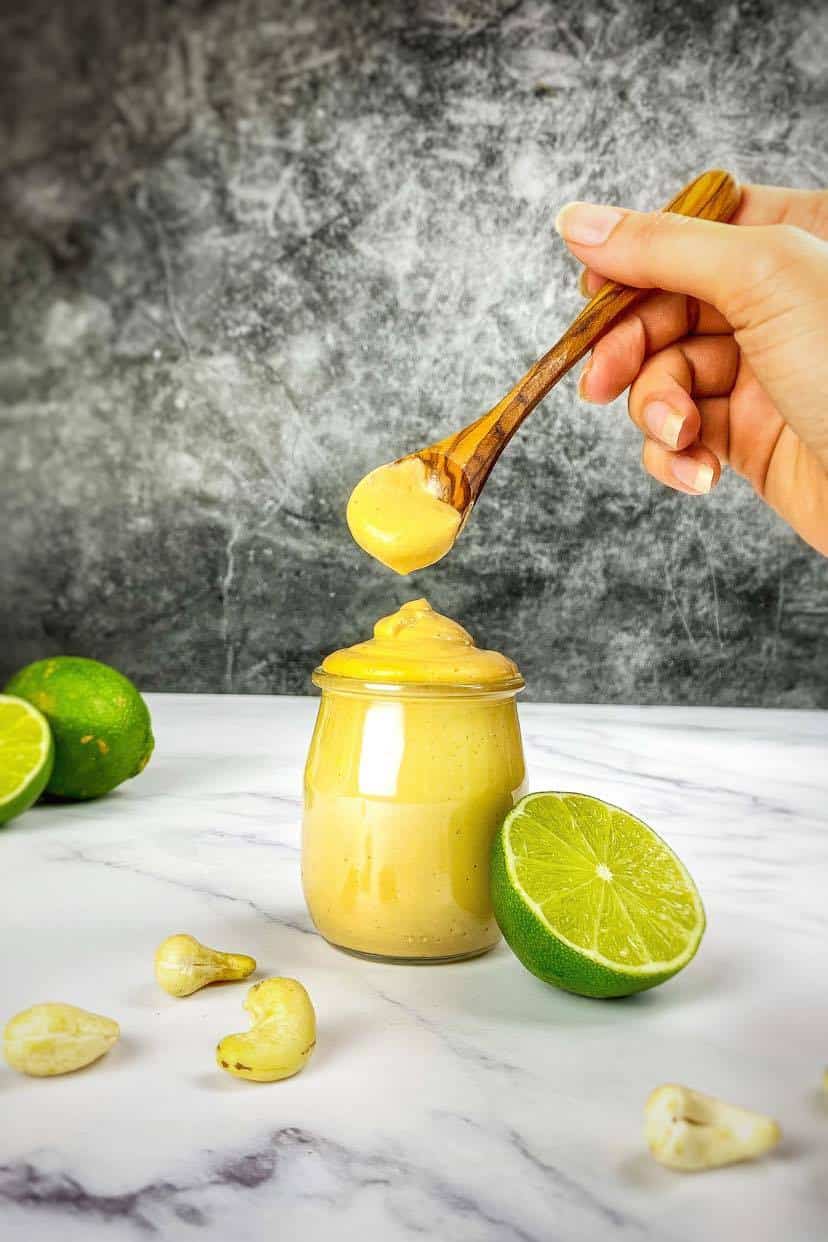 ---
Can this be nut-free?
There are two easy ways to make this vegan mayo nut-free. You can easily substitute sunflower seeds for the cashews and get a similar result.
Another option is to use silken tofu for a lower fat version. Just follow this Oil-Free Aioli Recipe and add chipotle before you blend. The texture is slightly different, but the flavors are all there.
What is chipotle in adobo?
Chipotle peppers are actually smoke-dried jalapeño peppers. To make chipotle in Adobo, the smoked peppers are stewed in a sauce made of spices and vinegar. You can buy it in the Mexican or International Section of most grocery stores, at Mexican markets, or order online.
If you don't have Chipotle in Adobo, you can also use Chipotle Powder. In a pinch, regular old Chili Powder would do.
Is this recipe oil-free?
This is tricky. Unfortunately, most brands of chipotle in adobo contain some oil. Thankfully, the oil is generally listed near the end of the ingredients, and since you're just using 1 tbsp, only a small amount of oil will make it into your mayo. However, if you want to make this recipe completely oil-free, you have a few options:
Find a brand that doesn't contain oil, like this Chipotle Peppers in Adobo Sauce.
Substitute with Chipotle Powder.
Make your own Oil-Free Chipotle in Adobo.
---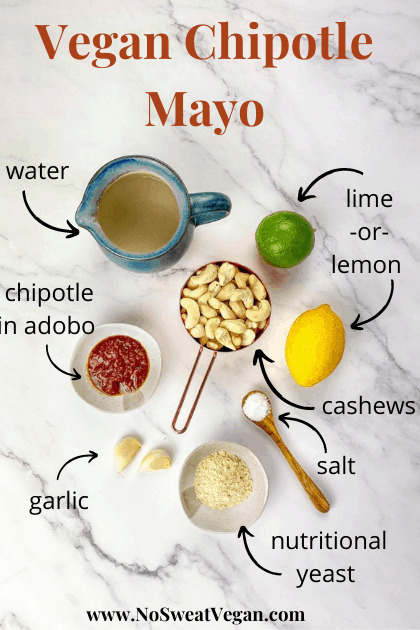 Ingredients
Chipotle in Adobo--this is the star of the dish and what gives it a distinct, spicy kick. See my additional notes below for more info.
Raw, Unsalted Cashews--raw cashews are amazingly rich and creamy, and they are perfect for making a vegan mayo (though if you want to keep things nut-free you can sub with sunflower seeds or follow this recipe for Oil-Free Vegan Aioli made with silken tofu).
Water--to help thin out the mayo and give you the right consistency
Nutritional Yeast--just a touch to add extra earthiness
Lime (or Lemon) Juice--the citrusy tang of the lime (or lemon) juice will help balance the creaminess of the cashews and spiciness of the chipotle.
2 Cloves of Garlic--because garlic makes everything better! (but feel free to omit if you don't like it)
Sea Salt (optional)--just to enhance the other flavors!
How to Make
This is one of those super easy recipes that just requires you to boil or soak cashews overnight, then add everything to a high-speed blender, blitz until smooth and you're done! Delicious, creamy egg-free chipotle mayo ready to eat!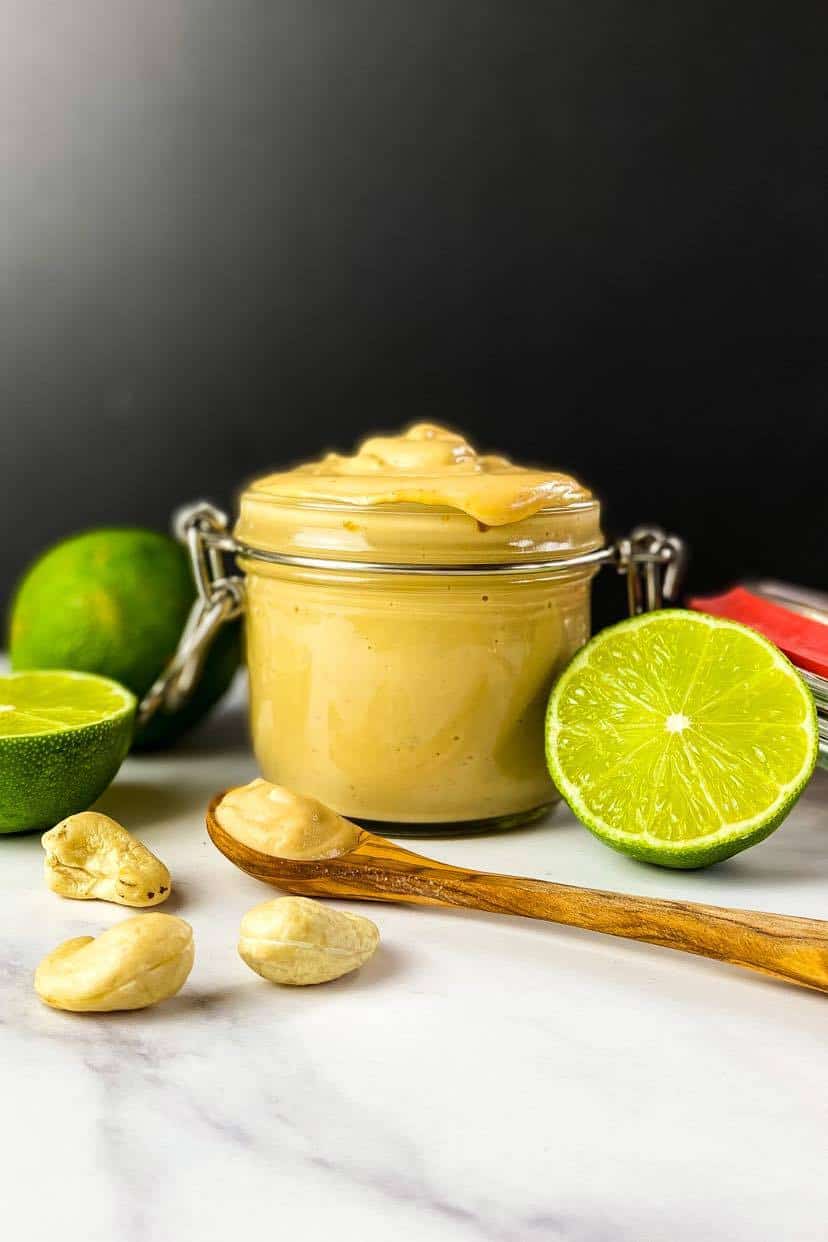 ---
How to serve
Serve this delicious vegan chipotle mayo as a sauce or dip. It goes great with:
How to store
This vegan chipotle sauce can be stored in an airtight container in the refrigerator for 5 to 7 days, and up to 3 months in the freezer.
---
If you loved this recipe for Vegan Chipotle Mayo check out these vegan condiment recipes:
---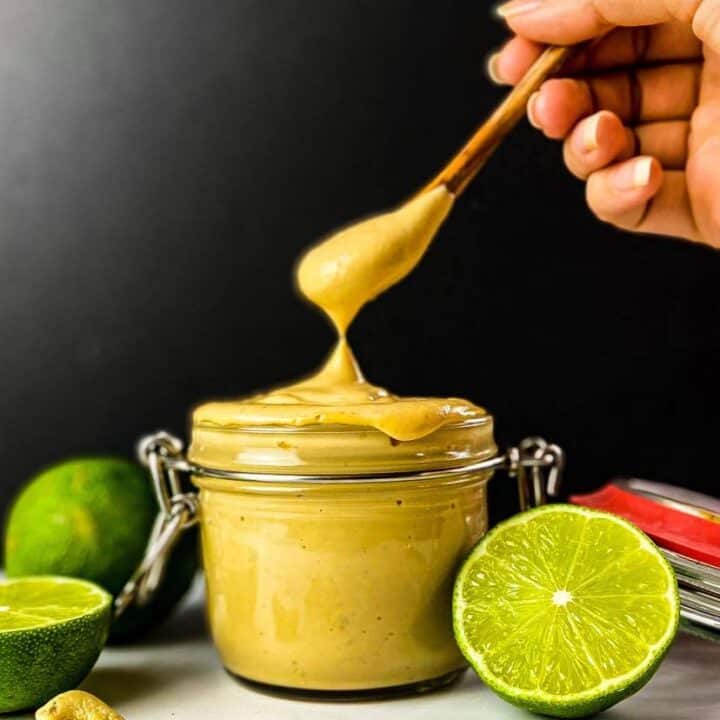 Vegan Chipotle Mayo (Oil-Free & Soy-Free)
Take any dish to the next level with this Vegan Chipotle Mayo. It's creamy and delicious, with a spicy kick that can't be beat! Perfect for pairing with tacos, French fries, roasted veggies, and more.
Instructions
Either soak the cashews in a bowl of water overnight or place the cahsews in a small sauce pot, cover with water, and boil for ten minutes. Drain and rinse the cashews.

Add the drained cashews, peeled garlic, and all of the other ingredients to a high-speed blender. Blend until smooth (30 seconds to 1 minute).

Taste and adjust seasonings if necessary. Serve and enjoy! Store in an airtight jar or container up to one week in the refrigerator or up to 3 months in the freezer.
Save this Recipe
Saved!
Notes
If you only have salted cashews, omit the added salt.
Start with 1 tablespoon chipotle in adobo. You can add more if you want it to be spicer.
If you don't have chipotle in adobo you can try using chipotle powder or chili powder.
If you want to make this nut-free you can use sunflower seeds or silken tofu. See notes in blog post.
---
Want access to my Exclusive Meal Planning Tips & Printables page?
Did you try this recipe? Have a question? Just leave a comment below and I'll get back to you ASAP!