Citrusy and tart with notes of maple and cinnamon, this healthy homemade cranberry sauce makes the perfect addition to any holiday table. Sweetened with orange juice and maple syrup, this recipe is vegan and refined sugar-free.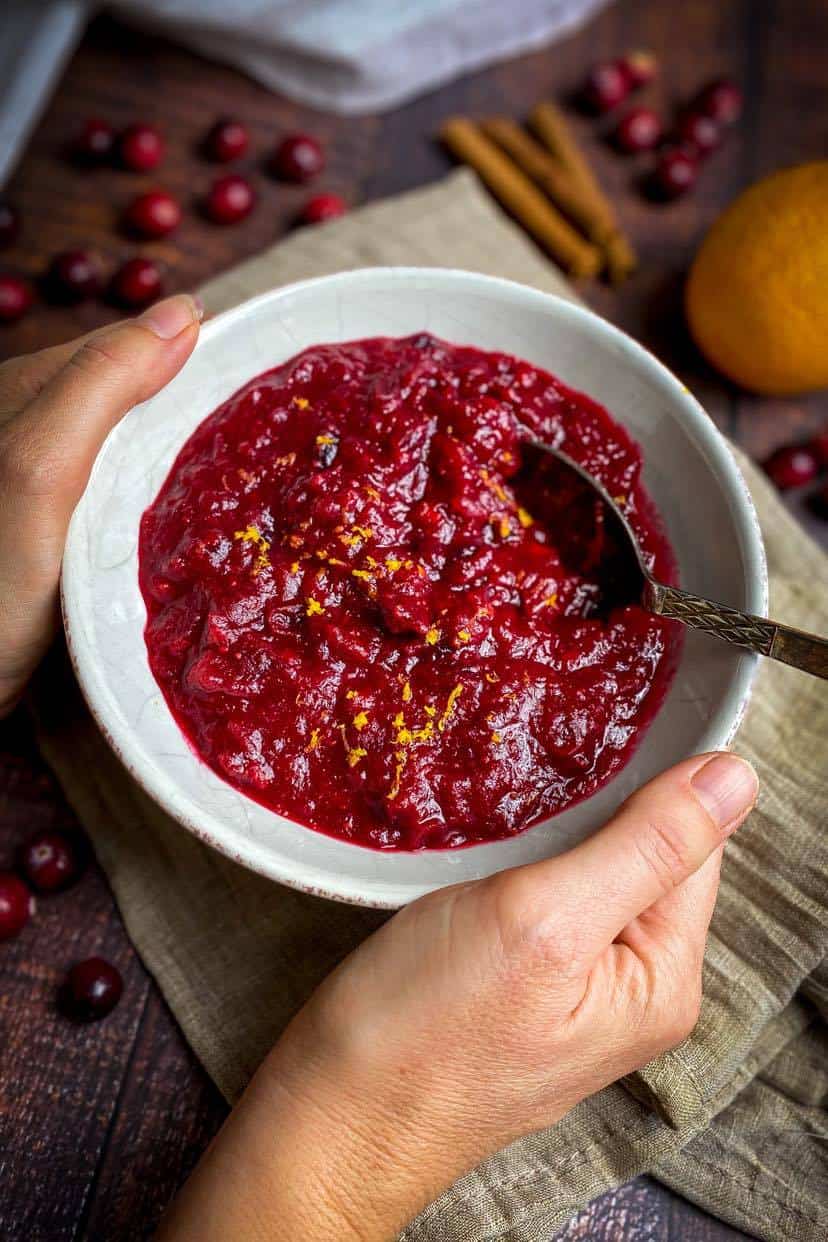 Cranberry Sauce is one of those under-appreciated Thanksgiving or Christmas Dinner sides that has the potential to be awful and forgettable (think canned jellied cranberry sauce) or a surprisingly delicious and perfect compliment to the other dishes. This Homemade Vegan Cranberry Sauce with Orange and Cinnamon is the latter. Just a whiff of these seasonal and nostalgic flavors will put you in a festive mood!
At my house, we love Homemade Cranberry Sauce paired with savory dishes like mashed potatoes, vegan meatballs, or mushroom tortellini. You can also use it in an array of baked goods or even turn it into jam. So whether you're serving this for a holiday meal or whipping up a quick batch on a busy weeknight, this simple and versatile sauce is sure to please the whole family.
You'll love this Cranberry Sauce Recipe because it's:
Quick & Easy
Healthy
Refined Sugar-Free/Low sugar
Tart & Sweet
Easy to Make Ahead for Holiday Parties
A Perfect Side Dish for Thanksgiving or Christmas
---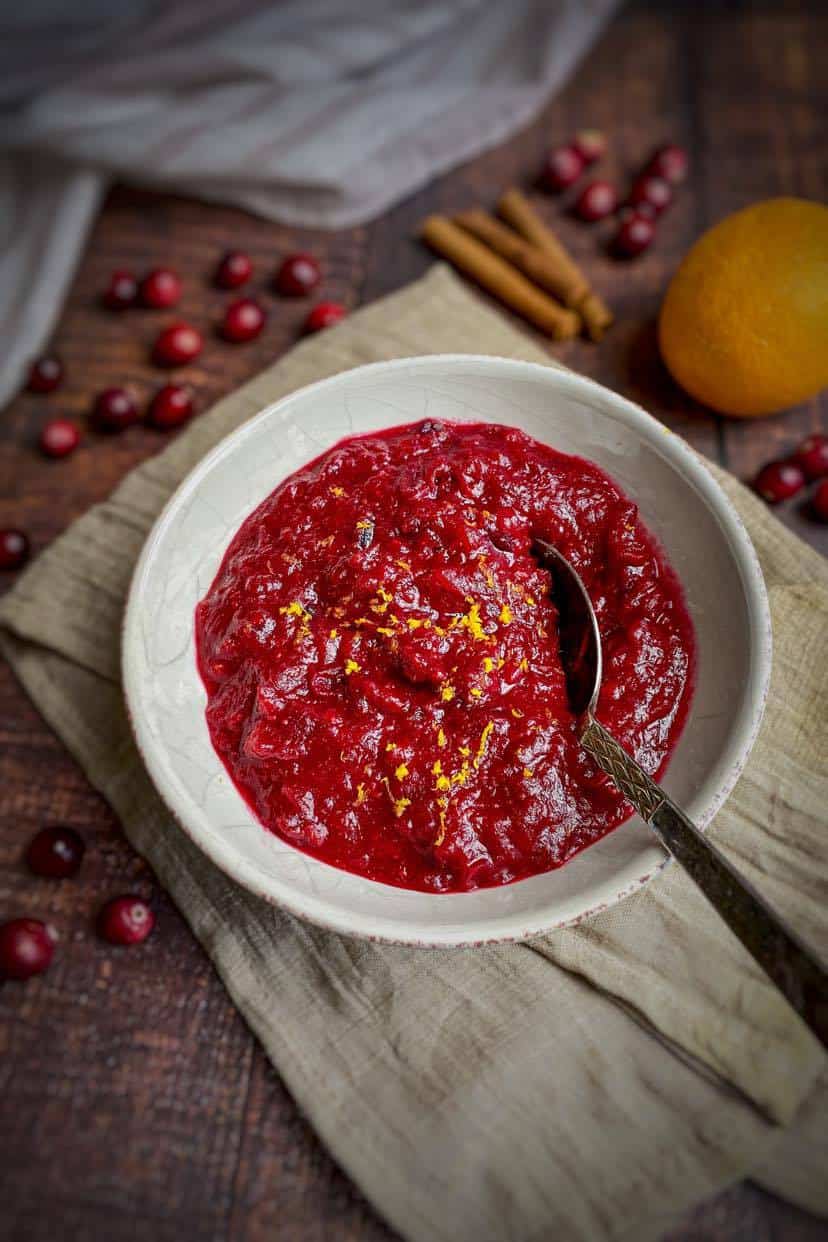 ---
Is it Easy to make Cranberry Sauce from Scratch?
So easy! Beyond easy. If you're a novice cook and you need to bring a side dish to a holiday gathering, snag this one ASAP. You'll not only look like a hero for bringing new life to an old favorite, but you will save oodles of time and money because this dish takes just 10 minutes and is budget friendly.
Is Cranberry Sauce Healthy?
Traditional cranberry sauce can be quite the sugar bomb, with many recipes calling for 1 cup of white sugar or more! But it doesn't have to be that way! Besides lowing the sugar content and making it healthier, sweetening this sauce with orange juice and maple syrup gives it a more elevated and full-bodied holiday flavor.
Once you take out the refined sugar, you're left with a tart and lightly sweetened dish that's full of antioxidants, fiber, and Vitamin C, but low on sugar and calories.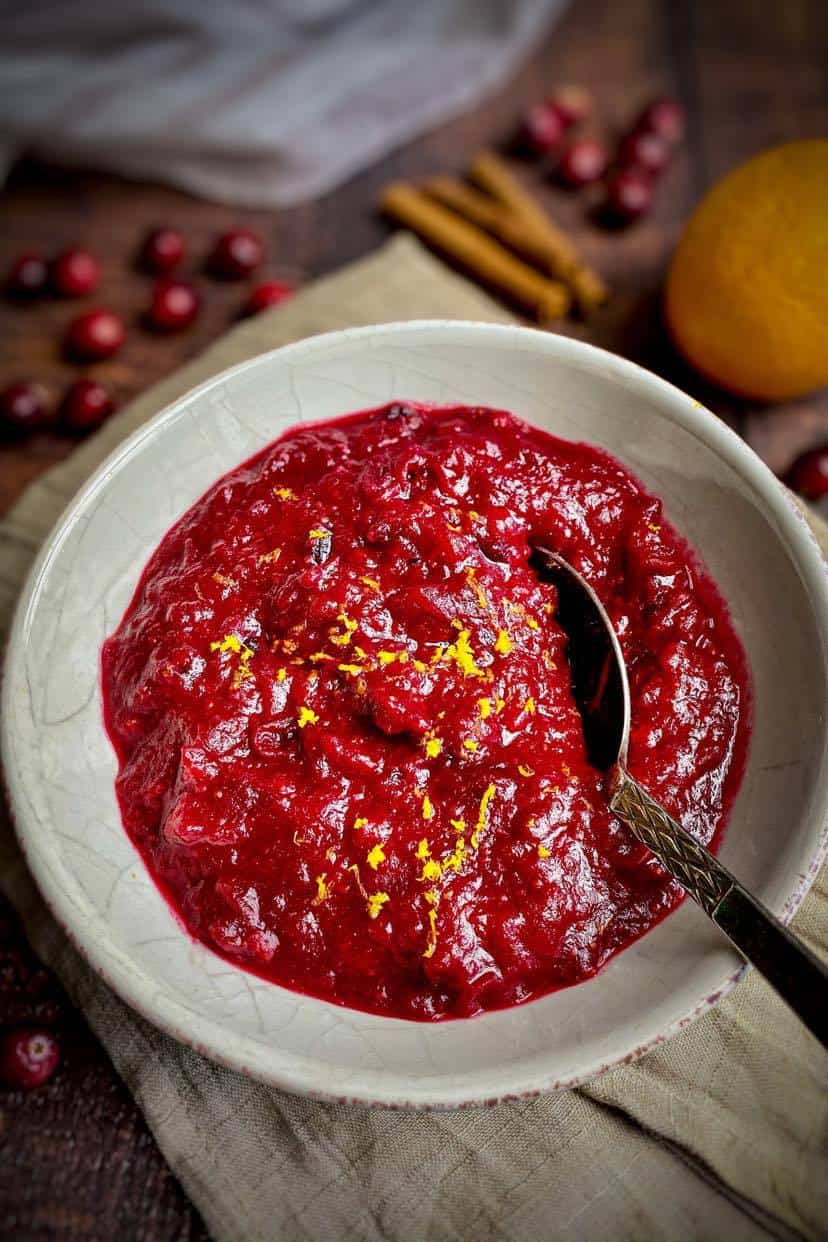 ---
Is Cranberry Sauce a Kid-Friendly Holiday Side Dish?
My kids love cranberry sauce! And why not? It's a little tarter than other fruit, but it's ultimately a sweet, mashed sauce that could easily be served for dessert. Maybe add a touch more sweetener if your kids aren't into tart flavors, but this sauce is definitely kid-friendly.
What to do with leftover Cranberry Sauce
There are countless things you can do with leftover cranberry sauce (besides freezing it!). You can whip up a batch of cranberry apple muffins or coffee cake. You can also use it as a sandwich spread.
Another idea is to turn this sauce into a cranberry jam. Just add a tablespoon or two of chia seeds (and maybe some extra sweetener) mix to combine, and in about an hour you'll have cranberry jam. If that doesn't appeal, throw it in a small pot with frozen blueberries and strawberries for a delicious Chia Berry Jam.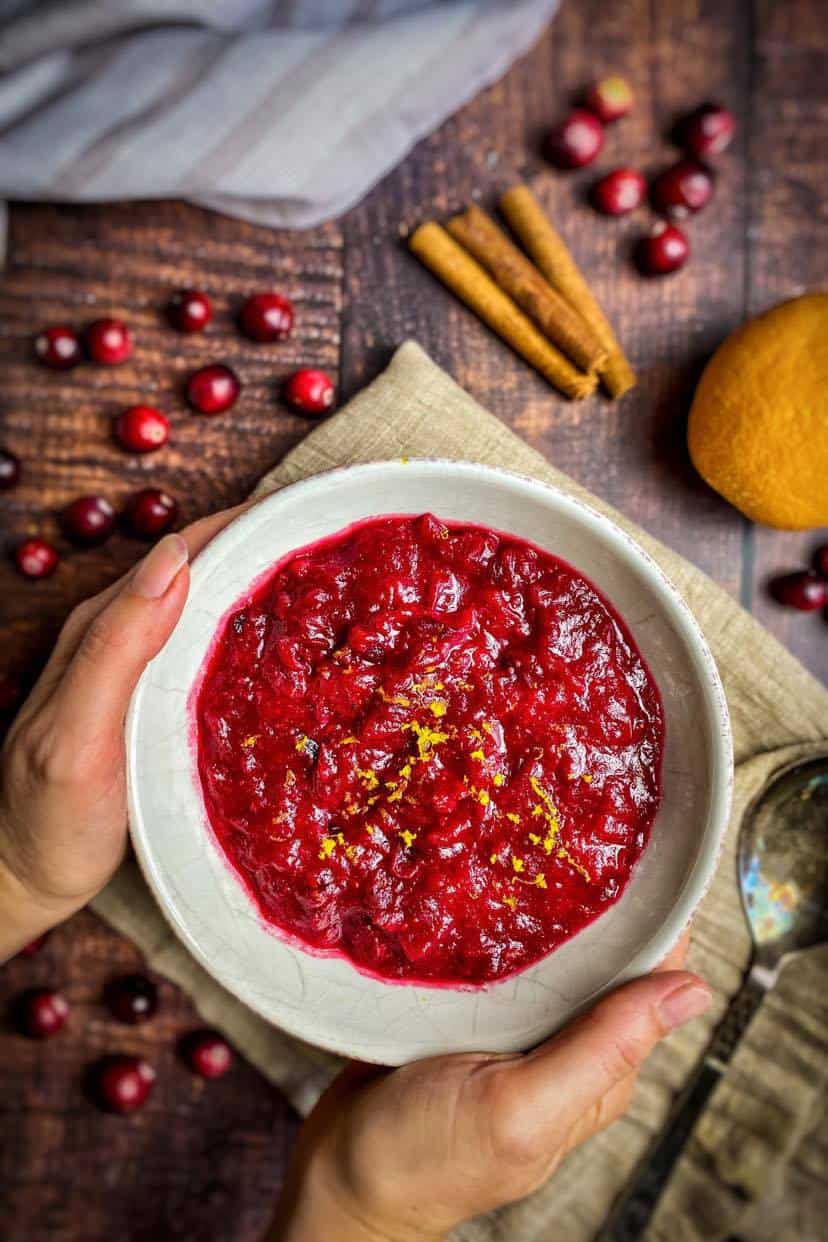 ---
Can I Make Cranberry Sauce with Dried Cranberries or Craisins?
Yes, you can make cranberry sauce with dried cranberries. I know this for a fact because last Thanksgiving I was unable to find fresh or frozen cranberries in the supermarket (I live in Europe where produce is highly seasonal and Thanksgiving is not a holiday). So I used craisins and I didn't add any maple syrup because the cranberries are already sweetened, and the sauce was delicious!
Should I serve Cranberry Sauce Hot or Cold?
It's really up to your own personal preference. I like it both ways. If you want to serve it cold be sure to make it at least an hour in advance so that it has enough time to chill in the fridge. Wait to add the garnish until right before serving.
If you prefer warm, this sauce is easy to throw together while you're getting the other dishes on the table. Alternatively, you can make ahead and reheat (about 2 minutes over medium heat) before serving.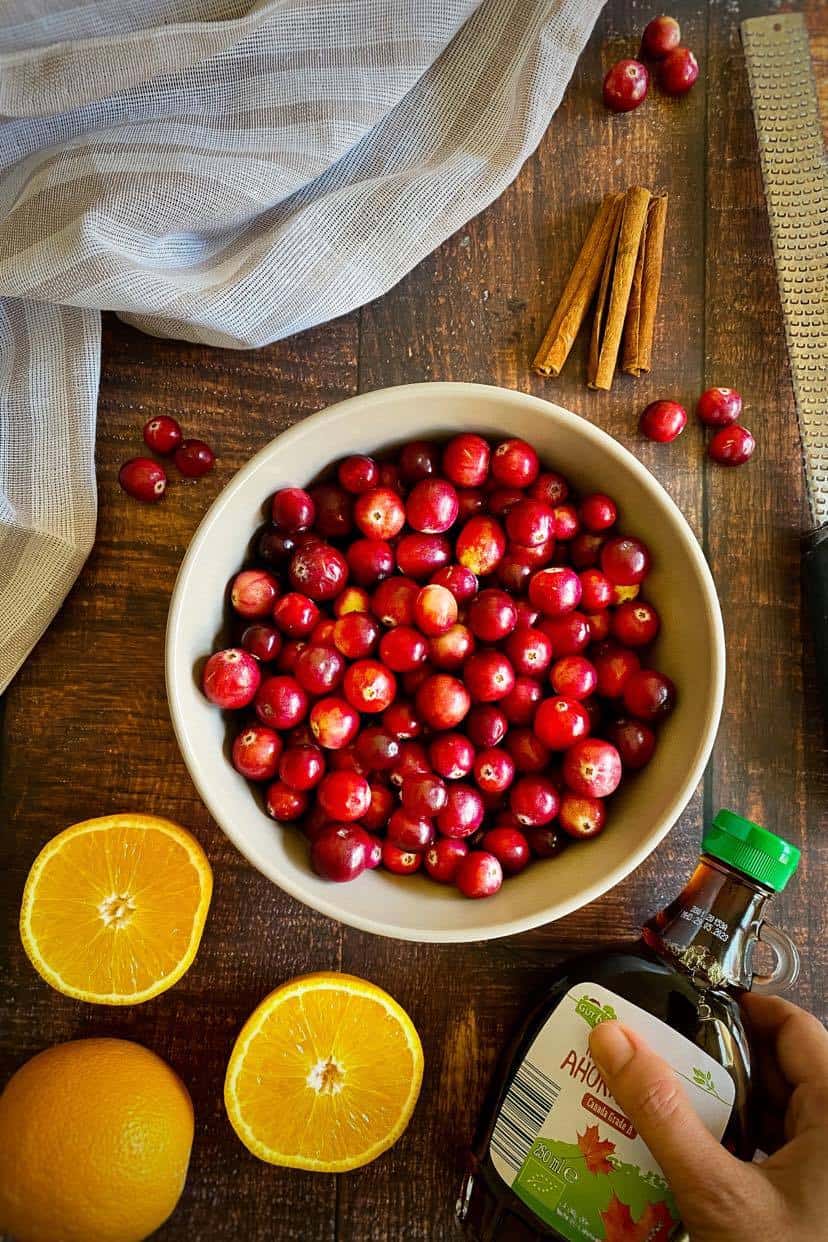 ---
Ingredients You'll Need for the Cranberry Sauce
Fresh Cranberries -- The star of the dish! If you can't find them in the store, you can substitute with frozen cranberries. This recipe will also work with dried cranberries, but you need to omit the maple syrup since they are usually sweetened already.
Orange Juice -- This adds sweetness and amazing citrus undertones that make this dish even more festive. Fresh squeezed or store-bought are both fine.
Maple Syrup -- Your main sweetener. I love what the maple adds to the dish, but you could easily substitute with agave syrup, date syrup, or vegan honey.
Cinnamon -- This subtle hint of spice gives this sauce the perfect depth of flavor.
Orange Zest -- This optional garnish adds a burst of fresh citrus and a lovely color contrast for serving.
---
How to Make this Easy Vegan Cranberry Sauce
I love easy recipes that require almost no prep work, and this one definitely fits the bill. Just add the cranberries, orange juice, maple syrup, and cinnamon to a small pot and cook until the cranberries start to burst.
Mash with a potato masher, cook another minute or two, and then serve right away. (Or chill to serve later.) Garnish with a little orange zest for a pop of color and that extra wow factor.
---
Looking for more Flavors of Fall? Check out these seasonal treats:
---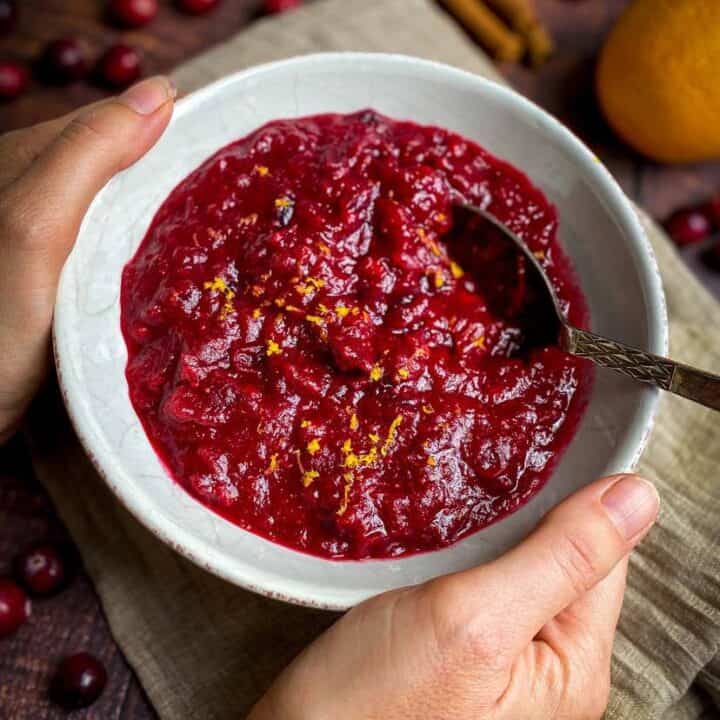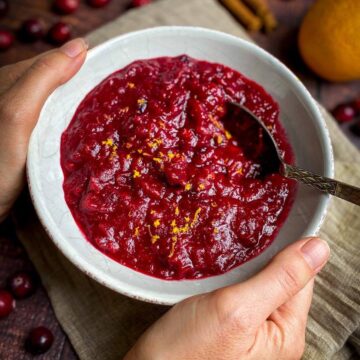 Vegan Orange Cranberry Sauce
Citrusy and tart with notes of maple and cinnamon, this healthy homemade cranberry sauce makes the perfect addition to any holiday table. Sweetened with orange juice and maple syrup, this recipe is vegan and refined sugar-free.
Ingredients
12

oz

(or 350 grams) fresh cranberries

(see notes for substitutions)

½

cup

orange juice

(fresh squeezed or store-bought)

¼

cup

maple syrup

1 ½

tsp

cinnamon
Instructions
Add all of the ingredients (except the orange zest) to a medium pot. Place the pot over medium-high heat.

Heat until the cranberries soften and start to burst (3 to 5 minutes).

Mash with a potato masher and cook another 2 to 3 minutes until the sauce reaches your desired color and consistency. Taste and adjust sweeteners if necessary.

Remove from the heat and place the sauce in a serving bowl. Garnish with orange zest (optional). Serve right away.
Make-Ahead Instructions
You can make this dish ahead of time and store it in an airtight container in the refrigerator for up to 1 week or in the freezer for up to 6 months. To reheat, add the sauce to a pot with 2 tablespoons of water, heat, and serve with fresh garnish. (Do not add garnish before storing).
Notes
Either fresh or store-bought orange juice works fine in this dish.
If you can't find fresh or frozen cranberries, you can make this sauce with dried cranberries, but since they are usually already sweetened you should omit the maple syrup.
I like my cranberry sauce on the tart side, but if you want it sweeter, simply add more orange juice or maple syrup, 1 to 2 tablespoons at a time until you achieve your desired sweetness.
If you can't find maple syrup you can substitute with another sweetener like agave syrup, date syrup, or vegan honey.
Want access to my Exclusive Meal Planning Tips & Printables page?