No matter if you're planning an entire vegan Thanksgiving menu or you just want to add more plant-based dishes to the table, this list of more than 25 Vegan Thanksgiving Recipes -- including starters, sides, mains, and desserts -- has you covered.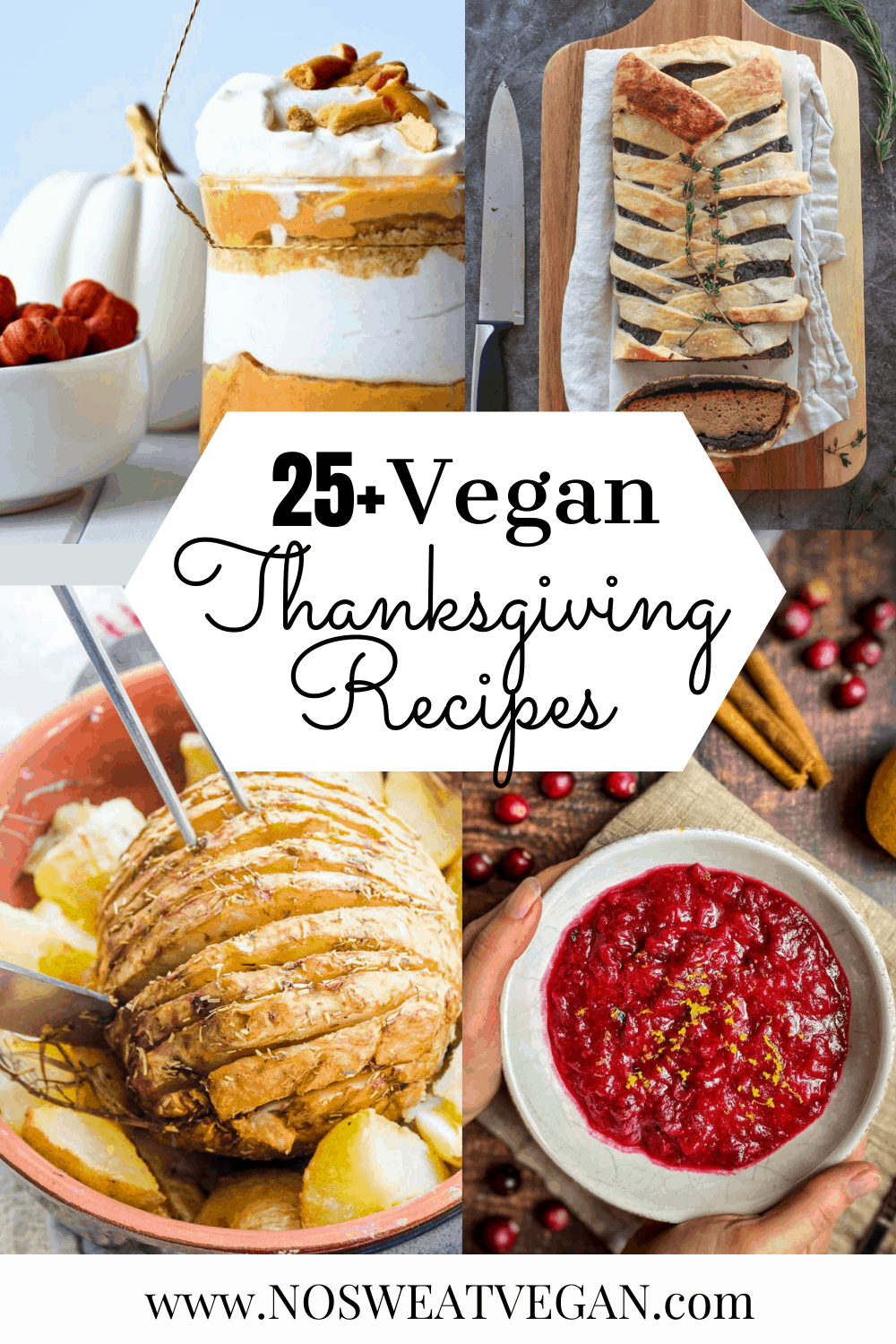 Thanksgiving has always been my favorite holiday! No surprise since I love the food and all the warm cozy feels and delicious smells this holiday brings. Swapping my old favorites with new Vegan Thanksgiving Recipes has only made the holiday more fun.
While planning a Vegan Thanksgiving Menu might seem challenging at first, let's keep in mind that this holiday is centered around seasonal produce. So it's really not that much of a stretch to veganize this meal.
On this list, you'll appetizers, soup, salad, all the classic side dishes you love, and a range of possible main dishes. And don't forget dessert! There are classic pumpkin treats plus a few surprises.
Jump to:
You'll love these Vegan Thanksgiving Recipes because they're:
Healthy & Delicious
Vegan / Vegetarian
Dairy-free / Egg-free
Allergy-friendly
Easy to Make WFPB
Crowd-Pleasing
Perfect for an unforgettable Vegan Holiday Meal!
How to Plan a Vegan Thanksgiving Menu
Planning out your Vegan Thanksgiving Meal isn't so different--with one major exception. Where most people go for Turkey as the default main dish, you'll have to be a tad more creative. I've included several possibilities including Seitan Roast, Vegan Wellington, Lentil Loaf, and more. (And don't forget the other possibility: just serving side dishes!)
When it comes to side dishes, most are a matter of simple swaps since the main ingredients tend to be vegan anyway. Dessert is relatively simple as well. Add in a few starters to hold you over until the main event, and you're good to go. Let's get started on this list of over 25 Vegan Thanksgiving Recipes!
---
Vegan Thanksgiving Starters
Whether you need something light to munch on while you wait for dinner or you're looking for a dish to open the meal, here are some Vegan Appetizers, Soups, and Salads to get the ball rolling.
---
This Vegan Butternut Squash Soup is creamy and luxurious. Made with just a handful of simple ingredients, this soup makes the perfect Thanksgiving starter.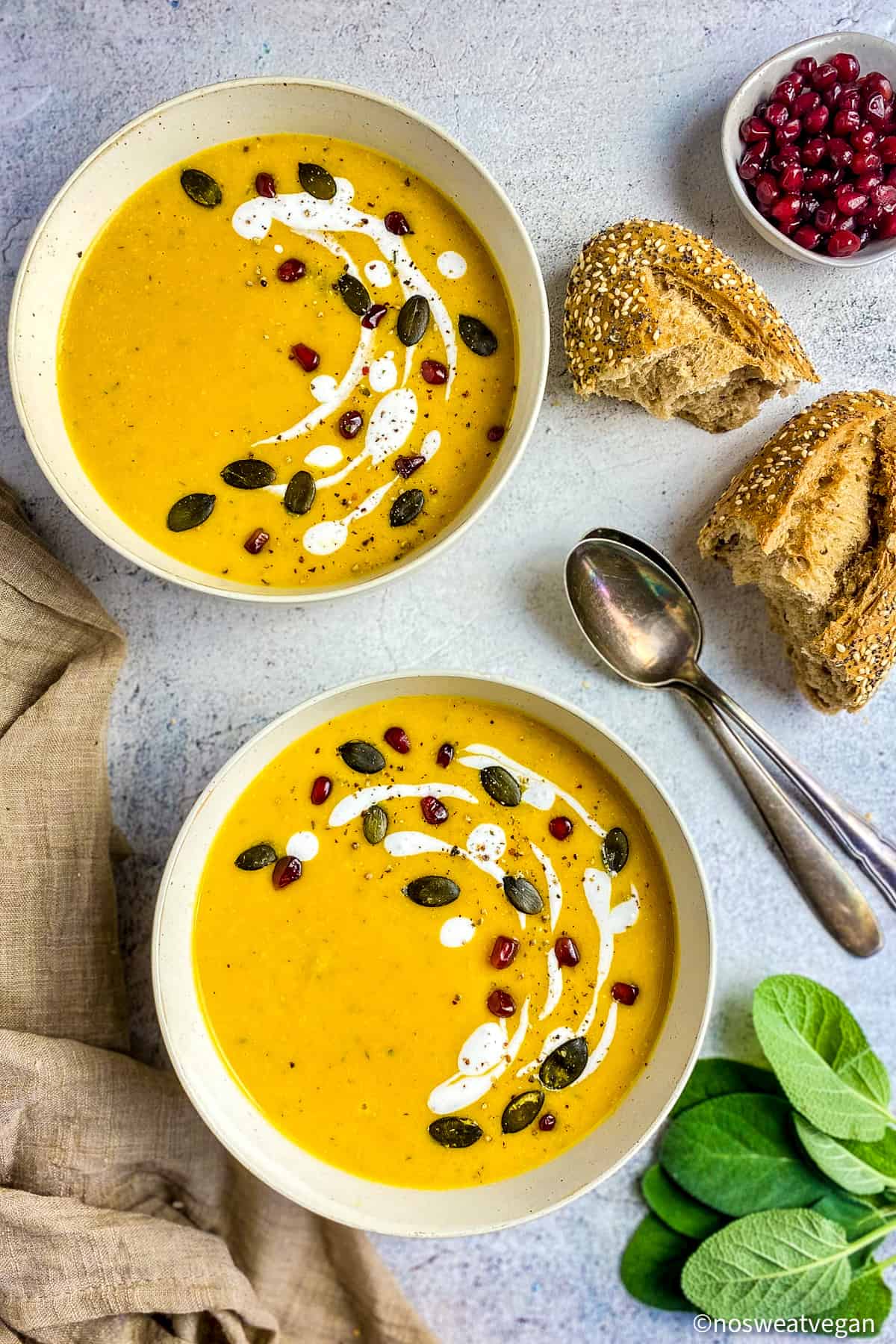 ---
Light and healthy vegan fall harvest salad is as satisfying as it is nutritious: crunchy kale paired with sweet pumpkin, tart Brussels sprouts, crisp apples and pomegranate seeds all merged together with delicious homemade maple-mustard dressing. Perfect Thanksgiving harvest salad that everyone will love!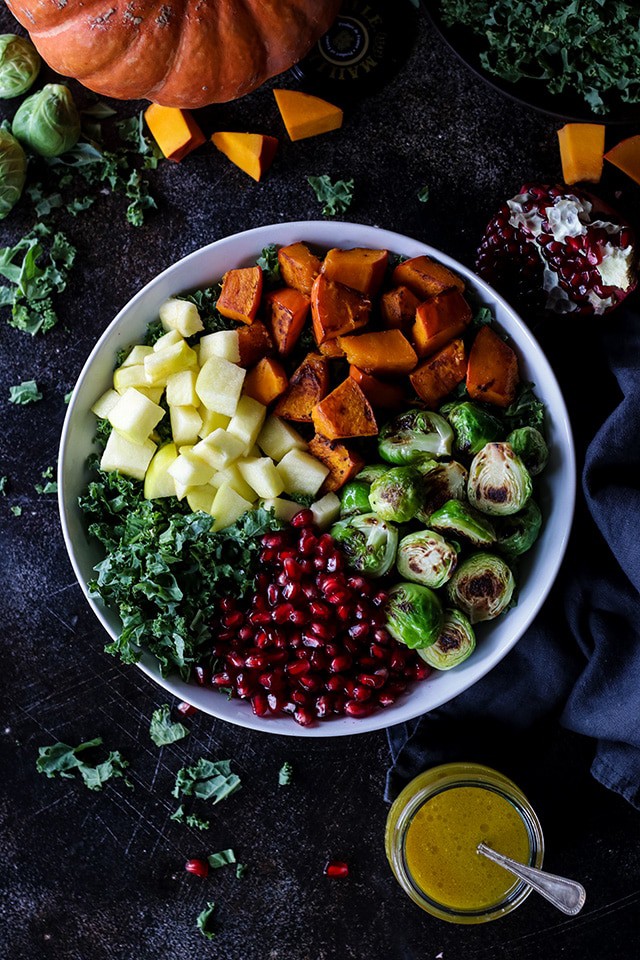 ---
A simple sweet potato and carrot soup made with coconut milk and warm spices. Serve as a starter with your holiday meal.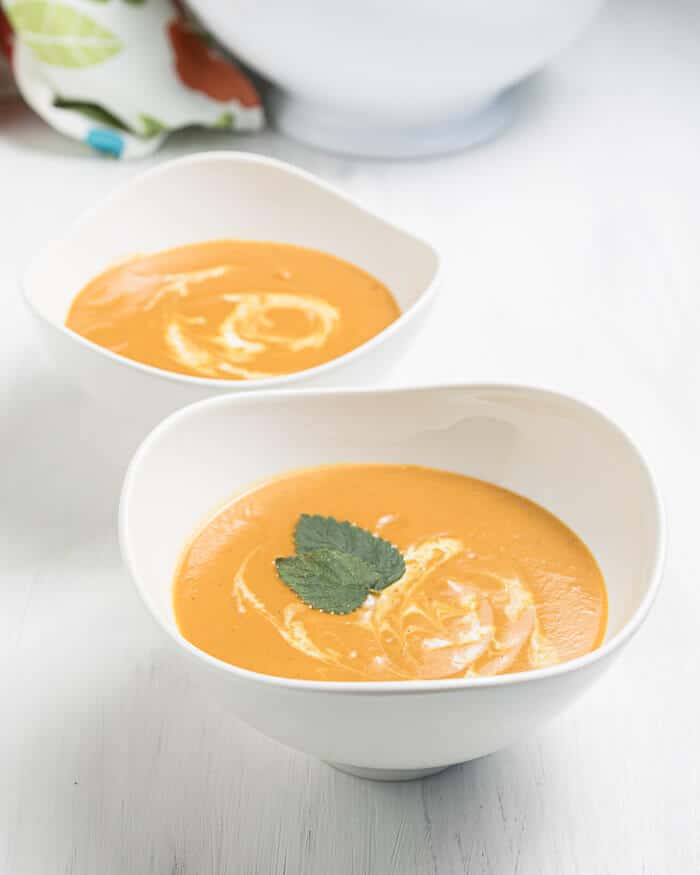 ---
If you need something to munch on while you wait for the main course, you'll love the sweet and tart combination in this Cranberry Crusted Dairy Free Cheese Ball. This vegan cheese ball is a crowd-pleaser packed with flavor!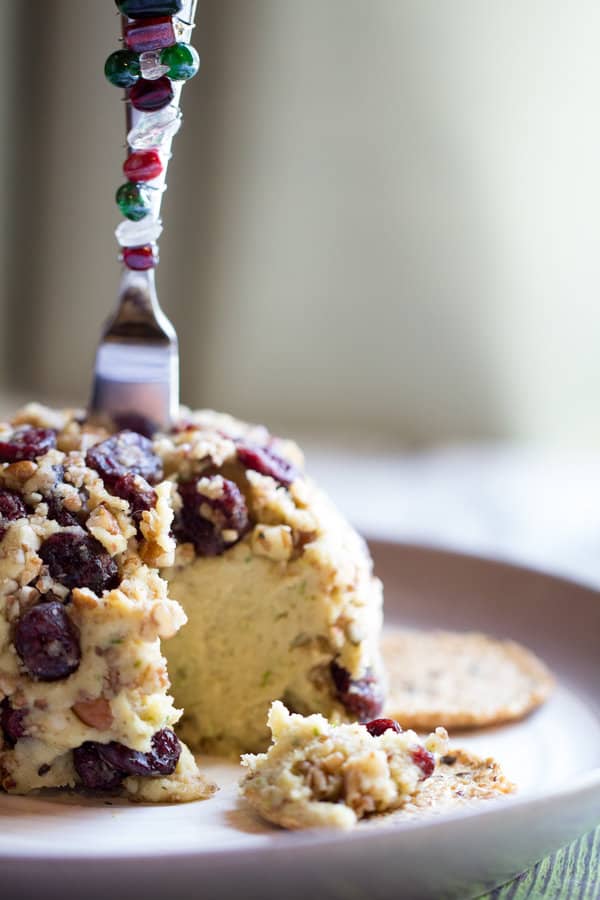 ---
All the flavor of deviled eggs on a crunchy slice of baguette? Sign me up! Not only are these deviled-egg crostini super easy to make, but they're also 100% vegan. Firm tofu creates the right texture, while the kala name offers the perfect eggy flavor.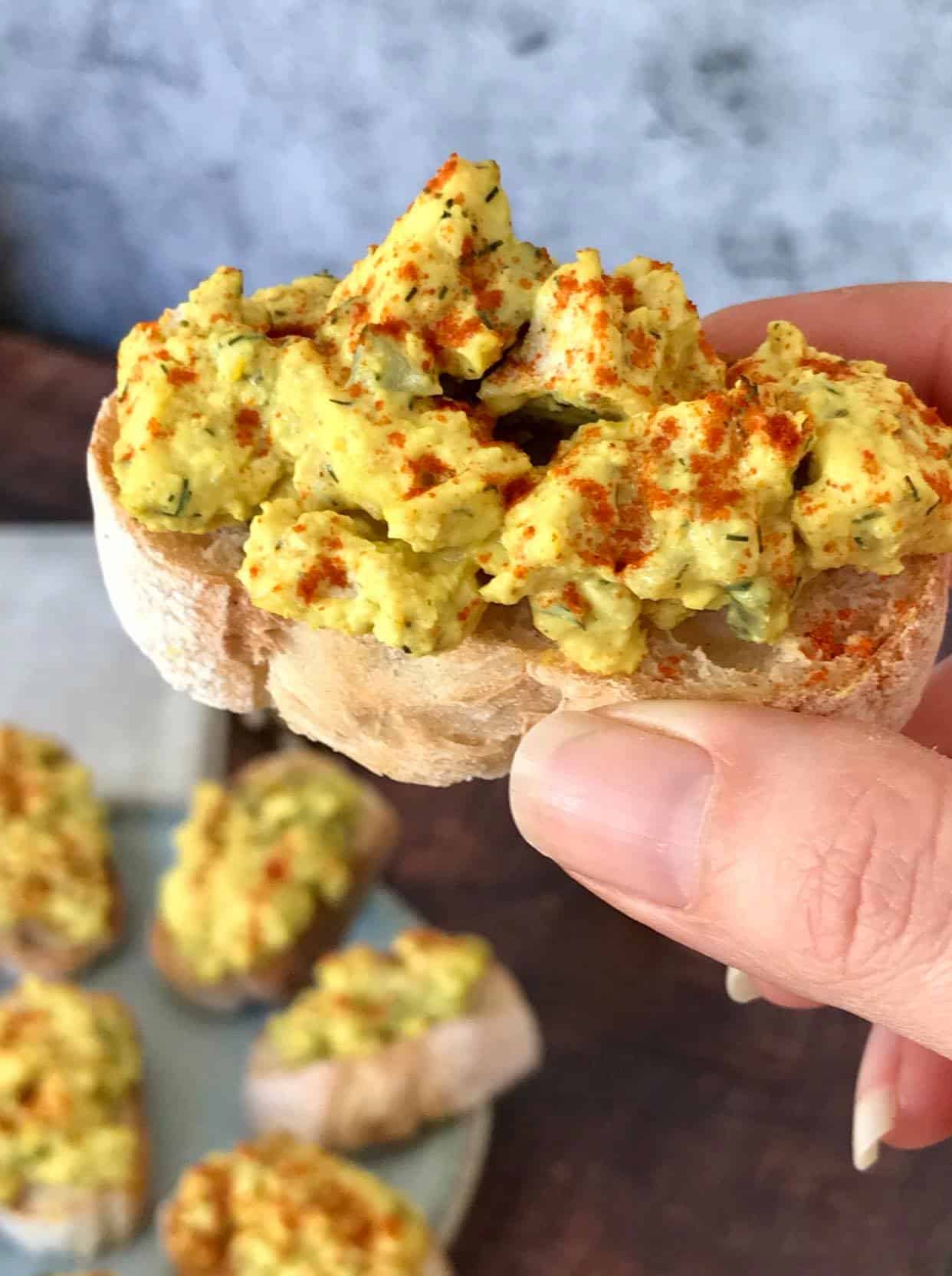 ---
This oil-free roasted acorn squash hummus is creamy, sweet, and smoky! It's a delicious Fall-inspired appetizer to serve your guests at Thanksgiving!
---
Fresh herbs, tangy almond ricotta, crunchy breadcrumbs, and a little kick of spicy red pepper flakes make these baked Stuffed Mushrooms a perfect appetizer to kick off your vegan Thanksgiving feast.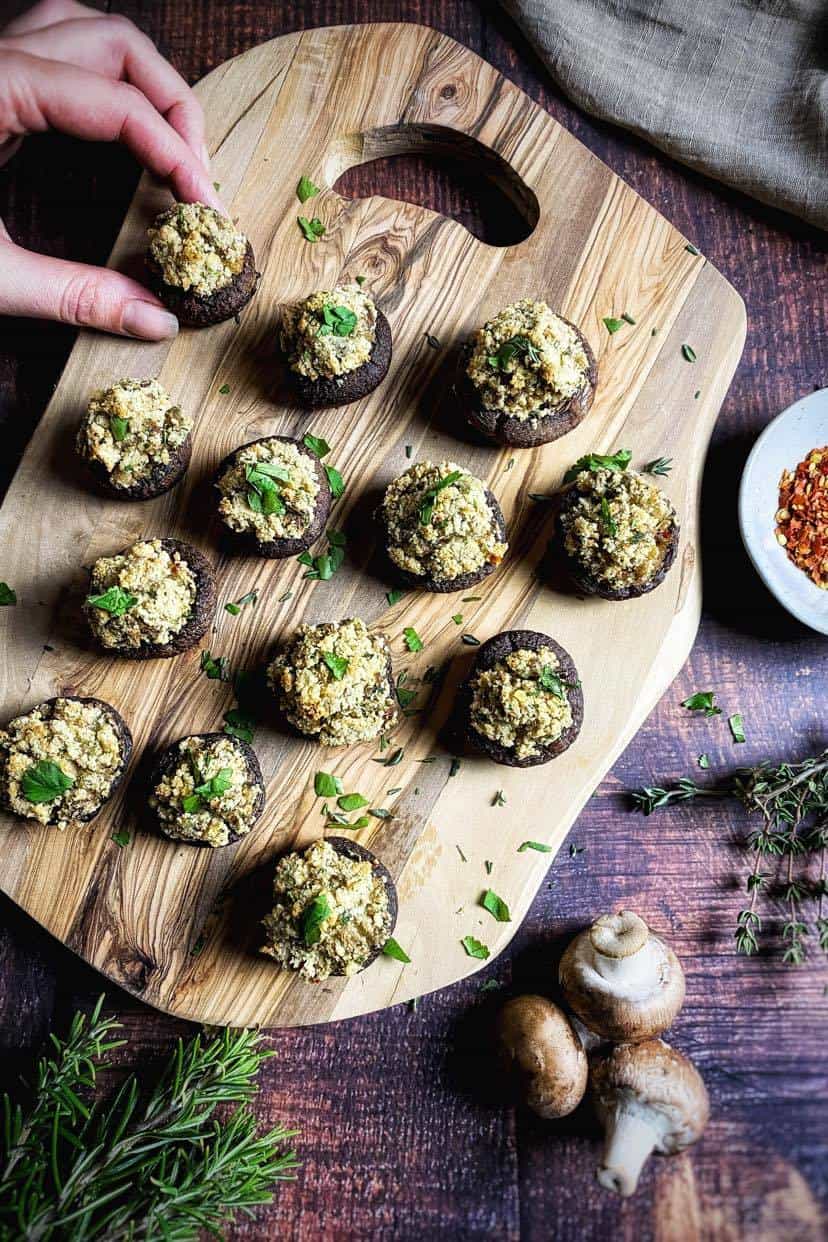 ---
Vegan Thanksgiving Sides
We all know Thanksgiving Sides (in their sheer abundance) are what make the Thanksgiving Dinner more than just your average meal. These sides cover all the bases with all the classics you'd expect (just veganized), plus a few surprises.
---
These Maple Balsamic Roasted Brussels Sprouts are crispy, beautifully caramelized, and full of rich flavors. An elegant and delicious vegan side dish that's perfect for Thanksgiving or any holiday meal.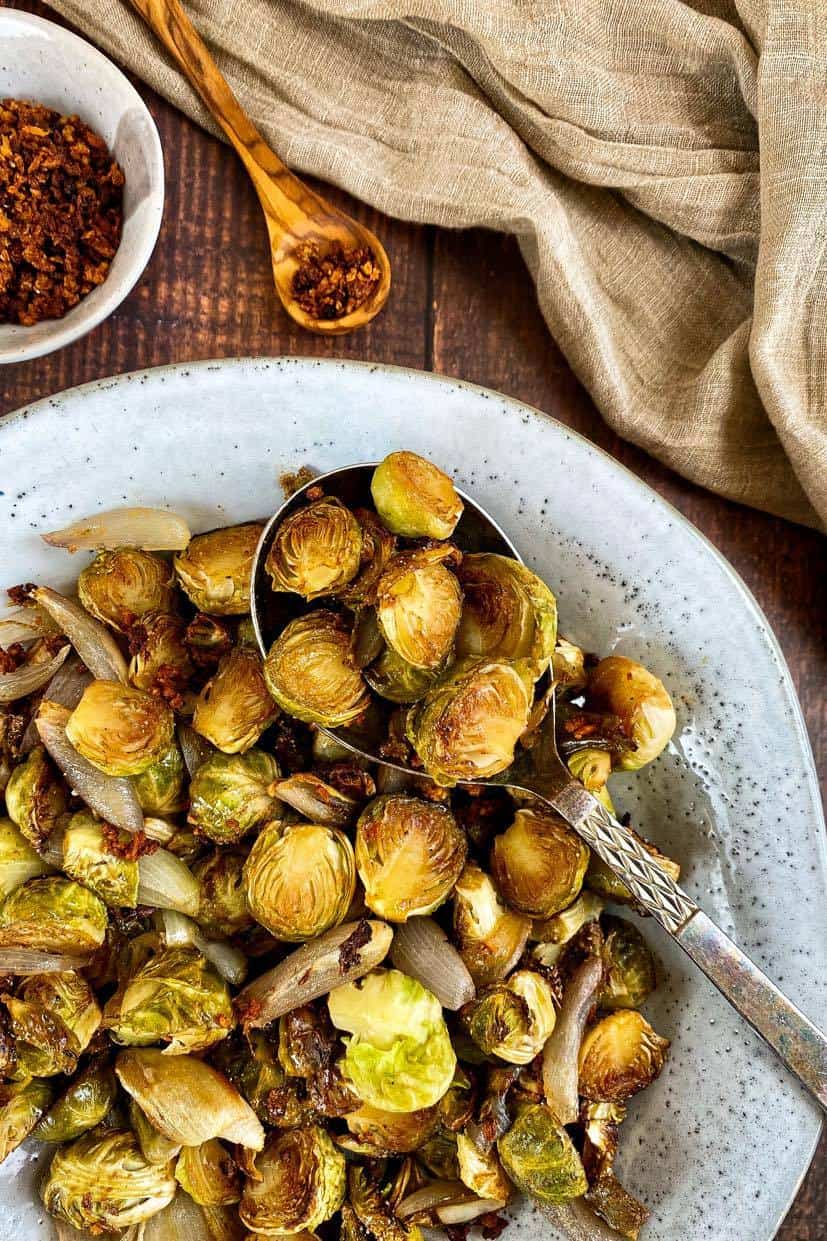 ---
These oven-roasted turmeric & cumin carrots are warm & spicy, tender, and comforting. They make the perfect addition to your vegan holiday table.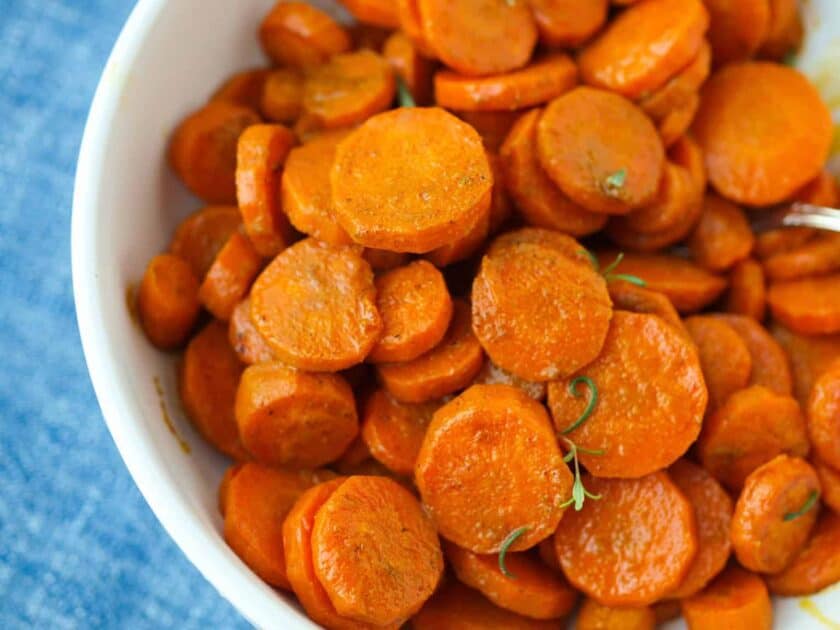 ---
This Air Fryer Butternut Squash is gorgeously browned on the outside and deliciously buttery on the inside. Paired with thyme and fresh sage, this makes the perfect vegan Thanksgiving side dish!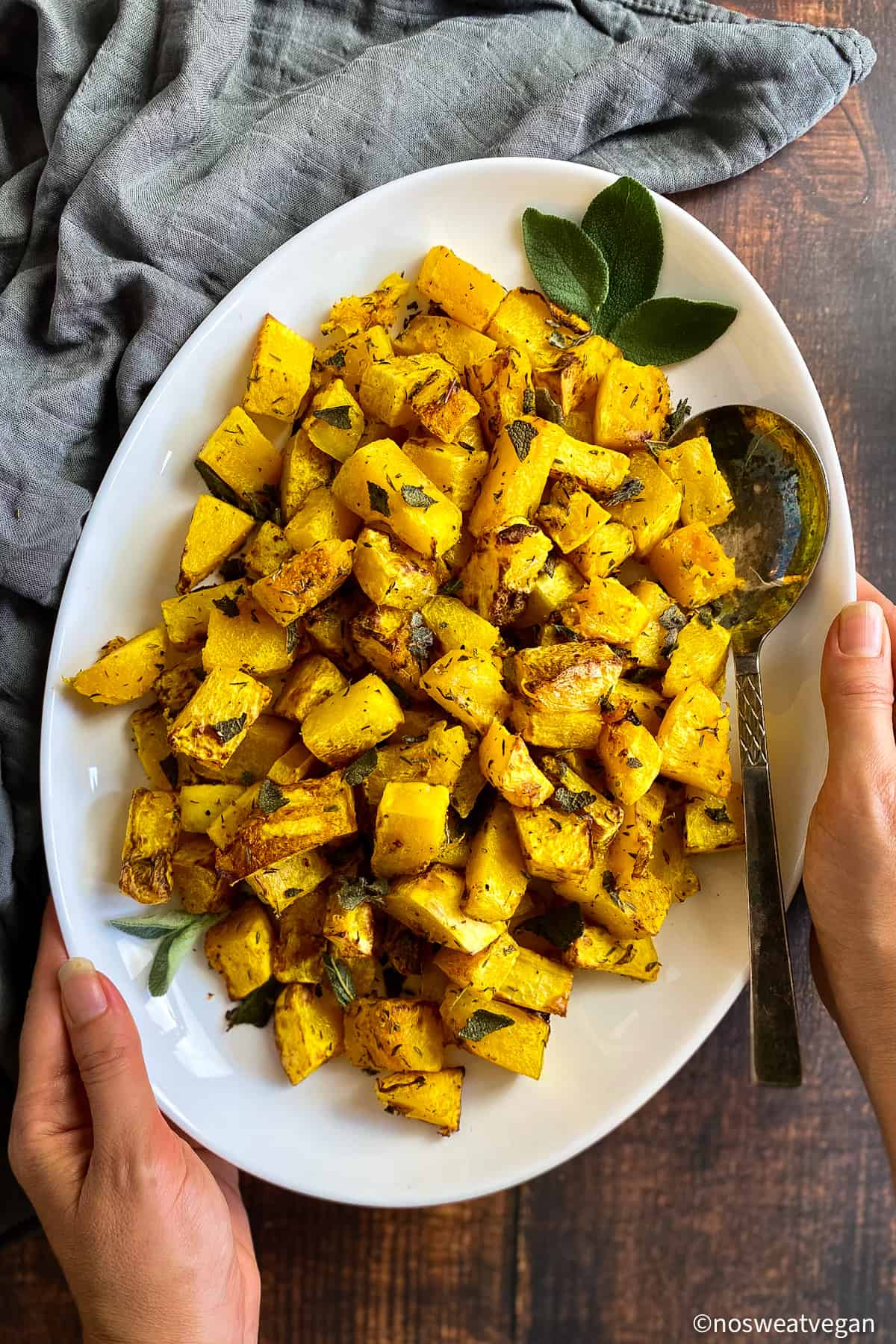 ---
This vegan sweet potato casserole features quinoa and spinach mixed in with the mashed sweet potatoes. The gratin is topped off with a crunchy breadcrumb and walnut topping.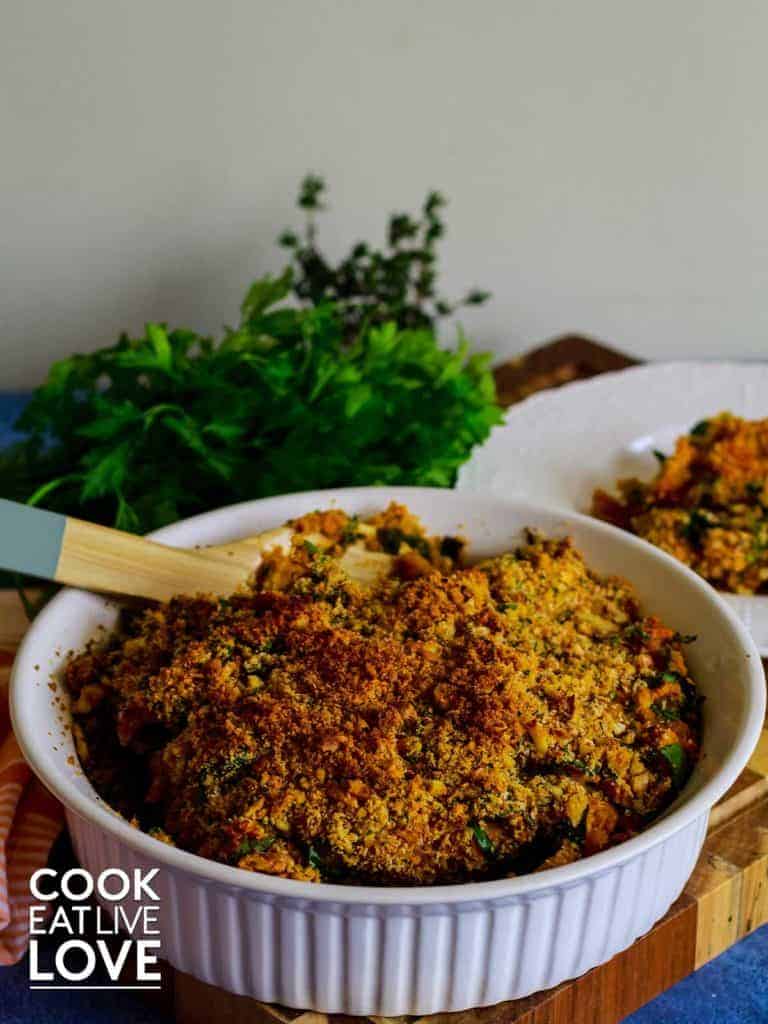 ---
These Air Fryer Green Beans are crispy and perfectly seasoned with lemon juice and vegan parmesan. They make a delicious and easy Thanksgiving side dish!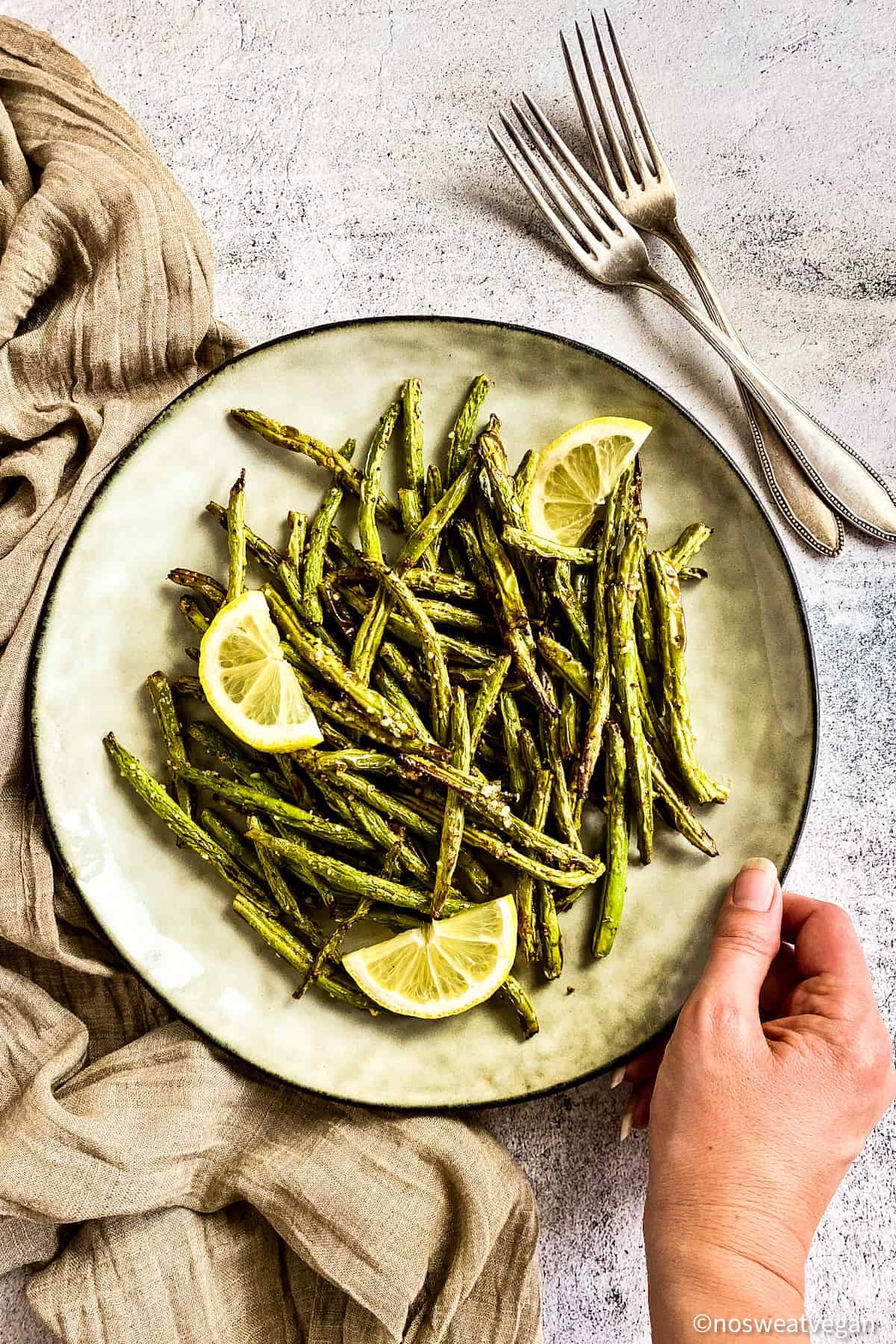 ---
This traditional yet tasty vegan stuffing is a must at any holiday table. An oil-free option is included.
---
These mashed potatoes are luscious, creamy, and rich – but without any butter or oil! The flavor comes from the nutritional yeast and powdered vegetable broth. A timeless addition to your Thanksgiving feast.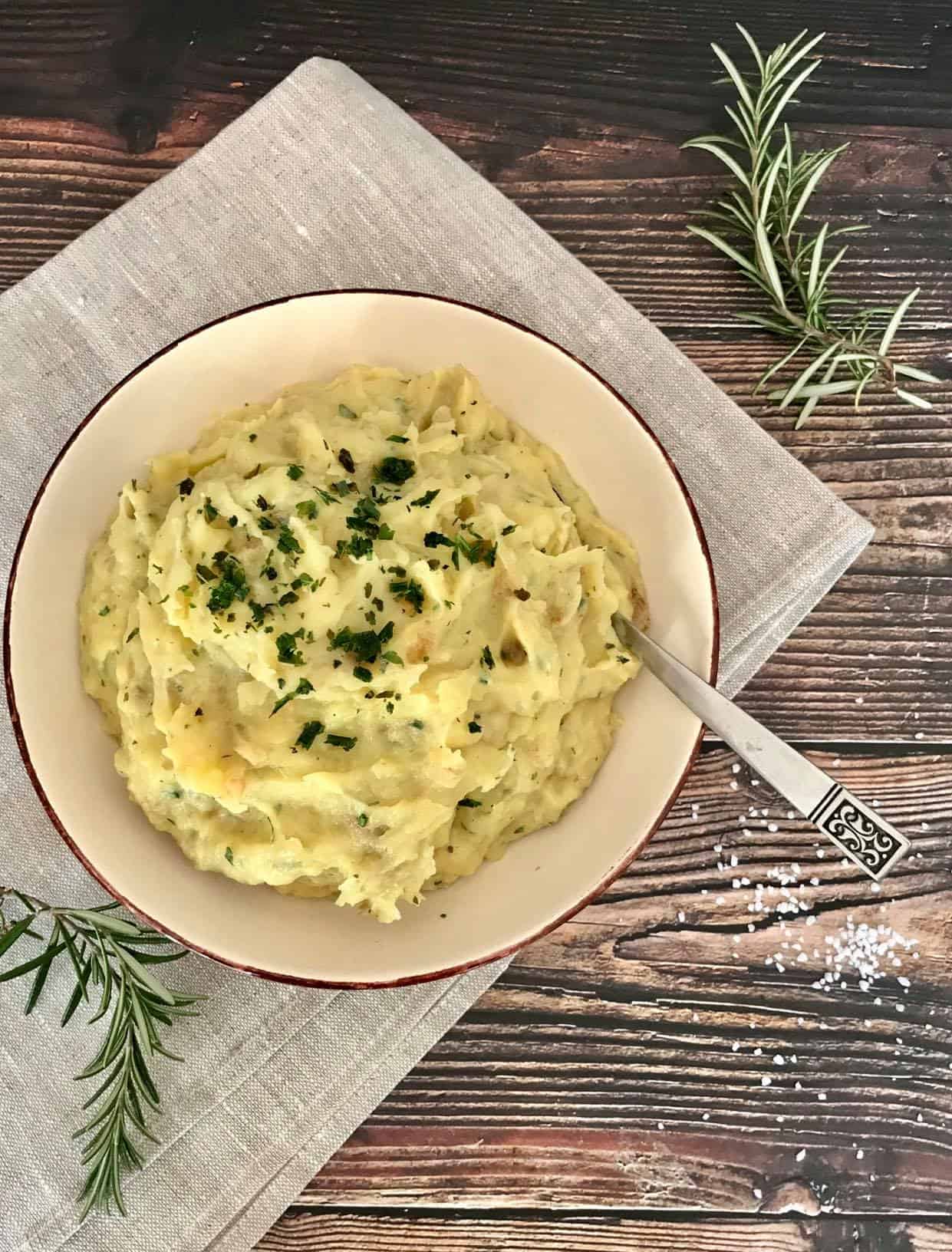 ---
This vegan gravy is oil free and has all the flavors you know from the classic gravy. You get here a gravy recipe for beef flavored or turkey flavored.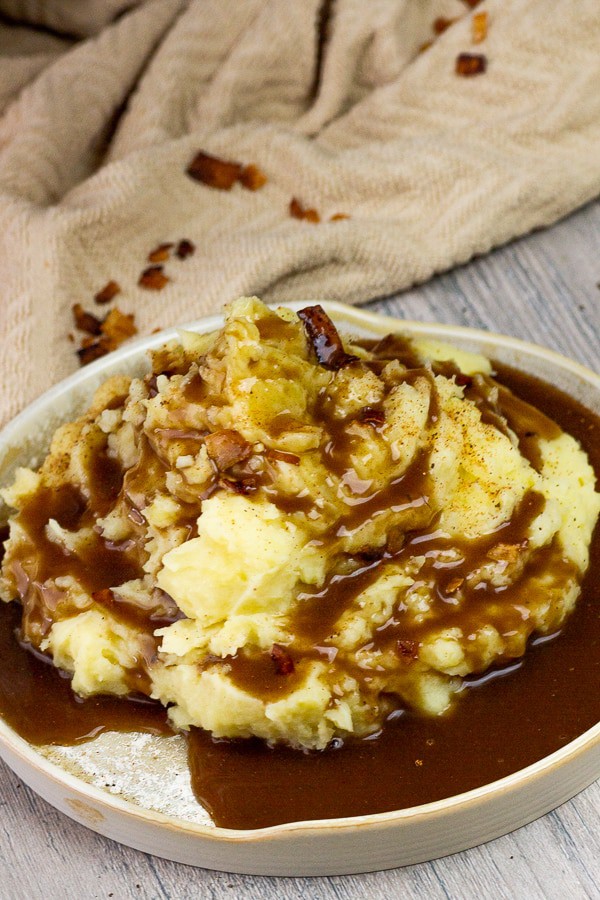 ---
Green bean casserole gets a vegan makeover with a few easy ingredient swaps! This festive dish is prepped and ready to pop in the oven in 10 minutes and can be assembled ahead of time to save time during your holiday prep.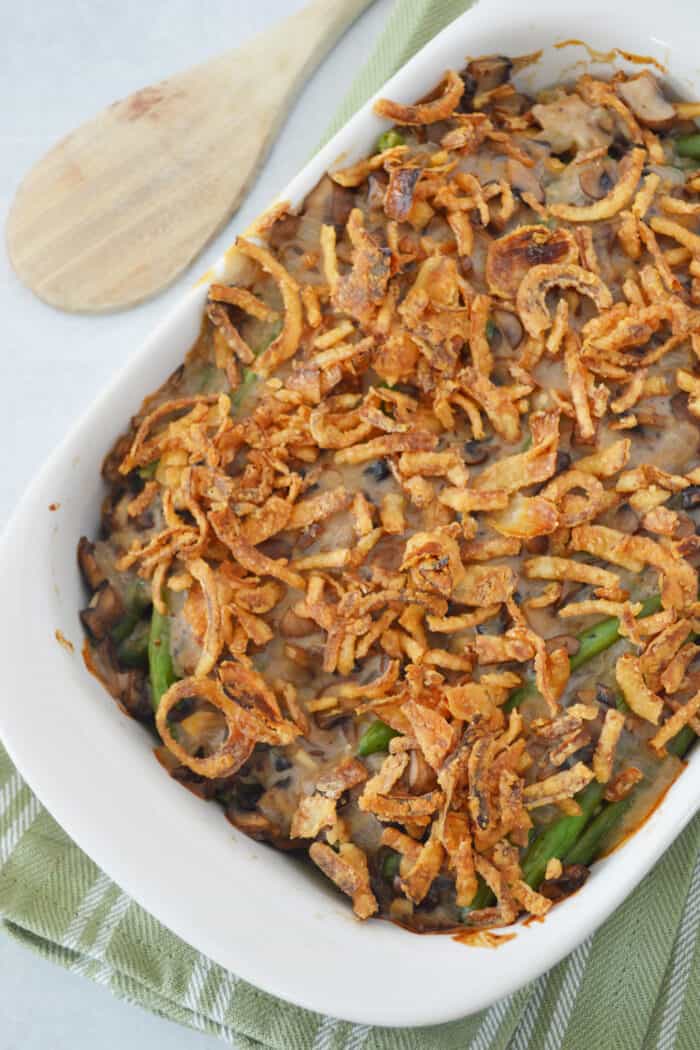 ---
Mac and Cheese is already a Thanksgiving staple. Why not take it a step further by adding pumpkin? This savory dish is rich, creamy, and perfect for adding to your holiday spread!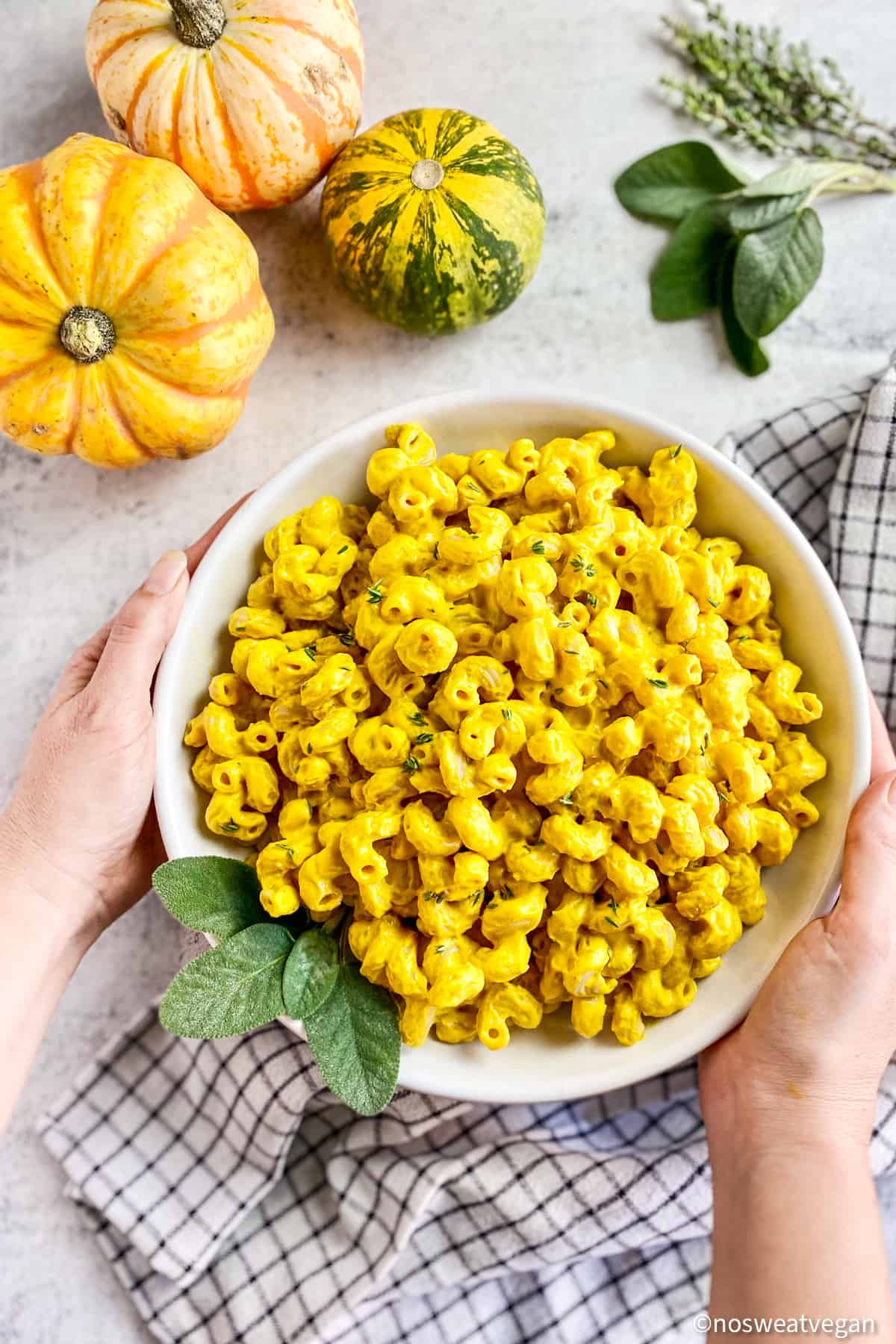 ---
This Healthy Sweet Potato Casserole recipe is the perfect Thanksgiving side dish! It's only sweetened with applesauce and is paleo, vegan, gluten-free, dairy-free & sugar free!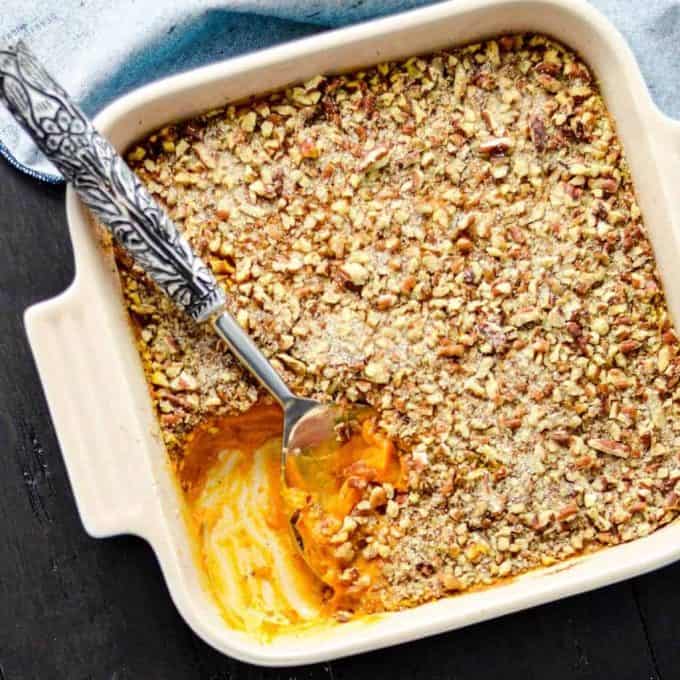 ---
Citrusy and tart with notes of maple and cinnamon, this healthy homemade cranberry sauce makes the perfect addition to any holiday table. Sweetened with orange juice and maple syrup, this recipe is vegan and refined sugar-free.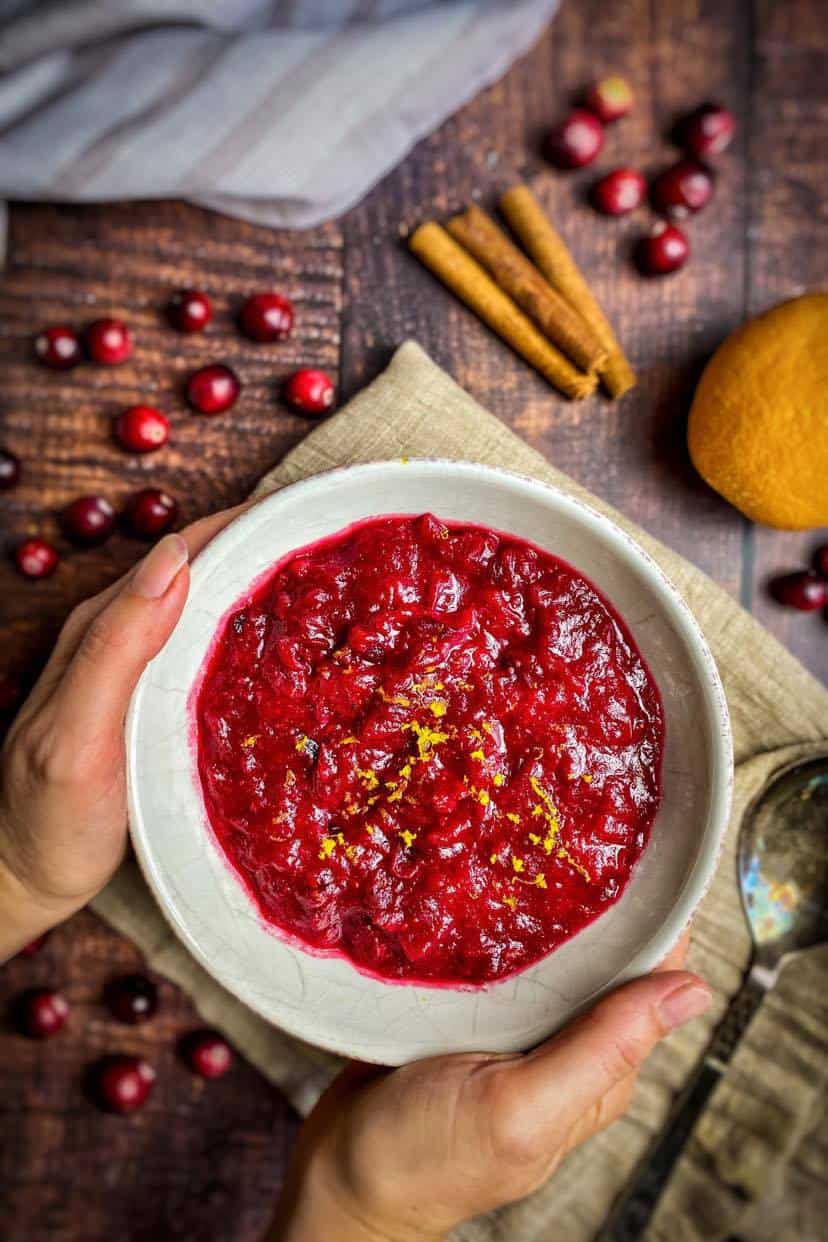 ---
This easy Vegan Cornbread is delicious, oil-free, and comes together in minutes. Crisp on the edges and fluffy on the inside, it makes the perfect addition to your holiday table.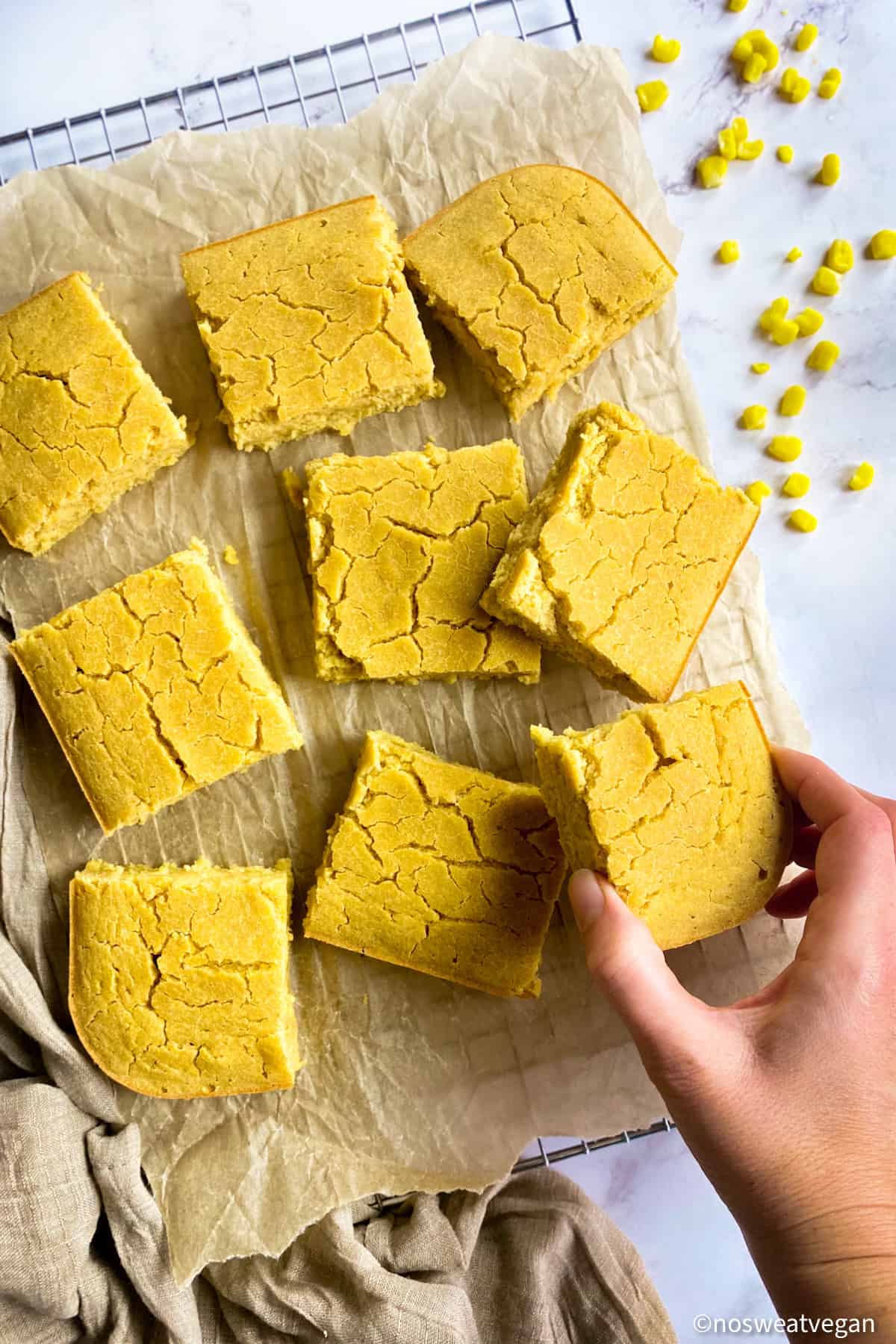 ---
Vegan Thanksgiving Mains
What do you serve in place of Thanksgiving turkey when you're vegan or vegetarian? You might think you're doomed to a life of Tofurkey, but think again. Here are some amazingly creative and delicious Vegan Main Dishes that you'll be proud to feed to the whole family.
---
This vegan wellington makes a hearty and filling centerpiece for any table! It's filled with "meaty" seitan and covered in an aromatic herbed mushroom mixture, wrapped in flaky puff pastry.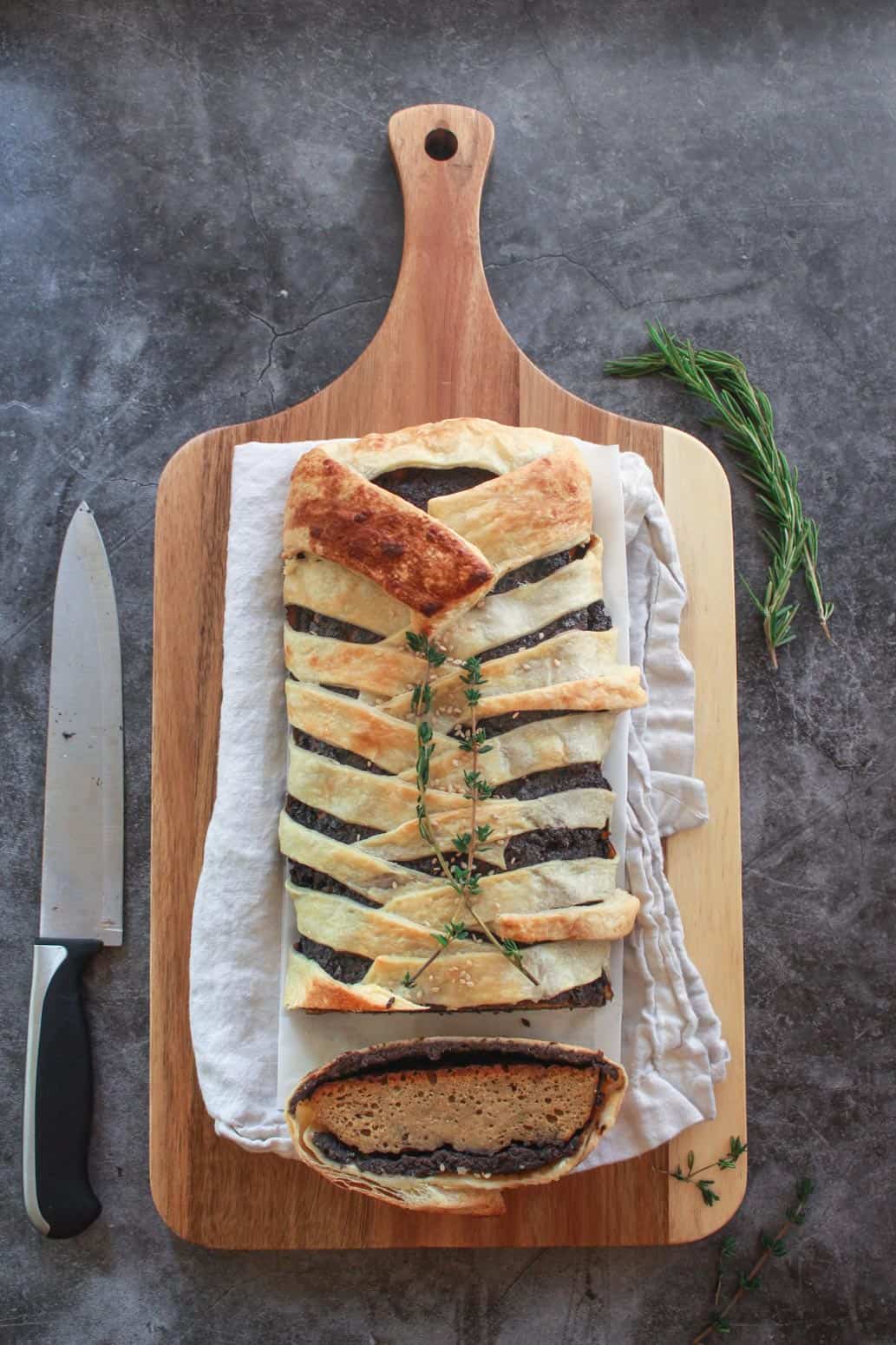 ---
A perfect replacement for meatloaf –- this lentil loaf is delicious and full of flavor! It's perfect to serve for the holidays or just when you want a classic meatloaf made vegan style.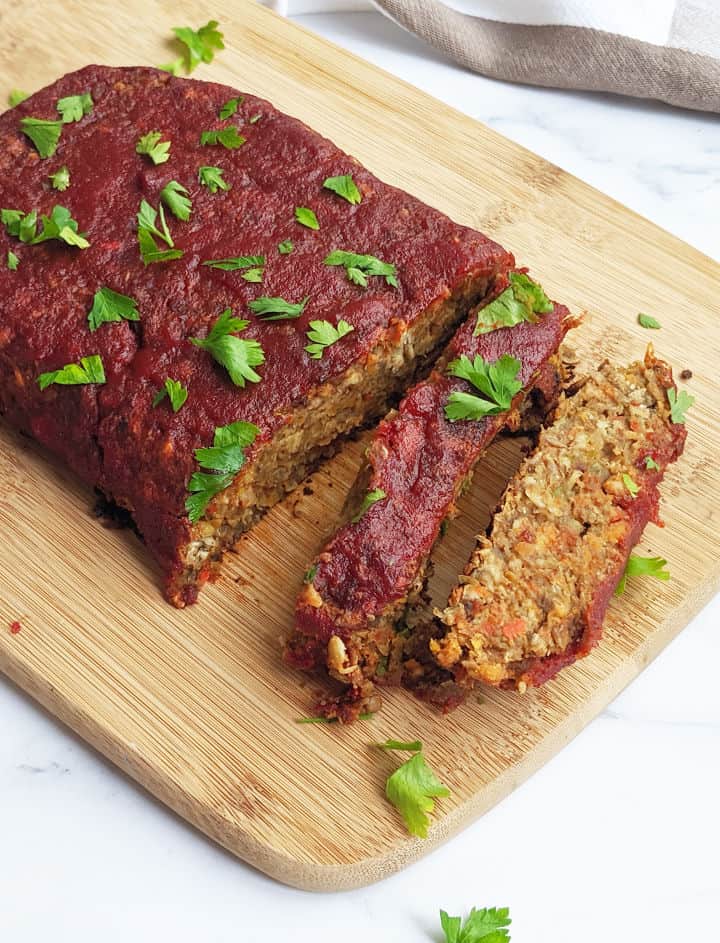 ---
This inexpensive-ingredient Vegan Holiday Roast will please Vegans and meat-lovers alike. Just add a little magic blend of herbs and condiments… The smell of this Vegan Holiday Roast will make everybody rush to your Thanksgiving table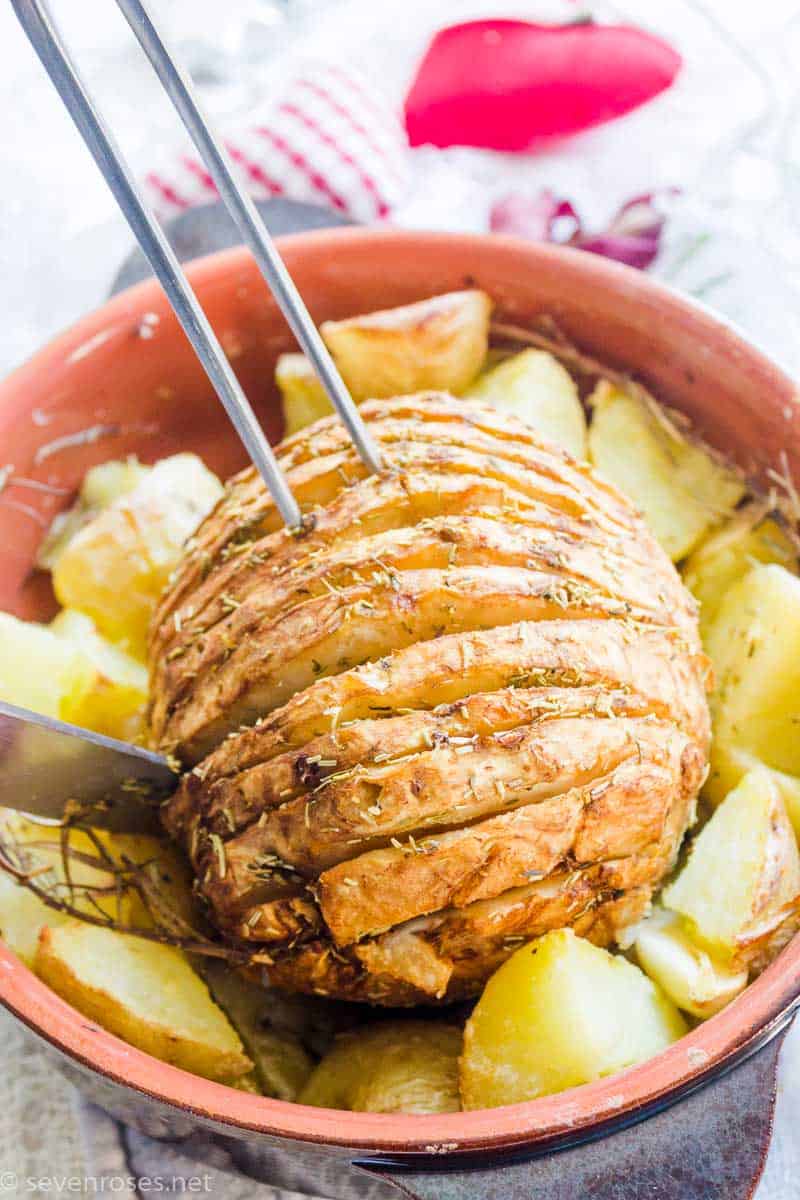 ---
This beautiful Butternut Roast makes a stunning vegan centerpiece to your Thanksgiving dinner. Packed with cranberries, lentils, pistachios, and many festive flavors, this couldn't look or taste better.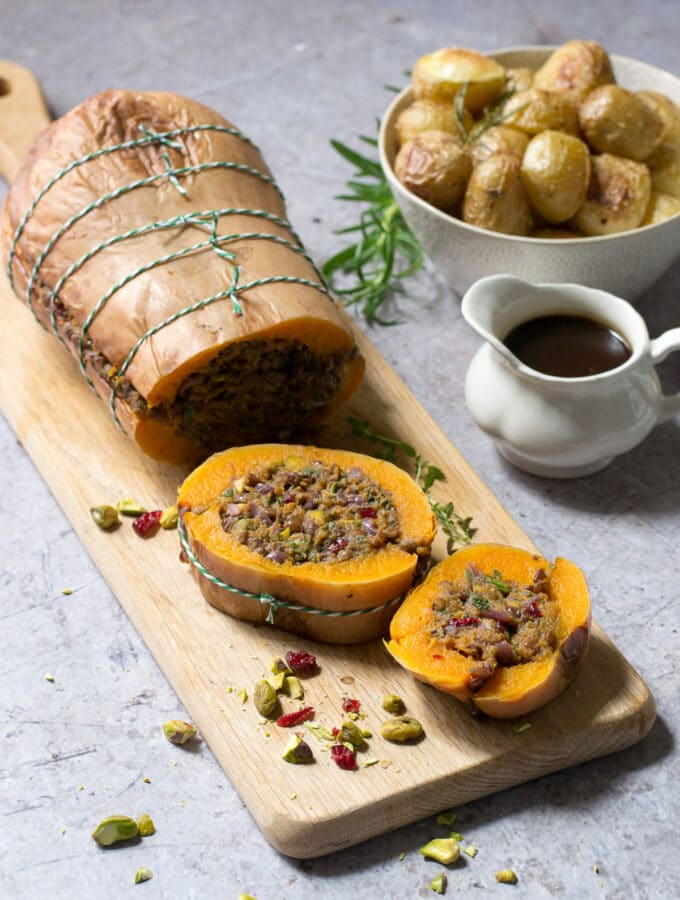 ---
This tender seitan-based vegan roast is surprisingly simple to make and perfect for dinner and even special occasions like parties and holiday meals.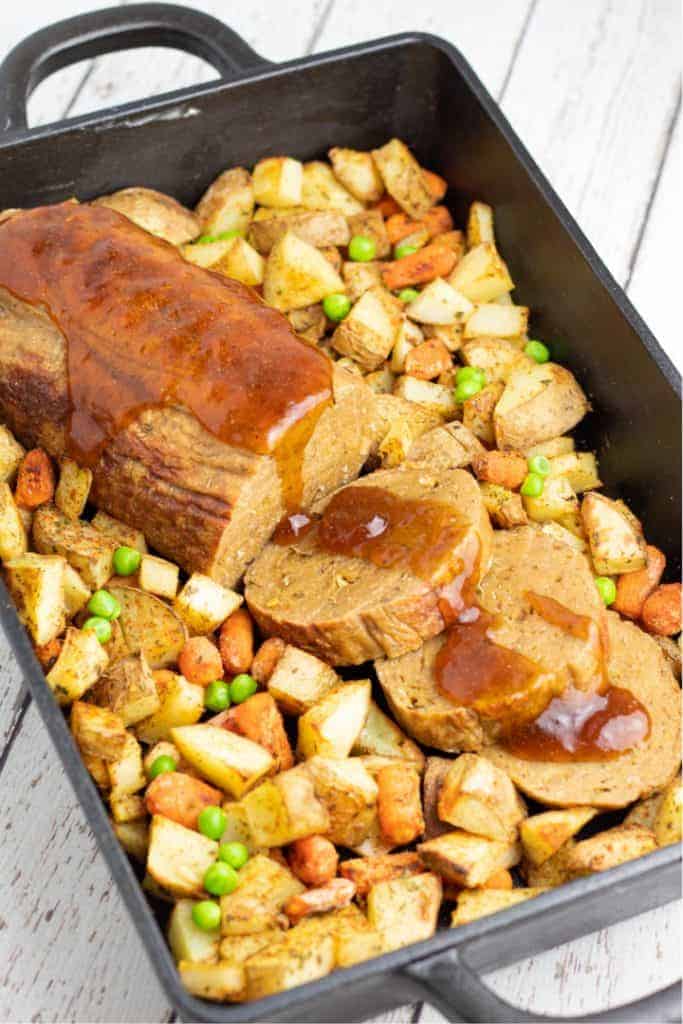 ---
Vegan Thanksgiving Desserts
Room for dessert? You bet! Of course I've included vegan pumpkin pie (how could I not). I also made sure to cover my apple and pecan pie bases. But for those who want to try something different, there also a few surprises.
A silky, warm-spiced filling nestled in a buttery flaky crust that's baked to golden perfection! You won't believe how easy this classic Thanksgiving Dessert is. It's a must for your holiday table!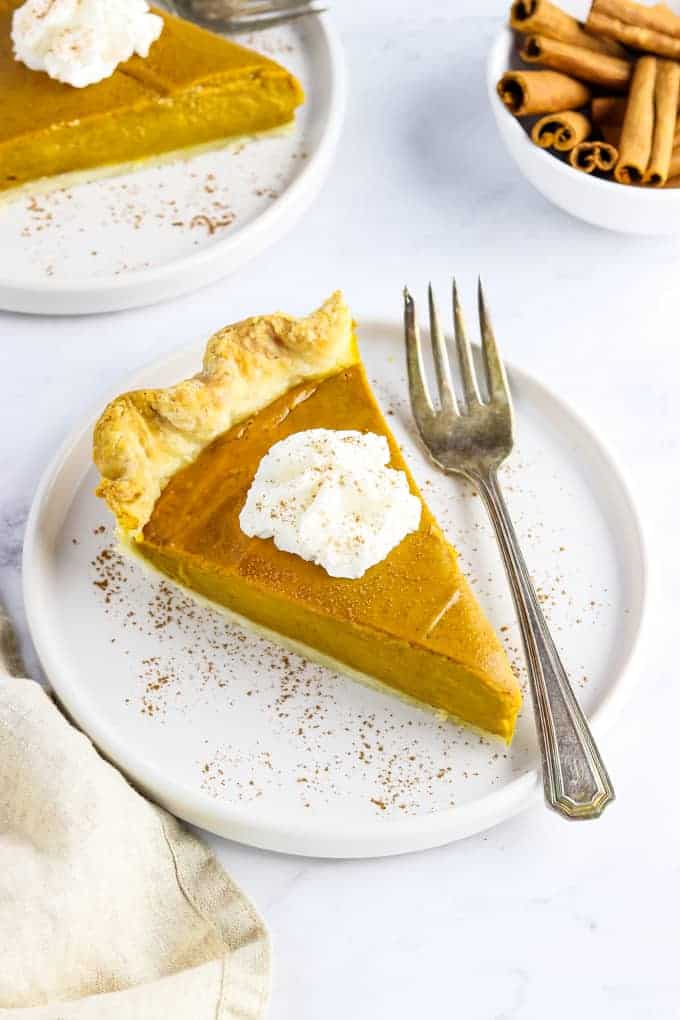 ---
This Vegan Pumpkin Cookie Recipe is light and oil-free but full of amazing pumpkin spice flavors. You just need 1 bowl and 30 minutes to whip up this healthy fall dessert. Top them with a Cashew Maple Glaze for a truly delicious treat.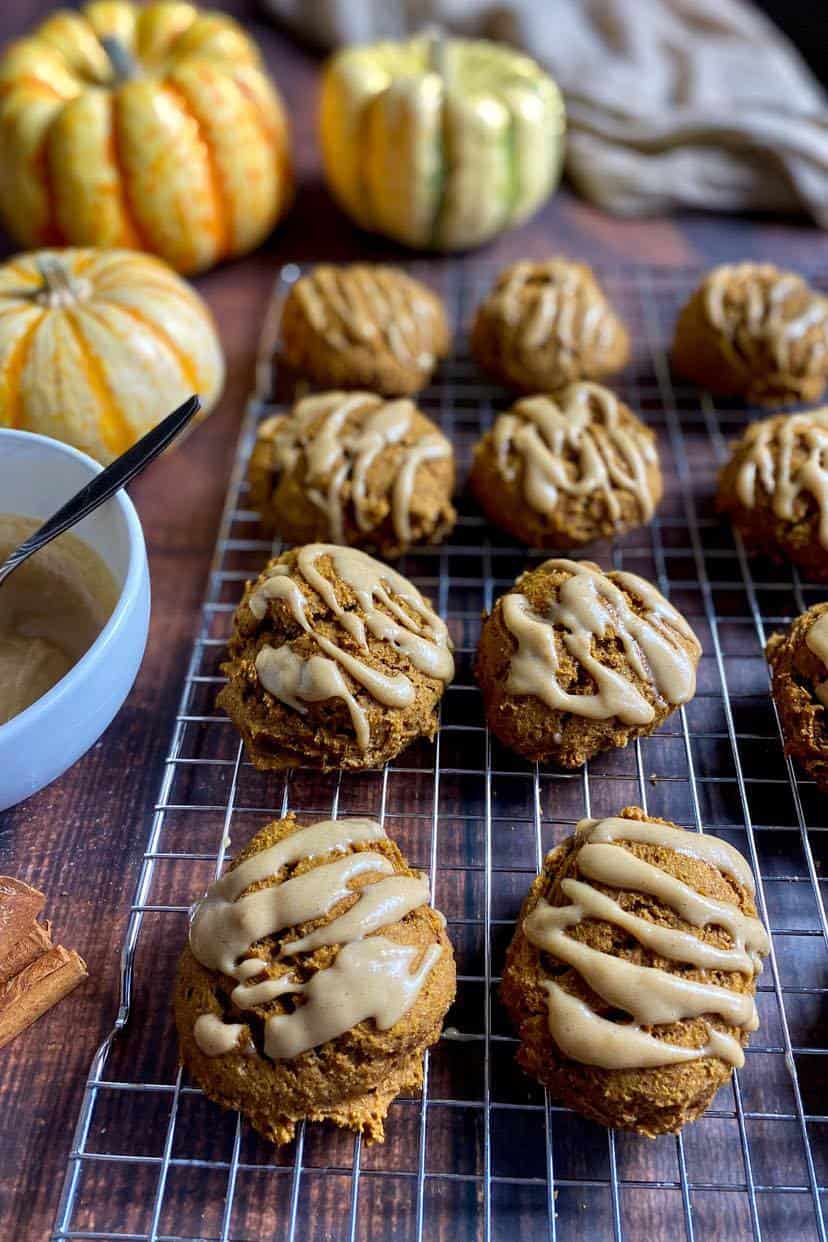 ---
Celebrate Thanksgiving with a delicious, no-bake pumpkin cheesecake parfait for the ultimate sweet ending to your holiday feast. Vegan, Nut-free & Gluten-free.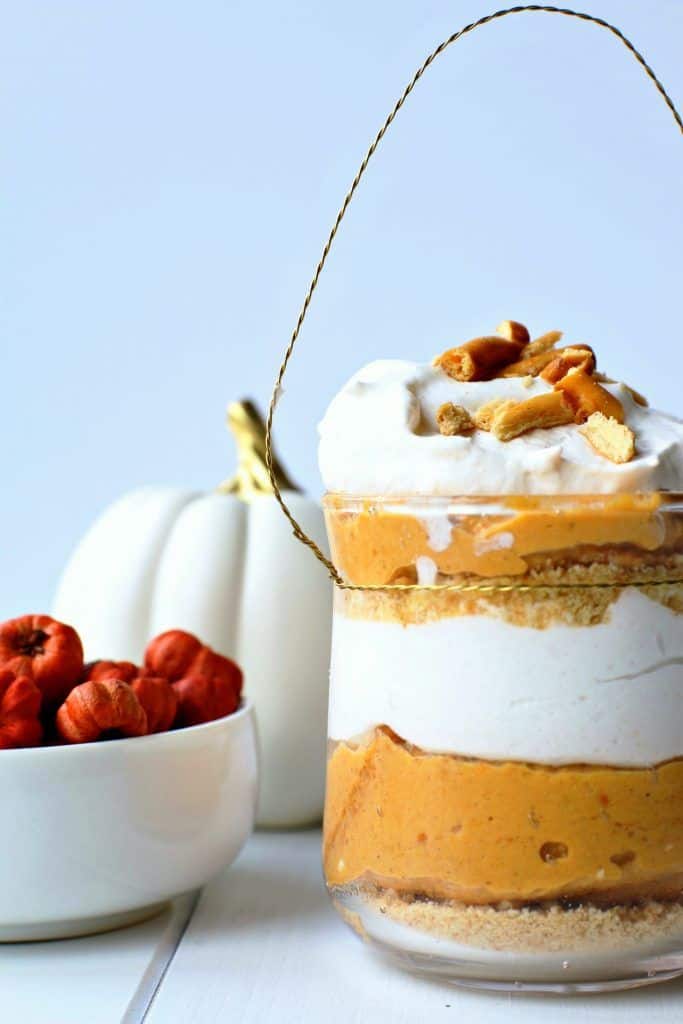 ---
This Swedish apple pie is similar to a crisp and has an amazingly easy topping. It's my most-requested Thanksgiving dessert and as a bonus, is gluten-free, vegan and dairy-free.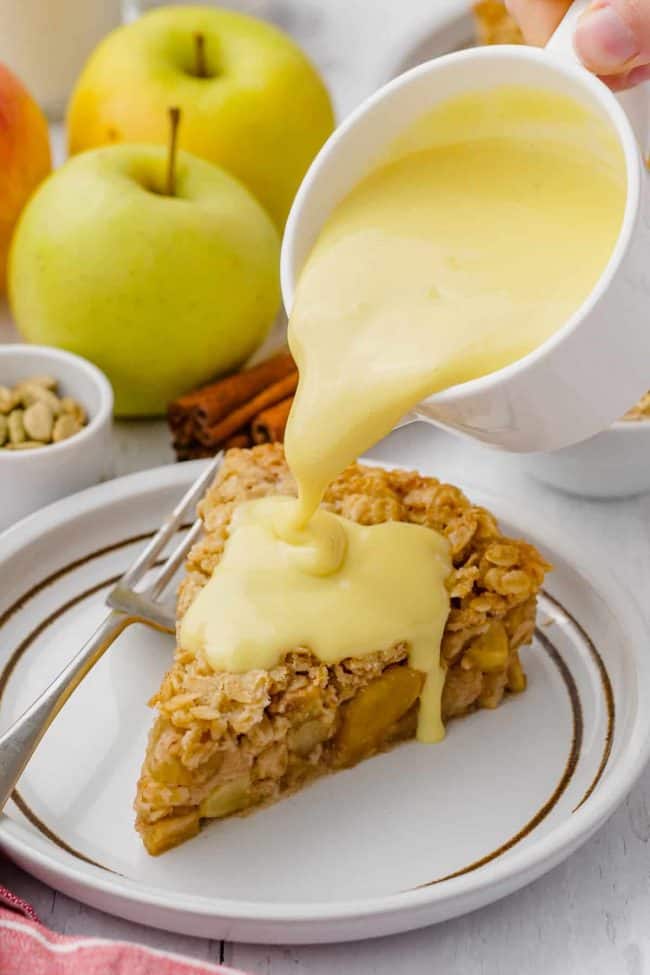 ---
These Vegan Pumpkin Brownies are moist, chocolatey, and scrumptious especially when it comes to the peanut butter icing on top! Dairy-free and flourless! A unique twist on traditional Thanksgiving desserts.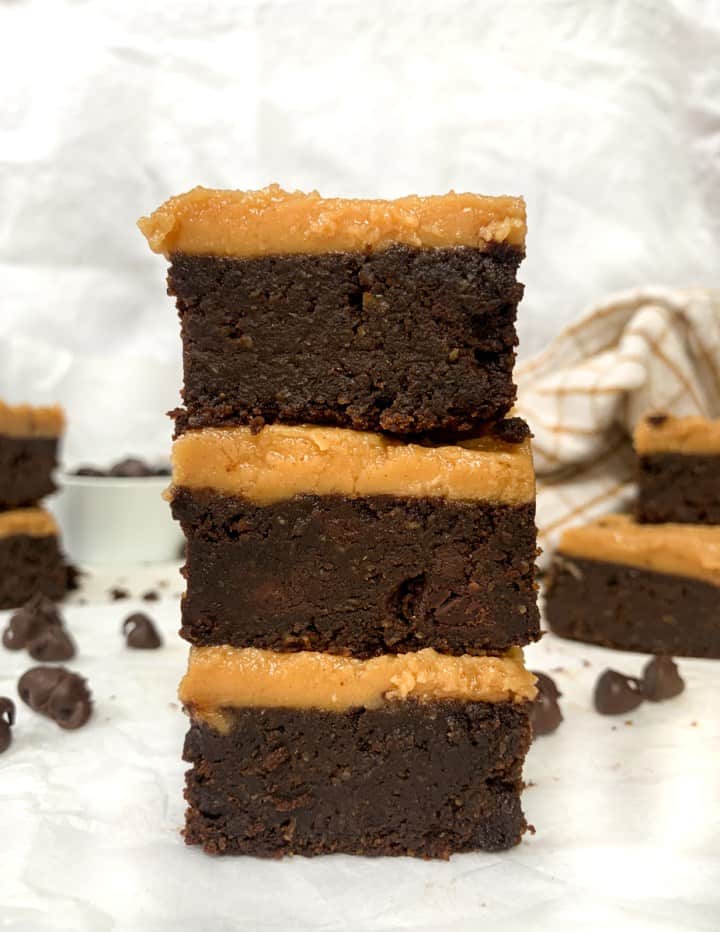 ---
Special diets are a "piece of cake" for this dairy-free, gluten-free, plant-based, vegan, oil-free, holiday-ready Pumpkin Cheesecake! This no-bake dessert is a treat filled with thoughtfulness, spectacular flavor, and do-able eye-catching presentation that's sure to please.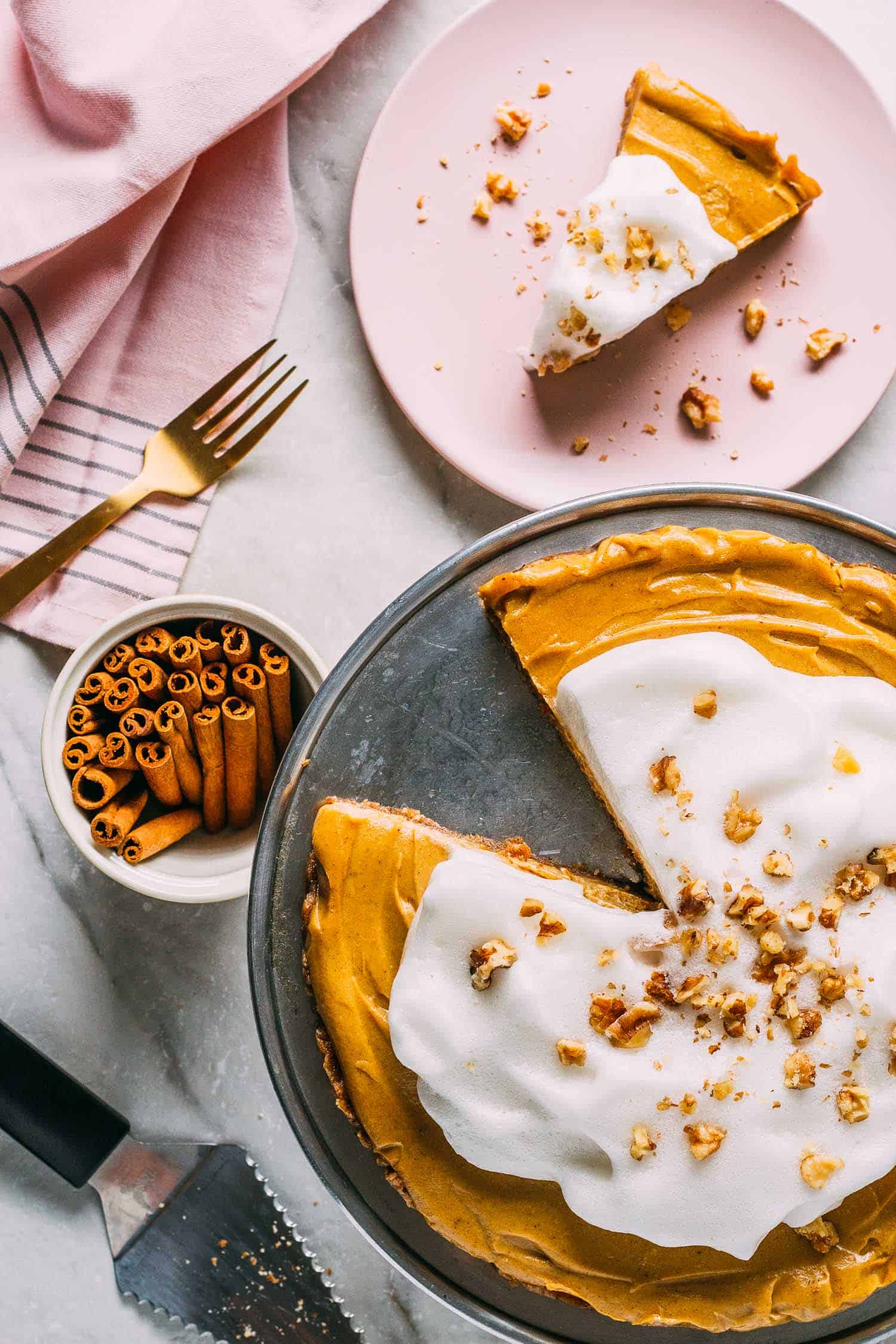 ---
This Pecan Cream Pie recipe is easy, requiring only 9 ingredients and incredibly delicious. Made with coconut cream and naturally sweetened with dates, it's vegan, oil-free, gluten-free, and refined sugar-free (but you'd never know!).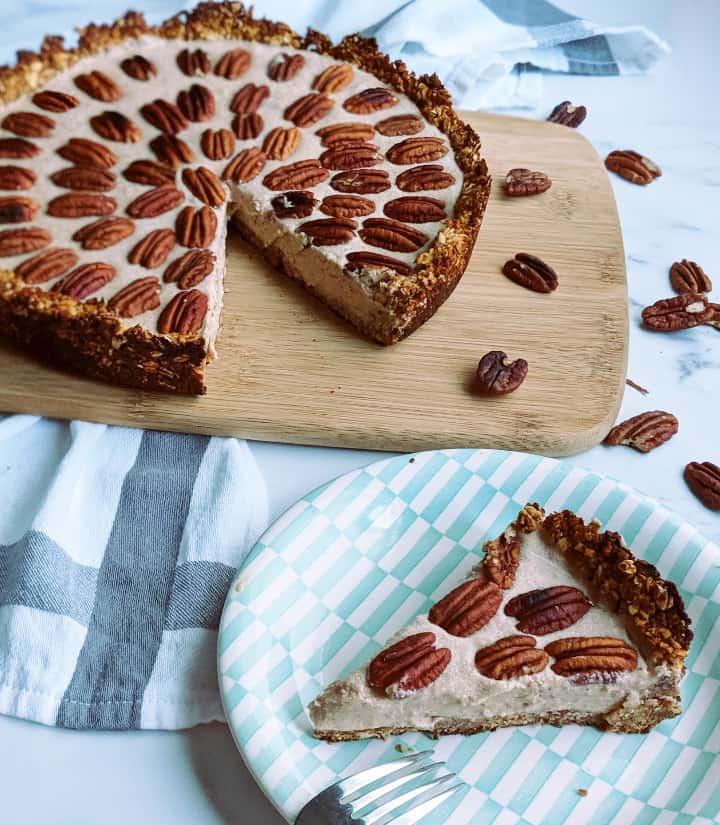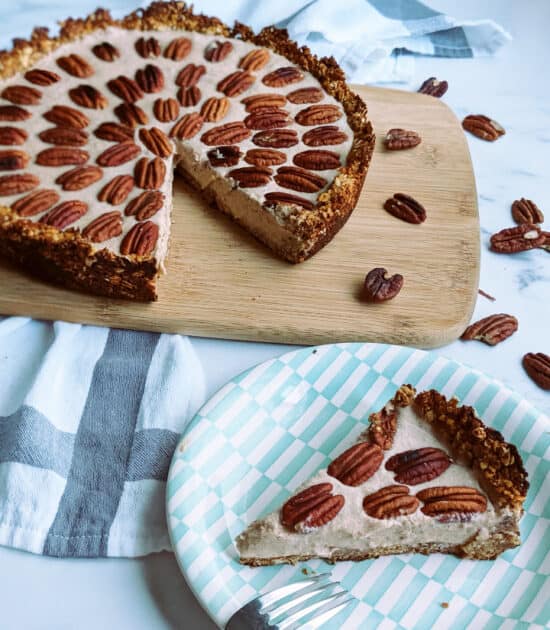 ---
What's your favorite Vegan Thanksgiving Recipe?
If you've tried one of these recipes, I'd love to hear how it went in the comments below. And if a veganized version of your favorite classic Thanksgiving Recipe is missing from the list, let me know and I'll try to add it in!