This Vegan Pumpkin Mac and Cheese is a delicious and savory pumpkin recipe that's great for fall or any time you need to use up a little extra pumpkin. Rich, creamy, and full of healthy ingredients, this dish is kid-friendly and perfect for everything from holidays and potlucks to quick lunches and easy weeknights.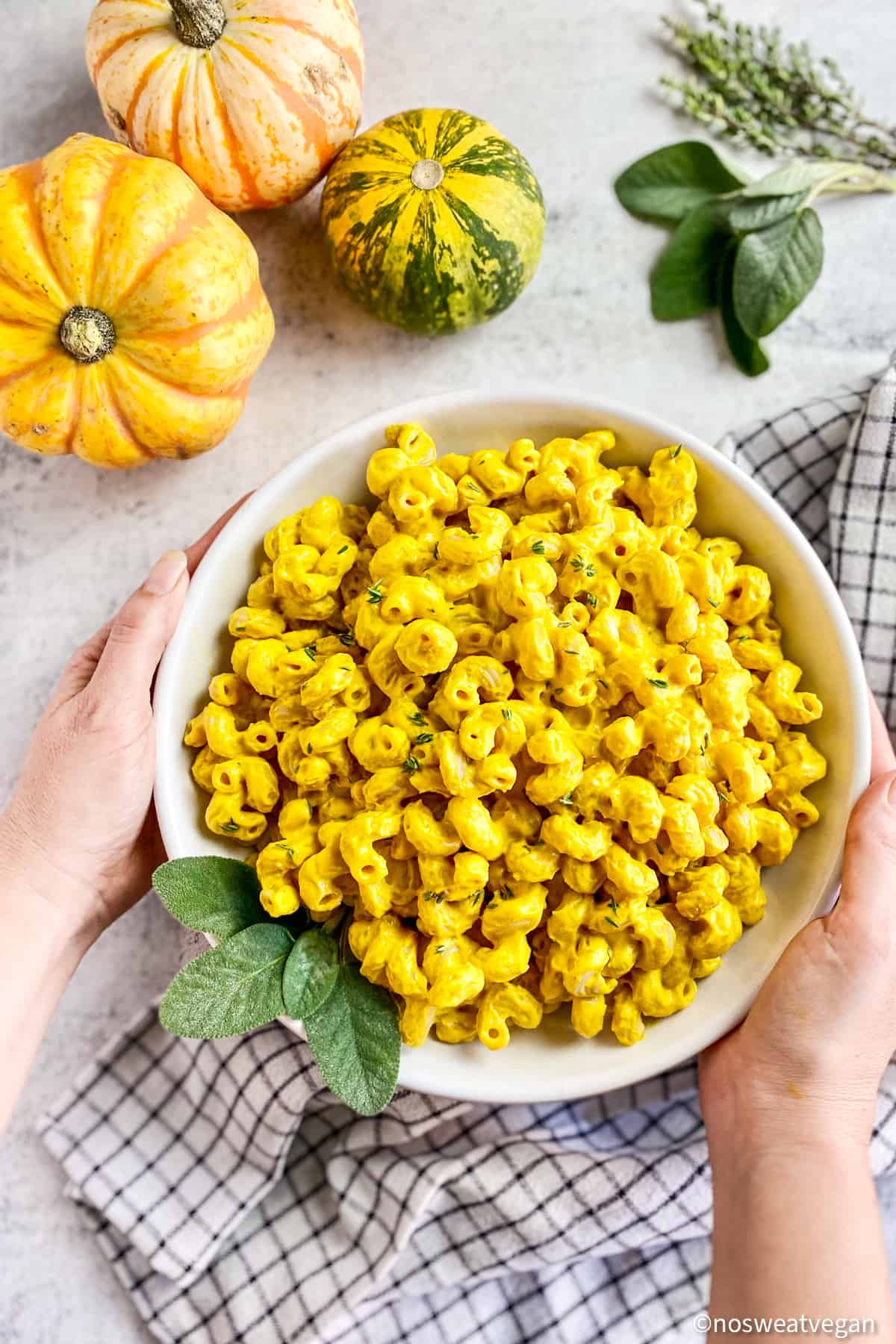 If you're looking for a savory vegan pumpkin recipe that's easy and delicious, then look no further! This Vegan Pumpkin Mac and Cheese is the perfect combination of creamy and comforting. Plus it's oil-free and kid-friendly. You really can't go wrong.
This dish is luxurious and rich--it's perfect for everything from lunch to Thanksgiving dinner. The creaminess comes from the cashews while the pumpkin adds some color and subtly sweet fall flavors. Yum!
Even though this dish has autumn written all over it, you can enjoy it all year long! Use up your leftover canned pumpkin or substitute with pureed butternut squash.
Looking for a few sweet recipes that also use canned pumpkin? Check out these Vegan Pumpkin Muffins and Pumpkin Cookies.
Jump to:
You'll love this Vegan Pumpkin Mac and Cheese recipe because it's:
Quick & Easy
Vegan / Vegetarian
Dairy-free
Easy to make Gluten-Free
WFPB & Oil-free
Perfect for Holidays, Cookouts, & Potlucks
Creamy & Delicious!
---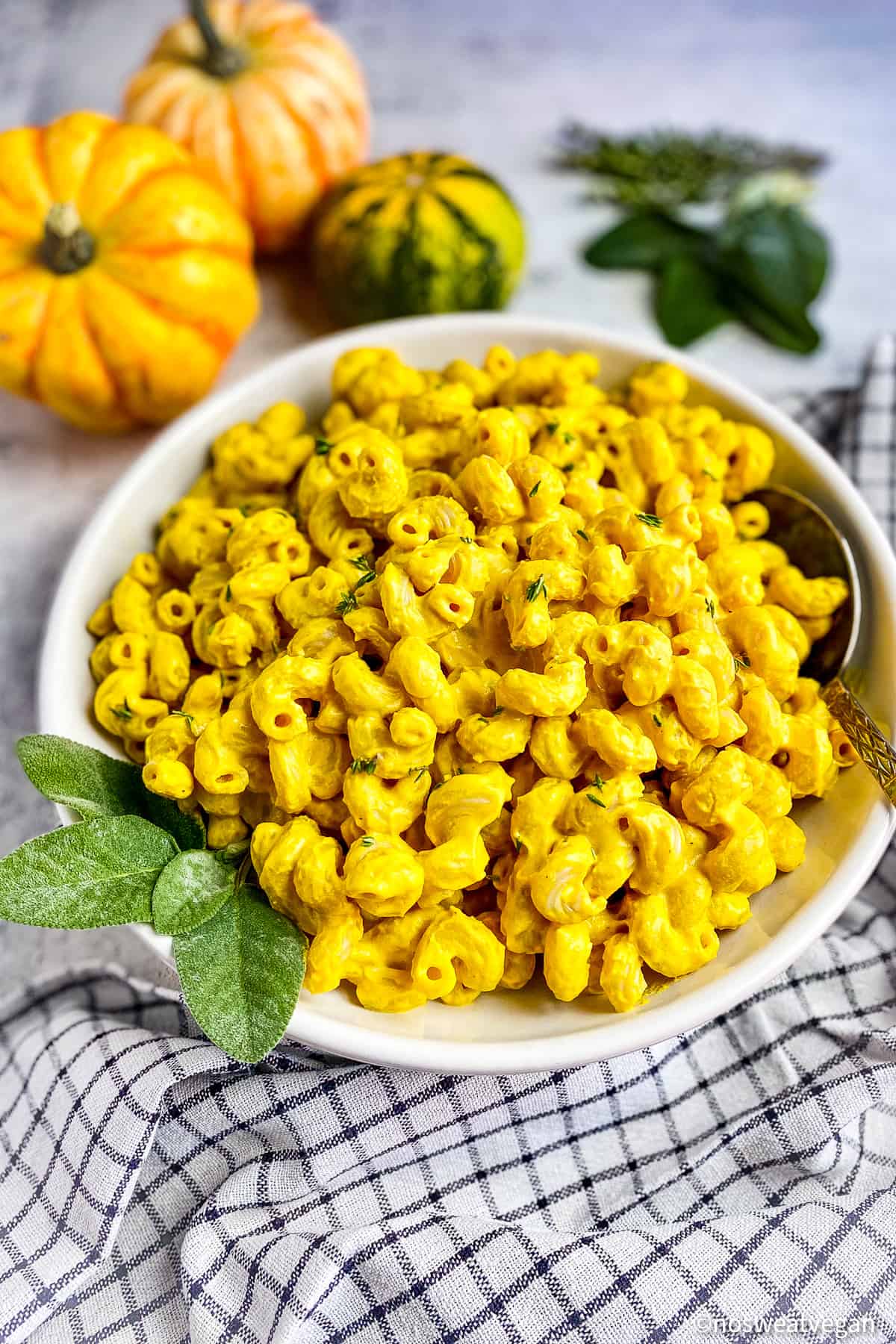 Can this be gluten-free?
Sure! Just use your favorite gluten-free pasta.
Can this be nut-free?
Yes! Simply substitute raw sunflower seeds for the cashews. Alternatively, you could try using cooked chickpeas. I've made cheese sauces with chickpeas before and they come out great and are lower in fat.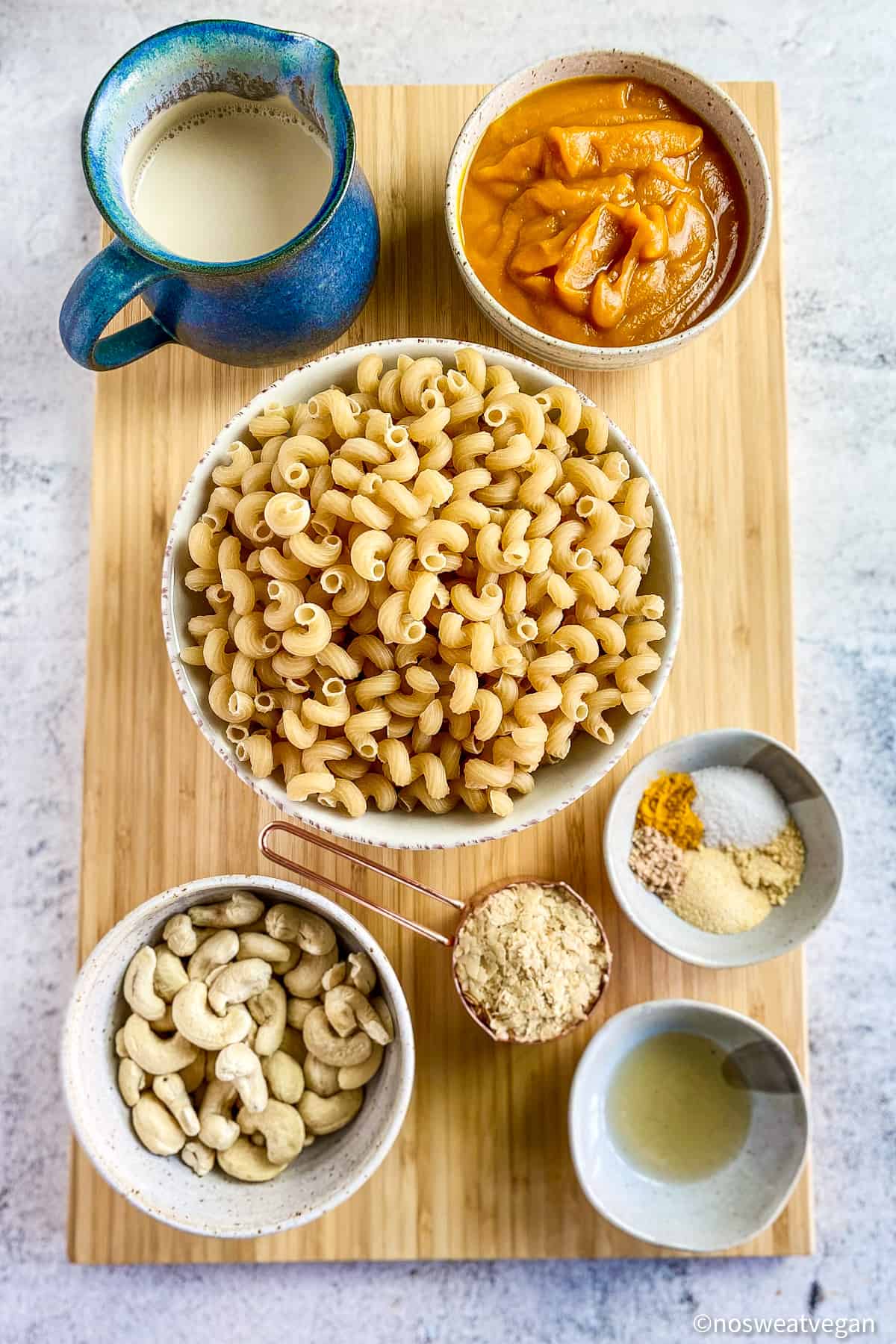 Ingredients
whole-wheat macaroni pasta: Any type of short pasta like penne or fusilli will work here.
raw, unsalted cashews: raw cashews make for a much creamier sauce. YOu could easily substitute with raw slivered almonds or sunflower seeds.
pumpkin puree: From a can or homemade.
soy milk: Any type of unsweetened plant milk will work here.
nutritional yeast: This adds a little cheesy flavor but if you're not a fan you can leave it out.
apple cider vinegar: For just a touch of acidity to brighten the dish.
turmeric: For a little added color.
nutmeg: Because nutmeg always compliments a cheesy pasta dish! I prefer to use whole nutmeg grated with a microplane becuase it has a better flavor.
*See recipe card for quantities.
---
Variations
Instructions
Start by boiling water for your macaroni in a large or medium pot. Cook the pasta according to the package directions.
In a smaller pot, boil the cashews for 15 minutes.
When the cashews are done, drain them and add them to a blender with all of the other sauce ingredients. Blend until smooth.
Taste the sauce and adjust the seasonings if necessary. If the sauce is too thick, you can add a few more tablespoons of soy milk until it reaches the right consistency.
Drain the macaroni and return to the pot. Add the vegan pumpkin cheese sauce and mix to combine.
Serve and enjoy right away!
---
How to serve
Vegan Mac and Cheese makes a perfect lunch, simple supper, or side dish!
If you're serving it as a stand-alone dish, throw in some frozen peas or air fryer broccoli to bump up the nutrition.
Pumpkin Mac and Cheese makes a delicious side dish for Thanksgiving, Christmas, or any night of the week. Some classic pairings include: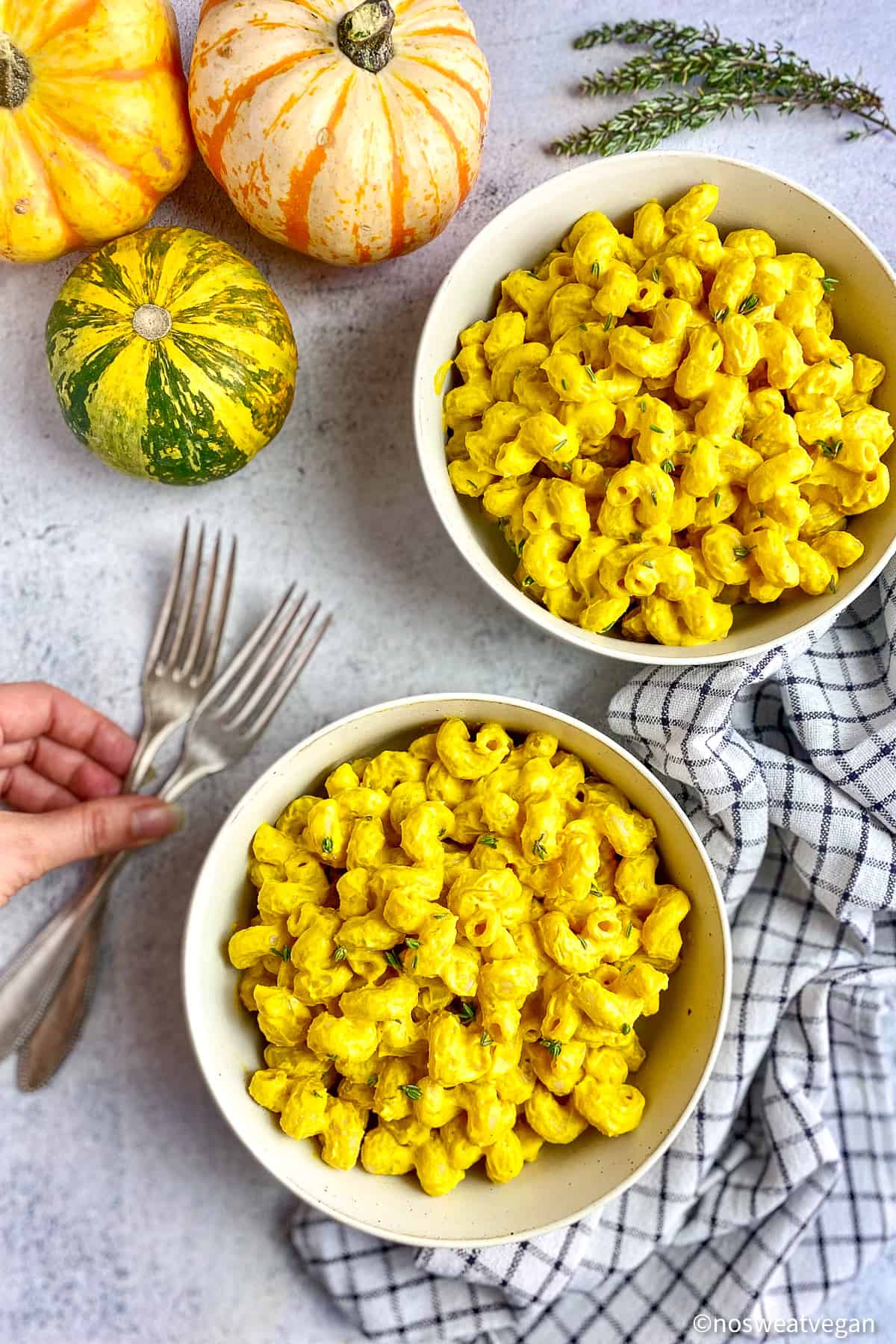 Can I make it ahead?
Yes! You can either make the sauce ahead and then reheat before adding to the cooked pasta. Or you can make the entire dish and reheat. In the case of the latter, I recommend reheating in a baking dish sprinkled with breadcrumbs for a delicious Vegan Baked Mac and Cheese.
How to store
Store any leftovers in an airtight container in the refrigerator for up to 5 days.
Do not freeze.
If you make a double batch of the sauce, it can be stored seperately and frozen for up to 3 months. Add 2 to 3 tablespoons of water when reheating.
Vegan fall recipes
---
📖 Recipe
Want access to my Exclusive Meal Planning Tips & Printables page?
Did you try this recipe? Have a question? Just leave a comment below and I'll get back to you ASAP!