When the weather is warm and the nights are long, nothing beats a summertime BBQ with family and friends. But what to do if you're vegan or vegetarian? Thankfully there are plenty of Vegan Grill Recipes and Sides to choose from. From Vegan Ribs to Veggie Burgers, WFPB Potato Salad to Baked Beans, this collection has you covered.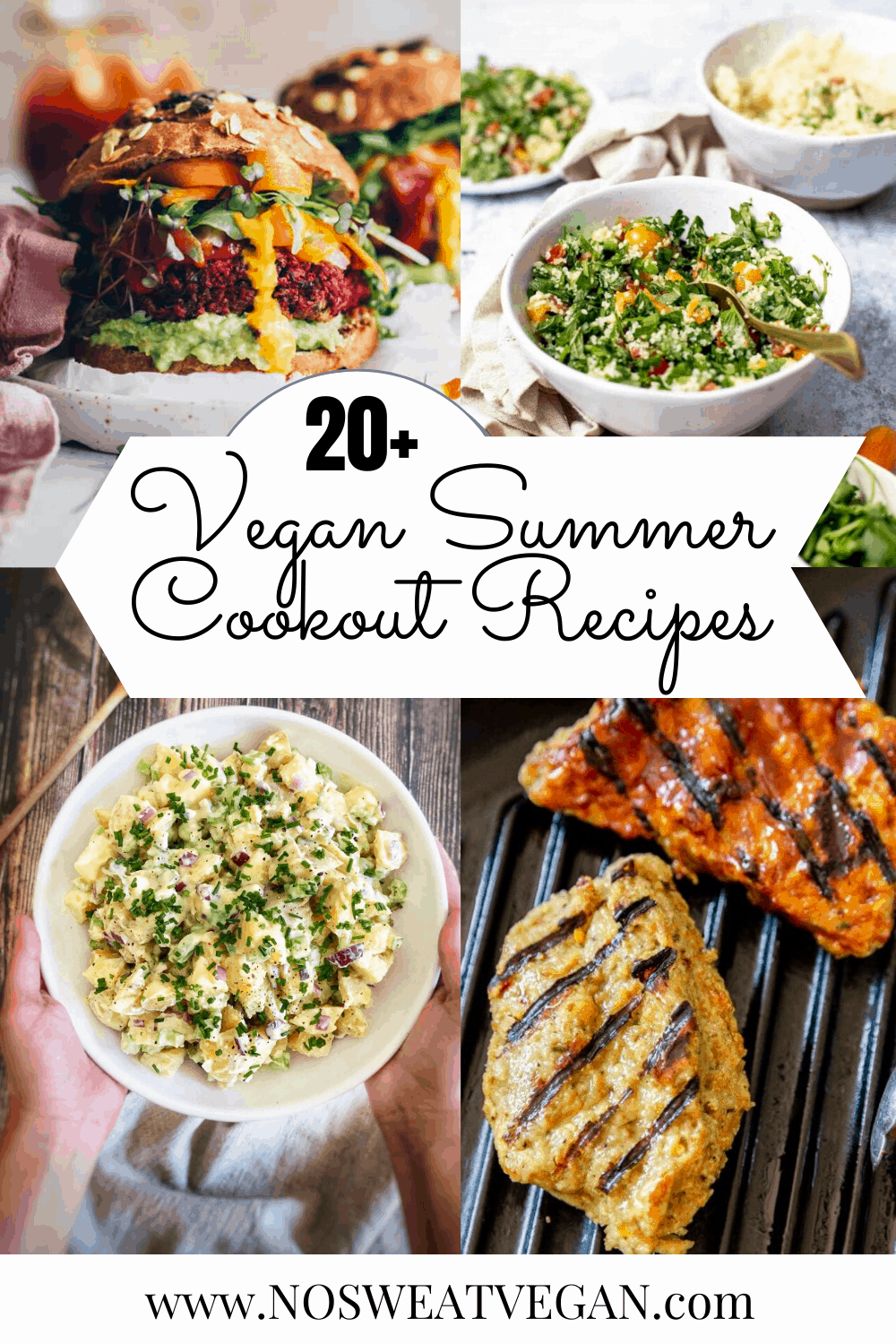 Whether you're gathering with friends for a special event, or just spending your Saturday afternoon grilling with family, there's something special about summer cookouts. But finding the best vegan summer cookout recipes can be hard. When you first start eating plant-based, you might even wonder if you have to give up your BBQ. Thankfully there plenty of delicious vegan recipes that are perfect for grilling. From vegan ribs to meatless sausages, veggie burgers to carrot dogs, I've got you covered.
And since no summer cookout is complete without delicious side dishes, I've also collected those here. Pasta salad, macaroni salad, potato salad--they're all here and they're all vegan. Plus a few surprises that might just become your new potluck staple.
Best of all, these Vegan Summer Recipes will appeal to vegans, vegetarians, and omnivores alike. That means you get to impress your friends and prove once and for all how delicious and amazing vegan food can be! No matter if you're planning a picnic, BBQ, cookout, or potluck these Vegan Grill Recipes are sure to please everyone.
Jump to:
---
These recipes are perfect for
Graduation Parties
Memorial Day
4th of July
Labor Day
Mother's Day & Father's Day
Summer Birthdays
Any Weekend BBQ
Savory sides
No summer BBQ is complete without an array of snacks, salads, and sides. Thankfully you can easily veganize all of your favorites! So whether you're hosting a fully plant-based cookout or you're attending a party and want to wow everyone with your amazing vegan dish, you're sure to find a crowd pleaser on this list.
---
This easy creamy vegan potato salad is so rich and delicious you'd never know it's oil-free. Perfect for serving at a summer cookout or picnic. Made with a silken tofu aioli, your non-vegan friends and family won't believe how much it tastes like the real thing!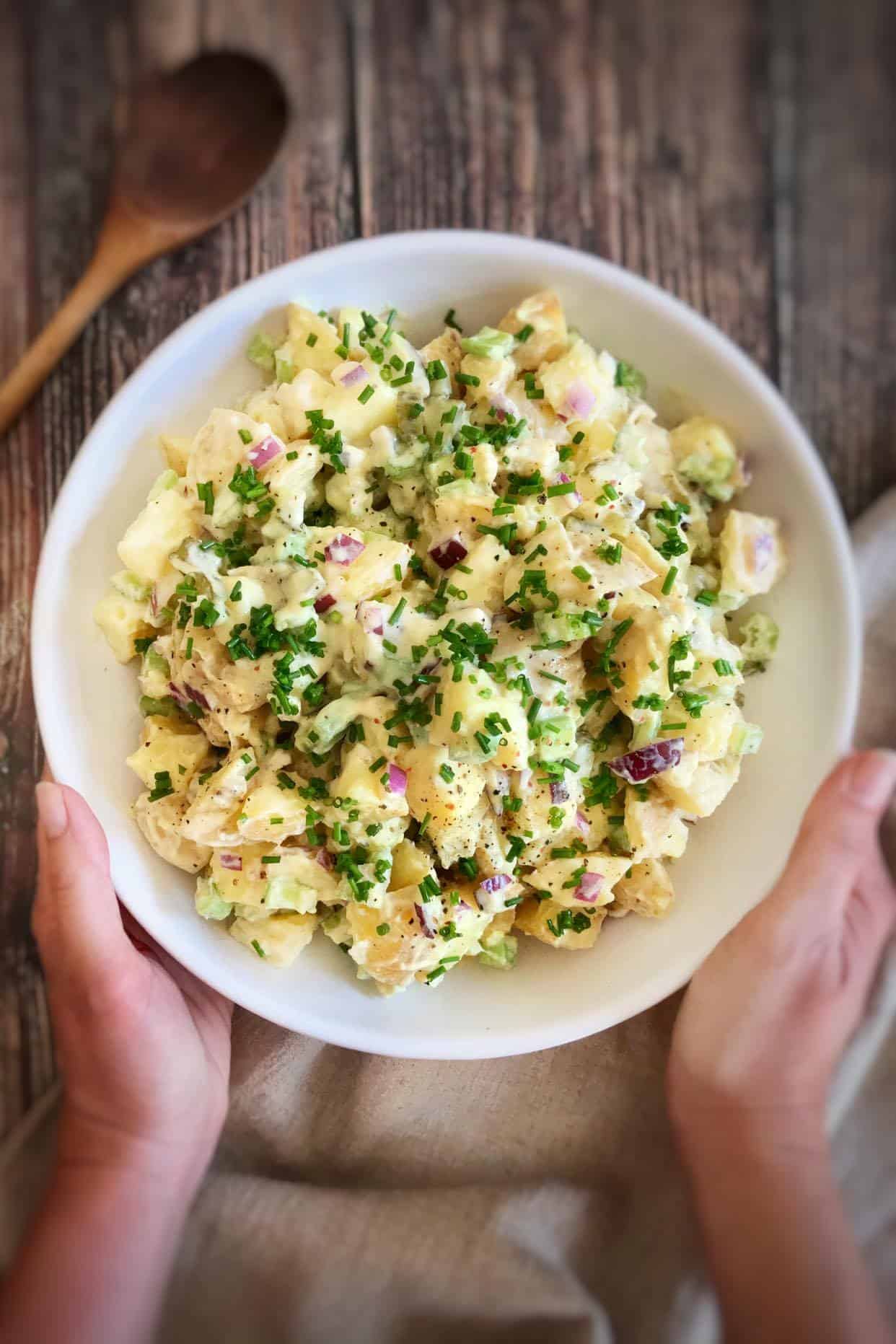 ---
This Southwest Lentil Pasta Salad is the perfect side for your vegan barbecue, plant-based potluck, or summer soiree. This flavor-packed side dish features gluten-free lentil pasta combined with an oil-free homemade vegan southwest ranch dressing tossed with black beans, veggies, and cilantro.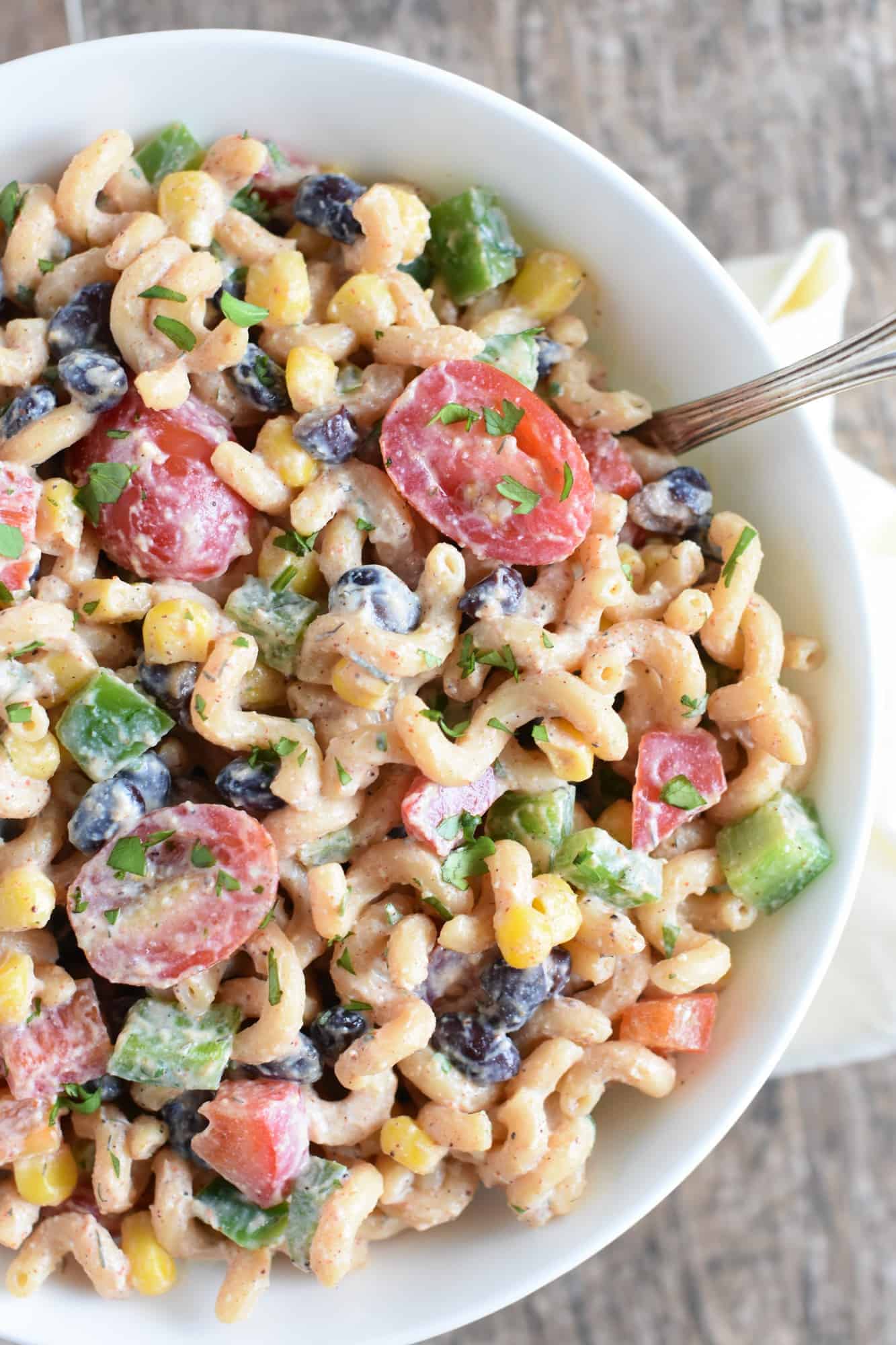 ---
This Vegan Broccoli Salad is creamy, crunchy, sweet, and salty. It's made with vegan bacon bits and a Cashew & Apple Cider Vinegar Dressing (instead of a mayo-based dressing). A healthier version of the potluck classic, it's perfect for sharing at your next BBQ, cookout, or holiday party.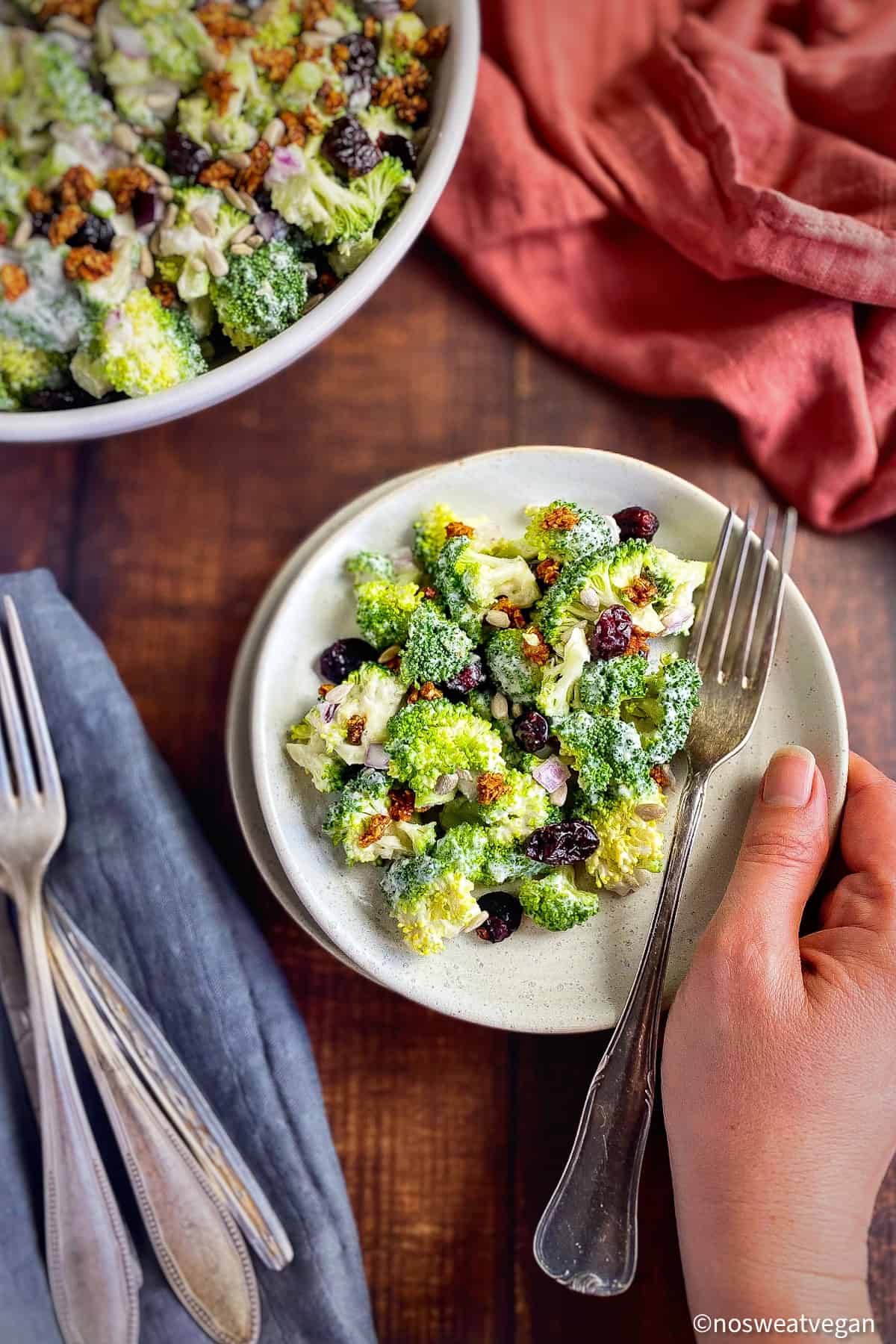 ---
A flavor bursting, healthy mango salad with refreshing cucumbers and red onions, drizzled with sweet and spicy dressing and topped with crunchy roasted peanuts. Best of all it is ready in 20 minutes!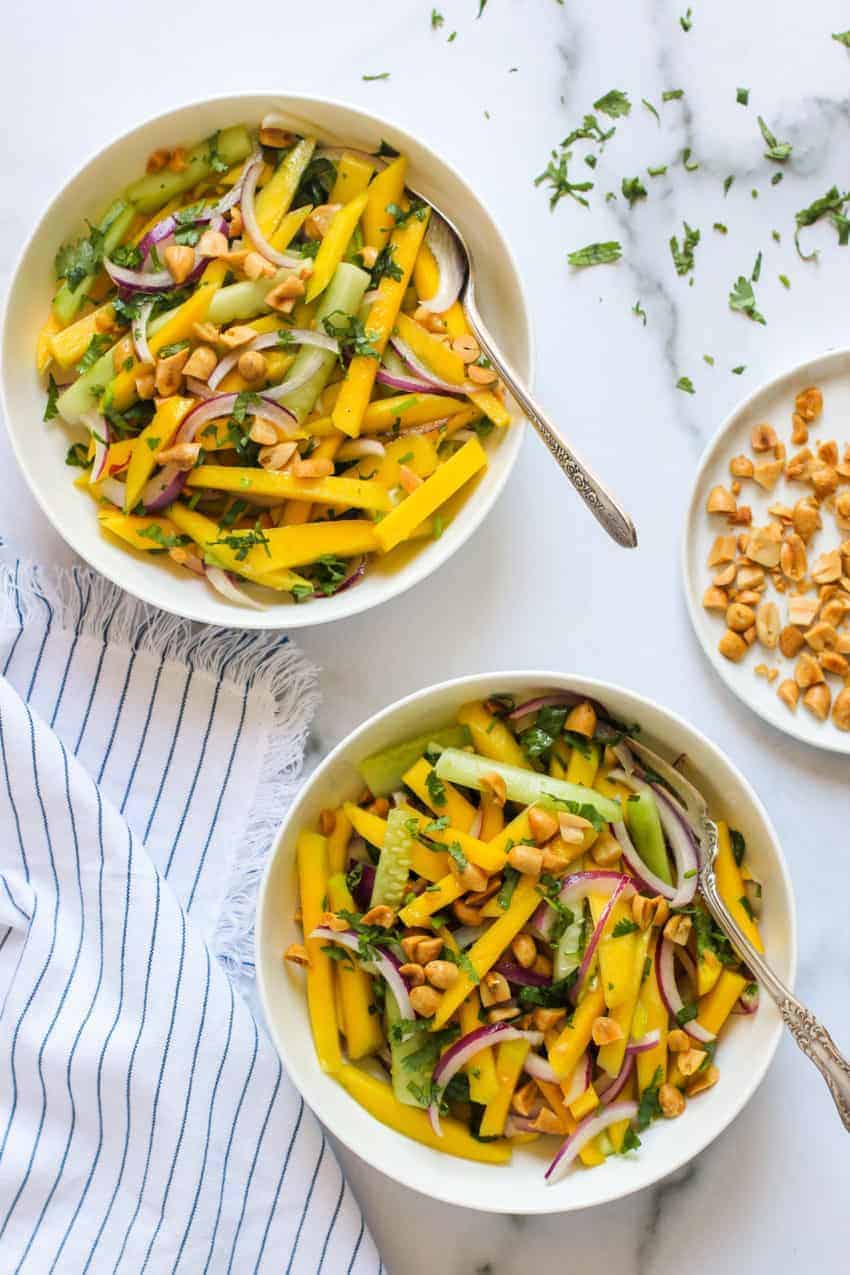 ---
This healthy and delicious broccoli salad with potatoes, peas, spinach, and fresh herbs is a great barbecue side dish or main meal. Ready in just 15 minutes.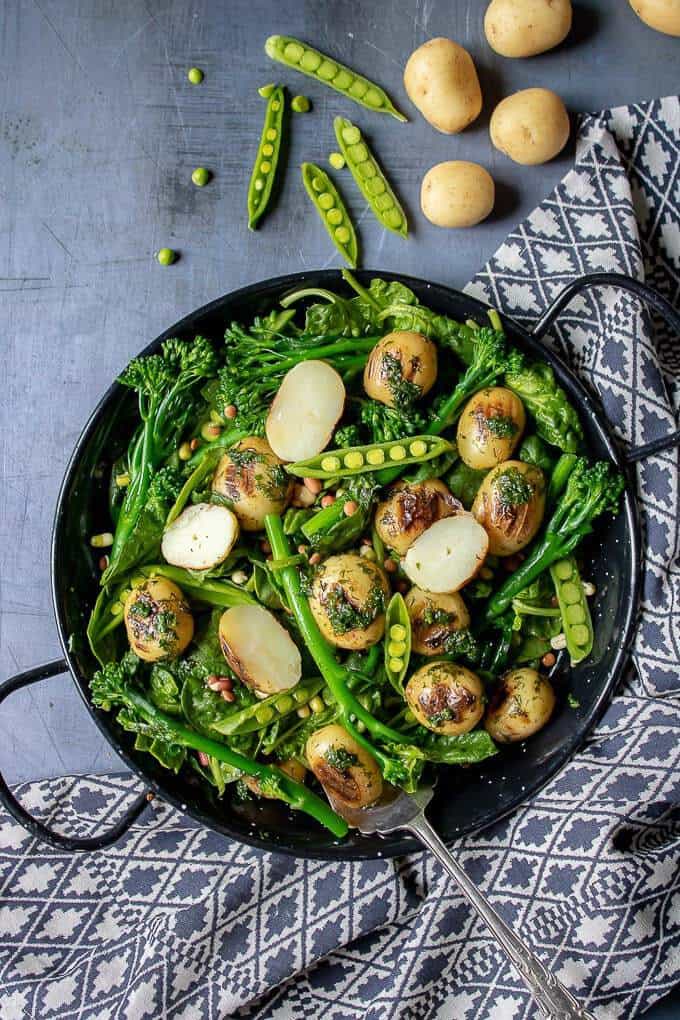 ---
Fun fusilli pasta, creamy vegan pesto, earthy chickpeas, and bright roasted vegetables, combine for a quick, easy, and colorful vegan pesto pasta salad. This recipe is oil-free but full of flavor. Serve cold as a perfect side dish for a summer cookout or warm as your main course.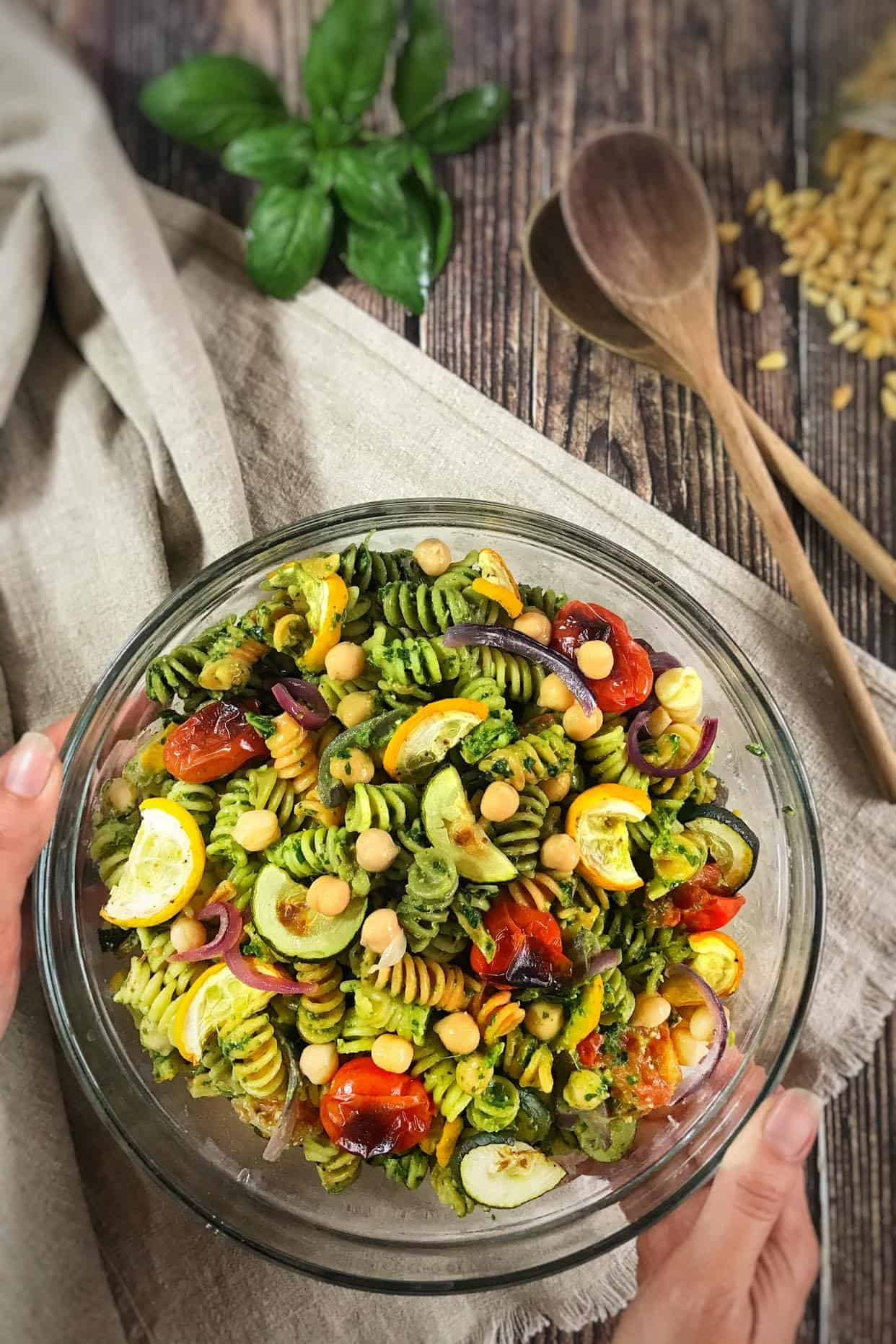 ---
If you haven't tried tabbouleh salad yet, you're seriously missing out. It's a traditional Lebanese dish that lifts up any meal while being absolutely packed with nutrients. Best of all? It's SO. EASY.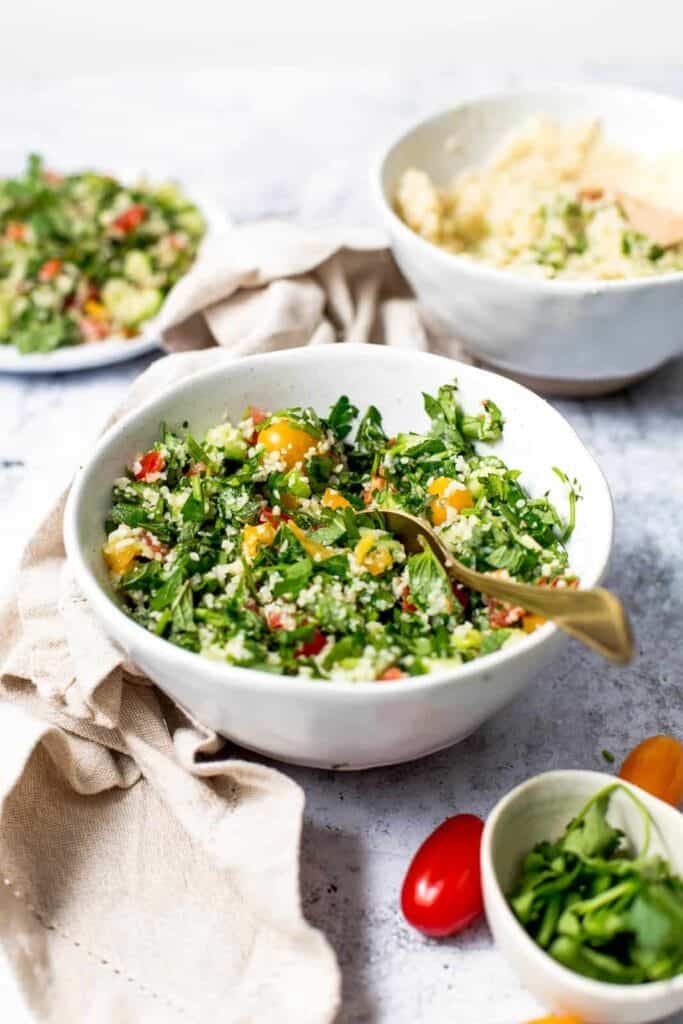 ---
This Zesty Quinoa Salad is full of vibrant flavors and colors. Made with black beans, mango, lime juice, and more, this salad makes a perfect BBQ side dish!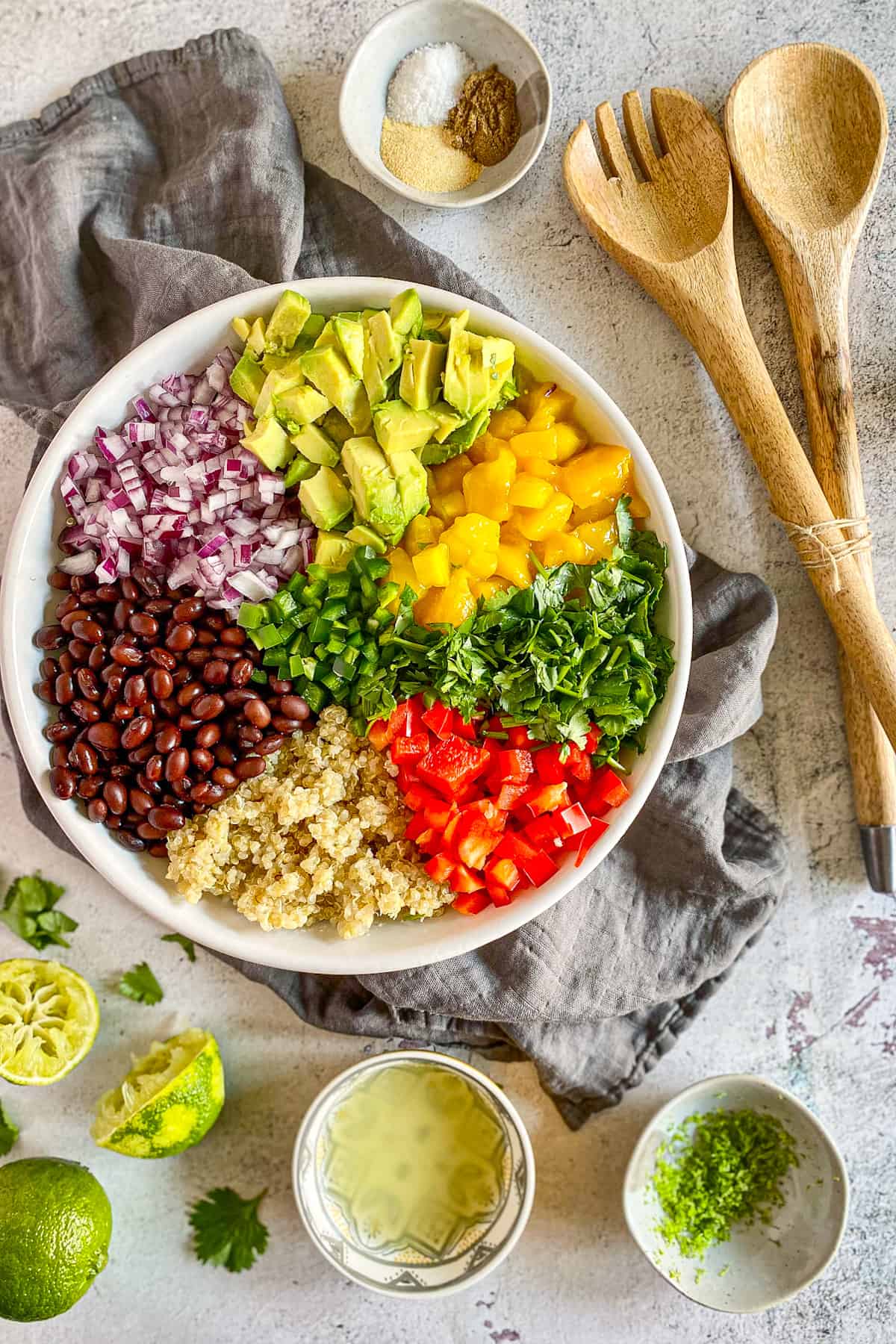 ---
Easy BBQ Baked Beans cooked in a delicious homemade BBQ sauce that's rich, savory, tangy, sweet, and smoky. Vegan, low-fat, delicious, and ready in less than 30 minutes!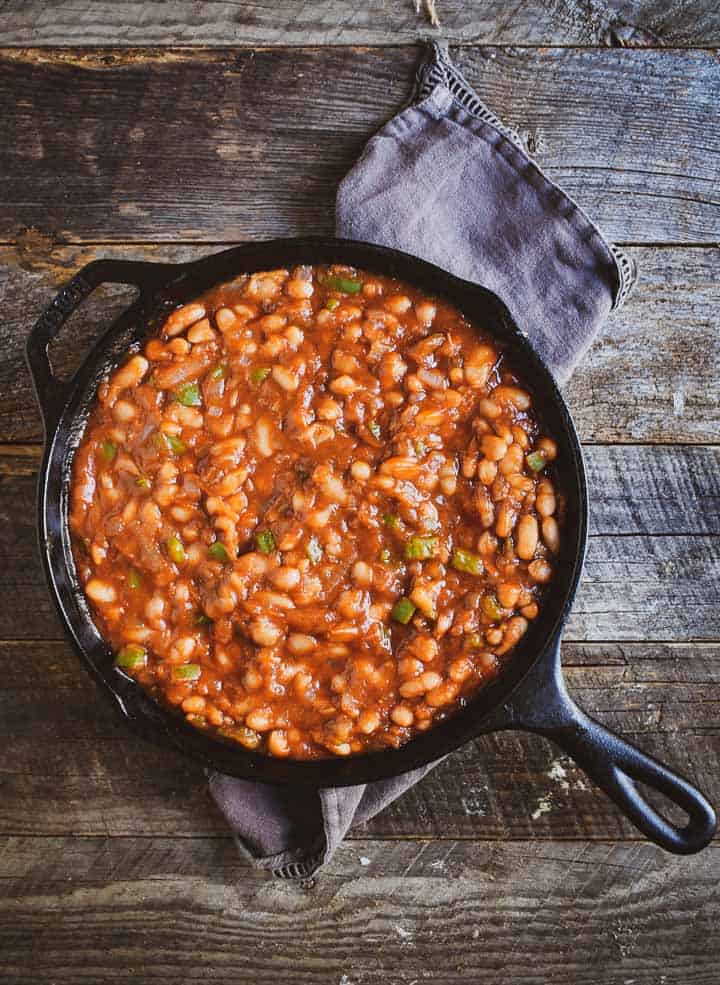 ---
This Vegan Spinach Avocado & Strawberry Salad is perfect for sharing at a BBQ or cookout. Pecans and vegan bacon bits add richness and crunch, while the creamy balsamic dressing adds tanginess.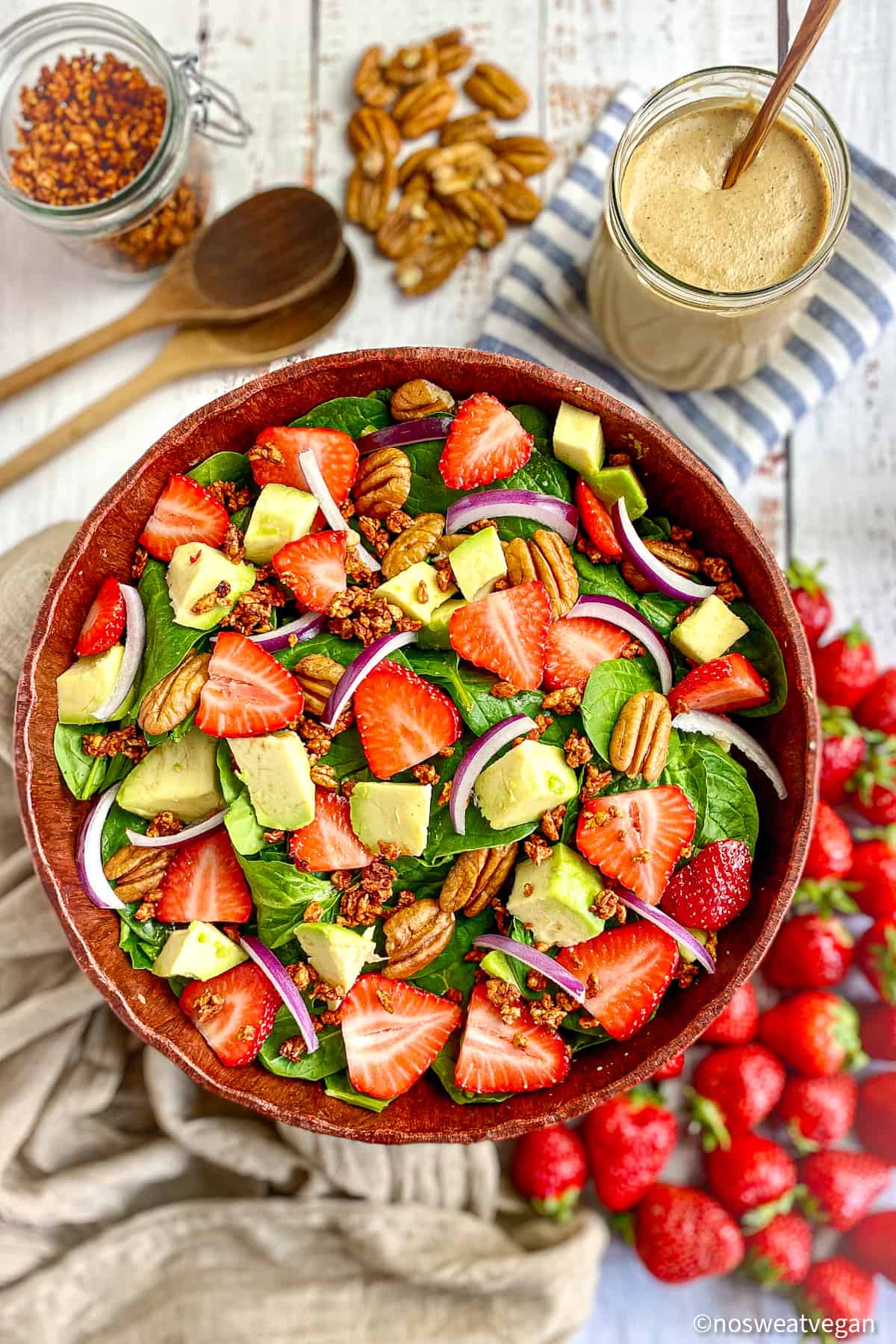 ---
Delicious vegan Mexican chopped salad with avocado dressing makes the perfect lunch salad or an easy side dish to any Mexican feast. This gluten-free salad is packed with fresh veggies, dietary fiber, and plant-based protein.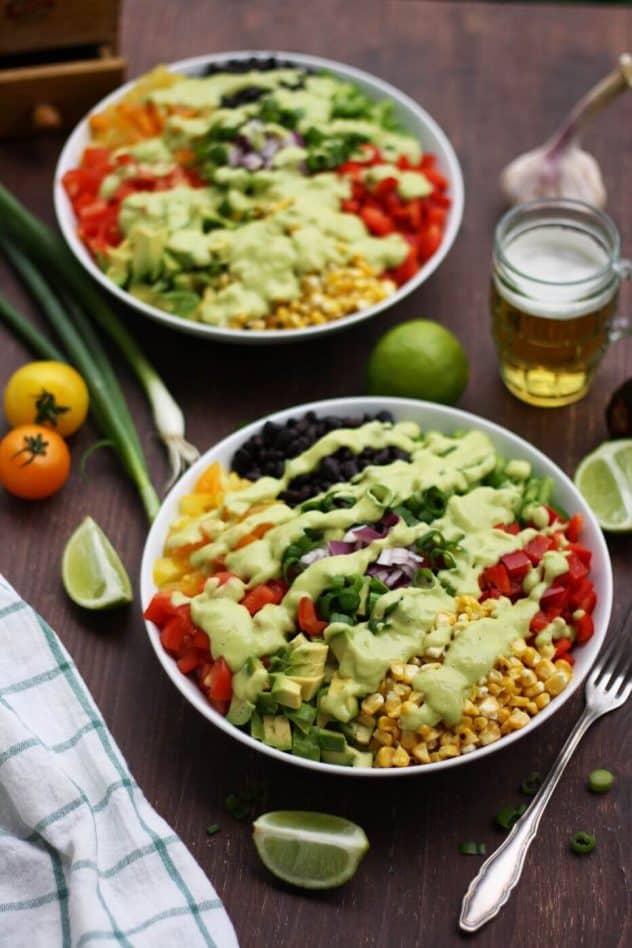 ---
This easy Vegan Kale Salad features crunchy kale, fresh fruits, crispy chickpeas, and a super creamy Tahini dressing. Perfect for a summer side dish!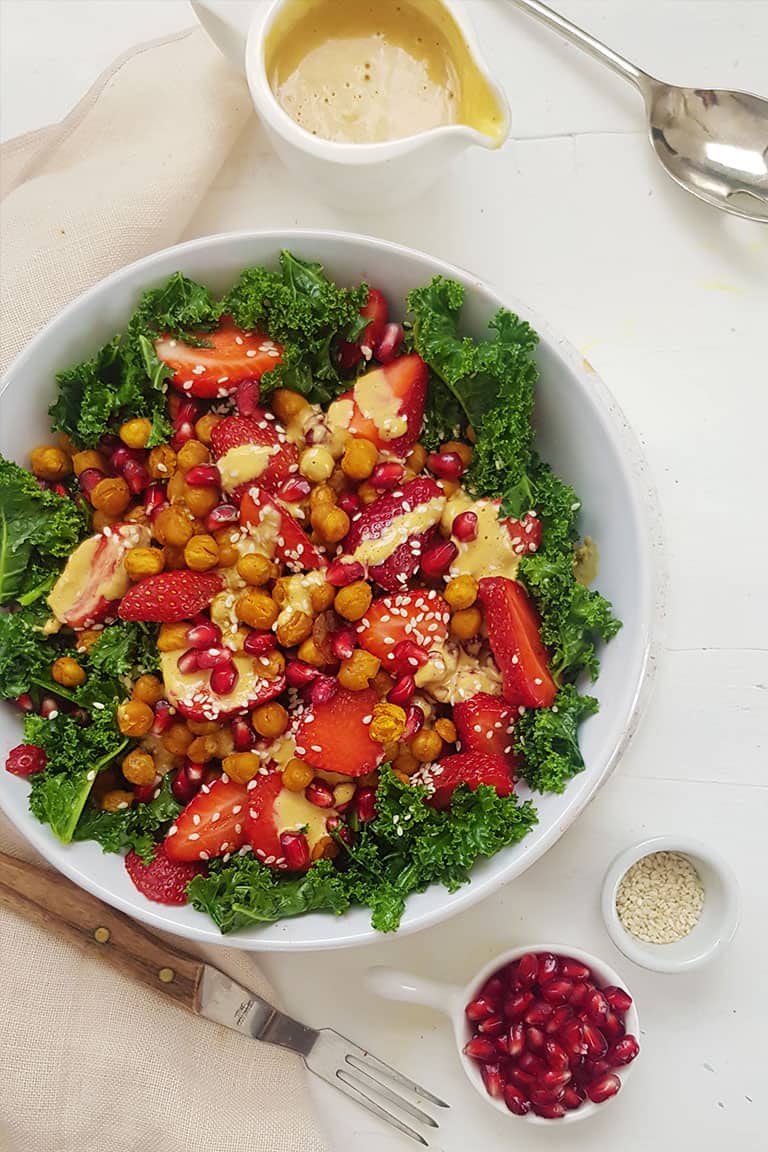 ---
This creamy vegan coleslaw is bright and colorful, with a decadent yet healthy oil-free silken tofu dressing. Perfect for topping a BBQ jackfruit sandwich or enjoy as a side dish. It's never been easier to eat your cabbage!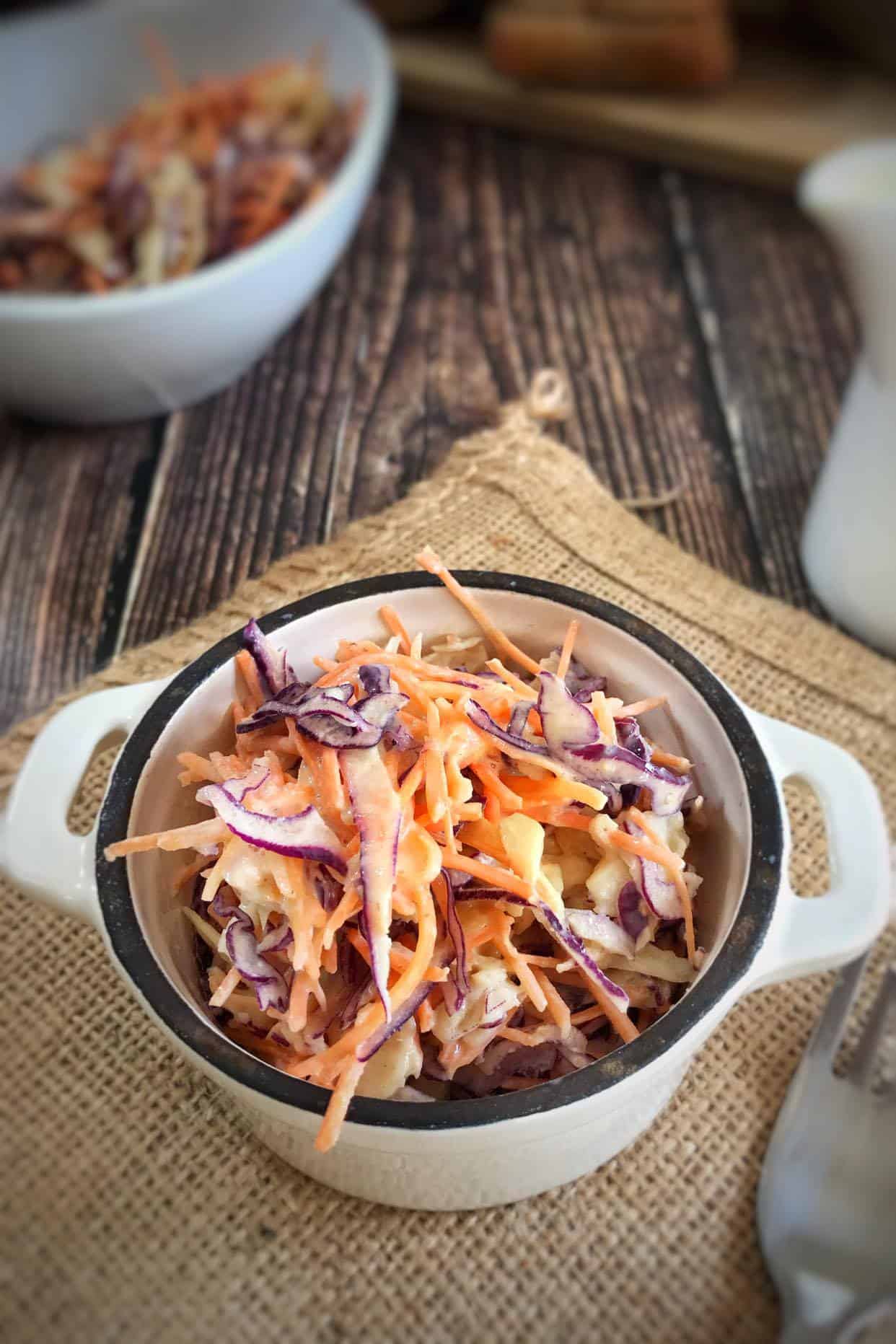 ---
Bring your next corn on the cob to the next level. This corn is dressed in a herb tahini sauce and grilled to perfection.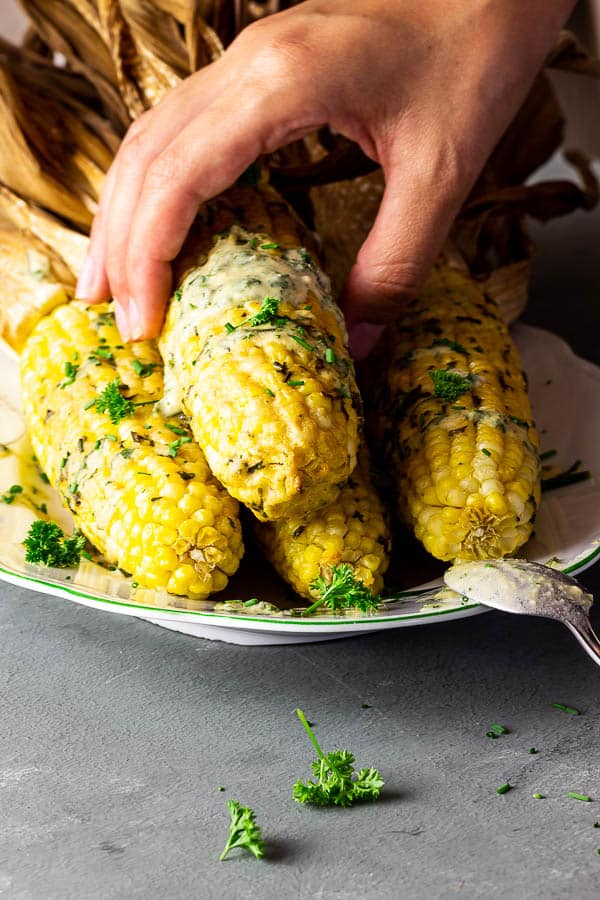 ---
Enjoy a taste of the tropics with this delicious vegan Caribbean salad. Cooked gungo peas are combined with grated carrots, mixed bell peppers, scallion, and avocado, and drizzled in a vinegar free sweet lime dressing.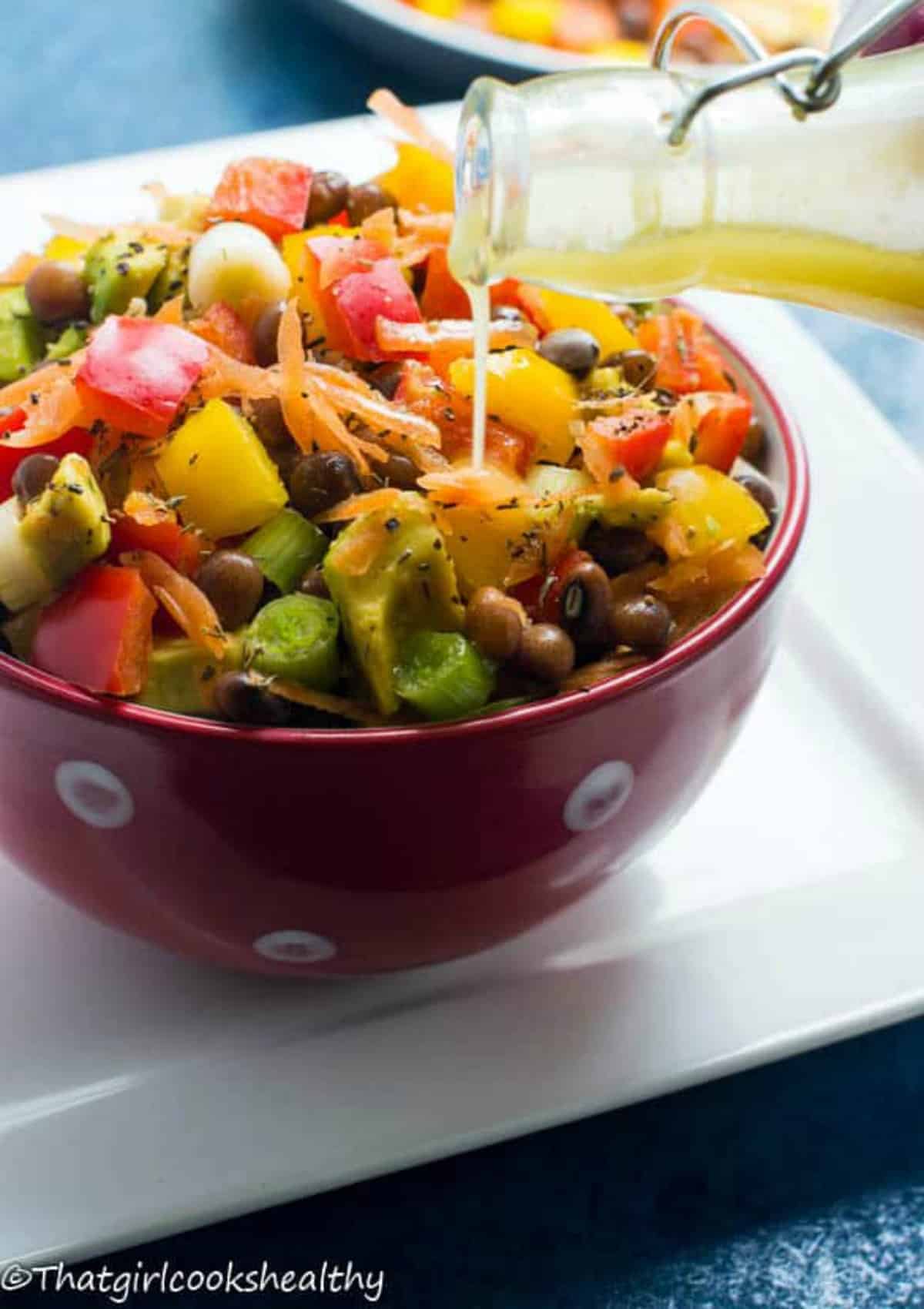 ---
Foil packet potatoes and corn is the perfect way to grill veggies. Add the ingredients to a foil packet and place on the grill. It's that easy!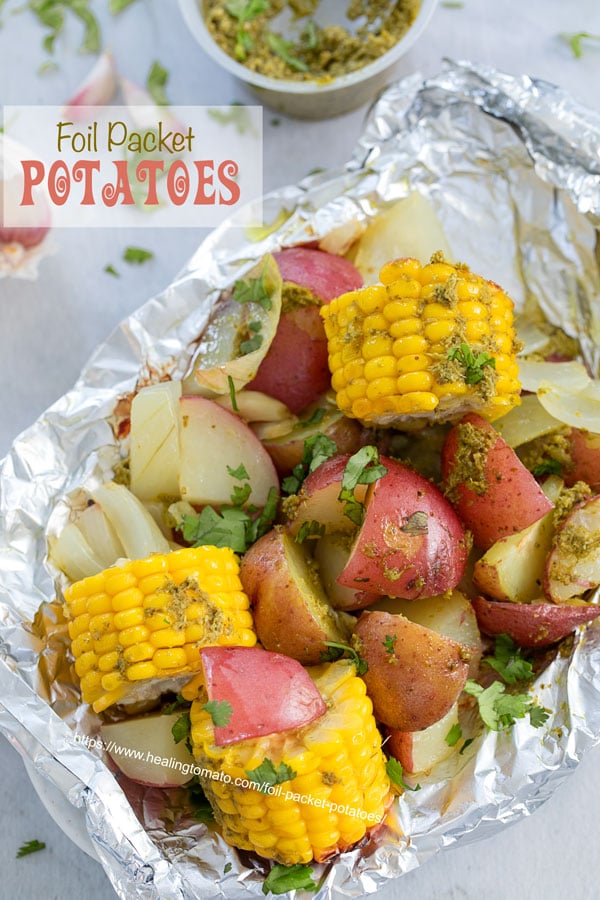 ---
Vegan grill recipes
Fire up the BBQ and throw on your favorite meat substitutes. These can be as simple as veggie kebabs or tofu skewers, but you can also make your own sausages, burgers, and "chicken." Check out these vegan grill ideas to see which suits your palate.
---
These spicy vegan seitan sausages are easy to prepare in advance and can be tossed right on the grill for reheating. The Andouille spice profile pairs nicely with summer's favorite side dishes.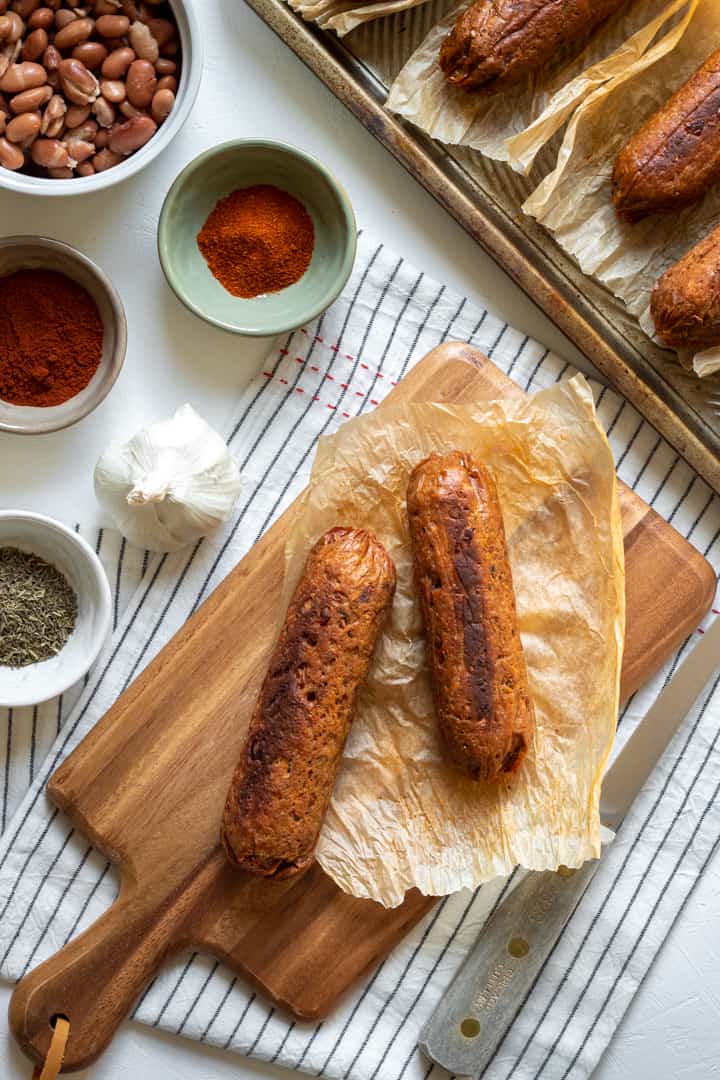 ---
These Grilled Portobello Mushroom Steaks are perfect for indoor or outdoor grilling. It's an easy recipe that takes less than 30 minutes from start to finish. Just marinate, grill, and enjoy!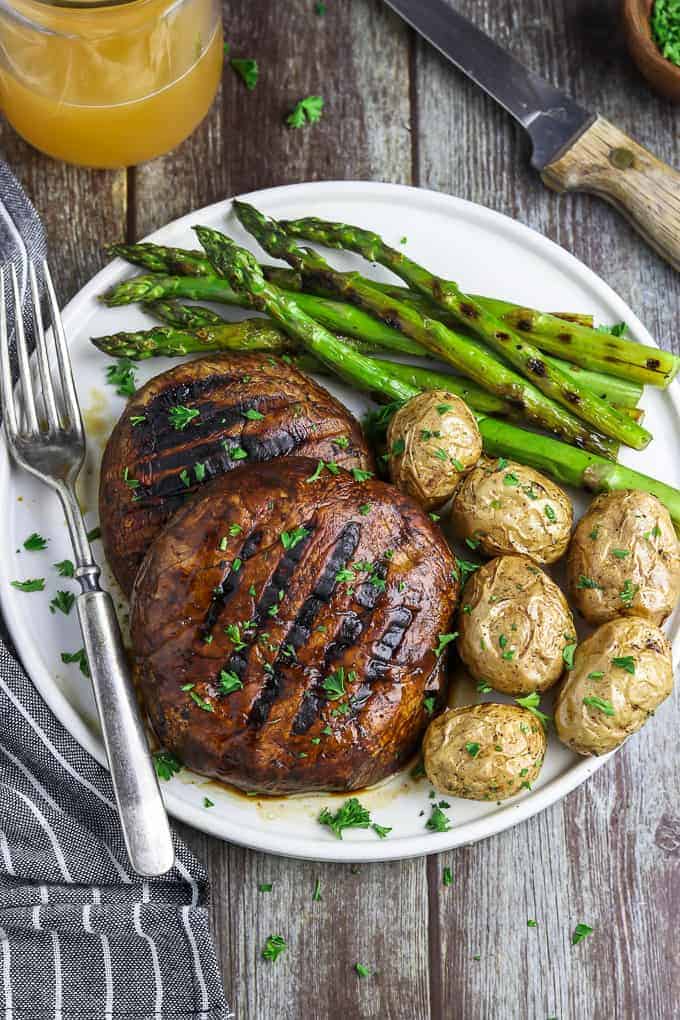 ---
Flavor packed and beautifully colored, these vegan beetroot kidney bean burger patties are the star at every BBQ, picnic, or dinner table! Seriously hearty and secretly healthy, they are crispy, protein-rich, gluten-free, and so easy to make. Meal prep-friendly, kid-friendly, and easily customizable.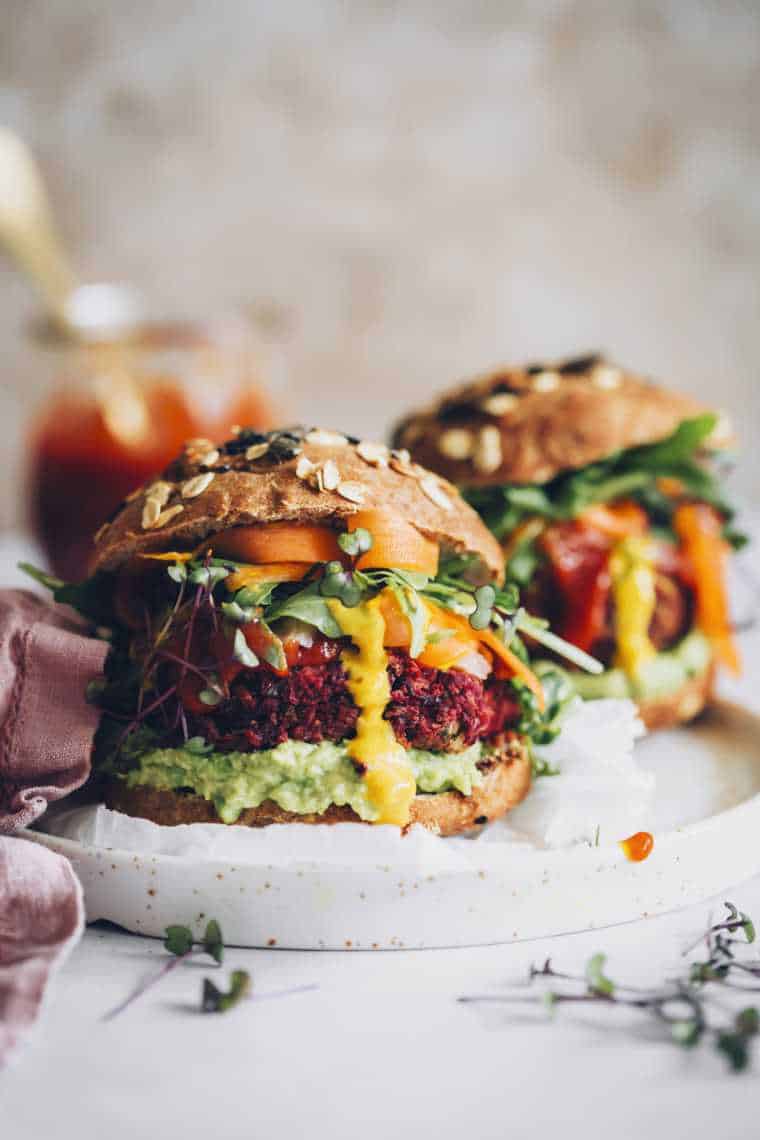 ---
Crispy lemongrass-infused tofu and tasty grilled veggies skewers. The flavor profile is off the charts!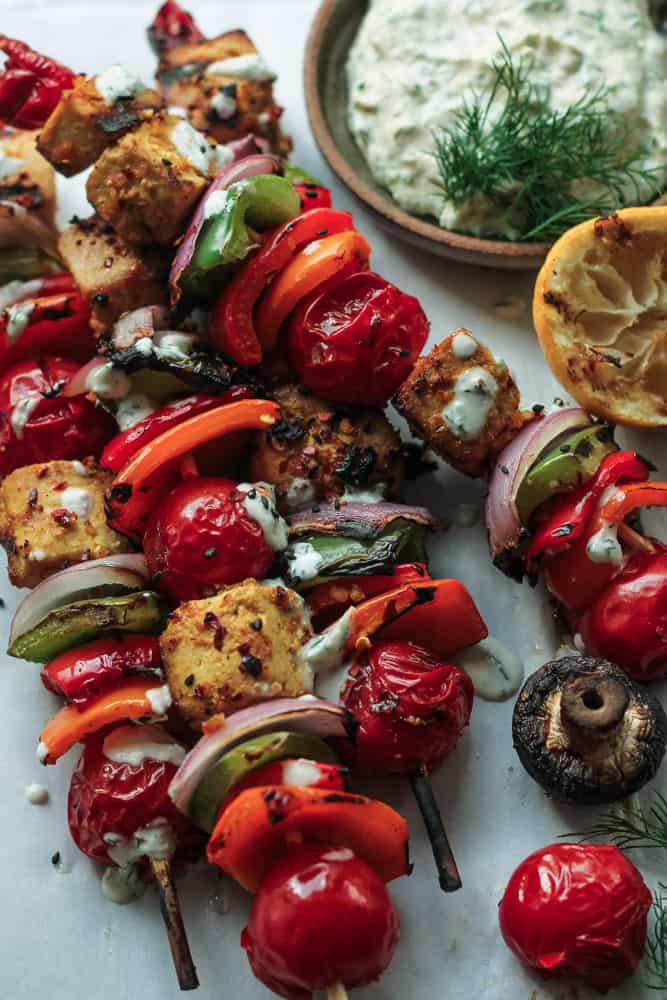 ---
These smokey, toothsome BBQ vegan ribs will please even the most committed meat-eater! Make them ahead of time and then throw them on the BBQ when you arrive at your cookout.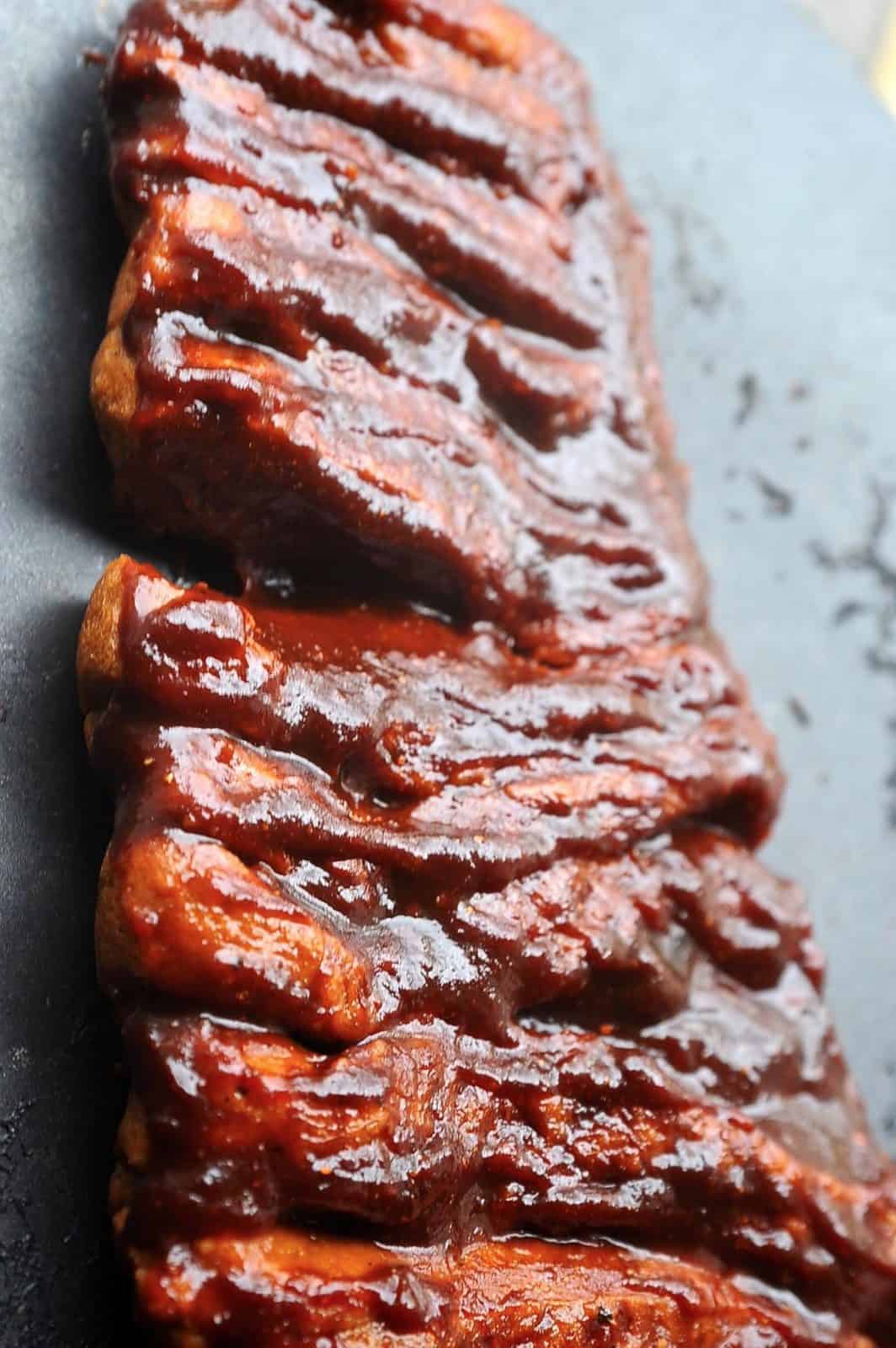 ---
Amazing, easy to make veggie burgers that hold together on the grill. Perfect for Summer BBQs!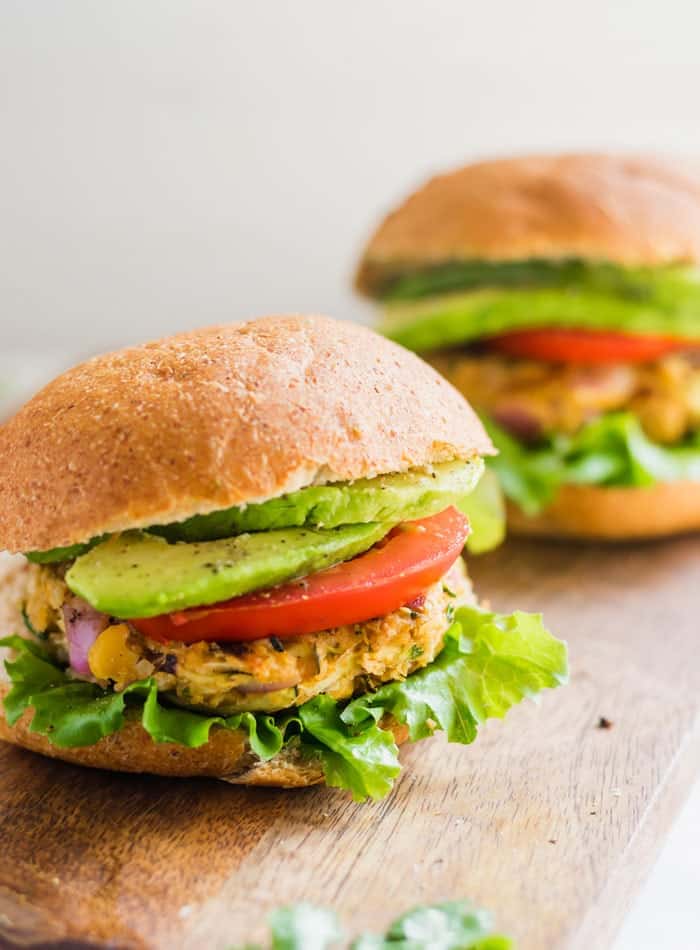 ---
This seitan chicken has a great flavor and texture. You can grill it as is or slather it with BBQ sauce. It's super easy to make and perfect for someone looking for a simple seitan recipe.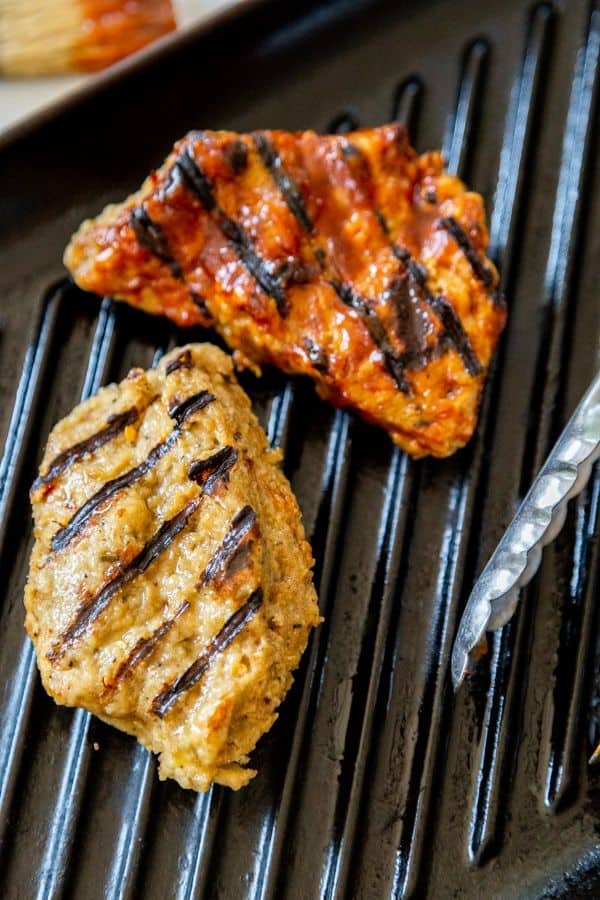 ---
Nothing says 'hello' to beautiful weather as much as when we fire up those grills for a plant-based "Slaw Dog" cookout! You won't believe the authentic hot dog taste that a simple, well-seasoned marinade creates.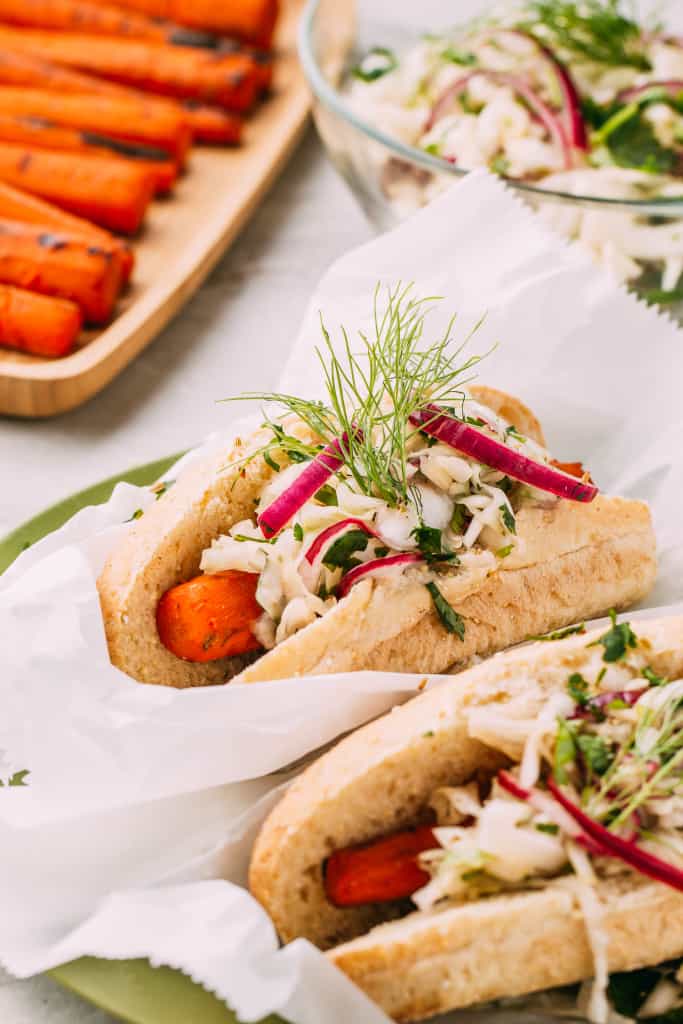 ---
Vegan grilled mushroom sushi that's dairy-free, soy-free, and the perfect grilled summer flavor bomb you've been looking for.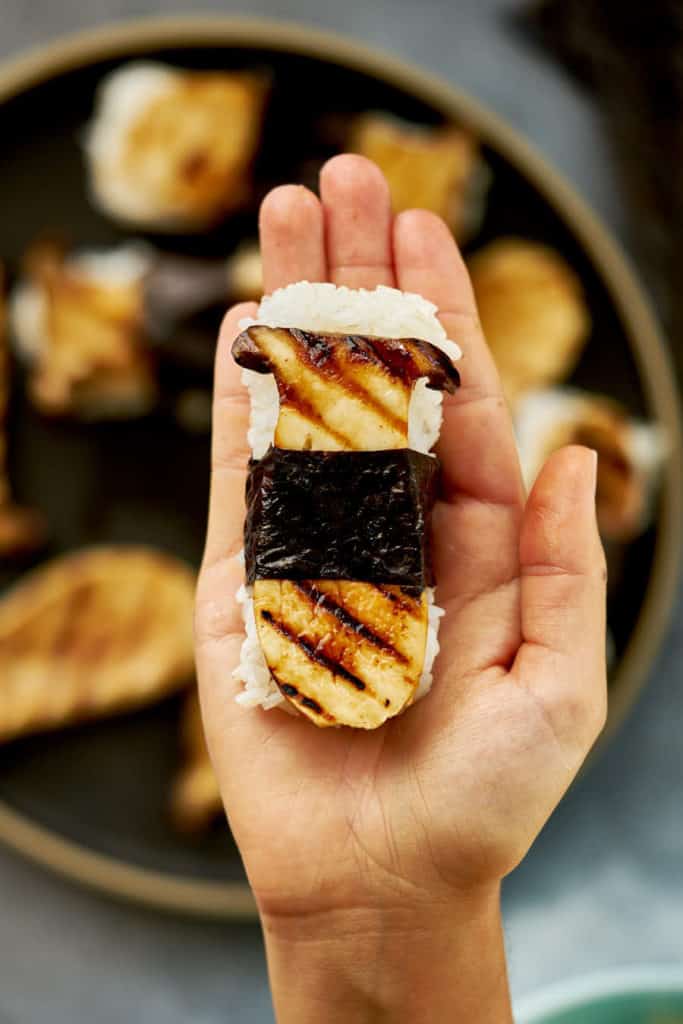 ---
These grilled tofu and vegetable skewers are a summer staple! Dressed in a sweet, unique island sauce, and cooked perfectly tender, you'll be throwing tofu on your grill all season long!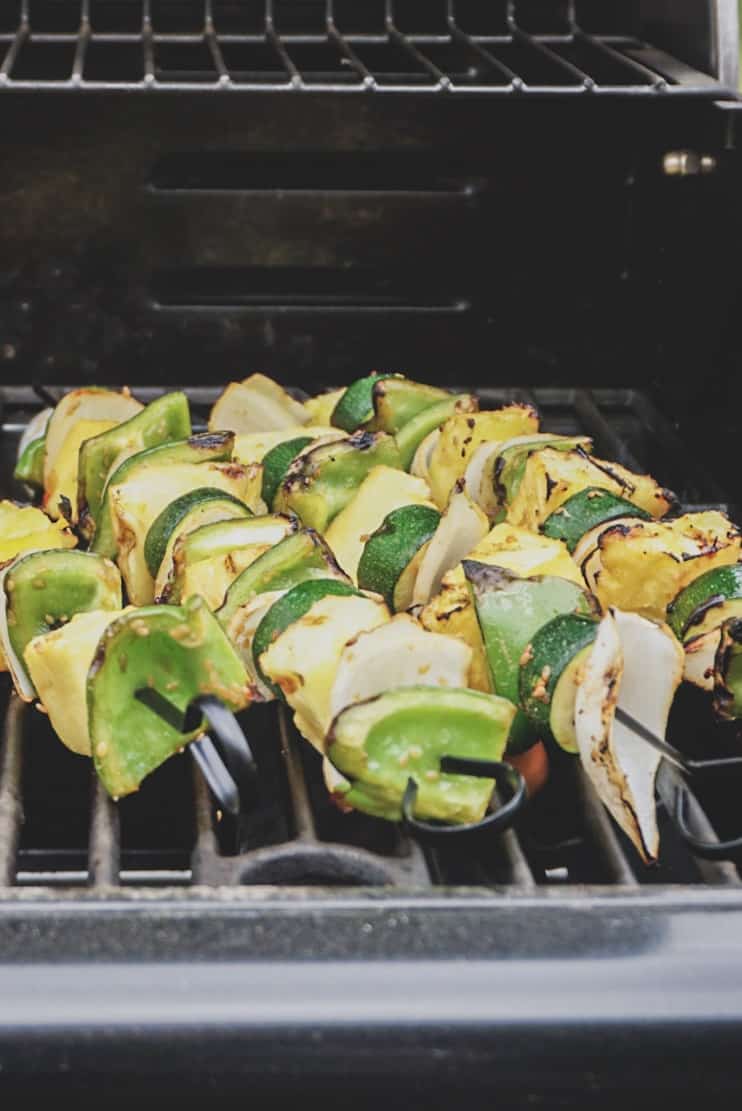 ---
Vegan summer desserts
If you're looking for delicious desserts to pair with your sides and mains, be sure to check out this roundup of the best Vegan Summer Dessert Recipes.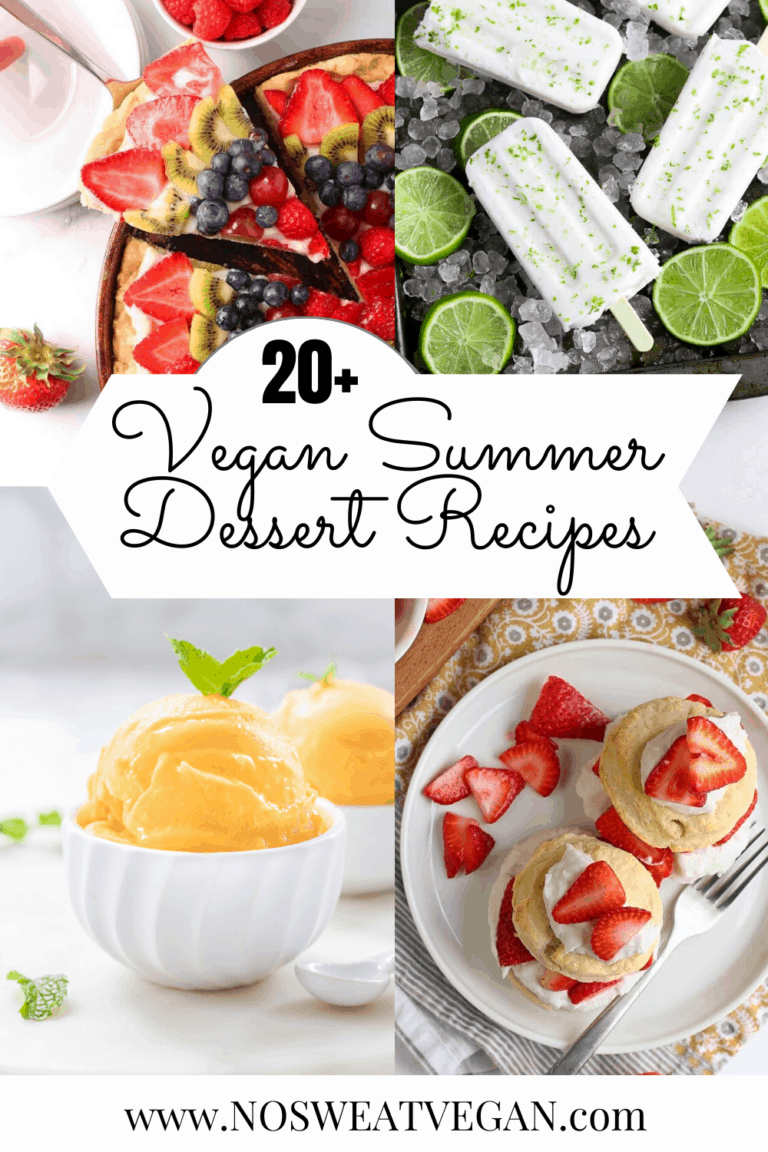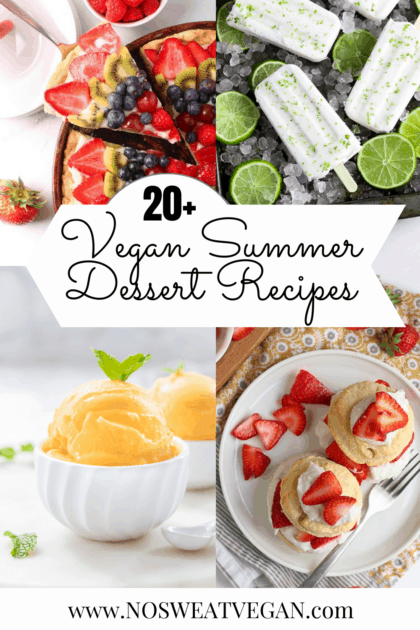 ---
Related Recipes
---
Want access to my Exclusive Meal Planning Tips & Printables page?
---
📖 Recipe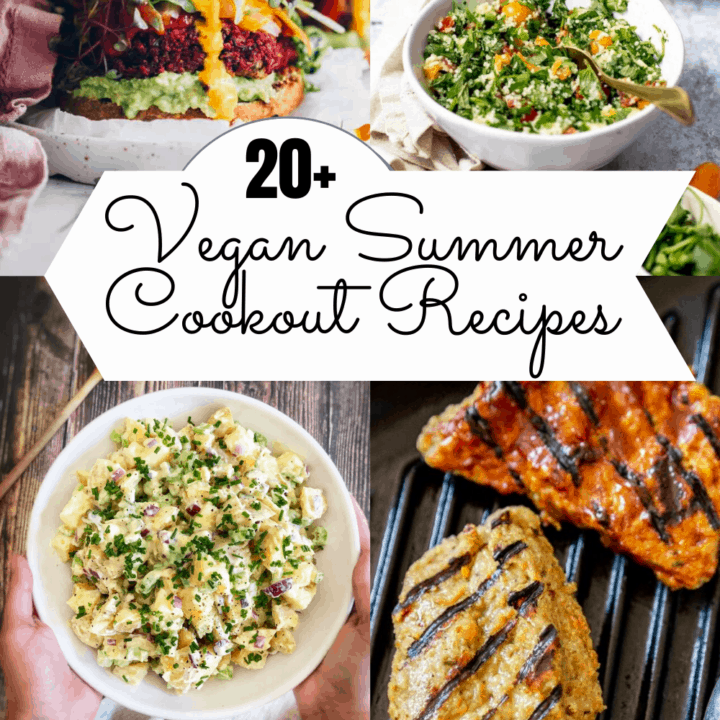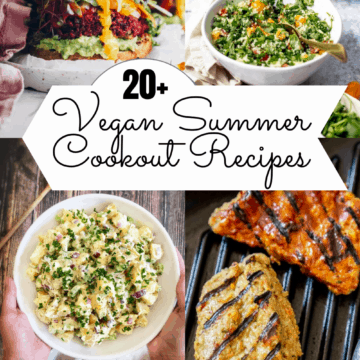 Vegan Grill Party Recipes
When the weather is warm and the nights are long, nothing beats a summertime BBQ with family and friends. But what to do if you're vegan or vegetarian? Thankfully there are plenty of vegan grill recipes and sides to choose from. From Vegan Ribs to Veggie Burgers, WFPB Potato Salad to Baked Beans, this collection has you covered.
Save this Recipe
Saved!
Have you tried a No Sweat Vegan recipe? I'd love to see a pic! Post it on Instagram and tag me @no_sweat_vegan.