This collection of the Best Summer Salads has everything you're looking for from light green salads to BBQ classics. All of these Vegan Salad Recipes are simple, refreshing, and delicious. They're perfect for light lunches, but they can also please a crowd. So dive on in and see what catches your eye!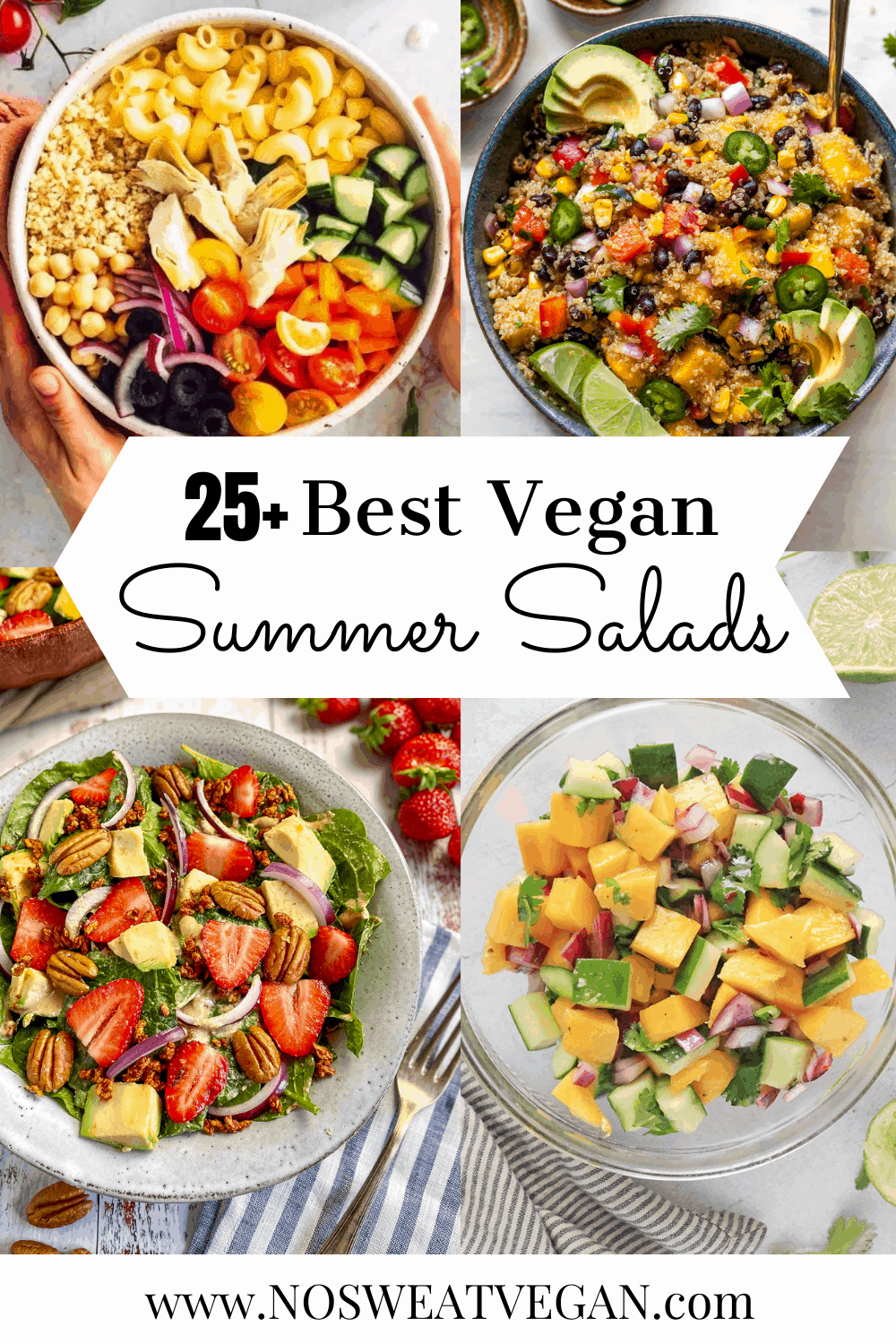 Ah, summer. Lazy days by the pool, outdoor dining, and the freshest produce of the year. Whether you've just hit up a farmer's market or you've found a great deal at your local supermarket, summer is the time for all things fruits and veg. So what better time of year for salads? These Refreshing Summer Salads are light, delicious, and easy to make. Everything here is vegan and many are WFPB (Whole-Foods Plant Based). They're perfect for hot nights when you don't want to cook and weekend BBQs when you need a crowd-pleasing dish to share.
Jump to:
You'll love these Summer Salad recipes because they're:
Light & Healthy
Refreshing
Vegan / Vegetarian
Dairy-free
Egg-free
Great for Lunch or Dinner
Perfect for Sharing
Absolutely Delicious!
When to Serve
Memorial Day
4th of July
Graduation parties
Birthday parties
Pool parties
Potlucks
Holiday buffets
Packed lunches or picnics
Any hot summer day or night!
What makes a good salad?
Contrary to popular belief, the word salad doesn't just denote a boring pile of iceberg lettuce and a bland dressing. In fact, "salad" more accurately refers to a mixture of different types of food, bound together with some kind of dressing or sauce--lettuce or greens are often in the mix but definitely not always.
I like to think of salads as having a combination of some or all of these qualities: fresh, salty, sweet/tart, acidic, crunchy, and creamy. I also like to include a few sources of protein like nuts, seeds, or tofu. A good salad will have at least three or four of these qualities. So when you're making up your own salad or making substitutions to a recipe, always think about striking a balance with the right elements.
A salad that's too sweet can be balanced with a salty element like nuts, vegan parmesan, or vegan bacon bits. Something too creamy can be sharpened with a nice acidic vinegar or pickled vegetables. And a salad that lacks crunch can be garnished with nuts, seeds, or croutons.
---
Make-ahead tips
If you're planning to make salads ahead of time for a BBQ or party, or if you want to meal prep a week's worth of lunches there are a few things to consider.
Green salads tend to get soggy and gross when you add the dressing and store it overnight. As a good rule of thumb, always keep the dressing separate and only add it right before serving.
On the other hand, salads where the main ingredients are potatoes, broccoli, or pasta can actually taste BETTER after a night in the fridge. However, garnishes like vegan bacon bits, chives, nuts, or seeds should be added right before serving.
Need more meal planning ideas? Check out my free Meal-Planning Tips & Printables Page.
---
Summer Salads with Fruit
Nothing says summer salad quite like a salad topped with seasonal fruit! From strawberries to mango, nectarines to peaches, these bright and refreshing salads are perfect for hot summer nights!
---
Classic BBQ Side Salads
Some summer salads are practically mandatory for every BBQ, cookout, or get-together. These veganized versions have all the creaminess and comfort you're looking for, so you'll have no problem sharing them with family and friends. Don't be surprised if people keep asking, Are you sure this is vegan? Give these recipes a try to find out!
---
Summer Pasta Salads
Who doesn't love a good pasta salad? They're starchy, delicious, and perfect for summer. Pasta salads are especially great for bringing to a cookout or BBQ because they're kid and omnivore-friendly. If you want to elevate your pasta salad game, give these a look!
(Oh, and in case you're wondering, couscous is actually considered pasta, so that's why it's listed here).
---
Green Salads
Ah, the classic green salad. But these aren't your typical iceberg lettuce snooze-fests. These Vegan Green Salads level up and give you a full meal that's anything but boring!
---
Bean & Grain Salads
Salads with a base of beans or grains are full of healthy protein and satisfy you without leaving you overfull. They're perfect for packed lunches since you can add the dressing ahead and store them in the fridge for several days, but they can also make a delicious side or dip for a summer shindig.
International Salads
Ready to wake up your taste buds? These refreshing summer salads are all inspired by international flavors. They're perfect as stand-alone meals, BBQ side salads, or make-ahead lunches. These flavor-forward salads are just what you need to get you out of your salad rut.
---
I hope you found a vegan summer salad you love in this collection! If you tried one be sure to let me know in the comments. And if you don't see your favorite on the list, let me know and I'll do my best to add it.
More recipe collections
---
📖 Recipe
Want access to my Exclusive Meal Planning Tips & Printables page?
Did you try this recipe? Have a question? Just leave a comment below and I'll get back to you ASAP!