Ready to pack up an Epic Vegan Picnic? Then check out this collection of Vegan Picnic Ideas and Recipes. From Snacks and Dips to Sandwiches and Desserts, you're sure to find all the inspiration you need.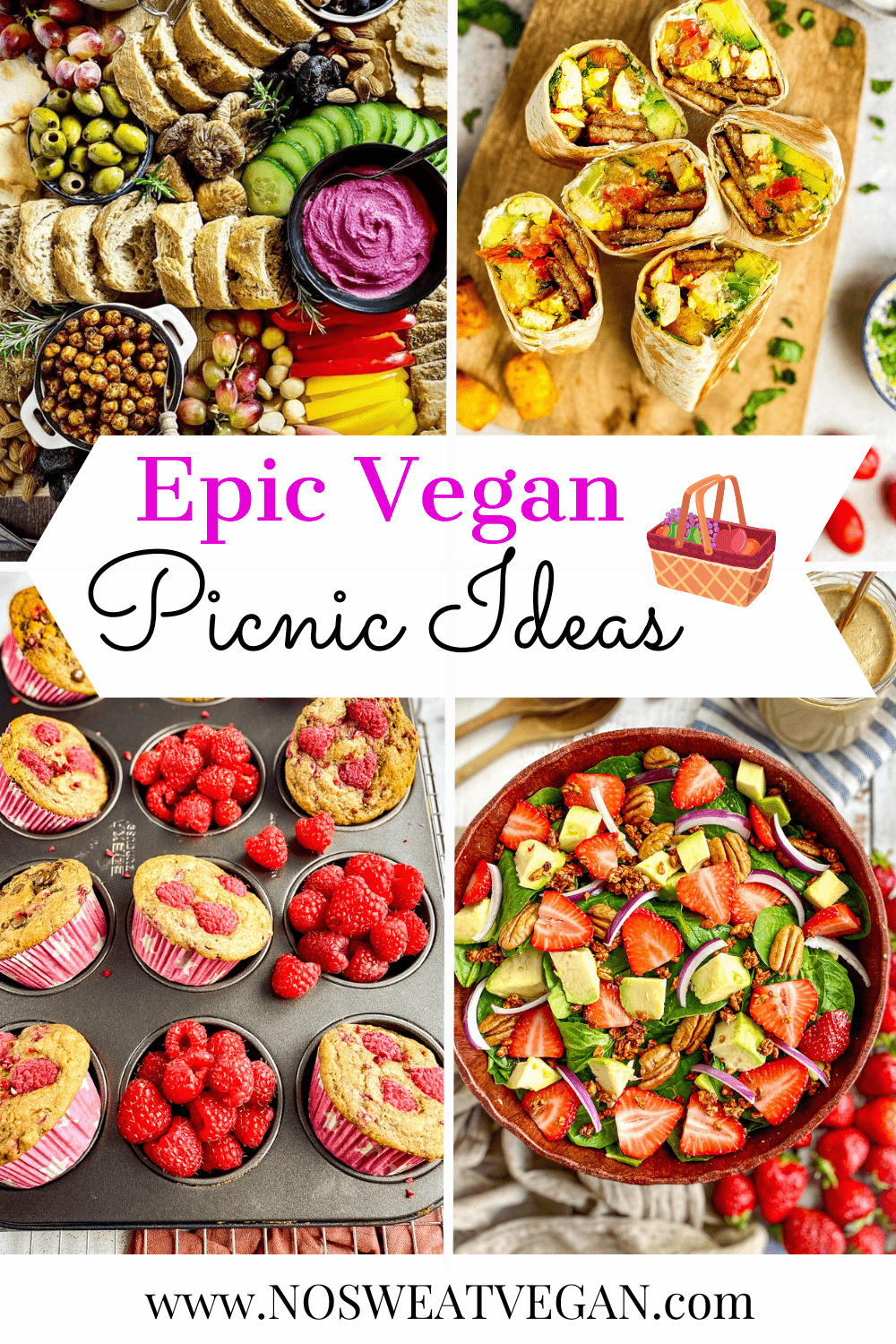 Nothing says summer quite like a picnic! But what to do if you want to keep it plant-based? Not to worry! This collection offers an array of vegan recipes and ideas that are sure to please a crowd! Move over soggy sandwiches and greasy potato chips! This collection of Vegan Picnic Ideas will take your picnic game to a whole new level!
I love packing picnic lunches for my family. Whether it's a long pool day or a lazy afternoon in the park, I'm always ready to pack up a cooler and spread my picnic blanket with an array of goodies.
In this post, I want to first break down the components of a good picnic, and then share some recipes that are perfect for packing. Let's get started.
Jump to:
You'll love these Vegan Picnic recipes because they're:
Quick & Easy
Vegan / Vegetarian
Easy to make Gluten-Free
Easy to make WFPB
Perfect for picnics, packed lunches, potlucks, and more!
Simple & Delicious!
---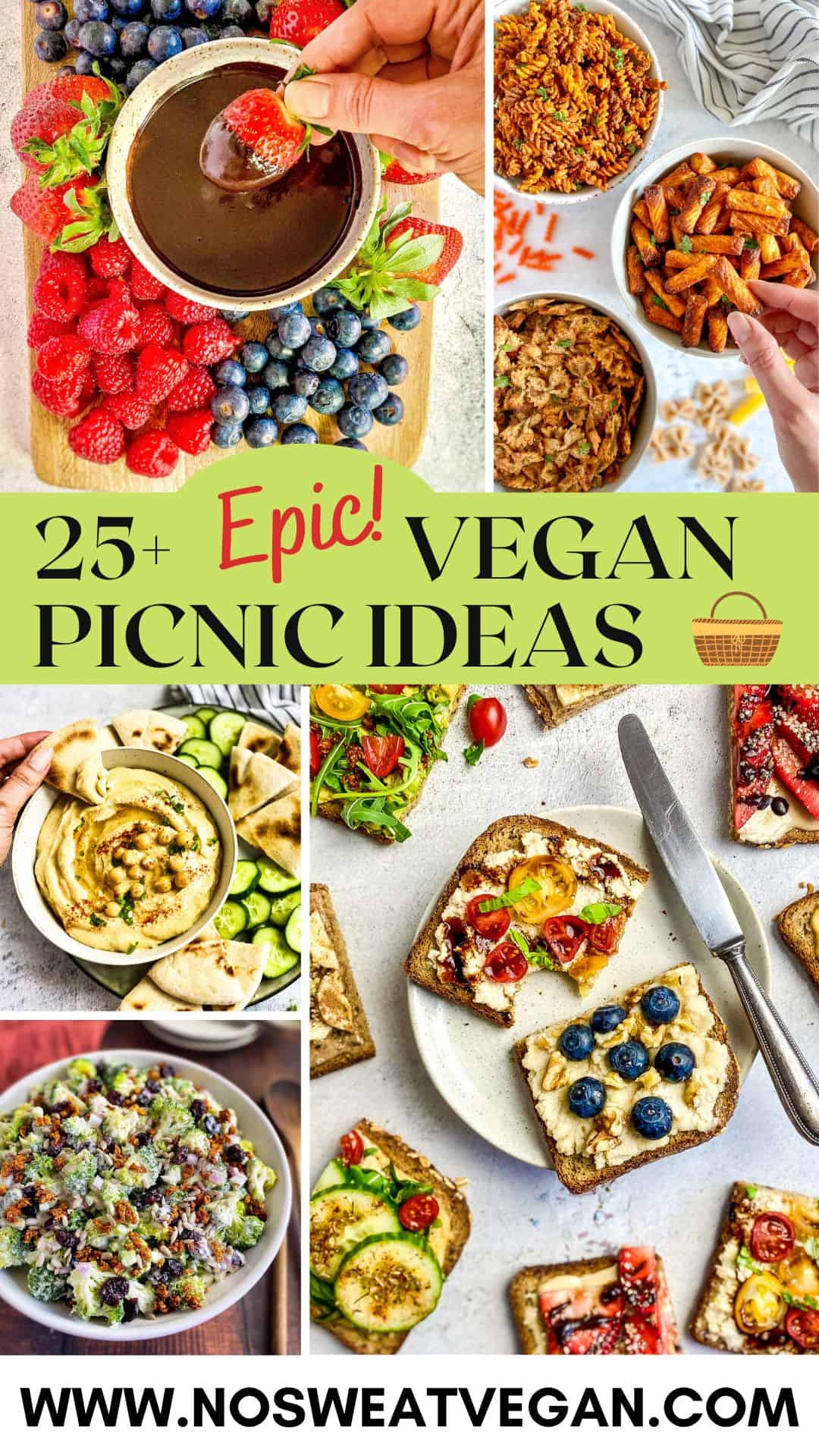 Tips for packing an epic vegan picnic!
To me, the key to an amazing picnic lies somewhere in the center of variety and simplicity. I want to "make" a recipe or two, and fill the rest of my Tupperware with super easy components like fruits, veggies, olives, etc.
Whenever I pack for a picnic, I also think about including a variety of simple sweet and savory foods. Just like any vegan meal, you want to be sure to include fruits, vegetables, carbs, healthy fats, and proteins.
Let me break down some of my favorite choices when packing a picnic lunch.
Best Picnic Fruits
Fruit is great on its own or you can pair it with a dipping sauce (yogurt, nut butter, or chocolate sauce are all great choices). When it comes to what fruits to pack, I think almost anything you like is perfect for a picnic.
Some of my personal favorites include watermelon, strawberries, raspberries, grapes, apples, and cantaloupe. Dried fruits like raisins, craisins, apricots, and figs are also a great choice.
Pro-tip: If you pre-slice your apples, toss them with a little lemon juice or orange juice to keep them from going brown.
Best Picnic Veggies
When picking veggies for a picnic, I usually go for the ones my kids and I like eating raw. That includes cucumber slices, cherry tomatoes, baby carrots, and snap peas. Bonus because these all require little to no prep work. Bell peppers are also great but need a little more time to prep.
Pro-tip: Pair your veggies with a dip like this oil-free hummus for a little added protein.
Best Picnic Carbs
No picnic is complete without a little carby goodness. Pretzels and crackers are an easy choice that kids will love. I'm personally fond of grabbing a baguette for pairing with a variety of spreads.
Healthy Fats & Protein
If you're an olive lover like me, then no picnic is complete without an array of olives! Guacamole is also a great choice for pair with tortilla chips, bread, or veggies.
You can get your protein from hummus, bean dips, nut butter, tofu, or tempeh--see the recipes below for those last two.
---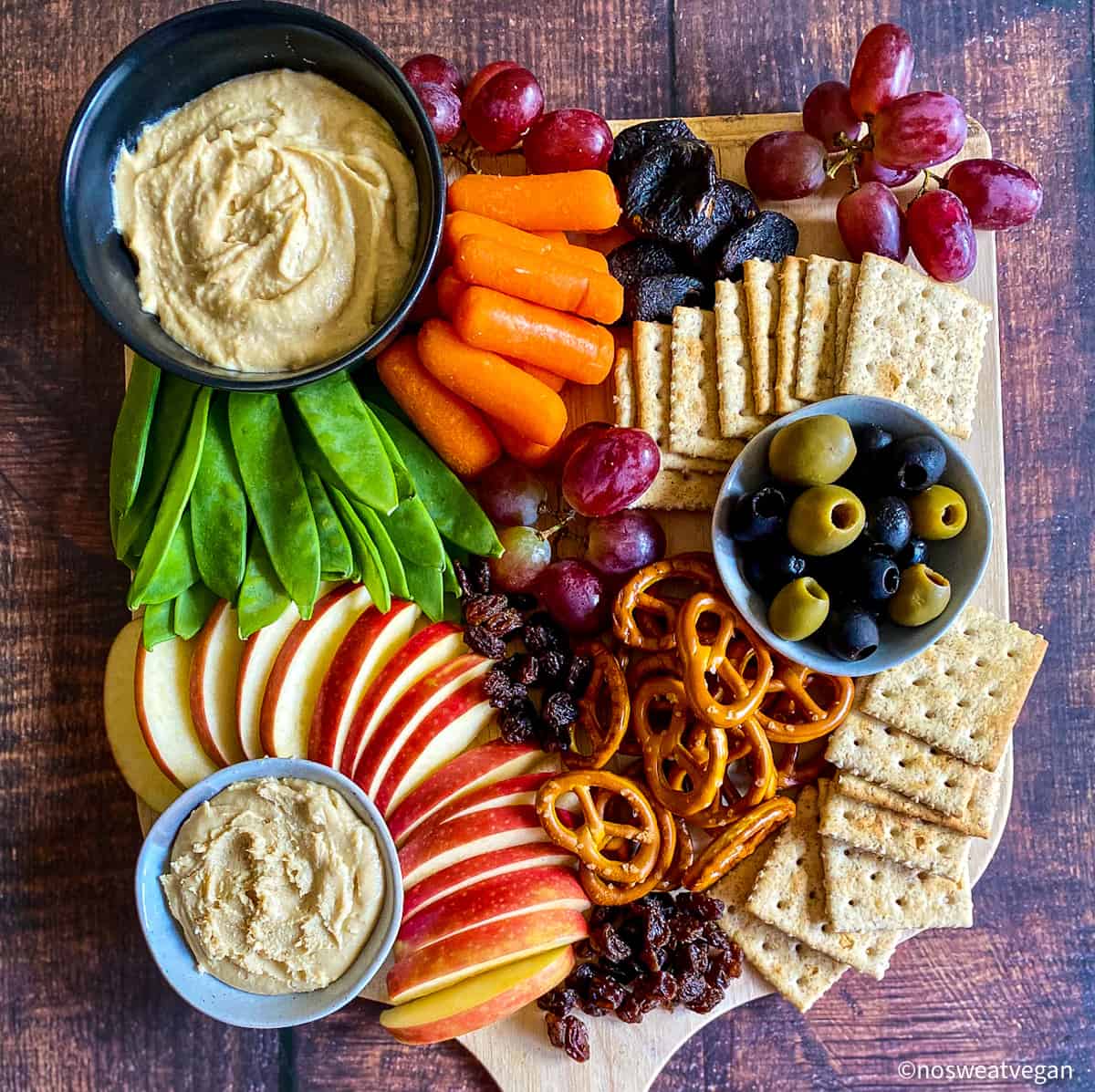 ---
Enough about that! Let's get to the recipes!
Snacks
Simple snacky foods are at the heart of any good picnic. I love a mix of fresh fruit, dried fruit, veggies, olives, and crunchy snacks. If you want to elevate your picnic snacks, then check out these ideas.
Pro Tip: Crunchy snacks like roasted chickpeas and pasta chips can lose their crunch if they are packed in air-tight containers. That's because any natural moisture won't have a way to escape. Instead, pack them in a container with a vent or a loosely tied bag.
For even more snack ideas, be sure to grab my free Vegan Snacks for Kids Printable!
Dips
Dips are great to pair with a variety of simple foods like raw veggies, fruits, tortilla chips, or a sliced baguette. You can even serve dessert dips with sliced fruit or pretzels!
---
Salads
Depending on the type of picnic you're having, having a few large salads to share is a great way to add variety and a sense of togetherness. Here I have collected a few of my favorite simple salads that will be perfect for your next vegan picnic!
Pro-Tip: If you're packing salads, don't forget two important details--plates and cutlery! I highly recommend going with reusable or compostable brands because all that trash can add up fast.
Sandwiches, Wraps, & More
You are very welcome to fall back on a classic PB & J, but if you want to add a little variety to your picnic basket, then check out these options. Don't be afraid to think outside of the box!
Tacos & Toppings
I know what you're thinking. Tacos for a picnic! But trust me on this. Tacos make a perfect picnic treat. Just prep all the components beforehand and pack them up in small containers. When you reach your picnic destination, lay everything out on a blanket, and you've got your own taco bar!
Muffins & Desserts
What makes a good picnic dessert? It has to travel well. Bonus points if it doesn't require refrigeration. Here are some of my favorites!
Related recipes
---
Want access to my Exclusive Meal Planning Tips & Printables page?
Did you try this recipe? Have a question? Just leave a comment below and I'll get back to you ASAP!