This Restaurant-Style Salsa (aka Salsa Rojas) is easy to prepare and tastes so bright and delicious--just like restaurant salsa. Enjoy with your favorite tortilla chips or use as a topping for salads, burritos, or vegan quesadillas.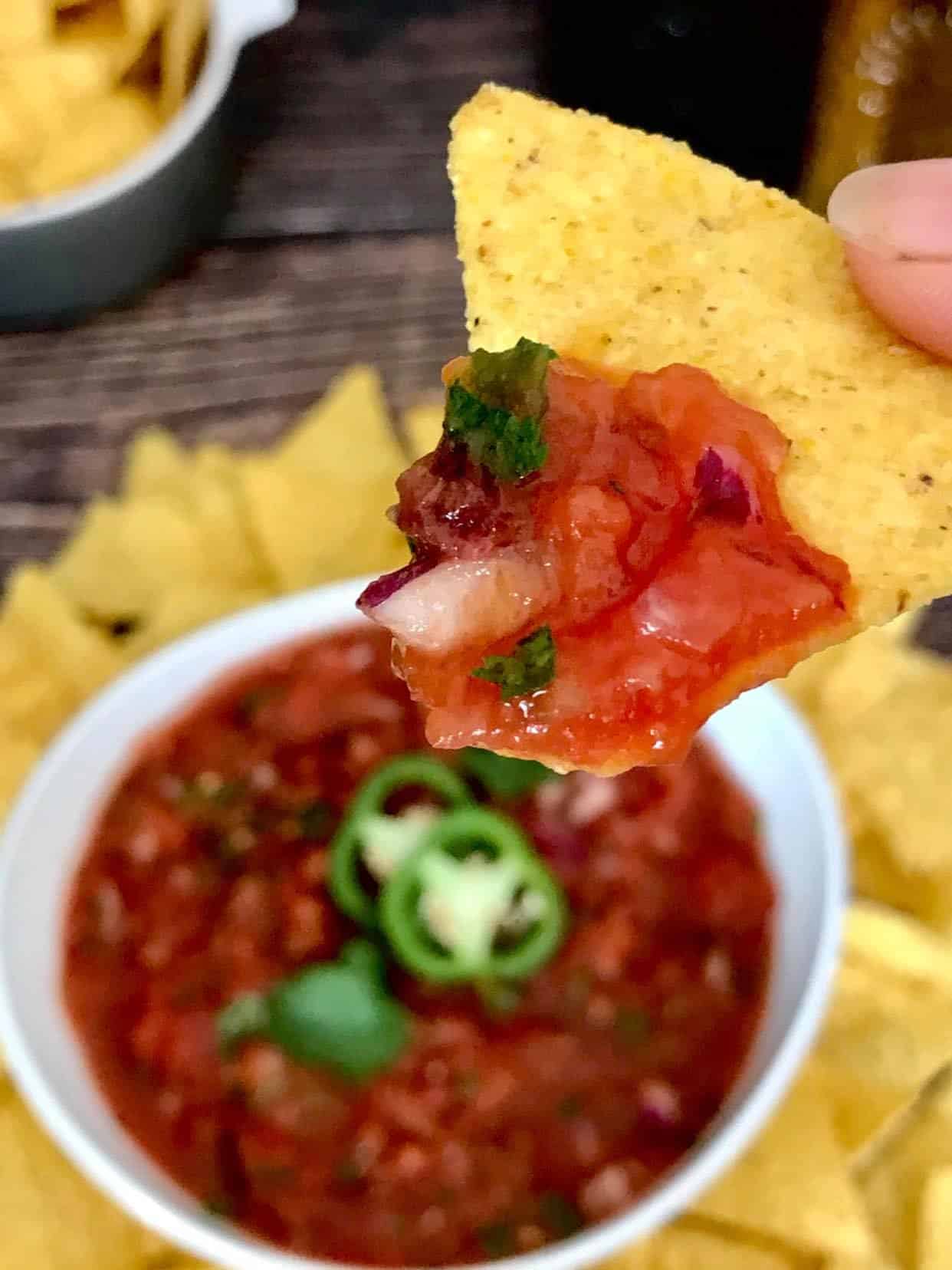 Have I mentioned that I love Mexican food? It's kind of an obsession, actually. The problem is that here in Germany there is literally NO GOOD MEXICAN FOOD. This is not an exaggeration. I could tell you stories, but unless you've actually experienced the travesty that passes for Mexican food here, then you'll never truly understand.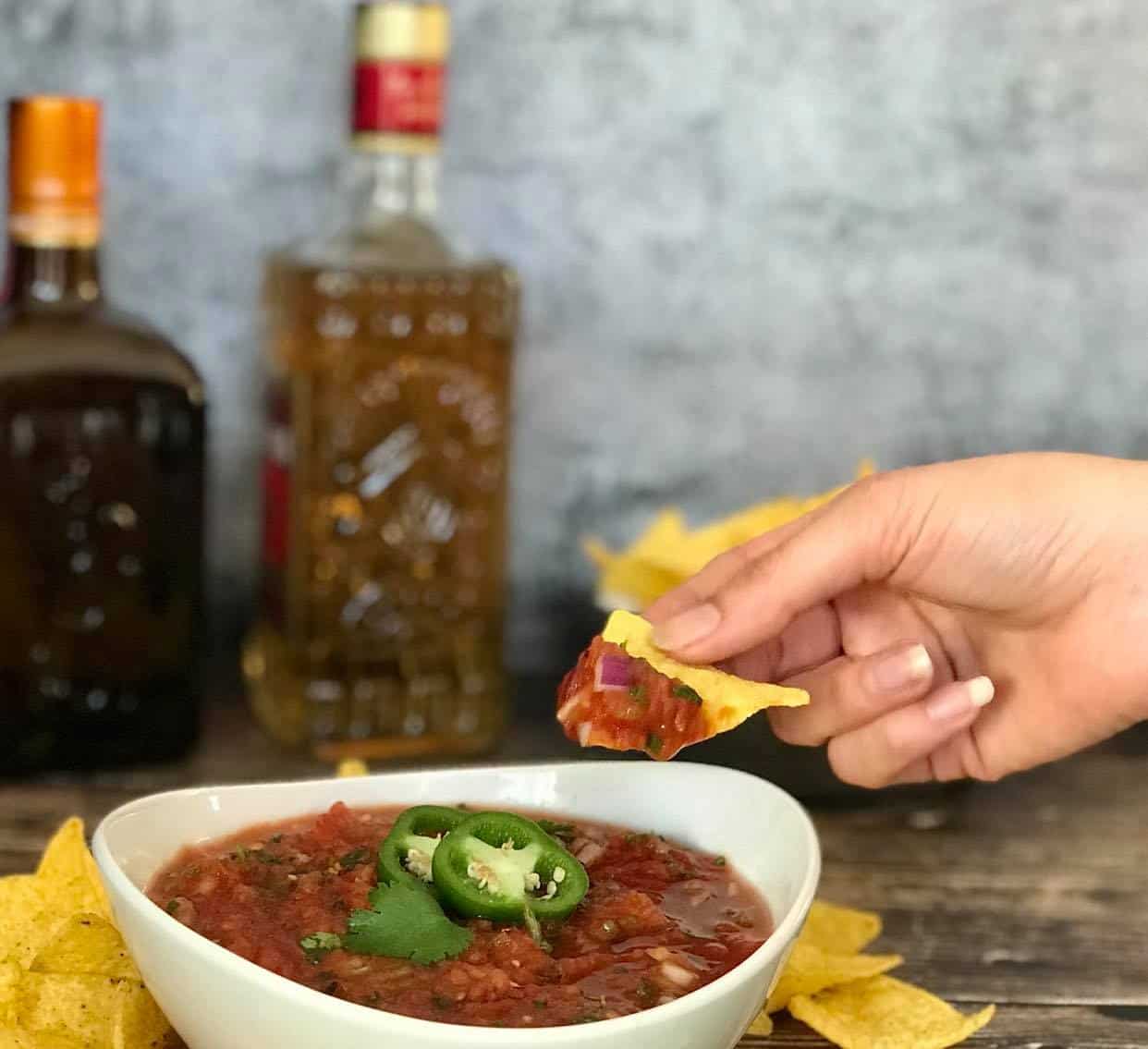 All this is to say that living here has forced me to get really good at making my own Mexican dishes. And one of the recipes I love most is also one of the simplest: Restaurant-Style Salsa. You know, the kind you can eat by the boatload FOR FREE at most Mexican restaurants in the US. So whether you're stuck in the house or you just live in a country with no good Mexican food, the great news is that you can make your own Homemade Salsa with a few simple ingredients.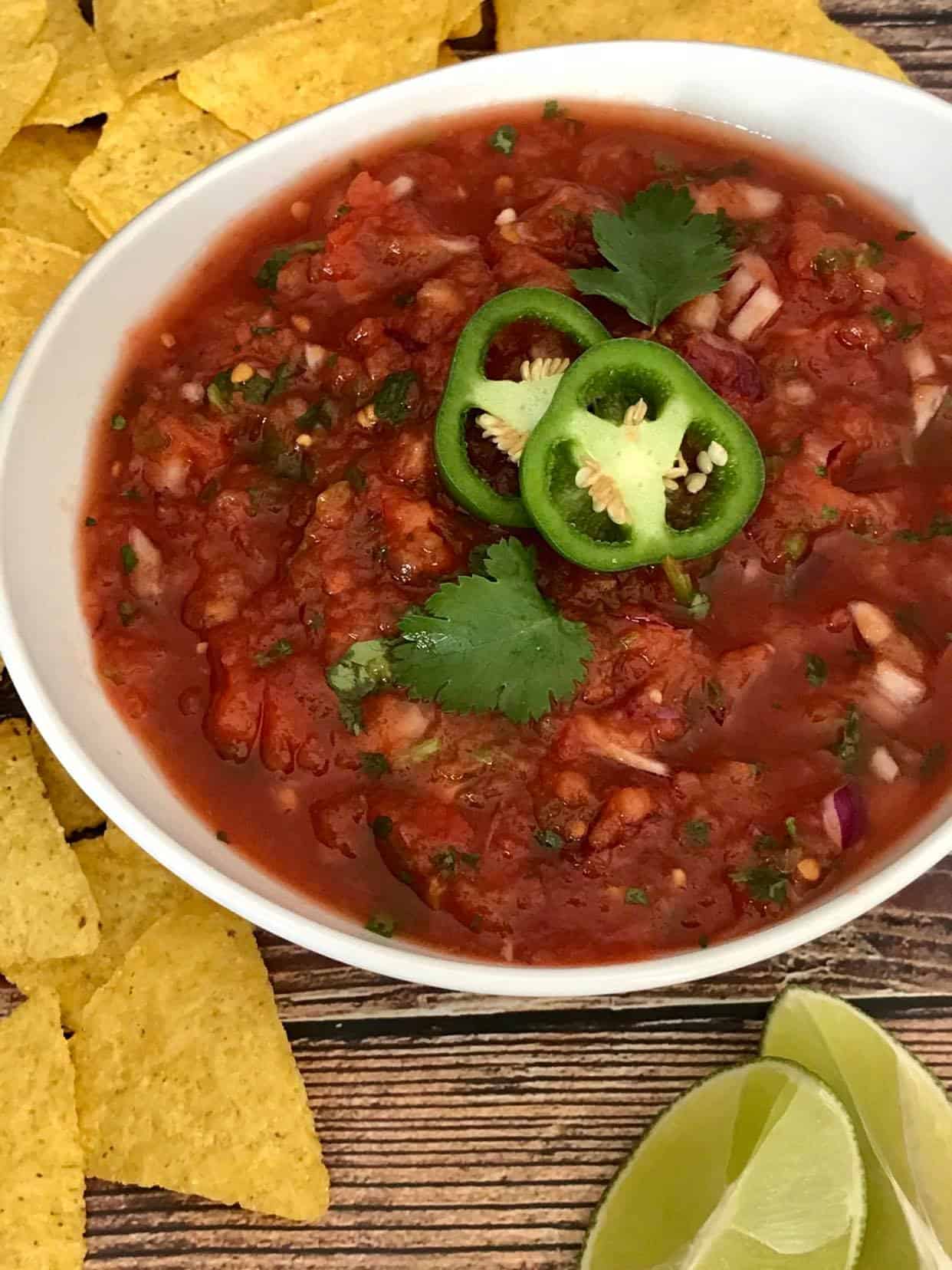 ---
I adore this Restaurant-Style Salsa recipe because it's:
Super Simple & Quick
Homemade
Already Vegan / Dairy-Free
Healthy
Just 7 ingredients
Tastes amazing
A perfect partner to a margarita
Ideal for Gameday
An excuse to blast Mariachi music in my apartment
---
Why Make Salsa with Canned Tomatoes?
You need to use canned whole tomatoes for this recipe to get the true restaurant-style salsa taste and texture. You can substitute for fresh tomatoes, and the salsa will still taste delicious--it just won't be the same. If you do prefer fresh, be sure that your tomatoes are very ripe. You'll also want to remove as much of the seeds and liquid as possible before you add to the food processor.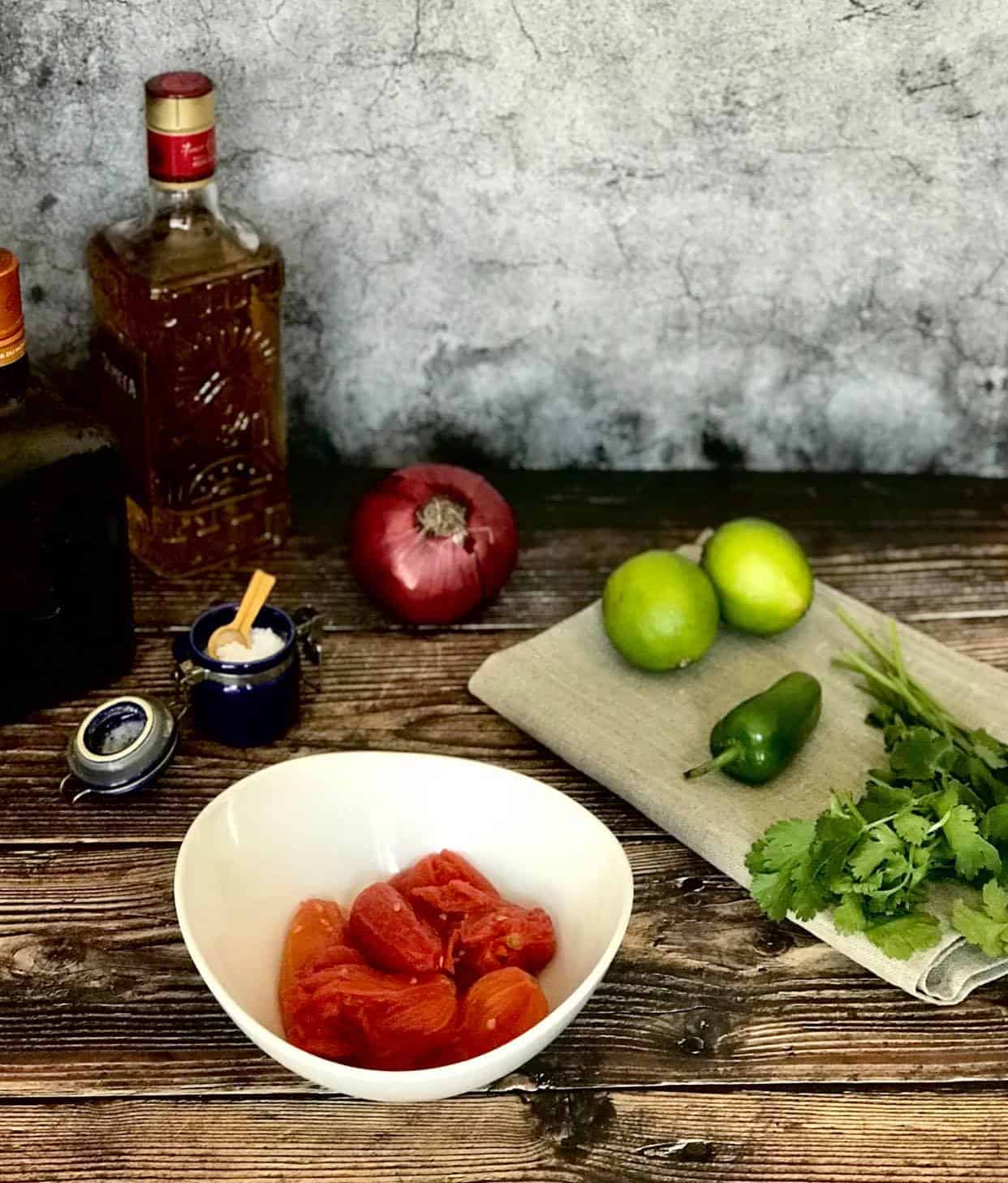 ---
Homemade Salsa Ingredients
canned whole tomatoes (unseasoned): For a restaurant-style salsa canned tomatoes just work best. They are denser and have a more pronounced flavor. Trust me!
cilantro: My all-time favorite herb!
jalapeno: For a spicy little kick.
lime: For a touch of acid and flavor
red onion: I prefer this with red onion for both the color and flavor, but white onion could be substituted in a pinch.
garlic: Just a clove or two so as not the overpower.
salt: Start with a little more and add more as needed. If you're planning to eat this salsa with salted chips, be sure to taste the salsa with a chip. Sometimes you might think the salsa needs more salt but then it tastes just right when paired with a salted chip. YOu can always add more salt, but good luck removing it if you add too much!
---
How to Make Restaurant Style Salsa
This recipe starts with two cans of whole tomatoes. First, you need to drain, rinse, and then drain again the tomatoes from one of the cans. Draining them cuts down on the amount of liquid in the salsa. You might even need to squeeze some liquid out--trust me, it makes a big difference.
Place the drained tomatoes from the first can into a *food processor with the cilantro (washed but whole), roughly cubed jalapeño, and ½ of the red onion. This is going to be your salsa base.
If you like more heat, you can leave the seeds in the jalapeño, but if you prefer things on the milder side, slice the jalapeño into quarters lengthwise and use a paring knife, small spoon, or gloved finger to carefully remove the seeds.
Be sure to wash hands and any surface the seeds come into contact with immediately after handling spicy peppers. Believe me when I say, you don't want to know what it feels like to touch a seed and then accidentally rub your eye!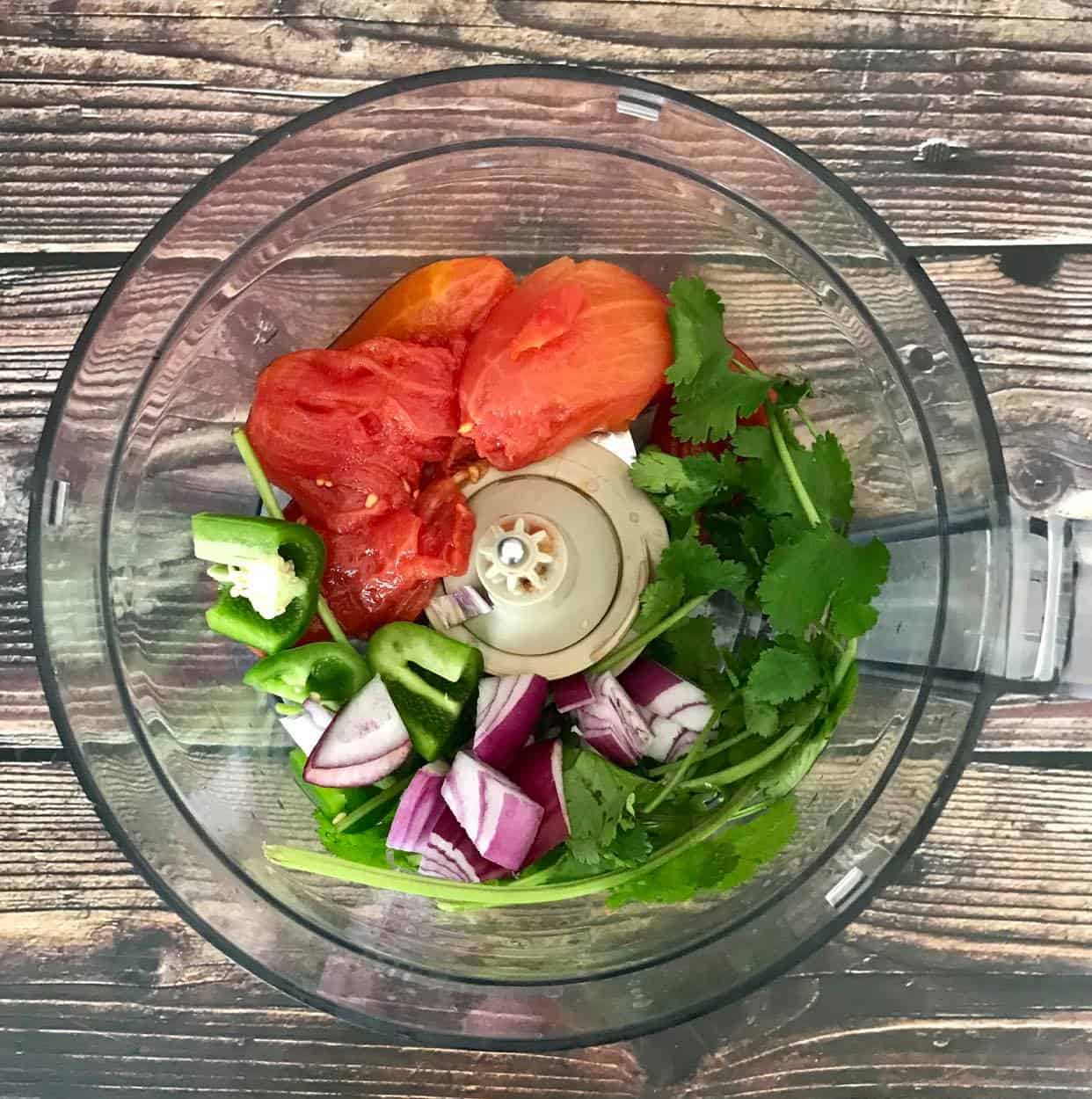 Blend all of that up and then add the other can of tomatoes, your lime juice, a pinch of salt, and the rest of the onion, diced. Adding the ingredients in two batches will keep it a little chunkier and add more bite.
Pulse once or twice for a second--just enough to combine everything. Then taste to adjust seasonings if needed. And you're ready to serve.
If you plan to eat this as a dip for salted tortilla chips, be sure to taste the salsa with a tortilla chip before adding more salt. The salsa alone might seem like it needs more salt, but once you add in a salted tortilla chip, it might be just right. You can always add a pinch of salt later if needed.
A note on the equipment: I recommend using a food processor
(like the one linked here) for this recipe because it keeps things a bit chunkier. You can also use a mini food processor
, but you might need to halve the recipe or make it in two batches. Alternatively, you could use a blender, but you'll have to be extra careful not to over-blend or else you'll end up with soup!
---
How to Serve Salsa Rojas
I love to pair this restaurant-style salsa with tortilla chips and a homemade margarita, but this salsa would also make a great topping for burrito bowls, taquitos, or vegan tofu tacos.
How to Store Easy Homemdade Salsa
If you don't manage to eat it all in one sitting you can, 1) give yourself major props for your superhuman level of self-control and 2) store in an airtight container for up to a week.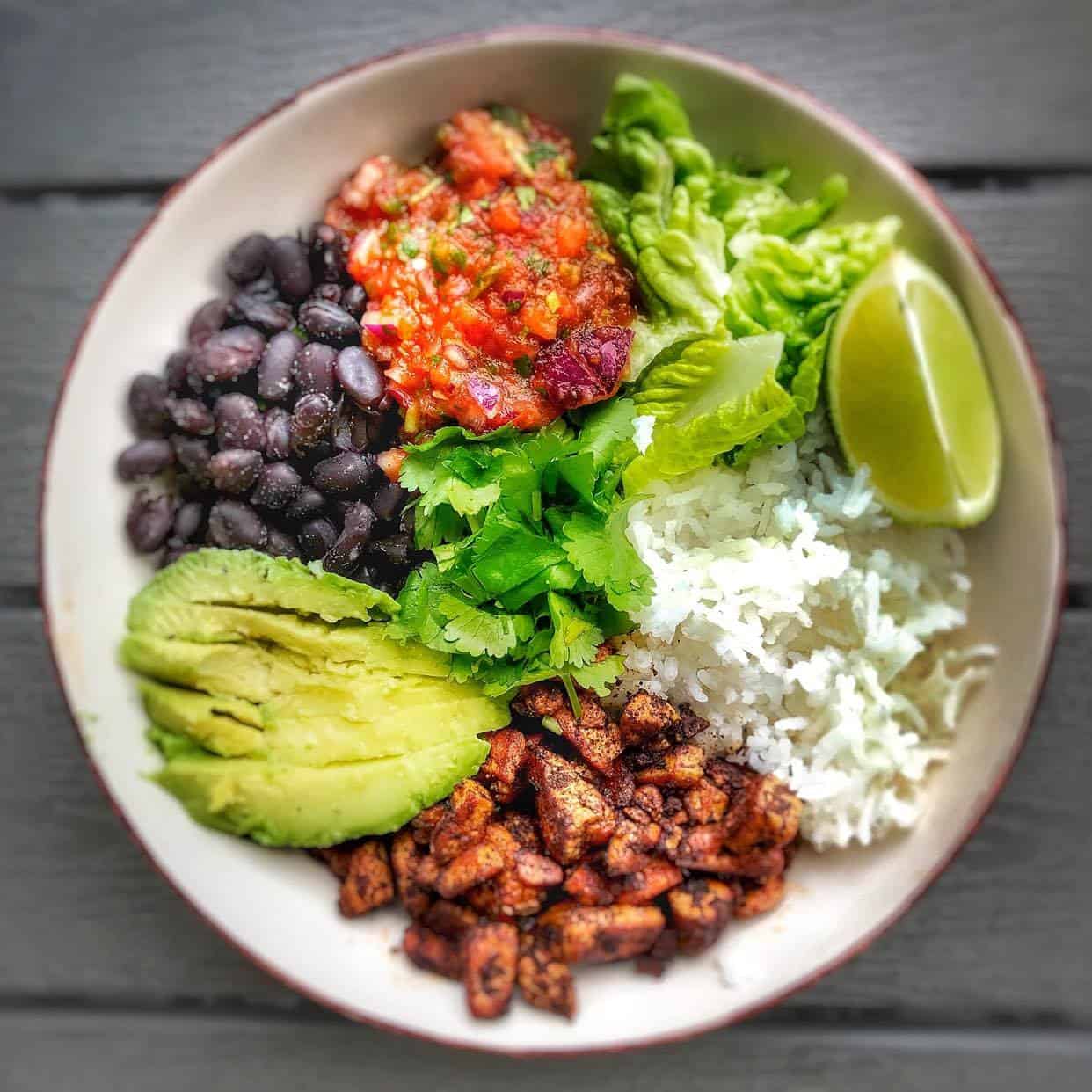 ---
If this recipe for Easy Restaurant-Style Salsa speaks your language, you might also love: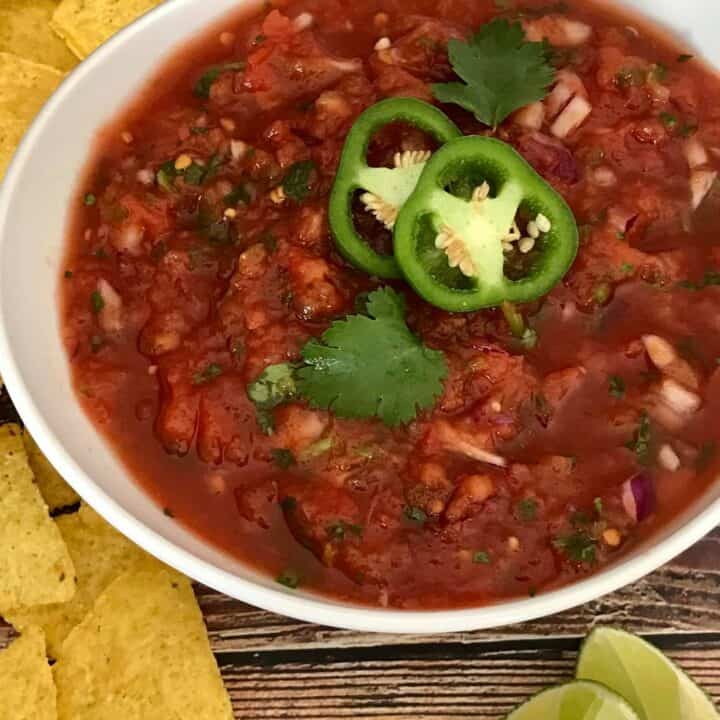 Restaurant-Style Salsa
This restaurant-style salsa is easy to prepare and tastes so bright and delicious--just like restaurant salsa. Enjoy with your favorite tortilla chips or use as a topping for salads, burritos, or vegan quesadillas.
Ingredients
2

15 oz

whole tomatoes

(unseasoned)

1

small bunch

cilantro

(about 10 to 15 stems)

1

jalapeno

1

lime

1

red onion

1 to 2

cloves of garlic

salt

optional
Instructions
Drain and rinse one can of tomatoes. Place the tomatoes in a colander to try to drain off as much liquid as possible. You can gently squeeze the tomatoes to get more liquid off.

Wash and pat the cilantro dry (no need to chop). Wash the jalapeno, cut off the stem, and either cube or cut lengthwise and remove the seeds (for a milder salsa). Cut the onion in half, remove the peel, a do a rough chop.

Add the drained can of tomatoes, washed and dried cilantro, ½ onion, and the jalapeno to the food processor. Pulse for a few seconds until everything is incorporated.

Dice the other half of the onion.

Add a pinch of salt (don't oversalt--you can taste to adjust later), the juice of 1 lime, the second can of tomatos, and the other half of the onion. Pulse once or twice for 1 or 2 seconds. Do not over blend or you'll lose the chunkiness.

Taste and adjust salt if necessary.

Serve right away or store in an airtight container in the refrigerator for up to a week.
Notes
If you don't have fresh jalapenos, you can substitute with jarred jalapenos or ½ a green pepper, diced.
If you don't have limes, you can substitute with store-bought lime juice.
If you don't have fresh cilantro you can substitute with frozen or freeze-dried cilantro (rehydrated).
Nutrition
Calories:
9
kcal
Carbohydrates:
2
g
Protein:
1
g
Fat:
1
g
Saturated Fat:
1
g
Sodium:
1
mg
Potassium:
34
mg
Fiber:
1
g
Sugar:
1
g
Vitamin A:
86
IU
Vitamin C:
6
mg
Calcium:
6
mg
Iron:
1
mg
---