If you're craving fish tacos, these Vegan Fish Tacos won't disappoint. The nori and lime juice give the tofu a bright seafood flavor, while the sweetness of the salsa and creaminess of the slaw round out each perfect bite.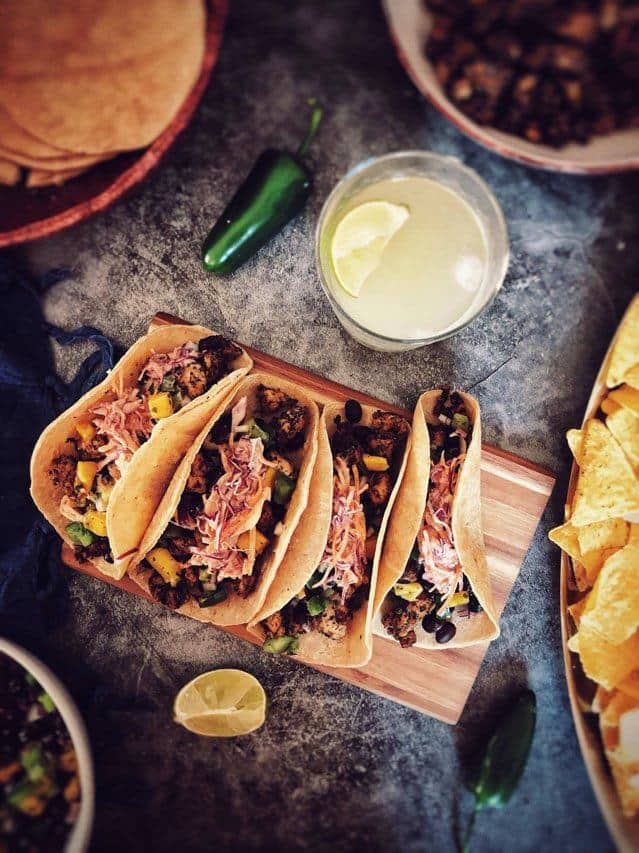 The first time I ate these Vegan "Fish" Tacos I almost cried with joy! I'm not even joking. Living in Europe, it's practically impossible to get good Mexican food. But to find good vegan Mexican food. . . . Let's just say my cravings were not being satisfied.
That is, until I developed this recipe for Vegan "Fish" Tacos. Not only are they easy and quick, but they combine so many delicious flavors. It's kind of like a little fiesta in your mouth. The bright notes of the citrus combine with the seafood tone of the nori to create a realistic but not overpowering "fish" flavor. Meanwhile, the tropical mango and spicy jalapeno create a simple yet delicious salsa that's also great on chips. Finally, the creaminess of the slaw and the crunch of the cabbage rounds everything out for an absolutely perfect bite.
Jump to:
You'll love these Vegan Fish Tacos because they're:
Flavorful & Fun
Vegan/Vegetarian
Quick & Easy
Healthy
WFPB
Absolutely Delicious!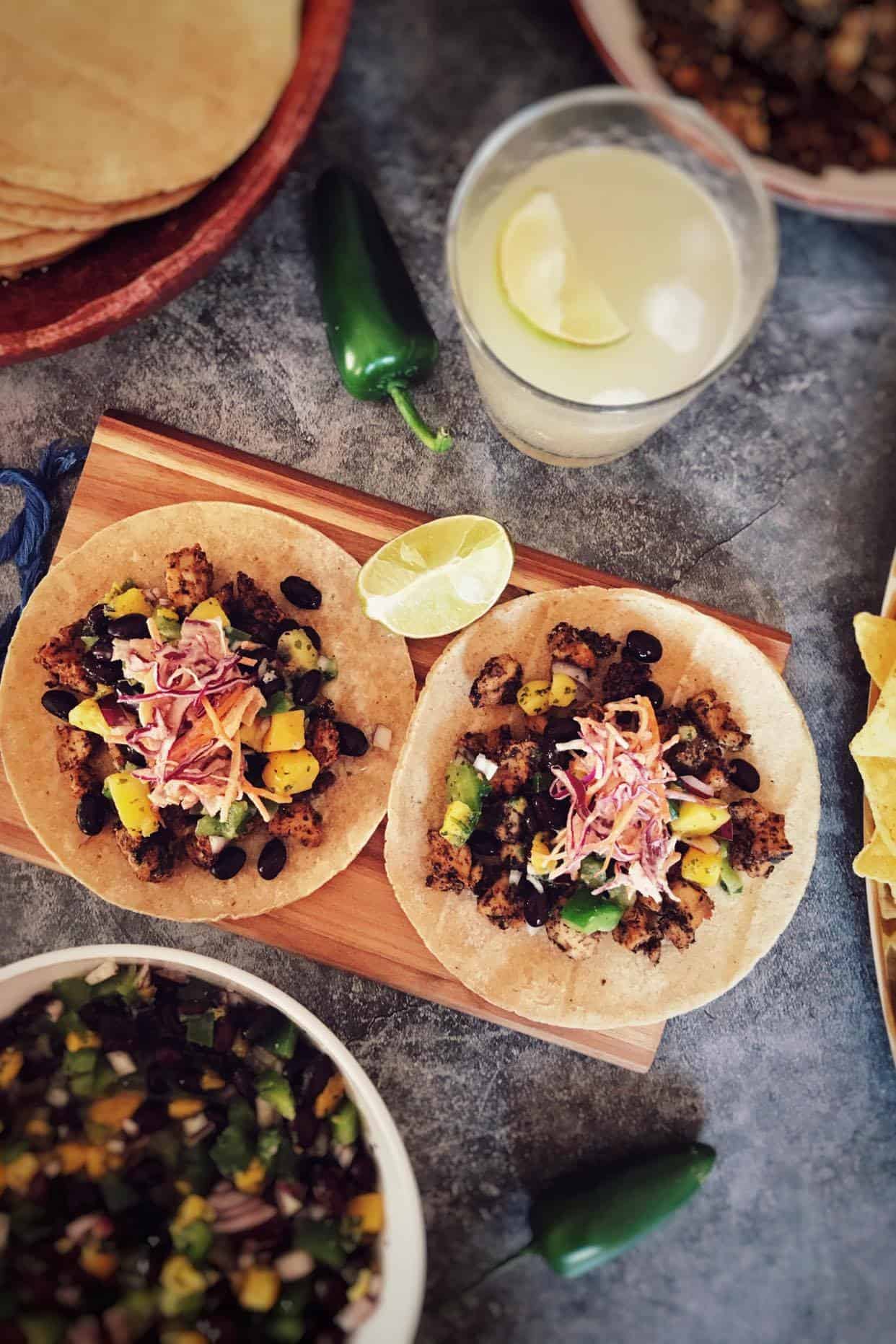 What is nori?
There is only one slightly unusual ingredient in this recipe, and that's the nori. Nori is a fancy word for seaweed that's been dried into sheets. It's the same kind of seaweed that's used to wrap sushi (which is why vegetarian sushi, in my opinion, tastes just as good as the real thing). You either buy **nori flakes or nori sheets. I was only able to find it in sheets, but I used my handy spice grinder and turned it into fine flakes in mere seconds.
(Okay, I guess if you're new to veganism then nutritional yeast might also sound a bit odd. Check out my post on Essential Vegan Pantry Ingredients for more explanation. You can order Nutritional Yeast online here).
How to Make Vegan "Fish" Tacos
Preheat the oven to 425F or 220C.
If you're using Nori sheets, start by grinding them in a spice grinder.
Gather your paste ingredients, add them to a bowl, and stir to combine.
The consistency of the paste should be thin enough to cover all of the tofu chunks. You're looking for something thinner than a pesto but thicker than enchilada sauce.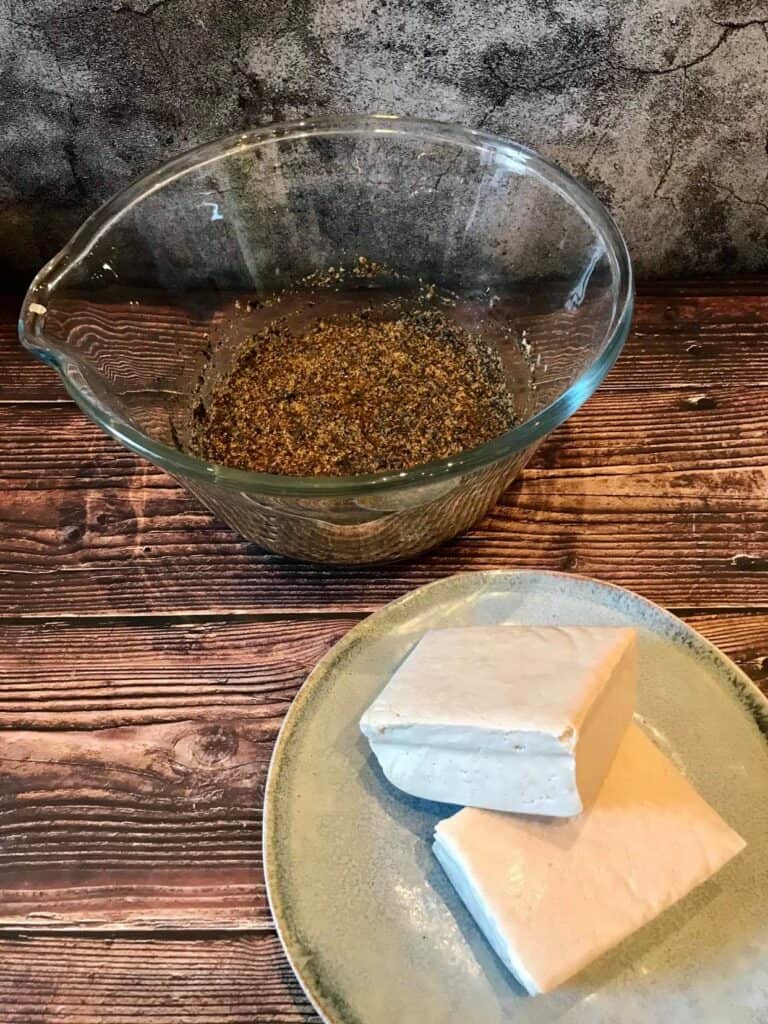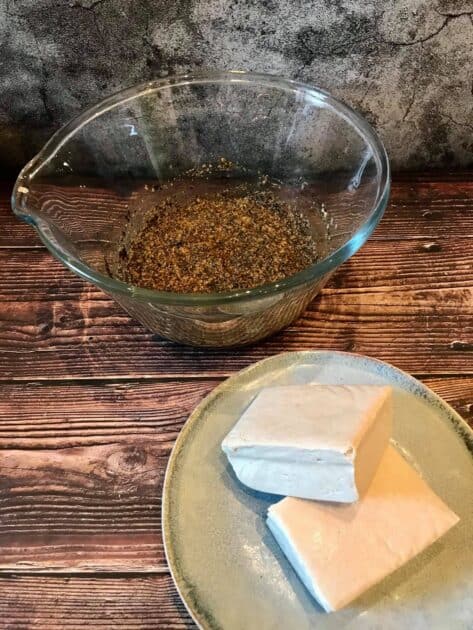 After you've made your paste, just break the tofu into chunks, using your thumb. I like my chunk to have lots of ridges and crannies to pick up all the flavors of the paste.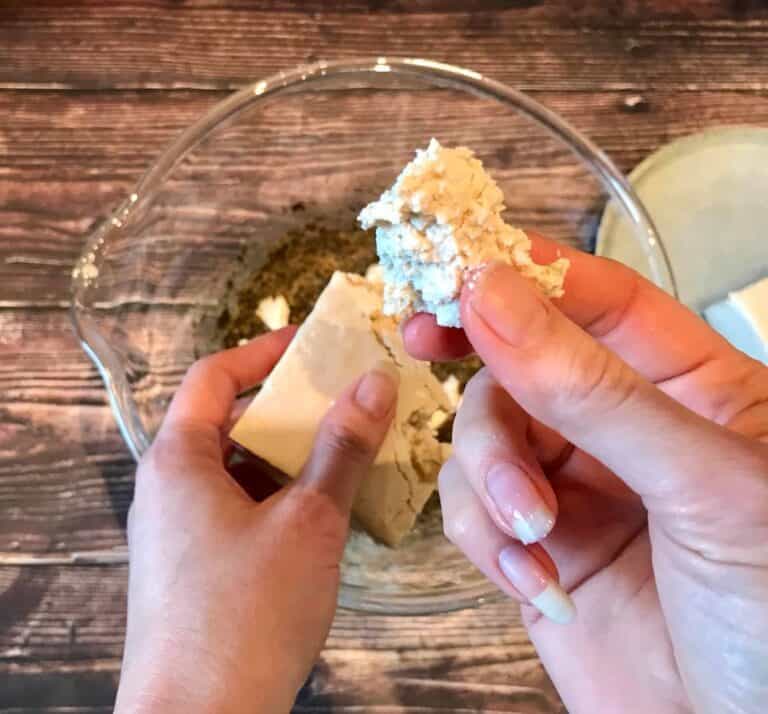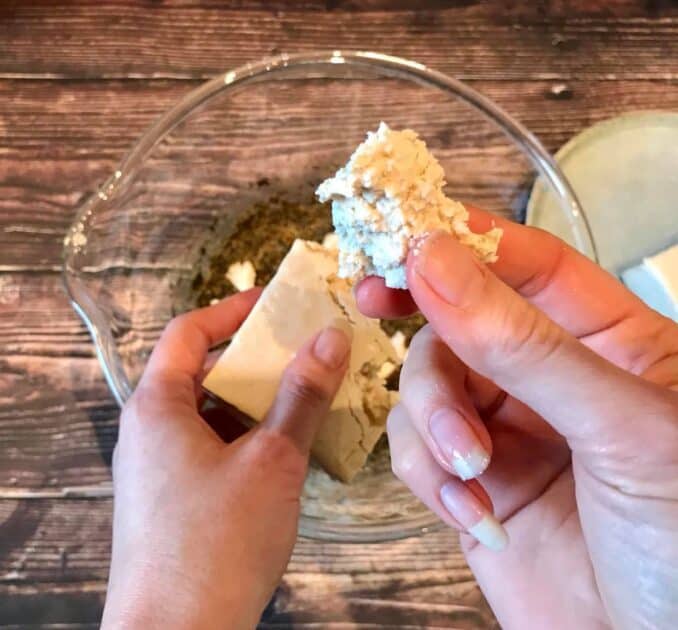 After you've broken the tofu into chunks, simply fold carefully into the paste, trying not to make smaller pieces. (To ensure more even cooking.) Then spread your coated tofu chunks on a lined baking sheet and pop into the oven for 30 minutes.
While the fish is cooking you can assemble the black bean mango salsa, the creamy vegan slaw, and warm up your corn tortillas. Once the "fish" is done, layer everything onto your tacos, and enjoy!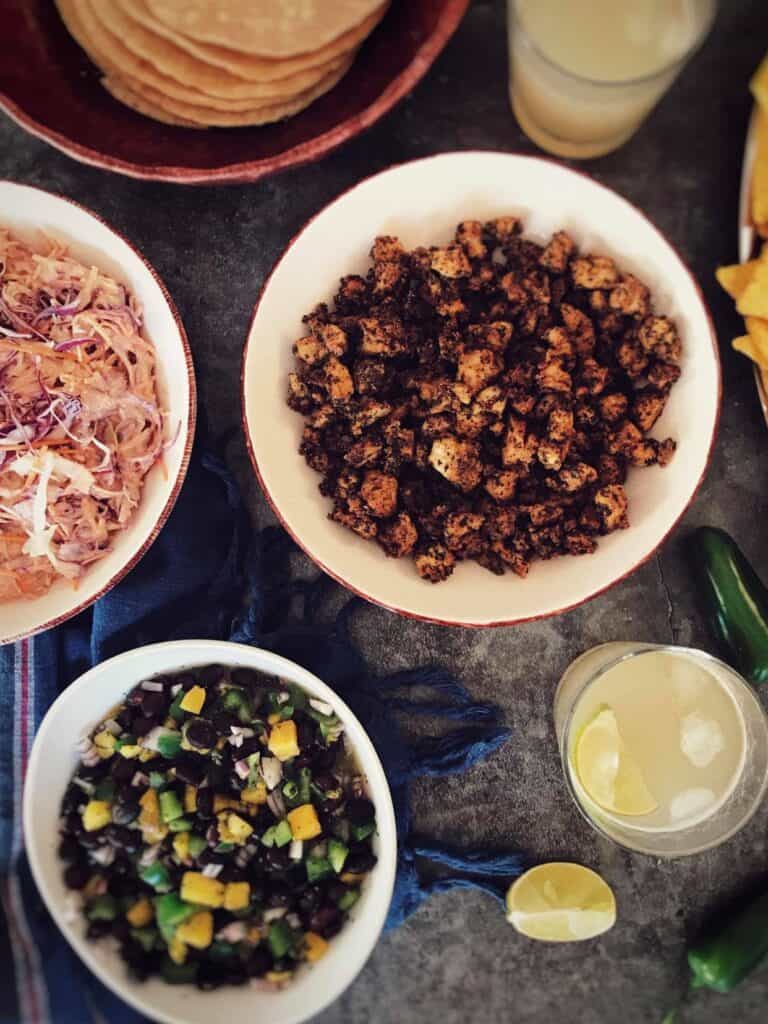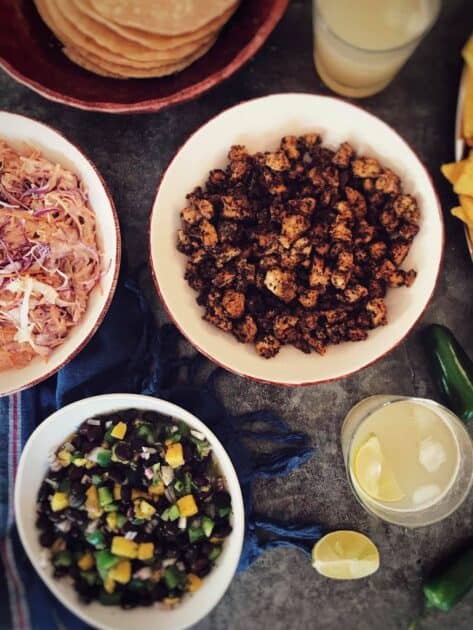 How to Store
Store any leftover ingredients separately. The tofu will last up to 5 days in an airtight container in the refrigerator or 3 months in the freezer.
Related Recipes
📖 Recipe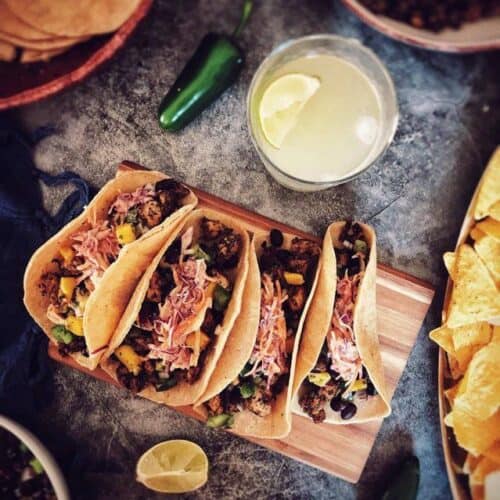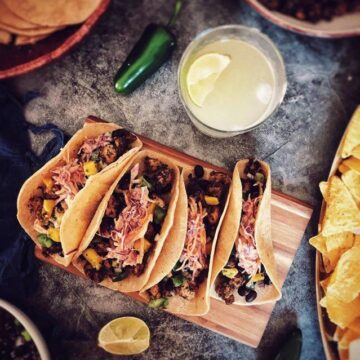 Best Vegan Fish Tacos
If you're craving fish tacos, this veganized version won't disappoint. The nori and lime gives the tofu a bright seafood flavor, while the sweetness of the salsa and creaminess of the slaw round out each perfect bite.
Equipment
spice grinder (or use preground nori flakes)
Ingredients
Instructions
Vegan "Fish"
Preheat over to 425° F or 220° C

If using nori sheets, use a spice grinder to turn the nori sheets into fine flakes.

Add all of the paste ingredients to a bowl and mix to combine. Your paste should be thin enough to evenly spread over the tofu.

Unwrap tofu and break into bite-sized chunks over the bowl. As you do this, use your thumb to create craggy, rounded edges. (They're still edible if they're blocky and smooth, but the pieces will hold the paste better and take on a more natural shape if they're rounded and have craggy edges.)

Lightly fold the chunks into the paste.

Scoop tofu onto a lined sheet pan and place in the oven. Cook in the oven for 30 minutes or until the tofu is nicely blackened and crispy on the outside.
Creamy Vegan Slaw
Simply combine all the ingredients in a bowl, mix to combine, and serve.
To Assemble the Tacos
Heat your corn tortillas on a skillet over medium heat until they are softened (30 second to 1 minute per tortilla). Store the tortillas on a plate covered by another plate or a clean towel. The moisture from the heat will keep the tortillas soft.)

Place all of the taco elements in seperate bowls to creat a "taco bar."

For each taco: Lay 1 corn tortilla flat, add a small scoop of vegan "fish," slaw, and black bean & mango salsa. Add a sliced avocado and a squeeze of lime juice. Enjoy!
Save this Recipe
Saved!
Notes
If you use super firm (vacuum-sealed) tofu, you shouldn't have to press. For regular firm tofu, press for 15 to 20 minutes first.
Nutrition
Calories:
107
kcal
Carbohydrates:
17
g
Protein:
6
g
Fat:
2
g
Saturated Fat:
1
g
Polyunsaturated Fat:
1
g
Monounsaturated Fat:
1
g
Sodium:
311
mg
Potassium:
202
mg
Fiber:
3
g
Sugar:
2
g
Vitamin A:
852
IU
Vitamin C:
9
mg
Calcium:
70
mg
Iron:
1
mg
Want access to my Exclusive Meal Planning Tips & Printables page?
Did you try this recipe? Have a question? Just leave a comment below and I'll get back to you ASAP!