This vegan quesadilla cheese is oil-free and made from almonds. You won't believe how cheesy and stretchy it is! If you're tired of disappointing store-bought vegan cheeses, then this recipe is for you.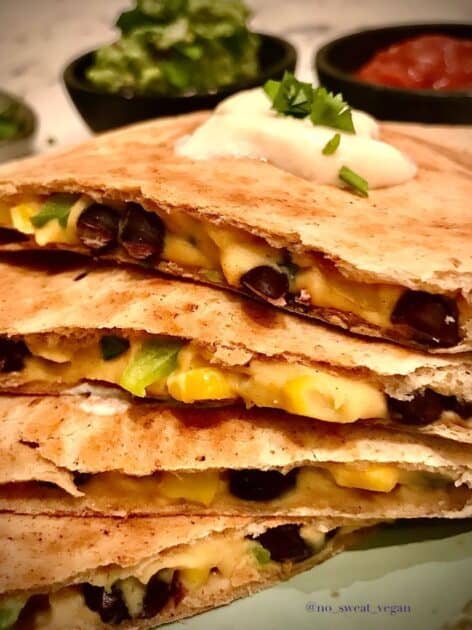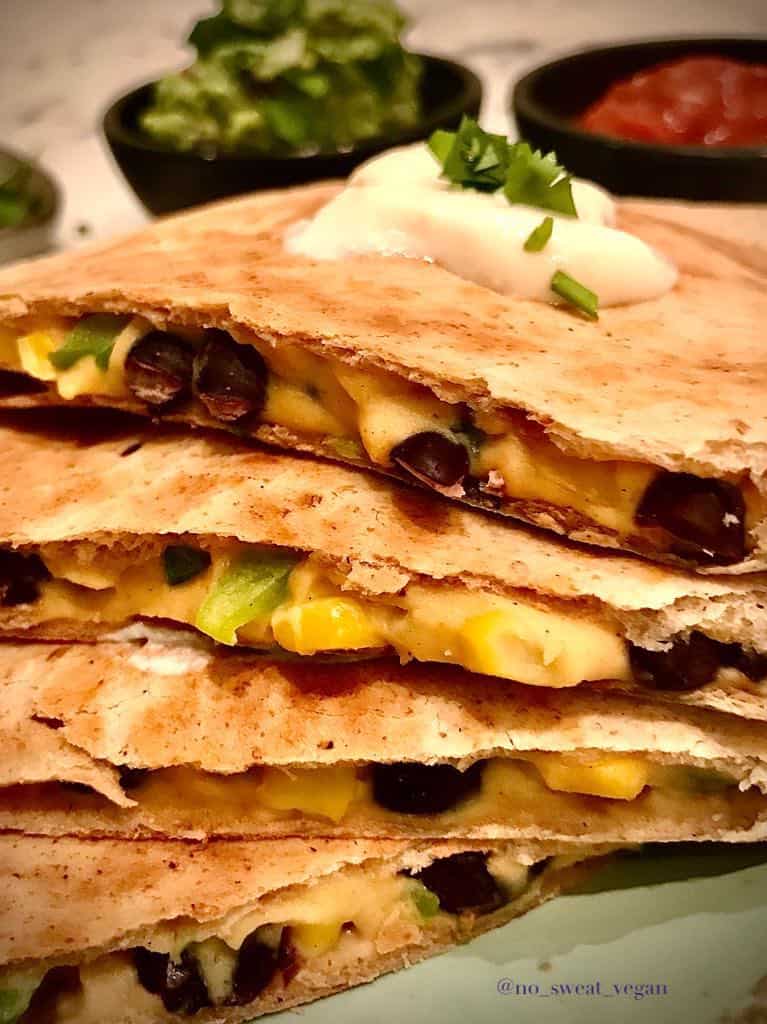 One of the hardest things for me to give up when going vegan was quesadillas! I loved making them for a quick, filling lunch or as part of a Mexican spread at dinner. Of course, I tried to make quesadillas with store-bought vegan cheese, but every one I tried was underwhelming, to say the least. I'd end up with a thin, oily layer of the cheese between two tortillas. Appealing? It was anything but.
And so I made my peace. A life without quesadillas. I could survive it. But thankfully I don't have to now, because I've figured out a way to make stretchy, gooey quesadilla cheese that's oil-free. The creaminess comes from the almonds, while the cheesy flavor is brought to you by nutritional yeast. And the stretchiness? You can thank the tapioca starch for that.
How to Make Vegan Quesadilla Cheese
To make this cheese you're going to start with one cup of blanched almonds or almond slivers. Boil the almonds for ten minutes to soften them up. Then strain and rinse.
Now you just add the almonds to a high-speed blender with the rest of the ingredients, and whizz until smooth. Depending on your brand of blender you might need to go several rounds before you're satisfied. (I use this **NutriBullet Pro and it works like a charm.) The smoother you can get the mixture, the smoother your cheese will turn out.
Once you've reached peak level smooth, pour into a saucepan and heat over medium heat, whisking or stirring with a wooden spoon. The cheese will start to thicken up and the tapioca starch will start working its magic. Continue to stir over medium heat for about ten minutes or until your mixture reaches maximum gooey goodness.
Now Assemble Your Quesadilla!
Smear the cheese onto two tortillas, add add any extra fillings you like (I go for corn, black beans, and green peppers). Heat a nonstick skillet on medium to medium low heat. Place the tortilla in the pan and cook until the bottom begins to brown, then flip and repeat.
When you're quesadilla is ready, just cut, pile on the salsa and guac, add a dollop of vegan sour cream or yogurt, and it's fiesta time!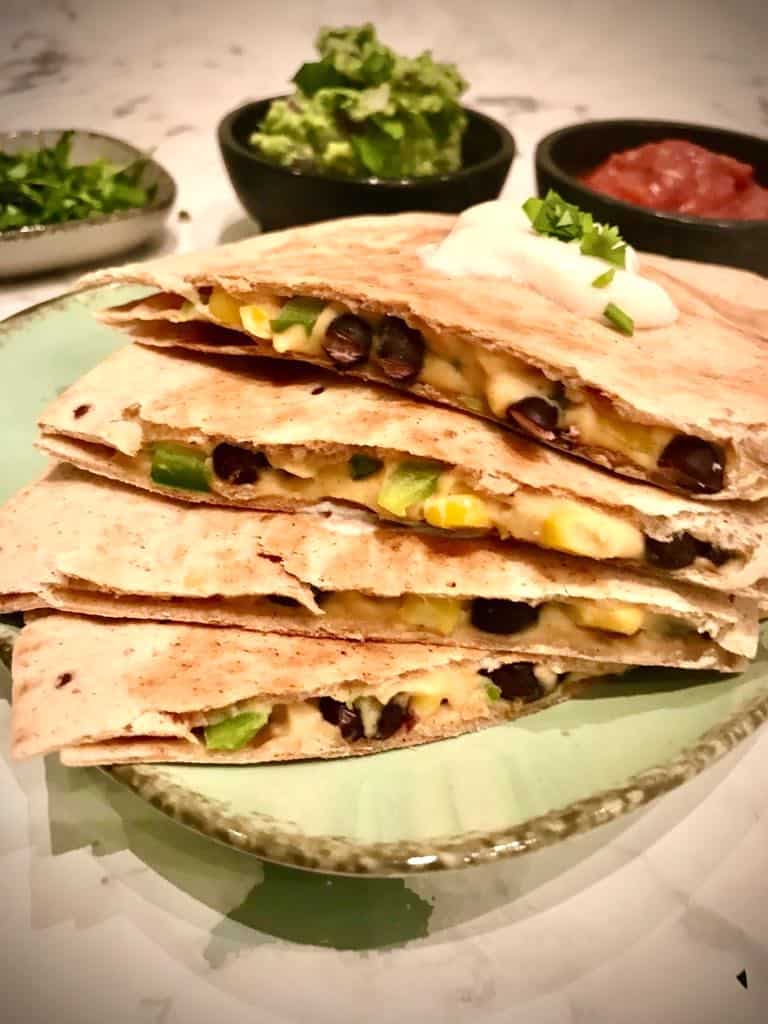 If this recipe speaks your language, you might also love: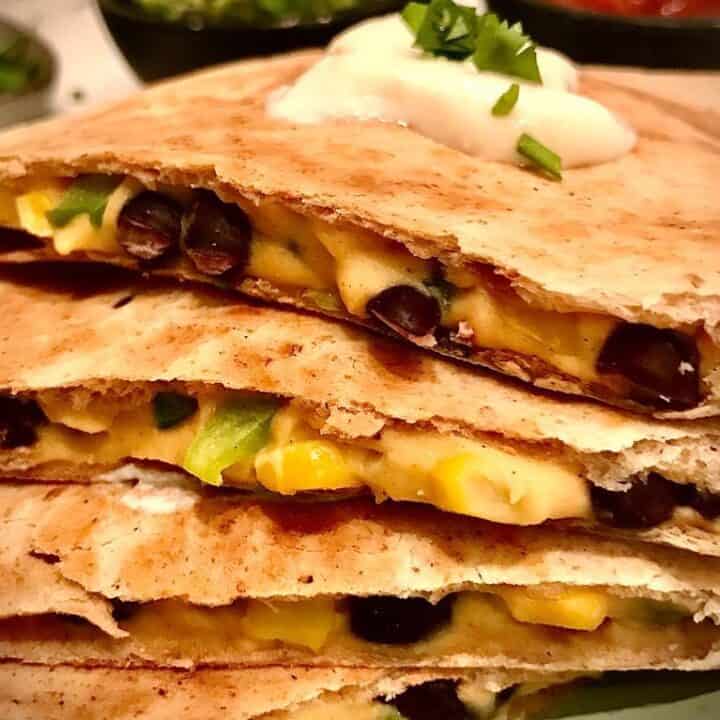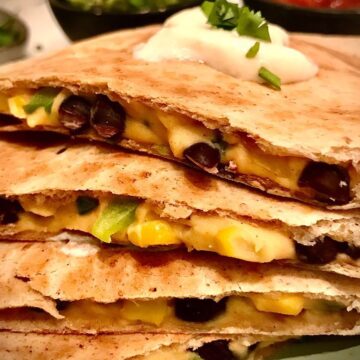 Vegan Quesadilla Cheese (no oil)
This vegan quesadilla cheese is oil free and made from almonds. You won't believe how gooey and stretchy it is!
Instructions
Boil one cup of blanched almonds or almond slivers for ten minutes. Then strain and rinse.

Add almonds and all other ingredients to a high-speed blender and blend until smooth. This could take a few rounds depending on the blender.

Pour the cheese mixture into a small saucepan and heat over medium, whisking at first. As the mixture thickens, you'll want to switch to a wooden spoon.

After about 10 minutes, the mixture will be thick and gooey, and it might start to form a ball. Take off heat to keep it from burning to the bottom of the pan. Use right away for quesadillas or store in an airtight jar for later.
Save this Recipe
Saved!
Notes
This cheese can also be used for pizzas or grilled cheese. Simply omit the chili powder and swap the lime juice for lemon juice.
Want access to my Exclusive Meal Planning Tips & Printables page?