This Dried Apricot Jam is super tasty, easy to make, and requires just 3 simple ingredients: dried apricots, chia seeds, and a splash of orange juice. Spread it on your morning toast or use in baking.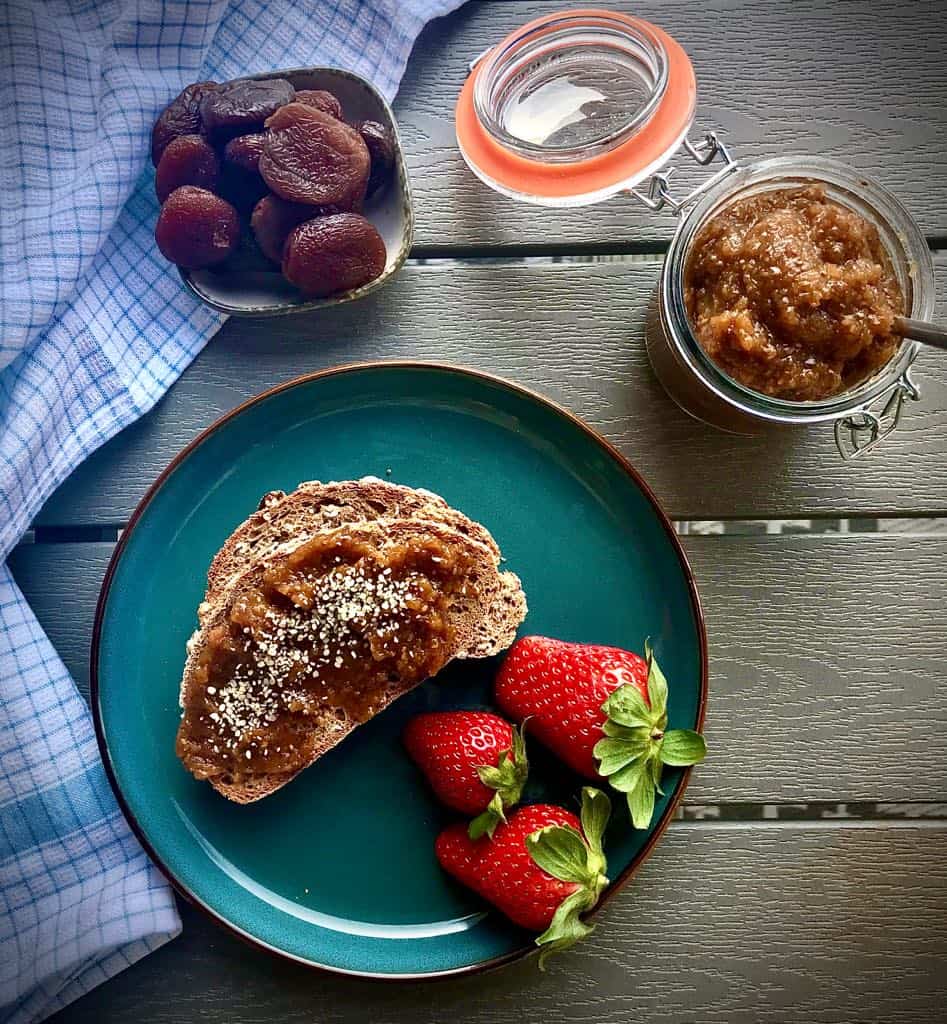 Many years ago, I was on a quest to find a store-bought apricot jam that didn't have any added sugars. A jam that was just fruit and nothing else. I scoured the health food stores and farmer's markets, but to my utter dismay, I was unable to find a single jar! So I decided to do a little experiment and make my own.
I didn't want to bother with buying, peeling, and chopping fresh apricots. So the lazy, time-crunched mom in me thought--what about dried apricots? And thus this recipe was born.
For my first attempt, I simply chopped up a bunch of dried apricots, threw them in a pot with some water, and boiled them down until the mixture thickened enough to be jammy. The result was a very chunky and VERY bitter--but on the whole a not too terrible concoction. It just needed a little tweaking.
Over the years I've modified the recipe several times to make it easier, tastier, and healthier. And the result is this super simple three-ingredient dried apricot jam that tastes like sunshine in a jar.
Jump to:
You'll love this Dired Apricot Chia Jam because it's:
Healthy
Low Sugar (No Refined Sugar)
Vegan
A Quick & Easy Dried Apricot Recipe
Easy to batch make
Freezable
Delicious!
---
Ingredients
Dried, Unsulfered Apricots--It's important to choose Unsulfered Apricots, as the flavor and color of sulfered apricots are quite different. Sulfered Apricots are bright orange and often contain added sugars. Unsulfered Apricots are more of a brownish color with a hint of orange. The flavor is richer, deeper, and far superior.
Whole Chia Seeds--This will bump up the nutrition and help add some jamminess.
A splash of Orange Juice or sweetener of choice. You just need a little, but you can't skip this part, otherwise your jam will taste very bitter.
---
Can I Make this without Chia Seeds?
Yes! For years I made it without chia seeds and it tastes great. I just like the added texture and nutrition that they bring to the dish.
Instructions
To make this recipe easier, I now soak the dried apricots in warm water for 5 to 10 minutes before pulsing them in a high-speed blender. (I use my lovely NutriBullet Pro). No chopping! (It can also work with a stick blender or food processor).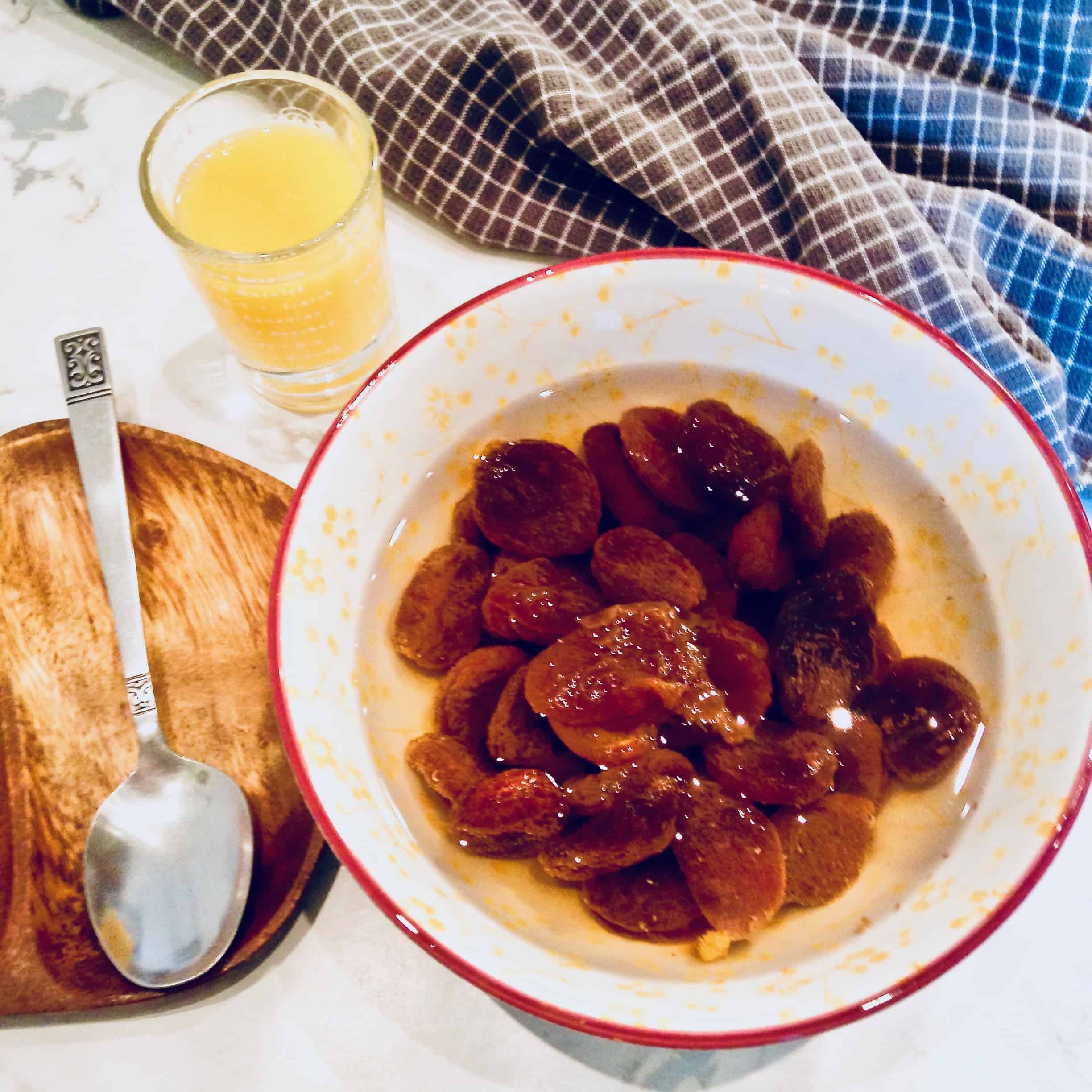 To get rid of the bitter taste, I add a splash of orange juice. You can use any sweetener you like (maple syrup or agave work fine), but I like the citrusy notes added by the orange juice. You really only need a splash--but don't skip this step or you'll be puckering your way through a jar of bitter jam!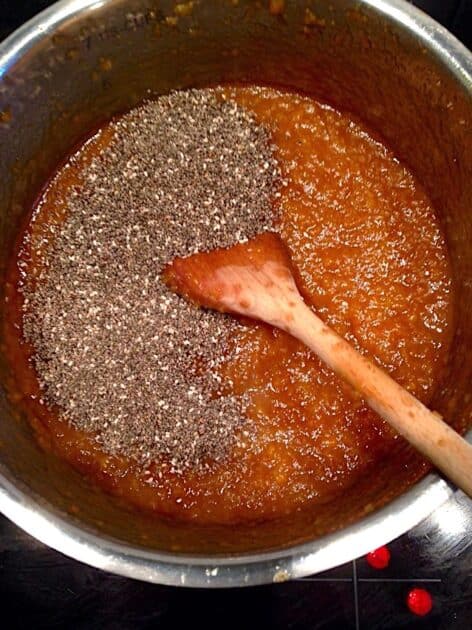 And finally, to bump up the health factor and give the jam a little more texture, I stir in a tablespoon of chia seeds at the end and let rest so that the chia seeds soak up the liquid to take on a jelly-like consistency. It's all very similar to the Chia Berry Jam. When the jam is done, simply store in the refrigerator in an air-tight container for up to two weeks.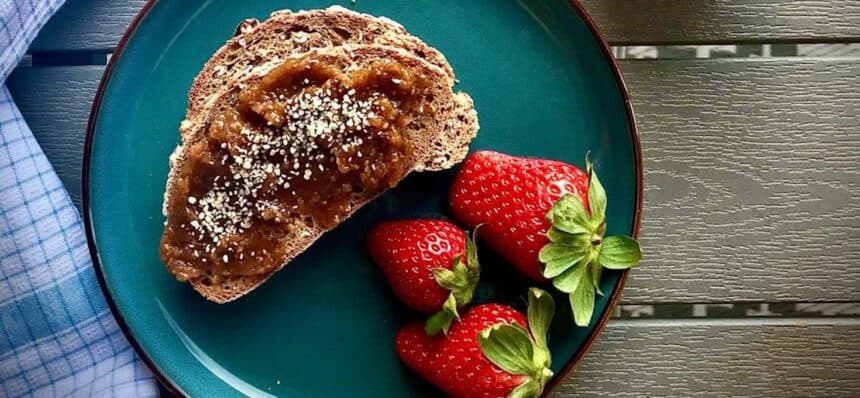 How to Serve
Pro tip: For this recipe, I recommend using unsulfered and unsweetened dried apricots. Unsulfered dried apricots will be a dark brownish color, but the taste is far superior.
How to Store
Since this is not a properly canned jam, this kind of quick jam is sometimes called freezer jam. You can store the jam in an airtight container in the refrigerator for about 2 weeks or in the freezer for up to 6 months.
I like to make a big batch, portion it into small, freezer-safe glass jars, and then freeze all but one jar. I keep one jar of this dried apricot jam in the refrigerator and when I run out, I just grab another from the freezer. So easy!
Related Recipes
📖 Recipe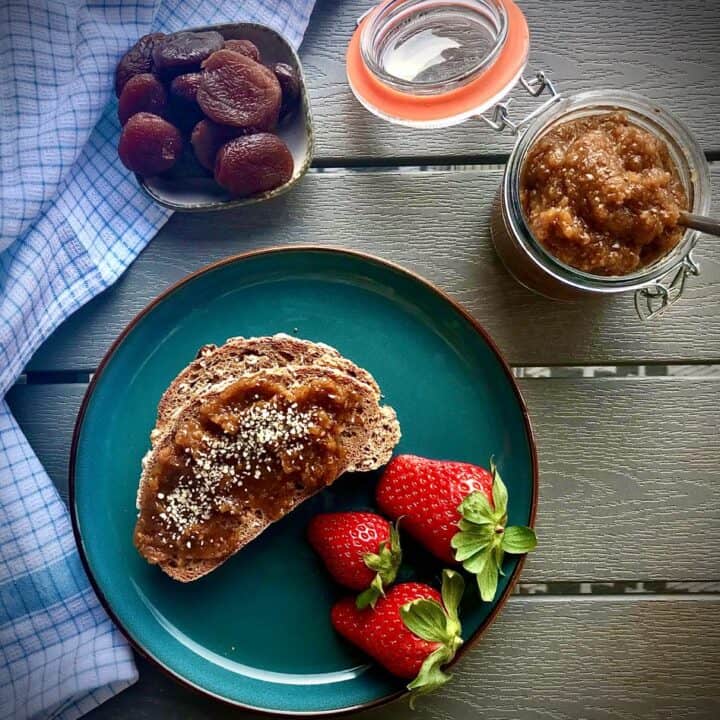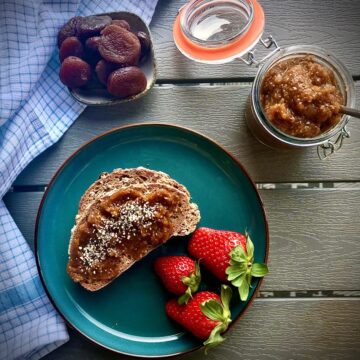 Dried Apricot & Chia Jam
This dried apricot jam is super tasty, easy to make, and requires just 3 simple ingredients: dried apricots, chia seeds, and a splash of orange juice. Spread it on your morning toast or use in baking.
Ingredients
1

tablespoon

orange juice (or other sweetener)

1

tablespoon

chia seeds
Instructions
Soak the apricots in warm water for 5 to 10 minutes.

Drain off half the water, then blend the rest of the apricots and water in a high speed blender.

Place the apricot mixture and the orange juice in a pot and heat on medium high. When the mixture starts to bubble, turn the heat down to medium.

Continue to cook over medium heat, stirring with a wooden spoon until the apricot mixture thickens to an almost jam-like consistency. If it starts to bubble up too much, turn the heat down a little.

When you've reached your desired consistency, take off the heat. Add the chia seeds and stir to combine.

Let the jam sit for at least ten minutes before consuming. The chia seeds will begin to absorb the liquid and grow slightly in size. They will take on a jelly-like consistency (similar to tapicoa) and help to thicken up the jam.

Serve right away or place in a glass jar with an air-tight lid and store for up to two weeks in the refrigerator. Or store in the freezer for up to six months.
Save this Recipe
Saved!
Notes
If your jam is too thin, simply add more chia seeds, stir to combine, and wait another 10 minutes.
Safety precaution: This jam should be stored in the refrigerator or freezer. Do NOT store at room temperature.
If you can't find unsulfered apricots, you can use the bright orange sulfered variety, but the color and flavor will be considerably different.
Want access to my Exclusive Meal Planning Tips & Printables page?