These quick and easy vegan pancakes are oil-free and require just 6 ingredients. Perfect for a lazy weekend morning! Add in berries, chopped apples, or chocolate chips. Or just pile on your favorite toppings and enjoy!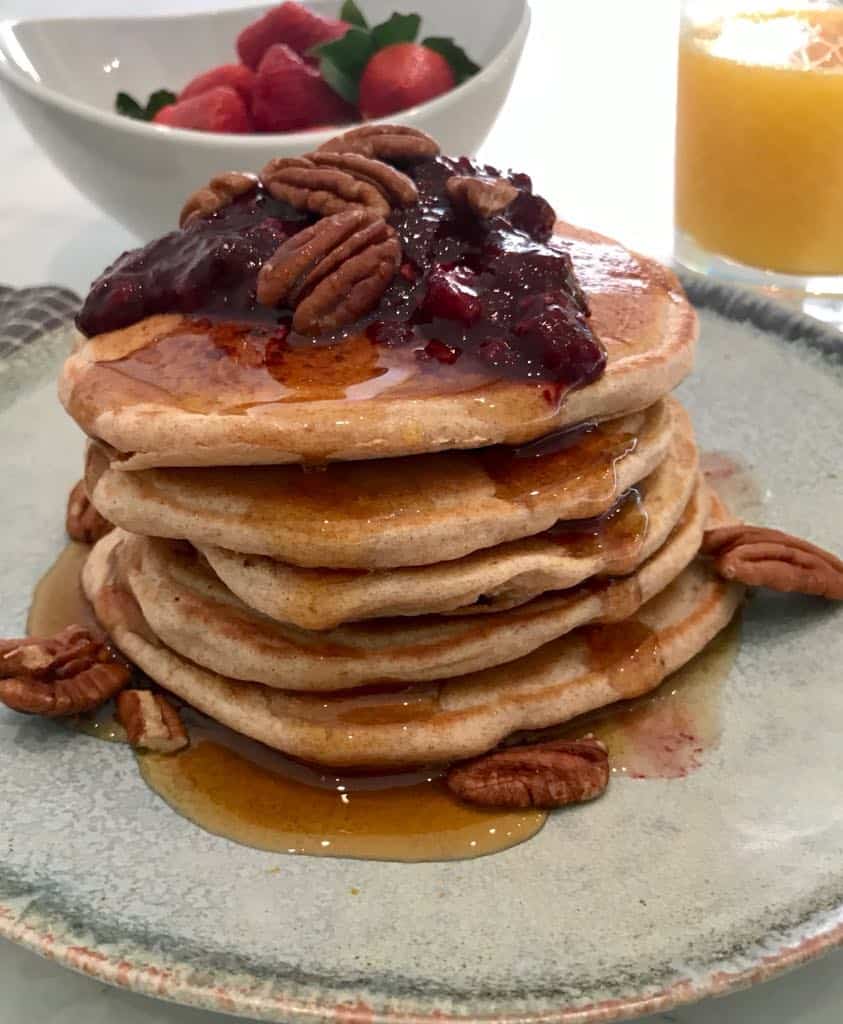 Weekends are for pancakes, right! But they're also for sleeping in. If you're a parent of young children like me, sleeping in means you get up at 7:00 instead of 6:30. But hey, every little bit helps. . . .
My point is that if you want a super quick, super simple go-to pancake recipe that you can throw together in minutes without searching your pantry for all sorts of weird ingredients that are probably expired anyway, then this is the recipe for you.
Jump to:
You'll love these Easy Vegan Pancakes because they're:
Quick & Easy
Vegan
Dairy-free
Egg-free
Healthy & Oil-Free
WFPB
Super Versatile
Light & Fluffy
Absolutely Delicious!
How to customize
One thing I love about this recipe is its versatility. It's a basic pancake batter that you can customize however you like.
I love adding chopped apples right to the batter. Blueberries and flaxseed are another healthy addition. (Just don't overdo the flaxseed as it can make the batter too thick--about 1 tablespoon is enough).
And if you're in the mood for something a little more decadent, chocolate chips are a real treat. But honestly, the base recipe is good enough without any additions, so if you're pressed for time, just keep it simple.
How to serve
To serve, just pile on a plate and load up with your favorite toppings! I love pancakes with berry sauce, walnuts or pecans, and a healthy drizzle of maple syrup.
You could also top with this quick chocolate sauce.
Pro Tip: For a quick berry sauce, just add 1 cup of frozen mixed berries to a small pot and cook over high heat. When the berries are soft enough, crush them with a potato masher and stir with a wooden spoon until the mixture thickens to a sauce. Use the leftovers to make this 2-Ingredient Chia Berry Jam!
---
Ingredients
Dry Ingredients
Optional
How to make
The base recipe for these pancakes requires just six ingredients, which means you're not going to spend half the morning searching the back of your pantry. With just six simple, everyday ingredients, these really are quick and easy vegan pancakes.
I like to make a big batch--enough for 4 people plus more to freeze for weekday breakfasts. If you're just making enough for 1 or 2 people then feel free to halve the recipe.
To start, you're just going to mix all of your wet ingredients in one bowl and all of your dry ingredients in another. Wait a minute for the milk and vinegar to turn into "buttermilk" (that means it curdles a little), and then add your wet to your dry ingredients and stir to combine.
Warm up a skillet over medium heat and cook the pancakes in batches of 3, a little less than ¼ cup batter per pancake. This should result in about 20 x 4 in (10cm) pancakes.
Pro tip: As you're cooking the pancakes, your skillet will get hotter and hotter. This could result in the last few rounds getting a little burnt and undercooked (not good!). To avoid this, turn your burner down a notch after you've used about half of the batter. Also, be sure to remove the skillet from the heat for a few seconds between batches. I always move the skillet to a cold burner when I'm adding new batter. This gives the pan a chance to cool slightly in between rounds.
If this recipe for Quick & Easy Oil-Free Vegan Pancakes speaks your language, you might also love:
📖 Recipe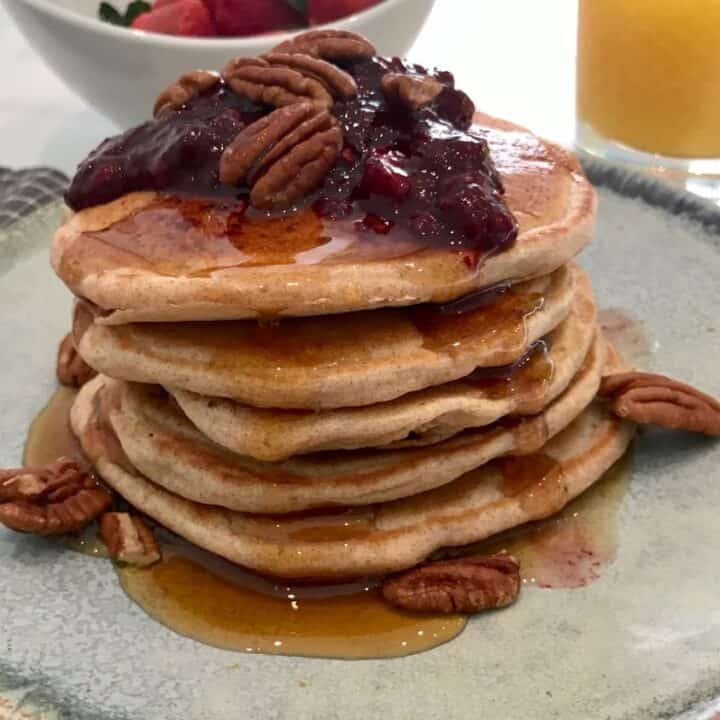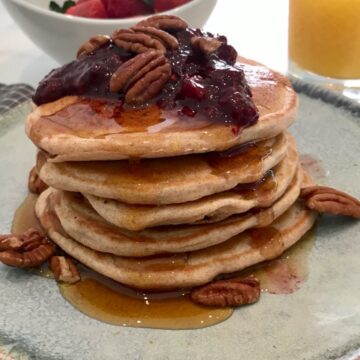 Quick & Easy Vegan Pancakes
These quick and easy vegan pancakes require just 6 ingredients. Perfect for a lazy weekend morning! Add in berries, apples, or chocolate chips for your own twist.
Instructions
First, add your 3 wet ingredients in a bowl and stir to combine. The vinegar will curdle the milk slightly, giving you a quick "buttermilk."

In a seperate bowl, add your 3 dry ingredeints and stir to combine. This step is important as it let's you evenly incorporate the baking powder into the flour.

Add your wet ingredients to your dry ingredients and whisk to combine. Let rest 3 to 5 minutes. While you preheat a nonstick skillet over medium.

When the skillet is warm, add 3 x 4in circles of pancake batter to the skillet. (If you use a ¼ measuring cup to transfer the batter to the skillet, this is a little less than a full ¼ cup.)

Let the pancakes cook until they begin to bubble and the edges start to crisp. When the underside has turned a golden brown color, flip over and cook on the other side. After the pancakes are done, transfer to a plate or a sheet tray in the oven and repeat the process until all of the pancakes are done. Serve and enjoy!
Save this Recipe
Saved!
Notes
I always like to make extra pancakes to freeze so that we can eat pancakes for breakfast throughout the week. To reheat, simply toast frozen pancakes in the toaster or warm them up on a skillet.
For extra-fluffy pancakes, add 1 additional tablespoon baking powder.

You can substitute another type of flour if you prefer. I've never made this with gluten-free flour, but feel free to experiment and leave a comment if you do.

If you're using a nonstick or cast-iron skillet, you shouldn't need to use any oil or butter for this recipe. I don't recommend using a nonstick skillet, but if you do, you should use a little vegan butter or oil to keep the pancakes from sticking.
Feel free to dance along to music while you're cooking. I always do!
Want access to my Exclusive Meal Planning Tips & Printables page?
---
Have you tried a No Sweat Vegan recipe? I'd love to see a pic! Post it on Instagram and tag me @no_sweat_vegan.