If you're looking for a super simple way to make Vegan Bacon at home, this Tempeh Bacon Recipe is your answer. It's quick, easy, and delicious. Build your own B.L.T. or serve it as a side to your favorite tofu scramble.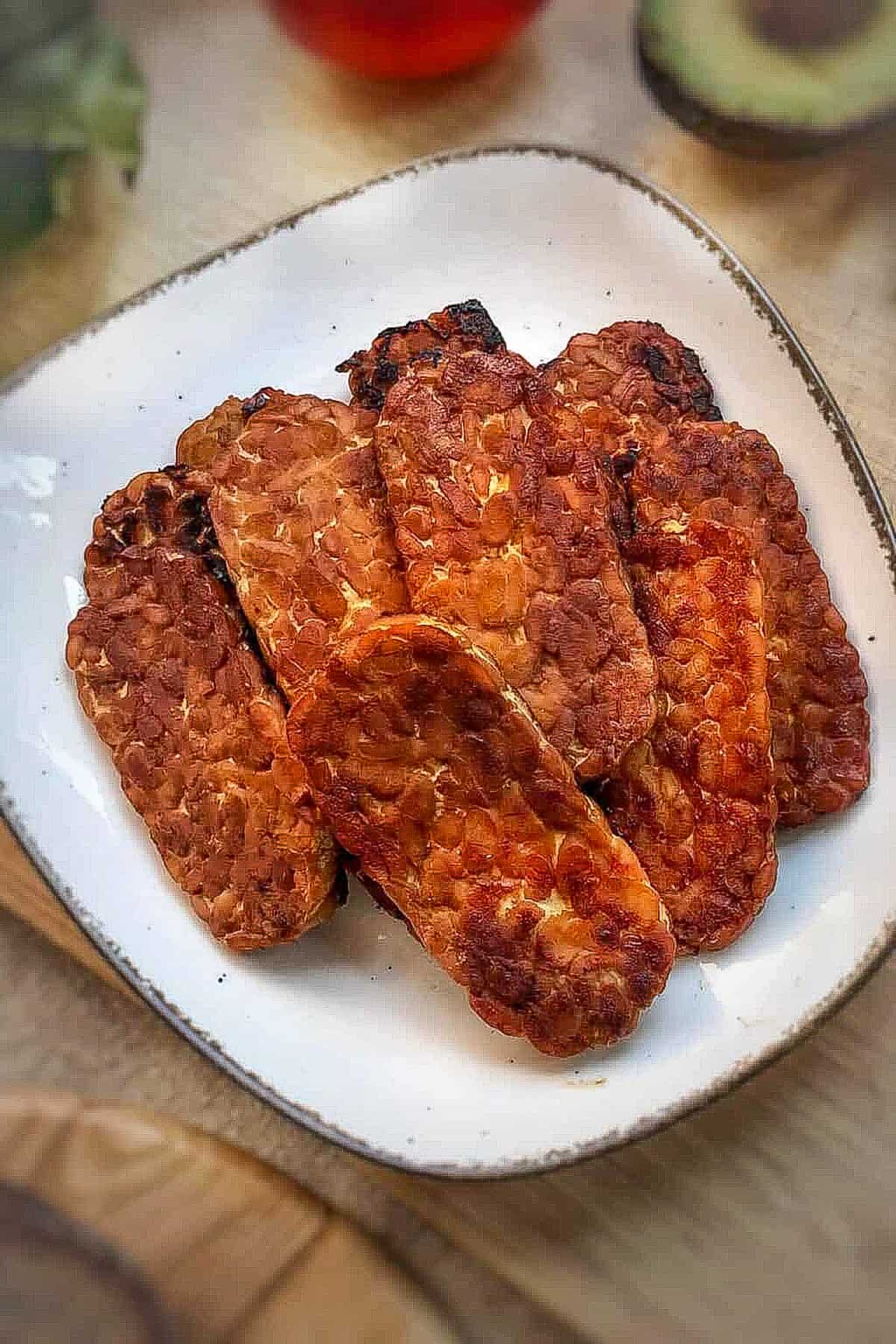 What about bacon tho? If you've been vegetarian or vegan for more than a minute, someone's probably asked you this exact question. And while new vegan bacon products are coming on the market every day, if you're looking for a no-fail and super simple way to make vegan bacon at home, I have your answer: Tempeh Bacon.
Jump to:
You'll love this Vegan Bacon Recipe because it's:
Quick & Easy
Perfect for a Vegan B.L.T!
Made with a simple tempeh marinade
Vegan / Vegetarian
Dairy-Free
Can be Gluten-Free (Use gluten-free soy sauce)
Absolutely Delicious!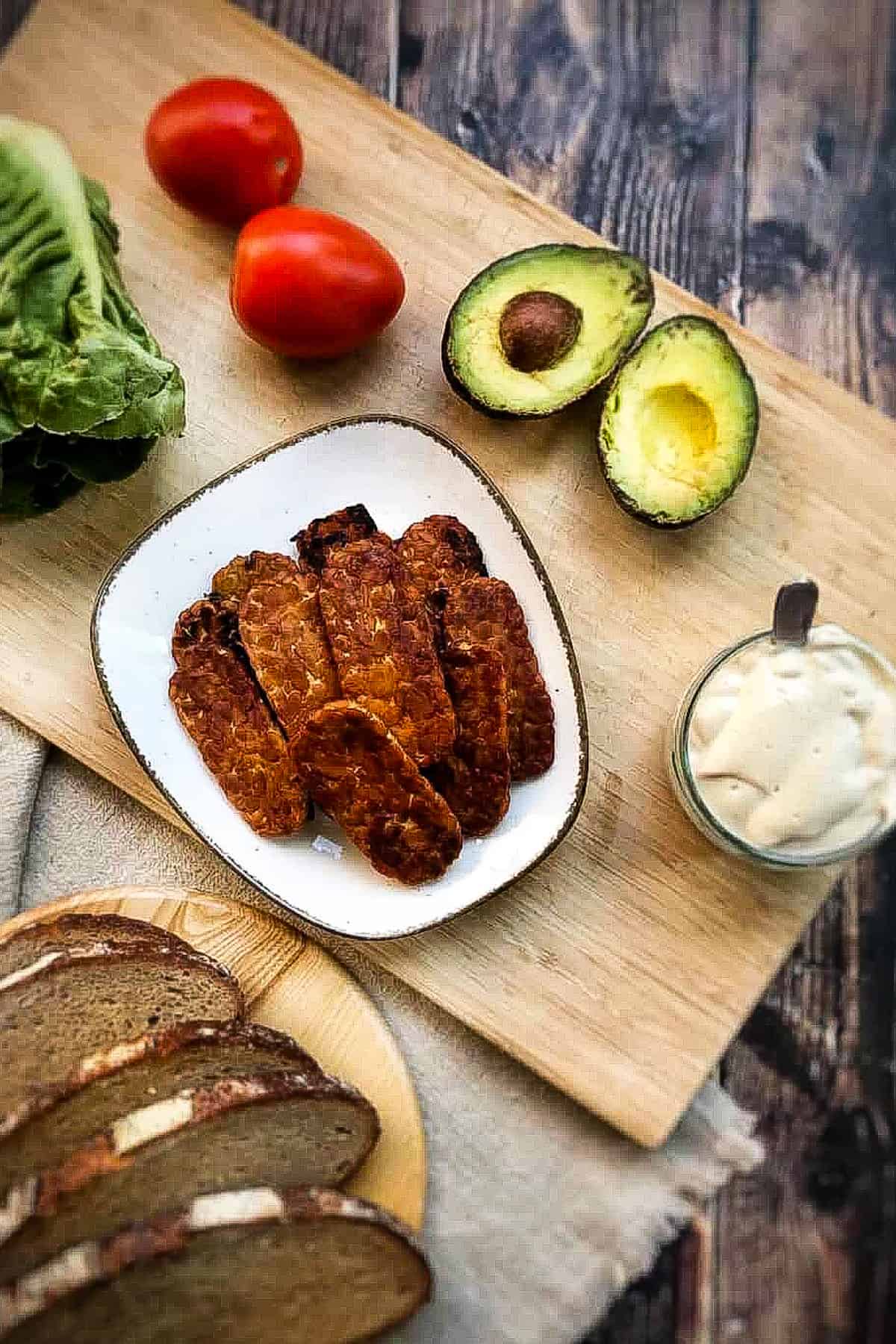 What is Tempeh?
Tempeh is fermented soybeans that have been formed in blocks. The fact that the soybeans are whole gives Tempeh a unique mouthfeel; there's an almost meaty element. Just slice it thin, marinade in a mixture of soy sauce, maple syrup, apple cider vinegar, and liquid smoke, and sauté until crispy.
How to Serve Tempeh Bacon
Serve it beside a tofu scramble, add it to a breakfast burrito, chop it up to garnish a Vegan Spaghetti alla Carbonara, or pile it on sliced sourdough and top with lettuce, tomato, and avocado for a vegan BLAT (aka a BLT with avocado). Add a smear of vegan aioli, and you're in business. This is, hands down, one of my favorite vegan sandwiches!
Does Vegan Bacon Really Taste Like Bacon?
If you eat the tempeh bacon by itself, you're not going to fool yourself into thinking it's meat, but when you add it to a sandwich the flavor is surprisingly similar. Combined with the other sandwich ingredients, it creates a really delicious and easy substitute.
Like many vegan substitutes, it's more about scratching that itch for a familiar food, rather than creating an exact replica. There are some more complicated recipes out there that come a little closer to simulating actual bacon, but if you want a quick, super simple, and delicious recipe, this is the one for you.
Can I make it in an air fryer?
If you prefer to make this vegan bacon in an air fryer, I've got you covered. Just click here for full instructions on how to make air fryer tempeh bacon.
Where to find Tempeh
Many supermarkets sell tempeh right alongside the tofu. Trader Joes makes a really nice and affordable version that I can recommend. If you have trouble finding it at a regular grocery store, try your local Asian market or you can order *tempeh online.
---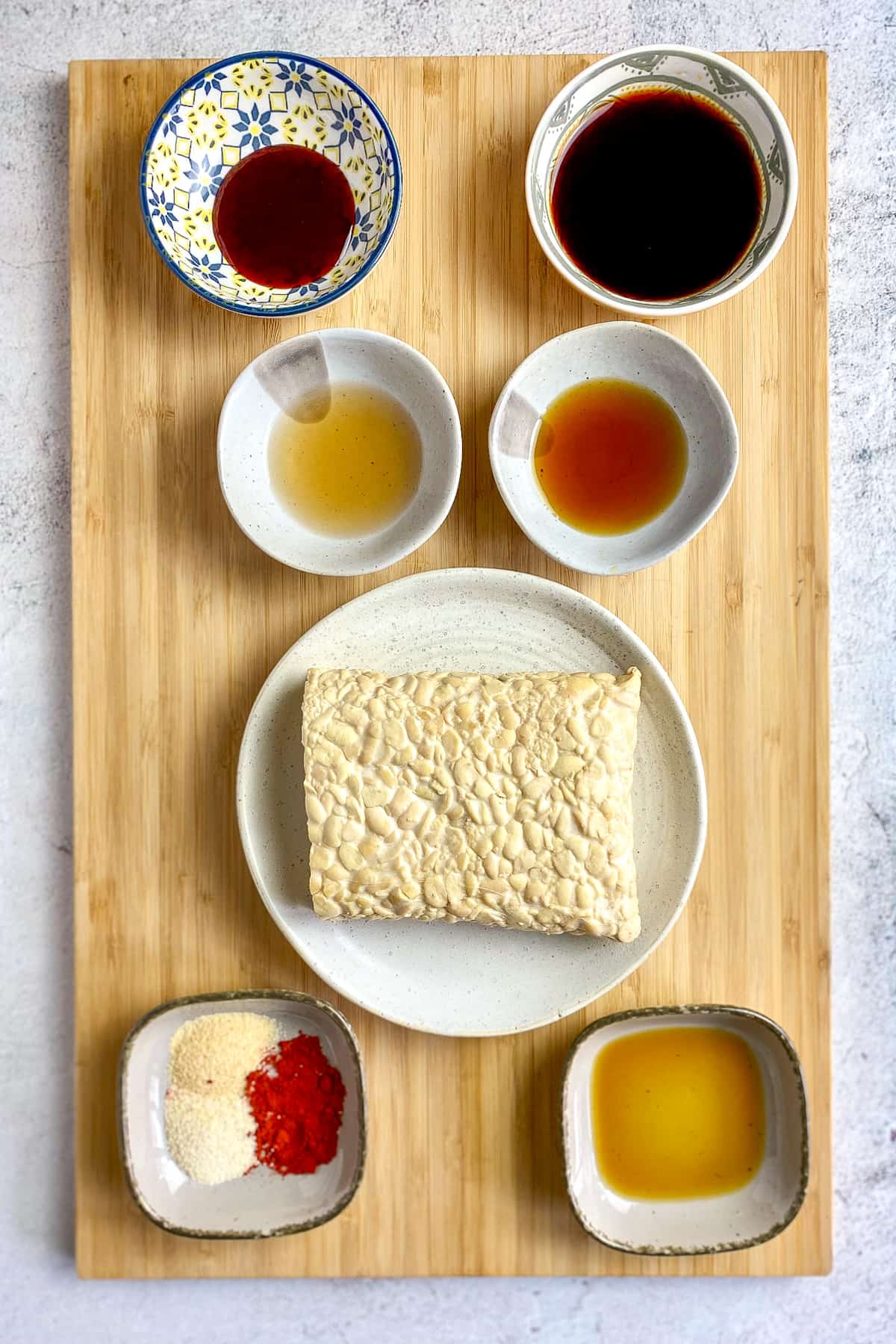 Ingredients
Instructions
Preparing your Vegan Bacon is actually quite simple. Unlike some more complicated vegan bacon recipes, you just need to steam for 10 minutes, then slice your tempeh, and add it to the tempeh marinade. Let the tempeh marinate for 5 to 10 minutes. For a more intense flavor, throw the ingredients together the night before and let marinate overnight.
Pro Tip: Tempeh has a slightly bitter flavor, but you can mellow it out by steaming your tempeh for about 10 minutes.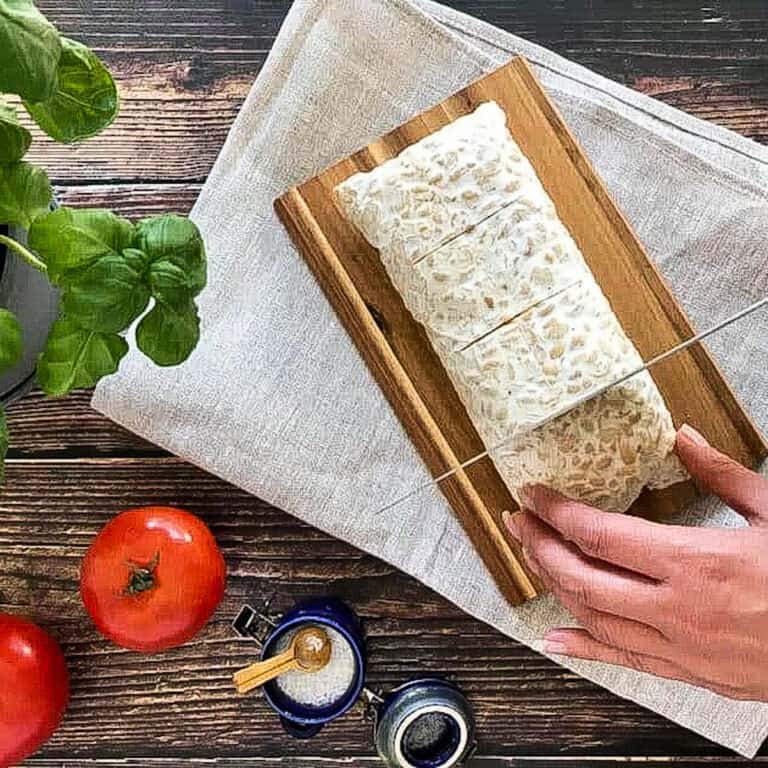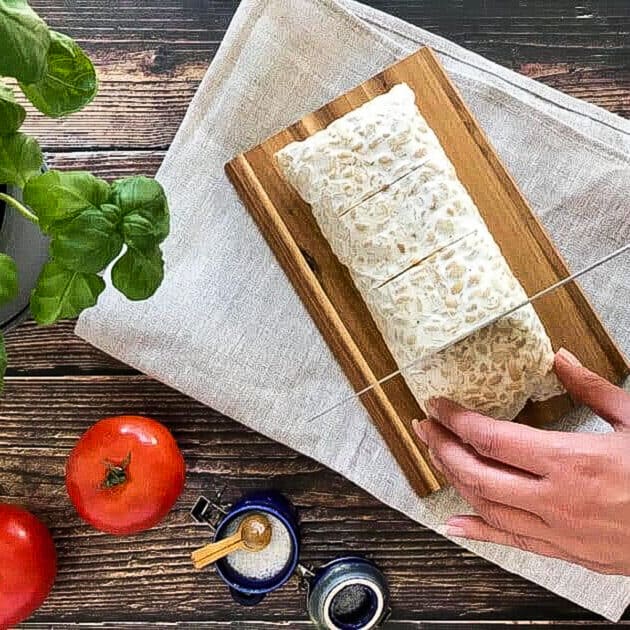 After the tempeh is done marinating, add it to a nonstick skillet that's been warming over medium heat. Don't mess with the tempeh too much while it's in the skillet. You want to give the marinade juices a chance to caramelize in the pan.
If the tempeh is sticking too much, you can add a little water to the skillet. This will also help with caramelization. (Just about half a teaspoon of water at a time though, or you'll be eating steamed tempeh.)
Your tempeh bacon will be done when it's nicely caramelized on both sides. Enjoy right away or store for up to a week in the refrigerator.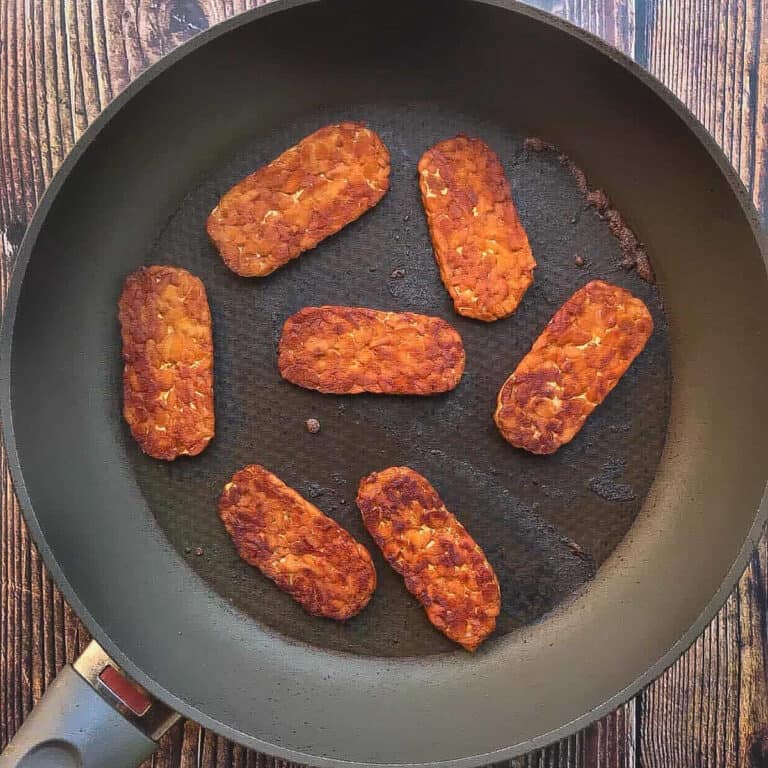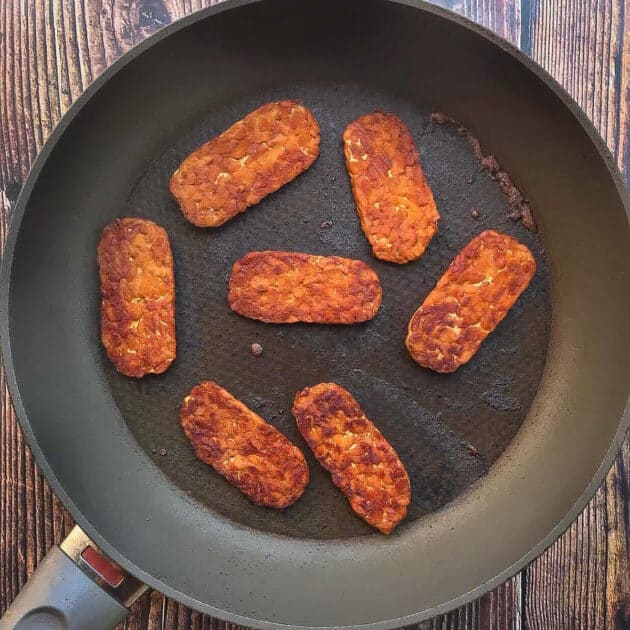 ---
Alternate preparation
For a crunchier tempeh bacon, or if you just don't feel like standing over a skillet, heat up your oven to 425°F or 220°C. Place the sliced, marinated tempeh on a sheet pan and cook for 15 to 20 minutes, flipping halfway.
You can also make tempeh bacon in an air fryer. And for crunchy bacon bits, check out this vegan bacon bits recipe.
How to serve
Add this tempeh bacon to a vegan BLT, wrap, or breakfast burrito. Or chop it into small chunks and add it to Vegan Broccoli Salad or Vegan Spinach Salad.
Tempeh Bacon also makes a perfect stand-alone side dish for breakfast or brunch. Pair with a tofu scramble, toast, vegan muffins, and more!
How to store
Store any leftovers in an airtight container in the refrigerator for up to 5 days or in the freezer for up to 3 months.
More Vegan Recipes
📖 Recipe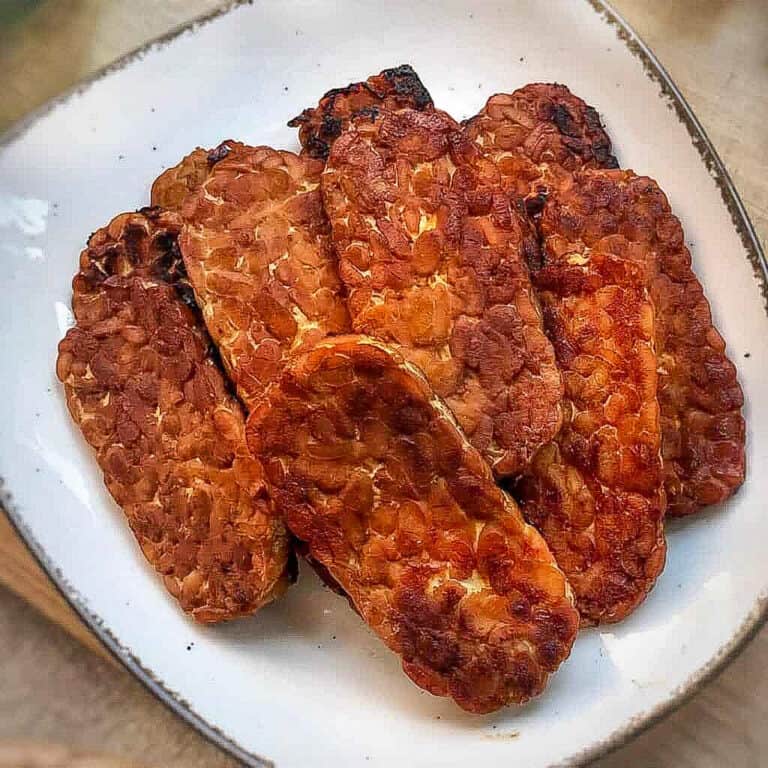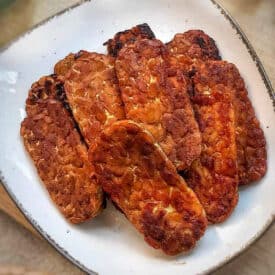 Vegan Tempeh Bacon
If you're looking for a no-fail and super simple way to make vegan bacon at home, this tempeh bacon is your answer. It's quick, easy, and delicious. Build your own vegan BLT or serve as a side to your favorite tofu scramble.
Instructions
Place the tempeh log in a medium pot with about ¾ in or 5 cm of water. Place a lid on the pot and steam over medium heat for 10 minutes.

Remove the tempeh from the pot and let cool for 1 to 2 minutes. Wrap the tempeh in a paper towel and lightly press to remove excess water. Slice the tempeh into thin strips. (You should have 14 to 16 strips)

Add the marinade ingredients to a bowl or dish and stir to combine.

Add the tempeh to the marinade and let sit for 10 minutes.

Heat a nonstick skillet over medium heat. Add the tempeh to the skillet and cook for about 10 minutes, flipping when one side is nicely browned and caramelized. Serve right away or store in an airtight container in the refrigerator for up to 5 days.
Save this Recipe
Saved!
Notes
This recipe will make enough vegan tempeh bacon for 3 to 4 sandwiches. If you want to make ahead, the tempeh bacon can be stored in the refrigerator for up to 5 days. Just reheat and add to your sandwich!
Nutrition
Calories:
41
kcal
Carbohydrates:
4
g
Protein:
3
g
Fat:
2
g
Saturated Fat:
1
g
Polyunsaturated Fat:
1
g
Monounsaturated Fat:
1
g
Sodium:
219
mg
Potassium:
85
mg
Fiber:
1
g
Sugar:
2
g
Vitamin A:
35
IU
Vitamin C:
1
mg
Calcium:
22
mg
Iron:
1
mg
Want access to my Exclusive Meal Planning Tips & Printables page?
Did you try this recipe? Have a question? Just leave a comment below and I'll get back to you ASAP!