This super easy Tofu Scramble recipe uses firm tofu to create the right texture, turmeric for color, and Kala Namak to give it an eggy flavor. Serve as a vegan alternative to scrambled eggs or add to a variety of savory dishes.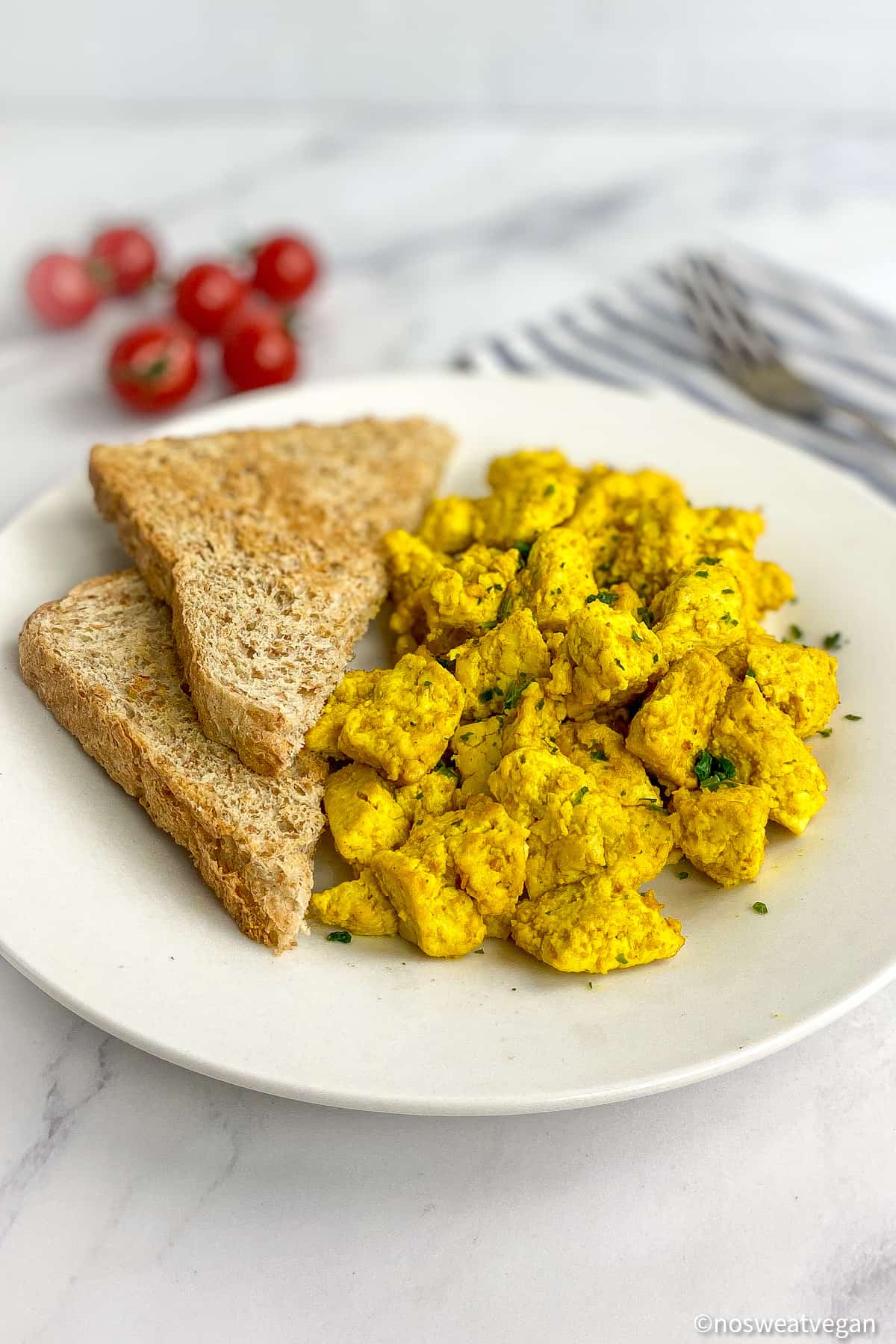 I wasn't always the biggest fan of tofu scramble. Turns out I was just using the wrong kind of tofu. I had tried making it with super-firm tofu, and the results were chewy and dense. And then I tried making it with silken tofu, and it turned out more like chunky soup. I also tried several combinations of different types of tofu, but the more complicated the recipe got, I less motivated I was to make it.
Then I tried it with regular firm tofu and everything else fell into place! This Easy Tofu Scramble has the just right, light and fluffy eggy consistency that when paired with kala namak it really does create a dish that will satisfy your scrambled egg cravings!
You'll love this recipe because it's:
Light & Fluffy
Quick & Easy
Versatile & Customizable
Vegan / Vegetarian
Oil-free
Gluten-Free
Perfect for make-ahead breakfasts
A healthy alternative to eggs
Jump to: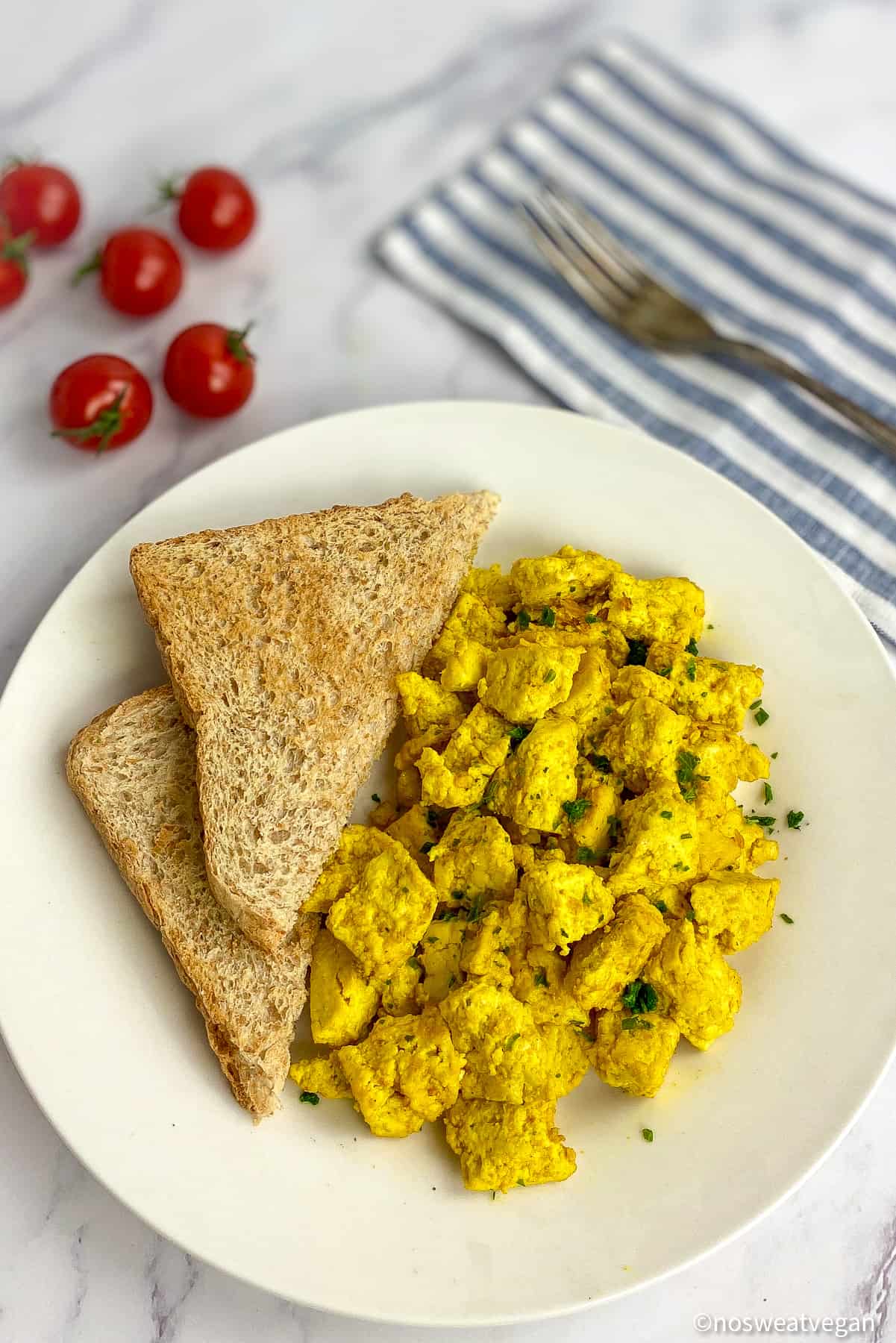 ---
Does tofu scramble taste like eggs?
Using medium-firm tofu creates very egglike texture and adding the turmeric gives it the right color. When you add in the kala namak, it can have a very eggy flavor. As far as simple at-home preparations go, this tofu scramble recipe really comes close. In the end, you might even find you prefer this to real eggs!
What is Kala Namak?
Kala Namak is also called black salt. It's a South Asian kiln-fired rock salt that has a sulfuric smell similar to eggs. When you take your first whiff, be forewarned: the smell is quite strong. Thankfully when you sprinkle a little over a tofu scramble, it just imparts a lovely eggy flavor.
Kala Namak loses some of its flavor when it's heated, so I always recommend sprinkling it on at the end, after you take the skillet off the heat or even after plating the tofu scramble.
What is turmeric?
Turmeric (or Curcumin) is a spice derived from the turmeric plant. Fresh turmeric is actually a root with a light brown skin and bright orange flesh and is related to ginger. Turmeric spice is what gives curry powder its signature yellow color and is known for having numerous health benefits including anti-inflammatory and anti-cancer properties.
Can I add veggies?
While I think this tofu scramble tastes great as it is, I love adding different veggies and spices for a delicious savory vegan breakfast treat. As a general rule of thumb, you should cook veggies that take longer (think onions, bell peppers, potatoes, etc) in the skillet first. Then remove them, cook the tofu scramble, and add the veggies in when the tofu scramble is almost done. However, for quicker cooking veggies (like spinach or tomatoes) you can just throw them in at the end, saute for another 2 minutes, and then serve.
Fun veggie combinations
Spinach & Tomatoes
Mushrooms, Spinach, & Onions
Sun-dried Tomatoes & Baby Kale
How to serve
I love to serve this scrambled tofu exactly like scrambled eggs with a side of toast, avocado, and fruit.
You can also add tofu eggs to a vegan breakfast burrito, breakfast tacos, or a bagel sandwich.
Make up a batch of Blackberry Muffins or Pumpkin Muffins for an easy make ahead pairing.
Another delicious way to enjoy tofu scramble is as a vegan hash with potatoes and other veggies.
You can also use tofu scramble in place of eggs in Asian dishes like vegan fried rice and vegan pad Thai.
And if you love deviled eggs, then you can try this recipe for Vegan Deviled Egg Crostini, which make a delicious appetizer or sandwich filling.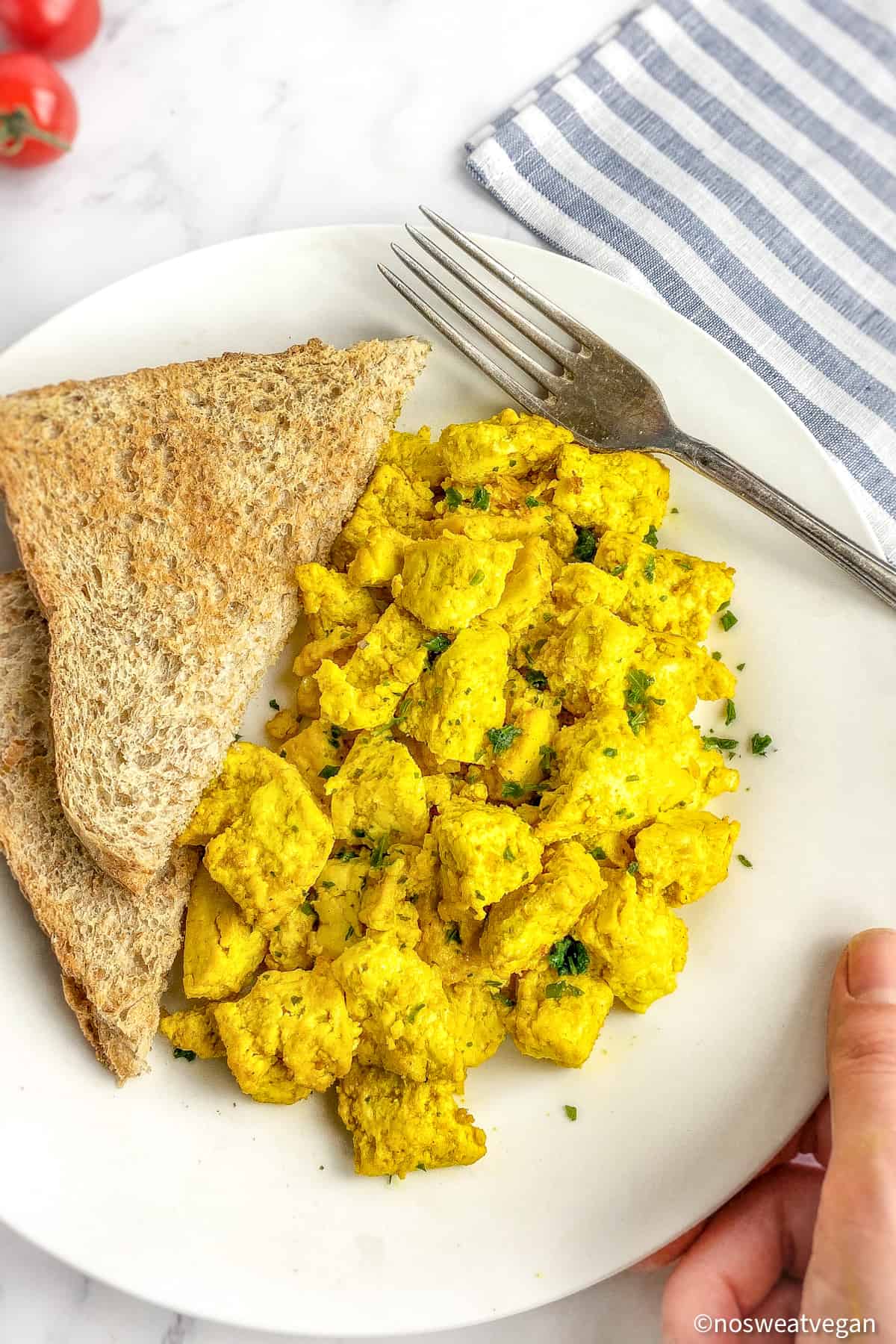 Ingredients
---
firm tofu: I have tried making this with firm tofu and was a bit too dry and not eggy enough. I also tried making this with silken tofu and it was just mush. But medium tofu turned out to be just right!
unsweetened soy milk: any unsweetened plant milk should work.
nutritional yeast: For added earthiness.
granulated garlic and onion powder: For added flavor.
turmeric: Mainly for the yellow color. If you find the flavor too strong, you can reduce the amount by half.
smoked paprika: This will give your vegan eggs a touch of smokiness. If you don't have smoked paprika, you can use regular paprika or just leave it out.
Kala Namak: This will give your tofu that tell-tale eggy flavor. If you don't have kala namak you can still enjoy this dish with a little sea salt.
---
Instructions
Start by removing the tofu from the package (no need to press!) and breaking the tofu into small chunks. I do this right into the skillet to save time (you can use a bowl instead if you prefer). I prefer chunks to tofu crumbles because I think this creates a more egg-like look and mouthfeel.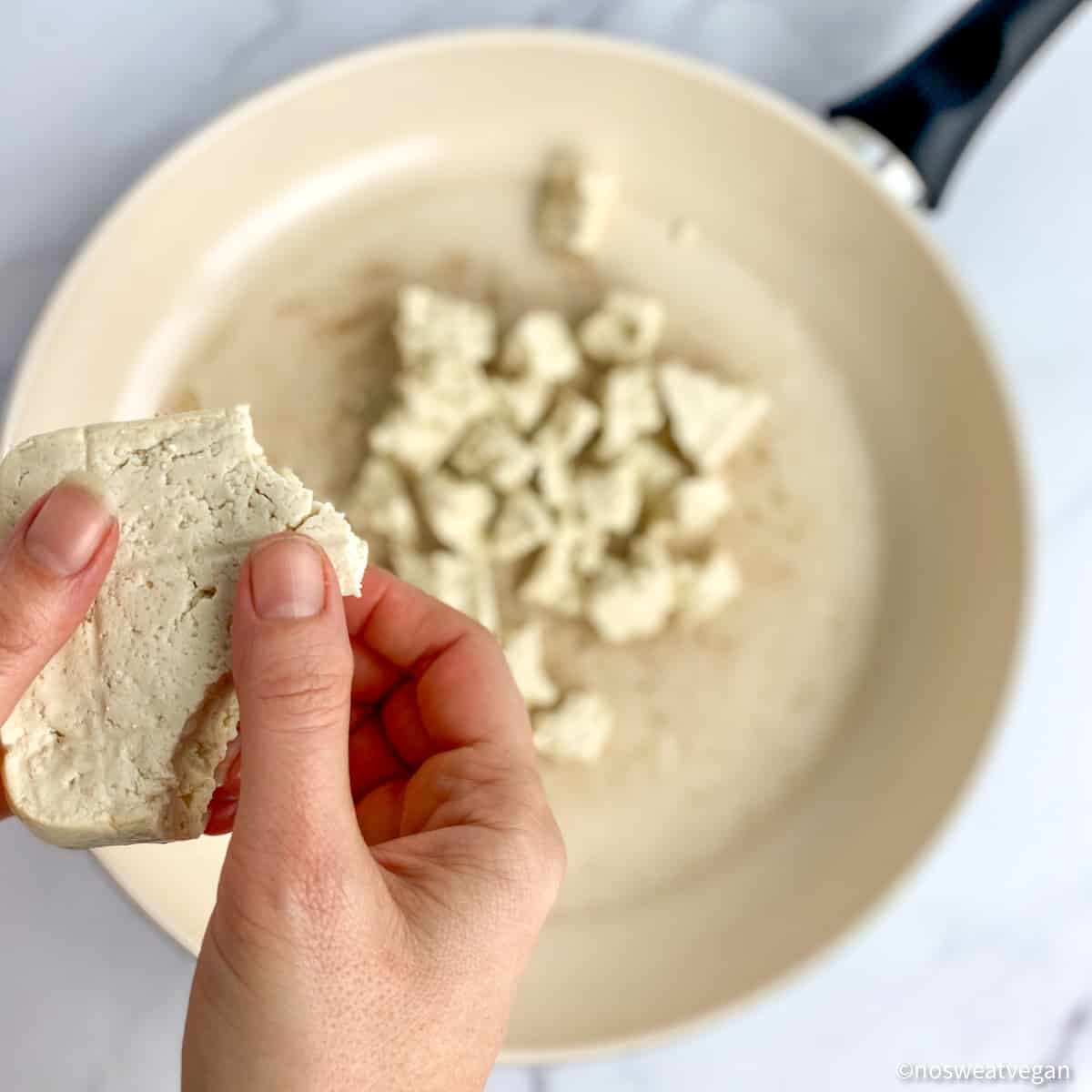 Turn your burner on to medium heat.
Then add the seasonings (except the kala namak) and soy milk right into the skillet. Use a wooden spoon or turner to stir and combine the ingredients until everthing is coated. It's okay if the tofu breaks up a little more since you started with larger chunks.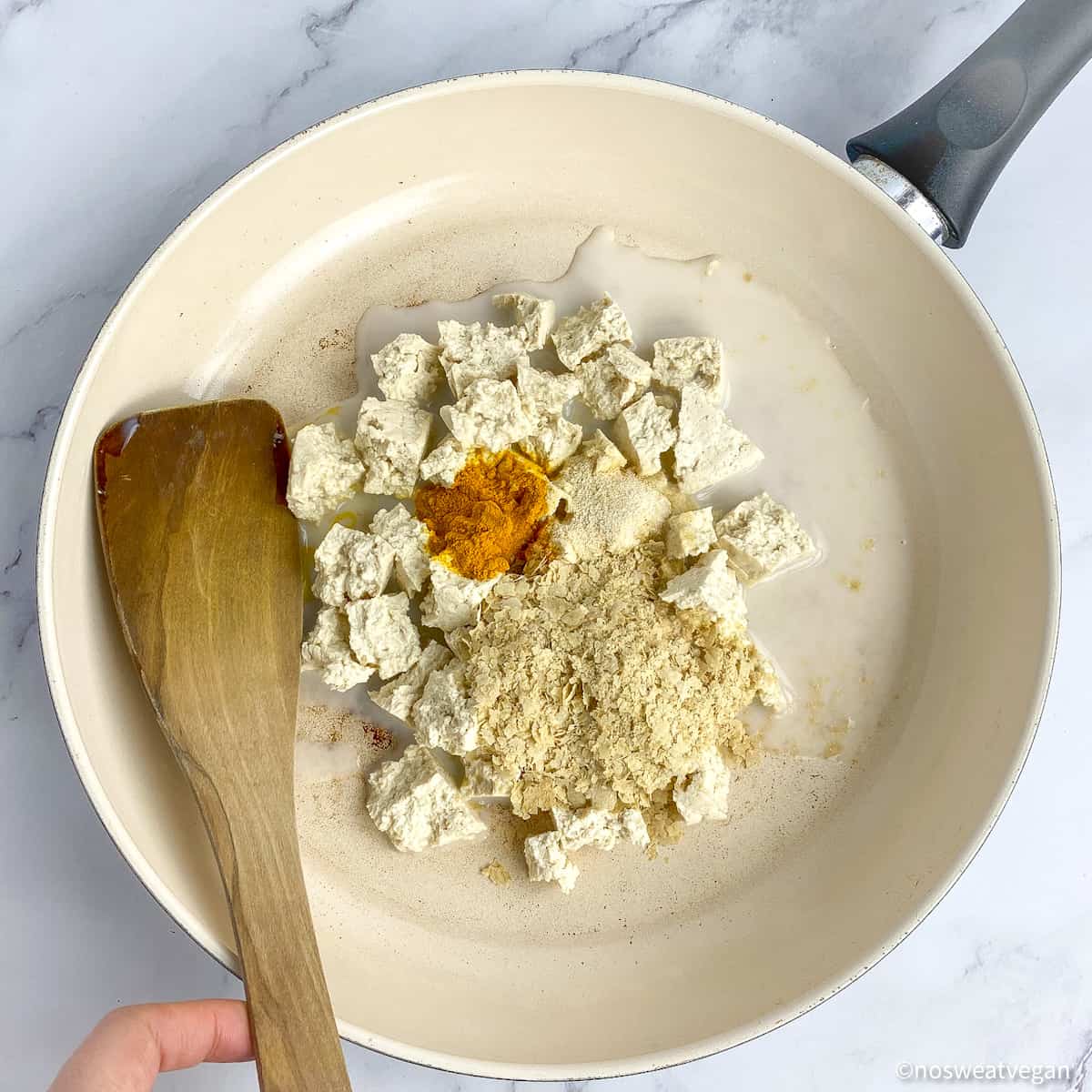 Saute the tofu scramble over medium for about 7 minutes. or until the tofu is heated through. As you are cooking, some of the seasonings might stick to the skillet. You can deglaze with another tablespoon or two of plant milk.
Serve and enjoy right away or store for later.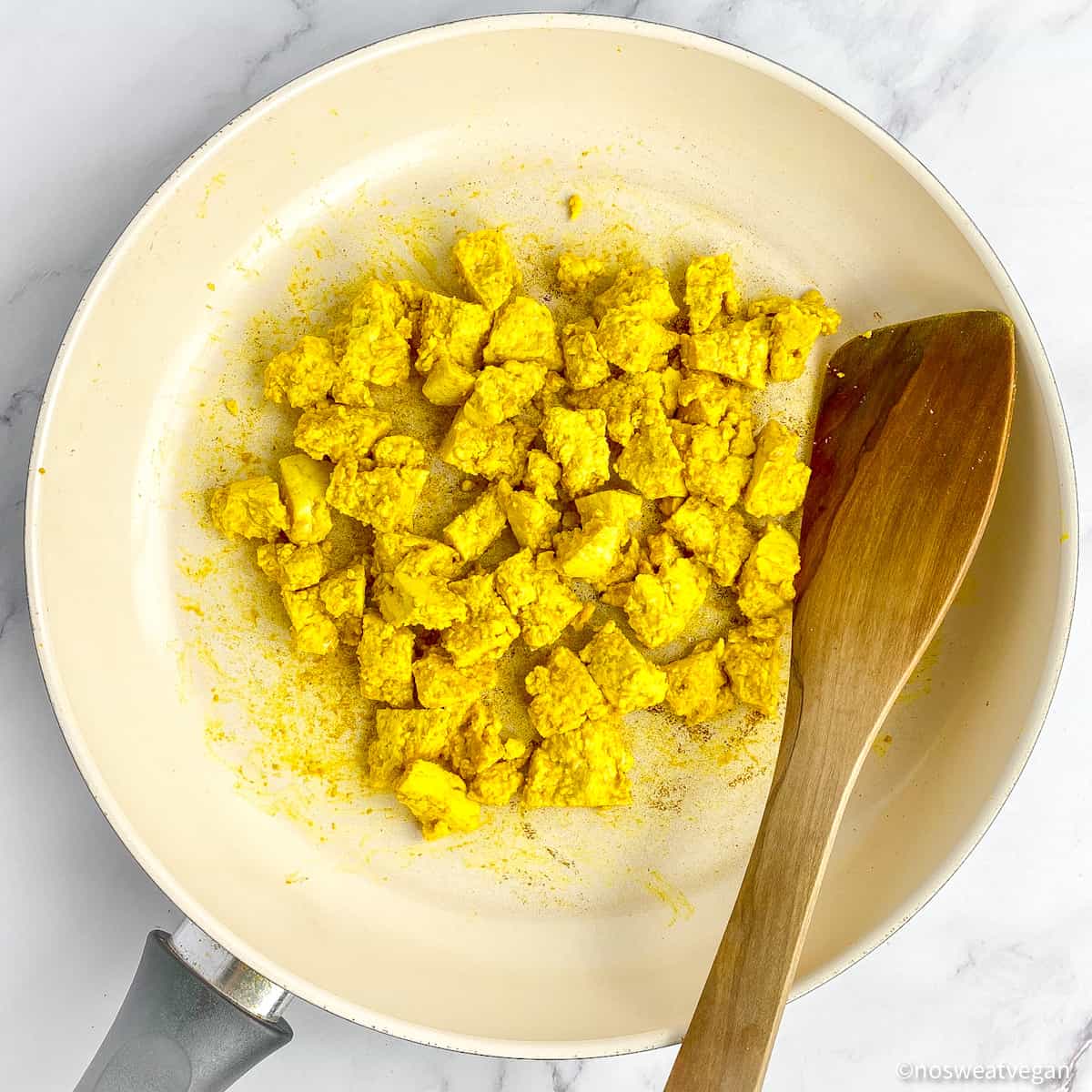 ---
Can I make it ahead?
Definitely! I often double this recipe and make a big batch of tofu scramble to easily reheat for quick breakfasts or lunches throughout the week. This is especially nice if you love hot breakfasts but don't have a lot of extra time in the morning. Just store it in the refrigerator and then reheat on a skillet with a splash of unsweetened soy milk. Add a sprinkle of kala namak before serving.
How to store
Store in an airtight container in the refrigerator for up to 5 days.
You can freeze tofu scramble in an airtight container for up to 3 months, although it will change the texture somewhat. Many people freeze tofu to give it a more chicken-like texture (see the method in this recipe for Chick-fil-A Style Tofu Nuggets.)
More vegan breakfast recipes:
---
📖 Recipe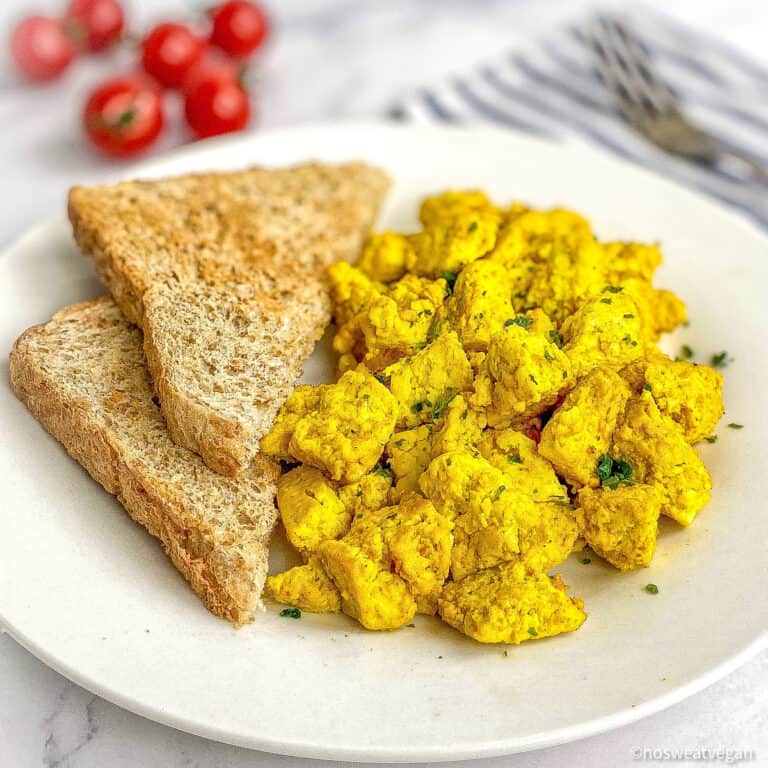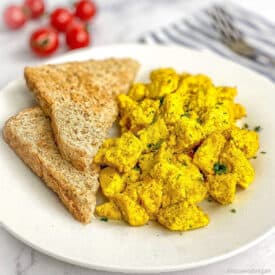 Easy Tofu Scramble
This super easy Tofu Scramble recipe uses regular-firm tofu to create the right texture, turmeric for color, and kala namak to give it an eggy flavor. Serve as a vegan alternative to scrambled eggs or add to a variety of savory dishes.
Instructions
Remove the tofu from the pacakage and break it into small chunks into a skillet.

Begin to heat the skillet over medium heat.

Add about 2 tablespoons of unsweetened plant milk and all of the seasonings *EXCEPT* the kala Namak to the tofu in the skillet. Gently mix to combine.

Cook for 5 to 10 minutes, or until the tofu is warmed through. Deglaze the skillet with more plant milk if neccessary.

Remove from heat and sprinkle with kala Namak.

Serve and enjoy right away or store to reheat later.
Save this Recipe
Saved!
Notes
You do not need to press the tofu.
If you want to mix in other vegetables, see the suggestions in the blog post above.
If you plan to store for later, wait to add the Kala Namak until right before serving.
If you don't have Kala Namak, you can substitute with sea salt, but it won't have that telltale eggy flavor. (Still delicious though!)
Nutrition
Calories:
125
kcal
Carbohydrates:
7
g
Protein:
13
g
Fat:
5
g
Saturated Fat:
1
g
Sodium:
13
mg
Potassium:
203
mg
Fiber:
3
g
Sugar:
1
g
Vitamin A:
182
IU
Vitamin C:
1
mg
Calcium:
149
mg
Iron:
2
mg
Want access to my Exclusive Meal Planning Tips & Printables page?
Did you try this recipe? Have a question? Just leave a comment below and I'll get back to you ASAP!