These Vegan Pumpkin Muffins are quick, oil-free, and full of delicious fall flavors. Serve for an easy make-ahead breakfast, snack, or dessert. These perfectly spiced pumpkin muffins are sure to be a hit with everyone!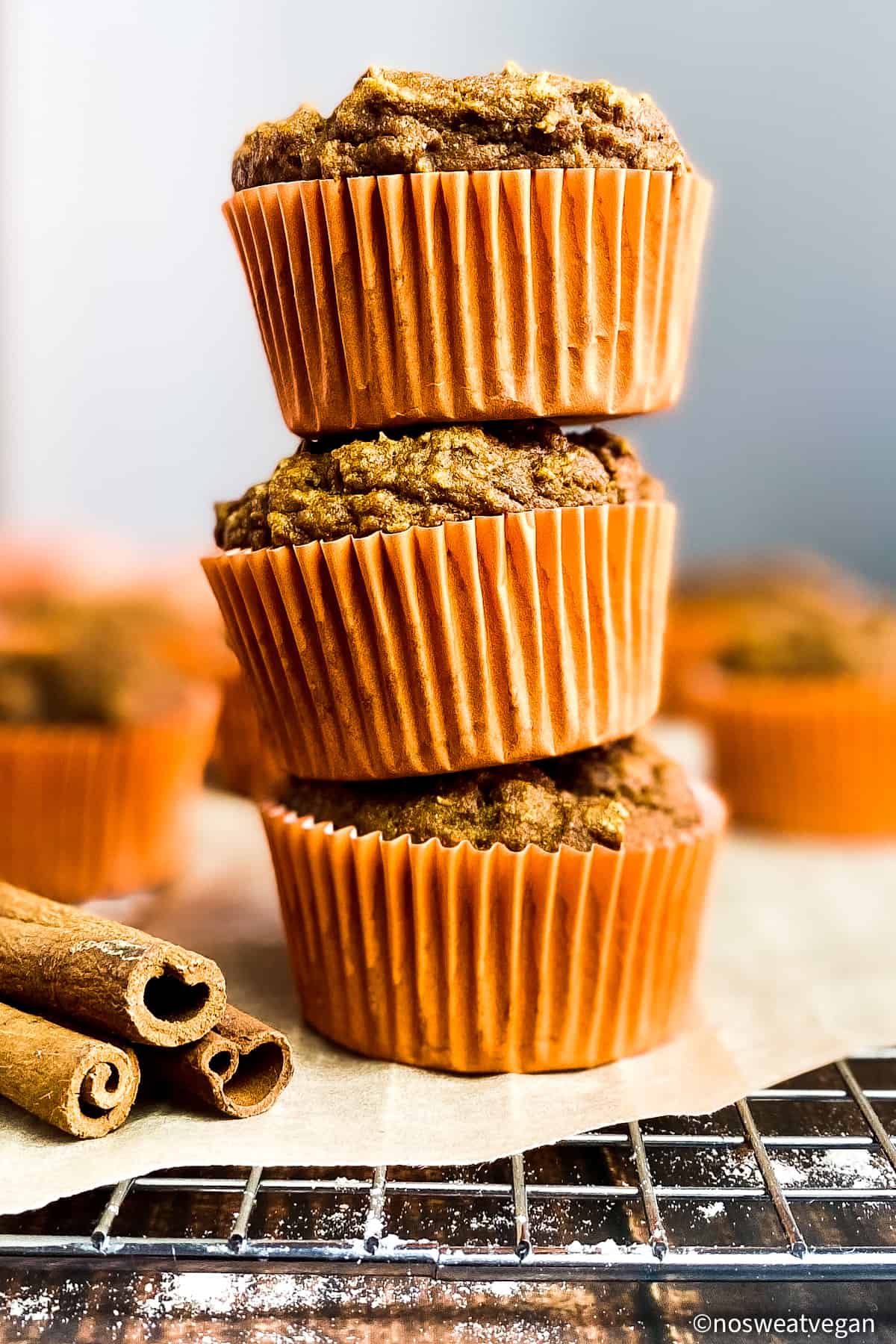 You know it's the fall when you start craving seasonal treats! Apple recipes, butternut squash, and hearty soups, all make an appearance, but one ingredient stands above the rest: Pumpkin. These healthy Vegan Pumpkin Muffins don't disappoint. Not only are they easy to make, but they are full of delicious pumpkin spices.
I'm a big fan of muffins. They're perfect for breakfasts, snacks, or even desserts. Zucchini muffins and Blackberry Muffins are some of my favorites, but starting in September, through October, and even November, Pumpkin Muffins are my number one choice! So if you're looking for an excuse to break out the pumpkin spice, give these muffins a try!
Jump to:
You'll love this recipe because it's:
Quick & Easy
Vegan / Vegetarian
Kid-friendly
Gluten-Free
WFPB & Oil-Free
Healthy
Full of Fall Flavors
Absolutely Delicious
---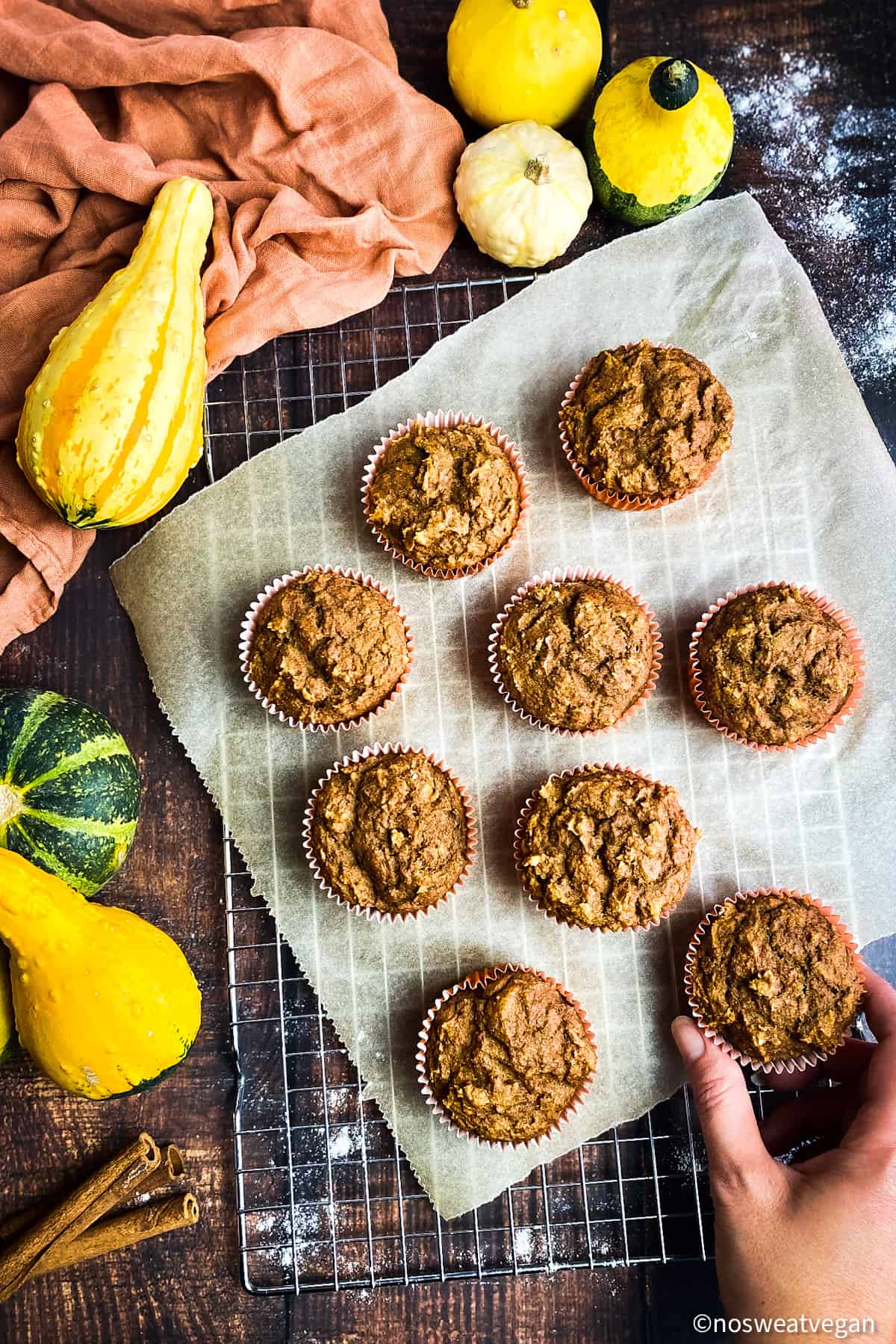 Can this be gluten-free?
To make these pumpkin muffins gluten-free, you would need to use gluten-free flour like oat flour. I haven't tested that option yet, but if you do, please let me know in the comments.
Is this nut-free?
Yes! As long as you don't add in any optional nuts, then this recipe is nut-free.
What kind of muffin cups do you recommend?
I bought orange paper muffin cups to do the photos for these pumpkin muffins because I thought it would look more "festive," but generally speaking, I prefer to use silicone cups. They're reusable, and the muffins don't stick (as long as they are fully cooled).
Can I make mini pumpkin muffins with this recipe?
I haven't tested mini-muffins, but you can certainly use this recipe to make them. With mini muffins, you will want to reduce the cooking time to 10 or 15 minutes.
Ingredients
Dry Ingredients
white whole wheat flour: You could also use regular all-purpose flour or whole wheat flour instead. When you measure the flour it should be loose in the cup. Use a butter knife to even off the top but don't pack the flour into the cup. Or you can weigh the flour.
Wet Ingredients
pumpkin puree: This is the star of these muffins. Don't confuse this will pumpkin pie filling, which is already sweetened.
soy milk: Or unsweetened plant milk of choice.
---
Variations
Feel free to include fun add-ins like vegan chocolate chips, raisins, dried cranberries, chopped walnuts, or chopped pecans.
If you're looking to make healthy pumpkin cookies instead, I have a recipe that you'll love!
Instructions
Preheat the oven to 350F or 175C.
Add all of the dry ingredients to a bowl and whisk to combine. Make sure everything is mixed well for more even baking.
Now add the wet ingredients and carefully mix everything together. Make sure to scrape down the sides and bottom of the bowl so that all of the flour is incorporated, but don't overmix. Once all the flour has "disappeared," stop mixing.
Use a spoon or ice cream scoop to transfer the batter to a lined muffin tin. This recipe will make 12 regular-sized muffins.
Bake the muffins for 20 to 25 minutes. (For me, the magic number was 22 minutes, but every oven runs at a slightly different temperature.) Use a toothpick to test if the muffins are done. (To do this, remove them muffins from the oven and insert a toothpick into the center of one of the muffins. If the toothpick is clean when you pull it out, then the muffins are done. If there is wet batter on the toothpick then they need a little more time.)
When the muffins are done transfer them to a cooling rack. Let cool completely before serving.
---
Troubleshooting
Why did my muffins stick to the wrapper? To keep the muffins from sticking to the wrapper, you need to wait until they are completely cool. I also think silicone muffin cups work better than paper. When I used paper, the muffins only came away clean after a night in the refrigerator.
Why are my muffins doughy on the inside? They are probably undercooked. All ovens run at slightly different temperatures, so in order to be sure your muffins are done you need to do the toothpick test. Stick a toothpick into the center of the muffin. If it comes up clean, the muffins are done; it it comes up with wet batter then the muffins need to cook a little longer.
Why are my muffins dry? If your muffins are dry and crumbly then you probably cooked them too long. Most baking recipes have a cook time "range." Always check your baked goods at the lower end of the range the first time you make a recipe. (Use the toothpick test mentioned above to see if they are done or not.) If they aren't fully cooked the first time you check, put them back in the oven and check at 1 to 2 minute intervals.
How to serve
I love to eat these pumpkin muffins for breakfast, as a snack, or even as a healthy dessert. They would definitely make a fun and easy make-ahead breakfast for Halloween or Thanksgiving.
You can eat them plain or pair them with a jam or spread. Some of my favorites include:
Lately, I've been eating these pumpkin muffins spread with almond butter, paired with little tofu scramble and a side of fruit. It's an oddly satisfying combo!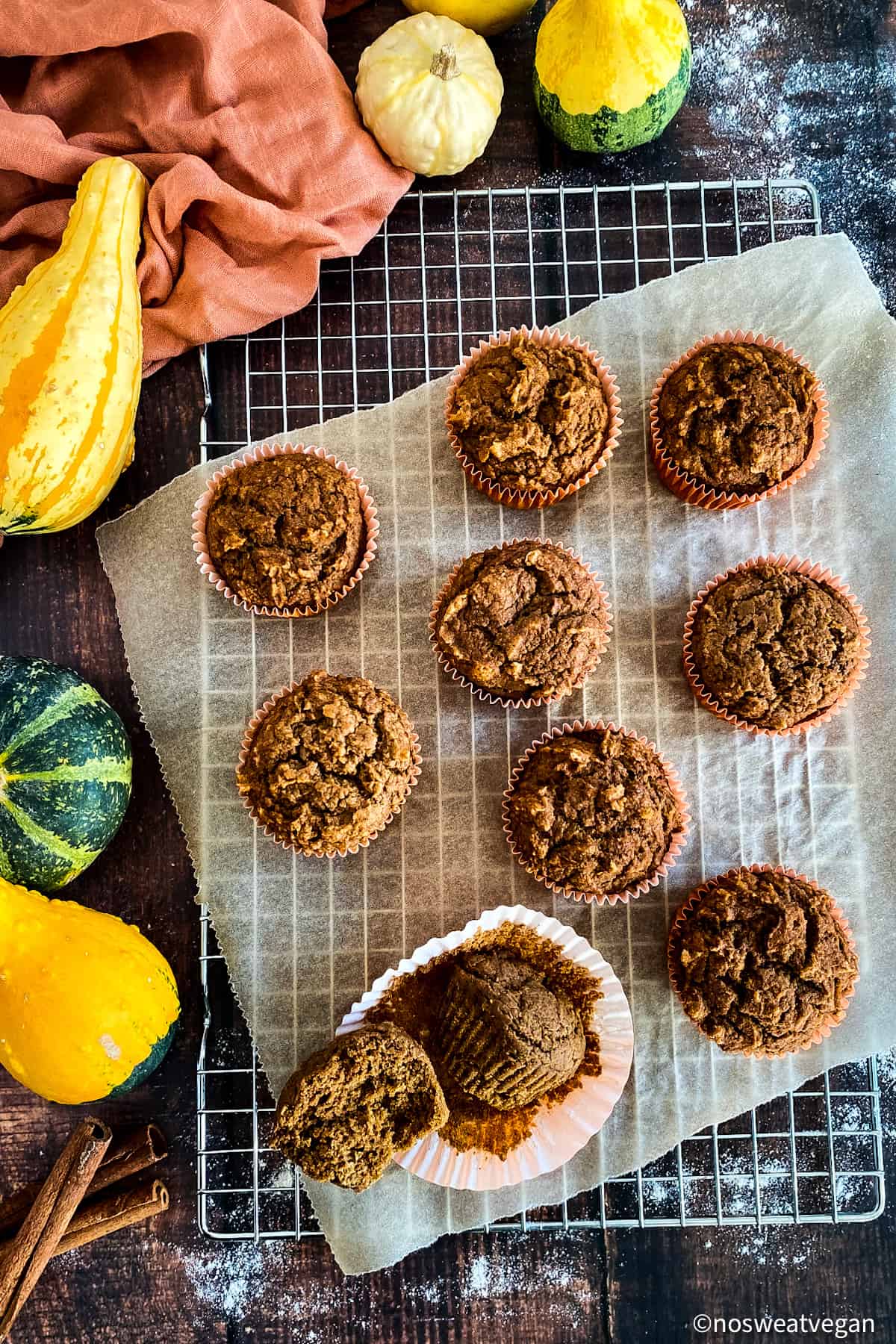 Can I make it ahead?
Definitely! Muffins are the ultimate make-ahead treat!
How to store
Store in an airtight container in the refrigerator for up to a week. Add a folded paper towel or clean kitchen towel to the bottom of the container. This will help soak up the excess moisture and keep the muffins from getting soggy.
These muffins can also be frozen for up to 3 months. Defrost on the counter open to the air (aka, not in an airtight container) so that they don't retain extra moisture. After they are defrosted they can be stored in the refrigerator for up to a week.
Related recipes
---
📖 Recipe
Want access to my Exclusive Meal Planning Tips & Printables page?
Did you try this recipe? Have a question? Just leave a comment below and I'll get back to you ASAP!