These Vegan Blackberry Muffins are lightly sweetened and topped with a delicious oat streusel! They're whole wheat, oil-free, and refined-sugar-free. Perfect for breakfast, snacks, packed lunches, and dessert!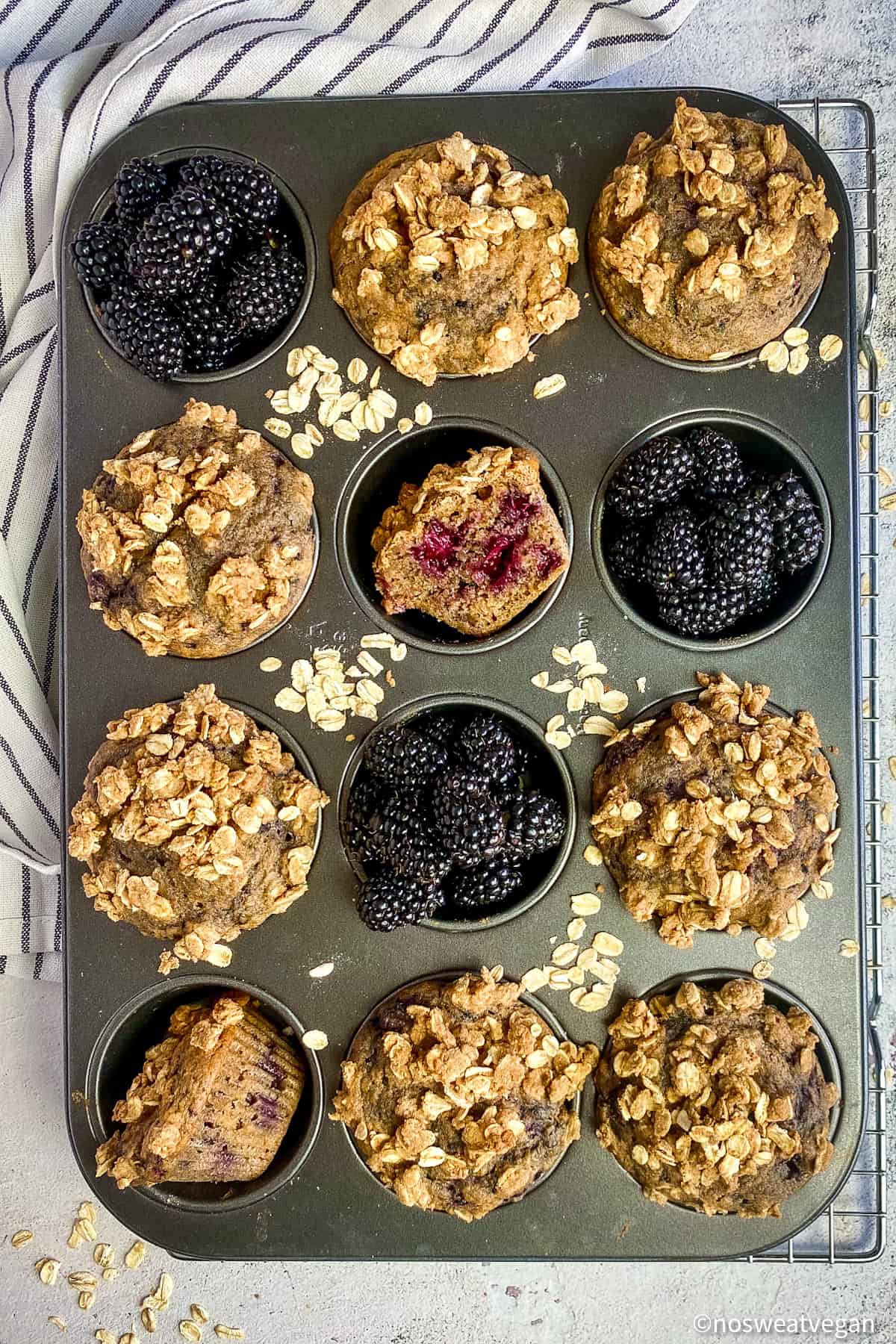 If you love muffins but think they need to be loaded with refined sugar and oil to taste good, then think again! These Vegan Blackberry Muffins are bursting with fresh blackberries and a touch of cinnamon. They're so perfectly moist and delicious you'd never know they're made with healthier ingredients!
These healthy vegan muffins are topped with a simple streusel topping that's also made without butter or refined sugar. This oat topping adds tons of flavor and texture.
Have these bad boys for breakfast, pack them in a lunch, enjoy as a sweet snack, or serve as a healthy dessert! After testing multiple batches, I can't stop eating them and even my picky kid gave these muffins two enthusiastic thumbs up. I hope you love them too!
Jump to:
You'll love this Vegan Blackberry Muffin recipe because it's:
Quick & Easy
Vegan / Vegetarian
Kid-friendly
Nut-free
WFPB
Whole Wheat
Oil-free
Refined-sugar-free
Sweet & Delicious!
---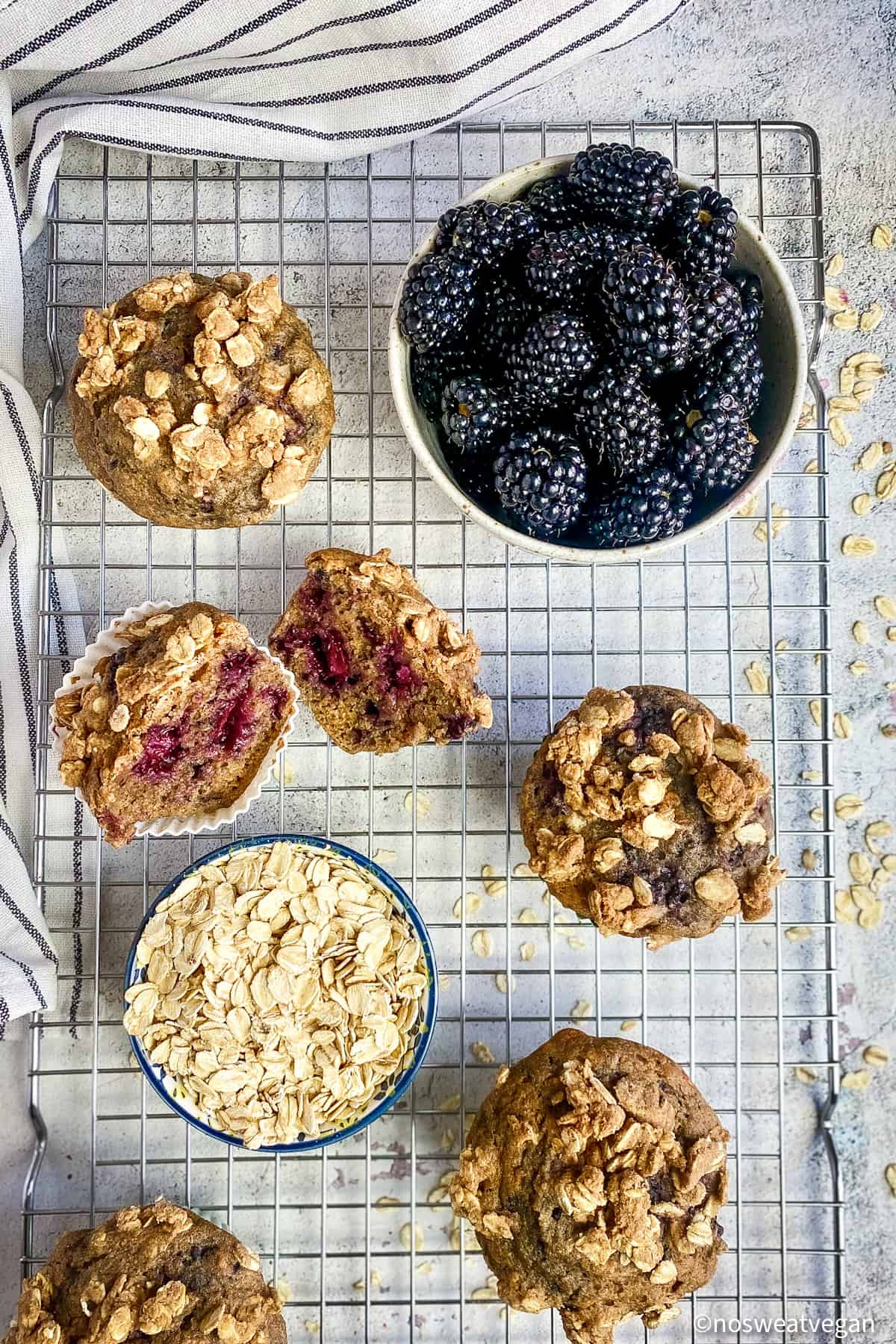 Can I make this without the struesel topping?
Yes! I like the extra crunch and flavor of the oat topping, but if you don't want to include it, simply ignore the ingredients and directions related to it.
Can I make these with frozen blackberries?
Yes, generally speaking, frozen fruit can be substituted for fresh in this type of muffin recipe. Let the blackberries defrost just enough that you can chop them (do not defrost completely). They might need to bake a few minutes longer. Be sure to do the toothpick test to make sure the muffins are completely done baking.
Can I make these with a mini-muffin pan?
Sure! You might want to chop up the blackberries into slightly smaller chunks. Bake the mini muffins for 10 to 15 minutes. This recipe will be enough for 24 to 36 mini-muffins. If you try it, please let me know in the comments below!
---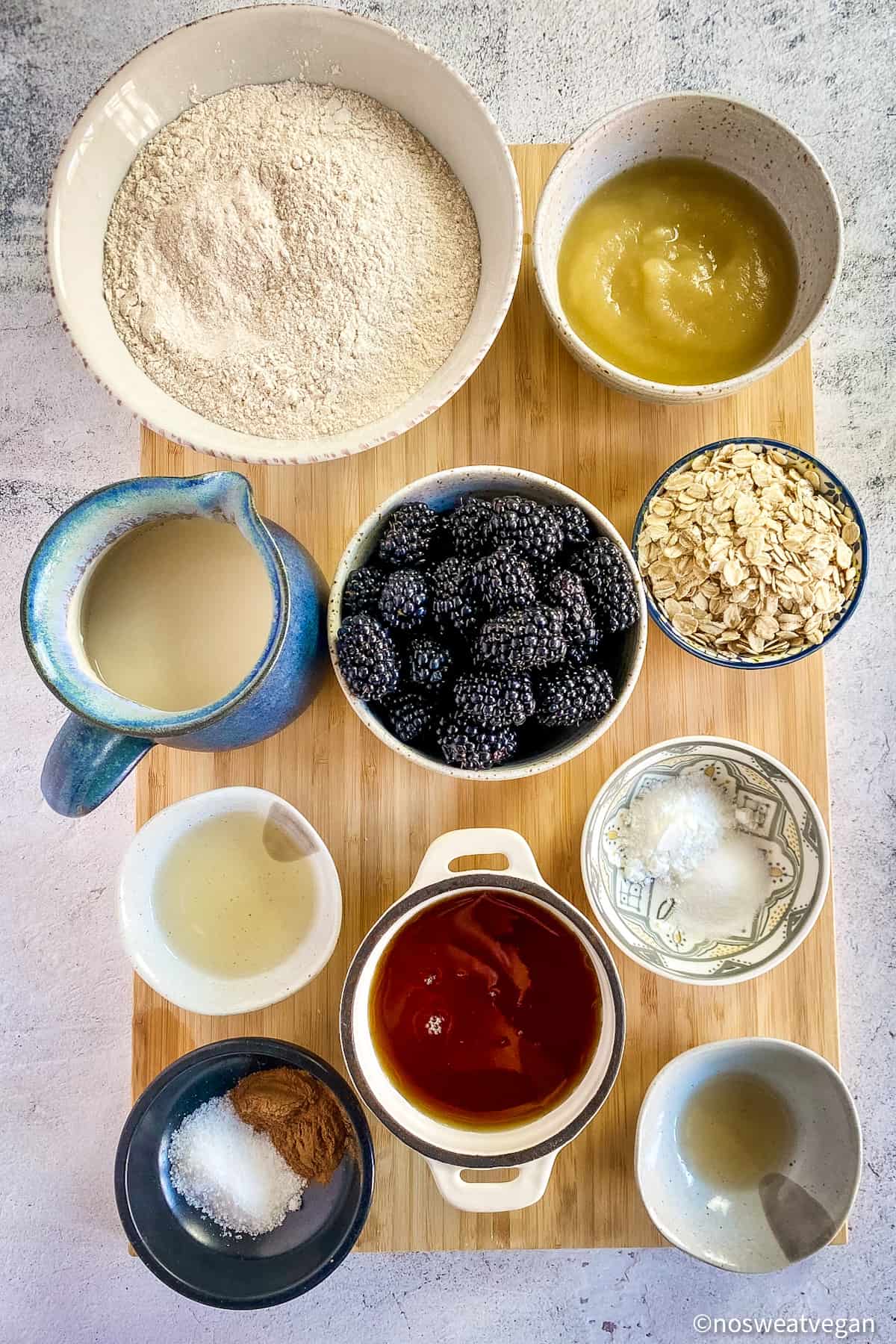 Ingredients
I broke the ingredients down into dry, wet, and streusel topping. Some of the ingredients appear in more than one section, but I think it's easier to break them down this way.
The blackberries are the add-in. You could potentially swap them for blueberries or apple chunks.
Dry Ingredients
Wet Ingredients
unsweetened soy milk: Any unsweetened plant milk should do.
maple syrup: I don't recommend swapping with granulated sugar, as that will alter the wet to dry ratio too much.
unsweetened applesauce
apple cider vinegar: You could substitute with lemon juice.
Add-in
fresh blackberries: You could also use frozen blackberries.
Oat Streusel Topping
---
Variations
You can make these muffins with other types of fruit like blueberries, raspberries, apples, or cherries.
I don't recommend using strawberries because they have a tendency to sink and turn blue in baked goods. It's not very appetizing!
For even more healthy muffins, check out my favorite Pumpkin Muffins and Zucchini Muffins.
Pro tips
Let the muffins cool completely before removing them from the muffin cups. No matter if you're using silicone or paper, the muffins are less likely to stick and more likely to come away clean if they are cool. To cool them more quickly, you can place them on a tray in the freezer for 5 to 10 minutes.
Blackberries can vary widely in sweetness depending on how ripe they are and the time of year they were picked. If you're using fresh blackberries it can help to taste one before you start baking just in case they are particularly sour.
For most consistent results, use a kitchen scale to weigh your ingredients, especially the flour, applesauce, and maple syrup. I have included both cups and weight measurements. If you don't have a kitchen scale, you can use cups, but do not pack the flour when measuring it.
Chopping the blackberries can get messy. Use an old cutting board or a plastic cutting board that can go in the dishwasher.
Instructions
Preheat the oven to 375F/190C. Line a 12-cup muffin tray with silicone or paper muffin cups.
Add all of the dry ingredients to a bowl and whisk until combined. This step will make sure the dry ingredients are evenly mixed.
Next, add all of the wet ingredients to the dry ingredients and mix with a rubber spatula, scraping down the sides and bottom of the bowl until everything is combined. Do not over mix.
Wash the blackberries and roughly chop them into thirds. Add the blackberries to the batter and gently fold to combine. Set aside.
In another bowl, add all of the streusel topping ingredients except the maple syrup. Whisk to combine. Then add the maple syrup and mix until all of the flour is incorporated. Use a spoon or your hands to break up the topping into crumbles.
Fill the muffin cups to the top with the wet batter. Use your hands to crumble the oat streusel topping onto each muffin. (About 1 to 2 tablespoons per muffin.) Try to place the crumble in the center of the muffin, and as the muffin rises in the oven it will distribute evenly.
Bake for about 23 to 27 minutes. I bake mine for exactly 25 minutes but all ovens are a little different. The muffins are done when you can insert a fork or toothpick into the center of one and pull it out without any wet batter on the prongs.
When the muffins have cooled slightly, transfer to a wire rack and let cool completely before serving. Enjoy!
---
Troubleshooting
Why did my muffins stick to the liners? The most likely reason is that the muffins didn't cool completely.
Why aren't my muffins cooked all the way through? Different ovens and elevations will affect cooking time for baked goods. Always use a fork or toothpick to make sure baked goods are completely done. To do this, remove the muffins from the oven and stick a toothpick into the center of one of the middle muffins. If the toothpick comes up clean they are done. If the toothpick comes up with wet batter then they need more time.
Why did my muffins get soggy after a few days? Muffins--especially when they have big chunks of fruit--have a lot of moisture. When you store them in an airtight container that moisture can make them get soggy. I recommend adding a paper towel to the bottom of the storage container to help absorb this moisture.
How to serve
Serve these for breakfast, a snack, or dessert.
These are also perfect for a packed lunch or picnic.
They taste great on thier own, but you can also cun them in half and spread them with almond butter, cashew butter, or chia jam.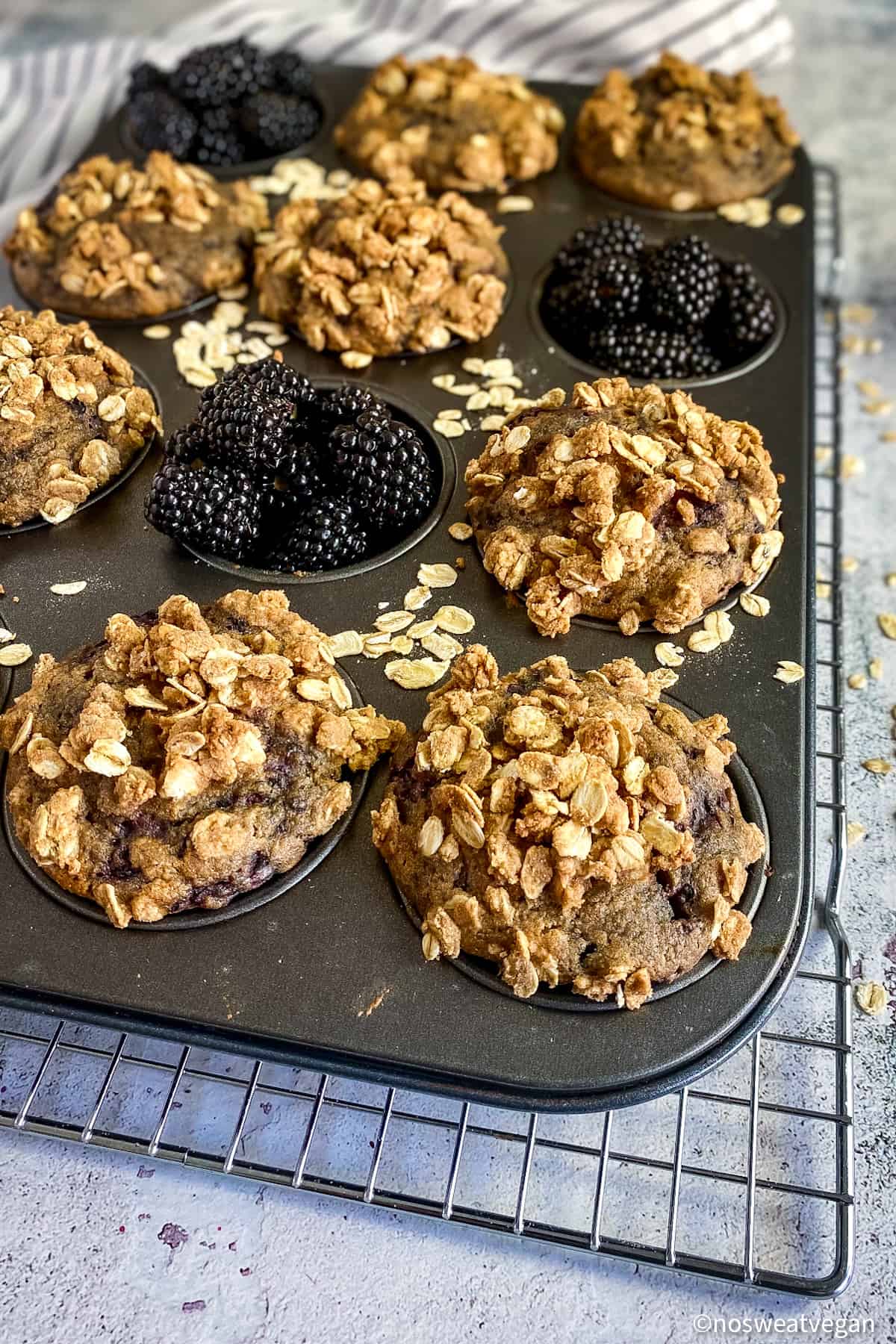 Can I make it ahead?
Yes! This is the perfect make-ahead treat for breakfast, dessert, or a snack.
How to store
Store in an airtight container at room temperature for up to 3 days (after that they will start to get bitter). Place a cloth or paper towel on the bottom of the container to absorb any moisture.
Or store in an airtight container in the refrigerator for up to a week. Place a cloth or paper towel on the bottom of the container to absorb any moisture.
Or store in an airtight container in the freezer for up to a month. When you store muffins in the freezer they can get a little soggy. I find that this is less of a problem with mini-muffins, so if you know you want to freeze the muffins, consider going the mini route.
Related recipes
---
📖 Recipe
Want access to my Exclusive Meal Planning Tips & Printables page?
Did you try this recipe? Have a question? Just leave a comment below and I'll get back to you ASAP!