This easy Vegan Broccoli Soup is creamy, delicious, and perfect for warming you up on cool nights. Chock full of healthy vegetables and protein, this lighter version of the comfort classic is sure to satisfy. Perfect for kids and anyone who needs a little extra help getting their veggies.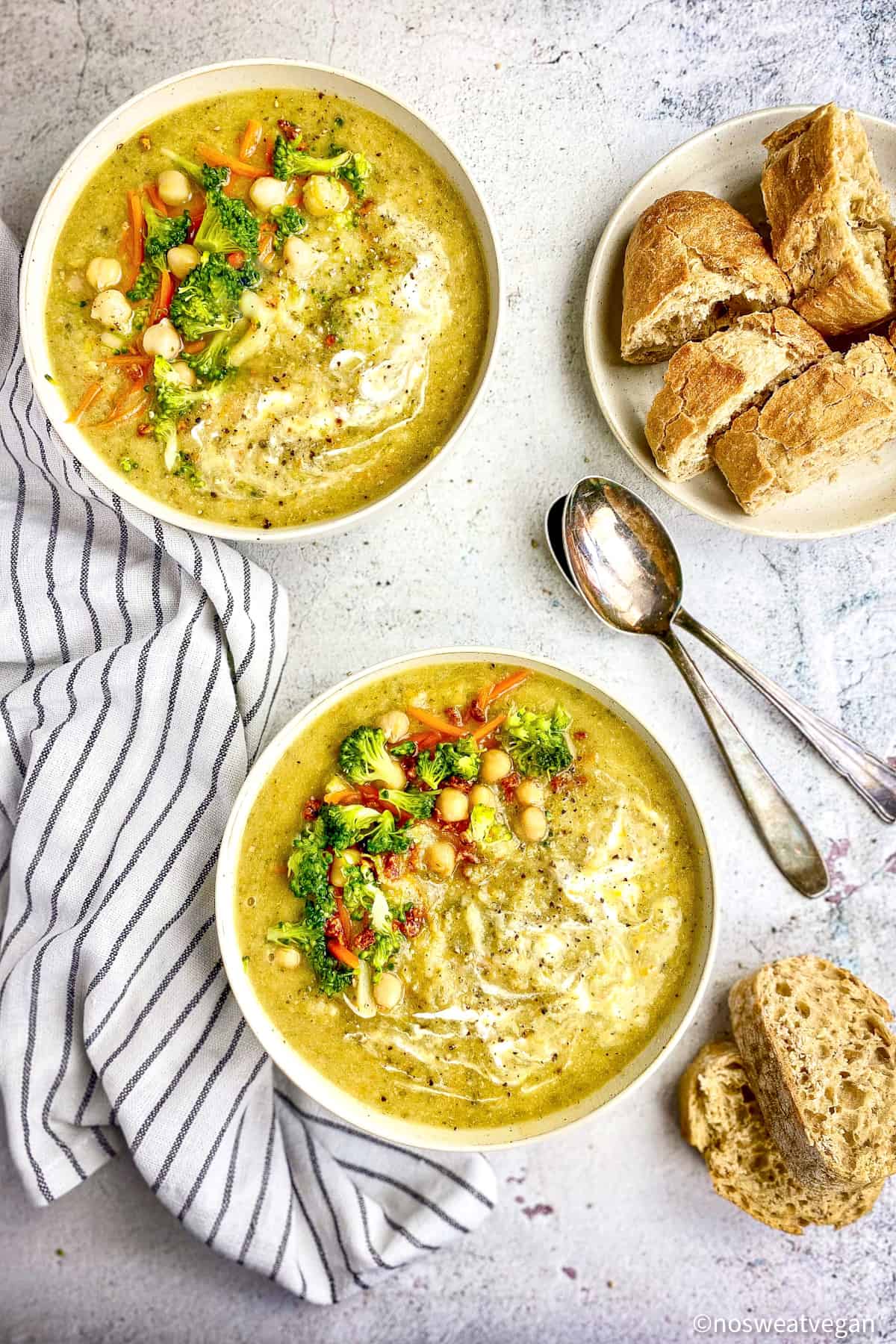 Back in the day, I used to love the Broccoli Soup from Panera--it's one of their most popular recipes but it's unfortunately not vegan. So I was definitely inspired by that cult classic when developing this Vegan Broccoli Soup recipe. Of course, I cut out the dairy and added both creaminess and extra protein with the chickpeas.
This Broccoli Soup is full of a variety of healthy veggies and you can blend it to be perfectly smooth and creamy or leave a little bit of chunkiness.
I love how quick, simple, and delicious this soup recipe is. Not only is it budget-friendly and kid-friendly, but it's super comforting and perfect for cold fall and winter nights. I hope you love it, too!
Jump to:
You'll love this Vegan Broccoli Soup recipe because it's:
Simple & Easy
Quick to Cook
Vegan / Vegetarian
Gluten-Free
Nut-free
WFPB & Oil-Free
Low-Fat/Low-Calorie
High-Protein
Creamy & Delicious!
---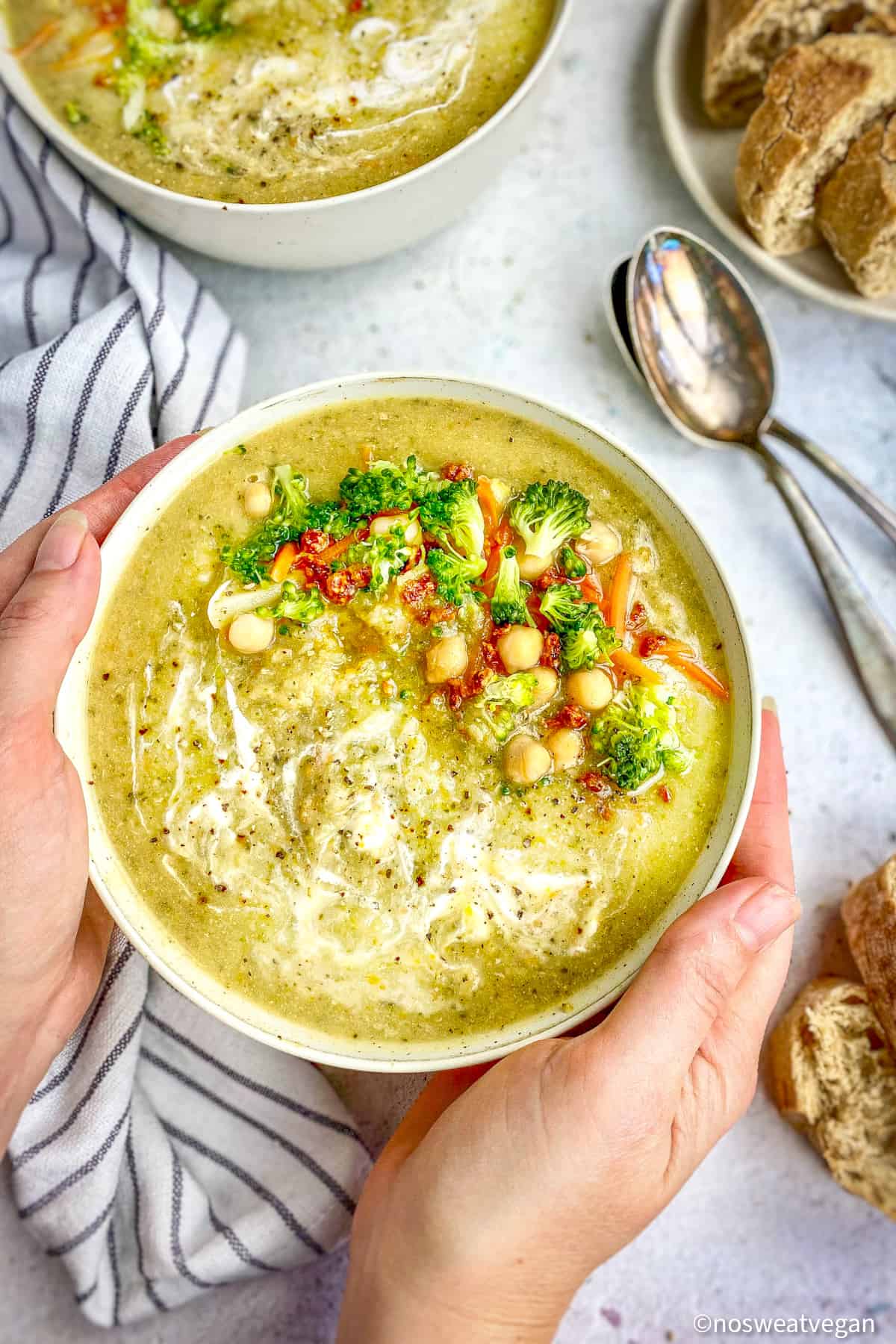 Why use shredded carrots?
As I mentioned earlier, I was inspired by Panera's broccoli soup, which uses shredded carrots. But I also like the shredded carrots because they cook up more quickly and have a nice texture. Since I bought pre-shredded carrots they also saved me some prep time. That said, if you want to use diced carrots, it's no problem.
Why add chickpeas?
I tested a version of this soup without the chickpeas and it tasted fine, but I wanted to add more creaminess, protein, and--dare I say--cheesiness. Chickpeas seemed like the perfect choice. (As for the chickpeas adding creaminess and cheesiness to the soup, I was inspired by this Chickpea Cheese Sauce by Healthy Midwestern Girl, which you definitely need to try if you haven't already!)
Can I use frozen broccoli?
Definitely! Frozen vegetables like broccoli, which could be soggy in other dishes, are perfect for soups because they going to be cooked in liquid and blended anyway. You could also save time by using pre-chopped frozen onions and carrots.
Can I use a slow cooker or instant pot?
Yes! Just wait to blend and add the nutritional yeast, lemon juice, and nutmeg until right before serving.
For a slow cooker, you can saute the onion, carrots, and celery before adding everything to the slow cooker. Cook on high for 4 hours or on low for 6 to 8 hours.
For an instant pot, you can saute the aromatics using the saute mode. Then add the chickpeas, potatoes, broccoli, soy milk, and veggie broth. Switch to high-pressure mode, and cook for about 8 minutes. Do a quick release and then blend.
---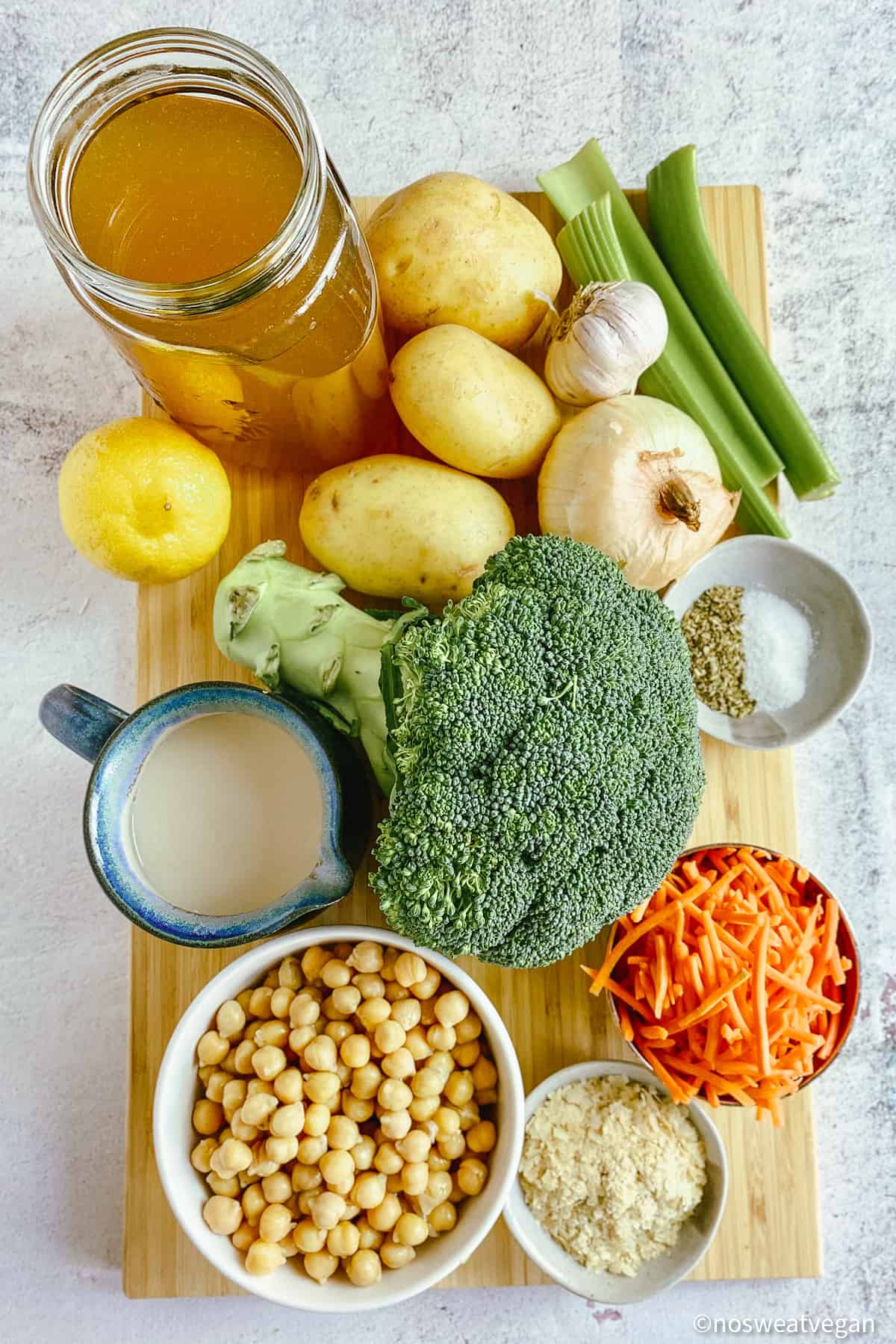 Ingredients
Vidalia onion--Any kind of white or yellow onion would work here. In a pinch you could even use a red onion.
shredded carrots--I like the convenience of shredded carrots, but feel free to use diced carrots instead.
celery
garlic--Whole garlic cloves are my choice here, but pre-minced or granulated garlic makes a fine substitute.
vegetable broth
soy milk--Use any type of unsweetened plant milk like coconut or oat milk.
yellow potatoes--Yukon gold or something similar. I would avoid red potatoes.
chickpeas--Drained and rinsed. I use canned chickpeas for convenience, but home-cooked are also fine.
broccoli--About one head of broccoli, roughly chopped. You can keep the stems for this recipe since it will all get blended up anyway. A bag of fresh pre-chopped broccoli or frozen broccoli is also a fine substitute.
lemon juice--This adds a little brightness to the soup.
grated nutmeg
fresh cracked pepper
*See recipe card for quantities.
---
Variations
At the end you can mix in shredded vegan cheese to make a cheesier Vegan Broccoli Cheddar Soup.
Swap the chickpeas for white beans.
Keep some of the chopped florets aside and roast them in the air fryer. Then add them to the soup after blending for a chunkier texture.
If you're making a recipe like Broccoli Salad, which results in a lot of leftover broccoli stems, you could make this recipe with just broccoli stems.
Looking for more vegan soup recipes? Some of my favorites are Classic Potato Soup and Potato Leek Soup.
Instructions
Start by prepping your vegetables. Peel and dice the onion and garlic. Trim and dice the celery. Shred or chop the carrots (you can save time by buying preshredded carrots). Peel and cube the potatoes. Roughly chop the broccoli (including the stems). Drain and rinse the chickpeas.
Heat a large soup pot over medium heat. Add the onions, celery, carrots, salt, and oregano. Cook, stirring occasionally, for about 3 minutes or until the veggies start to soften.
Add the garlic and cook for one minute more. (Careful--garlic burns easily).
Next add the veggie broth, soy milk, potatoes, broccoli, and drained chickpeas. Stir to combine. Turn up the heat to medium high and bring to a low boil. Cook for about 10 minutes, or until the potatoes are fork tender.
Use an immersion blender to blend the soup. You can blend until it's completely smooth or leave some chunkiness. For me, the magic ratio is ¾ blended, but you can blend it to your own preference.
Add the nutritional yeast, lemon juice, and nutmeg. Stir to combine.
Serve and enjoy right away garnished with fresh-cracked Black Pepper, Vegan Bacon Bits, and Vegan Sour Cream. Or store for later.
---
Pro Tips for Picky Eaters
If you're serving this to kids who have textural sensitivities or who are self-proclaimed vegetable haters, consider blending this soup until it's completely smooth.
If you have kids who will only eat potato soup, then call it potato soup! For some reason my kids think the idea of "broccoli soup" is wierd, but they have no problem eating "potato soup with broccoli." Go figure.
How to serve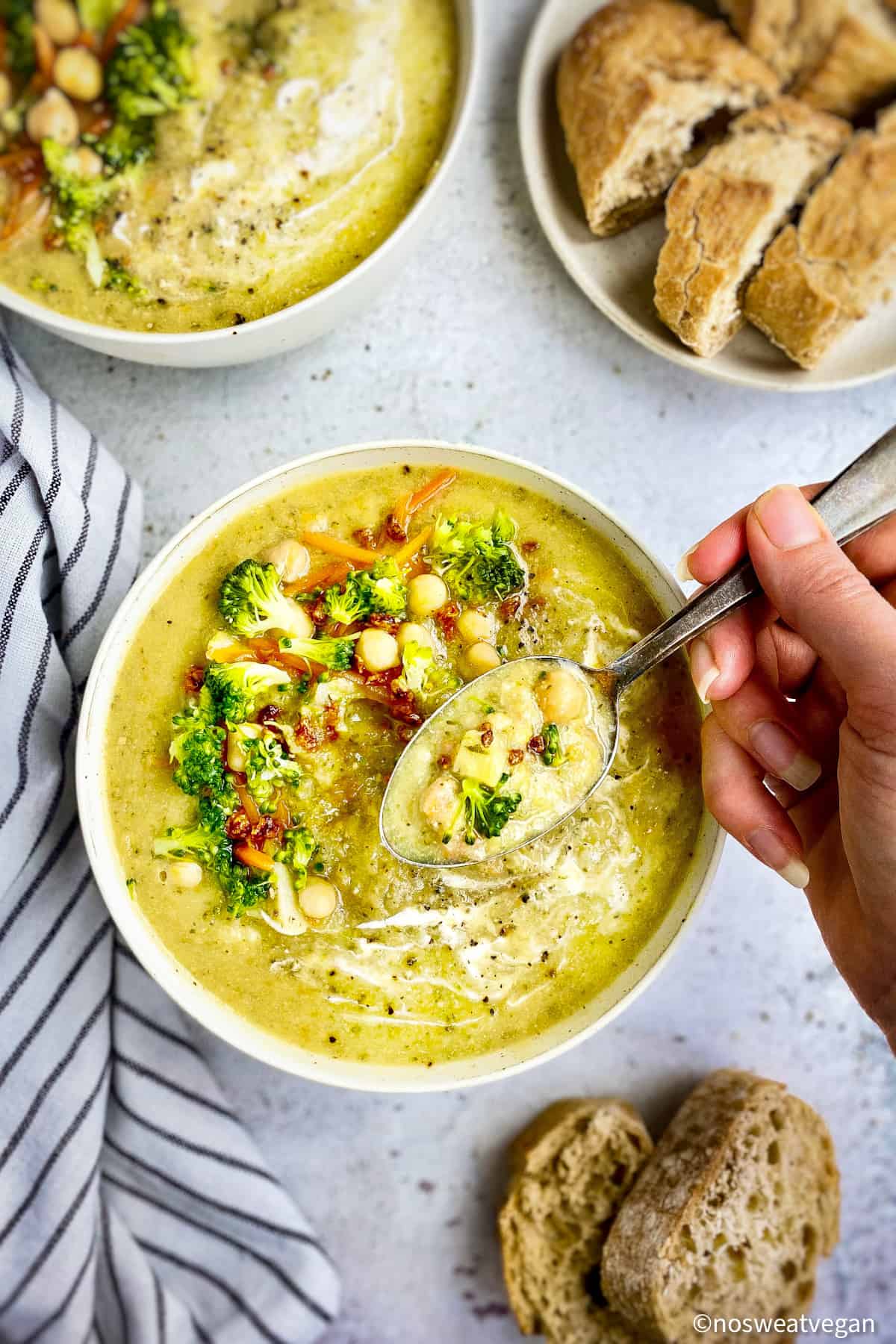 Can I make it ahead?
Definitely! This soup can be made ahead and reheated. Or you can make it in a slow cooker or instant pot. I've made it in the instant pot on the slow cooker setting and it worked perfectly since I could saute the veggies without having to use any other dishes.
How to store
Store any leftovers in an airtight container in the refrigerator for up to 5 days or the freezer for up to 3 months.
More vegan comfort-food recipes
---
📖 Recipe
Want access to my Exclusive Meal Planning Tips & Printables page?
Did you try this recipe? Have a question? Just leave a comment below and I'll get back to you ASAP!