This Vegan Leek & Potato Soup is velvety, smooth, and satisfying. It's made with simple ingredients and gets its vibrant green color from the leek greens! Perfect for an entrée soup, side, or starter. In warm months, serve it cold for a refreshing Vegan Vichyssoise.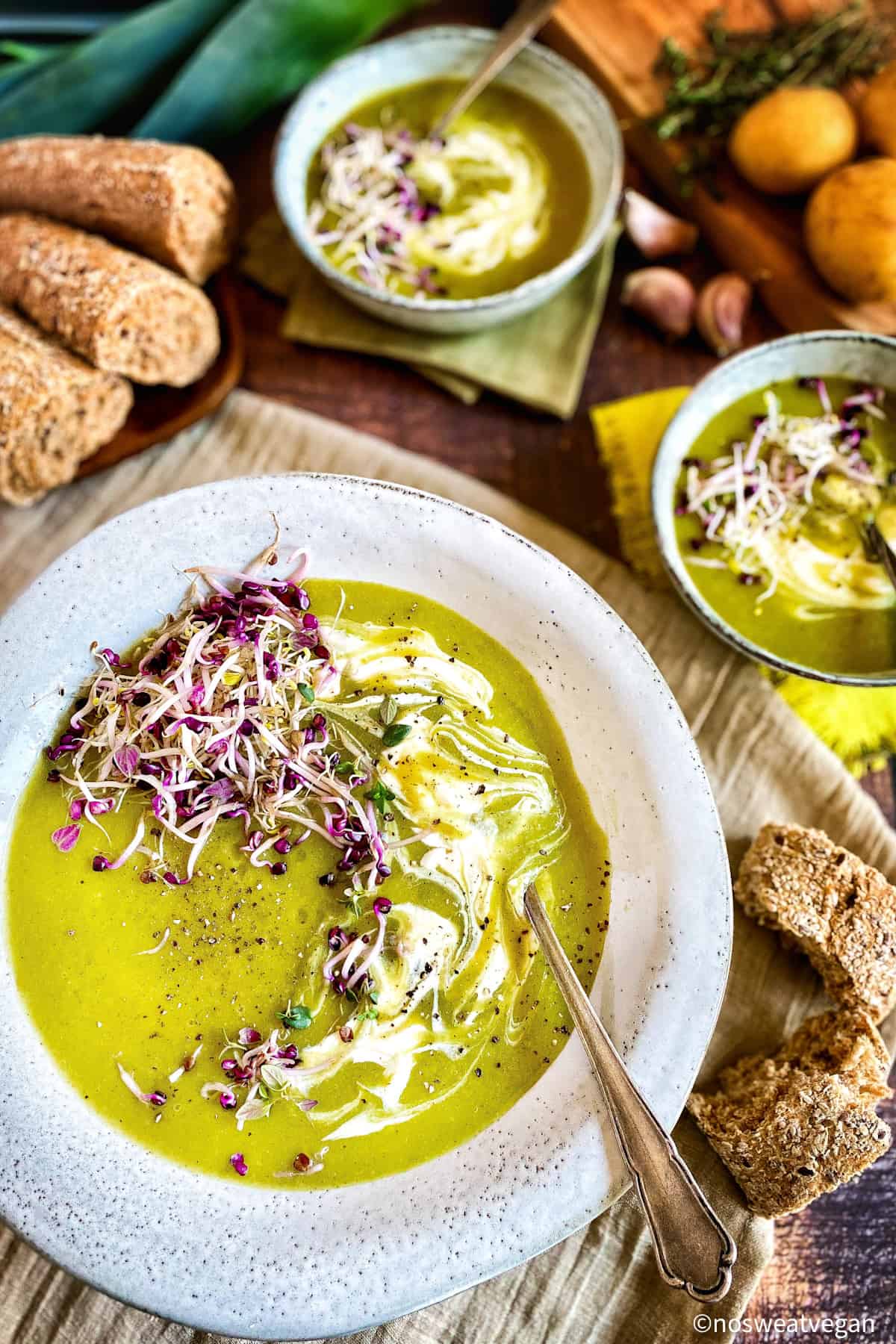 A few weeks ago a friend invited us for lunch and her French husband served the most delicious potato leek soup I'd ever tasted. I begged to know how the soup had such an amazing flavor, gorgeous color, and velvety texture. The secret, he told me, was including to usually discarded leek greens. And so I went about testing my own version of the recipe. The result is this simple yet luscious leek and potato soup. This soup is satisfying enough for an entree, but light enough for a starter or side. It's also perfect for picky kids or people with textural sensitivities.
Jump to:
You'll love this Leek & Potato Soup recipe because it's:
Simple & Delicious
Quick & Easy
Made with just a few simple ingredients
Perfect for serving Warm and Cold
Vegan / Vegetarian
WFPB (Whole Foods Plant-Based)
Dairy-free
Gluten-free
Low-waste
Kid-friendly yet elegant enough for Date-Night!
Luxurious, smooth, and creamy!
---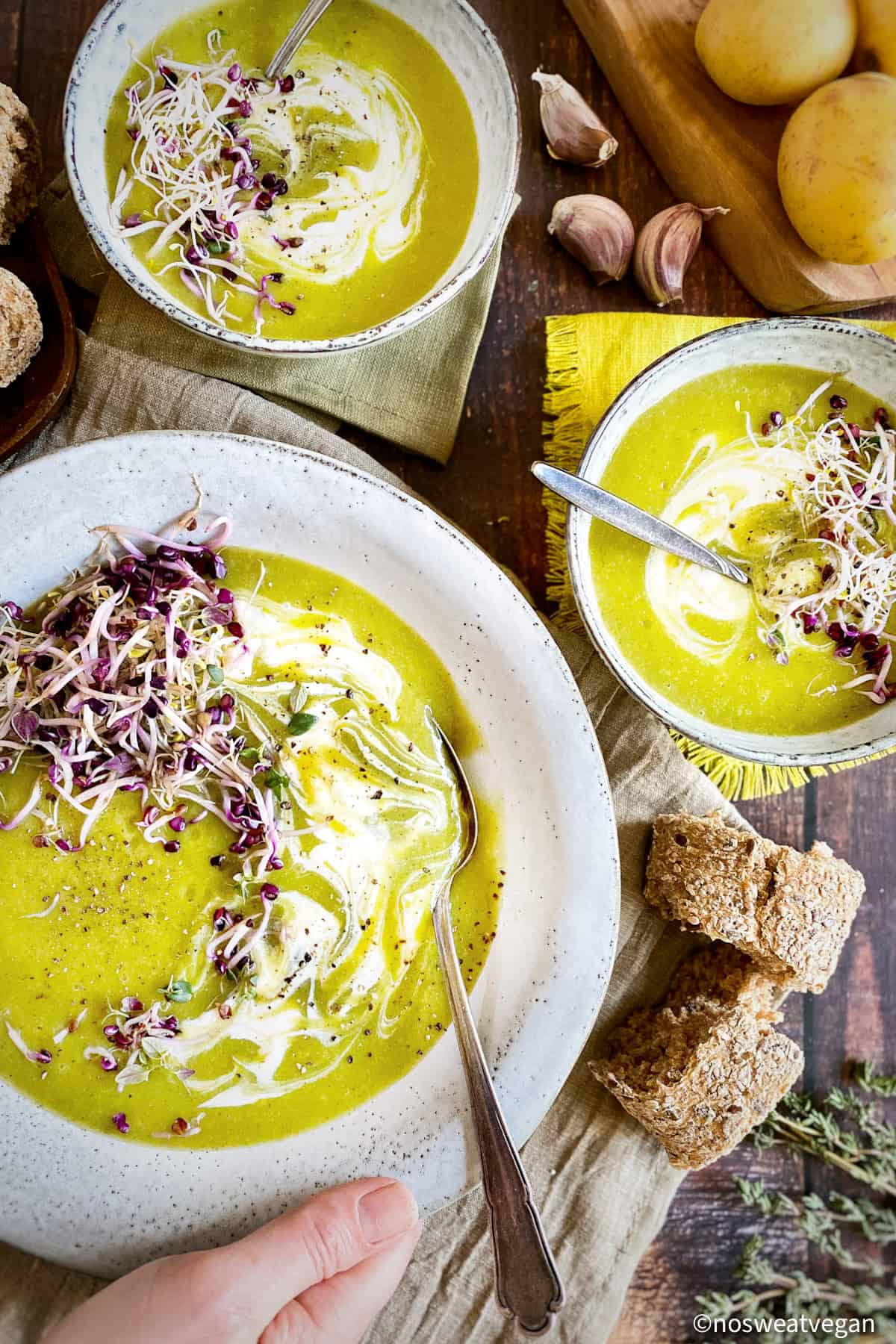 What are leeks?
If you've never tried leeks before, you have to give them a go! Leeks are related to onions but have a milder, earthier flavor that tastes like spring incarnate. Leeks grow up in the ground in layers, so you will need to chop the leeks and then thoroughly wash them to remove any dirt or debris that's stuck between the layers (see a full tutorial below).
Can you eat the leek greens?
Yes! Contrary to popular belief you actually can eat the green part of the leeks. They are flavorful and rich in vitamins and minerals. The reason so many people discard the greens is because they can be tough and difficult to chew. However, when they are boiled and blended in a soup, the leek greens are perfectly fine to eat.
Can I just use the leek greens?
Yes! If you have a bunch of leek greens leftover from another recipe that called for discarding the greens, you can use them exclusively for this soup. In fact, this is a great way to keep the leek greens from going to waste. You'll probably need greens from 2 to 3 large leeks.
What is vichyssoise?
Vichyssoise is the French name for potato leek soup when it's served cold. Traditionally, the soup would be served with cold milk poured over the top. You can make this vegan by simply substituting with plant-based milk.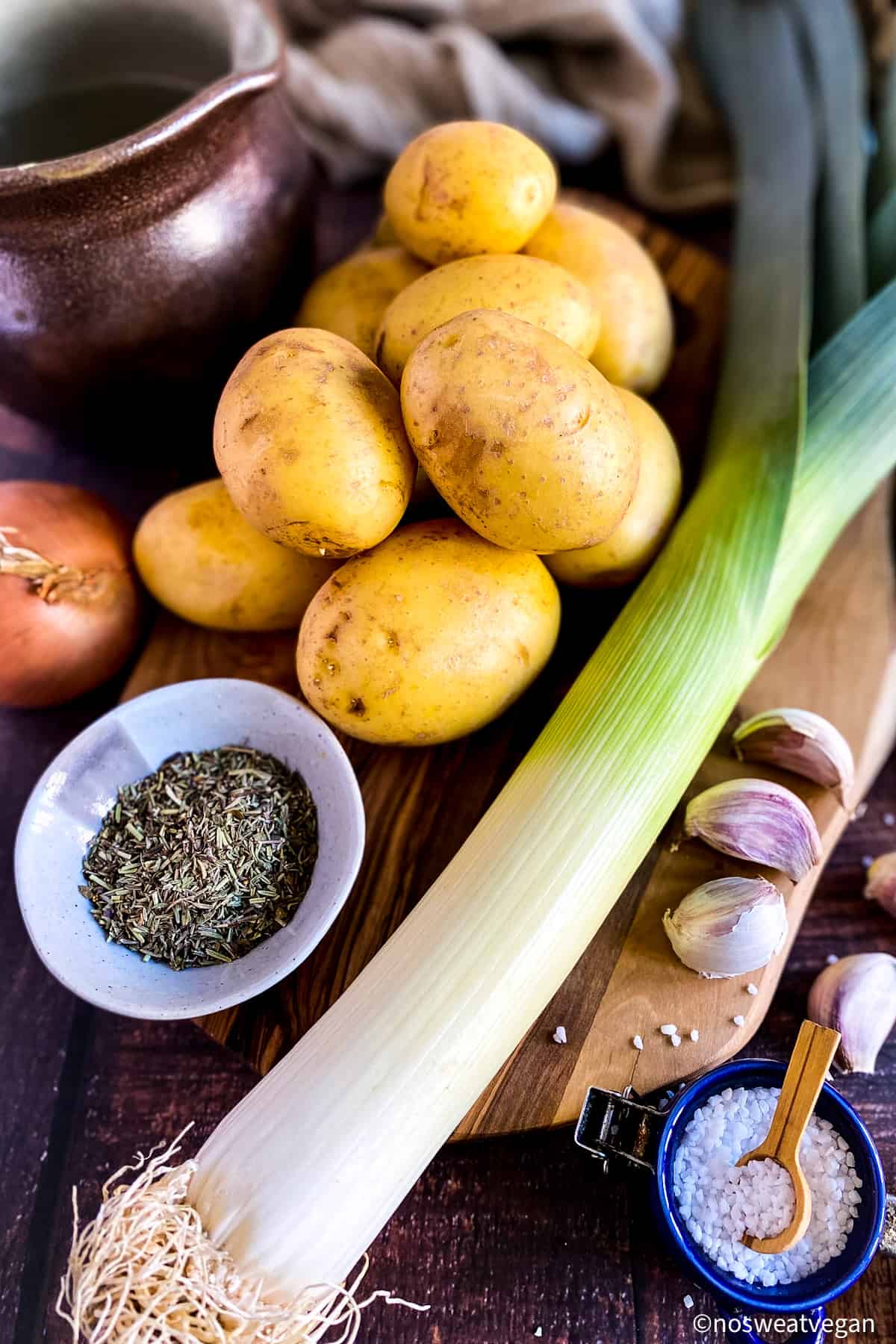 Ingredients
2 pounds Yukon gold potatoes
1 large leek (or 2 small leeks)
1 yellow onion
6 cups vegetable broth
4 to 6 cloves garlic
2 tbsp herbs de Provence
1 tbsp fresh or dried thyme
1 tbsp lemon juice: For a touch of brightness and acidity.
unsweetened vegan yogurt or cream: This is added as a garnish, but it's still an important component of the dish.
---
Substitutions
Garlic powder can be substituted for fresh garlic.
If you don't have herbs de Provence, you can use a mix of thyme, oregano, rosemary, and basil.
If you can only find pre-trimmed leeks at the supermarket, but you still want the gorgeous green color, just throw in a few handfuls of spinach when you're sauteing the leeks and onions.
Large blender versus stick blender
The trick to making this soup creamy, velvety, and rich is thoroughly blending it. There are two ways to do this and both come with pros and cons. For this recipe, I prefer the Large Blender, but if you don't have a large blender that's safe to use with hot food, then a stick blender is a great alternative.
Large Capacity Blender: The cons here are that you have to transfer the soup to the blender and you might need to blend in batches. You also need to take precautions against the heat. However, it will blend quickly and in less than 1 minute you'll have a smooth and creamy soup.
Stick Blender: The best part about a stick blender is that you can blend the soup right in the pot. However, it will take a lot longer to get the smooth texture.
How to clean leeks
If you have never worked with leeks before, be sure to read these instructions. Leeks grow in the ground in layers and dirt usually gets caught between the layers. So unlike other vegetables, you want to chop the leek before washing it.
Start by removing the bottom stem and trimming to tips of the greens off the top. You won't be using these so you can discard them or save them as scraps for making a broth.
Cut the leek in half at the spot where the leek turns dark green and starts to spread.
Cut the white/light green part of the leek in half lengthwise.
Next, place the white parts flat-side down and chop into half circles.
For this recipe, we are also using leek greens. Gather them together in a bunch and roughly chop them into thin strips.
Once the leeks are chopped, place the parts you will be using in a bowl of cool water. Use your hand to break apart the layers and separate the dirt from the plant. The dirt should fall to the bottom of the bowl. (You can't see it in the photo, but there was quite a lot of sand and dirt in this leek).
Carefully transfer the leeks to a mesh strainer and rinse again under running water to remove any last traces of dirt. Then the leeks are ready to go!
Soup Instructions
Once you've prepared the leeks following the instructions above, prep the rest of the vegetables: peel and chop the onion, wash and cube the potatoes (I leave the skins on), peel and roughly chop the garlic.
Add the leeks, onions, garlic, salt, pepper, and herbs de Provence to a large pot over medium-high heat. Sautee for about 5 minutes, stirring occasionally to keep everything from sticking. The leeks and onions will release their liquids, so you shouldn't need oil, but you can add 1 tablespoon if you choose.
After 5 minutes, the leeks and onions will smell fragrant and be translucent. Add the broth and potatoes. (I also like to add a few sprigs of thyme, but this is optional.) Stir to combine. Boil uncovered for about 10 minutes, or until the potatoes are fork-tender.
When the potatoes are cooked through, remove the soup from the heat. (If you added a bay leaf or sprig of thyme, use tongs to remove them before blending). Blend the soup in a large-capacity, heat-safe blender (you might have to do this in two batches) or with a stick blender. (See a breakdown of the pros and cons above).
Return the soup to the pot and stir to combine. Add the lemon juice and taste the soup. Adjust the seasonings if necessary.
Serve the soup with a drizzle of unsweetened vegan yogurt or cream. Other optional garnishes include thyme, chives, or microgreens.
---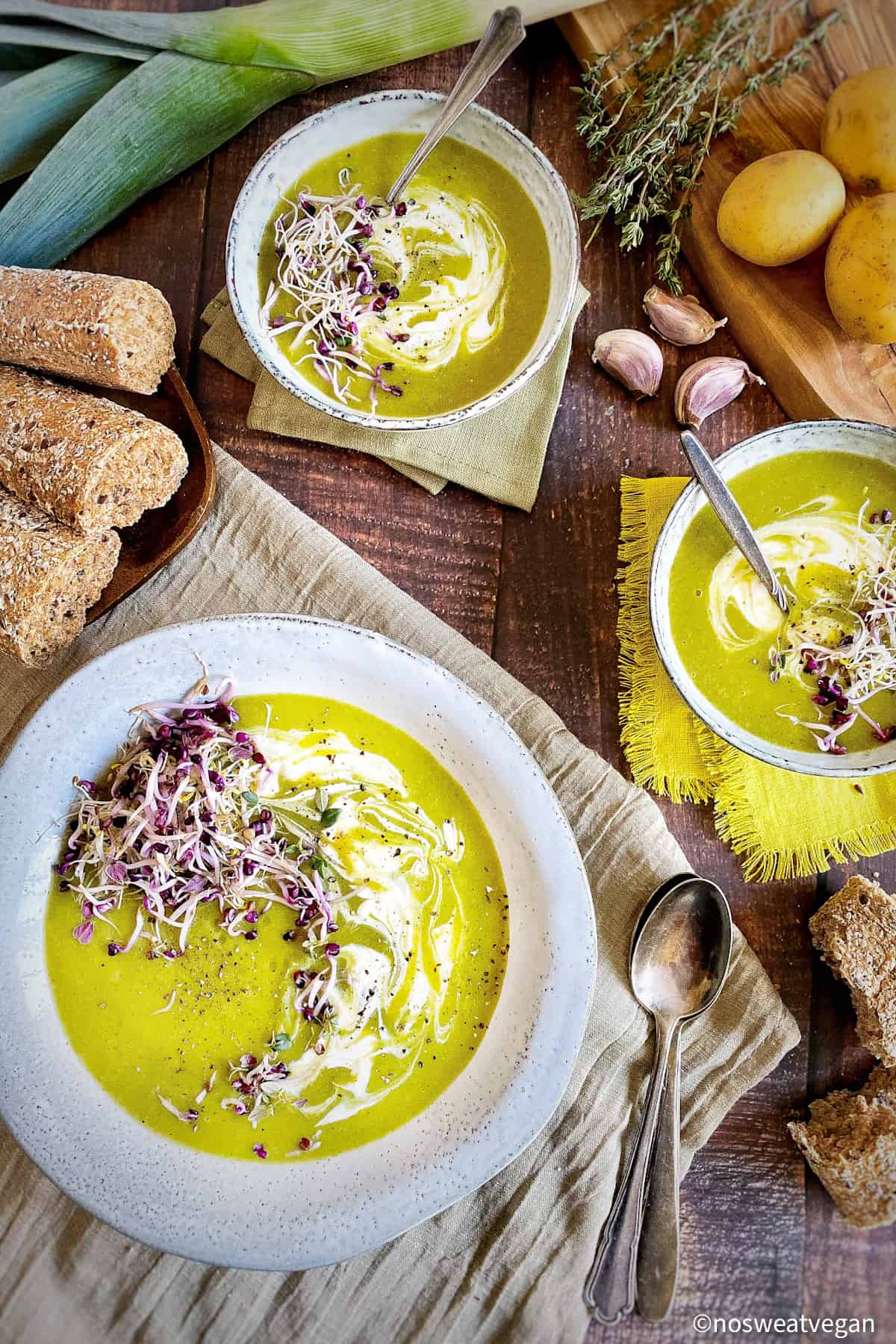 How to serve
Serve this potato leek soup as the main course with a side salad and a chunk of rustic bread.
This soup also makes a great appetizer or side dish.
Since leeks are in season in the spring, it's perfect for a holiday dinner or brunch on Easter or Mother's Day.
Or you can make a big batch and portion it out for a week's worth of lunches.
Can I make it ahead?
Definitely! In fact, making it a day in advance will even heighten the flavors. Just hold off adding the yogurt or cream and any other garnish until you're ready to serve.
How to store
Store in an airtight container in the refrigerator for up to 1 week or in the freezer for up to 3 months.
More vegan potato recipes
---
📖 Recipe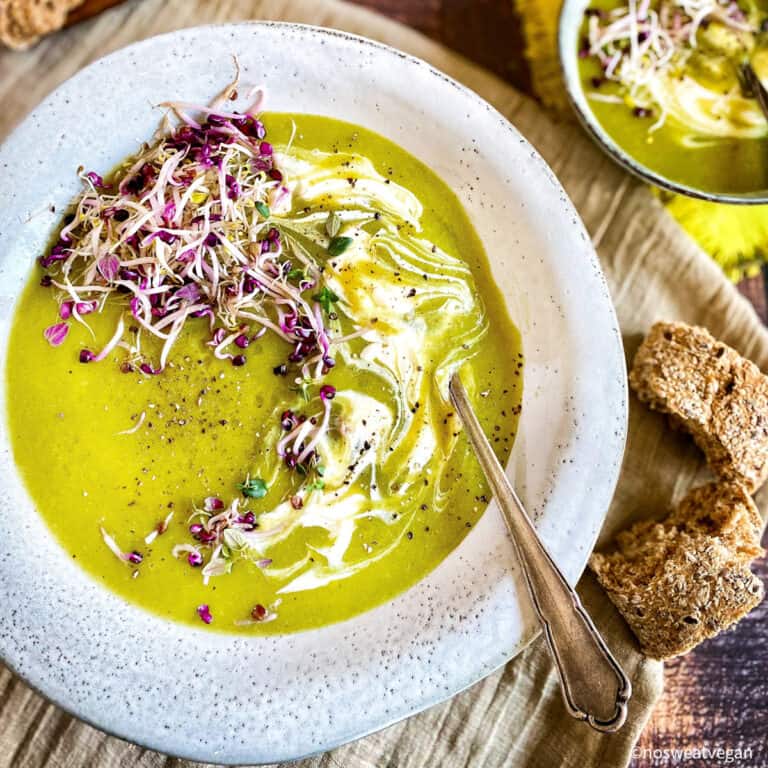 Vegan Leek and Potato Soup
This Vegan Leek & Potato Soup is velvety, smooth, and satisfying. It's made with simple ingredients and gets its vibrant green color from the secret ingredient: the leek greens! Perfect for an entrée soup, side, or starter. In warm months, serve it cold for a refreshing Vegan Vichyssoise.
Equipment
large capacity high-speed blender
Ingredients
2

pounds

Yukon gold potatoes

1

large

leek

(or 2 small leeks)

1

yellow onion

6

cups

vegetable broth

4 to 6

cloves

garlic

2

tablespoon

herbs de Provence

1

tablespoon

fresh or dried thyme

(Or add a few sprigs of fresh thyme to the soup and remove before blending.)

fresh cracked pepper

(to taste)

sea salt

(to taste)

1

tablespoon

lemon juice

unsweetened vegan yogurt or cream

(added as garnish)
Instructions
Chop, wash, and rinse the leeks (if you need help, see instructions above). Roughly dice the onion and chop the garlic. Cube the potatoes.

Add the leeks, onion, garlic, herbs, salt, pepper to a large pot and saute over medium-high heat for about 5 minutes.

Add the broth, potatoes, and optional sprigs of thyme to the pot. Boil for about 10 minutes or until the potatoes are fork-tender.

Blend the soup until smooth (either carefully transfer the soup to a blender or use a stick blender).

Return the soup to the pot (if blending in a blender). Add the lemon juice and stir to combine. Taste to adjust seasonings.

Serve warm or cold with a tablespoon of vegan yogurt or cream and other garnishes.
Save this Recipe
Saved!
Notes
This recipe makes about 6 entree-sized bowls of soup. If you plan to serve this as a side dish or starter, you will probably have 10 to 12 servings.
Salt and pepper the soup to fit your taste. I don't include an exact amount in the ingredient list because vegetable broths can vary in the amount of added salt. (If you're unsure, start with a small amount in the beginning (¼ or ½ teaspoon) and add more after you blend the soup).
Whenever adding hot liquid to a blender, take precautions. Remove the inner plastic part of the lid and place a kitchen towel lightly over the top when blending to allow venting.
Never blend hot liquid in a blender that is not designated as safe for using with hot liquids.
Do not overfill the blender. When in doubt, blend in 2 batches.
Nutrition
Calories:
153
kcal
Carbohydrates:
35
g
Protein:
4
g
Fat:
1
g
Saturated Fat:
1
g
Sodium:
954
mg
Potassium:
719
mg
Fiber:
5
g
Sugar:
5
g
Vitamin A:
858
IU
Vitamin C:
37
mg
Calcium:
65
mg
Iron:
3
mg
Want access to my Exclusive Meal Planning Tips & Printables page?
Did you try this recipe? Have a question? Just leave a comment below and I'll get back to you ASAP!