This collection of simple yet elegant dishes has everything you need to make the perfect Vegan Valentine's Day dinner. From starters, soups, and salads, to sides, mains, and desserts, you can choose from an array of gorgeous and delicious vegan dishes that you can't wait to share with your loved ones.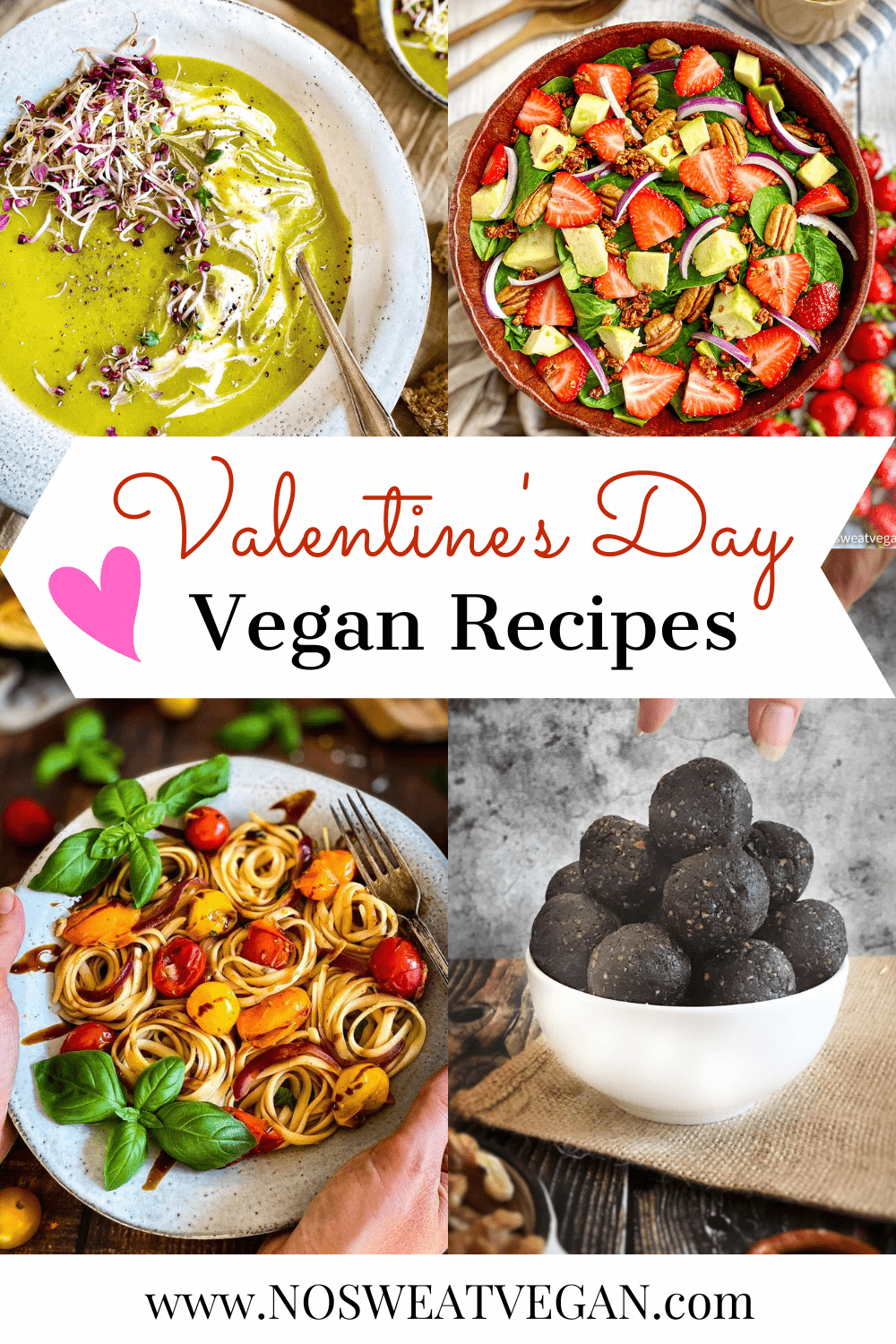 Need some ideas for what to make this February 14? Planning your Vegan Valentine's Day Menu doesn't have to be hard! This collection of recipes offers you a perfect array of dishes that are easy and delicious.
Whether you're planning a 4-course romantic dinner or a Valentine's Day feast with family and friends, you'll find what you need here. These recipes also work well for date nights, anniversary dinners, birthdays, or any other special day.
In this collection, I've included Vegan Valentine's Recipes that are simple yet elegant. That means they won't take you all day to prepare, but they will have that wow factor you're looking for.
Jump to:
You'll love these Vegan Valentine's Day recipes because they're:
Quick & Easy
Vegan / Vegetarian
Dairy-free
Egg-free
Easy to make Gluten-Free
Easy to make WFPB
Simple yet Elegant
Perfect for any Date Night
Absolutely Delicious!
---
Vegan Valentine's Day gift ideas
If you're like me, then food is your love language, and making a special meal for the people you love is a loving and meaningful way to show your appreciation.
A carefully chosen gift can also be a wonderful way to show people you care. This Vegan Valentine's Day Gift Guide by Nutriciously has some awesome ideas for mindful gift-giving.
---
Starters
These vegan appetizers are perfect for starting off your Plant-Based Valentine's Day meal. Or if you prefer, you can make them the star of the show! For even more ideas, check out this collection of vegan appetizers.
---
Soups & Salads
A Vegan Valentine's dinner isn't complete without a soup or salad. Choose one of these simple yet elegant dishes for your second course.
---
Sides
These Valentine's Day side dishes make a lovely and refined compliment to any main course. They can all be made in an air fryer or oven.
---
Main Course
When I think of Valentine's Day, I think of Italian. After all, it is the language of love! Plus, these are simple dishes that have a lot of wow factor! That means you can prep them ahead of time, leaving you more time to enjoy your meal.
---
Desserts
These Vegan Desserts offer a healthy and delicious end to any Valentine's Day dinner. Plus, all of these are easy to make ahead, so you'll have time to relax on the big day.
---
More Recipe Collections
---
Want access to my Exclusive Meal Planning Tips & Printables page?
Did you try this recipe? Have a question? Just leave a comment below and I'll get back to you ASAP!