These Chickpea Recipes are versatile and delicious. In this collection, you'll find everything you need, including snacks, soups, salads, sandwiches, mains, and even desserts. With over 25 Vegan Chickpea Recipes, you're sure to find a new favorite!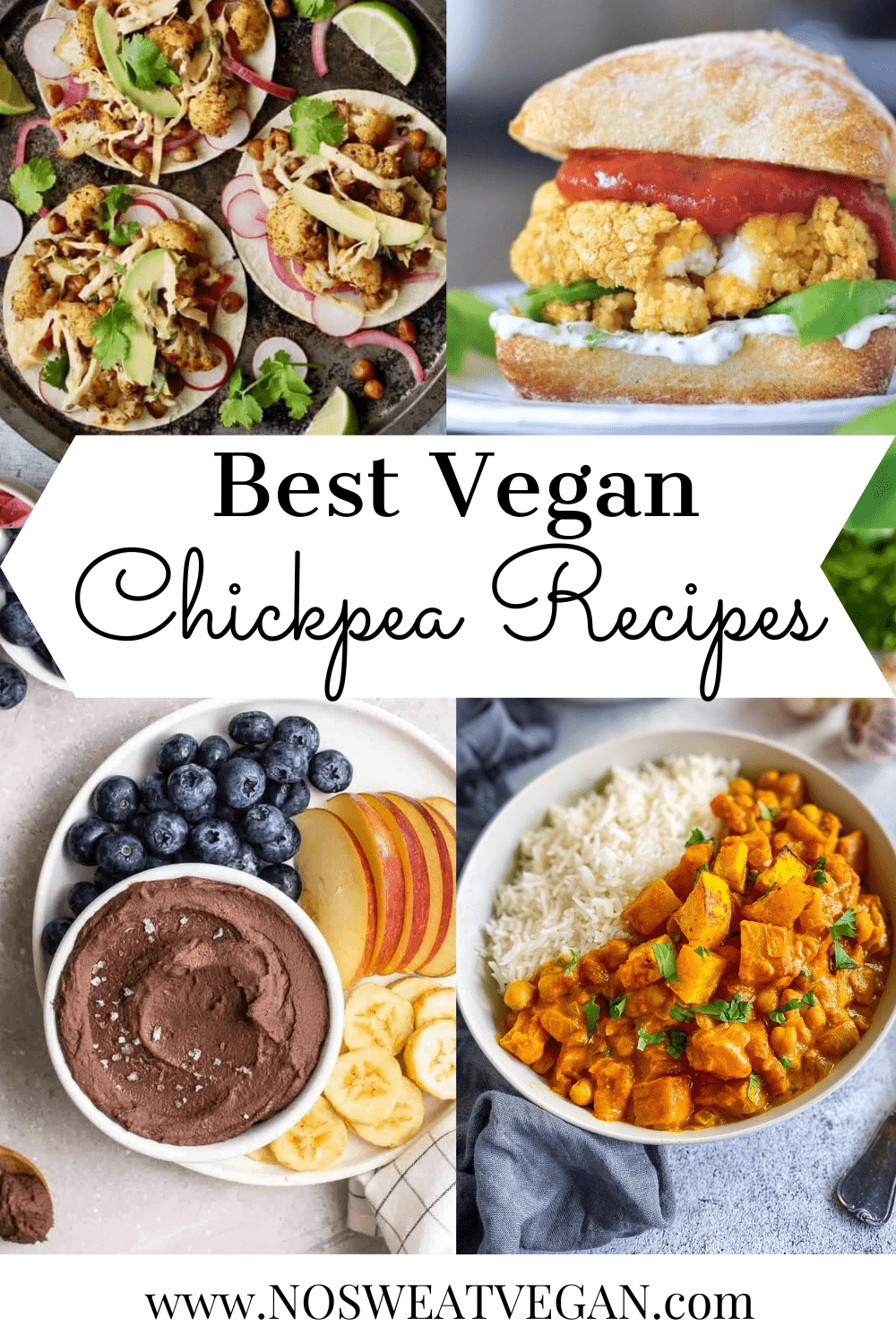 Got a can of chickpeas or a bag of dried chickpeas, but not sure how to use them? Or maybe you're just looking to switch things up and break out of your current chickpea routine. Either way, this collection of over 25 Vegan Chickpea Recipes is sure to have something for you!
I've included all of my favorite and most delicious chickpea recipes, including Butternut Squash & Chickpea Curry, Oil-free Hummus, Curry Chickpea Salad, and Greek Buddha Bowls.
In addition, I've pulled recipes from some of the best food bloggers around to give you a well-rounded group of chickpea dishes. (Including chickpea desserts!)
You'll love these Chickpea Recipes because they're:
Quick & Easy
Vegan/Vegtarian
Dairy-free
Egg-Free
Allergy-friendly
Healthy
High in Protein
Delicious!
Jump to:
Are they chickpeas or garbanzo beans?
Actually, both names or correct. Technically, Garbanzo is the Spanish word for chickpea, so if you're in a Spanish-speaking country or shopping in an ethnic market, you might want to look for them under that name. But they can be used interchangeably, so what you call them is up to you.
What to do with leftover aquafaba
Aquafaba is the liquid left over when you open a can of chickpeas (you can also make it yourself). It acts as a great oil substitute or vegan egg substitute (in baking). Here are a few recipe ideas for using up leftover aquafaba:
Canned vs Dry Chickpeas
I personally love how easy canned chickpeas are to work with. Just pop open the can, drain, rinse, and done. And although they are a little more expensive than dried chickpeas, they still tend to be very affordable, especially if you buy them in bulk or stock up on them when they're on sale.
If you prefer to start with dry chickpeas, that's also fine. There are a few ways to cook dried chickpeas. Here are the most common:
Boil on the stove. You'll need to soak the chickpeas over night and it will take a few hours, but if you make them in bulk and freeze or can them, they can last you awhile.
In a Slow Cooker: If you forget to soak them overnight, no worries! Chickpeas can also be made in a slow cooker. You'll need to cook them about 8 hours on low or 4 hours on high.
In an Instant Pot or Pressure Cooker: When it comes to cooking dry chickpeas, this is the quickest method. Just be sure you don't overcook them or else they'll turn to mush (they'd still make good hummus though!). Here's an easy recipe by Detoxinista that includes instructions for both presoaking and no-soaking methods.
Why I love chickpeas!
Chickpeas are one of my favorite ingredients to work with. Unlike other beans, they hold their form really well and don't get mushy (unless you want them to).
I also love that chickpeas are high in protein, fiber, calcium, magnesium, and other nutrients. Go nutritional benefits!
They are super versatile and can be used for a variety of dishes, including snacks and even desserts!
Plus, chickpeas are great for meal prepping. They're an easy ingredient to work with and can be added to a variety of dishes.
---
Chickpea snacks
I personally like to eat chickpeas right out of the jar, but you can jazz them up to make an easy and delicious snack.
---
Soups & stews with chickpeas
Chickpeas are a perfect way to add creaminess, flavor, and protein to your favorite soup. Whether they're blended smooth or kept whole, these soup recipes will have you asking for more!
---
Salads with chickpeas
I love adding chickpeas to salads. They're such an easy ingredient, and they make a perfect stand-in for chicken or other proteins.
---
Sandwiches and burgers with chickpeas
Not only can chickpeas act as a protein in salads, but they also make the perfect addition to a variety of sandwiches. What can't they do!
---
Chickpea dinner recipes
When it comes to your main courses, there are so many ways to include chickpeas! From Curries to Tacos, chickpeas are the perfect addition to any meal.
---
Chickpea desserts
Believe it or not, chickpeas also make a great base for sweet treats! Whether you're adding them to baked goods or blending them into a dessert hummus, you've got to give these chickpea desserts a try!
---
That's it! I hope you found some new chickpea recipes that you love. Let me know in the comments if you tried one of these dishes, or if there's a dish you'd like to see included in this list.
---
Want access to my Exclusive Meal Planning Tips & Printables page?
Did you try this recipe? Have a question? Just leave a comment below and I'll get back to you ASAP!