This Roasted Cauliflower & Chickpea Tray Bake is flavored by fenugreek, cumin, and coriander. Served with couscous and vegan tzatziki, this Vegan Sheet Pan Dinner makes a quick, easy, and delicious weeknight meal.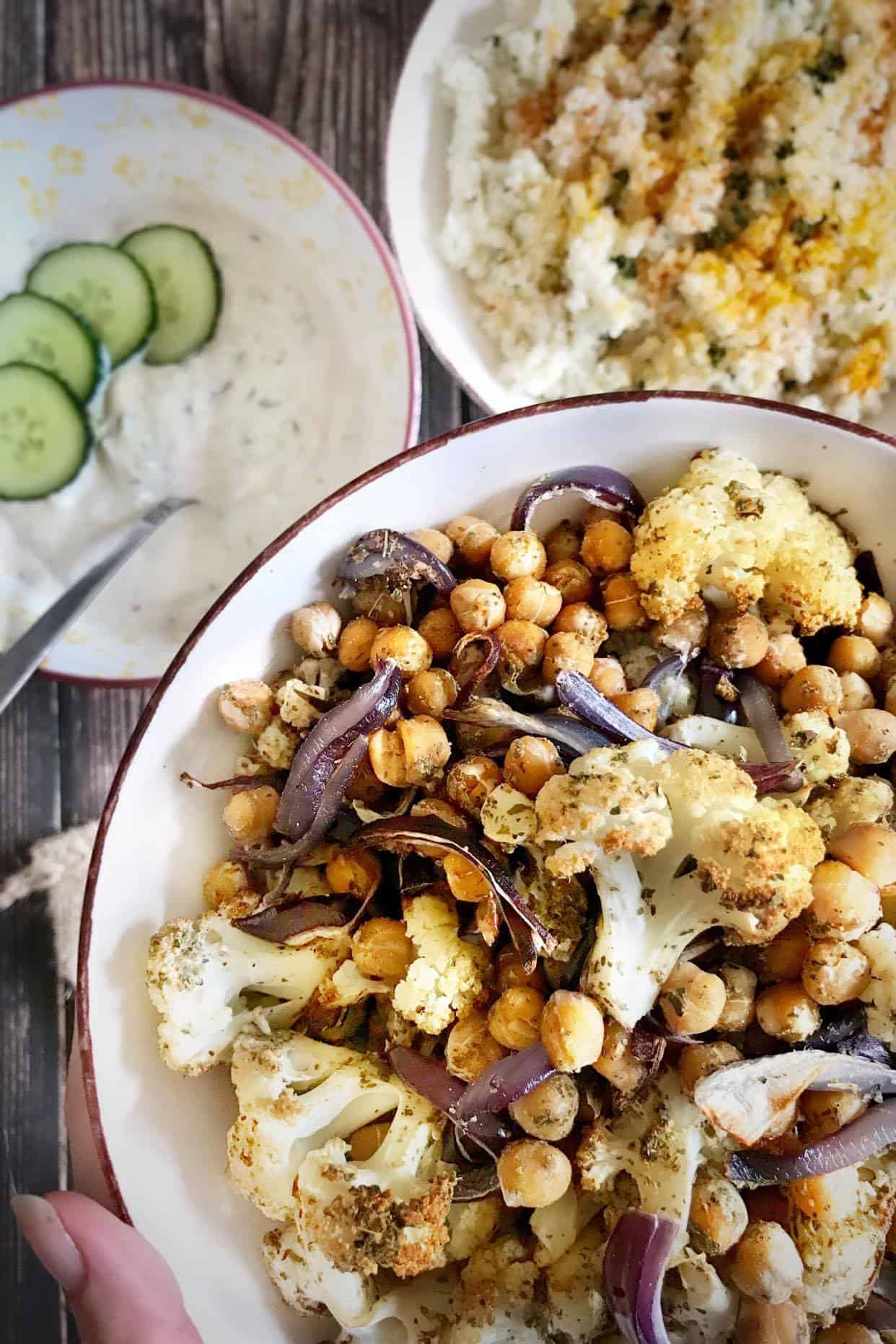 If you want a delicious and nutritious weeknight meal that you can pop into the oven and have ready in 30 minutes, then this Roasted Cauliflower & Chickpea Bake is for you.
I came up with this recipe years ago, long before I went vegan. At the time, I was just trying to incorporate more plant-based meals into my regular rotation. I had purchased some fenugreek to use in Indian dishes, and I loved the flavor so much, I decided to experiment with adding it to other types of cuisines. This Cauliflower & Chickpea Tray Bake was the winner!
Jump to: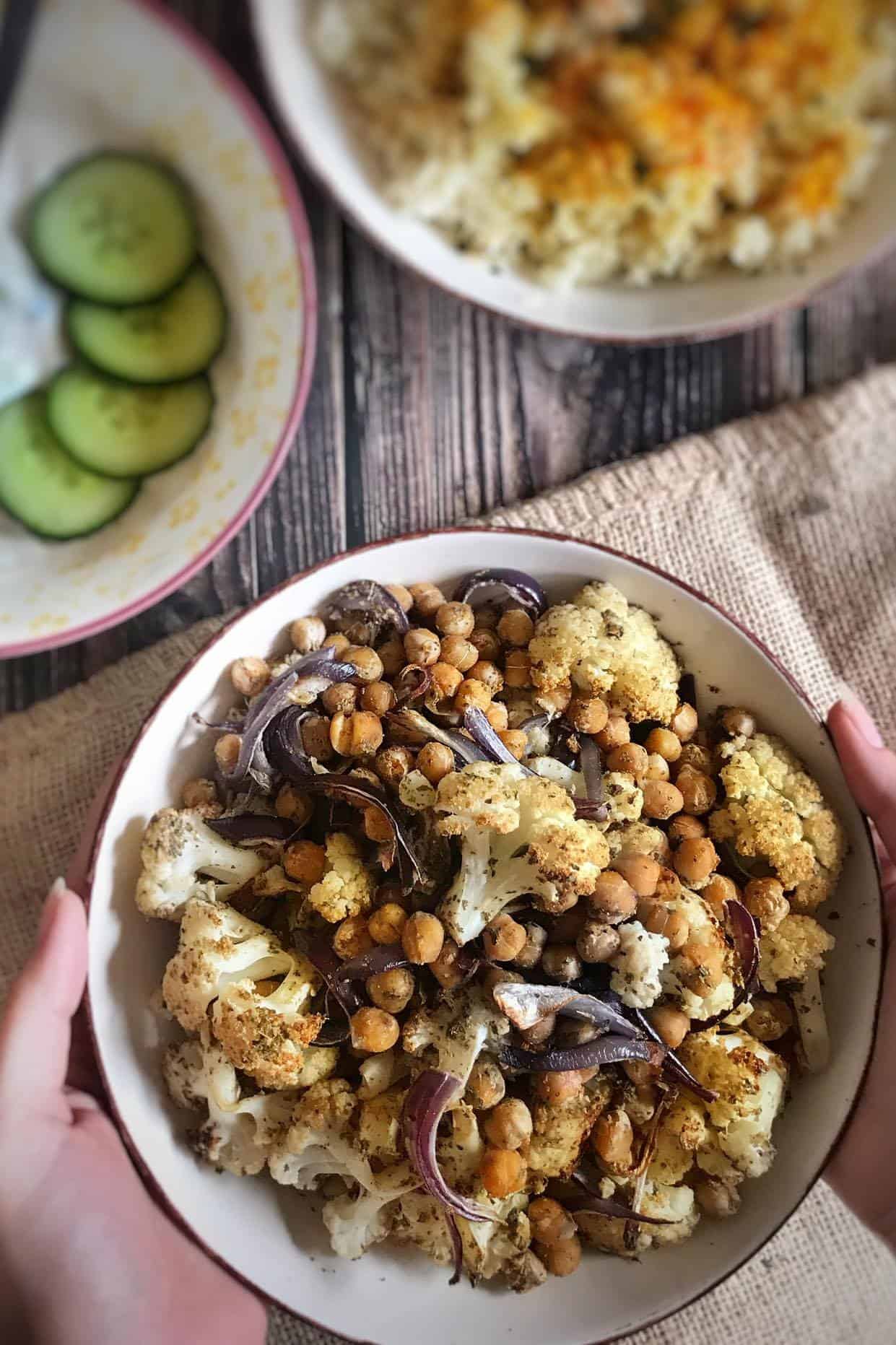 What is Fenugreek?
Dried fenugreek leaves are a common ingredient in Indian dishes like Red Lentil Dahl and Vegan Palak Paneer. If you've never had fenugreek, I definitely suggest you give it a try! I'm not sure if you'll find it at a regular grocery store, but you can definitely find it at Asian markets, specialty spice shops, or you can order *fenugreek online. You want to make sure you get Dried Fenugreek Leaves, not the ground fenugreek powder or seeds, as the flavor is totally different.
The dried fenugreek leaves sometimes have little woody twigs mixed in. You should remove the bigger ones and either use a mortar and pestle or your hands to crush the fenugreek leaves before adding to the paste.
Instructions
The prep work for this dish is fairly simple. You just combine your paste ingredients in a bowl, then mix in the cauliflower and chickpeas, spread evenly over a large baking sheet, and sprinkle onions over the top. Pop it all in the oven and while it's baking you can prepare the couscous and tzatziki.
Pro tip: Be sure you spread your veggies evenly over the baking sheet, otherwise they will steam rather than roast and the result will be soggy rather than crispy. If you double the recipe, be sure to use two baking sheets, changing the position of the two sheets halfway in between the cooking process.
The tzatziki should be made with a Greek-style vegan yogurt or regular vegan yogurt that's been strained in a clean kitchen towel (or you can skip this step and have a thinner tzatziki). Just grate or finely dice the cucumber, and then combine with the other ingredients.
Couscous is super quick to cook--taking only 5 minutes or less to puff up. I like to add chopped cilantro and a few spices to give it a little flavor, but really, the couscous is more of a base for the rest of the dish, so if you leave it plain and serve the veggies and tzatziki over the top it won't make much of a difference.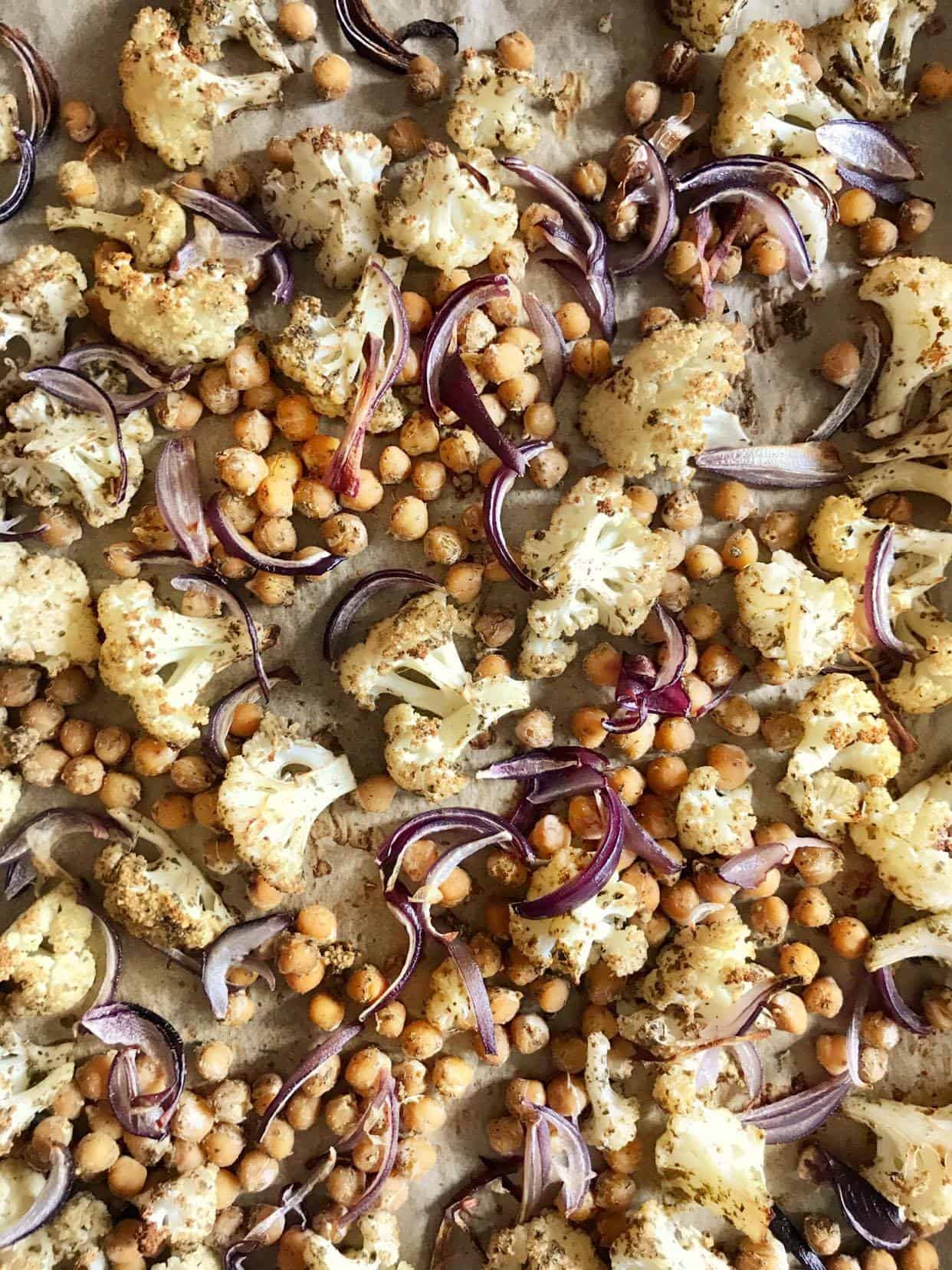 When the cauliflower, chickpeas, and onions are crispy and nicely caramelized, pile your veggies and couscous onto a plate, add a generous dollop of the tzatziki, squeeze a lemon over the top, and enjoy!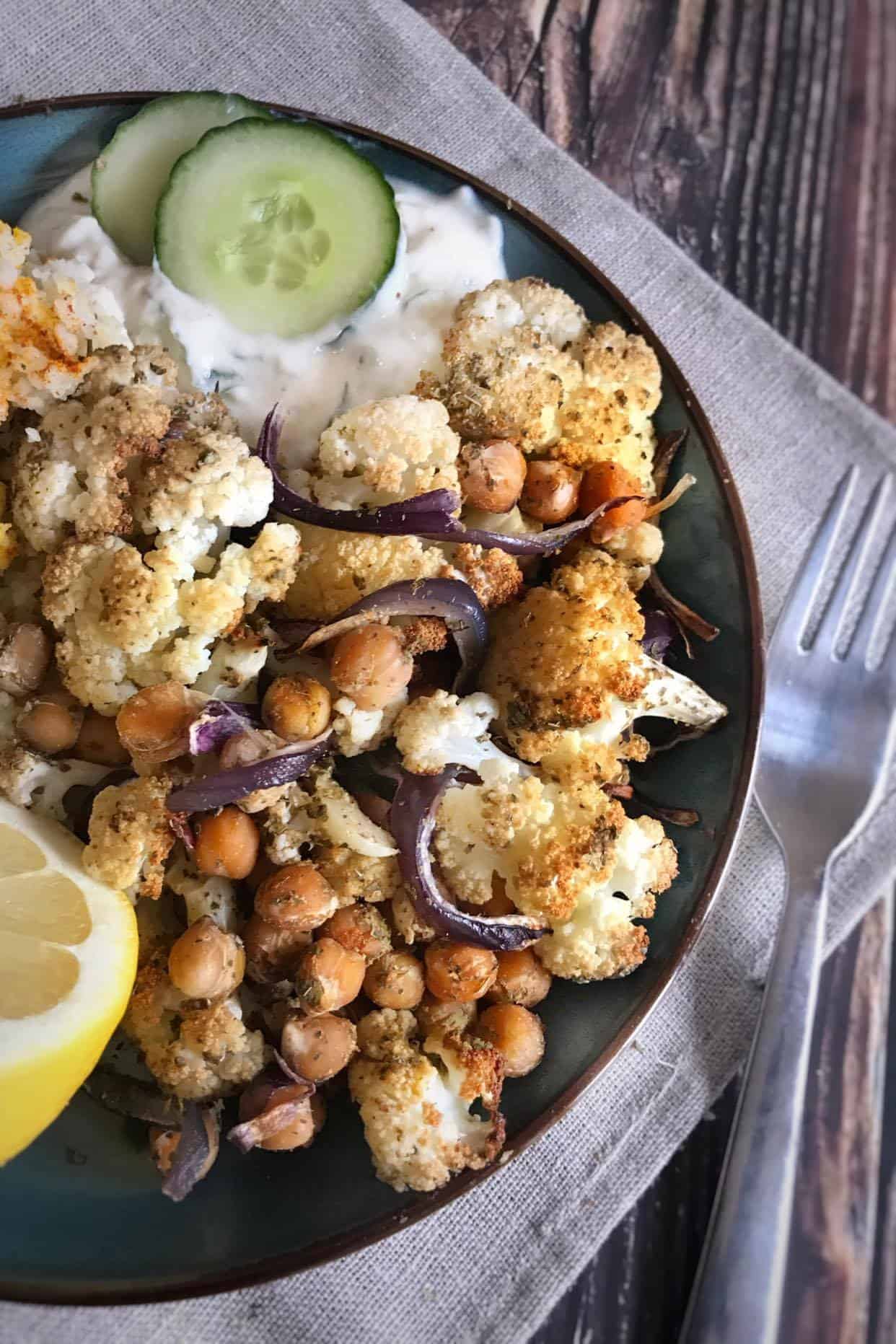 How to Serve
Serve this Cauliflower & Chickpea Bake with a side of couscous, vegan tzatziki, and sliced cucumbers.
You could also serve this over rice, pasta, orzo, or your favorite starch.
How to Store
Store this cauliflower bake (separate from the couscous and vegan tzatziki) in an airtight container in the refrigerator for up to a week. I don't recommend freezing, as that would make everything mushy.
More Vegan Chickpea Recipes
📖 Recipe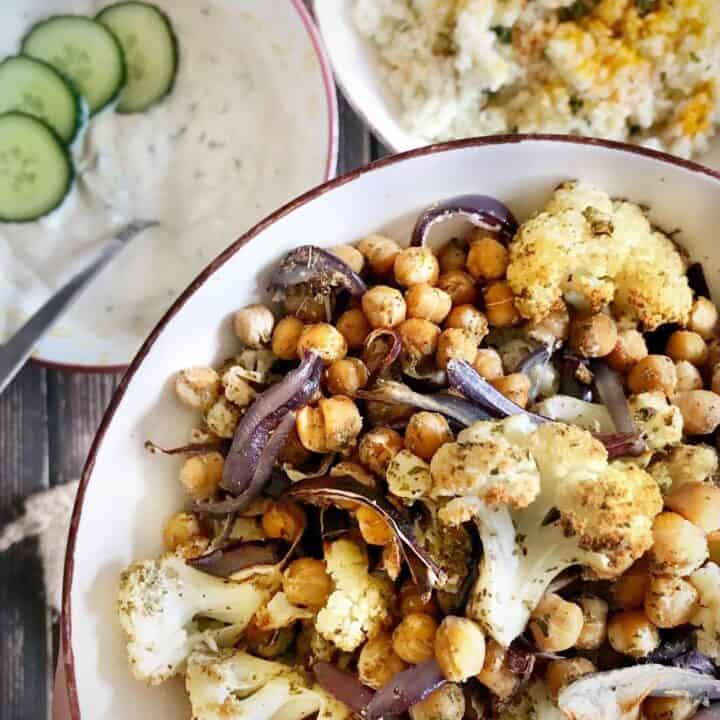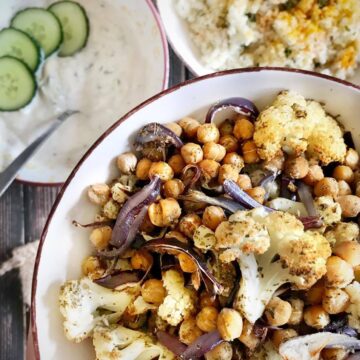 Cauliflower & Chickpea Bake with Couscous & Vegan Tzatziki
This Cauliflower & Chickpea Bake is flavored by fenugreek, cumin, and coriander. Served with couscous and vegan tzatziki, it makes a quick, easy, and delicious weeknight meal.
Ingredients
Instructions
For the Veggie Bake
Preheat oven to 425°F or 220°C.

Chop the cauliflower into small* florets. (*see note for bigger cauliflower florets)

Drain a can of chickpeas over a bowl to save the aquafaba (aka the liquid from the can). Rinse the chickpeas and set aside.

After you measure the fenugreek, you need to remove any twigs and crush the leaves (this will help them incorporate with the other ingredients better). Either use a mortar and pestle or place 1 tablespoon at a time in the palm of your hand and use the fingers of the other hand to crush the leaves.

In a large mixing bowl, add ¼ cup aquafaba and other paste ingredients. Stir to combine. The paste will be fairly thin, a have a consistency similar to olive oil.

Add chickpeas and caulflower to the bowl with the paste. Mix gently until the paste evenly coats the caulflower and chickpeas.

Spread the caulflower and chickpeas onto a sheet pan. The cauliflower will carmelize better if they are placed flat-side down. Sprinkle the sliced onions over the top.

Bake for 30 to 35 minutes, or until the veggies are crispy and caramelized.
Vegan Tzatziki
Combine all ingredients in a small bowl, mix to combine, and taste to adjust seasonings. Serve as a condiment with the veggies and couscous.
Couscous
Combine 1 cup of couscous with 1 ½ cups of water in a medium sauce pot. Bring to a boil over high heat. Turn off heat, stir the couscous, and place lid on the pot. Let rest 5 minutes, and then fluff with a fork.

Stir in seasonings. Serve with veggie bake and tzatziki.
Save this Recipe
Saved!
Notes
I love the unique flavor of dried fenugreek leaves. For this recipe, I don't recommend using ground fenugreek powder. If you don't have fenugreek, you can add oregano to the paste and fresh chopped cilantro after the bake comes out of the oven. It won't be the same flavor, but it will make up for that missing component.
If you accidentally throw out your aquafaba, just substitute with ¼ cup water.
If you prefer larger cauliflower florets (or you buy pre-chopped florets), then you will need to bake the cauliflower a little longer than the chickpeas and onions. Simply keep the cauliflower separate in step 5 (giving about half of the paste to the chickpeas and half to the cauliflower). Bake the cauliflower for 10 minutes, then take out of the oven and add the other ingredients to the sheet pan. Return to the oven and continue baking for 25 to 30 minutes.
Want access to my Exclusive Meal Planning Tips & Printables page?
Did you try this recipe? Have a question? Just leave a comment below and I'll get back to you ASAP!