Rich, creamy, and full of delicious Indian spices, this Red Lentil Dahl Recipe is the perfect cozy comfort dish. Red lentils cook quickly, so you'll have this simple yet amazingly flavorful feast on the table in less than 30 minutes.
Red Lentil Dahl is one of those deceptive dishes that seems so simple and yet when you taste it, you get an explosion of spices and flavor. Plus, nothing quite beats tucking into a warm and delicious bowl of starchy goodness. If you've never tried cooking Indian food before, this is an excellent place to start. This dahl recipe is quick, easy, and requires little in the way of technique. The spices are layered in such a way that minor variations won't make a noticeable difference.
You'll love this recipe because it's:
Hearty & Satisfying
Quick & Easy
Healthy & High Protein
Affordable & Budget-friendly
Vegan / Vegetarian
Dairy-Free
Gluten-Free (Unless you serve with naan)
Full of Amazing Spices
Jump to:
---
What is dahl?
Dahl refers to a spiced Indian dish made with lentils or split pulses, or it can refer to the lentils or pulses themselves. Masoor dal refers specifically to cooked red lentils or split red lentils.
Is it dal, dahl, or daal?
A quick internet search will show you that all of these are used interchangeably. But if you want to be a stickler about it, Dal is probably the most common spelling. At least, this is the main spelling used in Merriam Webster, Wikipedia, the Oxford English Dictionary. Though all three acknowledge the spelling variations--dal, dahl, or daal.
Are lentils good for you?
Don't let the low-carb diet craze fool you. Lentils are one of the healthiest foods on the planet. Lentils are loaded with magnesium, zinc, B vitamins, and potassium. They're also high in protein and iron.
In addition, to being super healthy, they're also very affordable. You can buy dry red lentils in bulk for cheap, and unlike other dried legumes you don't need to soak them overnight. So they're also good for your wallet and save you time!
Is this recipe kid-friendly?
That depends entirely on what your kids are willing to eat and try. I made various versions of this dahl recipe when testing this recipe and my kids found this final version to be a tad spicy. The simple fix is to leave out the cayenne pepper. If the adults like it spicy they can sprinkle it on after serving.
Can I make this without coconut milk?
If you want to make this dal recipe without coconut milk for allergy or other dietary reasons, you can try leaving out the coconut milk entirely. After you remove the lentils from the heat, stir in ½ to 1 cup of unsweetened vegan yogurt instead.
Another possibility is to use another type of plant milk (soy, almond, etc) and add a few drops of coconut extract.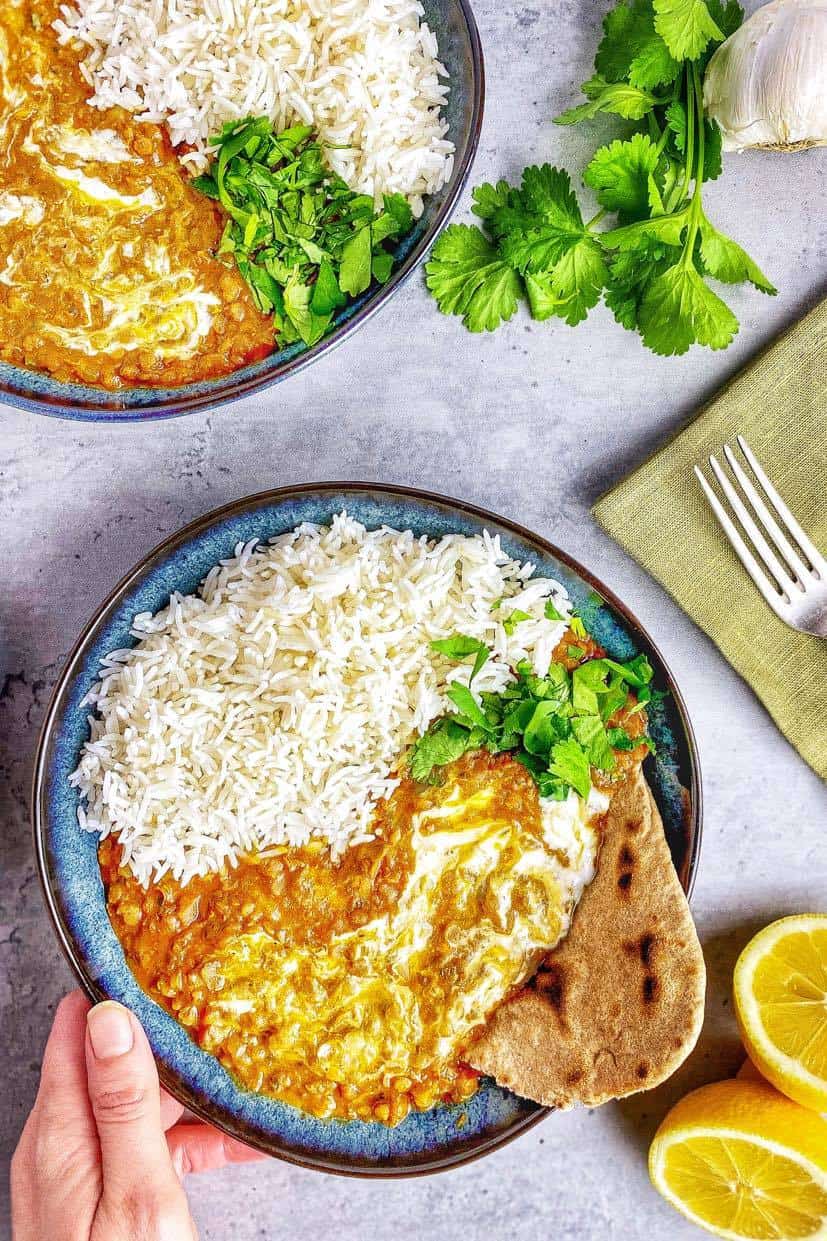 What can I substitute for the spices?
I realize this dahl recipe has a lot of spices that you might not have on hand. The good news is that many of these spices are found in "curry" spice, which is fairly common and easy to find. Curry spice is a kind of generic catch-all Indian spice mix, and just what's in it can vary widely. But you can check the label and see what's in yours. The proportions won't be exactly the same, but in a pinch, you could certainly use curry spice to substitute for some of the spices.
Generally speaking, curry could take the place of turmeric, cumin, coriander, cayenne, ginger, fenugreek, and possibly all-spice (it might be cinnamon in the curry powder, but close enough). The main difference is that curry powder will usually have more turmeric along with a few other spices that I didn't include in this recipe. So the flavor will shift somewhat but it won't ruin the dish.
---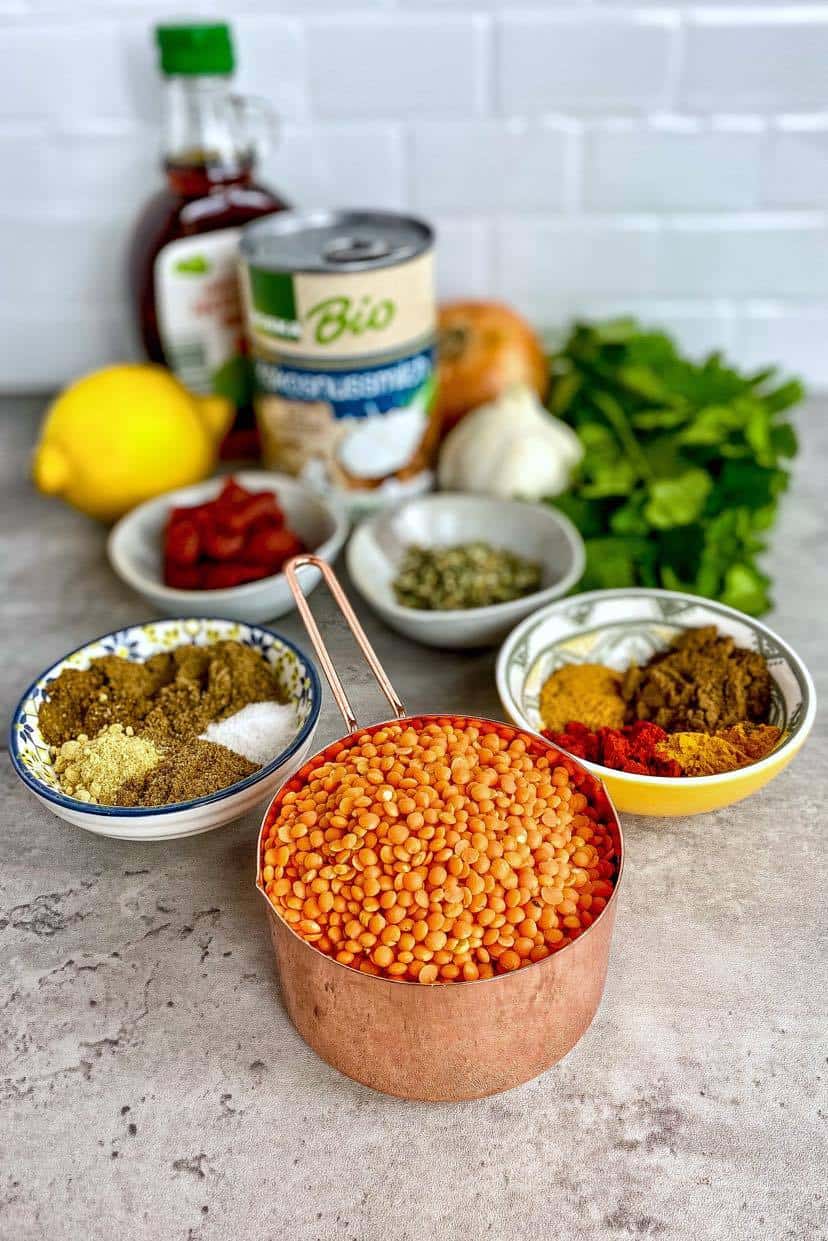 ---
Ingredients
Red lentils (aka split red lentils or masoor dal): Almost any kind of red lentils will work for this dish (with the exception of lentils still in the hull, which is probably not what you'll find at the grocery store anyway), but the thickness can very from one brand to another and will affect the cooking time.
Vegetable broth: This is your main cooking liquid and will add extra flavor. You can also use plain water.
Reduced-fat coconut milk: For extra creaminess! I prefer to use reduced-fat, but that's entirely up to you.
Yellow onion: White or red would also work, but I used yellow.
Fresh garlic: feel free to substitute with 1 tablespoon granulated garlic if you don't have fresh.
Tomato paste: You could also use diced or fresh tomatoes, but I like the concentrated falvor and simplicity of using tomato paste.
Lemon juice: For a touch of brightness and acidity
Maple syrup: For a touch of sweetness.
Dahl Spices
ginger: I use granulated because whenever I buy it fresh I feel like it goes to waste, but feel free to sub with fresh ginger if you prefer.
turmeric: If you don't have all of these spices you could omit or substitute. See the above section (What can I substitute for the spices) for more ideas.
dried fenugreek leaves: You might need to crush the leaves with your finger or a mortar and pestle. Be sure to remove any little twigs or hard objects.
allspice
nutmeg: I prefer to use whole nutmeg grated with a Microplane.
cayenne: Omit if you don't like spicy food.
salt to taste: Salt to your own taste. I don't want to recommend a specific amount of salt because the sodium in vegetable broth varies so much. Start with ½ teaspoon and go from there.
Optional Garnish
fresh cilantro
unsweetened vegan yogurt
---
How to make dahl
To make this dahl recipe, start by rinsing the lentils in a mesh strainer. Be sure to check for rocks or other types of legumes. I learned my lesson a long time ago: biting into a tiny pebble is no fun.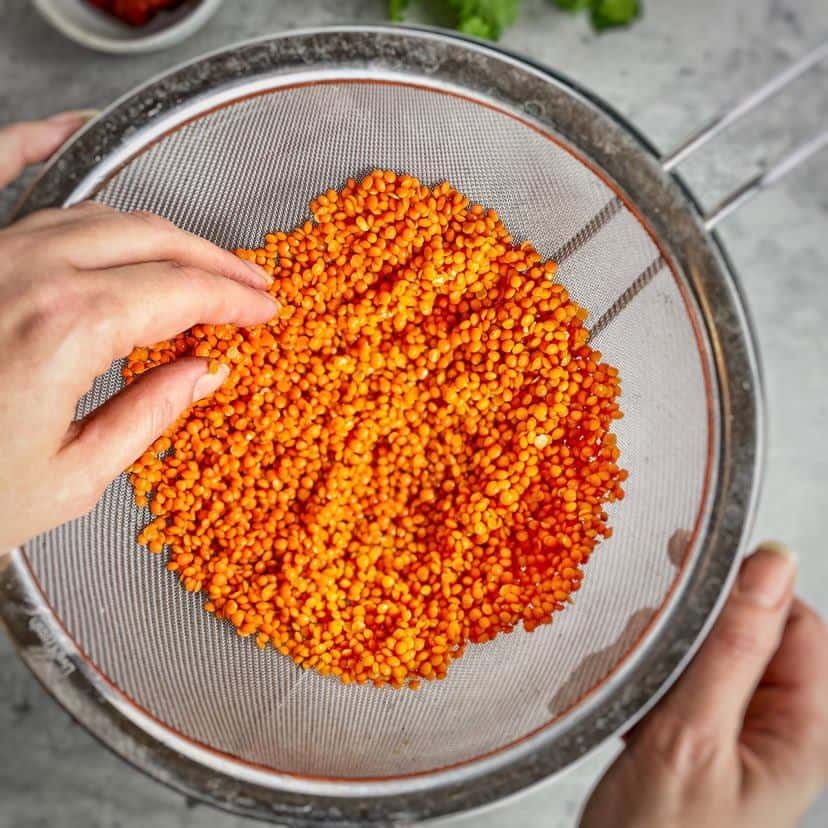 Next, chop the onion and gather the spices. Since you'll be measuring a lot of spices, it makes sense to measure everything out in a small bowl before you start cooking.
Warm a large pot or skillet over medium-high heat. Add the onions and cook for 1 to 2 minutes.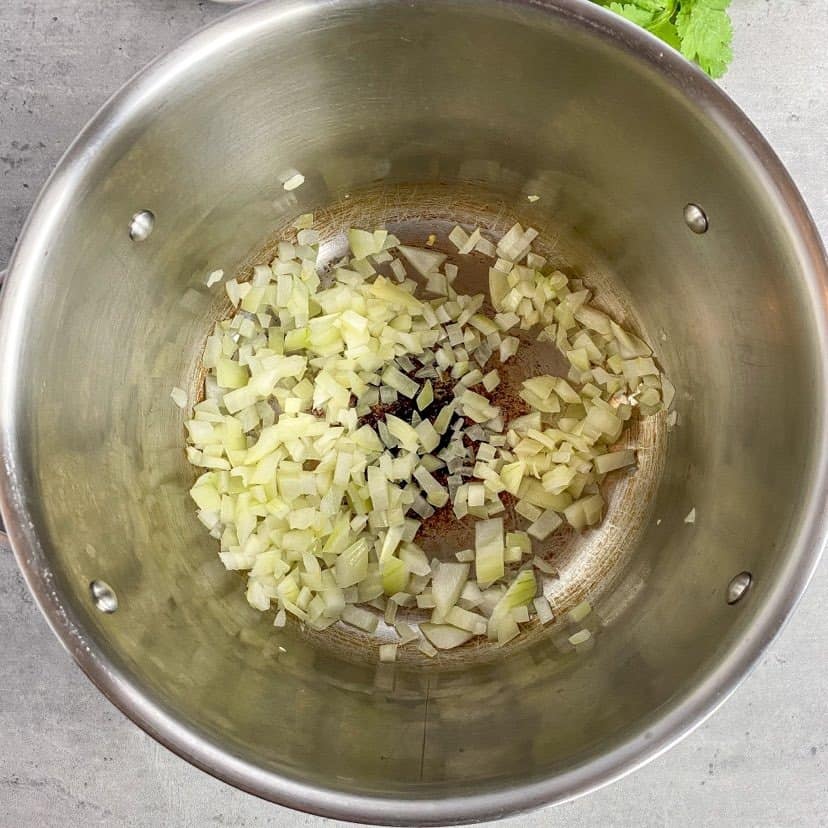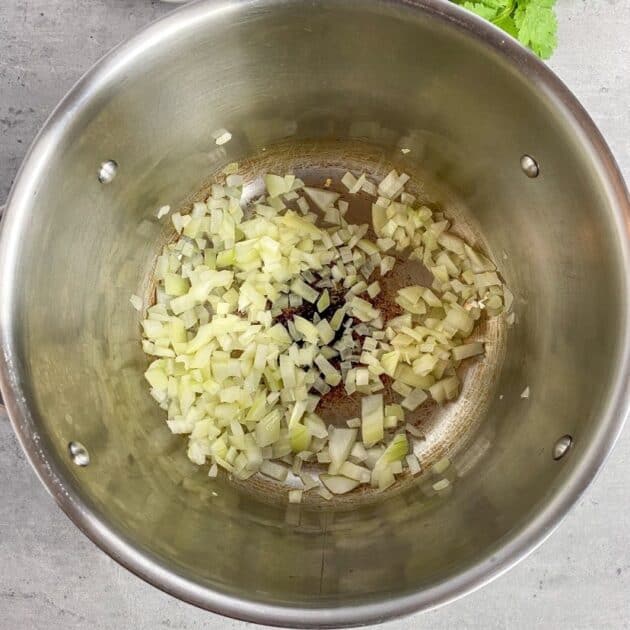 Add all of the spices and the tomato paste and cook for another 1-2 minutes.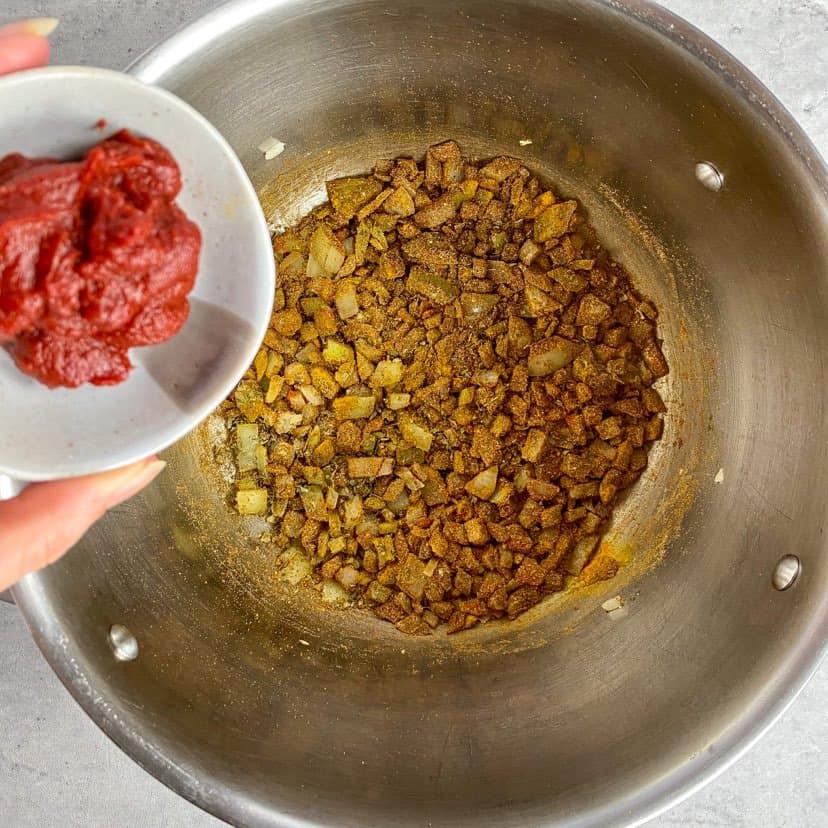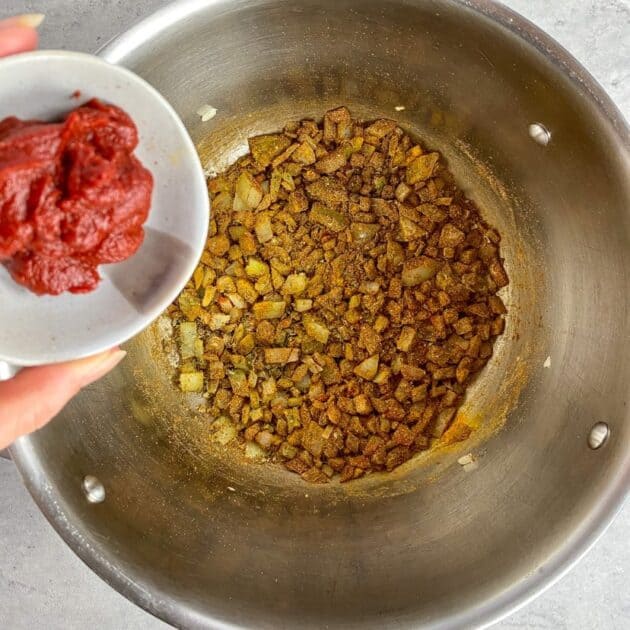 Add the garlic last (right before you add the broth). Garlic burns very easily.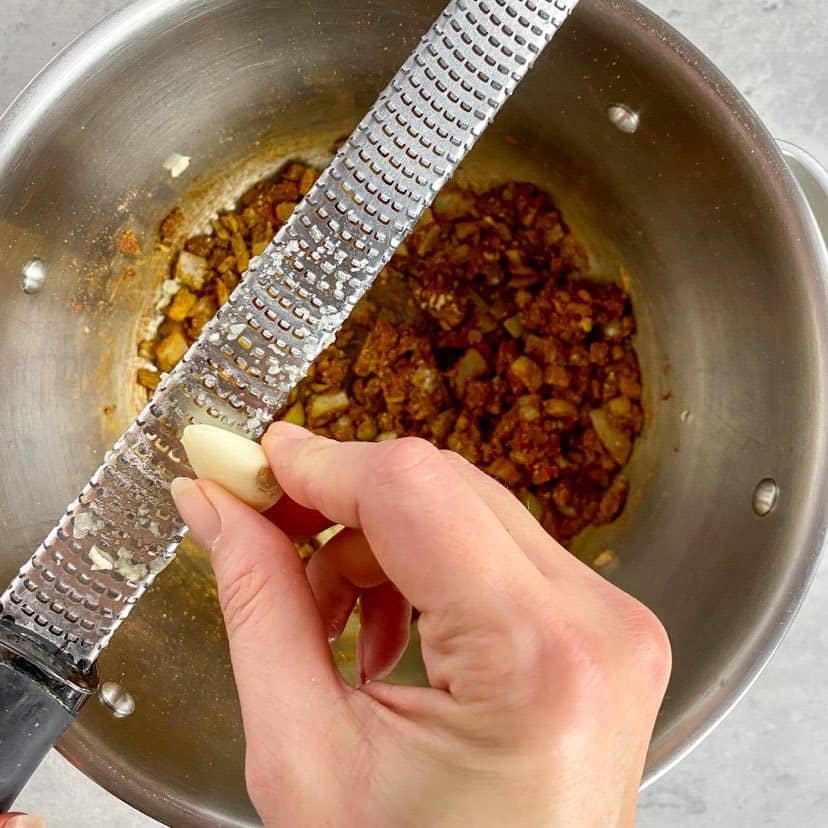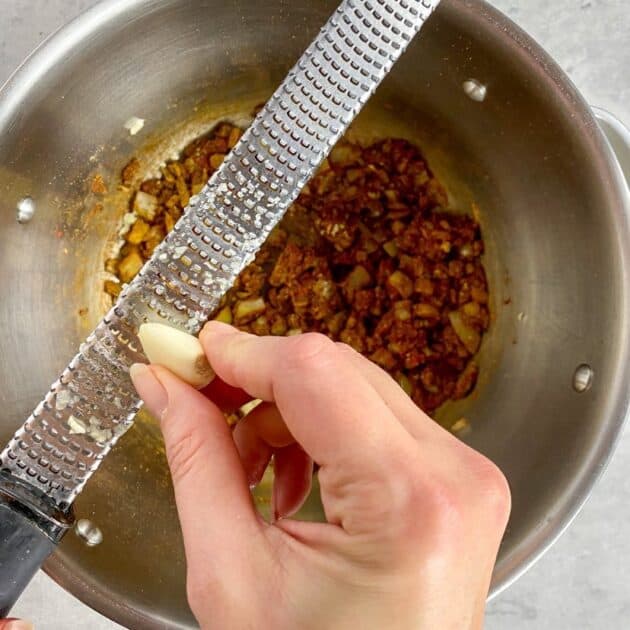 Stir everything to combine and then add the vegetable broth, maple syrup, and lentils.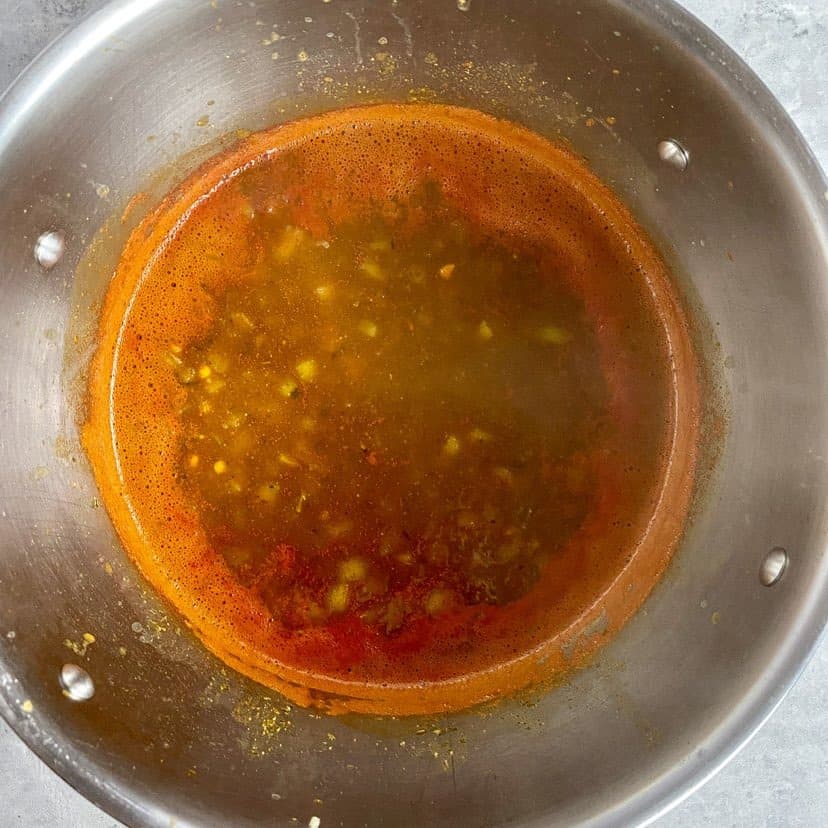 Bring everything to a boil and then turn the heat down to medium. Simmer for 10 to 15 minutes, or until the lentils are softened. Red lentils will not hold their shape like other legumes. The consistency will be closer to slightly chunky refried beans.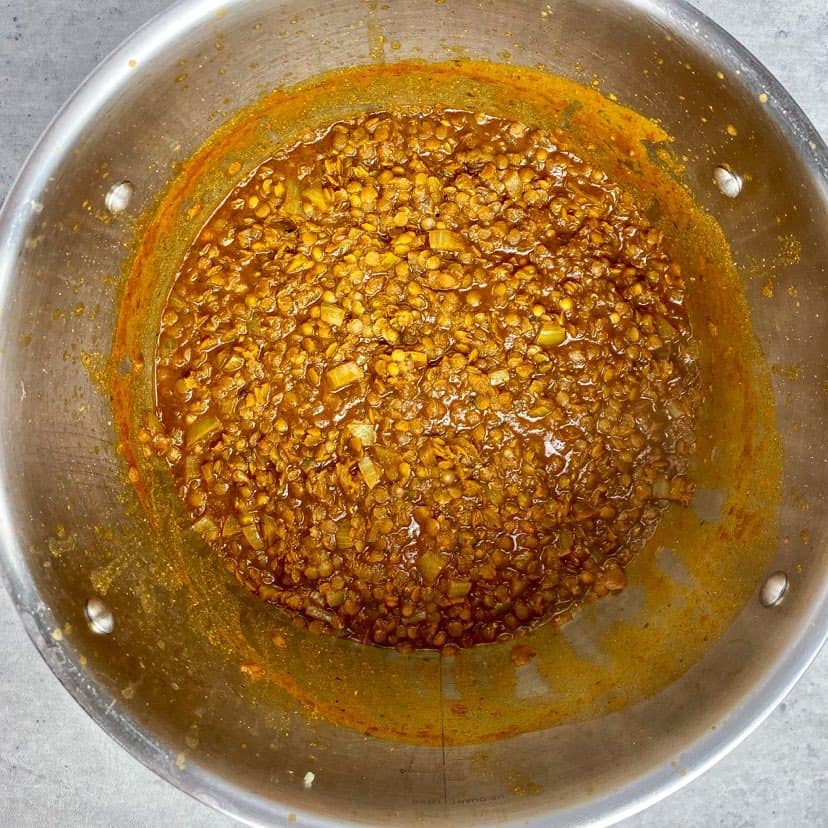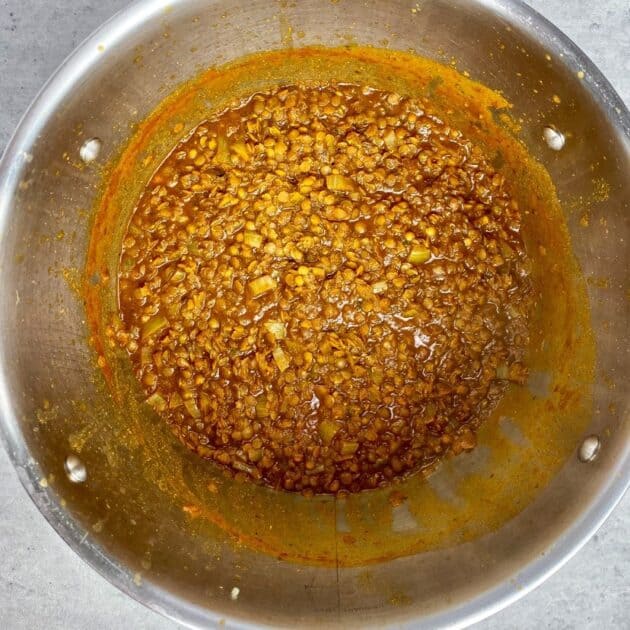 Stir in the coconut milk and lemon juice, and cook for another 2 to 3 minutes until the liquid is reduced.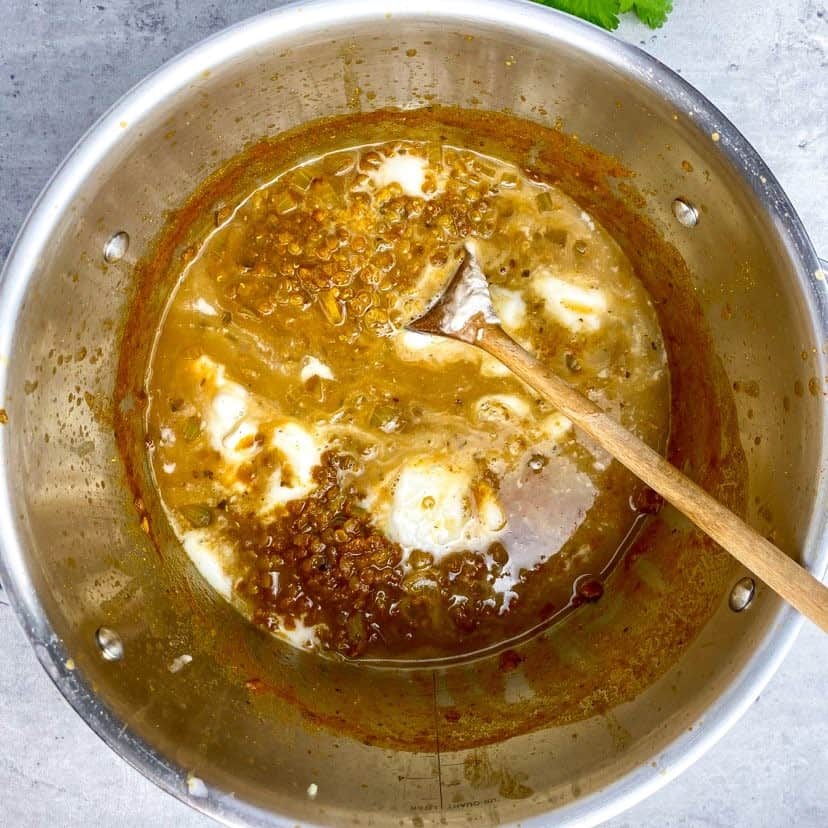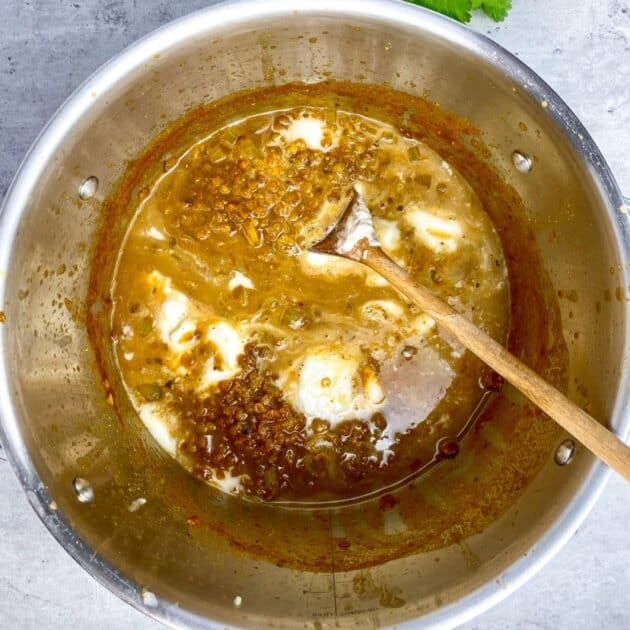 ---
Serve with rice and/or naan. Garnish with fresh cilantro and unsweetened vegan yogurt.
---
How to serve
Red Lentil Dal goes best with a neutral side like basmati rice or naan. Or both! (As you can see from the photos, I chose both). If you buy store-bought naan, check the ingredients because most are made with dairy.
Garnish your dal with fresh cilantro, vegan yogurt or coconut milk, and a squeeze of lemon. I'm getting hungry just thinking about it!
Can I make it ahead?
Yes! This dahl recipe is perfect for making ahead or meal prep because the flavors actually deepen and improve over time. Just hold off on garnishing and store seperately from rice or any sides. Reheat in a pot or skillet with an extra tablespoon or two of water.
How to store
Store any leftover red lentil dahl separate from rice or any other sides and garnishes. In an airtight container, cooked red lentils will last about a week in the refrigerator or 3 months in the freezer.
Related recipes
---
📖 Recipe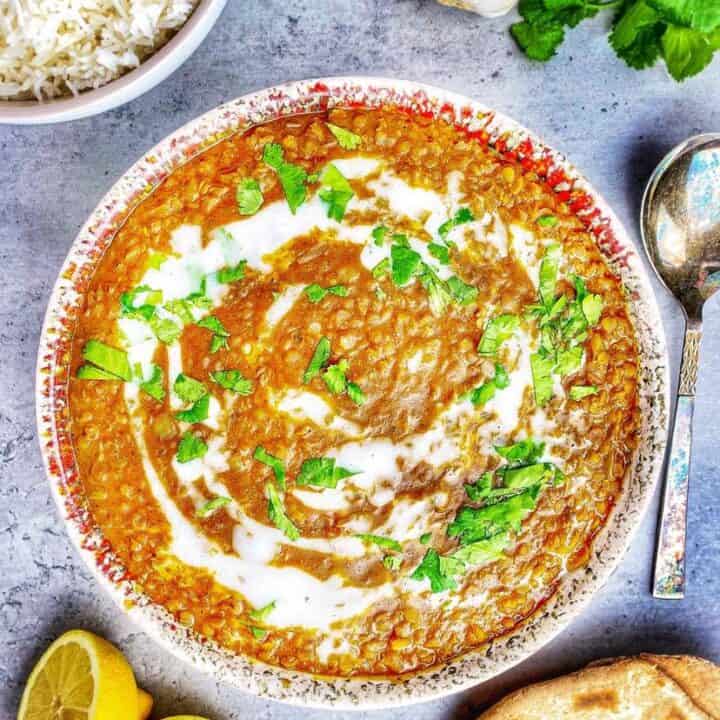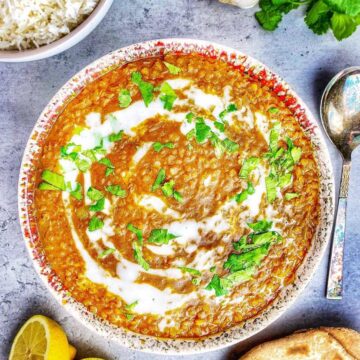 Red Lentil Dahl Recipe
Rich, creamy, and full of amazing Indian spices, this Red Lentil Dahl Recipe is the perfect cozy comfort dish. Red lentils cook quickly, so you'll have this amazing feast on the table in less than 30 minutes.
Ingredients
1

cup

red lentils

(aka split red lentils)

3

cups

vegetable broth

13.5

oz

reduced-fat coconut milk

1

yellow onion

4

cloves

garlic

2

tablespoon

tomato paste

1

tablespoon

lemon juice

1

teaspoon

maple syrup
Optional Garnish
fresh cilantro

unsweetened vegan yogurt
Instructions
Measure the red lentils and place them in a fine-mesh strainer. Sort through to remove any tiny pebbles or other varieties of lentils. Rinse with water. Set aside.

Chop the onion. Peel the garlic. Measure the spices and add them to a small bowl.

Heat a skillet or large pot over medium-high heat. Add the onion and a pinch of salt, and cook for 2 to 3 minutes, or until they start to turn translucent.

Add the spices and tomato paste. Stir to combine.

Use a Microplane or garlic press to mince the garlic cloves and add directly to the pot or skillet.

Add the broth, maple syrup, and red lentils. Bring to a boil and then turn the heat down to medium and simmer for 10 to 15 minutes.

When the lentils have softened and the liquid is mostly gone, add the coconut milk and lemon juice. Stir to combine and then cook for another 2 to 3 minutes until reduced to your desired consistency.

Serve with rice, fresh chopped cilantro, vegan naan, and vegan yogurt.
Save this Recipe
Saved!
Notes
You can make this in a skillet or large pot. The advantage of using a pot is that it's deeper and you'll have less splatter to clean up afterward.
You can use full-fat coconut milk if you want, but it will change the nutritional profile.
If you don't like spicy food you can reduce or eliminate the cayenne pepper.
If your red lentils are split on the thinner side, you might need to reduce the cooking time to 10 minutes.
I recommend using whole nutmeg and grating it on a Microplane. This will give you a more profound nutmeg flavor.
Nutrition
Calories:
288
kcal
Carbohydrates:
42
g
Protein:
13
g
Fat:
7
g
Saturated Fat:
6
g
Sodium:
847
mg
Potassium:
627
mg
Fiber:
16
g
Sugar:
6
g
Vitamin A:
774
IU
Vitamin C:
11
mg
Calcium:
63
mg
Iron:
5
mg
Want access to my Exclusive Meal Planning Tips & Printables page?