Rich, creamy, and full of flavor, this Vegan Thai Curry takes just 20 minutes from start to finish and requires only 6 main ingredients! This quick & easy recipe is oil-free and perfect for a busy weeknight.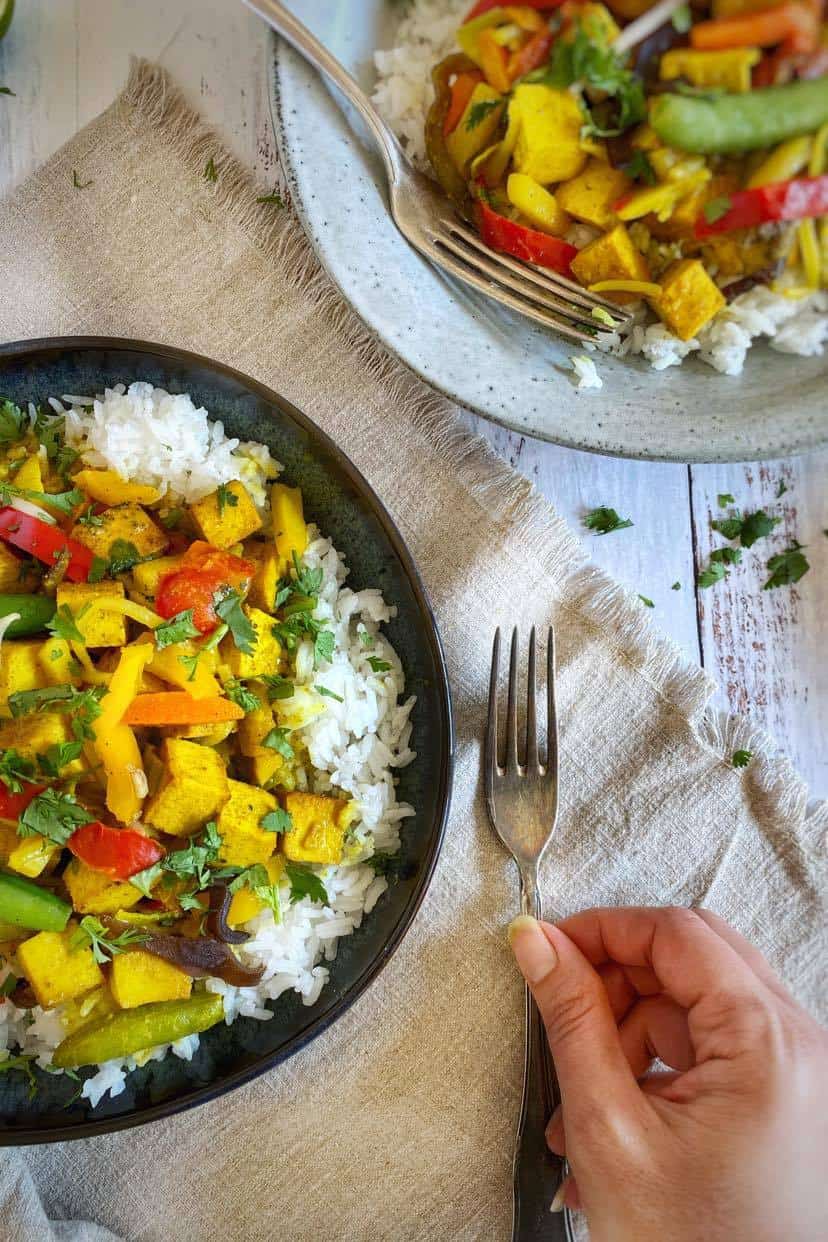 I absolutely love the full flavors of curries! So I was really excited when I realized just how easy they are to make at home. Using curry paste and coconut milk for the sauce, along with pre-cut frozen vegetables, makes this recipe super easy! I enjoy the chewiness of the cubed tofu, but if you have a soy allergy or just want to make this dish even easier, you can substitute canned lentils or chickpeas.
Jump to:
You'll love this Thai Curry recipe because it's:
Quick & Easy
Needs just 6 main ingredients (not counting pantry spices and optional garnishes)
Takes just 20 minutes
Vegan / Vegetarian
Dairy-free
Versatile
Family-friendly
Meal-prep friendly
Delicious & Flavorful
---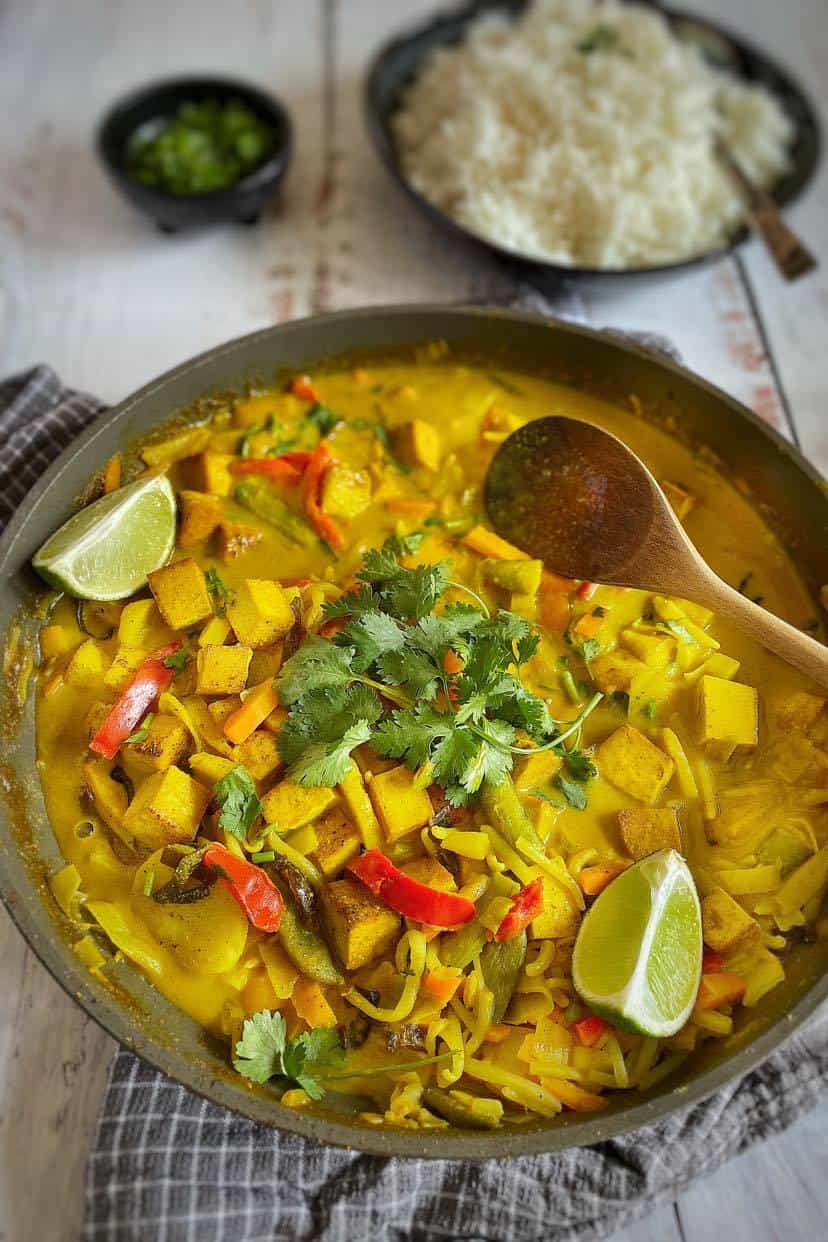 What's the difference between Thai curry and Indian curry?
The word curry is itself a complicated term with a long history and good deal of variation in meaning. But a quick way to differentiate Thai curry from Indian curry (besides, obviously, different ingredients) is that Thai curries tend to be more soupy, while Indian curries tend to be thicker and are often referred to as "gravy."
Is this an "authentic" Thai Curry Recipe?
Calling any recipe "authentic" is a bit tricky. Any dish traditional to a country will be prepared and cooked a little differently depending on which region you're in or whose grandmother you ask.
So to be clear, this is my interpretation of a very simple & quick Thai curry. There are plenty of more complicated preparations that might use different ingredients. But if you want to make this dish in 20 minutes without a lot of hassle, this recipe will surely hit the mark. (Also, I realize the photos make the sauce consistency look thicker than it actually is. I actually prefer it a bit thicker, but that's obviously not the traditional way to eat Thai curry.)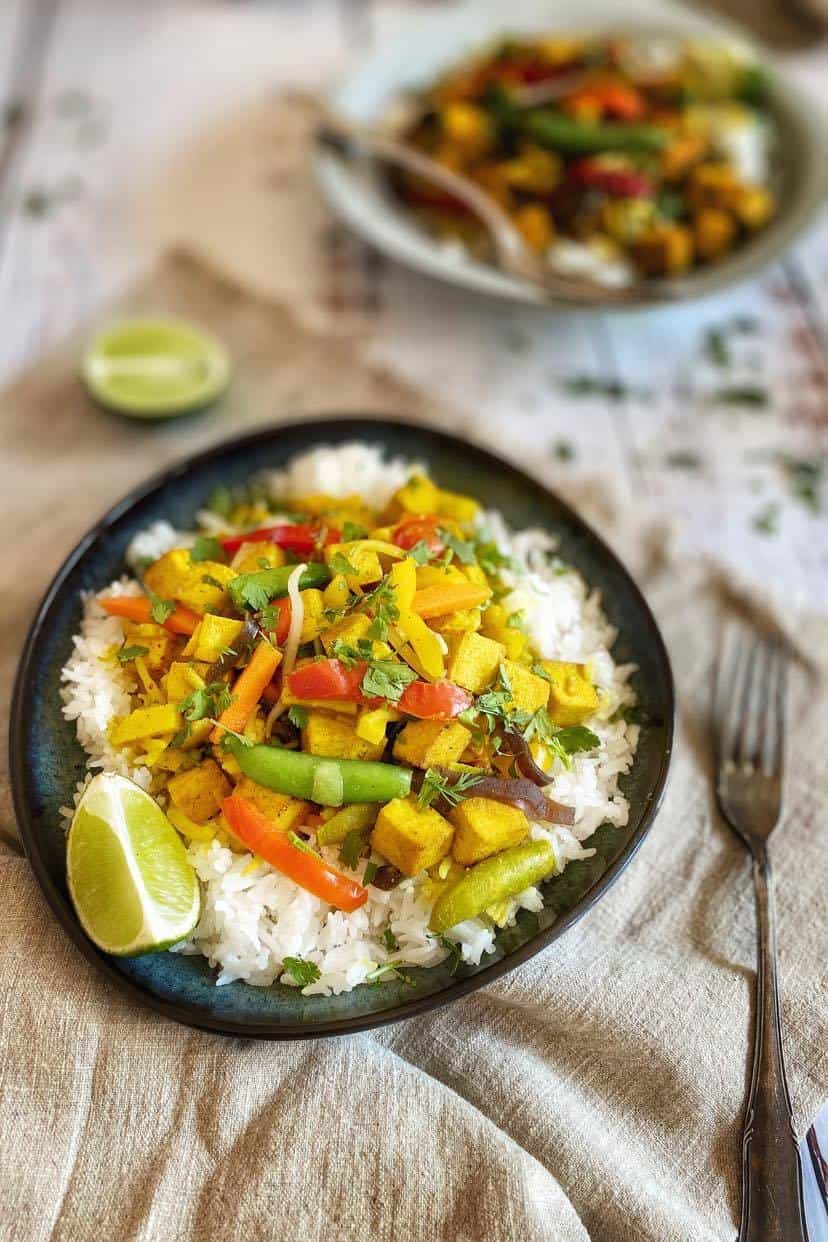 ---
What's the Difference Between Red, Green, and Yellow Thai Curry Paste?
Thai curries get their color from the most prominent ingredients in the curry paste. Yellow comes from turmeric, Red from red chiles, and Green from a variety of green chiles and herbs. Yellow Thai Curry is generally the mildest, while Green is the spiciest, with Red falling somewhere in the middle. I think they are all delicious! If you're new to Thai curry, start with yellow and work your way up!
Which Kind of Thai Curry Paste Should I Use?
This recipe can be used with any kind of Thai Curry Paste that you happen to have on hand. I used yellow here, because I love the sweet subtle flavor, and it's a little more kid/beginner friendly since it's less spicy.
Also, if you are avoiding oils, added sugars, or high sodium foods look for a brand with no or only a trivial amount of whatever you're avoiding. Alternatively, you can make your own Thai Curry Paste. In order to keep this a quick meal, I am using store-bought Thai curry paste.
Is Thai curry paste vegan?
In choosing a brand of Thai Curry Paste, be aware that some store-bought brands contain fish or shrimp sauce, so to keep it vegan, you want to buy a brand that doesn't contain those.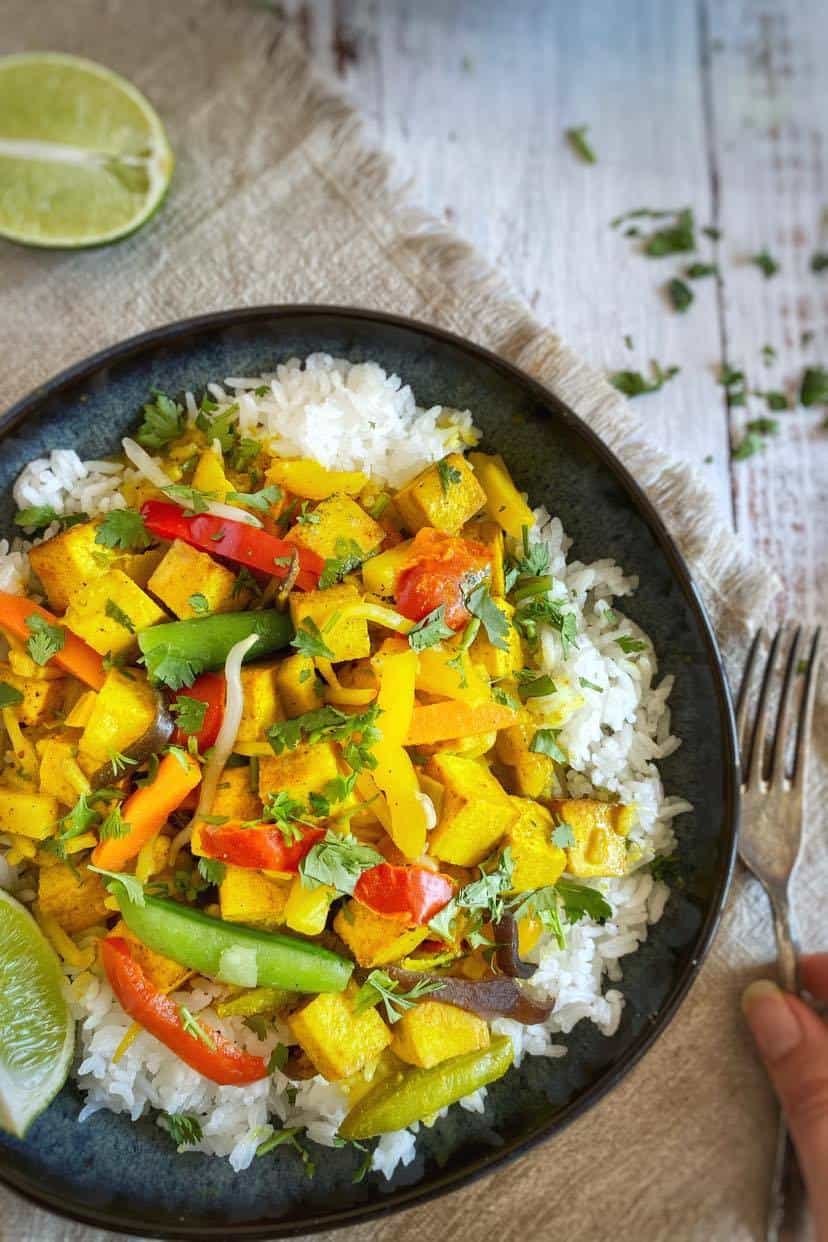 ---
Can I use fresh vegetables instead of frozen?
Of course! If you have a garden or fridge full of fresh veggies, go for it. Using fresh veggies will add a few minutes of prep and cooking time to this dish, but ultimately you'll get a very similar product.
Frozen veggies sometimes get a bad rap, and I don't generally use them in preparations that require crisp or crunchy factors because they can be a bit soggy. But for recipes that are already going to have some liquid (think soups, stir-fry, and curries), they are ideal. Produce is usually frozen at peak freshness, locking in nutritional benefits and flavor. Plus, you have zero prep work!
Ingredients
1 ½ cups Jasmine or other quick-cooking rice of choice
1 can of reduced-fat coconut milk
14 oz extra firm tofu
5 to 6 tbsp Thai yellow curry paste (red or green also works for this recipe)
4 to 5 cups frozen vegetables
1 bunch cilantro
2 tbsp curry powder
water
lime wedges for garnish (optional)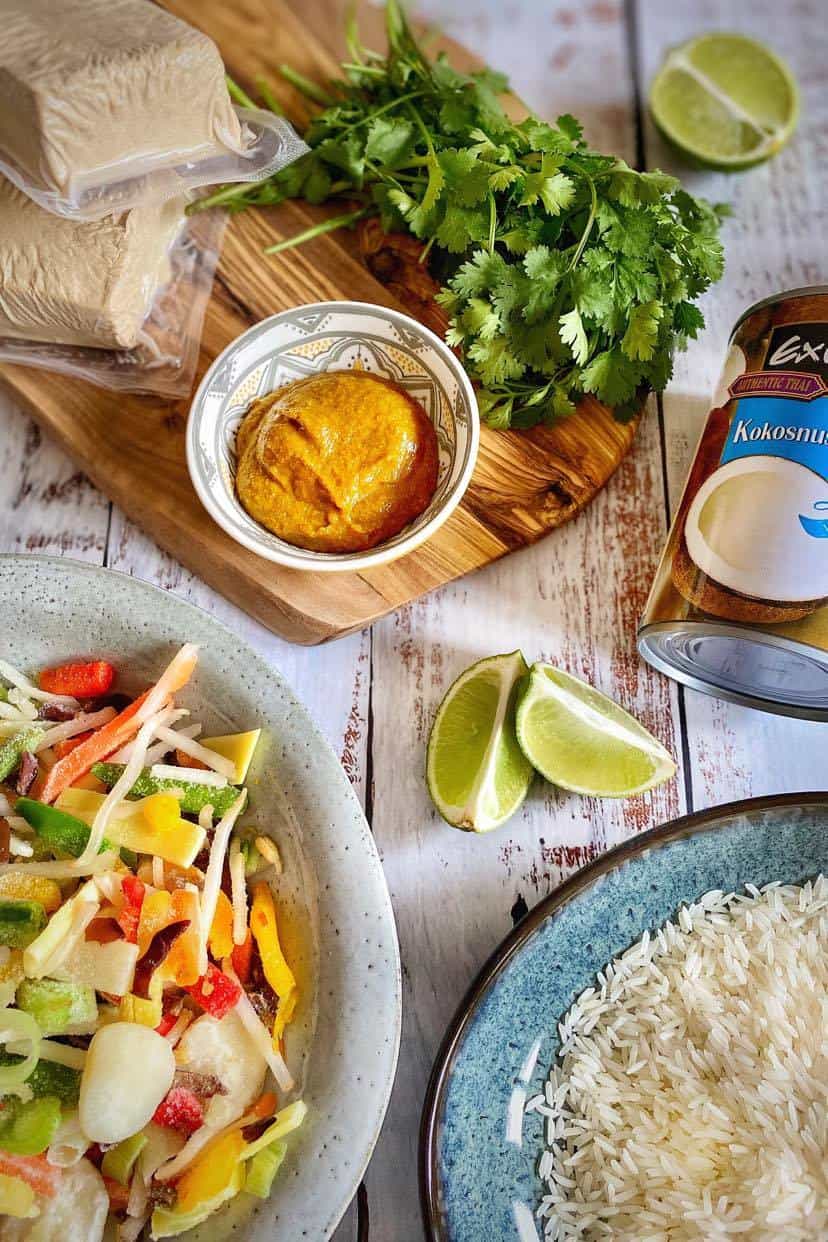 Substitutions
You can use any kind of rice, but I recommend basmati or jasmine for this dish.
Feel free to use fresh vegetables if you prefer. This will add some additional prep and cook time.
Any type of Thai curry paste can be used.
Chickpeas or brown lentils can be used in place of tofu.
Instructions
First heat a nonstick skillet over medium-high heat. Cube, season, and add the tofu to the skillet. (If your tofu is not extra firm, you will need to press it first. If so, do that before starting the rice, and give yourself a few extra minutes).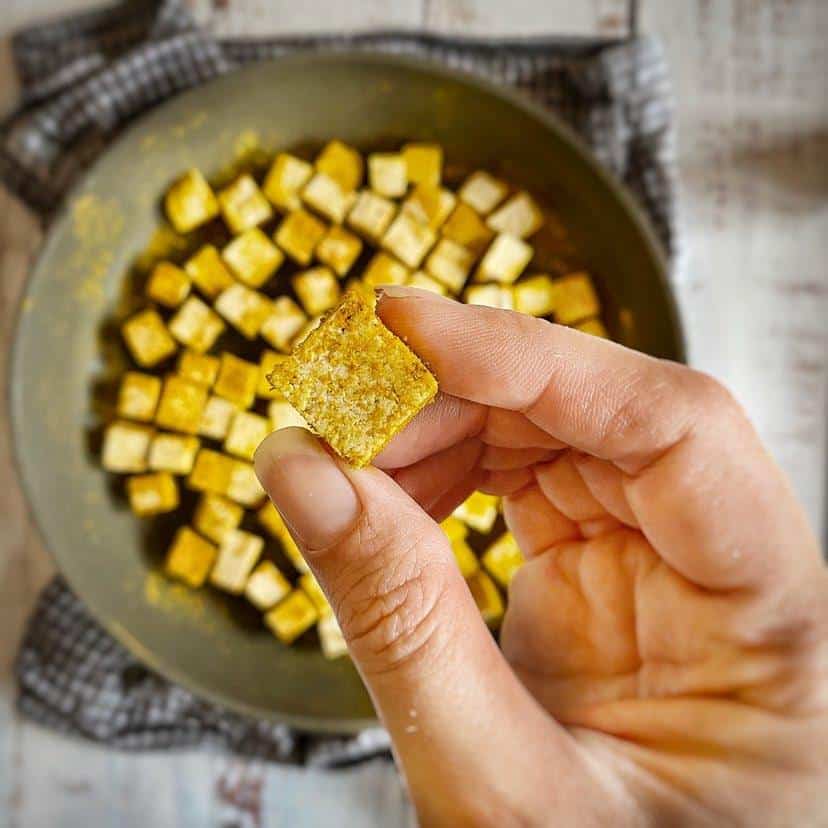 Make sure that each piece of tofu is touching the pan, this will help it to develop a nice seared crust. (This is when you should rinse, drain, and start cooking the rice: see more detailed instructions below).
After 2 or 3 minutes, turn the tofu to another side to sear. Repeat this process every few minutes. You don't need to flip each piece individually, just use a flipper to turn the pieces. Repeat this process over the course of ten minutes, until most of the sides are crispy and nicely browned.
You do not need to add oil to give the tofu a nice crust, but if you choose to use oil, you can add a little to the skillet after the skillet is hot. Alternatively, a tablespoon or two of water, added when the tofu is close to finished will give you very similar results.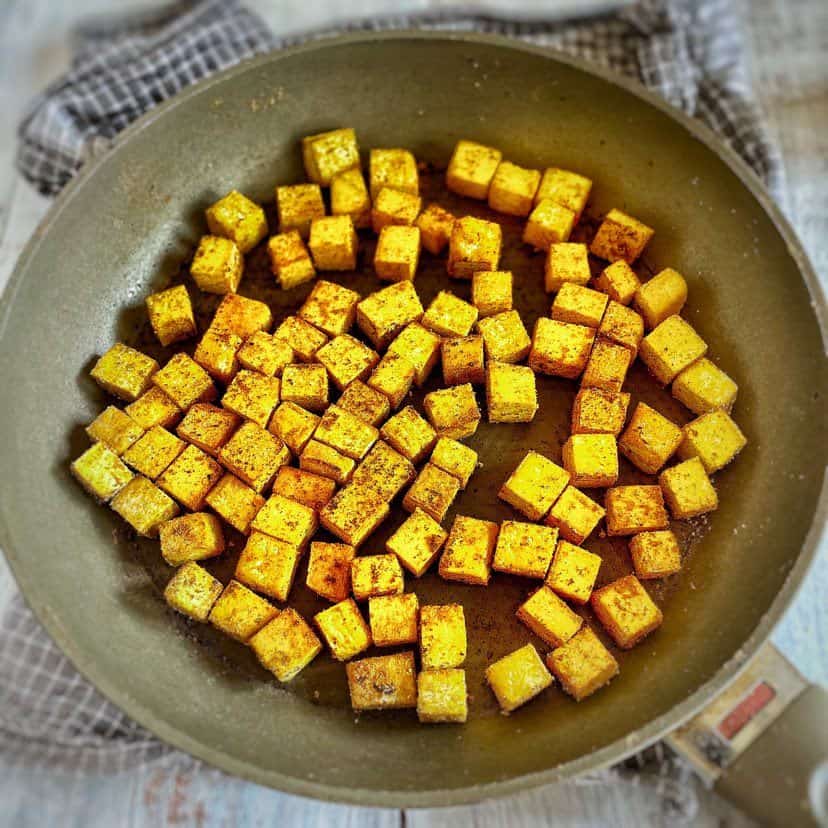 When the tofu is nicely browned, remove it from the skillet and set it aside.
Add your frozen vegetables right into the same skillet (no need to dirty another dish!). If there is anything stuck to the skillet it will deglaze as the vegetables start to defrost and give off moisture.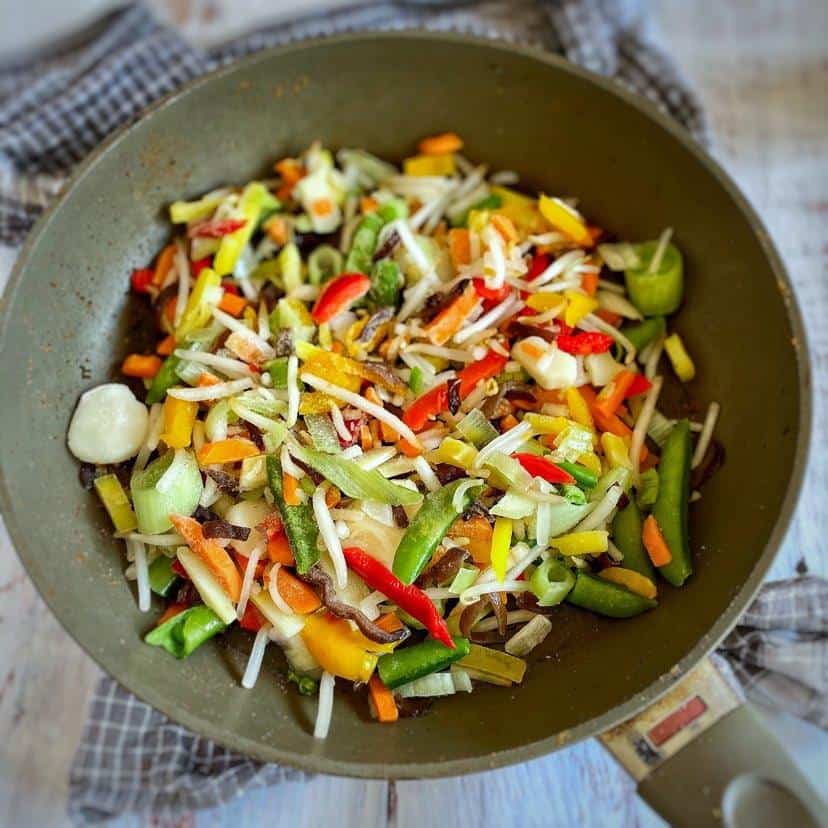 When the veggies are defrosted, move them to the sides, creating a ring in the center. Add the Thai curry paste.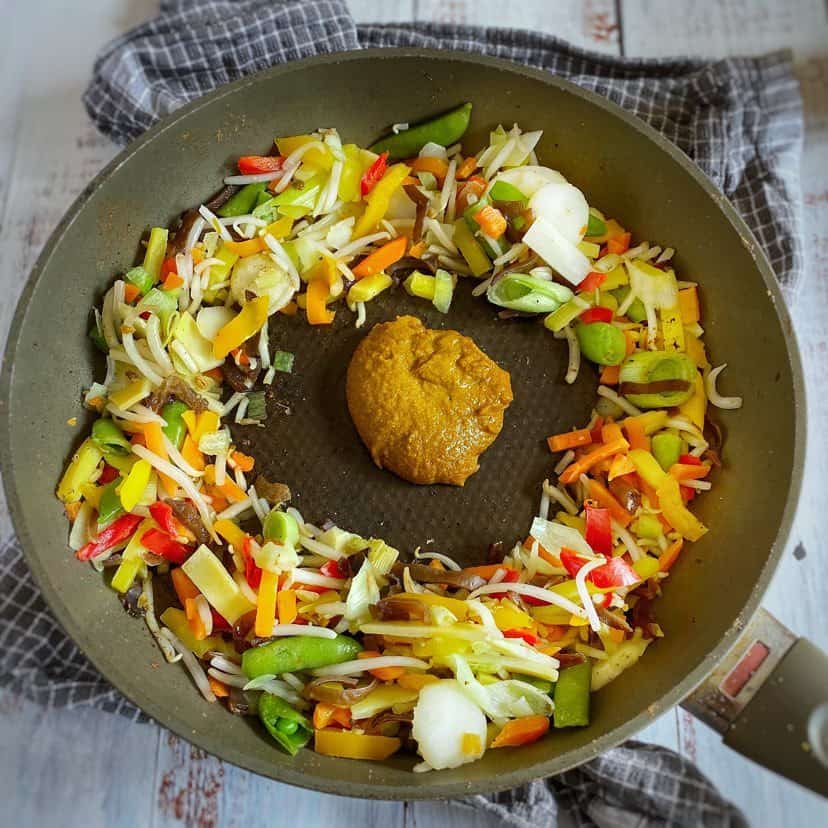 Next, pour the coconut milk into the circle and stir with a wooden spoon to combine. Stir the sauce with the vegetables and let them simmer for a few minutes until evenly heated. If you want to thicken the sauce, let simmer a little longer. If you prefer a traditional thin sauce, you can add a ½ cup of water or vegetable broth.
Once the sauce is warmed through and at the consistency you want, stir in the tofu. Add your garnishes and serve immediately.
---
How to make perfect fluffy rice every time!
I frequently hear people bemoaning the fact that they just can't cook rice. What's the secret to cooking perfect rice? There are 3 important things to keep in mind.
Know your rice! Different types of rice require different water to rice ratios and different cooking times. Some rice cooks up in 10 minutes, but others need 45! Be sure to check the package instructions or search the internet for the proper ratios and times first.
Rinse your rice! Unless you're using pre-cooked bagged rice (or something similar), you need to remove the excess starch. You can rinse either by placing the rice in a bowl of cold water and stirring it before draining and rinsing. Or just place the rice in a mesh strainer and rinse under cold water, using your hand to move the rice around until it's thoroughly rinsed. (Aka the water should run clear.)
Don't mess with it! Once you put the rice in a pot with water and begin heating it on the stove, DO NOT STIR! I know it will be tempting, but don't do it. That will cause the rice to release more starch and get that kind of sticky, gummy texture you want to avoid. When you think your rice is done, you can stick a fork into the rice near the side of the pot, gently moving some rice aside to see if there is excess water at the bottom. If not, the rice should be done, if there is excess water, you might need to simmer a few extra minutes.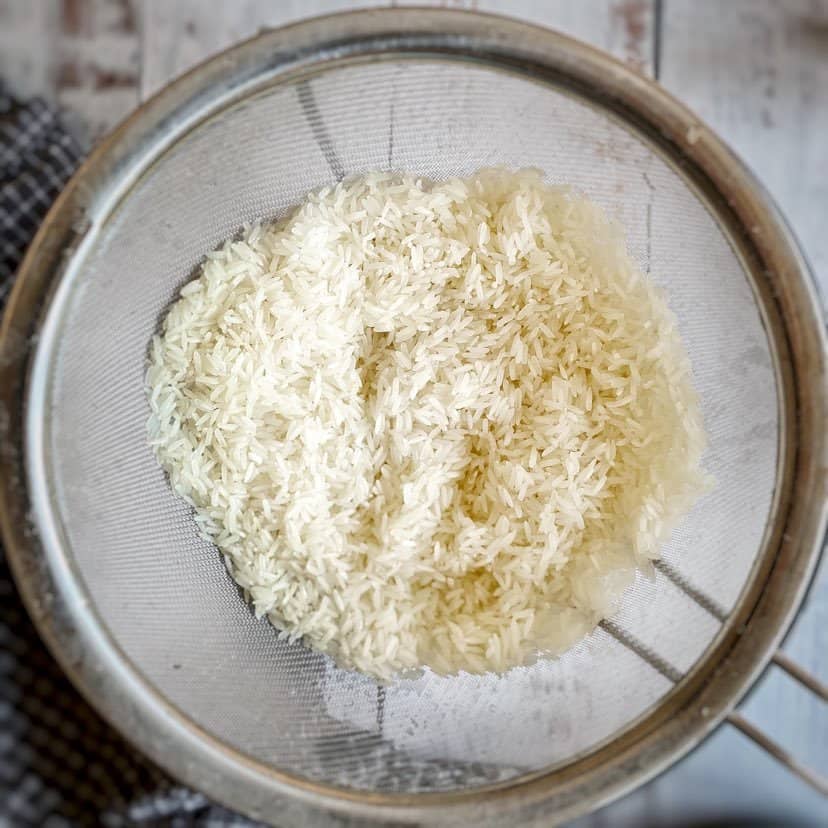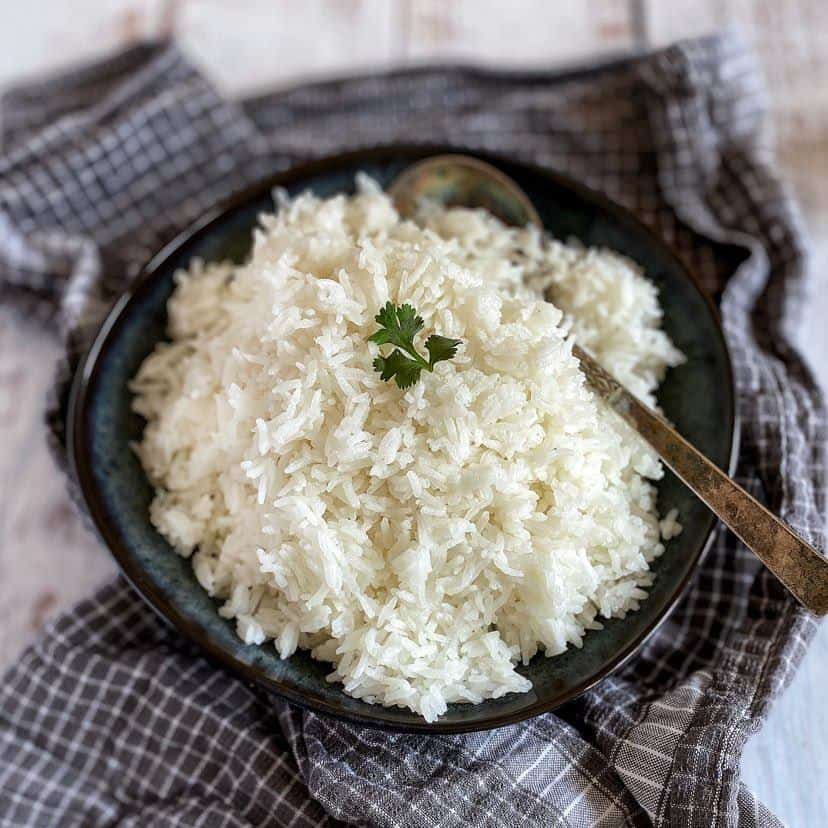 ---
How to Store
Store any leftovers in an airtight container in the refrigerator for up to 1 week.
Ideally you should store the rice and curry separately, but if you can't that's also fine.
The curry can be frozen and reheated. Do not freeze the rice.
How to Meal Prep
Interested in meal prepping this vegan Thai curry for lunches or dinner throughout the week? Just keep the rice, tofu, and curry vegetable mix in separate containers. This should last up to four days in the refrigerator in an airtight container. However, in order to keep the rice safe to eat, you should portion and store it immediately after cooking. Otherwise, the cooked rice spores can turn into harmful bacteria that could give you food poisoning.
Another meal prep option is to make the curry, vegetables, and tofu ahead of time, and use quick-cooking microwaveable rice the day you want to eat it.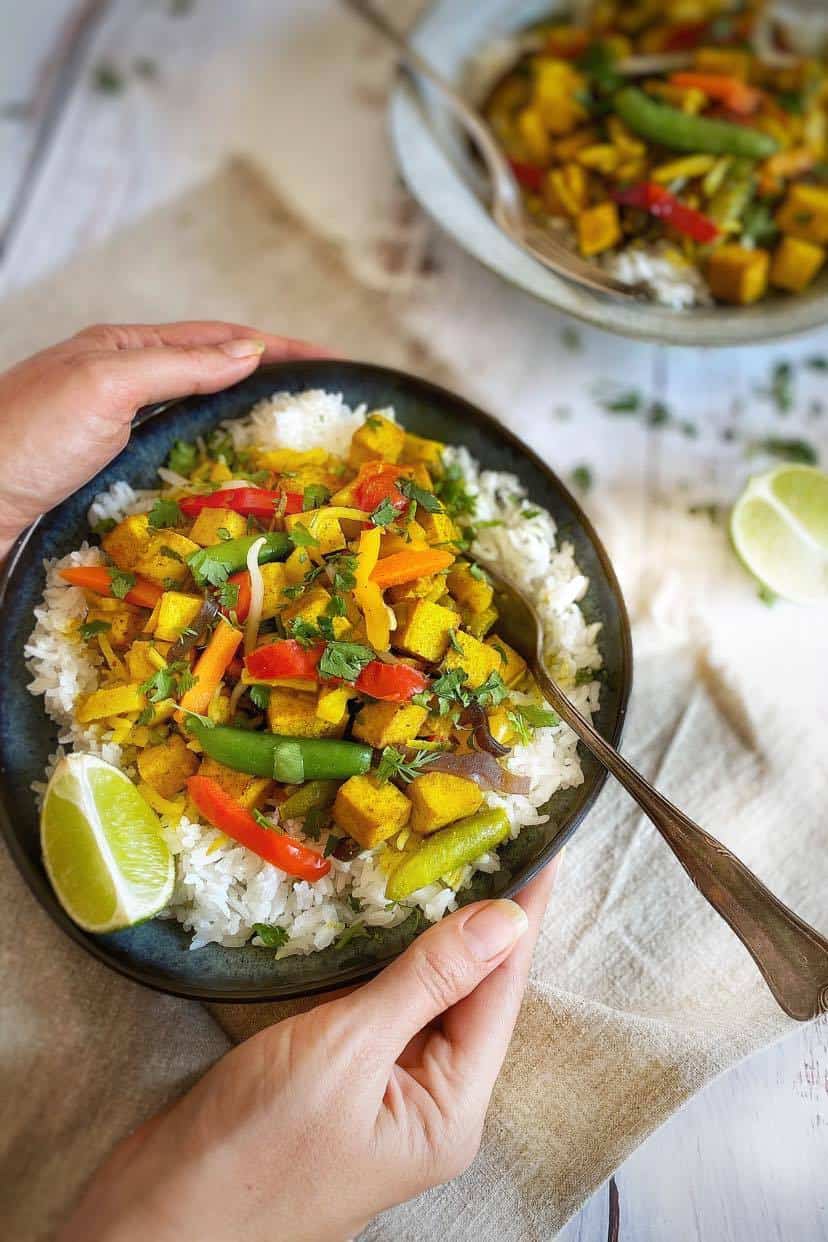 ---
Related recipes
📖 Recipe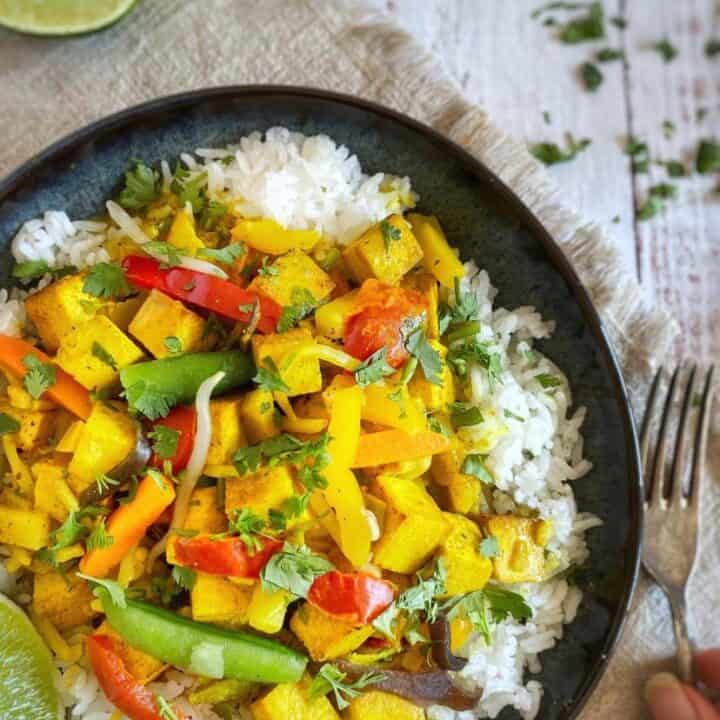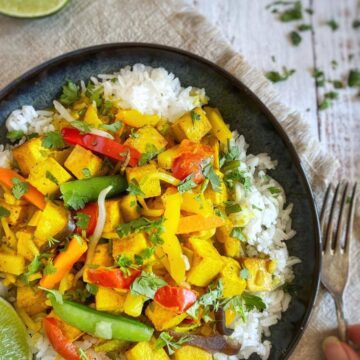 Vegan Thai Curry
Rich, creamy, and full of flavor, this Vegan Thai Curry takes just 20 minutes from start to finish and requires only 6 main ingredients! This quick & easy recipe is oil-free and perfect for a busy weeknight.
Ingredients
1 ½

cups

Jasmine or other quick-cooking rice of choice

(see note below)

15

oz

or 400g can of reduced-fat coconut milk

14

oz

or 400g extra firm tofu

(see note below)

5 to 6

tablespoon

Thai yellow curry paste

(red or green also works for this recipe)

4 to 5

cups

frozen vegetables

(see note below)

1

bunch

cilantro
Pantry Supplement
2

tablespoon

curry powder or spice of choice

(see note below)

water

lime wedges for garnish

(optional)
Instructions
Tofu
If you aren't using extra-firm tofu, it will need to be pressed first. Do this now following these steps: Take the tofu out of the packaging and wrap it in a clean kitchen towel. Place on a plate. Stack something heavy on top (a cast-iron skillet or stack of heavy plates) and let press for 10 to 15 minutes. This will add a few extra minutes to the cooking time.

Begin heating a nonstick skillet over medium-high heat.

Unwrap the tofu. Slice into small (½inch or 1.5cm) cubes. Season with curry powder or spice of choice. Place in the hot skillet. Let cook about 3 minutes or until the tofu has developed a sear on one side. Turn the tofu and repeat until most of the sides are nicely seared. Remove the tofu from the skillet and set aside.
Rice
For quick-cooking rice like Jasmine or Basmati, start the rice after the tofu is in the skillet. If your rice takes longer than 15 minutes to cook, start the rice BEFORE you begin cooking the tofu.

Start the rice according to package instructions. See my pointers above for cooking perfect fluffy rice. For Jasmine or Basmati Rice, measure the rice (about 1.5 cups to serve 4) and place in a fine-mesh strainer. Thoroughly rinse the rice to remove excess starches. Add the rice with water to a pot (for Jasmine or Basmati, use 2 ¼ to 2 ½ cups of water, unless directed otherwise on the package).

Place the rice over high heat. Bring to a boil and then reduce heat and simmer for 10 minutes or until the rice is cooked through and there is no more excess water in the pot. DO NOT STIR the rice while it is cooking or it will get gummy and mushy.
Vegetables and Sauce
Turn the burner heat down to medium. Place the frozen vegetables in the hot skillet (no need to wash the skillet!). As the vegetables defrost, the moisture will deglaze the pan.

When the vegetables are warmed through, move them to the sides of the skillet, making an open circle in the center. Add 5 to 6 tablespoons of the curry paste to the skillet.

Add 1 can of reduced-fat coconut milk to the skillet, and stir to combine with the curry paste.

Gradually stir the vegetables into the curry sauce and heat for another 4 to 5 minutes, or until the sauce is reduced to your desired consistency.

While the curry sauce is heating, wash and chop a small bunch of cilantro for garnishing.
Put it all together!
Add the tofu to the curry sauce. Garnish with cilantro and a squeeze of lime (optional). Serve with rice. Enjoy!
Save this Recipe
Saved!
Notes
To keep this under 25 minutes, choose a quick-cooking rice. I love this with jasmine or basmati rice. But you can use whatever you have on hand.
If you use extra firm tofu, it shouldn't need to be pressed. For firm tofu, unwrap the tofu, and rewrap in a dry kitchen towel. Place on a plate, and put something heavy on top (a cast-iron skillet or stack of plates works fine. Press for at least ten minutes--this might increase the overall cook time for this recipes by five minutes).
If you don't want to use tofu, you can easily substitute canned lentils or chickpeas. Just drain and rinse the legumes and add to the curry instead of the tofu.
I use a blend of frozen Asian vegetables, but this recipe will work with just about any blend you choose.
If you don't have curry powder on hand, you could substitute with coriander, garam masala, garlic powder, or even salt & pepper. The spice will just help create a little crust on the tofu.
Since I'm using a whole can of coconut milk, I go for the reduced-fat variety. I found that to be more than creamy enough for this recipe.
This Thai curry can be a little thicker than traditional. If you prefer a soupier consistency, add ½ to 1 cup of water when you add the coconut milk. (Don't worry if you add too much, you can just simmer a little longer to boil it off).
---
---
---