No matter if you're throwing a holiday party or just having a lazy night in, a Vegan Charcuterie Board (aka Vegan Snack Board) is an easy and fun appetizer or main course. Gather round and sample a variety of vegan goodies like veggies, dips, hummus, nuts, fruit, and more.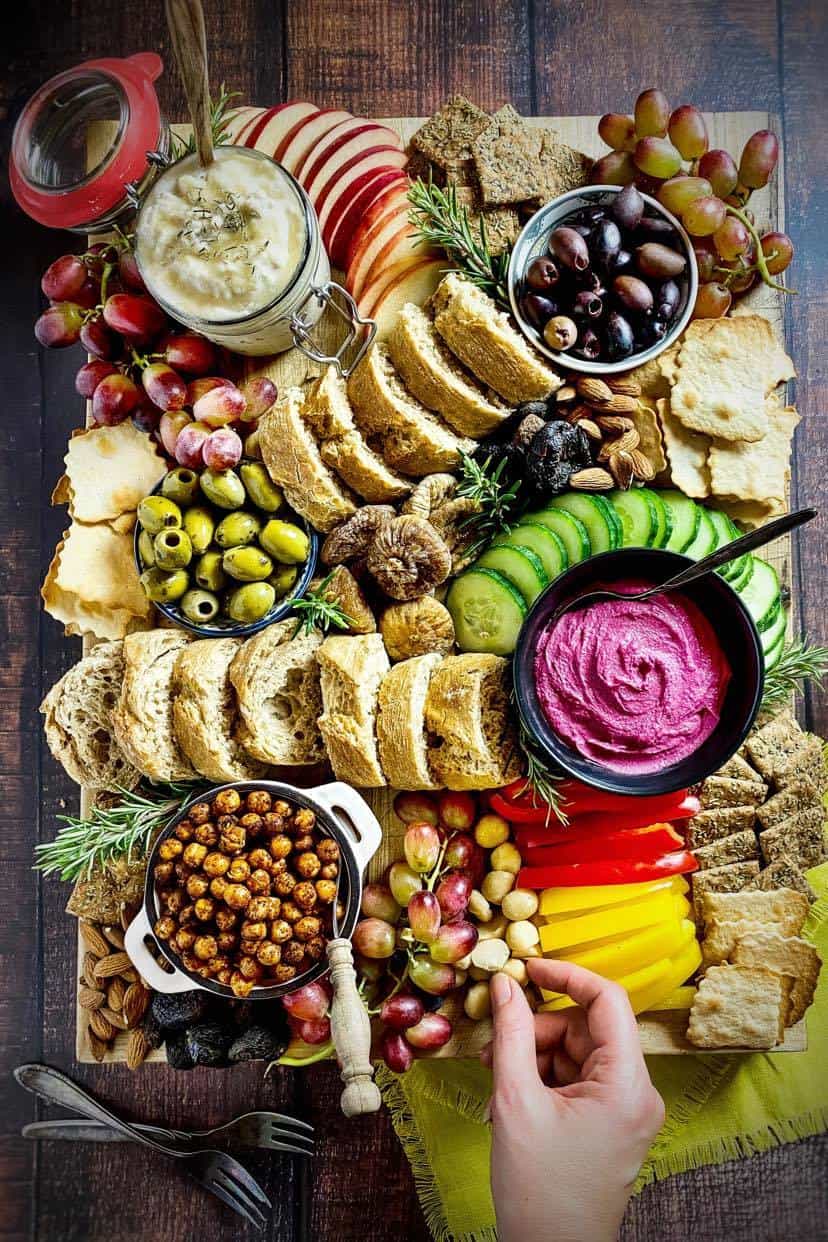 They say you eat with your eyes first, and nowhere does that seem more true than the simple yet elegant charcuterie board. What makes a great board is color and variety. Various flavors and textures, sweet and salty, crunchy and soft. Though these boards traditionally contain meats and cheeses you can easily substitute with your favorite vegan brands. Or simply leave them off altogether and build a Vegan Charcuterie Board around delicious plant-based foods. Each board will be different and you can choose foods that best fit your tastes and budget. Here are some ideas to get you started!
Jump to:
When to Serve a Vegan Charcuterie Board
When I'm feeling a little lazy or just wanting to lighten up dinnertime, I love throwing together a quick vegan charcuterie board. Vegan snack boards are a great way to use up extra veggies or spreads, but they also create a relaxing atmosphere. Something about this type of meal just makes you want to slow down, talk more, and really enjoy the time together.
I also love serving snack boards for dinner parties. Why stress yourself out with a complicated menu when you can present an elegant and delicious platter of food to your guests with such little effort. All the wow without the work! That's my kind of meal.
Charcuterie boards can also make a great centerpiece to any buffet of vegan appetizers. When adding to a party buffet I always make sure there are extra utensils around (since there will be more fingers in play). Be sure to keep some of the ingredients nearby and ready to refill as the party goes on. These types of spreads are always a big hit.
You'll love building your own Vegan Snack Board because it's:
Quick & Easy
Fully Vegan / Vegetarian
Dairy-Free / Meat-free
Healthy
Easy to Make Gluten-Free or WFPB
Versatile & Full of Mix-and-Match Possibilities
Perfect for Holiday and Parties
Ideal for Relaxing Evenings with your Family
A Fun Conversation Starter
A Great Way to use up Leftover Veggies, Olives, etc.
---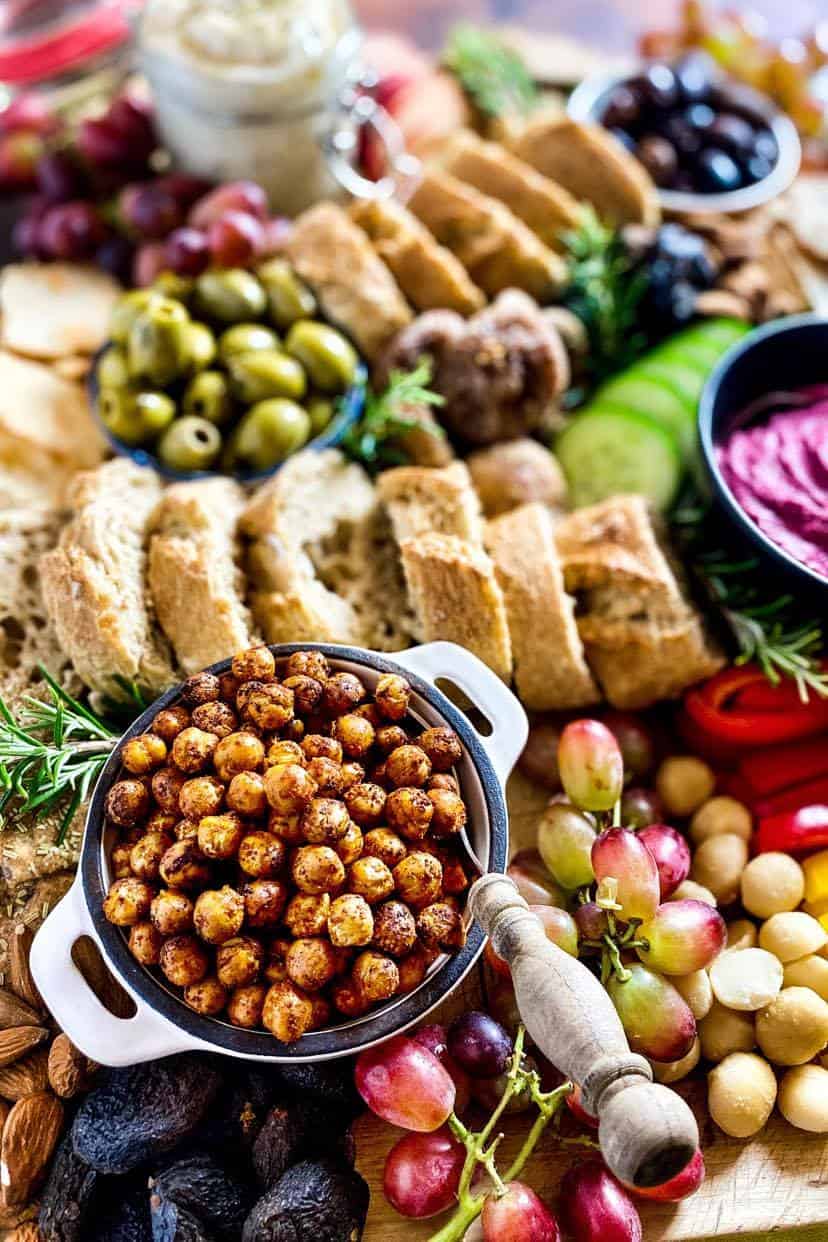 ---
What is a Charcuterie Board?
Charcuterie is a French word referring to cold, cured meats like ham and bacon. When served on a board or platter with an assortment of nuts, fruits, cheese, etc. you get the term Charcuterie Board. Even though this vegan version contains no meats, the term itself has expanded to include all types of snack boards. You could also call it an Antipasta platter, Mezze Platter, Grazing Board, or Smorgasbord.
How to Make a Vegan Charcuterie Board Whole Foods Plant-Based (WFPB)
To make this snack board WFPB compliant, you need to pay special attention to any bread/crackers you use. Be sure to choose whole wheat or whole grain and oil-free options. You should plan to make any hummus or dips from scratch since most store-bought brands contain oil.
More Charcuterie Board Ideas
Vegan Breakfast Board: Mini pancakes, fruits, mini zucchini muffins, mini vegan frittatas, tempeh bacon, chia berry jam or apricot jam.
Vegan Dessert Board: Candied nuts, dark chocolate chips, no-bake brownie bites, strawberries with chocolate or yogurt dip.
Vegan Lunch Board: Vegan cheese slices, mini hummus and cucumber sandwiches, shots of tomato soup, fresh fruit, crackers.
Themed Board: For a special party or occasion you can build a board around a theme such as a movie, character, holiday, or season. Focus on the flavors of fall or design a board around your kid's favorite movie. The sky is the limit.
Cuisine-Based Board: Add some vegan spanikopita and dolmades for a Greek-themed board. Or pile on mini taquitos, black bean dip, cashew queso, guacamole, and tortilla chips for a Mexican charcuterie board.
---
---
Ingredients you'll need to make a Vegan Charcuterie Board
Raw Veggies (Crudités, if you want to be fancy about it): I chose red and yellow bell pepper and cucumbers. Other great choices include carrots, broccoli, cauliflower, zucchini, cherry tomatoes, and radishes. Go for a variety of colors that will pop on the board.
Fresh Fruit: I chose apple slices and red grapes. Other great options include strawberries, blueberries, cantaloupe, pears, green grapes, and mandarin oranges. As with the veggies, aim to get a few different colors on the board.
Dried Fruit: Adding a few dried fruits will offer some contrast to the fresh fruits. I chose figs and apricots. Raisins, dried cranberries, and dried cherries would also be delicious.
Olives: I chose kalamata and marinated green olives. Choose whichever olives you like or leave them off if you're not a fan.
Vegan Cheese: I chose Vegan Almond Ricotta topped with agave and thyme just to make it feel more special. I don't love store-bought vegan cheese, but if there's one you love, go for it! Slices or cubes make it easier to serve. For a block of vegan cheese, you might need a little extra space for cutting. If you want to make your own, check out this recipe for Vegan Caciotta Cheese by Seven Roses.
Hummus or Other Dips: I found this red beet hummus at the grocery store, and I fell in love with the color and flavor. You can also make your own oil-free hummus or choose any dip you like, including tapenade, Baba Ganoush, Italian/Ranch Dip, red pepper dip, etc. You'll find a link to a gorgeous roasted beet Baba Ganoush right here.
Nuts: I used Macadamia and Almonds. Other great options include walnuts or pecans.
Bread: I used a take-and-bake loaf of bread that I bought at the store. I simply baked it for 10 minutes, sliced it, and added it to the board. You could also use a fresh baguette or homemade bread.
Crackers: I chose two types of crackers. One is more neutral the other is whole wheat & rosemary.
Other: I added these delicious Roasted Chickpeas for a little crunch and variety.
Garnish: I have a large rosemary bush in my backyard, so I snipped off a few sprigs for extra garnish. This is optional but definitely gives the board a more festive and special feel.
---
How to Assemble a Vegan Snack Board
If you are making hummus, ricotta, crispy chickpeas, or anything else from scratch, do that first. Prep all of the veggies and fruits on a separate cutting board. Gather your other ingredients.
On a large clean cutting board or platter, first place the food bowls. I used bowls for things like hummus and olives. Basically, anything I thought would get too messy on the board itself. From a visual point of view, an odd number of bowls generally looks better than an even number. (This is called the "rule of odds".) Position them around the board so that there is plenty of space in between.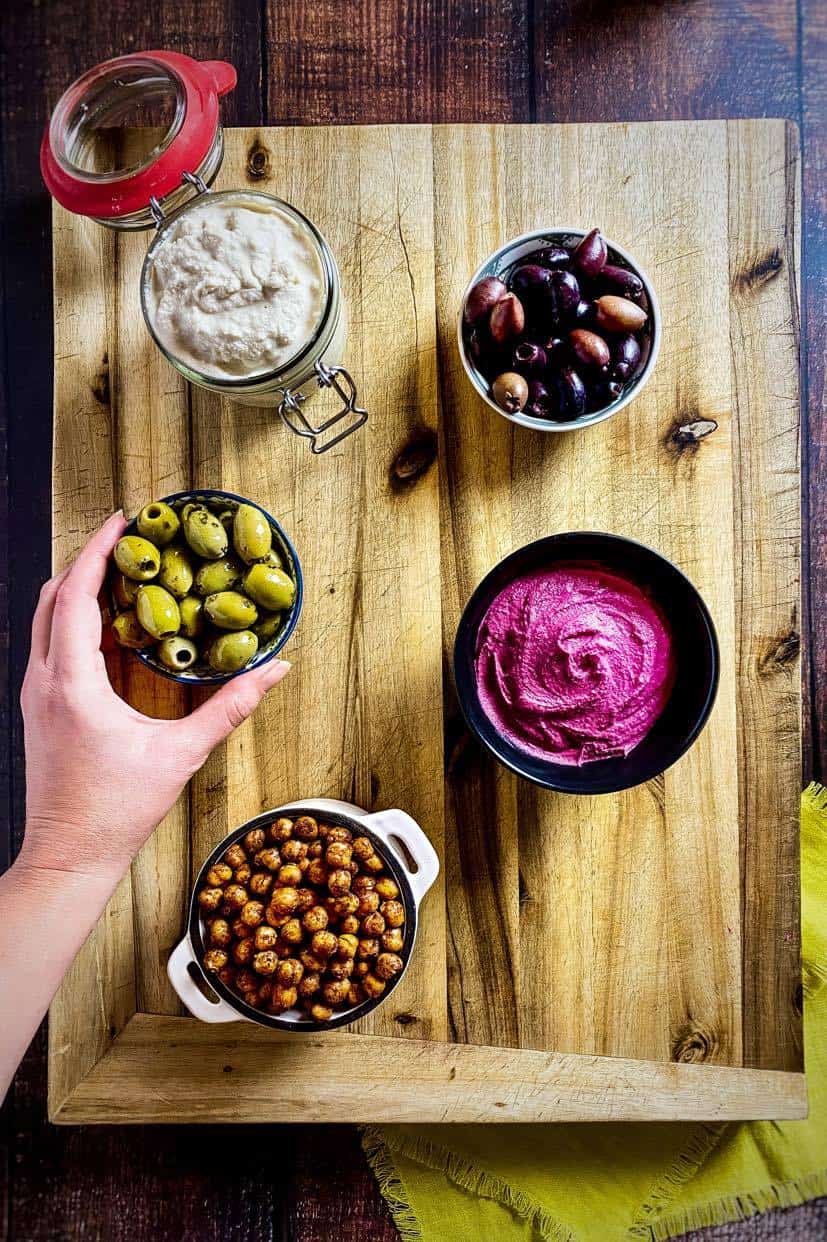 Next, add the fruits and vegetables. If certain foods are meant to go together (like the hummus and veggies or apple slices and almond ricotta), place them near each other. Fanned shapes look nice with sliced fruits and vegetables. I like to keep the grapes in bunches on the stem. For larger groups or a dinner party, snipping the grape stems so that each has five or six grapes makes it easy for everyone to grab a small group (rather than an entire bunch).
I placed the grapes in three spots on the board to make them easier to reach for people on different sides of the board.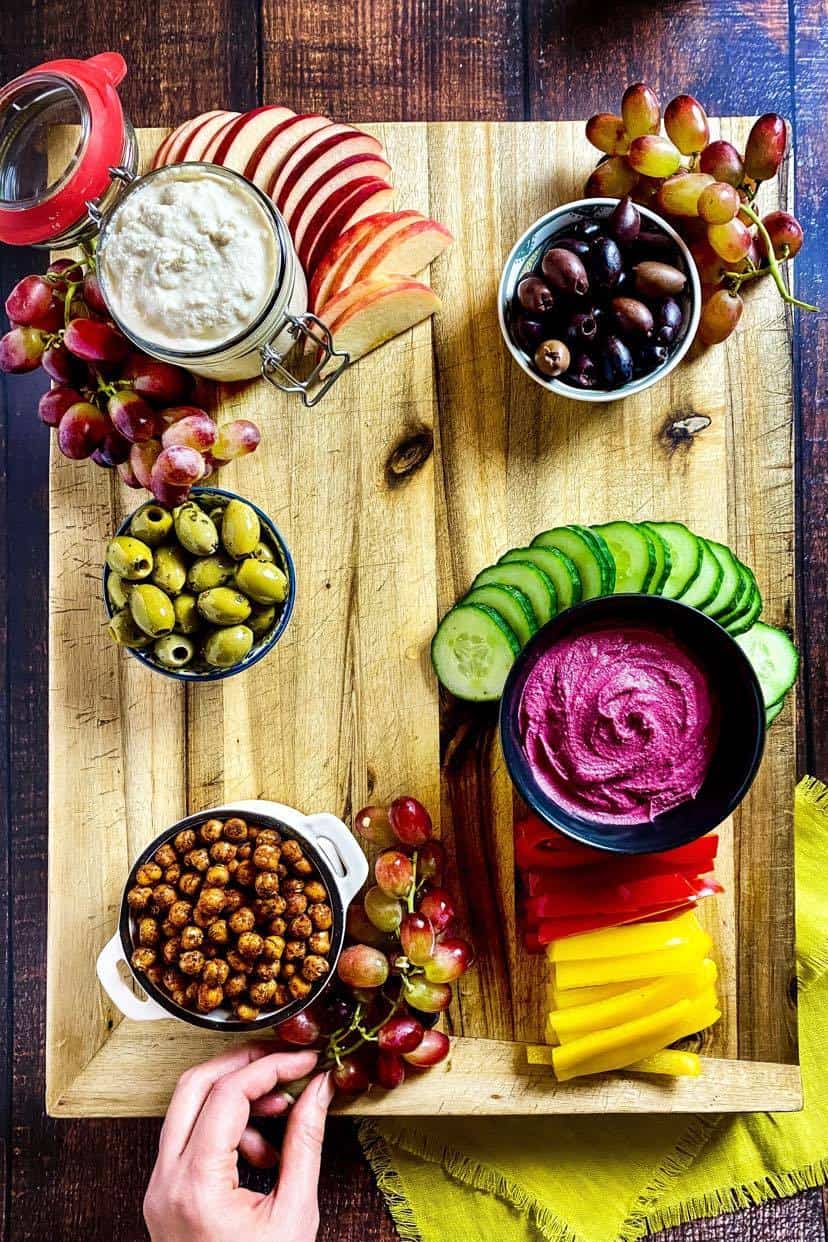 Now add the crackers and bread.
As with the grapes, I placed the crackers and bread in various groups around the board. For the bread, I made two lines at an angle for more visual appeal. I kept the crackers in small piles for more variety.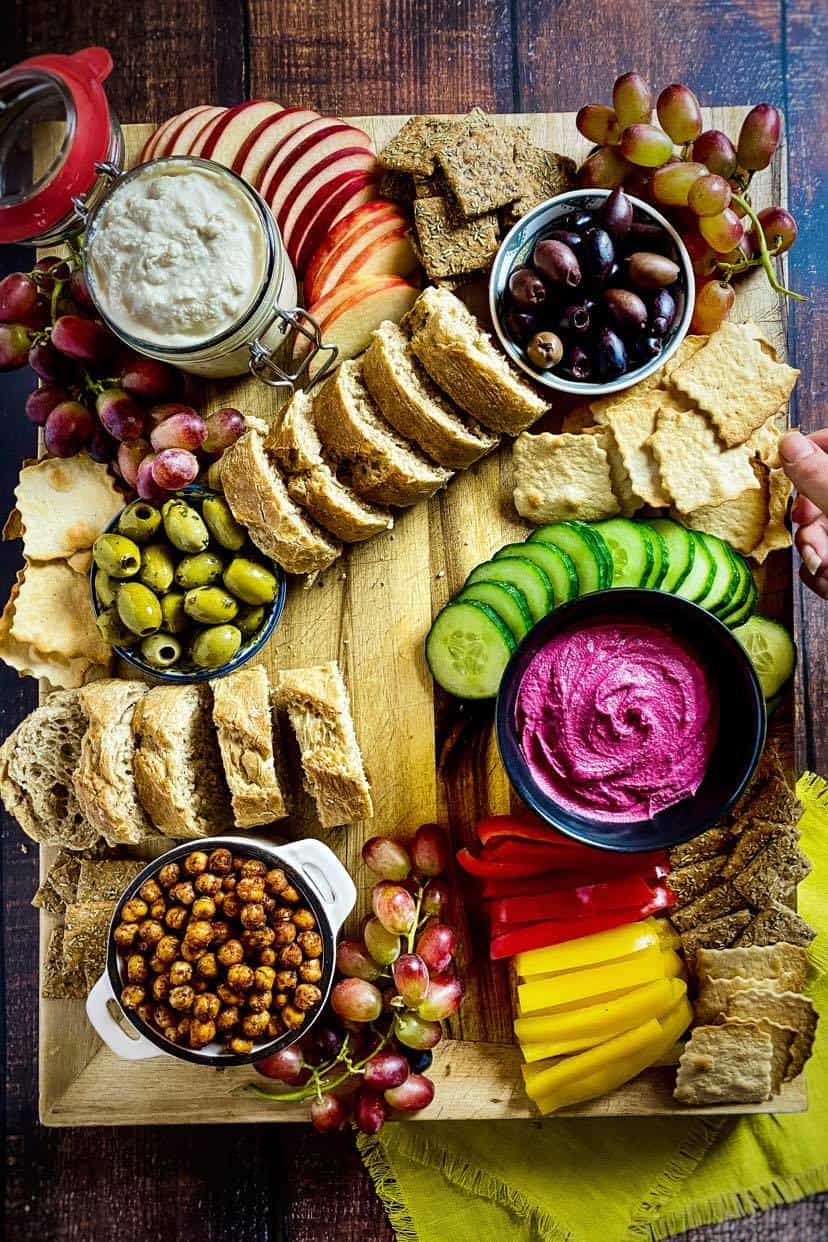 Fill in any remaining gaps with nuts and dried fruit.
As a final touch, I added sprigs of rosemary for garnish. I also added a drizzle of agave and a sprinkle of thyme to the almond ricotta.
Here's the final product! Notice how there are different lines and shapes. Some look planned while others are more natural. This variety helps the board feel more organic and visually interesting.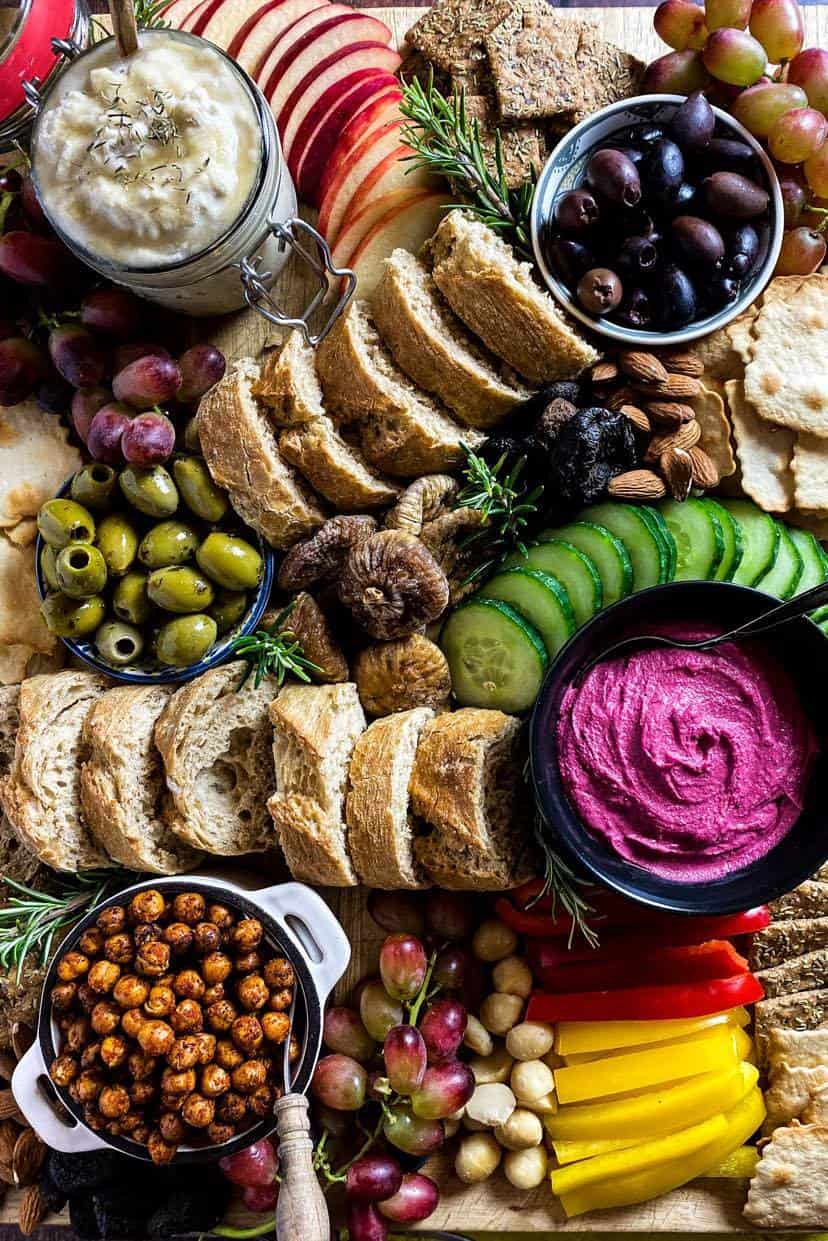 ---
Related Recipes
---
📖 Recipe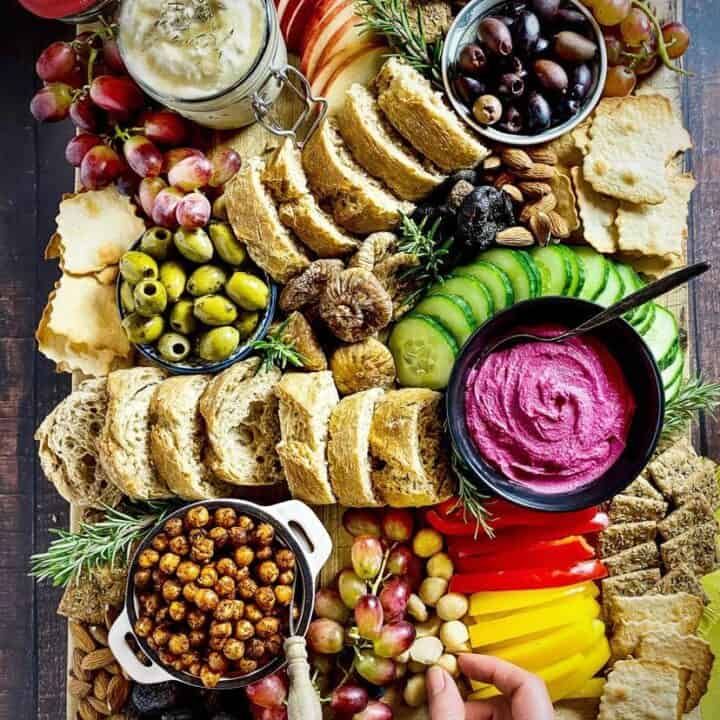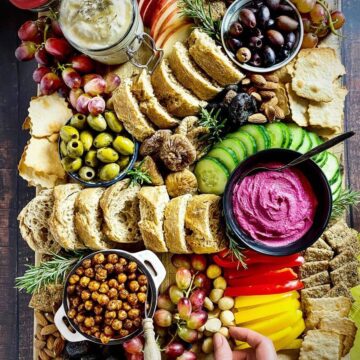 Vegan Charcuterie Board (Vegan Snack Board)
No matter if you're throwing a holiday party or just having a lazy night in, a Vegan Charcuterie Board (aka Vegan Snack Board) is an easy and fun appetizer or main course. Gather round and sample a variety of vegan goodies like veggies, dips, hummus, nuts, fruit, and more.
Equipment
large cutting board or platter
Ingredients
1

cup

hummus or dip

1

cup

almond ricotta

raw veggies

fresh fruit

dried fruit

nuts

olives

crackers

sliced baguette or crostini
Instructions
Prep Work
Prepare vegan ricotta, roasted chickpeas, and any other dips, spreads, or snacks you are making from scratch.

If baking store-bought bread, bake and then cool. Cut into thick slices.

Wash and chop any raw vegetables and fresh fruit. (If possible, use a separate cutting board for this so that your presentation board is clean and dry).
Assemble the Board
Start with a clean large cutting board or platter. First place anything in bowls (hummus, dips, olives, roasted chickpeas, etc.) onto the platter.

Next, add the fresh fruit and vegetables. Build around the bowls.

Then add the crackers and bread in various groups around the board.

Fill in the gaps with small piles of nuts and dried fruits.

Finally, garnish, add any last-minute touches, and serve.
Save this Recipe
Saved!
Notes
These are just suggestions for building a board. For more detailed instructions and photos, scroll up.
Feel free to make any substitutes you need: IF you have a nut allergy, leave out the nuts. For gluten-free, be sure to choose gluten-free bread and crackers. For WFPB, use products that are oil-free and use whole wheat bread and crackers.
Want access to my Exclusive Meal Planning Tips & Printables page?