From Dips & Spreads to Classic Finger Foods, this collection of over 30 Easy Vegan Appetizers has you covered. Whether you're celebrating Christmas or New Year's Eve, gathering for game day or just cozying up for a weekend in, these Vegan Appetizer Recipes will turn any ingredients into party food!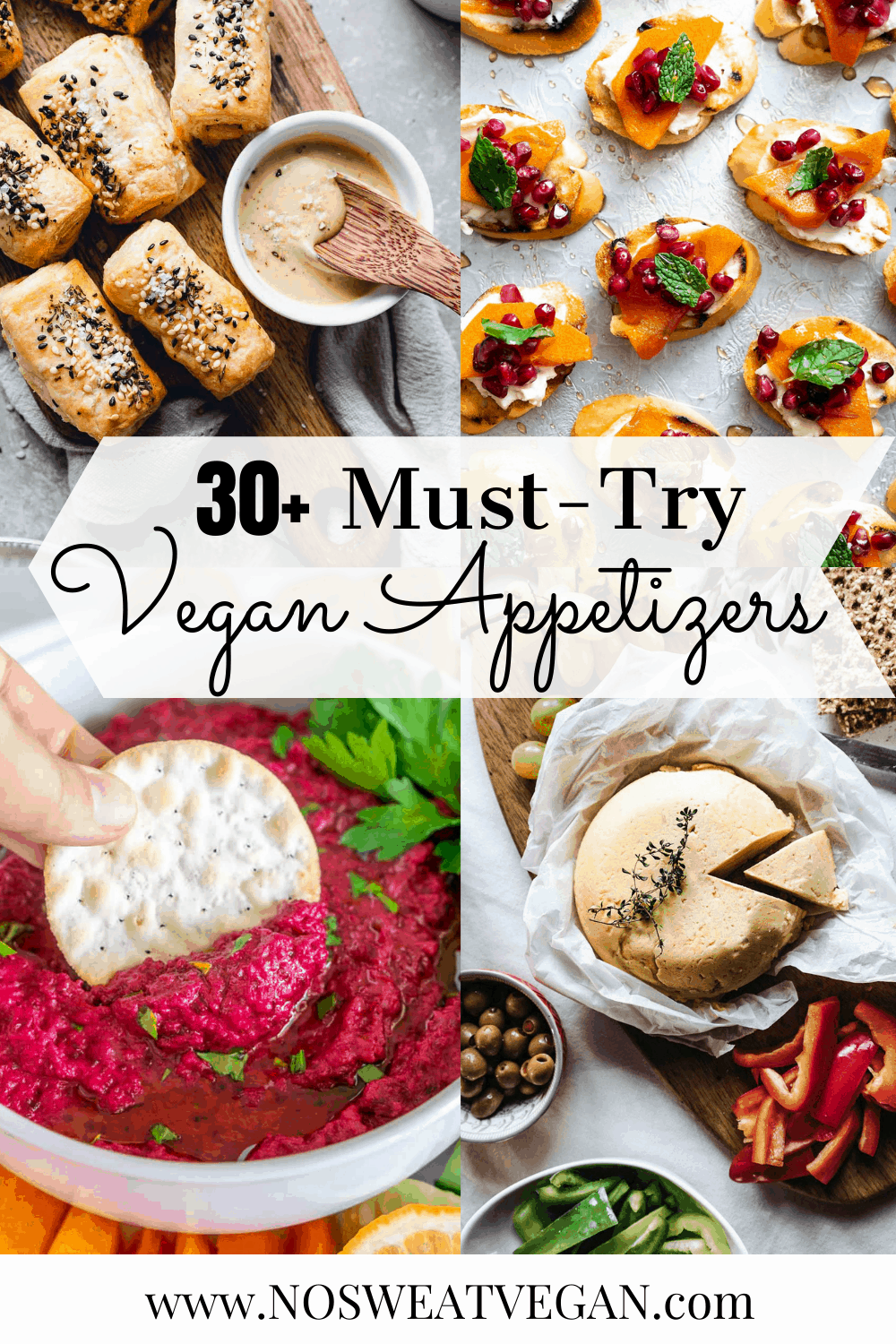 I've always loved big spreads with small bites. Munching on a little of this and a little of that is just so fun. So much so that my favorite holiday and party meals are always appetizer extravaganzas! Even better when you're serving Vegan Party Food! So come on in, grab a drink, and dig into this list of delicious, must-try Vegan Appetizers!
Growing up my family had a tradition of serving appetizers while we decorated the Christmas tree, and that's a tradition I share now with my own children. My point is you don't need to have a huge party to enjoy appetizers. They can be just as fun in little groups as in big. So even if your holiday plans are small this year, that doesn't mean you can't make a festive spread of the best vegan appetizers.
Jump to:
You'll love these Vegan Appetizer Recipes because they're:
Vegan / Vegetarian
Dairy-Free / Lactose-Free
Easy to Prep and Make Ahead
A Versatile Bunch to Please Different Palates
Perfect Party Food -- Even if the Party is Small!
Simple & Delicious
---
These Easy Vegan Appetizers are Perfect for Serving at:
Christmas
Hanukkah
New Year's Eve
Thanksgiving
Easter
Super Bowl or Game Day
Summer Cookouts / Grill Parties
Potlucks
Birthday Parties
Any Night of the Week you want to turn into a Celebration!
---
---
I've grouped these Vegan Starters into the following categories:
Jump to:
---
Delicious Vegan Dips & Spreads!
Who doesn't love a good dip? Some spreads are vegan to begin with (think hummus or tapenade). Others need a little finessing (ahem, anything with cheese!). But eating plant-based doesn't mean you have to give up your favorites. So let's get the ball rolling with some delicious vegan dips and spreads.
---
Vegan Cheeses & Charcuterie Boards
Think you have to give up your cheese platters when you go vegan? Think again! Not only can you make vegan cheeses worthy of a coveted spot on the cheeseboard, but you can do it in style and serve an amazing snack board full of your vegan favorites. Here are a few ideas to get you started.
---
Roasted Munchy Snacks
While they might not always get top billing, crunchy and savory roasted nuts, veggie chips, and chickpeas are sure to round out any party-food spread. Add them to a snack board or place little bowls around the room for people to munch on wherever they're at.
---
Fabulous Vegan Finger Foods!
Classic Finger Foods and Vegan Canapés are perfect for any appetizer spread. Whether it's fancy party food or a veganized version of my childhood favorite, Pigs in a Blanket, bite-sized hors d'oeuvres are sure to go fast at any gathering. But don't worry if you're not planning a big shindig any time soon, they also make a great snack for family movie night!
---
Vegan Appetizers From Around the World!
While the classic appetizers we grew up with are always a must, it's fun to try foods from around the world, and what better way to do that than with mini bites. Inspired by recipes from Asia, South America, and more, these appetizers are sure to wake up any palate and introduce new flavors you'll love.
---
Incredible Vegan Crostini
Nothing is quite so perfect as a delicious topping piled on a crispy, toasted slice of baguette. Plus they make for a gorgeous centerpiece to any spread! Feel free to mix and match sweet with savory, old favorites with new. (Bonus: these can all be easily made gluten-free by simply substituting regular bread with gluten-free.)
---
Tips for preparing vegan appetizers for a party
Go for a variety of foods! Depending on the size of the party, you could choose two to three appetizers from each category.
Think about the right mix of flavors--sweet and salty, soft and crunchy, comfort food classics and international. This will not only create balance, but it will also assure that everyone can find something they like.
Consider your guests and the occasion--a kid's birthday party will have a much different spread than a fancy New Year's Eve gala.
Enlist your friends! Most people are more than happy to bring an appetizer along to a party, so why not take advantage. They'll usually even ask what you need! Since you want a nice balance of appetizers on the table, you can generally get away with asking for something specific (like vegan buffalo dip ) or something general (like a dip).
Use a mix of store-bought and homemade. Some things like hummus are easy and affordable to purchase, which will save you tons of time. Just transfer it from the container to a bowl and no one will be the wiser.
Spend a little time prepping the day before. Dips, spreads, crostini toppings, and more can all be made a day or two in advance. This will free up your time the day of the party to make any hot appetizers and assemble the table.
Set the table! Place the largest or tallest platter in the center. This could be a charcuterie board or a tiered tray. On either side, place the medium-sized plates/bowls. These might contain finger foods or chips. In the remaining spaces, place smaller bowls and plates. If you have dips that go with specific items, be sure to place them close together.
See my sample suggestions below for putting together a vegan appetizer buffet.
📖 Recipe
I hope you found some vegan appetizer recipes that you love and that will become family favorites for years to come!
If you try any of the recipes here, let me know in the comments below or tag me on Instagram @no_sweat-vegan!
Want access to my Exclusive Meal Planning Tips & Printables page?