Air Fryer Pasta Chips are crispy, crunchy, and delicious. Perfect for snacking or adding to a party buffet! Works with all types of pasta including regular, whole wheat, and gluten-free. Choose from three flavors: Curry, Sweet BBQ, and Vegan Ranch.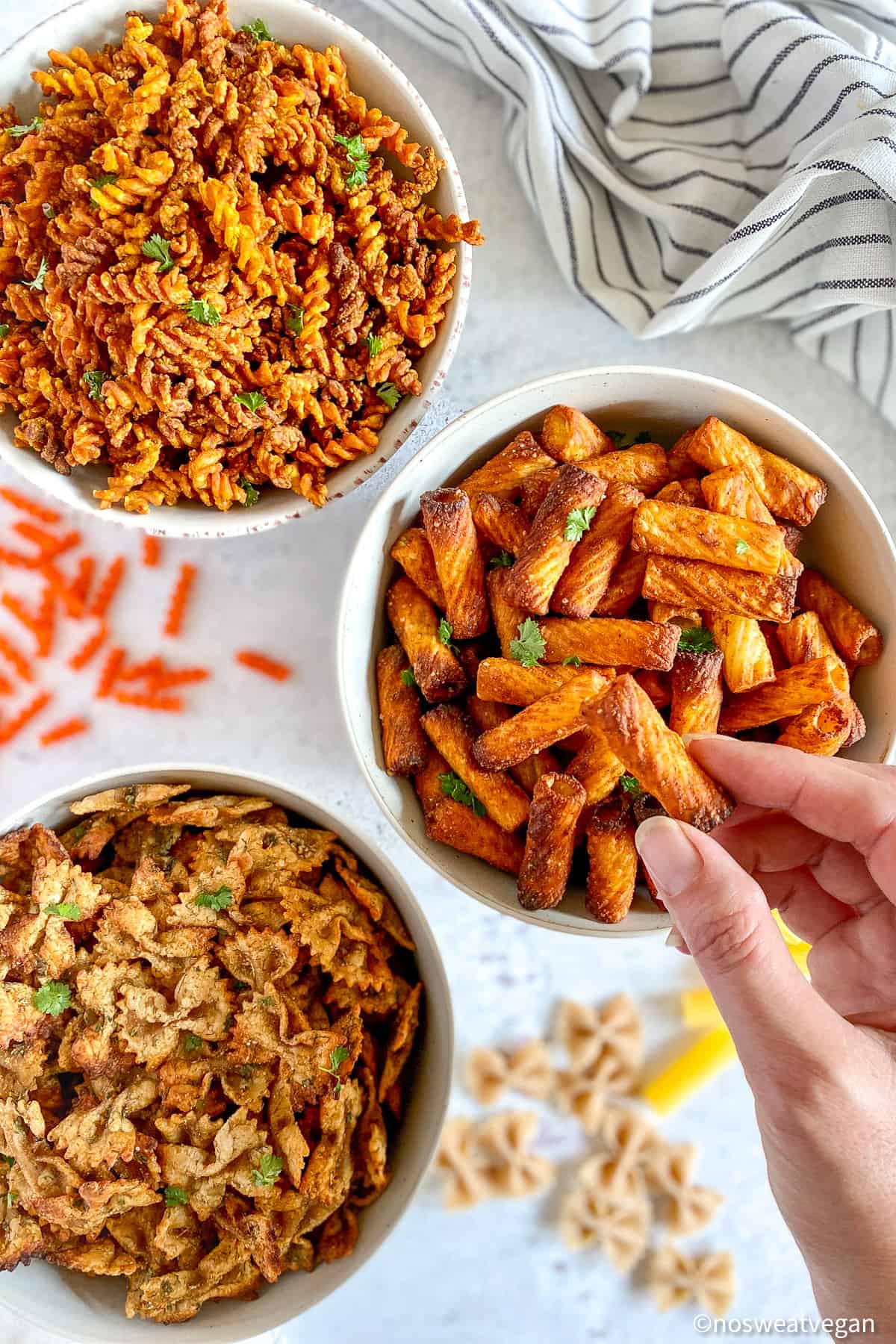 Air Fryer Pasta Chips have gone viral on TikTok, and as soon as I saw them, I knew I had to try them out. I was not disappointed! These Pasta Chips are crispy, crunchy, and oh-so-addicting. Since I made these oil-free, they're also a much healthier option than snacking on potato chips.
I liked them so much I decided to experiment with a variety of pasta types and seasonings. In the photos for this post you'll Gluten-Free Lentil Spiral Pasta with Curry-Lime seasoning, Whole-Wheat Bowtie Pasta with Vegan Ranch seasoning, and Regular Tortiglioni with Sweet & Spicy BBQ seasoning. Of the three, the BBQ Tortiglioni was my favorite, but they were all tasty!
Jump to:
You'll love this Air Fryer Pasta recipe because it's:
Crispy & Crunchy
Quick & Easy
Vegan / Vegetarian
Kid-friendly
Easy to make Gluten-Free
WFPB & Oil-free
Healthy & Delicious
A Perfect Snack!
---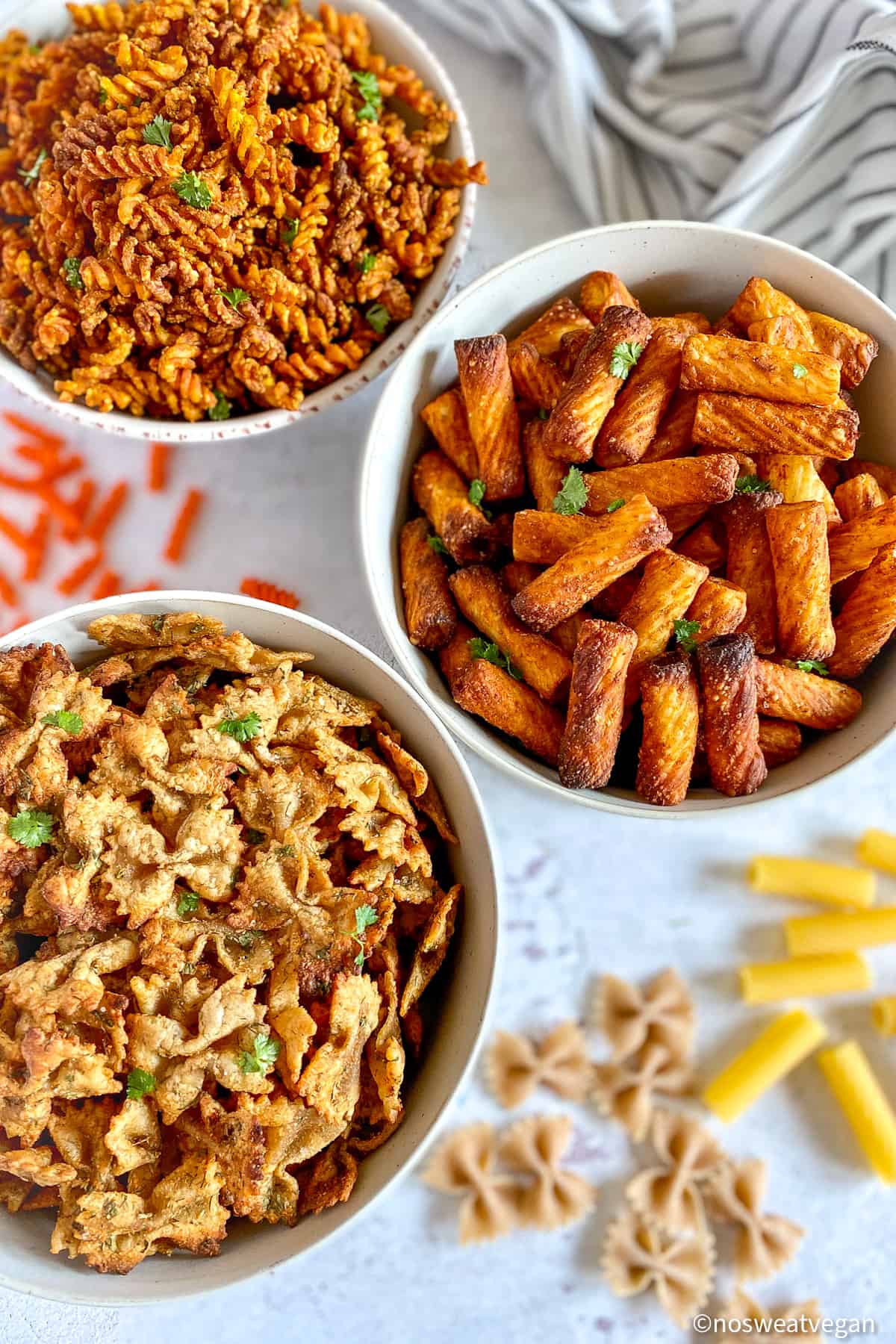 Can this be gluten-free?
Yes! You just need to use gluten-free pasta and make sure all of your seasonings are gluten-free. For the photos on this post, I chose three types of pasta. The red lentil spiral pasta is gluten-free and totally delicious.
Can I use oil?
Sure! I tested them once with oil, and I didn't notice a huge difference, but they might get a tad bit crunchier. Just add 1 to 2 tablespoons when you toss the pasta with the seasoning.
What type of pasta should I use?
You can use any type of short pasta. I used whole-wheat bowtie pasta, gluten-free red-lentil fusilli, and regular tortiglioni (which is similar to rigatoni).
Of the three I tried, the tortiglioni was my favorite because of the great crunch! I think the shape of the pasta lent itself best to this cooking method. The red-lentil fusilli was also really good. The bowtie worked out okay, but it was the hardest to get an even crunch. The center of the bowtie was harder to cook through, and was in some cases a little chewier than I'd like.
---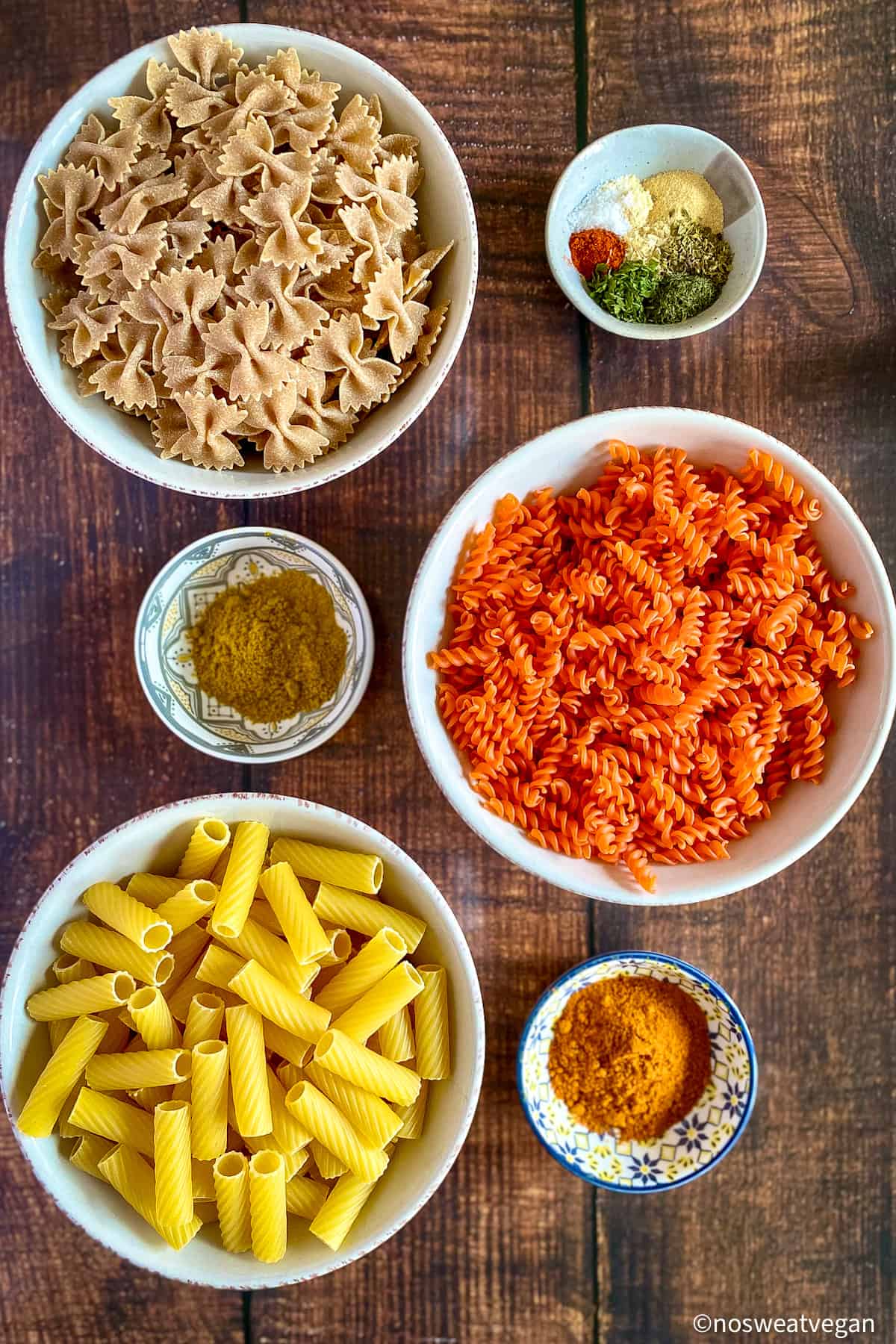 Ingredients
You can choose any short pasta type. I used whole-wheat bowtie pasta, gluten-free lentil fusilli, and regular tortiglioni.
Pasta chips can be seasoned however you like. I made my first batch with just salt and they tasted great. But if you want to kick your flavors up a notch, here are a few combos that I liked.
Vegan Ranch
You can use a store-bought mix or make your own.
Sweet & Spicy BBQ
BBQ spice rub
agave or maple syrup (skip this if your BBQ spice rub is already sweetened)
Curry Lime
---
Air Fryer Recommendations
When choosing an air fryer you should consider size, cost, and reliability. I chose the Ninja Foodie Grill because I have a family of four and wanted a larger basket size. I also like that this air fryer can grill, dehydrate, and more. It's somewhat large, though, and on the more expensive side.
Not to worry! If you want something smaller or less expensive, there are several great brands and styles of air fryers on the market. This review of the best air fryers of 2020 can help you choose.
Instructions
Cook your pasta according to the package directions. Do not overcook! When the pasta is done, drain it and add it to a mixing bowl.
Preheat the air fryer to 375F or 190C. I found that when I cooked them at a higher heat, they didn't cook as evenly.
Sprinkle on your seasonings of choice to the pasta and gently mix to combine.
Add half of the pasta to the air fryer and cook for 8 to 12 minutes, stopping to shake the basket several times. (I found that when I tried adding all of the pasta, the air fryer basket was too overcrowded and it didn't cook evenly).
When it's crispy and nicely browned, carefully remove the pasta from the air fryer basket. Serve and enjoy!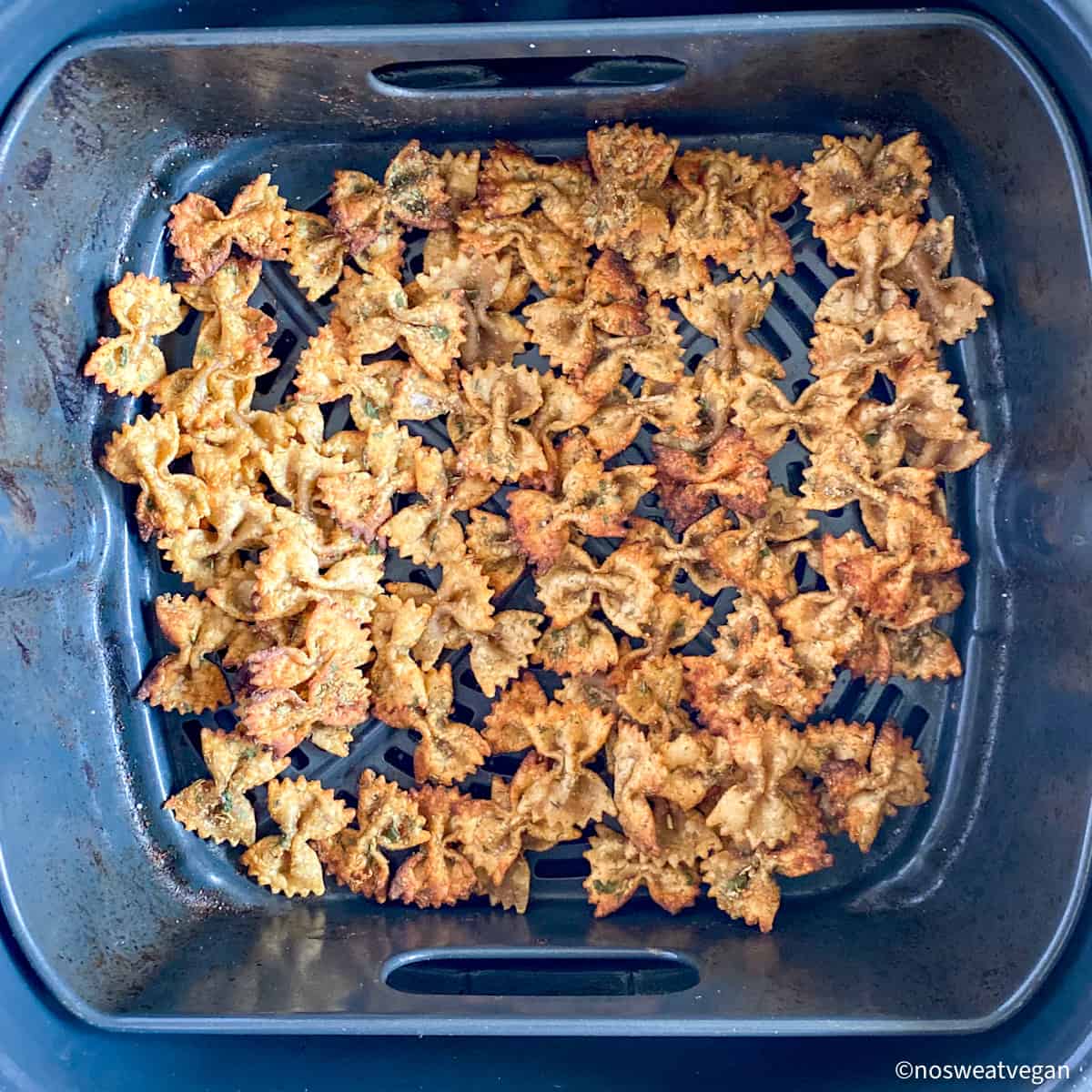 ---
Troubleshooting
Why didn't my pasta chips get crunchy? If they didn't get crunchy then they probably either needed to cook longer or needed to be cooked at a lower temperature. It's also possible that they were too crowded in the air fryer. (I recommend cooking the pasta in two batches--possibly three if you have a very small air fryer.)
Why did my pasta chips burn? There could be a couple of reasons. It could be that you air fried the pasta at too high heat or that the basket was overcrowded, causing the pasta on the top to overcook while the pasta on the bottom didn't get crispy.
How to serve
Make up a batch of air fryer pasta to snack on for movie night or add to a packed lunch. Or make a variety and serve with a dip at your next holiday or gathering. Or add them as a crunchy element to a vegan charcuterie board.
Can I make it ahead?
Definitely! In fact, since you don't need to eat these warm, making them ahead is a great idea. They are perfect for a packed lunch, snack, or gathering.
How to store
Store in an covered container at room temperature for up to 3 days (after that it starts to loose some of it's crunch).
If the lid is too tight, it could cause a build-up of moisture that will make the pasta chips lose thier crunch. Instead, try using a loose fitting lid.
Let cool completely before storing. Storing these while they are still warm can lead to excess moisture, which will make the chips soggy.
Related recipes
---
📖 Recipe
Want access to my Exclusive Meal Planning Tips & Printables page?
Did you try this recipe? Have a question? Just leave a comment below and I'll get back to you ASAP!