These Vegan Air Fryer Recipes are a combination of delicious, easy, and time-saving. Here you'll find snacks, appetizers, side dishes, mains, and even desserts. Whether you've been loving your air fryer for years or you're considering buying one soon, this collection has something for you!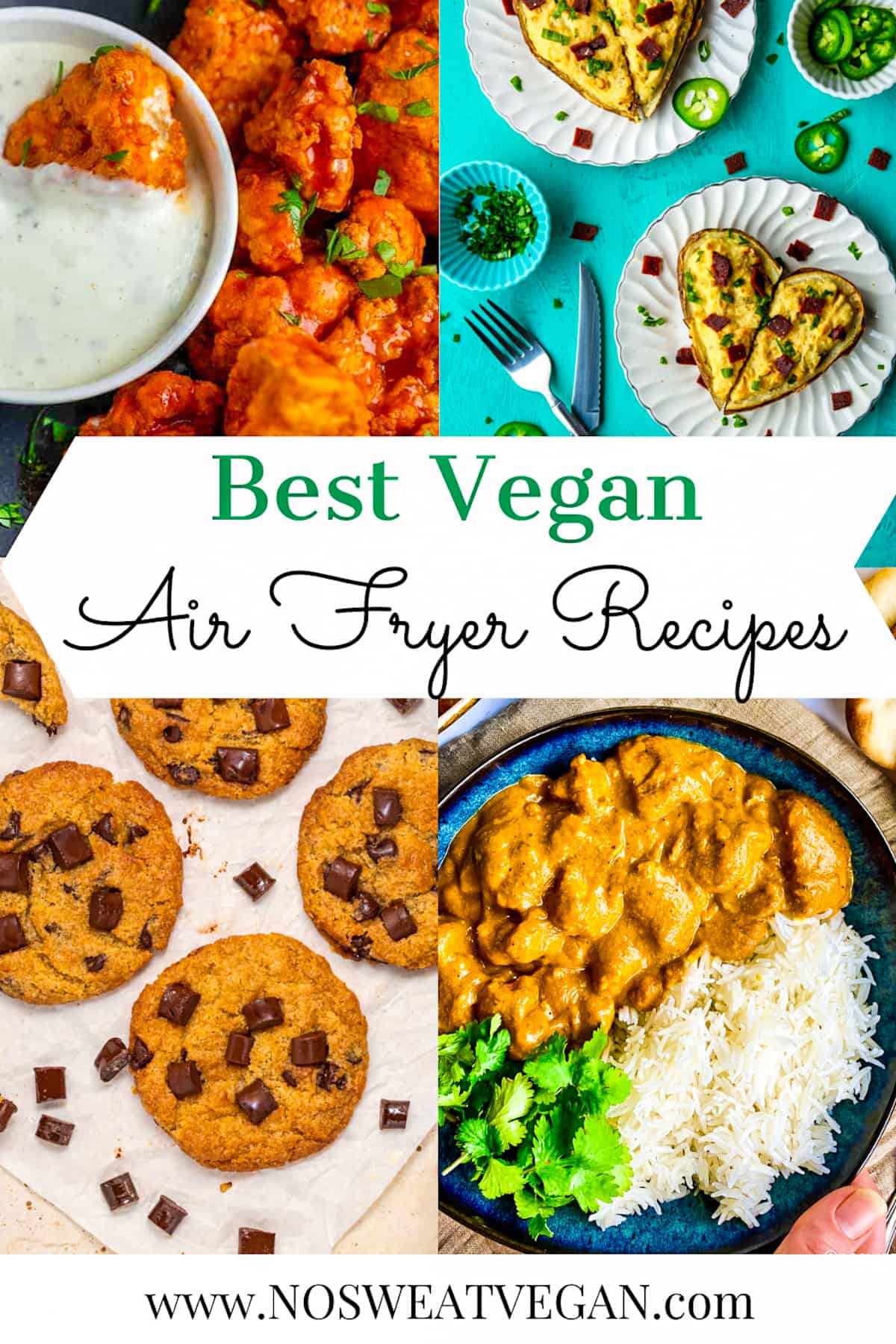 When it comes to what you can make in the air fryer, the sky is the limit. From homemade meals to cooking up frozen foods in minutes, small-batch desserts to reheating leftovers, there isn't much you can't do in the air fryer!
These Vegan Air Fryer Recipes are all quick, easy, and perfect for weeknight meals and snacks. But air frying is also great for holidays or big meals where you need to free up space in the oven.
In this collection, you'll find a wide variety of recipes for snacks, appetizers, sides, mains, and desserts--all of which can be made in the air fryer. If you don't have an air fryer yet, not to worry! Many of these recipes can also be made in an oven.
Check out the whole collection, or jump to the category you're most interested in exploring. I hope you find a new favorite air fryer recipe!
Jump to:
You'll love these Healthy Air Fryer Recipes because it's:
Quick & Easy
Vegan / Vegetarian
Dairy-free
Easy to make Gluten-Free
Easy to make Oil-free & WFPB
Healthy & Delicious
---
Advantages of using an Air Fryer
If you're on the fence about buying an air fryer, but you just aren't sure, here are a few advantages of using one over a traditional oven.
It's quick! Many dishes cook up in half the time.
You can get crispy, crunchy texture with little to no oil.
It's healthier than traditional frying (see above).
Frees up oven space for other dishes, which is especially great during holidays like Christmas and Thanksgiving.
Or you can avoid turning on the oven altogether, which is great in the summertime.
Air frying tips
I've been using my air fryer for over a year now, and I've picked up some tips and tricks along the way.
Try not to crowd the air fryer. Filling the basket to the brim can stop the air from properly circulating, leading to uneven cooking.
Shake the basket halfway. Food on the outer edge of the basket tends to brown more quickly than food in the center. Shaking the basket halfway can help keep things even. I will sometimes even use tongs and manually swap the food in the center with that on the perimeter.
When air frying quick-cooking vegetables with a high water content (like asparagus or summer squash) be sure to blast the heat as high as it will go. This way you can get some browning before the veggies turn to mush.
For denser foods that take longer to cook (like brussels sprouts) set the heat a little lower. This will ensure that the food will be fully cooked without burning the outside.
You don't necessarily need to preheat. Most recipes, including mine, will recommend this step in order to be more consistent, but you're in a hurry, there's no real need to pre-heat.
What type of Air Fryer should I use?
The air fryer you choose should be the one that best meets your needs for budget, capacity, and storage space. Some air fryers also have other functions like grilling and dehydrating. I ended up buying the Ninja Foodi Grill 4-in-1 because it has a large capacity to feed my family of four.
If you wanted a smaller and more economical air fryer, check out this Farberware 3.4 quart or 4.2 quart Air Fryer. For even more possibilities, take a look at this list of the Best Air Fryers of 2021.
---
---
Ready to get to the healthy vegan air fryer recipes? Let's get started!
Air Fryer Appetizers & Snacks
Air Fryers are perfect for making snacks and appetizers. You can make crispy, crunchy finger foods with little or no oil. Air Fryer Starters make the perfect addition to a holiday spread or family movie night.
---
Air Fryer Side Dishes
One of my favorite ways to use the air fryer is to cook side dishes. Not only does it free up space in the oven, but it can also save you time since most veggies roast in the air fryer in about half the time. So if you're looking for a healthy and delicious side dish, check out these delicious Air Fryer Vegetable Sides.
---
Air Fryer Dinner Recipes
When it comes to your main course, the air fryer is where it's at. You can often cut cooking times in half compared to the oven, and you can get an extra crispy and crunchy texture with little to no oil. Take a look at these Vegan Air Fryer Dinner Recipes and see if you can find a new favorite.
---
Air Fryer Desserts
Yes, you can make desserts in the air fryer! I was surprised, too. But there are a variety of ways to prepare sweet treats in the air fryer. The biggest advantages seem to be speed, batch size, and not having to turn on your oven. If you've never tried using your air fryer to make desserts, then give these vegan air fryer desserts a try!
---
That's it! I hope you found a new favorite vegan air fryer recipe!
More easy vegan meals
---
Want access to my Exclusive Meal Planning Tips & Printables page?
Did you try this recipe? Have a question? Just leave a comment below and I'll get back to you ASAP!