From toddlers to teens, the kids are HUNGRY! And since hunger usually seems to strike between meals, you need some quick and healthy plant-based snack ideas at the ready. Everything here takes less than 5 minutes or can be made ahead. Be sure to grab the free Vegan Snacks for Kids Printable so you never run out of ideas.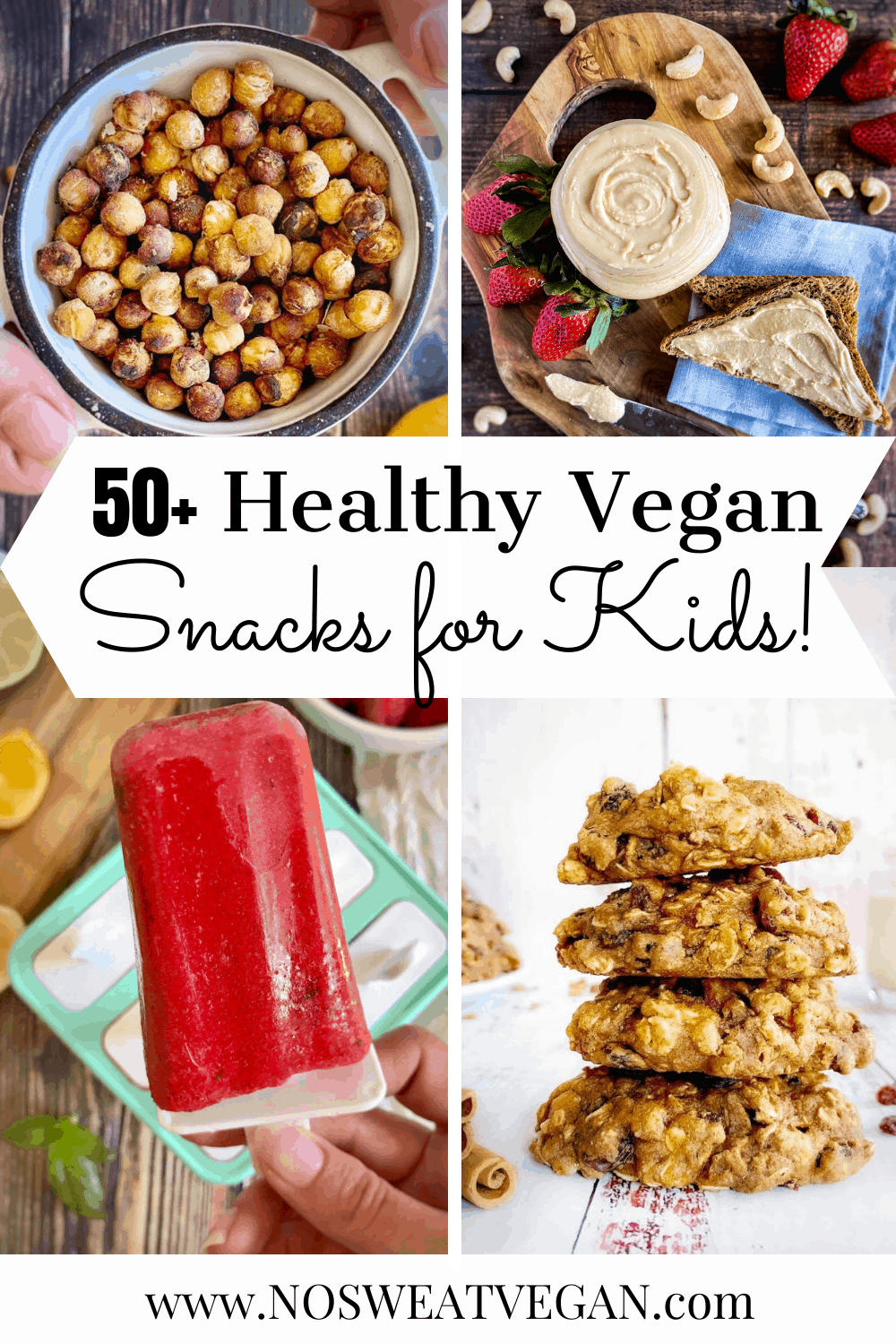 Kids and snacks... it's complicated. As caregivers, we sometimes put a lot of pressure on ourselves to feed our children Pinterest-worthy meals. And then when that doesn't pan out, we give up and give in to unhealthy snacks because they seem more convenient. But it doesn't have to be that way. Snacks can be a healthy, easy, and normal part of the day without creating any extra pressure or stress. This collection of Vegan Kids Snacks is meant to be a guide for anyone tasked with providing children with healthy snacks.
Whether you're new to plant-based eating or you're just in a rut and need some new snack ideas, this list of healthy vegan snacks for kids is for you. Many of these are simple ideas, a few are recipes that can be made ahead, but they're all kid-approved!
As an added bonus, you can find a printable list of these Vegan Kids Snacks right here on my Meal Planning and Printables Page. (Just sign up for the password--it's free!) Print it off and tape it inside your pantry or cabinet door so the next time your kids are asking for a snack or you're writing out your weekly grocery list you'll have plenty of ideas.
Jump to:
You'll love these vegan snack ideas because they're:
Quick & Easy
Vegan/Vegetarian
Dairy-free/Egg-free
Make-ahead or grab-and-go
Mostly WFPB (or close to it)
Healthy & Balanced
Perfect for hungry kids (and adults!)
Also great for a packed lunch or snack box
Just right for building a Vegan Kids Snack Board!
---
Should my kids eat snacks?
Ideas about the clean-plate club have evolved quite a bit over the years, and as most nutritionists today will tell you, children have smaller stomachs than adults, and so it's normal that they will eat smaller meals with a few more snacks in between. I'd much rather have happy kids than hangry kids. In fact, my kids are much more willing to try new things and eat their veggies at dinner when they've had a mid-afternoon snack. It just takes the pressure off of everyone.
Rather than putting the onus on my kids to choose between junk food and healthy food, I make sure that most of the snacks in our house are already good choices. It's perfectly normal for kids to be hungry between meals, so as long as they have healthy snack choices and appropriate portions*, I don't see any problem.
*What is an appropriate portion will vary from age to age, kid to kid. With a little experimentation, you'll start to figure out that sweet spot of just the right-sized afternoon snack so your kids aren't hangry but are still hungry enough to eat their dinner.
Tips to save time
No one wants to spend an hour making a snack! And kids definitely don't want to wait that long. They are hungry NOW! So save yourself some time and stress with these tips:
Keep a variety of healthy already-ready snacks on hand (like clementines, dried fruit, nuts, and rice cakes), so that kids can get the snacks on their own. (Or if they're younger, you can quickly grab them). Now that my kids are 6 and 9, they can get their own snacks, so I make them easily accessible. (I also keep small plates and bowls in a low drawer where they can get them without climbing on the counters.)
Any time you're baking muffins or healthy cookies, you can double the batch. Store the extras in the refrigerator or freezer.
Bag em up: If you have a hectic lifestyle and need prebagged snacks to grab and go, then do yourself a favor and spend a few minutes at the beginning of the week portioning and bagging snacks like pretzels, dried fruit, and popcorn. Your future self will thank you. There are plenty of great eco-friendly food bags on the market, like these silicone bags or these reusable bags.
Keep a list of your kids' favorite snacks taped to the inside of the pantry door or cupboard. That way you'll never run out of ideas. In fact, I've created a downloadable PFD that you can access for free by signing up here.
A quick warning
For kids under the age of 4, certain foods (like grapes, whole nuts, popcorn, and cherry tomatoes) can be a choking hazard. Please be sure to check out this list from the CDC for kids under 2 and/or this list of choking hazards for kids under the age of 4.
Download the free "Vegan Snacks for Kids" printable
If you're like me, and you have lots of ideas but trouble remembering them, then you'll love this printable list of Kid-Friendly Vegan Snack Ideas. Stick it on the fridge or tape it to the back of a cabinet or pantry door. Next time your kids are begging for a snack, you're making a grocery list, or you're doing meal prep for the week you'll have all you need in one convenient place! To get the list, just sign up here. You'll receive a password that gives you access to all of my Meal Planning Printables.
Breakfast-Inspired Snacks
Let's get started on the snacks! Breakfast-inspired are some of my kids' favorites, they're also super easy. You can make them ahead or throw together a quick snack in just a few minutes.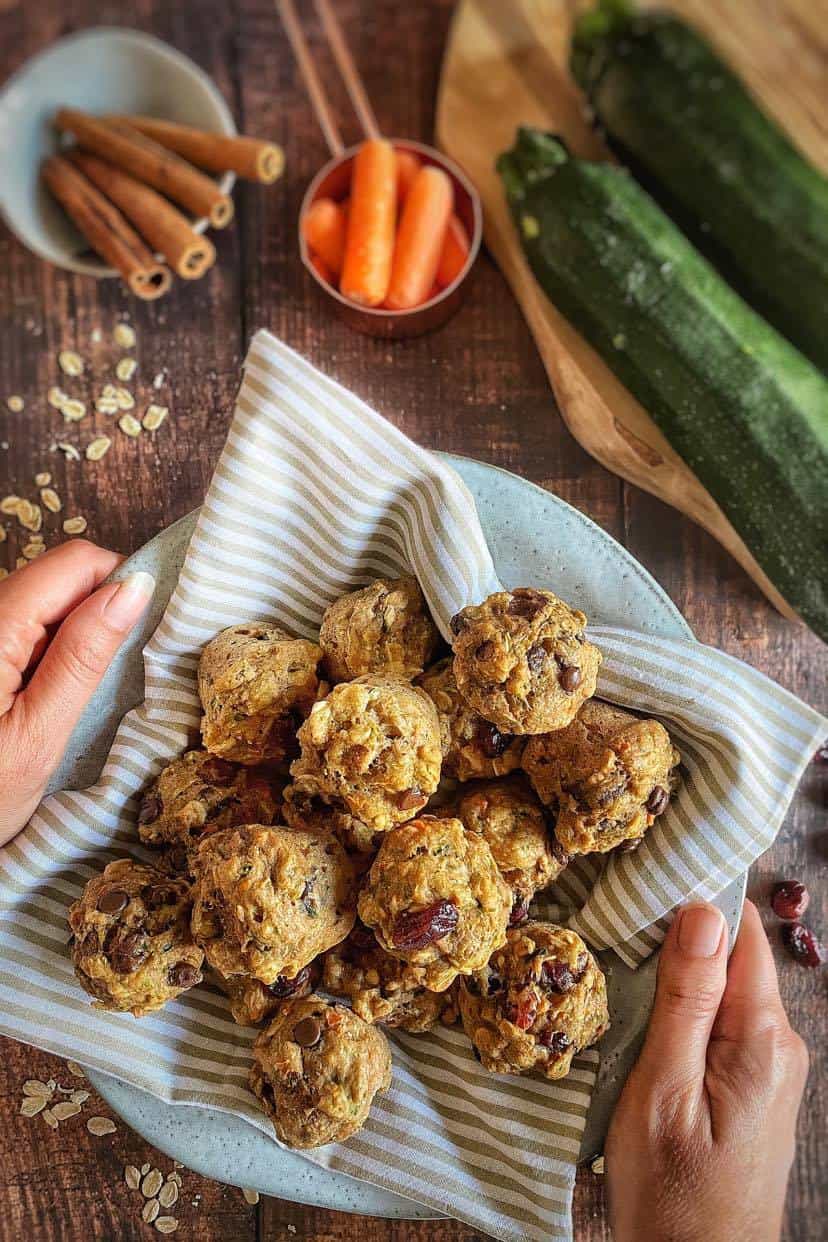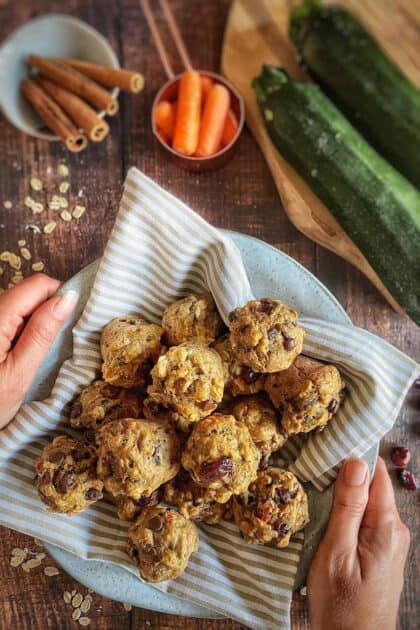 Snack Sandwiches
My younger son loves to have a little sandwich for a snack! (For a smaller snack just do half a sandwich). For a fun twist, you can use cookie cutters to cut the sandwiches into fun or seasonal shapes. Use a tiered platter and set everything up for a fancy tea party! Or go the DIY route and teach your kids to make the sandwiches themselves! They will feel so proud to make their own food.
Hummus with Cucumber Slices: Just toast the bread, spread hummus on each piece, add four cucumber slices, and cut into squares.
Nut Butter with Jam (Almond butter with Apricot Jam or Cashew Butter with Berry Chia Jam are two of my favorites).
Smashed avocado with tomato slices: My younger son just loves these, and I can't blame him. Add a little Everything but the Bagel seasoning for extra flavor.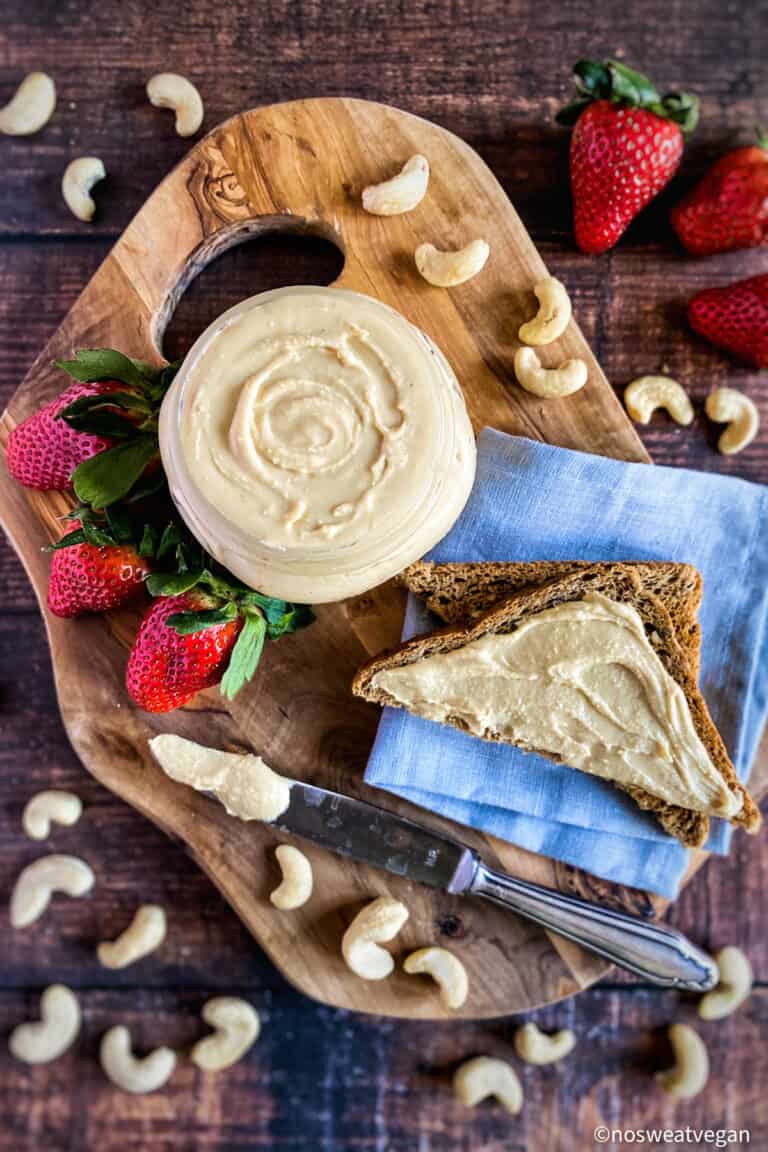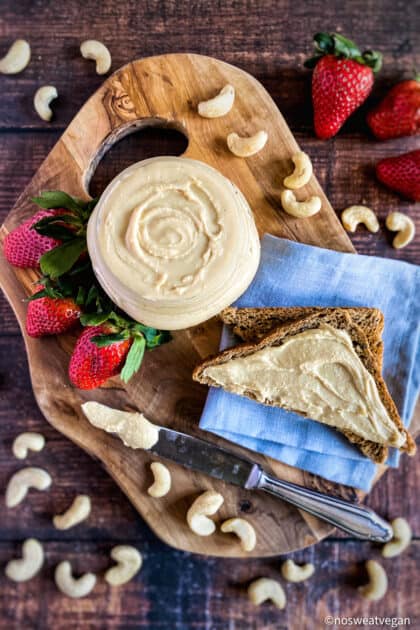 Fruit and Veggie Dipper Combos
Cut-up fruit and raw veggies can make a great simple snack alone, but to help keep kids fuller and to add some variety, try pairing the fruit or veg with something to dip. Here are some of my favorite easy combos.
Apple Slices with nut butter or sun butter: I usually go for pink apples with almond butter or cashew butter, but choose whichever your kids like best.
Strawberries or Raspberries with healthy homemade vegan "Nutella," chocolate hummus (yes, it's a thing!), or vegan yogurt sauce.
Veggies & Hummus/Bean Dip: Carrot sticks, Snap peas, cucumber slices, bell pepper slices, cherry tomatoes, or whatever raw veggies your kids will eat with hummus or bean dip.
Veggies with Vegan Ranch or Creamy Italian Dressing: Raw veggies and a thick creamy dip are always a perfect match!
Fun Snacks!
Who doesn't love a snack that's also fun! Here are a few ideas for fun kids snacks that you can throw together in mere minutes.
"Ants on a Log": This is a classic from my childhood that kids today still love. Just spread nut butter onto a celery stick, drop a few raisins on top, and you're done!
Rainbow Fruit Kebobs: Add a strawberry, cube of cantaloupe, slice of banana, round of kiwi, a large blueberry, and a raspberry to a kid-friendly kebob stick (nothing too pointy) in rainbow order. Repeat until you have 3 to 4 sticks per kid and serve with a vegan yogurt dipping sauce.
Rainbow Veggie Kebobs: Same idea as above, but with veggies. You can check out this recipe for a full breakdown.
Pinwheels: There are many ways to make pinwheels, but I usually just spread hummus across a tortilla or lavish bread. Add a layer of bell pepper and cucumber sticks. Roll it up tight and then slice the roll into 1-inch pinwheels.
Mini Pita Pizzas: Simply buy or make your own mini pitas (Trader Joe's sells a whole wheat variety that are vegan and wfpb). Add a little marinara sauce (store-bought or homemade) and a dollop of vegan cheese or this simple vegan ricotta. Bake in a toaster oven or under the broiler until warmed through and lightly browned on top.
Frozen Snacks
Smoothies and healthy popsicles are a great way to pack a ton of fruits, veggies, and protein into a sweet frozen snack. Frozen treats are perfect for warm summer days, but my kids like to eat them all year long!
Mango Popsicles: These healthy popsicles were inspired by mango lassi, and they're very easy to make. The added spices are optional.
Strawberry Citrus Popsicles: These strawberry citrus are perfect for kids to cool off on a hot day. Bonus: no added sugar!
Smoothie Bowl: I don't have a specific recipe for smoothie bowls, but I do a variation of the same thing most of the time. I add 1 ripe banana, about 1.5 cups of frozen strawberries, 1 cup of frozen mango, 1 cup of frozen blueberries, a handful of spinach, and 1 cup of soy milk to a blender, and blend until smooth. I pour the smoothies into a bowl and top with hemp seeds and fresh berries. **The color of the blueberries disguises the green from the spinach!**
Smoothie Pops: Any time I have leftover smoothie, I pour it into popsicle molds and the next day my kids have smoothie pops. So perfect and easy!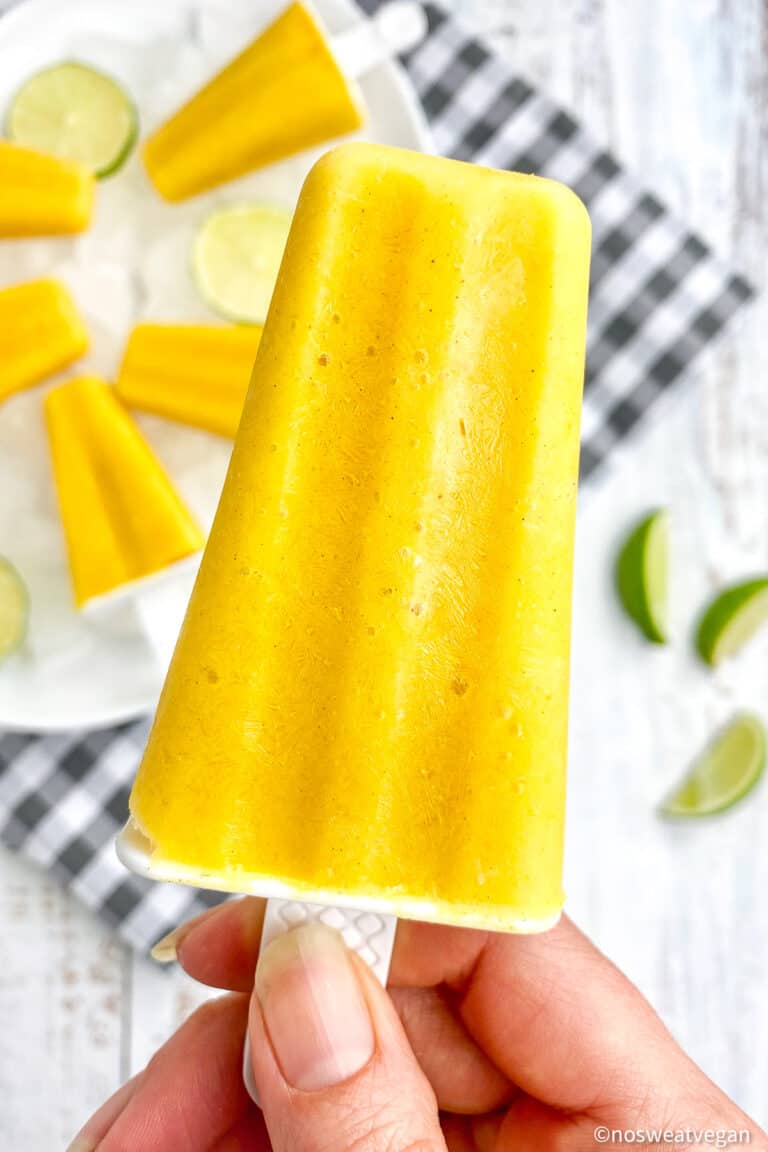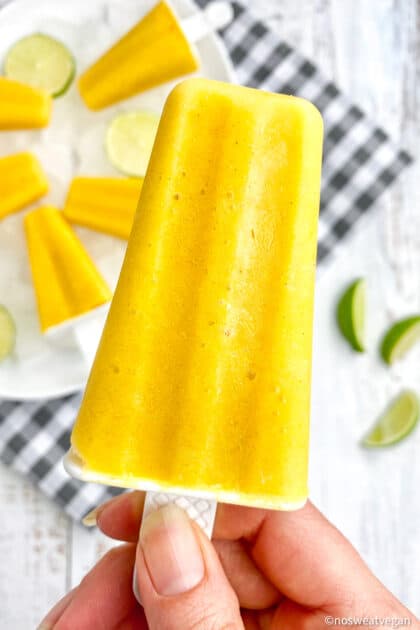 Sweet Snacks
Just because something is sweet doesn't mean it can't also be healthy. I love these sweet snacks because they are healthy enough to serve between meals but sweet enough to curb your kids cravings. As a bonus they're all quick and easy to make and your kids can help!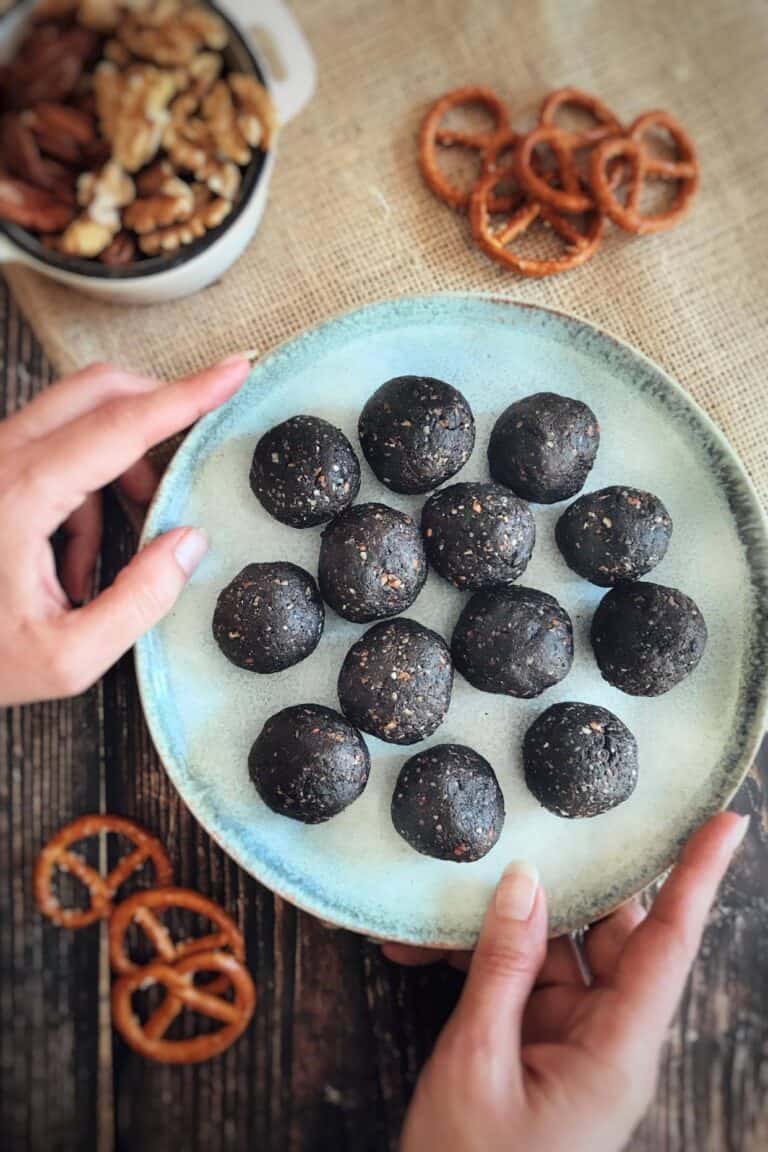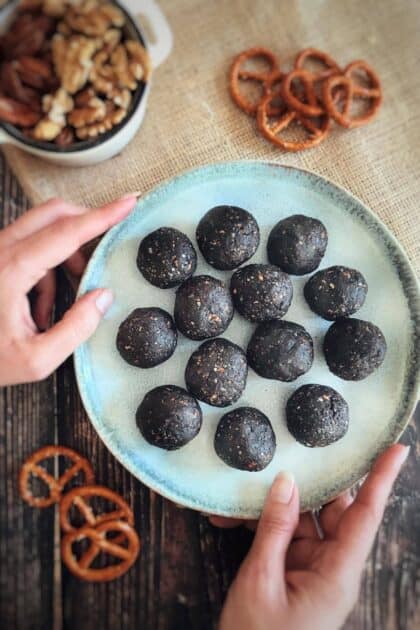 Super Convenient Fruit
Of course all types of fruit can make a great snack for kids. But some are easier than others. In terms of grab and go, it doesn't get much easier than these.
Frozen Mango Chunks: Just run under warm water to lightly defrost and boom! A delicious and healthy sweet snack!
Cuties or Clementines: Just peel and enjoy. Pro-tip: teach your littles to peel their own clementines. Break open one corner and then let them do the rest.
Bananas: Whether you're eating them whole or pairing them with almond butter, bananas are another one of those fantastic fruits that are easy for kids to eat and come in their own wrapper.
Grapes: For older kids, I just wash the grapes and snip the stem to create convenient little bunches. When my kids were younger I took the grapes off the stem and cut them in half since grapes can be a choking hazard.
Blueberries, raspberries, blackberries: I love that I can just give berries a quick wash and they're ready to go. No other prep-work required.
Applesauce: My kids love applesauce! It's naturally vegan and easy to find without added sugar.
Apples: We always have apples at our house. Sometimes my kids eat them whole and other times I cut them into slices, which requires just a tad more work, but it's very still convenient.
Crunchy & Savory Snacks
Big corporations spend millions perfecting the "crunch" factor of their snacks for a reason. There is something so satisfying about a crispy and crunchy bite. Thankfully there are plenty of healthy and healthier choices available for your kids to munch on.
Nuts: Nothing rounds out a snack like a small handful of almonds or walnuts. These are perfect for pairing with fruit and the protein will help keep your kids full a little longer. Just be aware that for children under 5 nuts can pose a choking hazard.
Roasted Chickpeas: These make a great crunchy high-protein snack. You can buy them at the grocery store, but if you make them at home, you'll have better control over added oils, sugars, and salt.
Air Fryer Pasta Chips: All the crunchiness of chips, but oil-free and made with pasta. These can be made with any type of pasta you like, including whole wheat and gluten-free. My kids espeically liked the red lentil pasta chips!
Kale Chips: You can buy them or make your own to save money following this simple recipe.
Crackers: Store-bought crackers can be tricky. They almost always contain added oils and sometimes have milk powder, so be sure to check the label. Or just make your own. Here's a recipe for vegan fish crackers.
Popcorn: There are a number of varieties of store-bought pre-popped popcorn that contain simple ingredients. Just watch out for the flavored varieties, which might not be vegan. OR, you can air pop a big batch at home and portion it into small bags for snacks throughout the week.
Pretzels: Most hard pretzels are vegan by default, but be sure to check the label for hidden ingredients. For an even healthier choice try whole wheat or salt-free varieties.
Baked Tortilla Chips served with mild salsa, bean dip, or guacamole.
Rice Cakes or Puffed Corn Cakes: These dream snacks can come in both full-sized and mini, and you can buy them with just one ingredient! I prefer those made with brown rice and my kids like the ones made with corn. Either way, they make a great crunchy snack. I would avoid the flavored rice cakes since they are full of added sugar and who knows what else. For a little flavor, you can add nut butter or jam.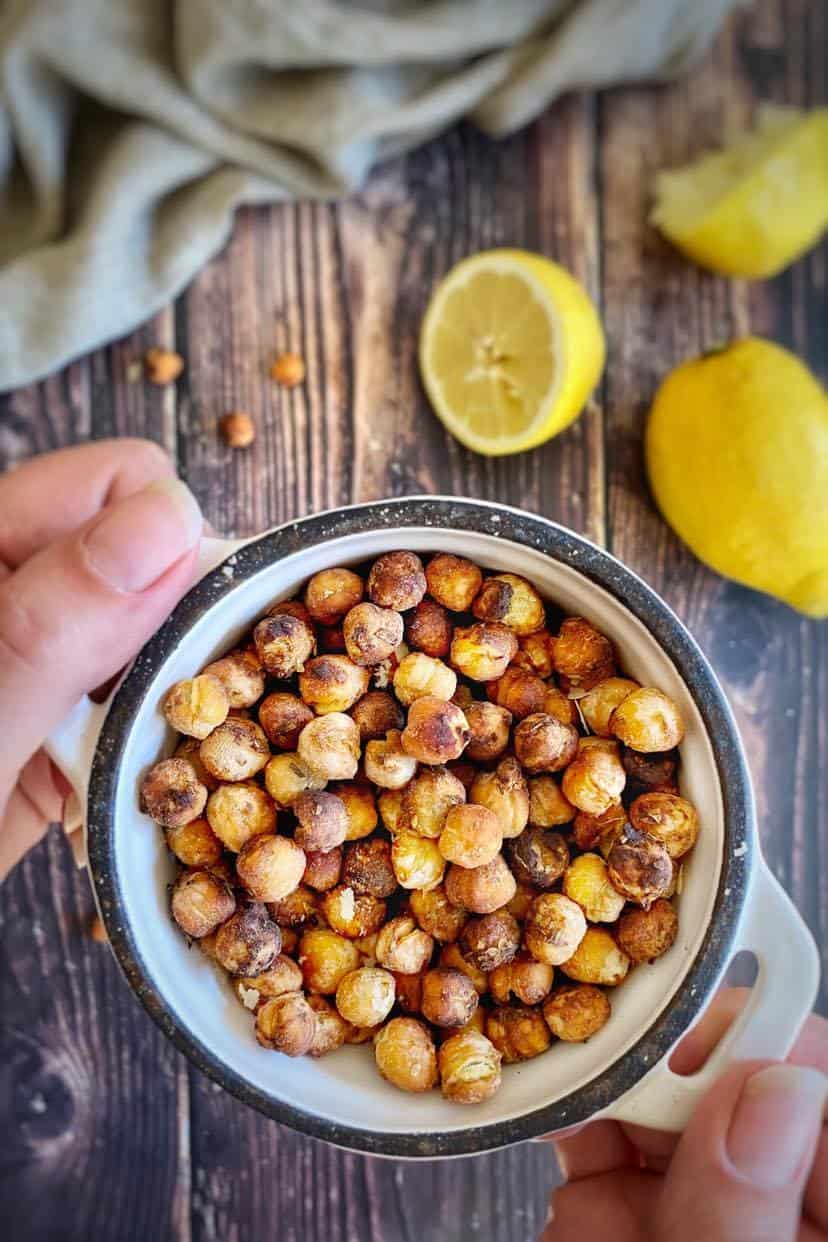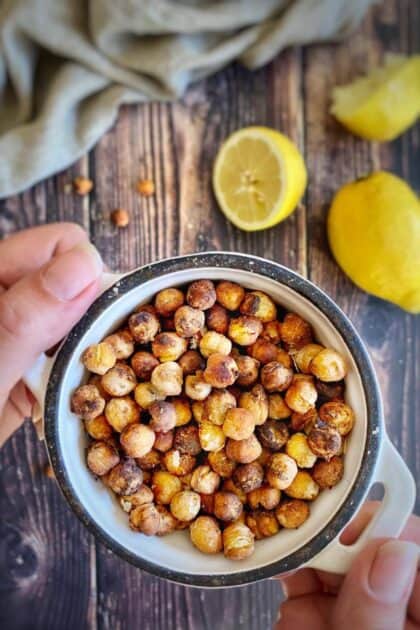 Salty & Briny
I wouldn't recommend letting your little one chow down on an entire jar of pickles or olives, but a pickle or a few olives added to a plate with something crunchy and something sweet will make for a perfect snack.
Olives: Not for everyone, but my kids love them! They definitely prefer milder varieties like the black and green olives that come in a jar.
Pickles (Pickled Cucumber): Sweet or Savory, small or large, whole or sliced, pickles can add a little kick of flavor to any snack. If you're concerned about sodium and added sugar you can make your own pickles at home.
Pickled Okra: This might sound a bit odd, but pickled okra makes a crisp and delicious snack and it's a perfect way to introduce your kids to a new veggie if they're never tried okra before.
Dried/Dehydrated Fruit
Dried Fruit, aka nature's candy, is one of my favorite healthy snacks! For the best flavor and nutritional combo, I like to pair dried fruit with nuts for a simple balanced snack. My kids also like to pair pretzels with raisins or craisins. Here are some of our favorites:
Raisins: A handful of pretzels and raisins has long been my kids' go-to snack. That mix of salty and sweet is just right. You can also buy those cute boxes of raisins for a quick grab-and-go snack.
Dried Cranberries, aka craisins, are tart and sweet. Just be aware that most brands contain sweeteners and a small amount of oil.
Dried Apricots: We prefer unsulfered apricots, which are brownish in color rather than fluorescent orange. But both are vegan, so just go with whichever your kids will eat. As a bonus, dried apricots are high in potassium.
Dried Figs: There is lively debate about whether or not figs are even vegan. But rest assured, they are. Dried mission figs are so good I used to pass them off as dessert and my kids gobbled them up.
Dried Mango Strips: These are chewy and delicious, just beware that many brands contain added sugar. You can buy unsweetened mango strips at Trader Joe's, Whole Foods, or order online.
Apple Chips: Naturally sweet, apple chips are usually just 1 or two ingredients. You can buy them or make your own in a dehydrator.
Organic Fruit Leather: Not quite as healthy as actual fruit (since most of the natural fiber is missing), but these are a better alternative to a certain well-known roll of "fruit" rolls that most of us ate as kids. Target carries a brand called Good & Gather, which offers an affordable variety of fruit leathers that are made with fruit juices and concentrates. These are perfect for keeping in your purse or glove box for when those surprise hangry tantrums start.
---
How to Make a Vegan Kids Snack Board
A fun and simple way to serve snacks is a Vegan Kids Snack Board. Snack boards are perfect for an after-school snack, movie night, or even a light lunch. There are no rules, just try to go for a balance of sweet, salty, and crunchy. Round it out with fruits and veggies, add few dips, and you're good to go. For more ideas on how to build a snack board check out my full tutorial here.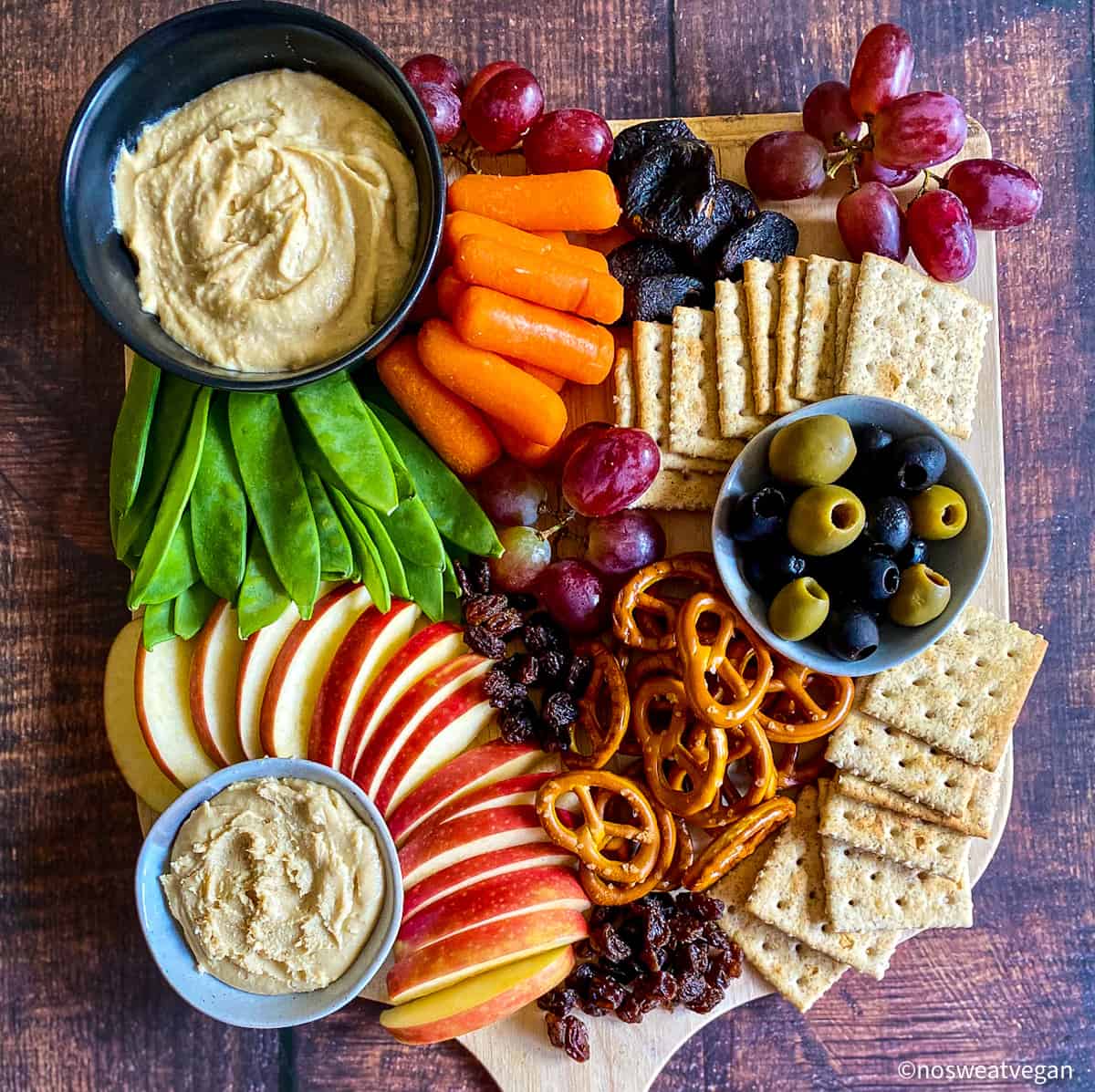 Download the Vegan Snacks for Kids printable
Be sure to grab the free printable list of Vegan Kids Snack Ideas. It's perfect for taping to the inside of your pantry door or adding to a meal-planning binder so you never run out of ideas. Just sign up for access to the Meal Planning Printables page.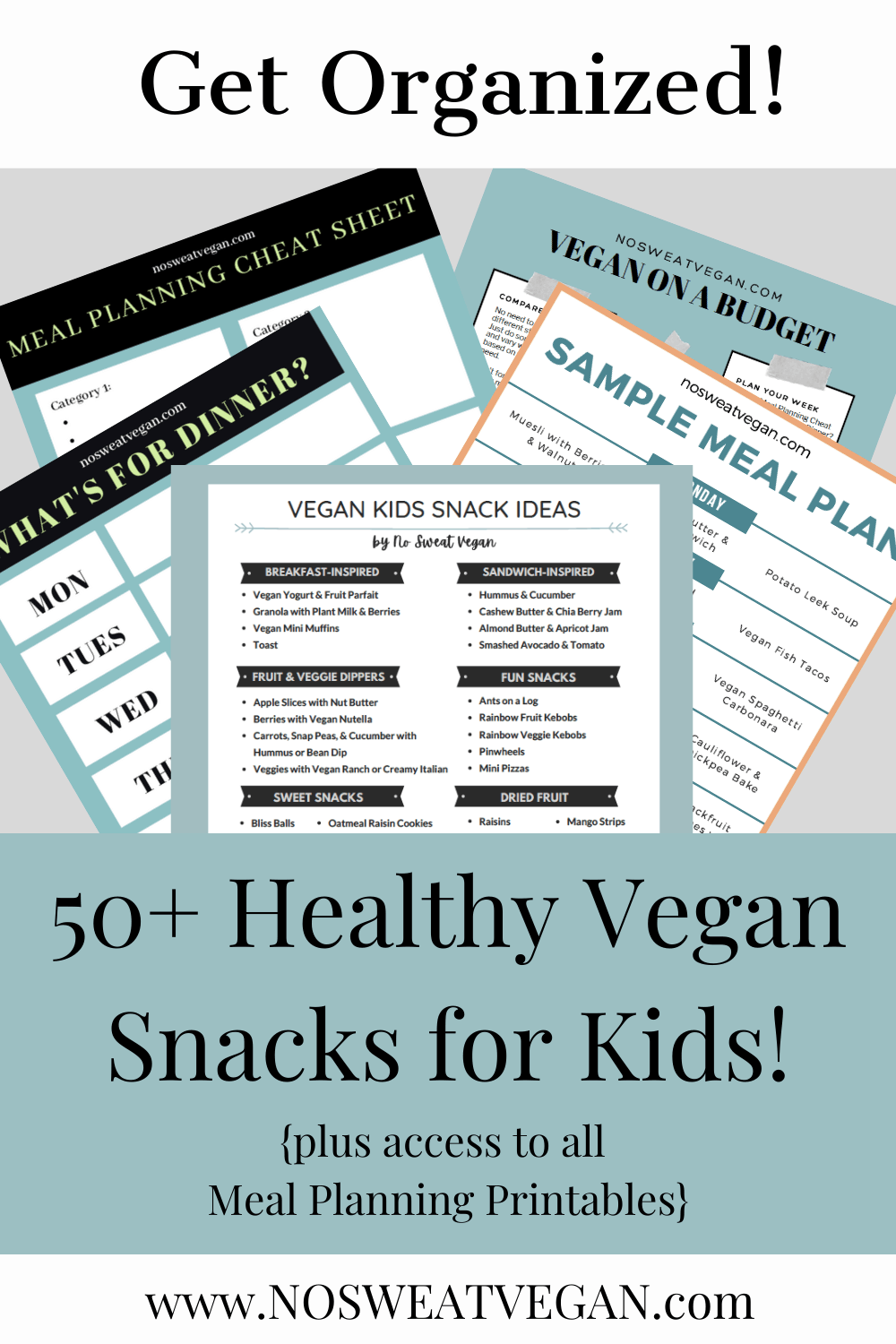 More vegan recipes your kids will love!
---
📖 Recipe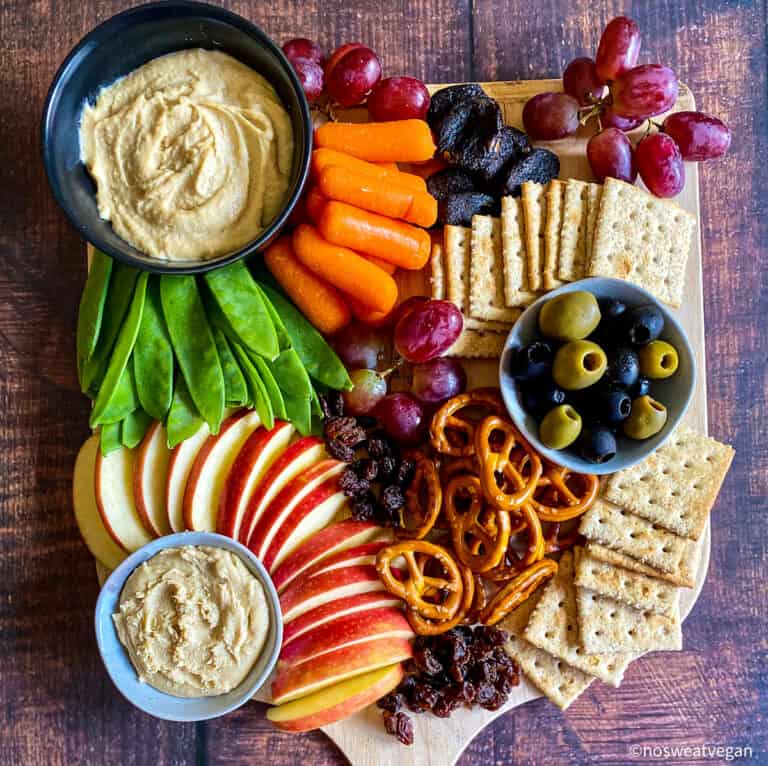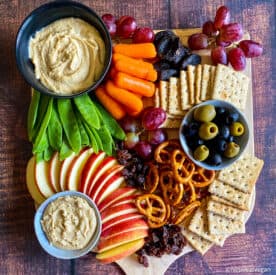 Vegan Kids Snack Board
A Vegan Kid's Snack Board is a fun and easy treat for an after-school snack or movie night. Just take a board or tray and fill it with a variety of sweet, salty, crunchy, snacks and dips and enjoy!
Ingredients
hummus or bean dip

carrot sticks

snap peas

apple slices

pretzels

crackers

dried apricots

olives or pickles
Instructions
Start with a large, clean cutting board. If there are any items in bowls (like a dip), place the bowls on the cutting board first. Leave a little space around each bowl.

Next, add fruits and veggies near their respective dips.

Then add mini sandwiches, crackers, pretzels, etc. in rows or piles.

Finally, add a few dried fruits and/or sweet treats to fill in the blanks.

Serve to your kids as an after-school snack or movie-night treat!
Save this Recipe
Saved!
Notes
These are just a few super simple ideas that you can throw on a board with almost no prep work. Feel free to change it up to fit your kids' tastes and what you have available.
If you're concerned about sharing a large board, you can also make individual snack boards.
Click on this link for a full tutorial on building a Vegan Snack Board.
Want access to my Exclusive Meal Planning Tips & Printables page?
Did you try this recipe? Have a question? Just leave a comment below and I'll get back to you ASAP!