Homemade Muesli couldn't be any easier to assemble! Served with banana slices, berries, nuts, hemp seeds, and plant-milk of choice, it makes a quick, healthy weekday breakfast.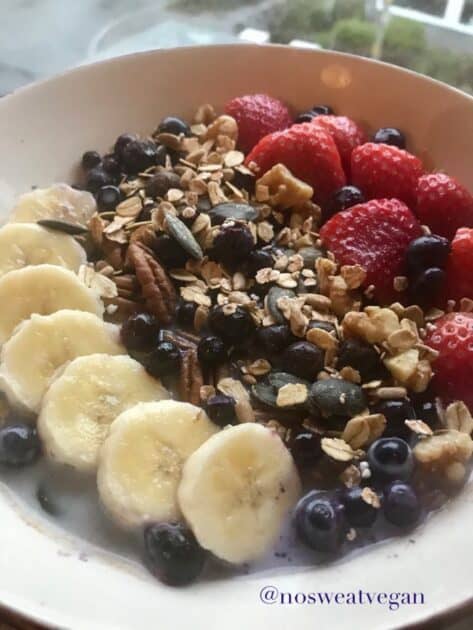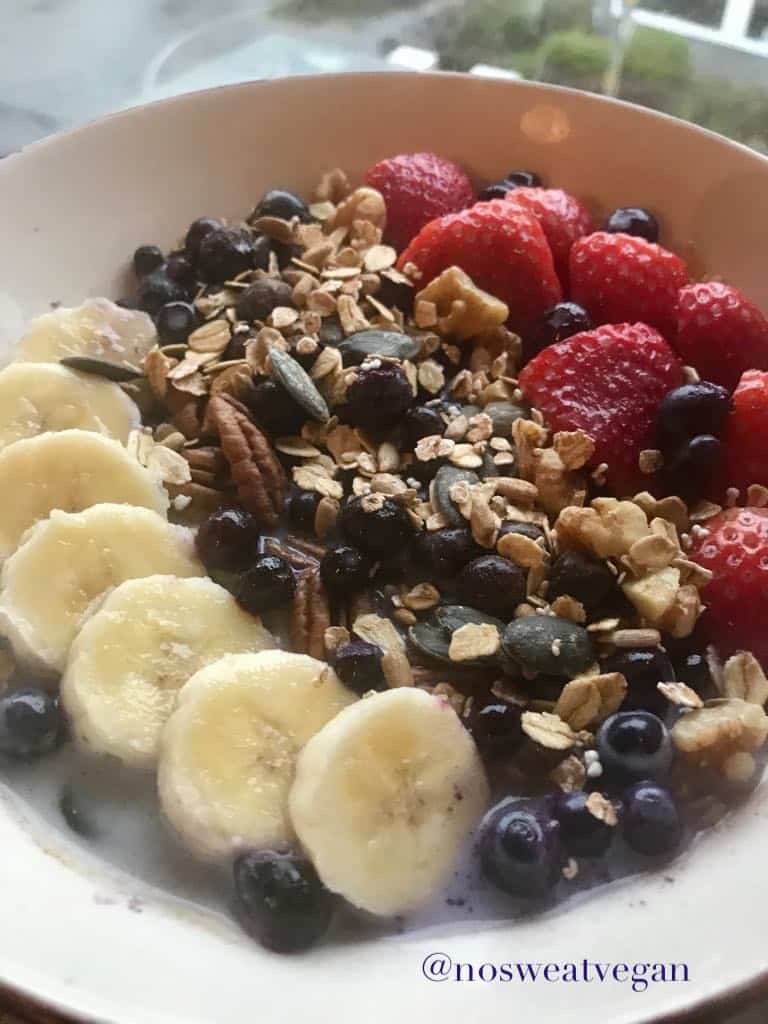 When I first moved to Germany, I discovered that the store shelves were filled not with cereal but with muesli. Like cereal, muesli comes in a variety of flavors, some healthy others not so healthy. Being a good sport, I decided to try it. Not bad, I thought. In fact--it's pretty tasty! But a little on the pricey side compared to regular oatmeal.
And then, being the make-it-yourself guru that I am, I started to wonder how muesli was made. Surely it couldn't just be a mix of raw, easy to buy ingredients that one could throw together in less than 1 minute. Surely there must be some preparation or technique involved. Otherwise, people wouldn't be springing for this very expensive breakfast treat.
But guess what? There is no cooking or technique. To make homemade muesli, you simply buy the right ingredients, combine said ingredients, and enjoy. It's really that easy!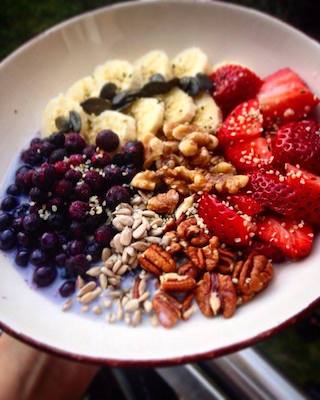 Jump to:
How to make homemade muesli
This recipe is actually so easy, I'm almost embarrassed to share it with you. However, I will share it because back when I decided to make my own muesli the first time, I had trouble finding a clear recipe online. I found several recipes claiming to be for muesli, but they were actually for granola. But--say it with me--MUESLI IS NOT GRANOLA. Nothing against granola (I have a great recipe for vegan granola that I love) but one is cooked and can require prep work, the other is merely assembled in mere seconds with no cleanup required!
The jar
Without further ado, let's get to it. To make your own homemade muesli, you start by finding a large glass jar. The size doesn't really matter because you can adjust the ingredients accordingly. However, a larger jar will give you more delicious muesli, so--when in doubt--go for the bigger jar.
The oats
Now fill the jar about halfway with your rolled oats. Rolled oats are just the regular oats--usually sold in canisters in the US. For this recipe, you don't want to use quick oats (too thin) or steel-cut oats (too thick)--just the regular rolled oats, Goldilocks!
In Germany, I buy my oats in 500 g bags--so that's the amount I use. I just open the bag and dump it into the jar. Done! That's roughly the same as the 18 oz canisters sold in the US. But don't bother with measuring. Just fill the jar halfway with oats.
The add-ins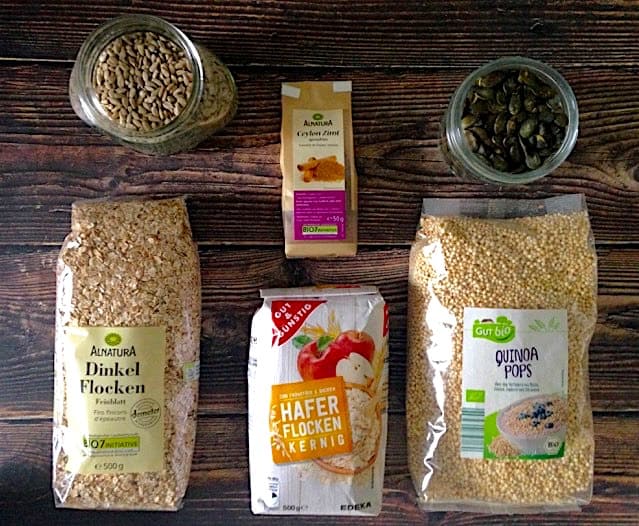 In the recipe below, I give you add-in suggestions with approximate measurements. But, again, don't waste your time with measuring anything for this recipe. Just eyeball it.
You also don't need to use the same add-ins as me--these are just suggestions. I recommend you go for a few different textures and flavors. I use wheat flakes to help deepen the overall flavor, and I like puffed amaranth or puffed quinoa because they're crunchy and kind of fun. Next I add sunflower seeds and pumpkin seeds for some fat and an extra protein boost. If you're on a tight budget, skip the pumpkin seeds and double the sunflower seeds (they cost about half as much!).
If you don't think you'll add fresh fruit when you serve your muesli, then I would also add a layer of dried fruit, such as raisins, cranberries, or goji berries. This will help add more texture variety as well as sweetness.
Don't forget the cinnamon
Finally, I like to add a generous amount of Ceylon cinnamon to the top of the jar. This adds a really nice flavor, plus cinnamon offers a lot of extra antioxidants.
Why do I choose Ceylon Cinnamon--aka, "true cinnamon"? Even though Ceylon Cinnamon costs a little more, I think it's worth the price. If the label doesn't say "Ceylon" then you're probably actually getting something called cassia, or Chinese cinnamon. Unfortunately, cassia, while cheaper, is not a great choice. According to Dr. Michael Gregor of nutritionfacts.org, cassia contains a compound called coumarin, which "may be toxic to the liver in quantities of one or more teaspoons per day." Yikes! I eat a lot of cinnamon, so it's not worth the risk, in my opinion.
Need a little help finding it? This brand of Ceylon Cinnamon is available at most big US grocery stores and online.
Now for the grand finale!
Okay, that's it! You've assembled your muesli. Now just close your jar and roll it around in your hands until everything is combined. Then pour some into a bowl and top it with fruit, nuts, and plant-milk of choice! This recipe is beautifully versatile and can fit any taste. If you prefer it to be a little sweeter, add a drizzle of maple syrup. I find that using frozen blueberries (which are more concentrated than their fresh counterparts) and extra ripe bananas gives the muesli more than enough sweetness, but you do you!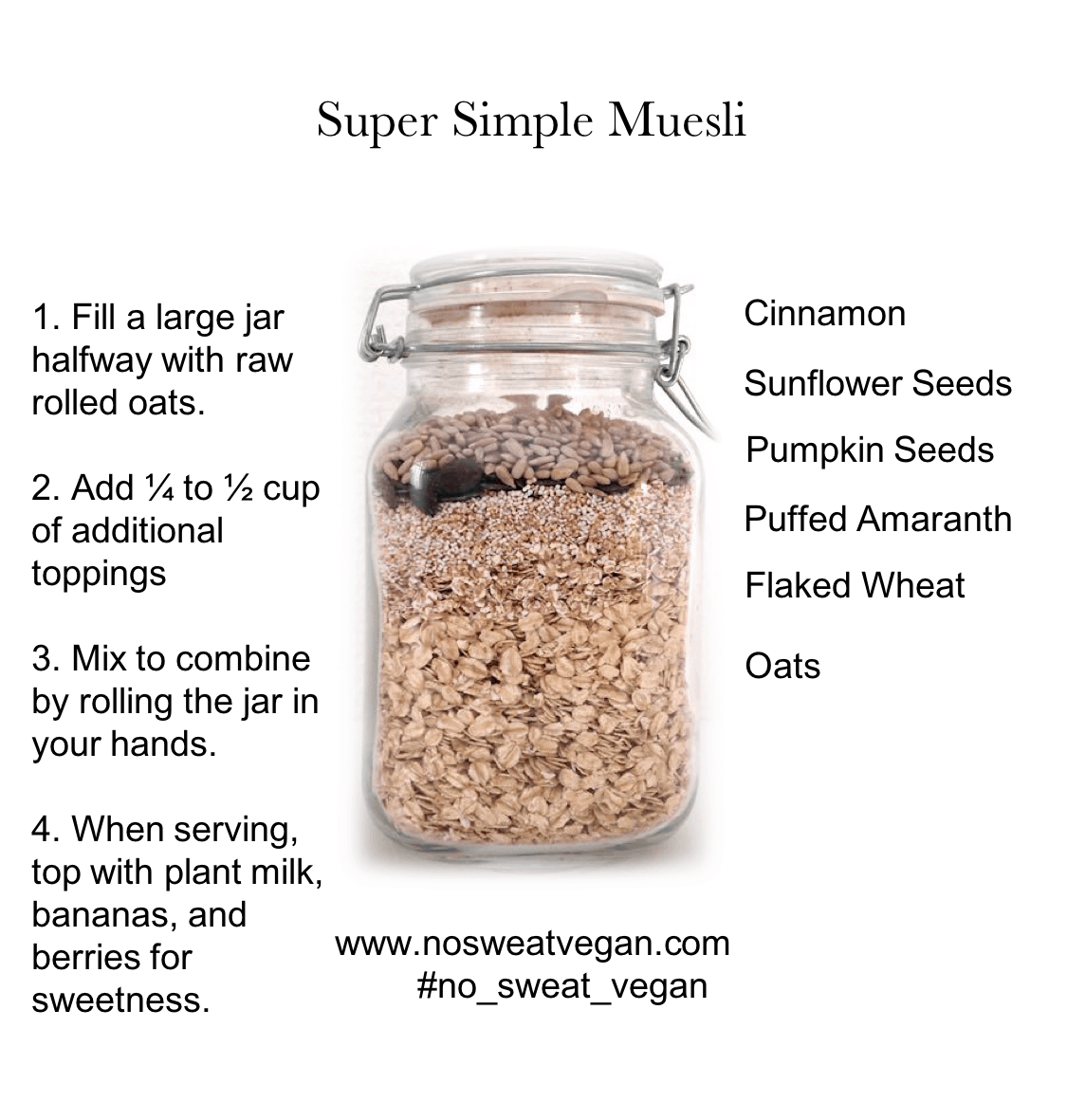 More recipes you'll love
And for more tips on going vegan or maintaining a plant-based diet try:
📖 Recipe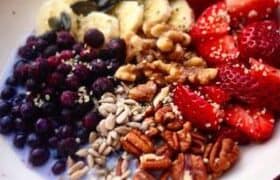 Homemade Muesli
Homemade muesli couldn't be any easier to assemble! Served with banana slices, berries, nuts, hemp seeds, and plant-milk of choice, it makes a quick, healthy weekday breakfast.
Ingredients
To Serve
½

banana, sliced

½

cup

frozen blueberries

4

strawberries, diced

¼

cup

walnut or pecan pieces

1

tablespoon

hemp seeds

plant milk of choice
Instructions
Layer the muesli ingredients in the jar, starting with the oats.

After all the ingredients are in, close the lid of the jar and roll the jar in your hands to mix and combine all the ingredients. That's it. You're done!
To Serve
Pour about ½ to 1 cup muesli in a bowl, and add your toppings of choice. My favorite combination is the one listed above, but you should feel free to use whatever topping you like!

Eat right away for a crunchy consistency or let sit 5 minutes for a more oatmeal-like consistency.
Save this Recipe
Saved!
Notes
If you don't plan to add fresh or frozen fruit when you serve the muesli, you might want to add another sweetener, such as a drizzle of maple syrup.
This is just a base recipe. You should always start with the oats, but after that, feel free to change up the muesli ingredients. Try to go for variety: something to add crunch, something to add fat, something to texture.
Another great addition to muesli is dried fruit such as raisins, craisins, or goji berries.
When serving, I prefer to use frozen blueberries over fresh because they're cheaper and the berries are denser, creating a deeper and sweeter flavor. That said, I've used fresh blueberries before, and it still tastes great!
Want access to my Exclusive Meal Planning Tips & Printables page?