Pulling out the desserts at any gathering or even just a small family dinner always makes you something of a hero, but when those desserts are delicious, healthy, and vegan you're an absolute wizard! From dairy-free ice cream to fruit-filled popsicles, no-bake brownies to strawberry shortcake, if you're looking for the best vegan summer dessert recipes, this list has you covered.
Many of these vegan desserts are so easy you don't even have to turn on your oven. Whether you're looking to cool down on a hot summer day or incorporate seasonal fruit into your dessert, these will not disappoint. So without further ado, here are 20+ delicious vegan dessert recipes that are perfect for your next weekend cookout, BBQ, or potluck--or any day of the week!
---
This Vegan Berry Crumble combines tart, lightly sweetened mixed berries with a crisp oatmeal topping. With just 5 minutes of prep work, this is one of the easiest vegan dessert recipes around! A perfect summer dessert!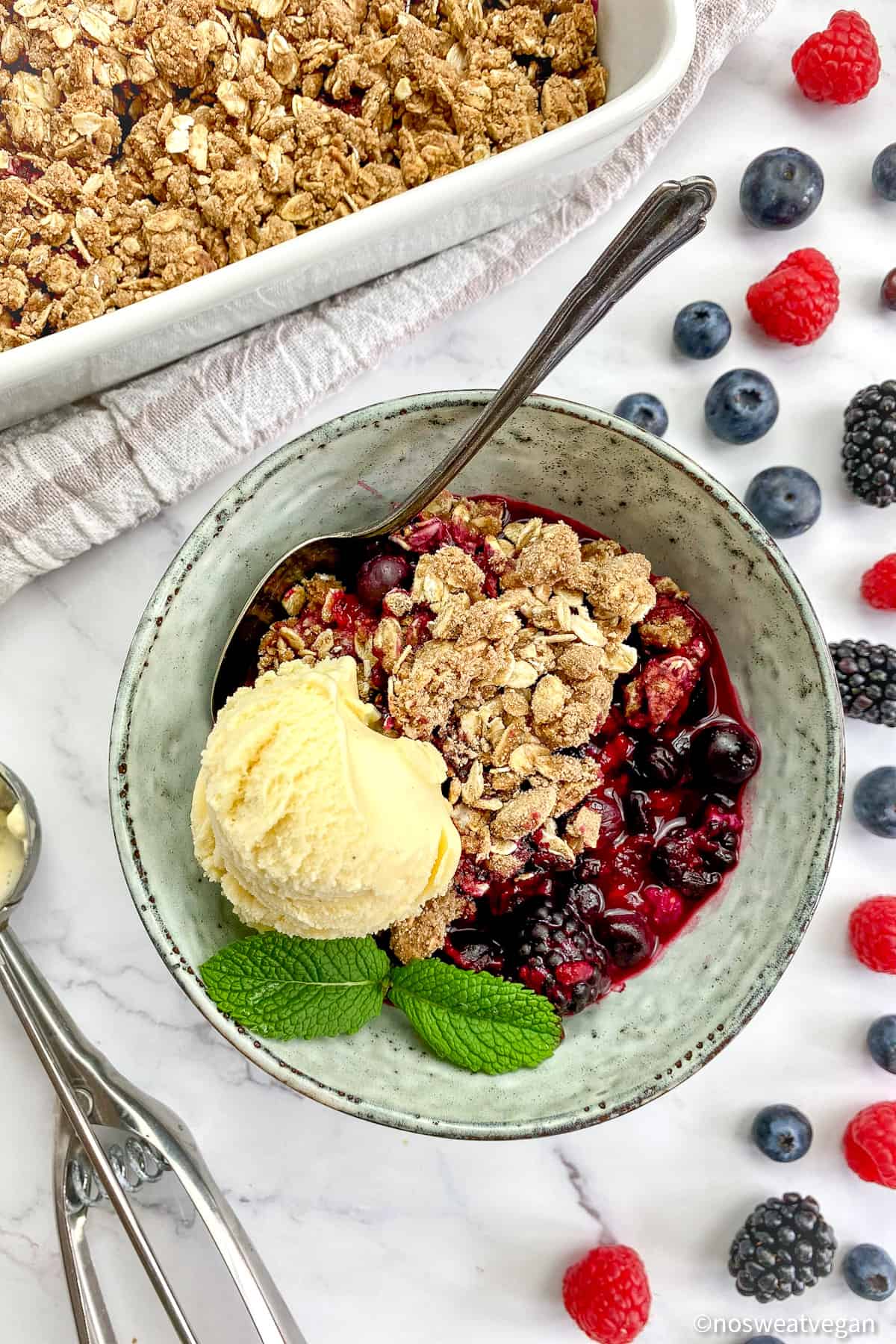 ---
All you need for these no-bake flourless brownie bars is a food processor and 9 ingredients. They're chocolatey, gooey, rich, and much healthier than your average brownie! Simple and good!
---
Sweet and tart with a subtle hint of basil, these (refined) Sugar-Free Strawberry Citrus Popsicles are the perfect summer treat! Just boil the ingredients, blend, add to the popsicle forms, and freeze for 6 hours before serving.
---
No need to heat up your kitchen with the oven this summer, make this Grilled Blackberry Cobbler. A fluffy biscuit topping, fresh berries, and super delicious; plus, vegan!
---
Everything you love about s'mores in an easy, no-bake jar parfait. Plus it's vegan and allergy-free!
---
This delicious and refreshing Watermelon Granita is the perfect healthy treat when the temperature rises. Half snow cone and half slushie, this crowd pleasing dish will be a hit at your next summer BBQ. Plus, it's vegan and couldn't be easier to make. All you need are 3 ingredients and a blender.
---
These Coconut Lime Popsicles are creamy, coconutty and full of zesty flavor! They are so easy to make and require 5 simple ingredients!
---
This Easy Vegan No-Bake Chocolate Peanut Butter Pie is rich, dark, creamy, smooth, and absolutely delicious. Only 8 simple ingredients and no baking.
---
This simple Vegan Strawberry Shortcake is made with cream biscuits, fresh strawberries, and coconut whipped cream for an easy springtime dessert.
---
These delicious and refreshing Mango Popsicles are exactly what you need to cool down on a hot summer day! These lightly sweetened ice pops are made with cubed mango, creamy coconut yogurt, a touch of agave and lime juice, and the optional flavor boosts from turmeric and cardamom.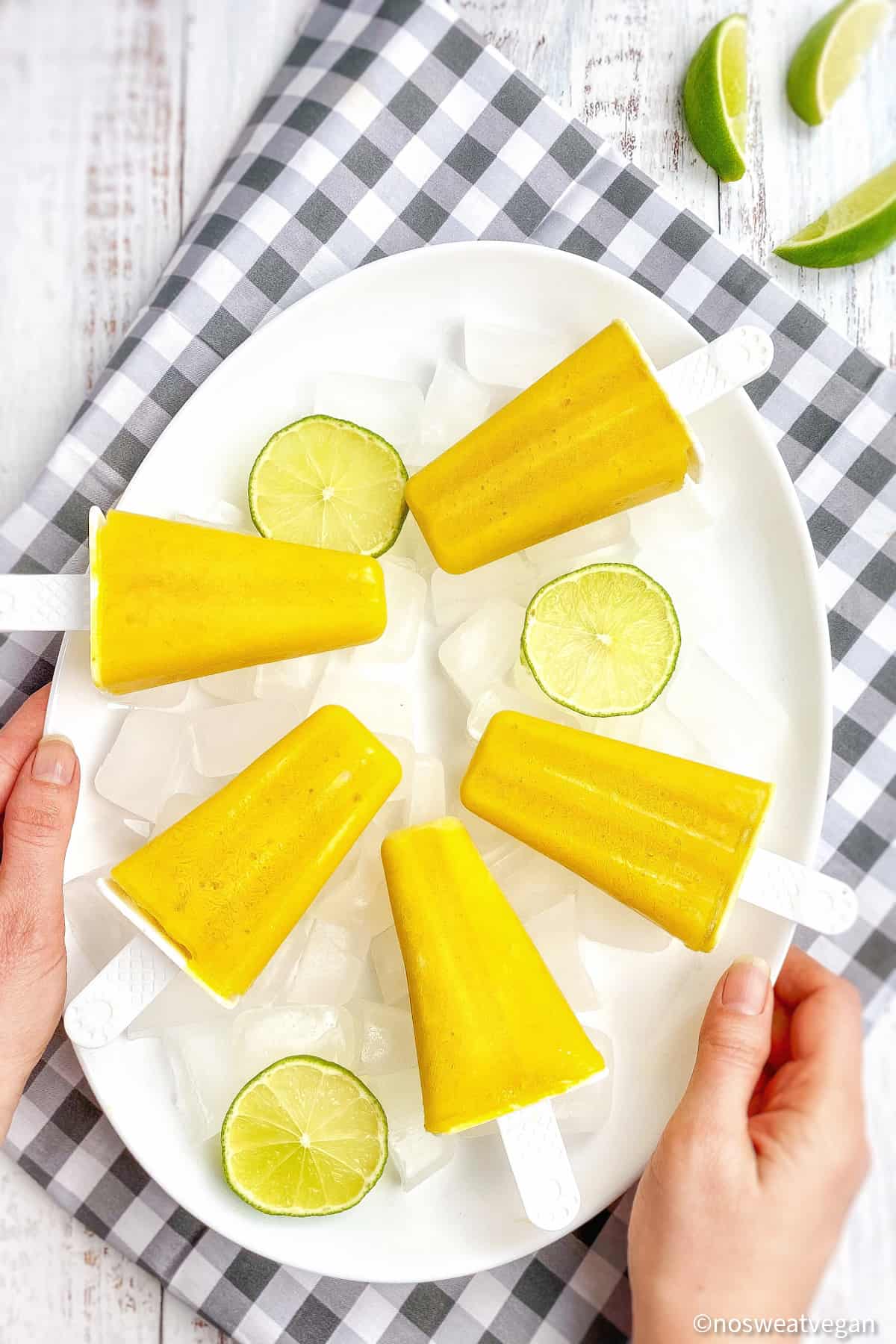 ---
Vegan Fruit Pizza! It is made with a buttery, melt-in-your-mouth sugar cookie crust, topped with sweet cream cheese filling, and finished with fresh fruit for the perfect summertime dessert.
---
No need to turn on the oven! These no-bake brownie bites are quick, easy, and sugar-free! The dates add sweetness, the walnuts and pecans offer depth, while the Dutch-process cocoa gives a rich, chocolatey flavor. But the real surprise are the pretzels, which both bind the mixture and add the perfect salty crunch.
---
This no-bake key lime pie is simple to make and vegan. It's super refreshing and delicious on a hot day!
---
This homemade no-churn vegan mint chocolate chip ice cream recipe is ultra-smooth and creamy and couldn't be easier to make in your blender. It is loaded with sweet and cool minty flavor with indulgent dark chocolate in every bite. Best of all, this quick and easy frozen dessert recipe is naturally sweetened, contains nutritious ingredients (including a vegetable!), and is completely dairy-free.
---
Brown Rice Crispy Treats with Strawberries is super easy, super tasty, and absolutely no marshmallows needed! Perfect for your next summer BBQ.
---
This Coconut Ambrosia Fruit Salad is an updated recipe of a childhood favorite. Filled with naturally sweet fruit, crunchy nuts, and fluffy marshmallows, it's a delight to the senses and comforts a sentimental heart.
---
Extra decadent and rich, these vegan blueberry cheesecake bars are honestly one of those vegan desserts that people won't believe is vegan! These bars are the perfect mix between sweet and tangy and have the easiest thick, chewy crust.
---
This mango sorbet is the perfect hot and lazy summer day dessert! It is super creamy, perfectly sweet, and oh so refreshing. Best of all, no ice cream maker or churning needed, and it takes less than 5 minutes to put together. Because the mangoes are already frozen, no further freezer time is needed.
---
If you're also a fan of papaya, then you'll love these Vegan Papaya Lime Popsicles. Not only is this vegan popsicle recipe creamy and filled with healthy coconut but it only contains only 7 ingredients. This is the perfect cold treat for summer!
---
Keep the cupcake wrappers on these frozen dessert "cupcakes" and leave them on ice. Family and friends can grab one when they are craving a cool, creamy dessert.
---
These rhubarb and blueberry crumble bars are EGG and DAIRY free, making them perfect for anyone who eats a plant-based diet. Soft, sweet, and cinnamon-spiced, these crumble bars make the perfect summer dessert.
---
This Instant Pot Tapioca Pudding recipe is a complete game-changer. Naturally sweetened without refined sugar, it cooks in just 10 mins with only 5 ingredients. It's portion-controlled, vegan, gluten-free, and paleo.
---
These Vegan Fudge Pops are a naturally-sweetened, protein-packed frozen chocolate dessert made with a secret ingredient… beans! This healthy fudgesicle recipe is the perfect icy cold treat on a hot day for kids and adults alike!
---
That's it! Over 20 of the best vegan summer dessert recipes around. Did you see your favorite on the list? If not let me know and I'll try to add it.
---
If these delicious Vegan Summer Dessert Recipes speak your language, you might also love:
---
📖 Recipe