This vegan Oil-free Marinara Sauce is quick and easy. It uses simple pantry ingredients and comes together in about 20 minutes. Perfect for pasta, pizzas, or dipping sauces. Serve as a simple homemade marinara or use as a base for an arrabbiata, vegan spaghetti and meatballs, or veggie supreme.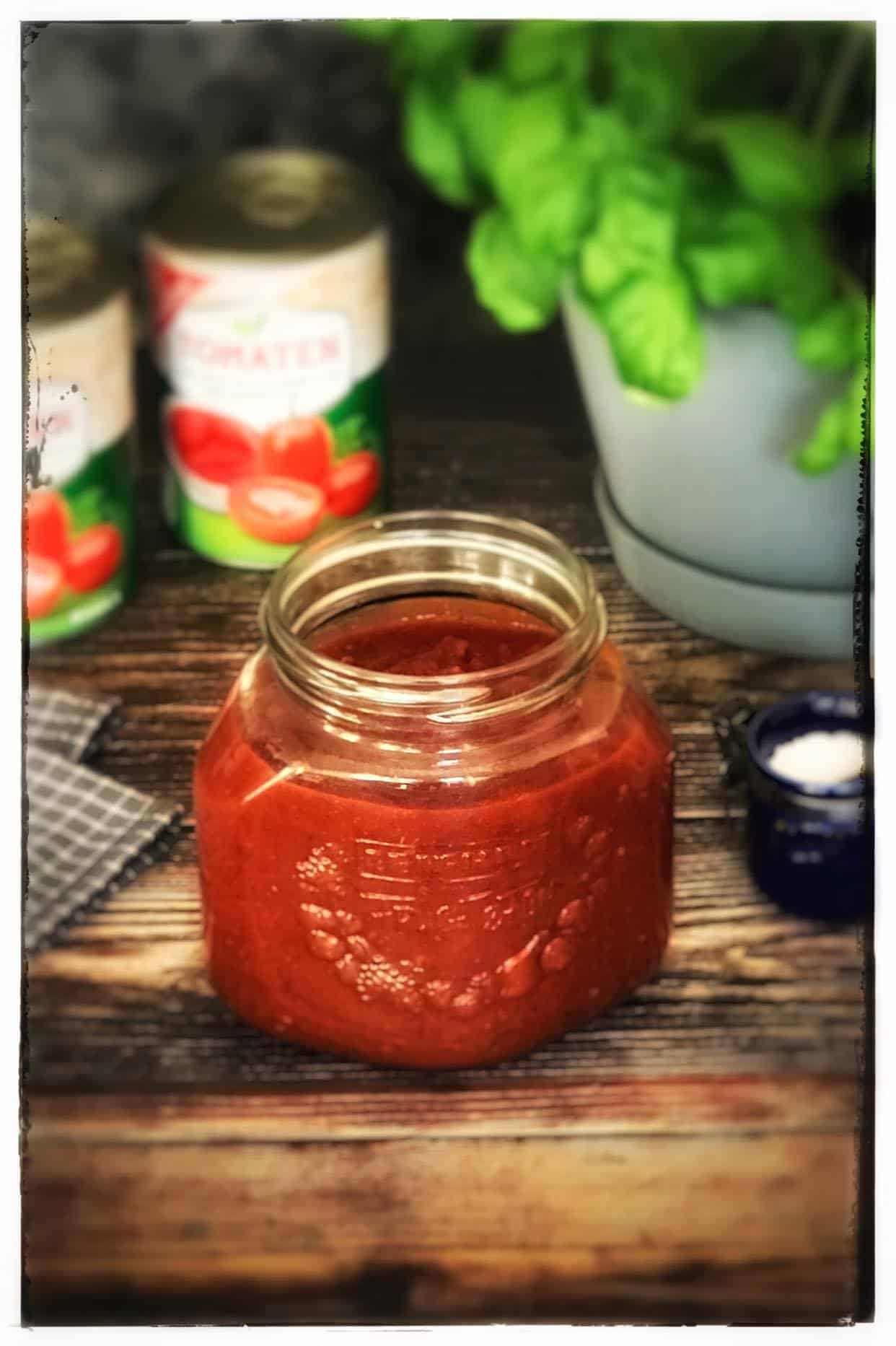 If you've ever looked at the ingredients on a jar of pasta sauce, you might be surprised by how much sugar, oil, and preservatives you'll find listed there. On top of that, store-bought sauces can be expensive. Making your own at home will certainly save you money, but doesn't a homemade marinara sauce need to simmer for hours on the stove? Actually, no! I've got a trick that will help you make a rich and flavorful homemade marinara sauce in the time it takes to cook spaghetti.
With any marinara sauce, you can add herbs to create a more complex flavor, but you also need to somehow balance out the acidity of the tomatoes. When I first started making my own sauces, I struggled to figure out how to take the flavor from that of dull, boring canned tomatoes to deep, rich marinara. Eventually, I stumbled on the ideal ingredient that offers both sweetness and an earthy richness, while also going perfectly with Italian flavors. And that ingredient is balsamic glaze.
Jump to:
You'll love this Homemade Marinara Sauce because it's:
Super Quick & Easy
Oil-Free
Made with Simple Pantry Ingredients
Hearty and Full of Flavor
Vegan / Vegetarian
Plant-Based / WFPB
Refined-Sugar-Free
Kid-Friendly
Versatile
Delicious!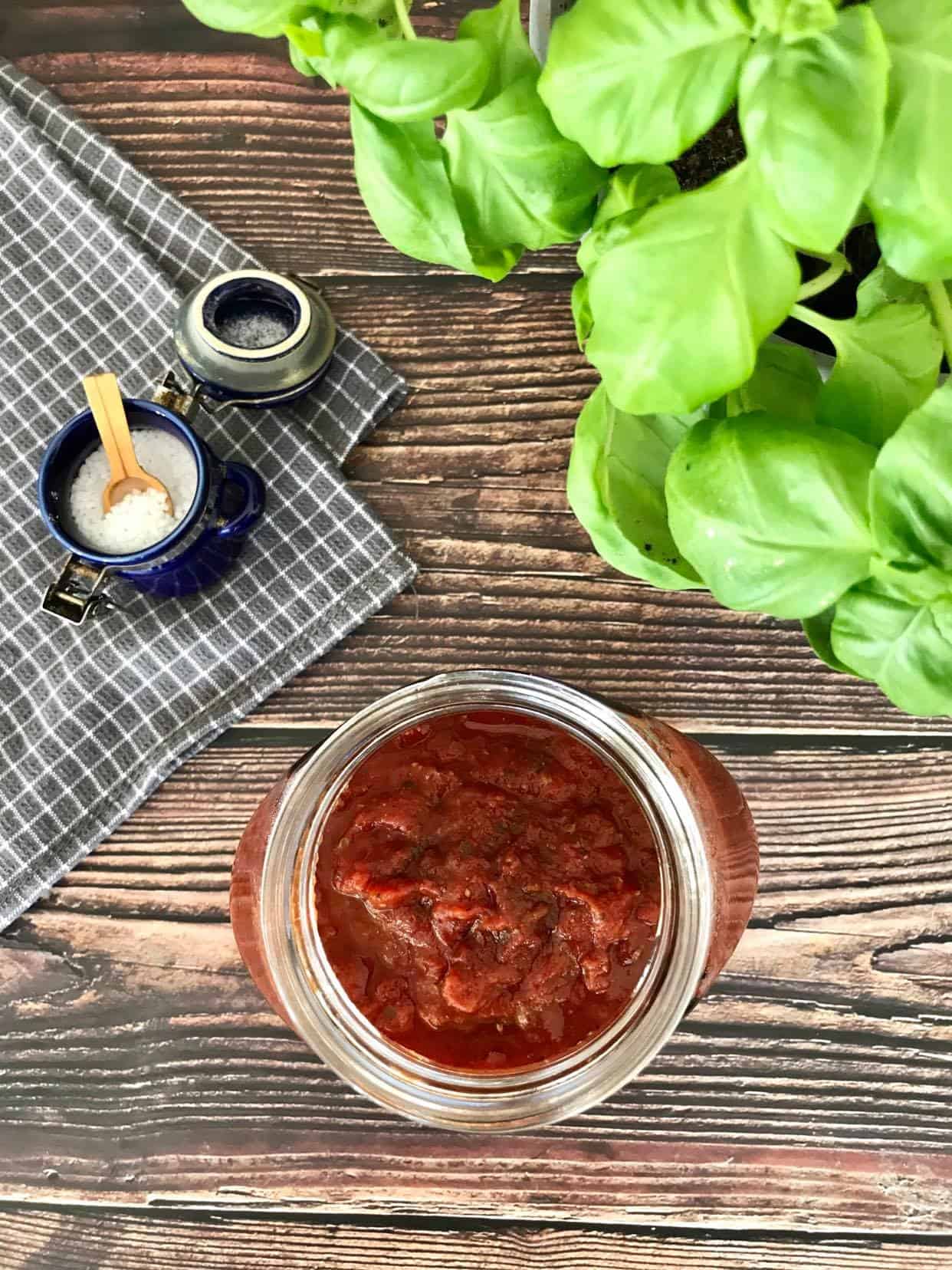 What is marinara sauce?
Marinara is just a fancy word for a simple tomato sauce or a red sauce. It's normally made with some combination of tomatoes, oregano, basil, and onions, but there are many variations. My recipe is a marinara in it's simplest form, so feel free to jazz it up however you like!
The secret ingredient
If you've never tried balsamic glaze before, it's basically super-concentrated or reduced balsamic vinegar often sweetened with grape must or sugar. Looking for an affordable, high-quality brand? I highly recommend Trader Giotto's Balsamic Glaze
, which I used to buy when I lived in the US.
If you don't have balsamic glaze at home and can't go to the grocery store, you can make your own by bringing 2 cups of balsamic vinegar (plus up to a ½ cup of optional sweetener) to a boil and simmering until thickened (about 20 minutes).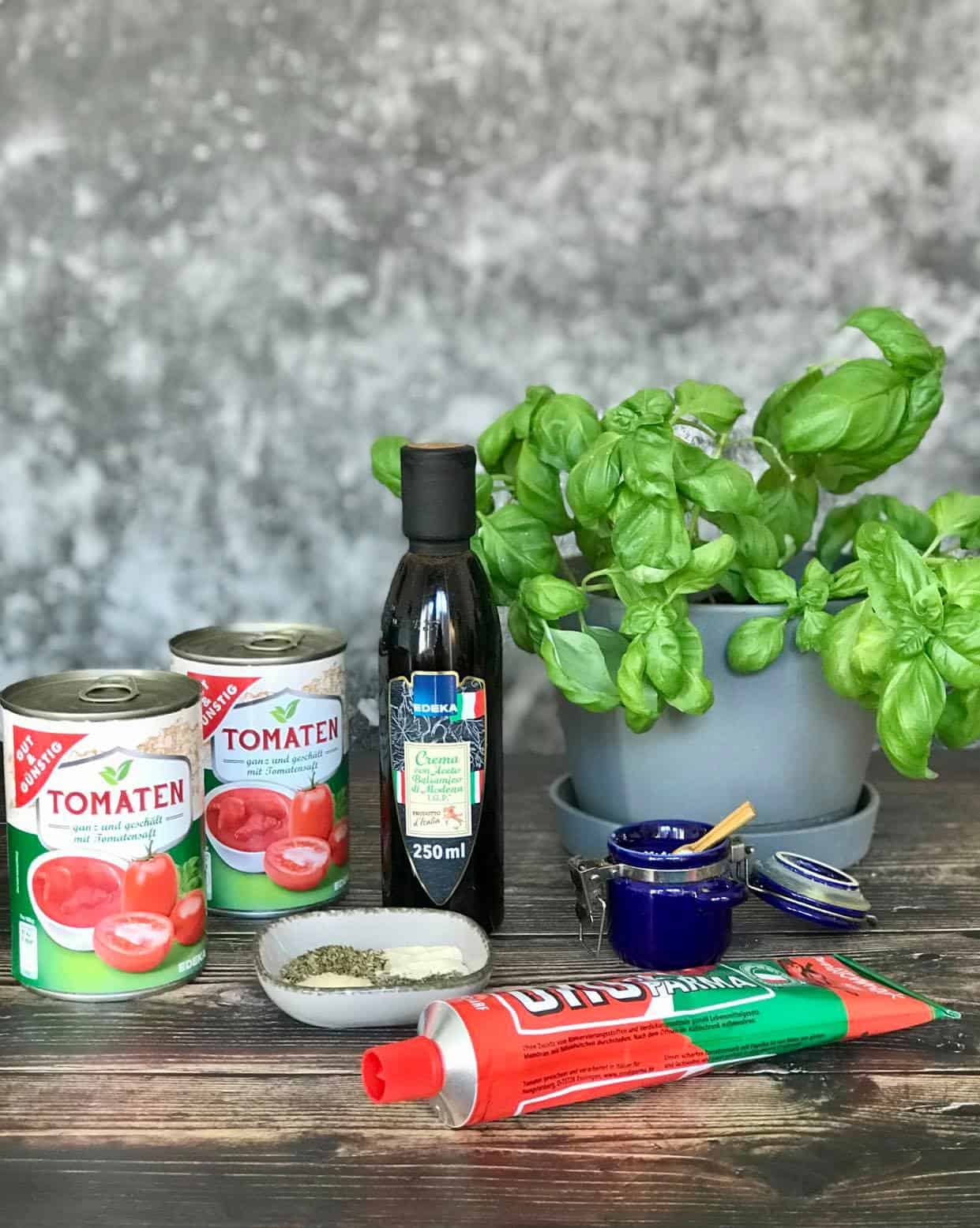 Ingredients
2 15 oz or 400g cans of whole, unseasoned tomatoes (You can also use jarred or tetra pack. If you don't have whole tomatoes, diced tomatoes will also work).
2 tbsp balsamic glaze
2 tbsp tomato paste
2 tbsp dried oregano
2 tbsp dried basil
1 tbsp garlic powder
1 tbsp onion powder
fresh cracked pepper to taste
salt to taste
fresh basil strips for simmering and serving (optional)
Instructions
To make this marinara sauce, you're just going to add two cans of whole tomatoes to a medium pot. Use a potato masher to crush the tomatoes. (They will break down more as they cook.)
Add the spices, balsamic glaze, and tomato paste. Stir to combine and then bring to a gentle simmer to reduce and thicken.
That's it! If you start boiling your pasta water after your sauce is simmering, this marinara will be done at the same time as your pasta!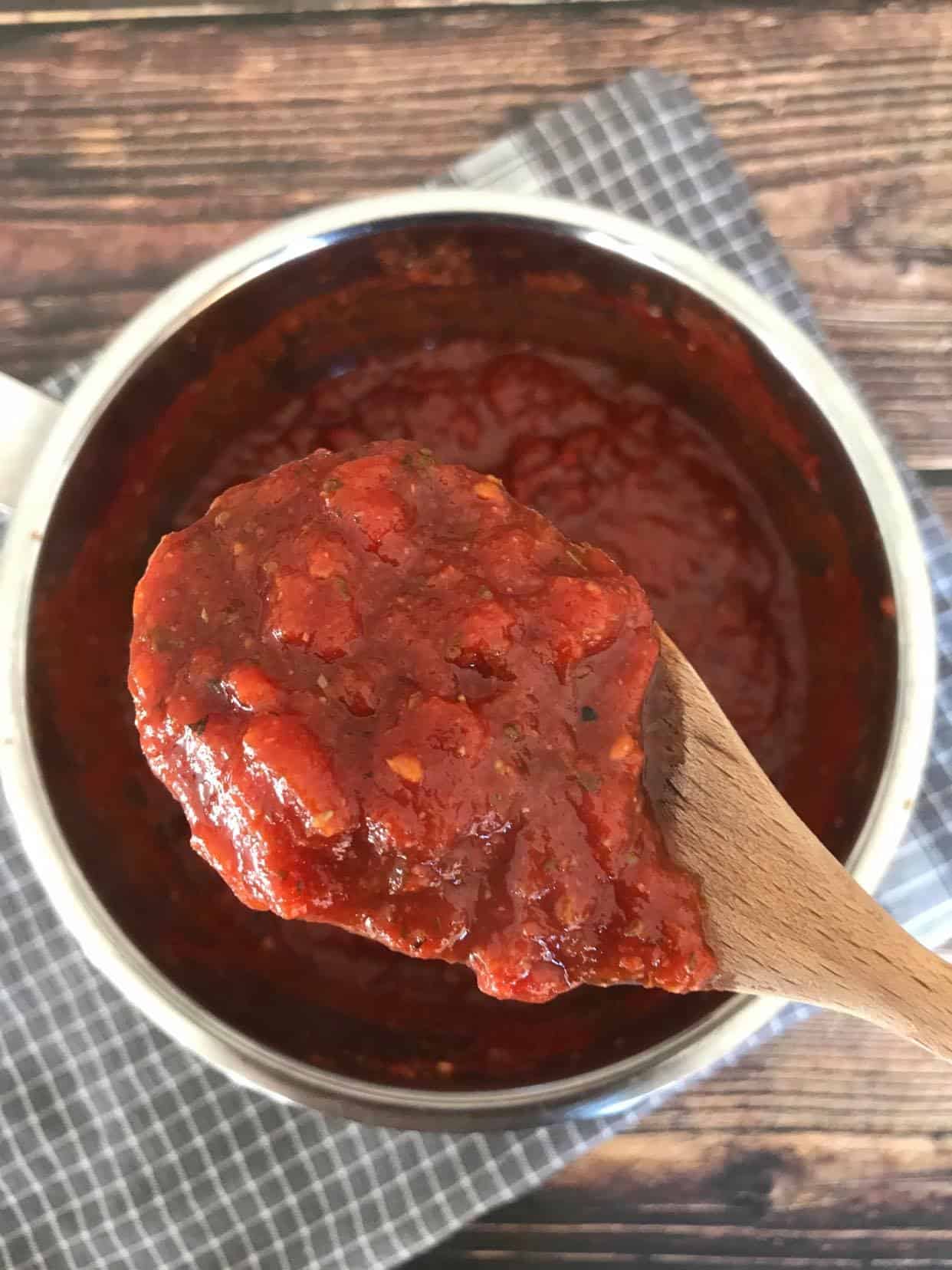 How to serve
For a super simple meal, just serve this sauce with your favorite pasta and this easy Vegan Parmesan.
You can add sautéed bell peppers, onions, and Vegan Italian Sausage Crumbles for a little extra oomph.
Add a little heat for an arrabbiata or some vodka and cashew creme for a penne a la vodka.
Make it a special meal with these Sicilian-Style Vegan Meatballs.
This sauce is also great for dipping breadsticks or topping vegan pizza.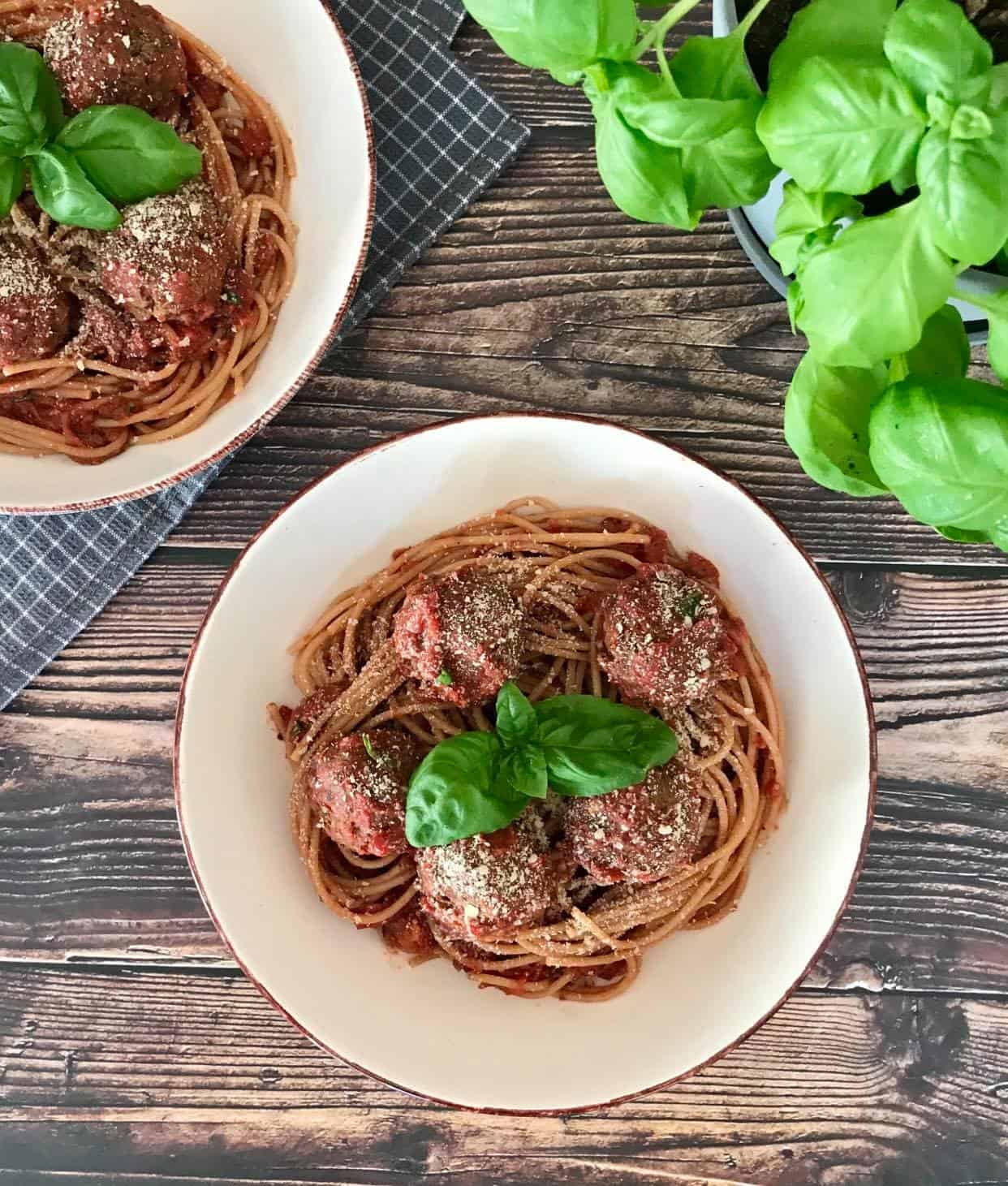 Can I make it ahead?
Definitely! Make the sauce ahead of time, store in the refrigerator in an airtight container, and then simply cook up a pot of pasta when you're ready to eat.
If you want to save some time, you can cook up 2 or 3 batches at once, portion, and freeze for later.
How to store
Store leftovers in an airtight container in the refrigerator for up to 1 week or the freezer for up to 3 months.
If freezing, remember that liquids expand when frozen, so leave a little space in your container to accommodate.
Reheat in a saucepot on the stove over low heat. If you reheat this sauce in the microwave, place the sauce in a microwave-safe bowl with a loose-fitting lid.
Red sauces will sometimes stain plastic, so I prefer to store pasta sauce in glass jars. But no need to spend a fortune, just wash and reuse glass jars from other store-bought sauces, pickles, etc.
Related recipes
📖 Recipe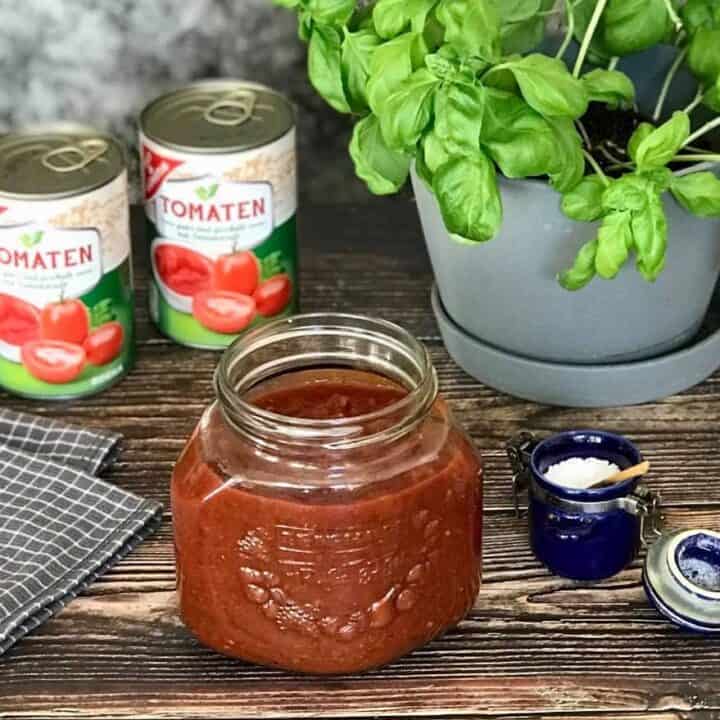 Quick Homemade Marinara Sauce (Vegan & Oil-Free)
This vegan Homemade Marinara Sauce is quick and easy. It uses simple pantry ingredients and comes together in about 20 minutes. Perfect for pasta, pizzas, or dipping sauces. Serve as a simple oil-free marinara or use as a base for an arrabbiata, vegan spaghetti and meatballs, or veggie supreme.
Ingredients
Optional
1

tsp

salt

2

fresh basil leaves for simmering

fresh basil strips for serving
Instructions
Add all of your ingredients to a medium pot.

Use a potato masher or wooden spoon to crush the tomatoes.

Bring to a gentle simmer and cook for 20 minutes, stirring occasionally.

Serve over your favorite pasta right away or store an airtight container in the fridge for up to a week or the freezer for up to 6 months.
Save this Recipe
Saved!
Notes
This is a basic sauce and tastes great as is, but feel free to jazz it up with your favorite veggies and other seasonings! I really love adding sauted onions and garlic!
Nutrition
Calories:
29
kcal
Carbohydrates:
7
g
Protein:
1
g
Fat:
1
g
Saturated Fat:
1
g
Sodium:
433
mg
Potassium:
138
mg
Fiber:
2
g
Sugar:
2
g
Vitamin A:
120
IU
Vitamin C:
2
mg
Calcium:
64
mg
Iron:
2
mg
Want access to my Exclusive Meal Planning Tips & Printables page?
Did you try this recipe? Have a question? Just leave a comment below and I'll get back to you ASAP!