These Vegan Italian Sausage Crumbles are a quick and flavorful addition to any meal. Made with Textured Vegetable Protein and a mix of herbs and spices, you can add these veggie crumbles to soups, pasta, sauces, pizza, and more.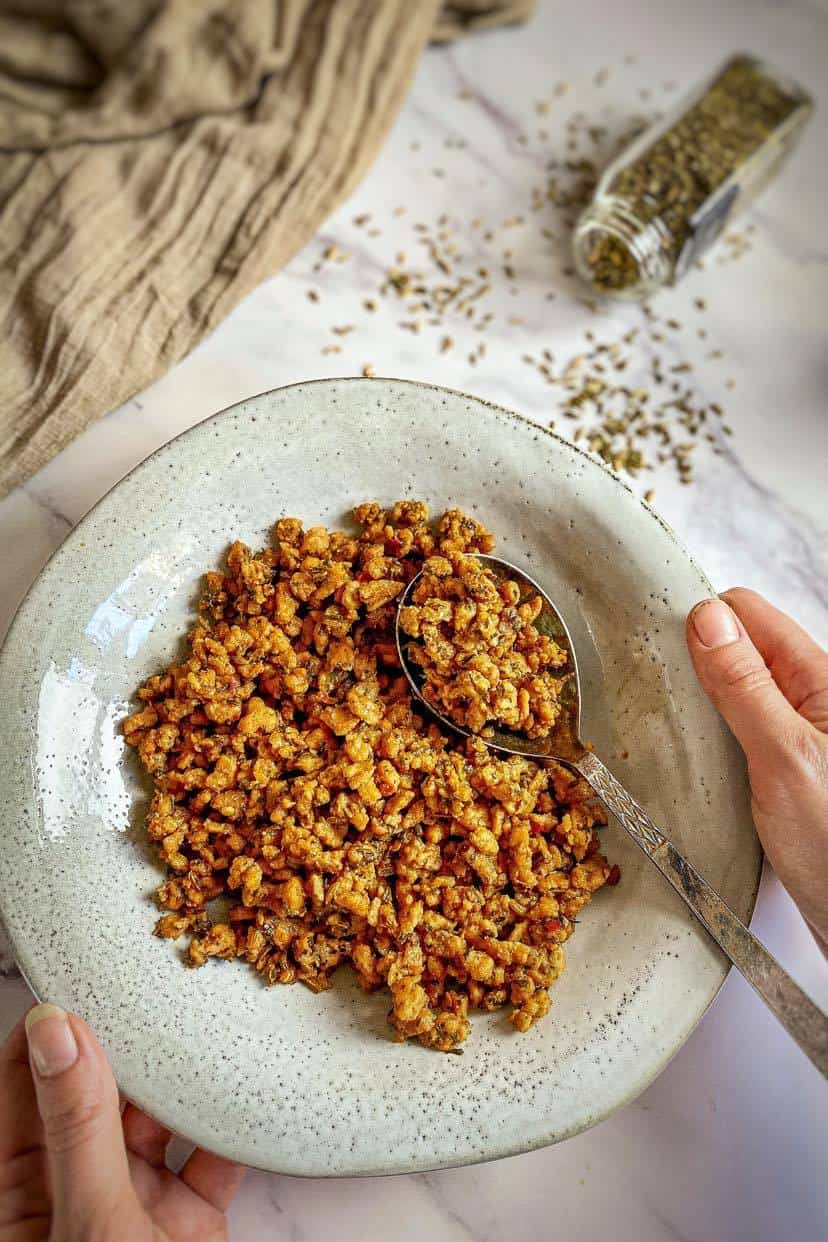 Before I stopped eating meat, I used to love flavoring dishes with crumbled Italian Sausage. The combination of herbs and spices, along with the added texture was a great addition to any dish. Thankfully, you can easily replicate the taste and texture with these meat-free Veggie Crumbles.
Let's dive a little deeper into why this recipe is so easy to veganize. Traditionally, sausages were a way for people to use up the "bad" or less desirable cuts of meat. When you eat sausage, what you're mainly tasting are the herbs and spices. Paired with the chewy texture of TVP you have something that so faithfully replicates the original, even meat-eaters would have trouble differentiating.
You'll love this recipe for Veggie Sausage Crumbles because they're:
A Quick & Easy Addition to any Dish
A Healthy Alternative to Store-bought Meat Replacements
Vegan / Vegetarian / Meatless
Oil-Free & Gluten-Free
Full of delicious Italian Sausage Flavors
---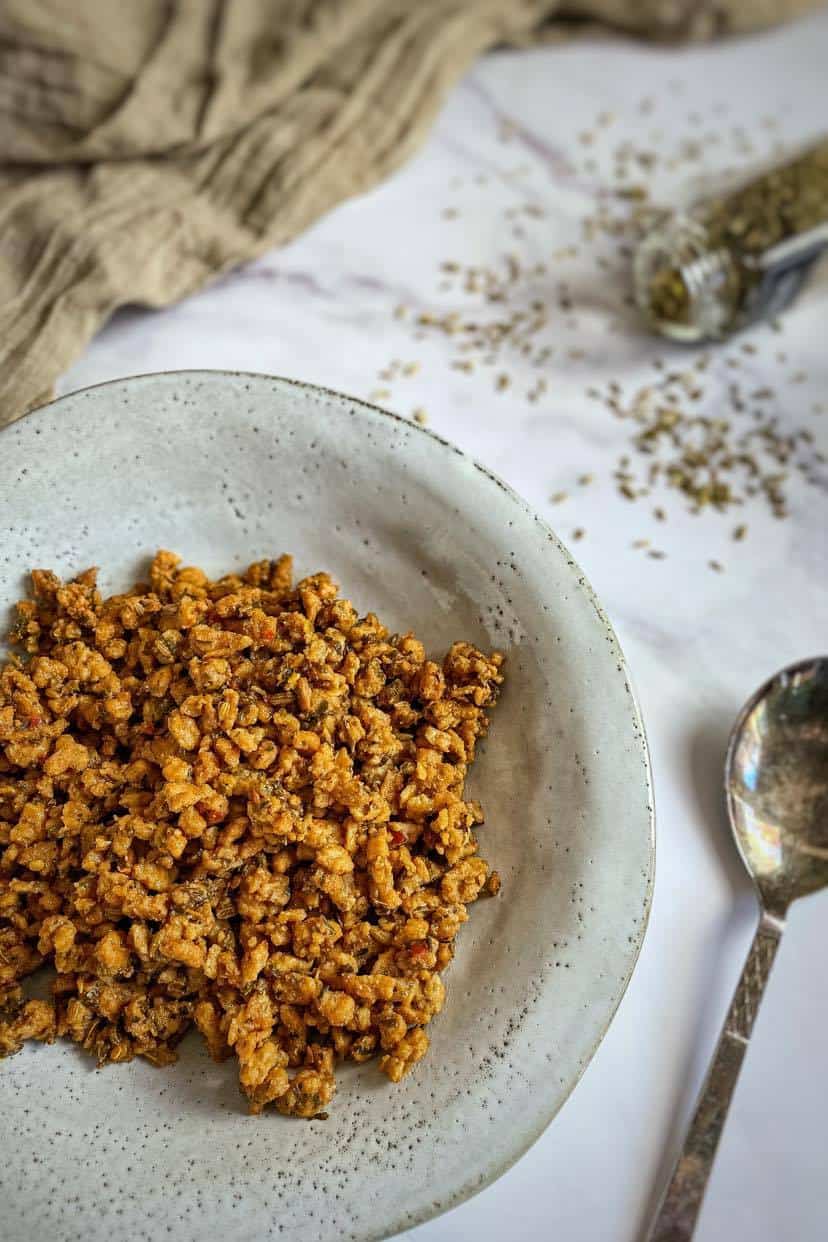 ---
What is Textured Vegetable Protein?
Textured Vegetable Protein (aka TVP) is made from defatted soy and can come in different shapes and sizes. For more info, check out my recipe for Vegan Bacon Bits.
For this recipe, you want to choose the style of TVP that resembles small crumbles. You can buy TVP at most large grocery stores, health-food stores, and on the internet.
---
Ingredients you'll need to make Meatless Italian Sausage Crumbles
TVP -- This is the main component and what gives these crumbles their chewy, meat-like texture.
water -- To help reconstitute the TVP.
soy sauce -- For color and flavor
dried oregano, dried thyme, dried parsley, & dried basil -- This is an Italian-style mix, so I'm using a lot of herbs. Feel free to mix and match here based on what you have in the kitchen.
paprika -- For extra flavor. You could sub with smoked paprika if you want more smokey undertones.
granulated garlic & onion powder -- The ultimate flavor boosters!
fennel seeds -- These little seeds give this dish that tell-tale Italian sausage flavor. If you were going to buy one spice specifically for making these sausage crumbles, this is the one I would recommend because it has such a distinct flavor. (Cumin seeds are similar enough that you could sub them in a pinch, but I definitely prefer this dish with Fennel.)
red pepper flakes --For a spicy kick! (Feel free to adjust the amount based on your preference for spicy foods).
nutritional yeast --Adds earthiness while also helping to bind the herbs and spices to the TVP.
Optional
sea salt-- There is already a little soy sauce, so if you're limiting sodium, you can skip the sea salt, but adding it will add a little bump to the other flavors.
---
How to Make Vegan Italian Sauasage Crumbles
Many recipes call for adding boiling water to the TVP first. I found that if I just bring the TVP and spices to a boil is a skillet, this has the same effect, with one less pot to wash.
My method is simple. I add all of the ingredients (except the nutritional yeast) to a bowl and mix to combine. Then I let the TVP rest about 5 minutes to absorb the liquid before adding everything to a skillet.
Next, sauté the TVP mixture with the nutritional yeast until the liquid is gone. Depending on the size of your TVP you might need to add a little more water and cook down again. Be sure to taste before serving in case you want to adjust the seasonings.
---
How to Serve these Veggie Crumbles
Serve these however you would have served crumbled Italian sausage. They taste great on pizza, over pasta or in a pasta sauce, in a soup, or with beans and greens. You could also serve them over a salad, in a wrap, or mixed with tofu scramble.
These sausage crumbles pair especially well with cruciferous vegetables like broccoli or kale. My kids happily eat Penne Pasta with Kale and these vegan sausage crumbles, so if you're looking to incorporate more greens into your life, be sure to try this combo.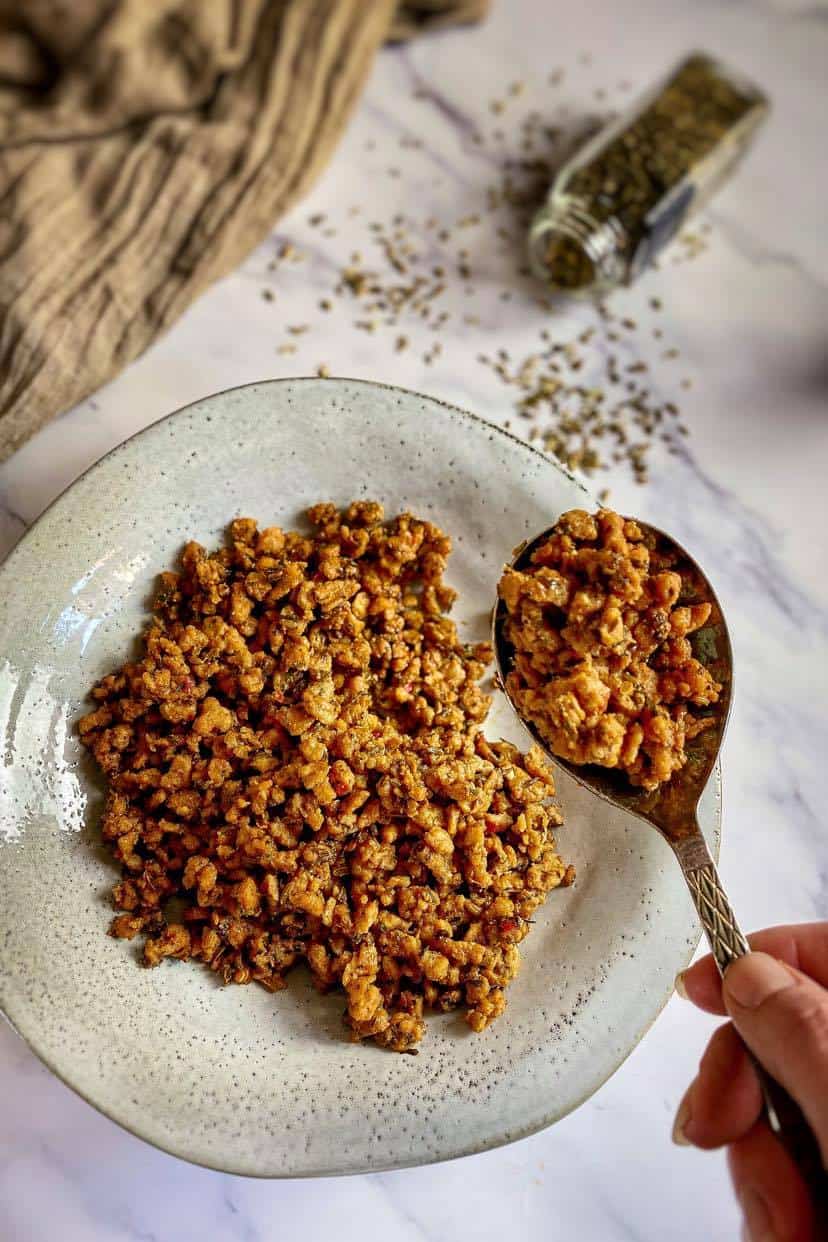 ---
If this recipe for Vegan Italian Sausage Crumbles speaks your language, check out:
---
📖 Recipe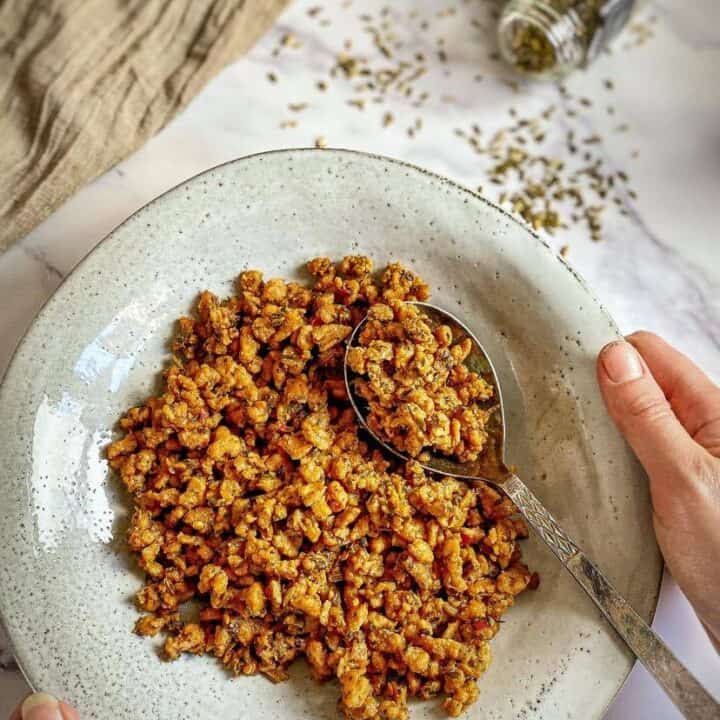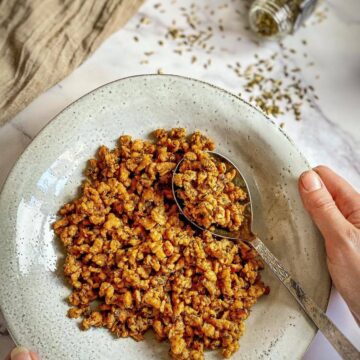 Vegan Sausage Crumbles
These Vegan Italian Sausage Crumbles are a quick and flavorful addition to any meal. Made with Textured Vegetable Protein and tons of spices, you can add these veggie crumbles to soups, pasta, sauces, pizza, and more.
Instructions
Add all of the liquid and spice ingredients (except the nutritional yeast) to a bowl. Stir to combine.

Add the TVP. Stir to combine again. Let rest about 5 minutes so that the TVP absorbs the liquid (It won't absorb all of the liquid yet).

Heat a skillet over medium. Add all of the TVP mixture and the nutritional yeast to the warm skillet. (There will be extra liquid in the skillet, but it will cook off.)

Cook the mixture, stirring occasionally, until all of the liquid is absorbed. Taste the crumbles. If the center of the TVP is still hard or crunchy, add another half cup of water to the skillet and cook until the liquid is absorbed. (Until the center is chewy but not hard).

Taste and adjust seasonings if necessary. Serve and enjoy right away or store in an airtight container for up to 5 days in the refrigerator or 3 months in the freezer.
Save this Recipe
Saved!
Notes
The exact amount of water and time to cook is dependant on the size of the TVP. which can vary slightly by brand.
If you don't have all of the spices listed here, you can make substitutions. For instance, 4 teaspoon of an Italian Spice Mix would make a fine substitute for the dried herbs.
Fennel seeds really give this mixture that distinct Italian sausage flavor. I have made this without the fennel seeds and it tastes fine, but I definitely prefer it with the fennel.
If you're unsure about how much red pepper to add, start with ½ tsp, and add more at the end if you want the mixture to be spicier.
If you aren't following an oil-free diet, 1 tablespoon of olive oil, added near the end, will give these crumbles a crispy and more unctuous texture. But adding oil is not necessary to enjoy these crumbles.
Want access to my Exclusive Meal Planning Tips & Printables page?