What is Nutritional Yeast and how is it used? Where can I buy Nutritional Yeast? What are the health benefits of Nutritional Yeast? In this post, I answer those questions and share more than 15 of my best Nutritional Yeast Recipes.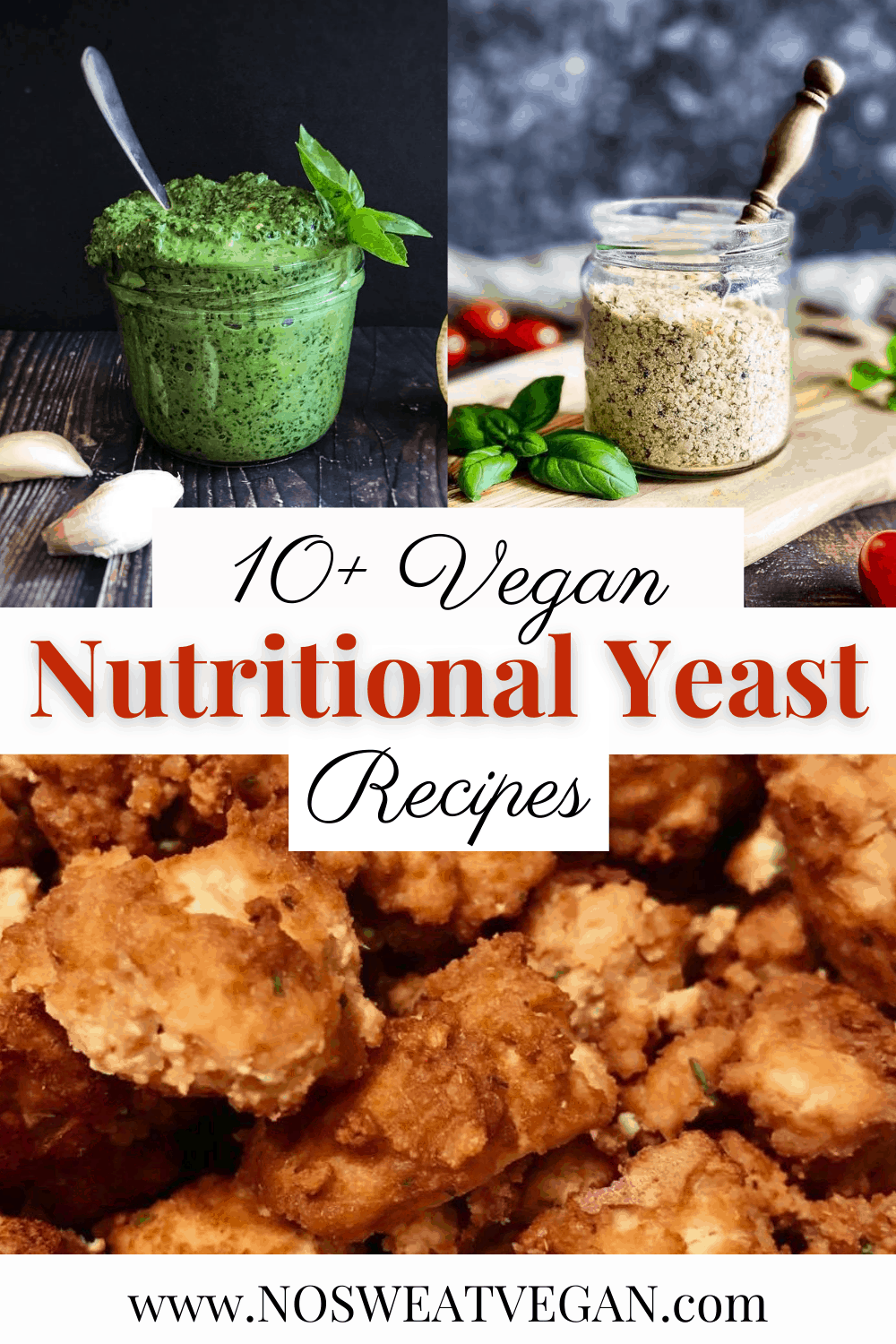 ---
Oh, how I love nutritional yeast! Let me count the ways. The cheesy, earthy richness is just what I need to keep my plant-based diet on track. And while some people say it's an acquired taste, I loved nutritional yeast from the start.
Maybe you already know that nutritional yeast is a common ingredient in vegan cheeses. But what are some other ways you can use nutritional yeast? The answer: there are so many recipes! From condiments to snacks, sides to mains, and even a vegan breakfast staple, nutritional yeast is one of those ingredients I find myself reaching for again and again. But before we get to the recipes, let's dive a little deeper to find out what this seemingly strange substance actually is.
Jump to:
What is Nutritional Yeast?
If you're new to plant-based eating, you might be wondering just what nutritional yeast is. Do you bake with it? What makes it nutritional?
Nutritional yeast is actually deactivated yeast. Unfortified Nutritional Yeast is rich in protein, iron, B-1 and B-2 vitamins, and other minerals. Often (but not always) it's fortified with B-12 vitamins, making it an ideal addition to a vegan diet (since the vegan diet naturally lacks vitamin B-12 and must be supplemented).
For info on the health benefits of Nutritional Yeast, check these articles. To learn more about the latest research on B-12 and the risks of vitamin deficiency, check out Nutritionfacts.org. And to read testimonials from vegan bloggers about the importance of supplementing B-12, take a look at this roundup by VeganLiftz where 24 out of 26 of the bloggers cited B-12 as the most important supplement to a vegan diet.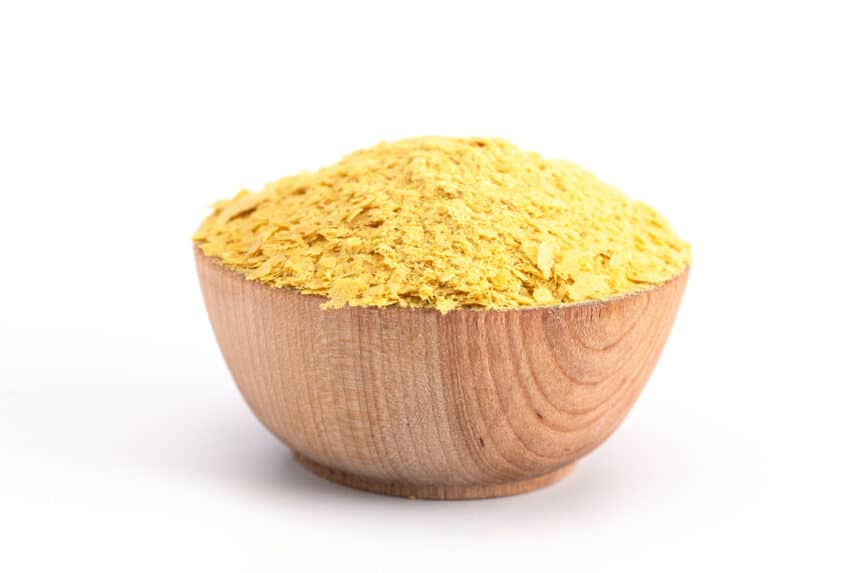 The texture of nutritional yeast can vary somewhat, but it's usually either flaky (like in the photo above) or powdery (like that store-bought parmesan topping that comes in a green cylinder). Nutritional yeast ranges in color from light or bright yellow to wheat-colored. Its flavor is often described as nutty, cheesy, savory, and earthy.
Depending on how it's used in a dish, nutritional yeast can bring out those flavors in other foods. For instance, paired with cashew cream it takes on a distinctly cheese-sauce-like flavor. But paired in other ways it just adds earthy richness to a dish. Nutritional yeast can also act as a binder or breading component.
Where can I buy Nutritional Yeast?
Most big supermarkets and small natural-food stores will carry nutritional yeast. You'll probably find it either in the organic or health-food section of the store or with baking ingredients. You can also order Nutritional Yeast
online.
What is the best brand of Nutritional Yeast?
Unfortunately, I can't give you an answer there. There are a lot of popular brands of Nutritional Yeast. These include Bragg
, Bob's Red Mill
, and Trader Joe's
. But ultimately, different people prefer different brands. My best advice is to start with the brand that's most convenient for you and then branch out later if you need to.
Although it wasn't the case with me, I frequently hear people online talk about how they thought they didn't like Nutritional Yeast until they tried brand X. So if your first foray into the world of Nutritional Yeast doesn't go so well, don't fret! Just play the field a bit until you find the right match.
---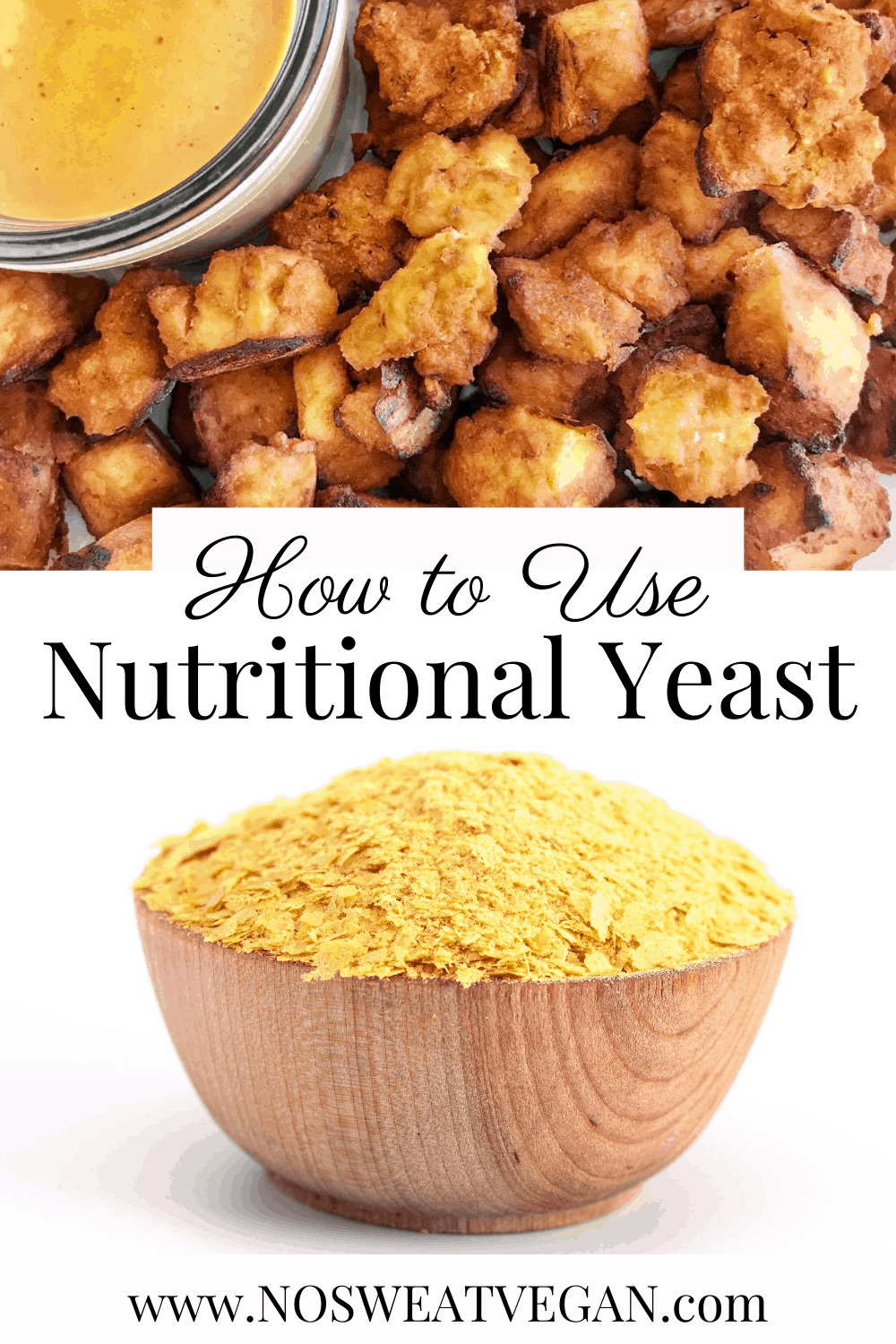 ---
How do you use Nutritional Yeast? What are the best Nutritional Yeast Recipes?
Okay, so now you know what nutritional yeast is and where to buy it. But the biggest question of all is how to use nutritional yeast. A lot of people know it's a common ingredient in vegan cheese, but there are so many other uses! Sometimes I just sprinkle nutritional yeast over whatever I'm eating for extra flavor and vitamin B. Nutritional yeast also makes a great topping for popcorn.
But Nutritional Yeast can do so much more. You can elevate this ingredient and alter the flavor in so many interesting and unique ways. So if you're looking for new ways to use nutritional yeast, read on. Here are more than 10 of my best Nutritional Yeast Recipes.
---
Vegan Condiments made with Nutritional Yeast
Condiments don't always get the credit they deserve--which is a shame because pairing the right condiment with your meal can really take your food from blah to bling! Here are some of my favorite condiments that use nutritional yeast.
I sometimes just sprinkle nutritional yeast over pasta, but if you're looking for something that better replicates the taste of parmesan cheese, this super easy Vegan Parmesan will hit the mark.
Not only is it quick (just 2 minutes to mix everything together), but the combination of hemp seeds and nutritional yeast means this simple topping packs a nutritional punch. It's perfect for topping all sorts of dishes including Cherry Tomato & Basil Pasta, Air Fryer Asparagus, Vegan Italian Salad, Vegan Bolognese, and more.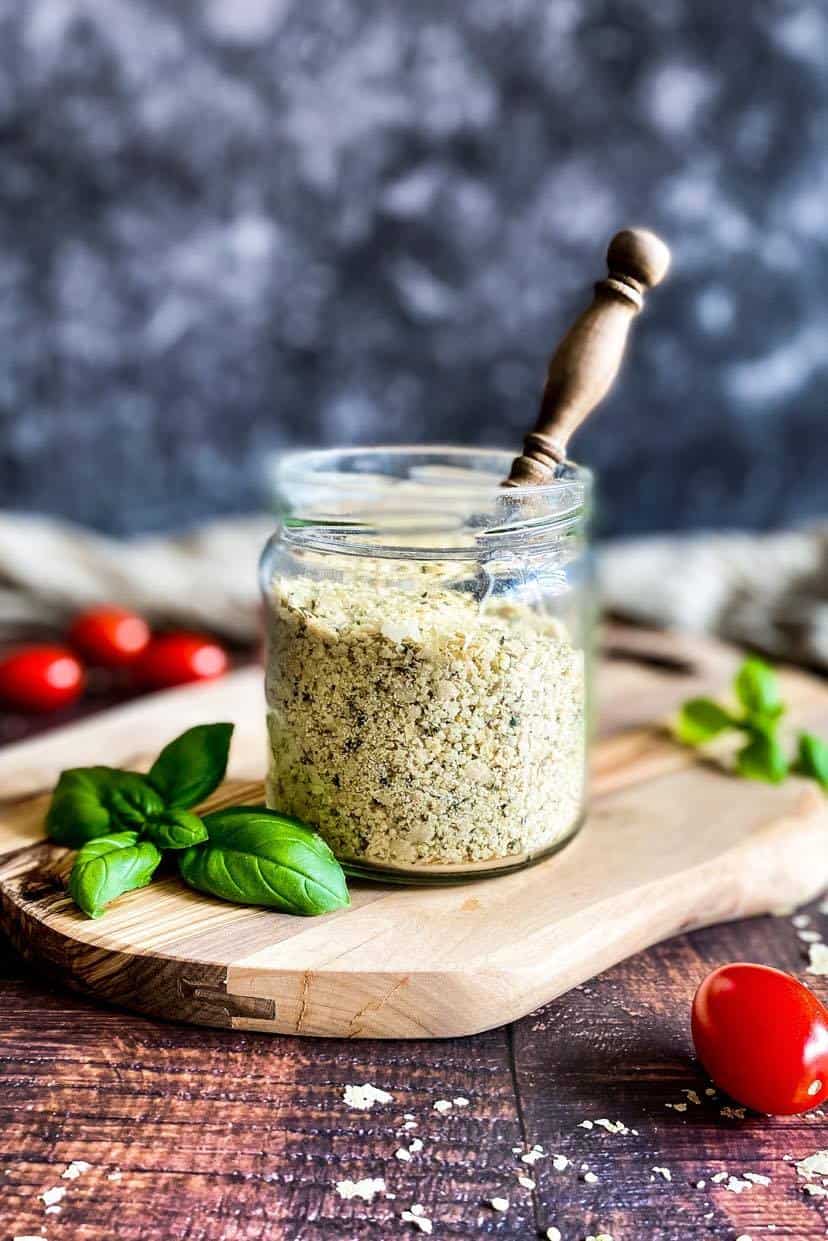 ---
Bright green and full of flavor, pesto is definitely one of my favorite condiments. To make pesto vegan you just need to substitute the parmesan cheese with nutritional yeast. This recipe goes even further by dropping the oil in favor of aquafaba, but the result is still the decadent and creamy sauce that takes anything from pasta salad to sandwiches to the next level of delish.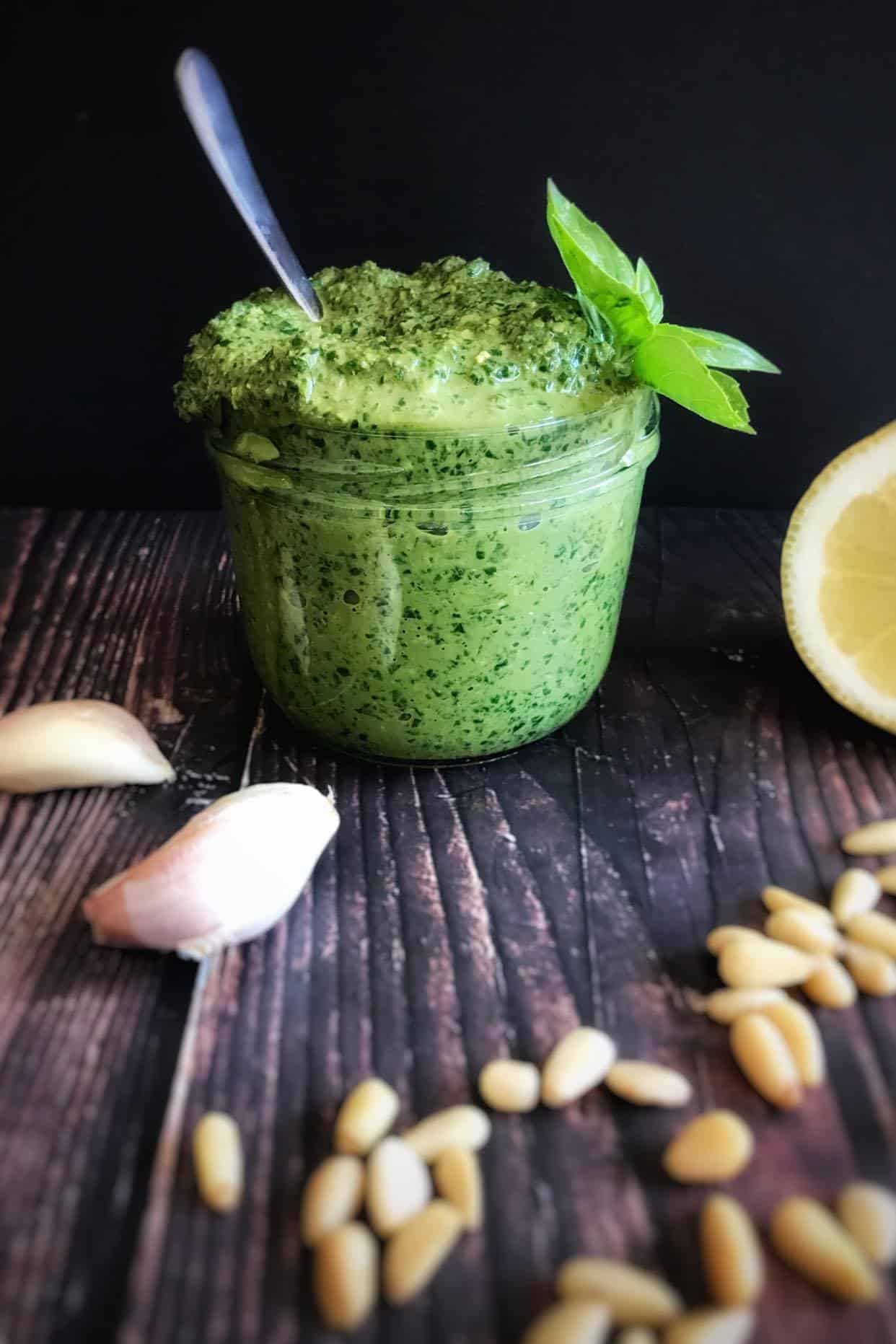 ---
This bright and creamy almond ricotta cheese tastes amazing on toast or crackers or as a substitute for dairy in lasagna or stuffed shells. I even prefer dolloping this on my pizza over using other vegan cheese substitutes. The nutritional yeast adds a subtle, earthy flavor that perfectly compliments the almonds and lemon juice.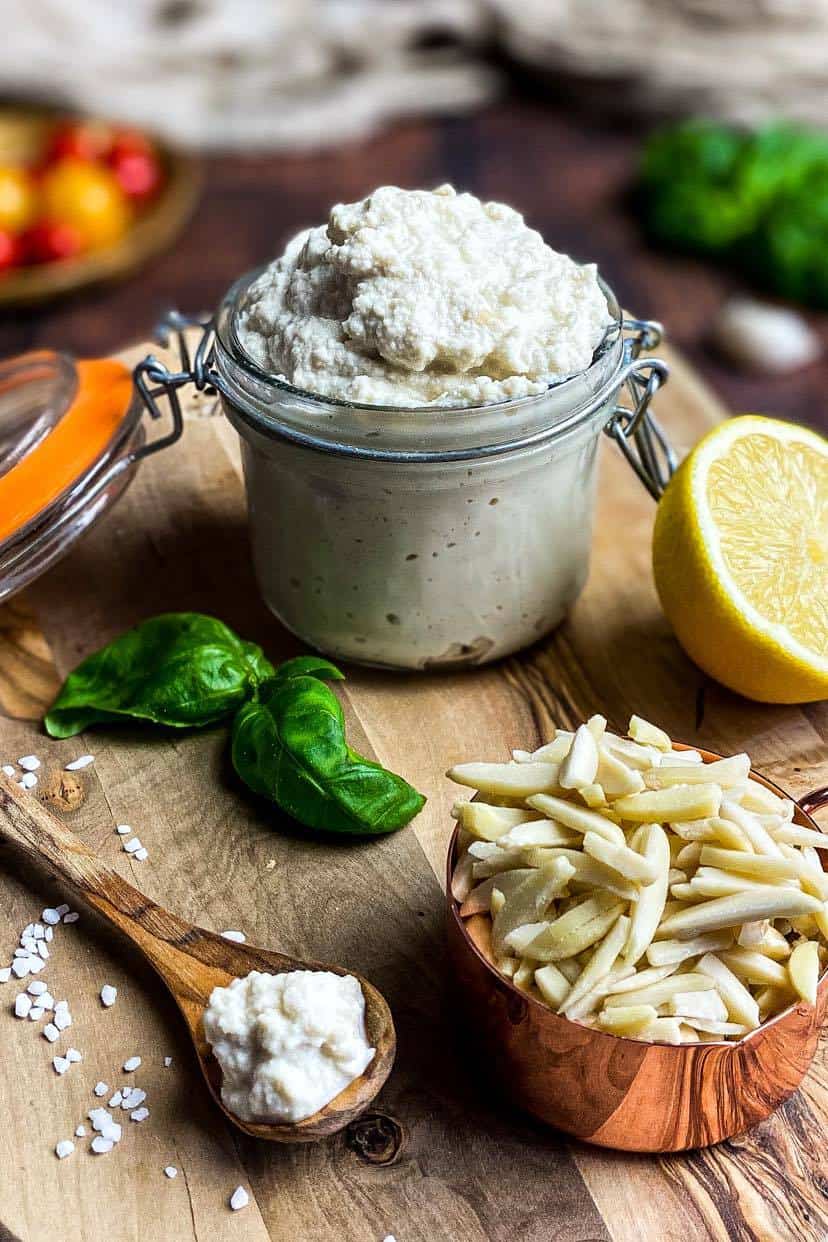 ---
This oil-free vegan aioli (aka vegan mayo) is quick, creamy, and delicious. It's perfect for spreading on a sandwich or using as a base for a salad dressing. It's also ideal for making curry chickpea salad, vegan potato salad, or creamy coleslaw. The main ingredient is silken tofu, but the nutritional yeast helps deepen the flavor and give it that extra something special.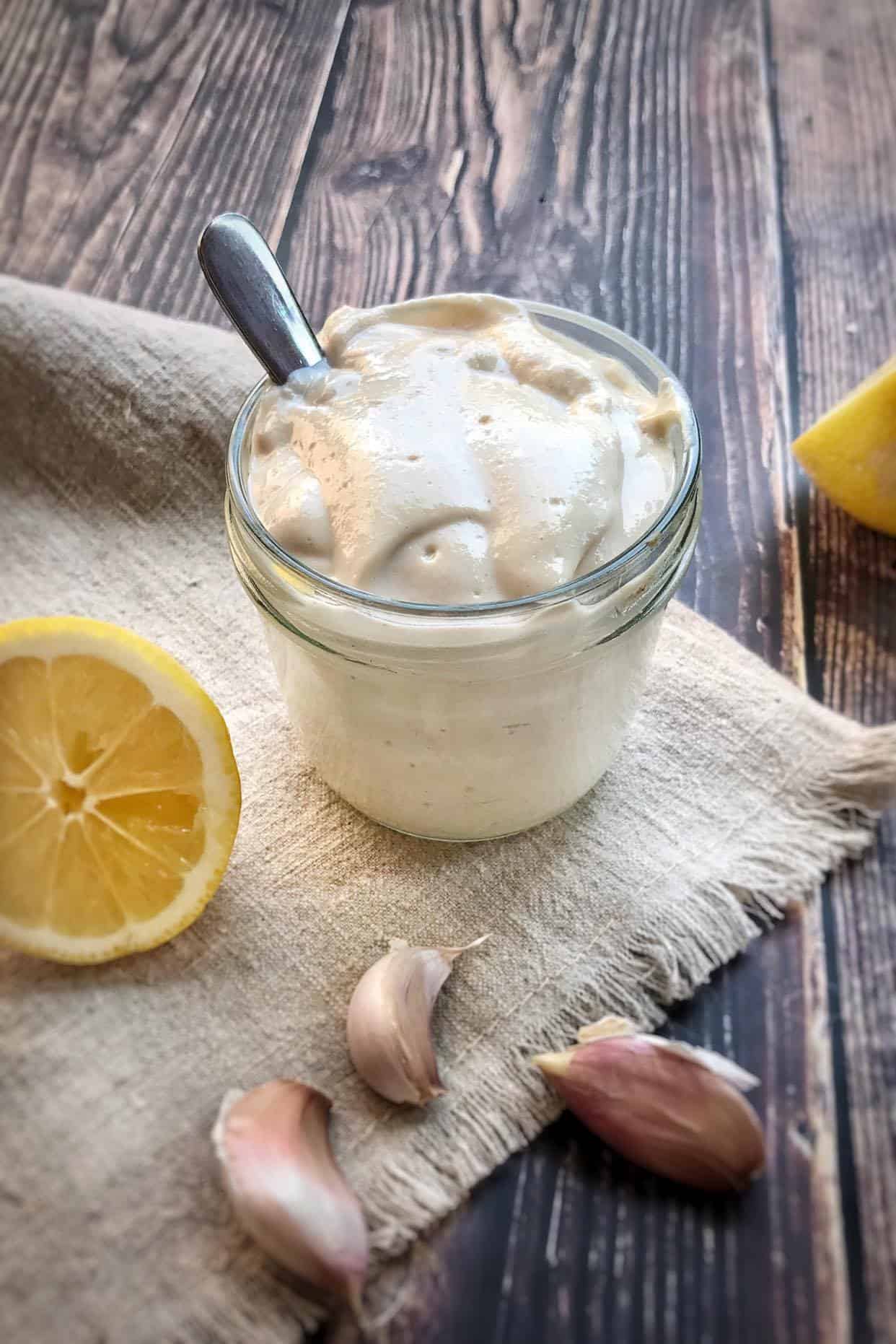 ---
Vegan Snacks and Side Dishes Made with Nutritional Yeast
Who doesn't love a good snack or side dish! Even better with the savory goodness and vitamin boost of nutritional yeast. Here are a few of my favorite plant-based snacks and sides that feature nutritional yeast.
Crispy, crunchy, and oil-free, roasted chickpeas are one of my favorite healthy snacks. And one of my favorite flavor combinations for roasted chickpeas is Vegan Parmesan & Garlic. Just mix together a little lemon juice, garlic powder, dried oregano, and nutritional yeast for an earthy and delicious flavor combination.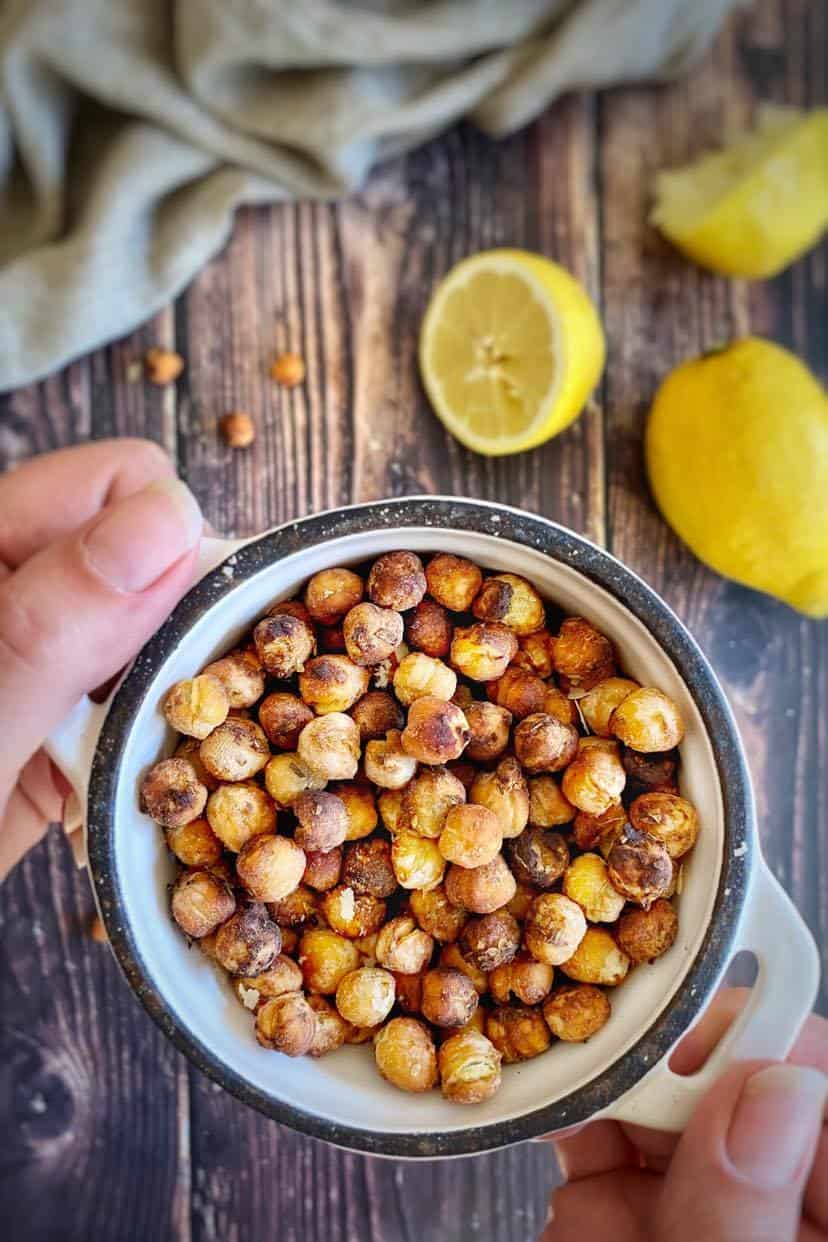 ---
When you go vegan, one of the hardest things (for most people) to give up is cheese. But there is something so rich, decadent, and cheesy about this combination of blended cashews and nutritional yeast. Not only is it delicious as a dip, but it also makes for the perfect filling for Vegan Taquitos.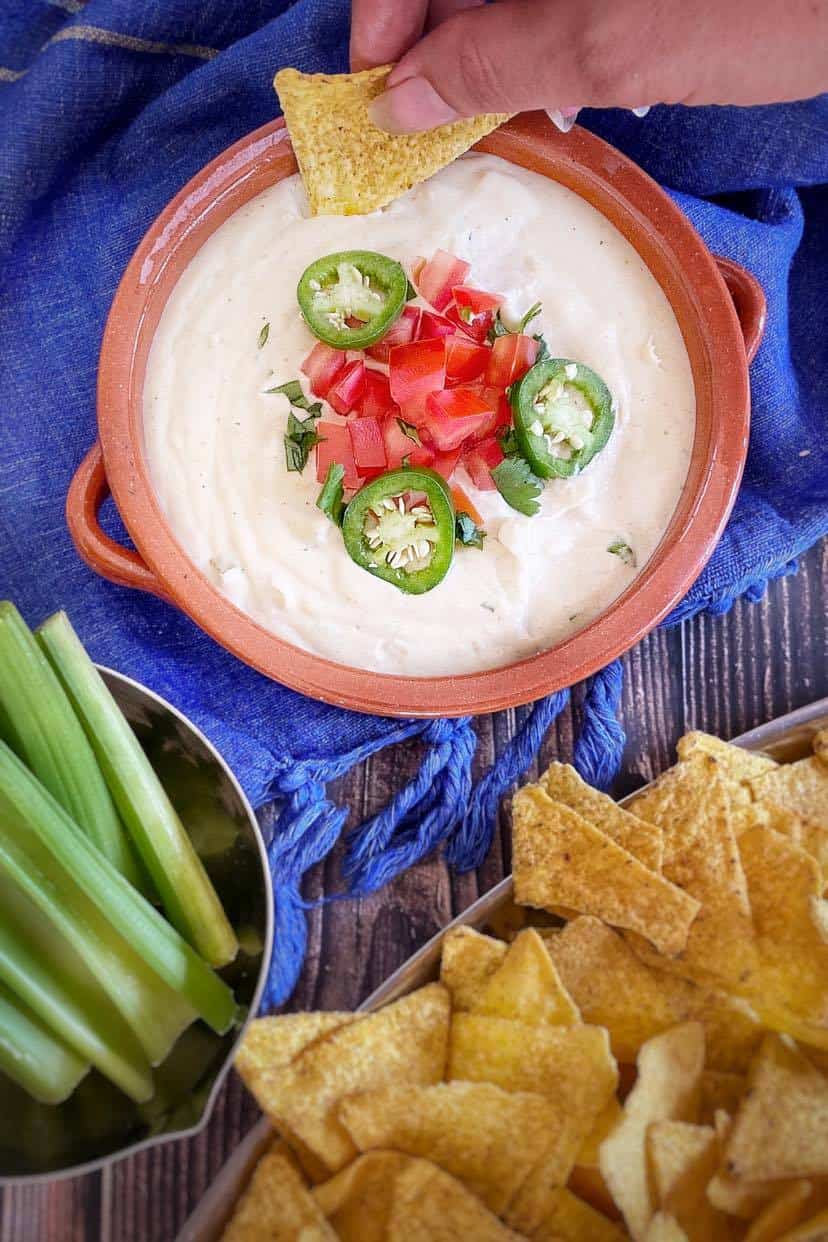 ---
If you're following a whole-food plant-based lifestyle or just trying to cut or limit oil in your diet, then you might think mashed potatoes are off the table for good. But guess what? You can make rich, creamy, buttery Vegan Mashed Potatoes without and butter or oil. And guess what the secret ingredient is? That's right, Nutritional Yeast! These mashed potatoes are easy enough for a busy weeknight but special enough for a holiday feast!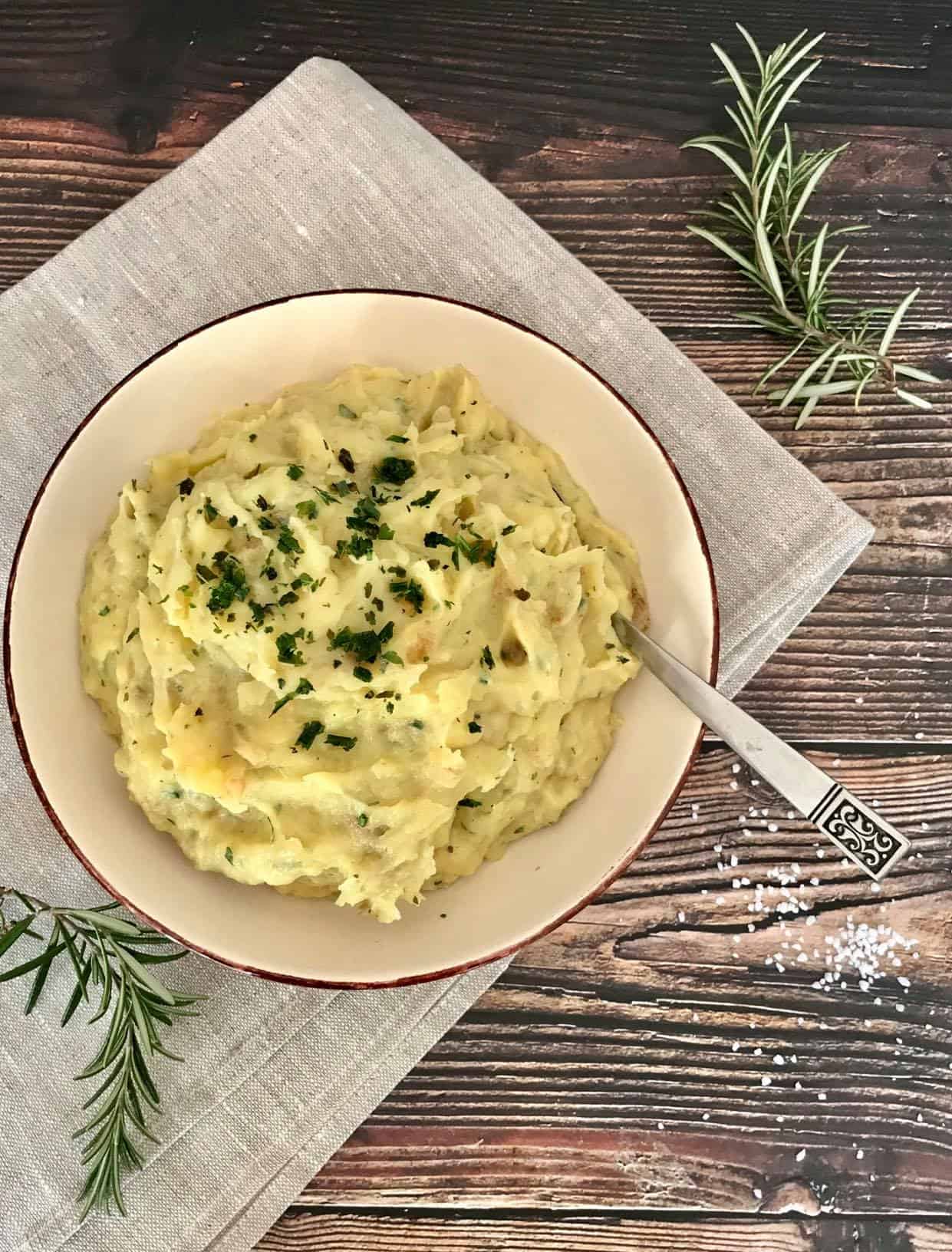 ---
Vegan Main Courses made with Nutritional Yeast
There's a reason it's called the main course. And while Nutritional Yeast might not be the obvious star in this category, these main course recipes wouldn't be the same without it.
Tofu Nuggets are one of my favorite go-to vegan recipes. Not only are they super versatile, but they're also kid-friendly. Tofu nuggets are oil-free, easy to prep, and require almost no clean-up. Just pop them in the oven or make them in an air fryer. Nutritional yeast acts as a kind of binder or breading that gives these nuggets their flavor and creates a crispy coating.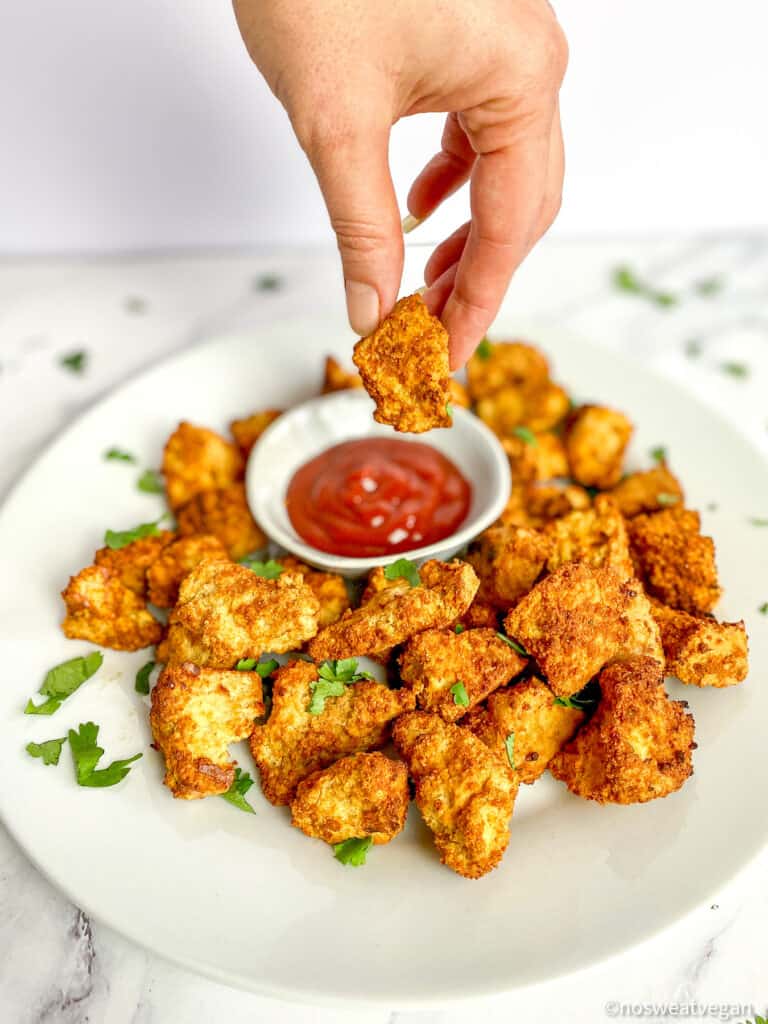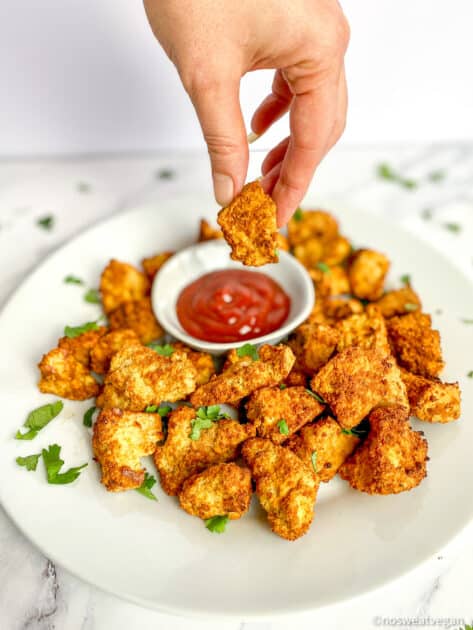 Some of my favorite varieties include the classic Tofu Nugget and Chile-lime Tofu Nuggets. But by far, my most popular recipe is for Chick-fil-A Style Tofu Nuggets with Vegan Honey Mustard Sauce. Give them all a try and let me know in the comments which one you like the best!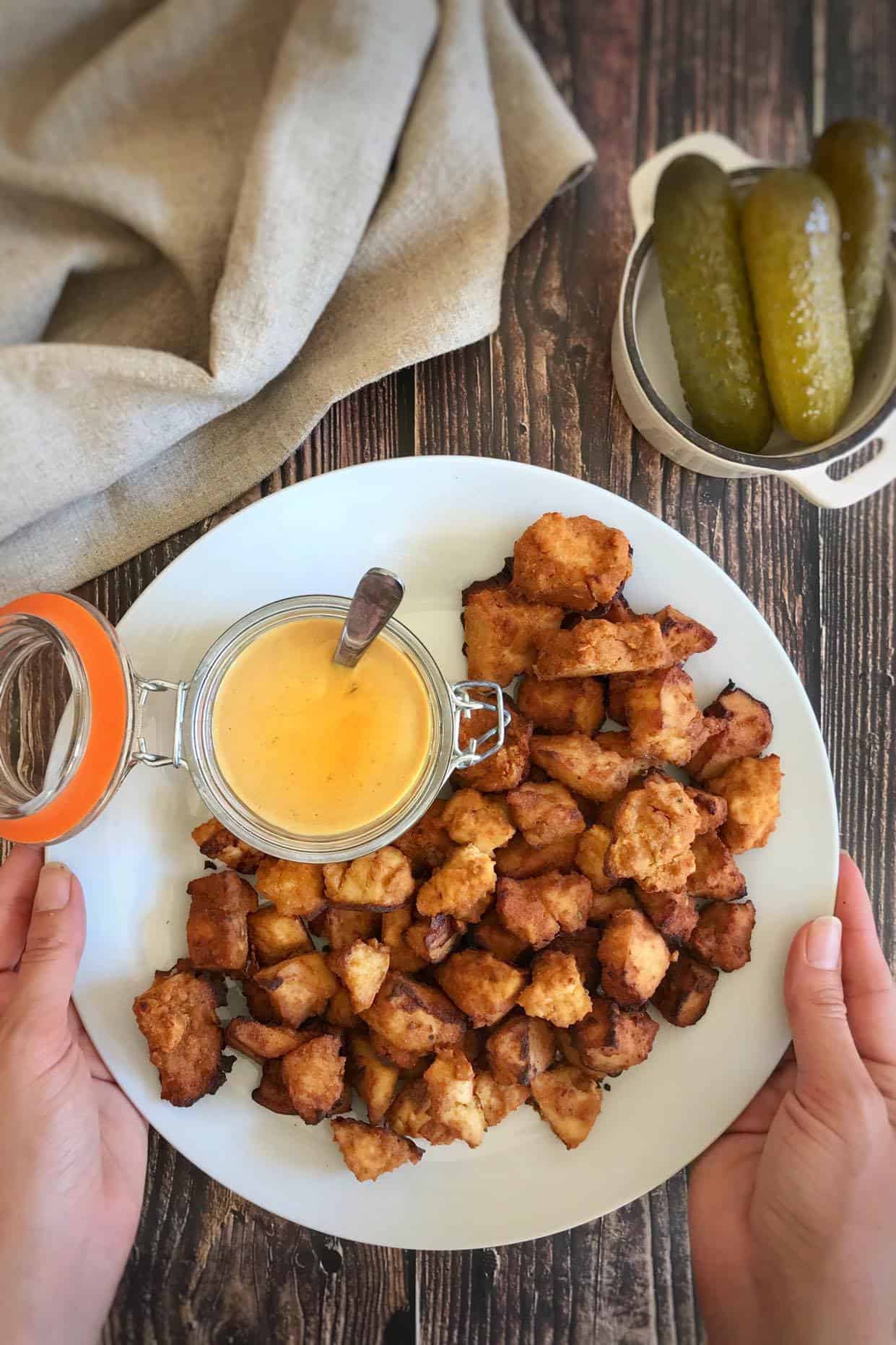 ---
As with the tofu nuggets above, this Sticky Orange Tofu (aka Vegan Orange Chicken) uses Nutritional Yeast as a binder to help give the tofu a crispy and flavorful exterior. After you add the Orange Sauce and serve over rice you'll be thrilled by how much this meal resembles this classic takeout dish!
---
Nutritional Yeast adds creaminess and also helps thicken this delicious vegan potato soup. I love this recipes because it's simple, quick, and kid-friendly. You can even use an immersion blender if you prefer a smoother texture.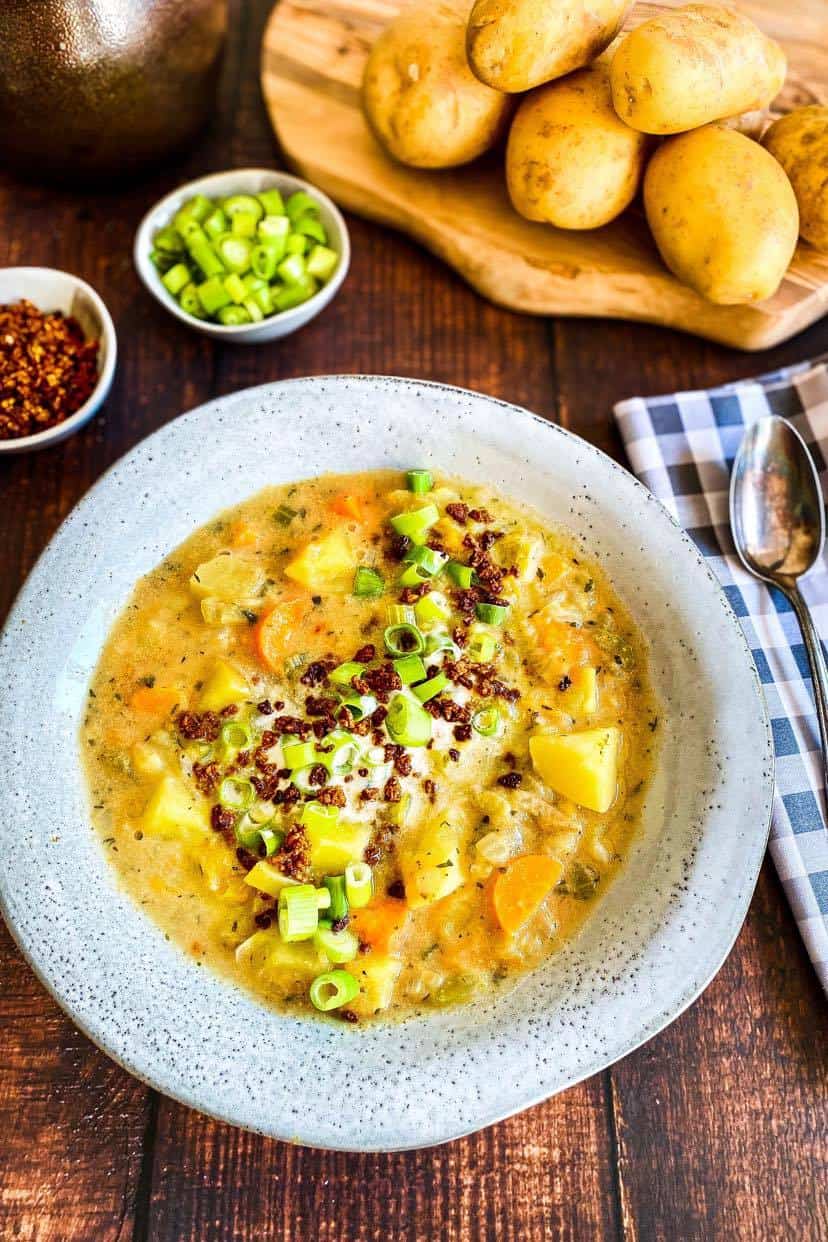 ---
Nutritional Yeast comes into play not once but twice in this Vegan Palak Paneer. First, the nutritional yeast and lemon juice combine to coat the fresh tofu and help impart traditional paneer (cheese) flavors. Next, nutritional yeast helps add creaminess and richness to the palak (spinach) sauce. If you want a plant-based version of this Indian dish, you won't be disappointed.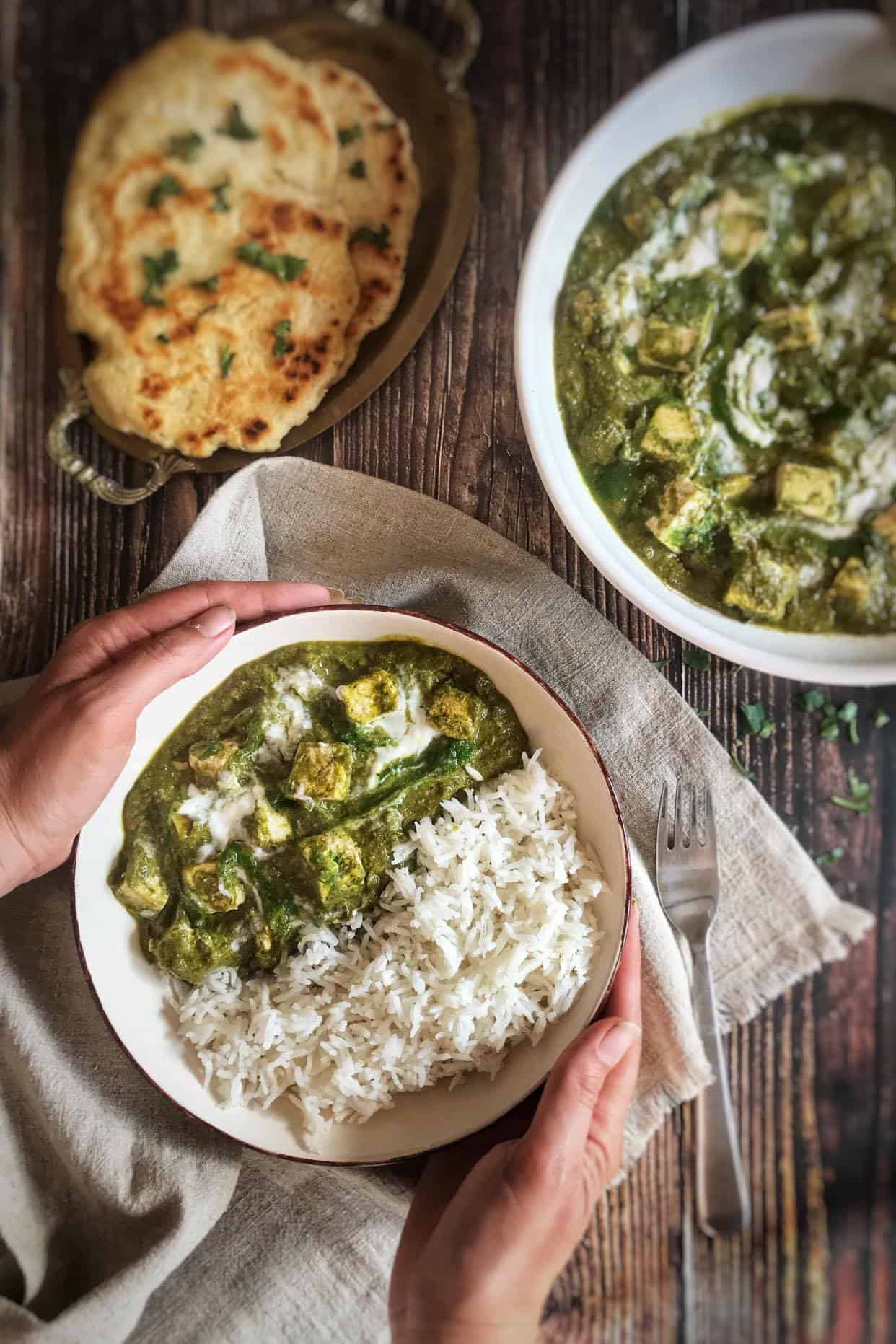 ---
If you're missing eggs since going plant-based, then a quick tofu scramble is one of the easiest ways to scratch that itch. The combination of Nutritional Yeast
and Kala Namak
is what makes this dish work.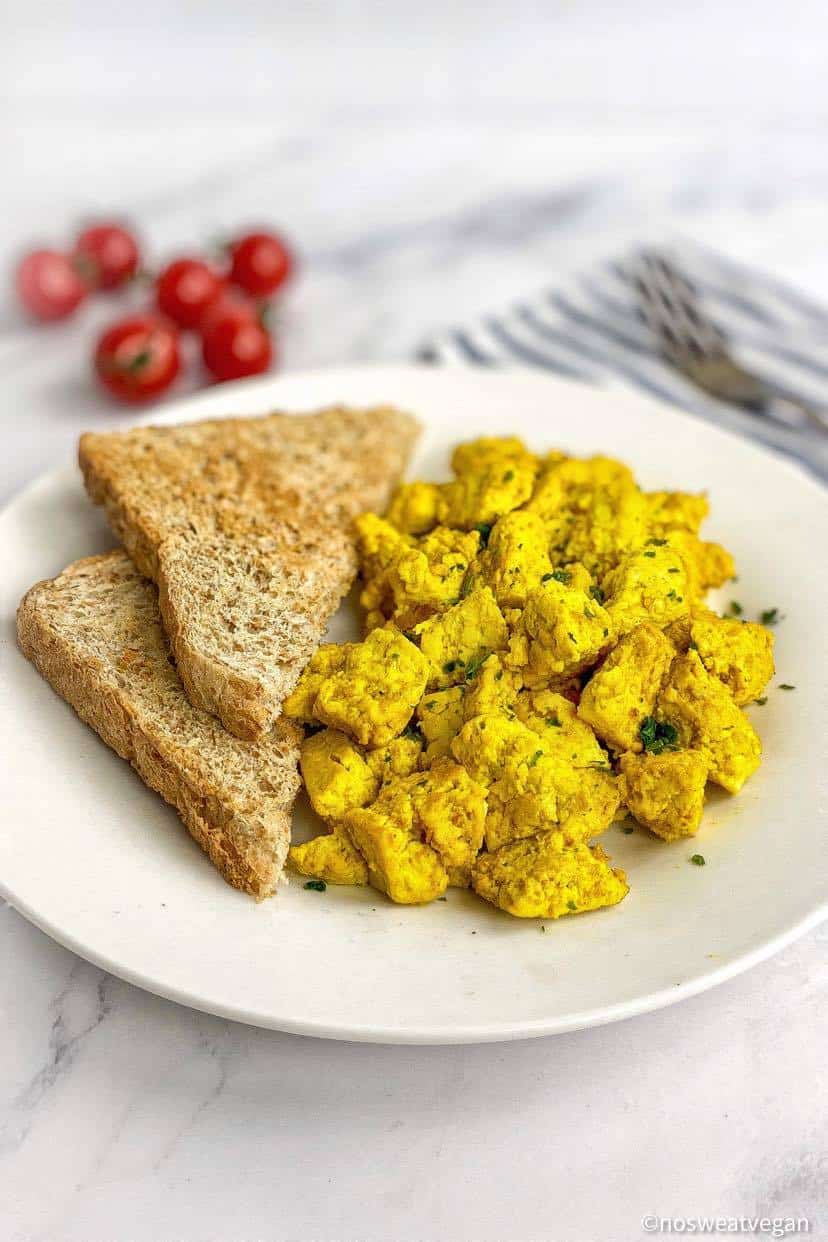 ---
Speaking of tofu scramble, why not take it up a notch to make a simple Vegan Deviled Egg? I like the simplicity of spreading this mixture on little toasts to make deviled egg crostini, but it also works well as a sandwich or over a bed of lettuce. Perfect as a main course, side dish, lunch, appetizer--or however you like!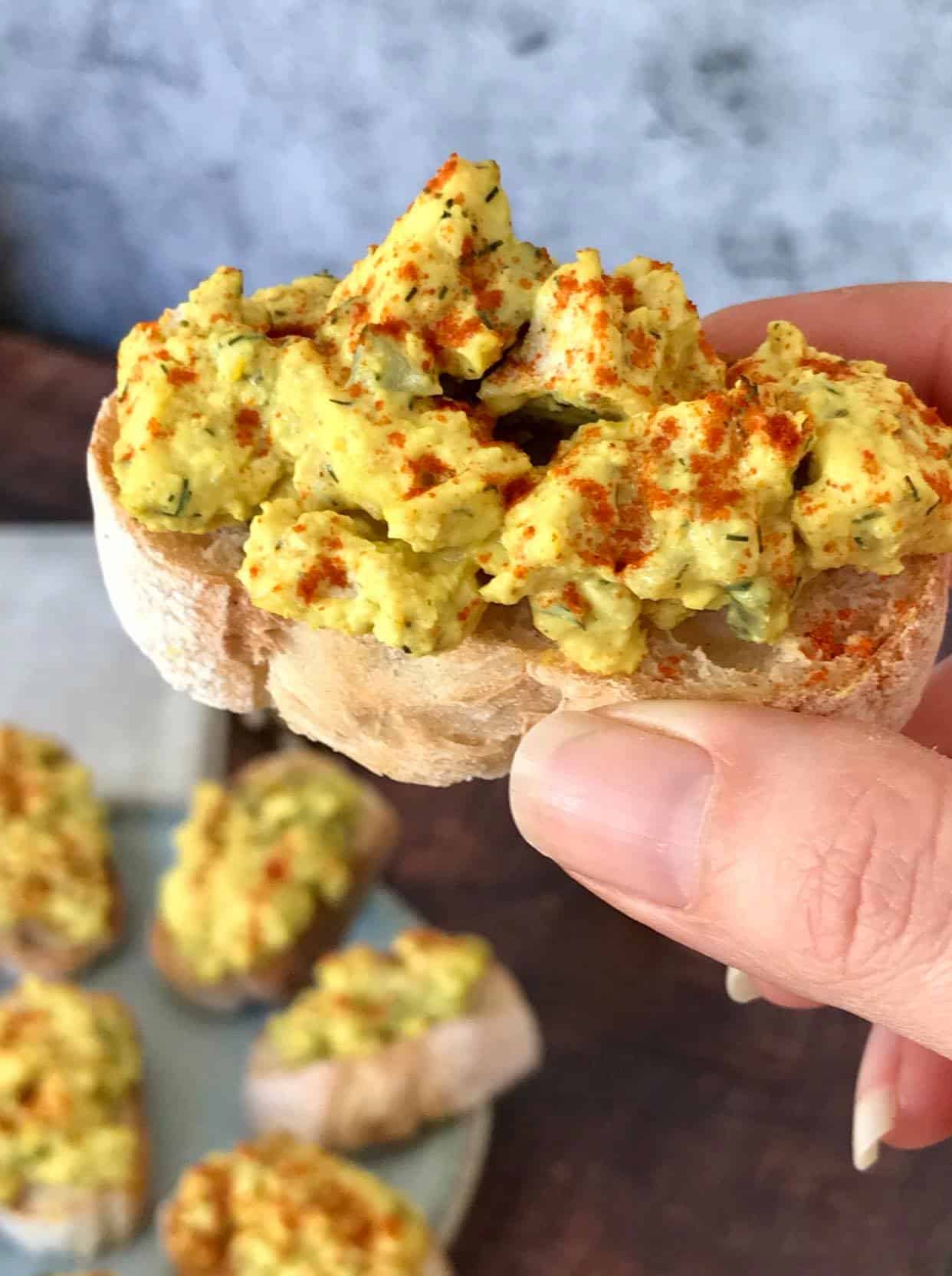 ---
📖 Recipe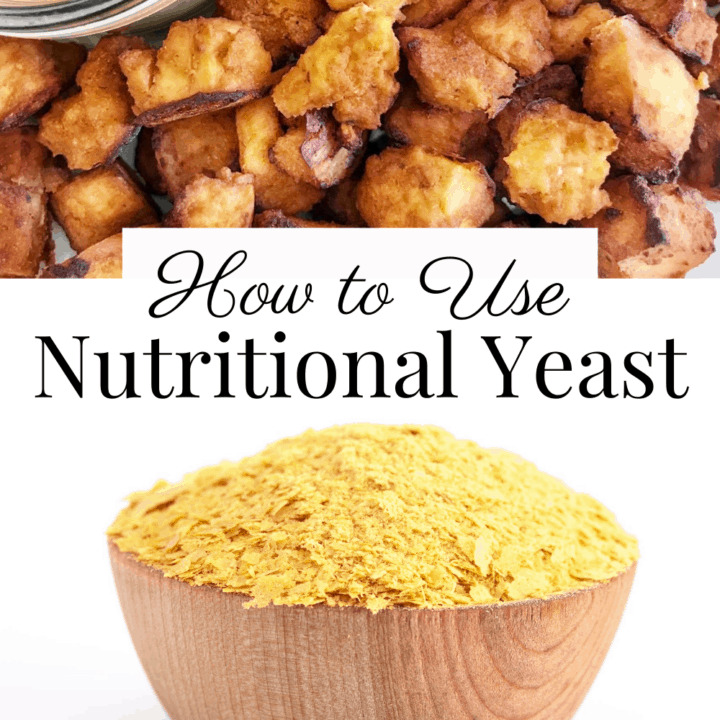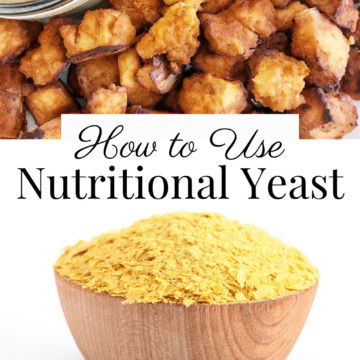 Nutritional Yeast Recipes
Here's one of my favorite nutritional yeast recipes: Easy Vegan Parmesan! It takes just two minutes to mix everything together and I always have some on hand to top pasta and veggie dishes.
Instructions
Add all of the ingredients to a glass jar. Screw the lid tight on the jar. Shake the jar until all of the ingredients are evenly incorporated.

Serve and enjoy right away or store for later.
Save this Recipe
Saved!
Notes
Store in an airtight container at room temperature for up to 3 months.
Want access to my Exclusive Meal Planning Tips & Printables page?