Hemp hearts and nutritional yeast give this vegan parmesan cheese a rich & nutty flavor. It's perfect for topping everything from pasta to avocado toast. Best of all this recipe has just 5 ingredients & comes together in 2 minutes!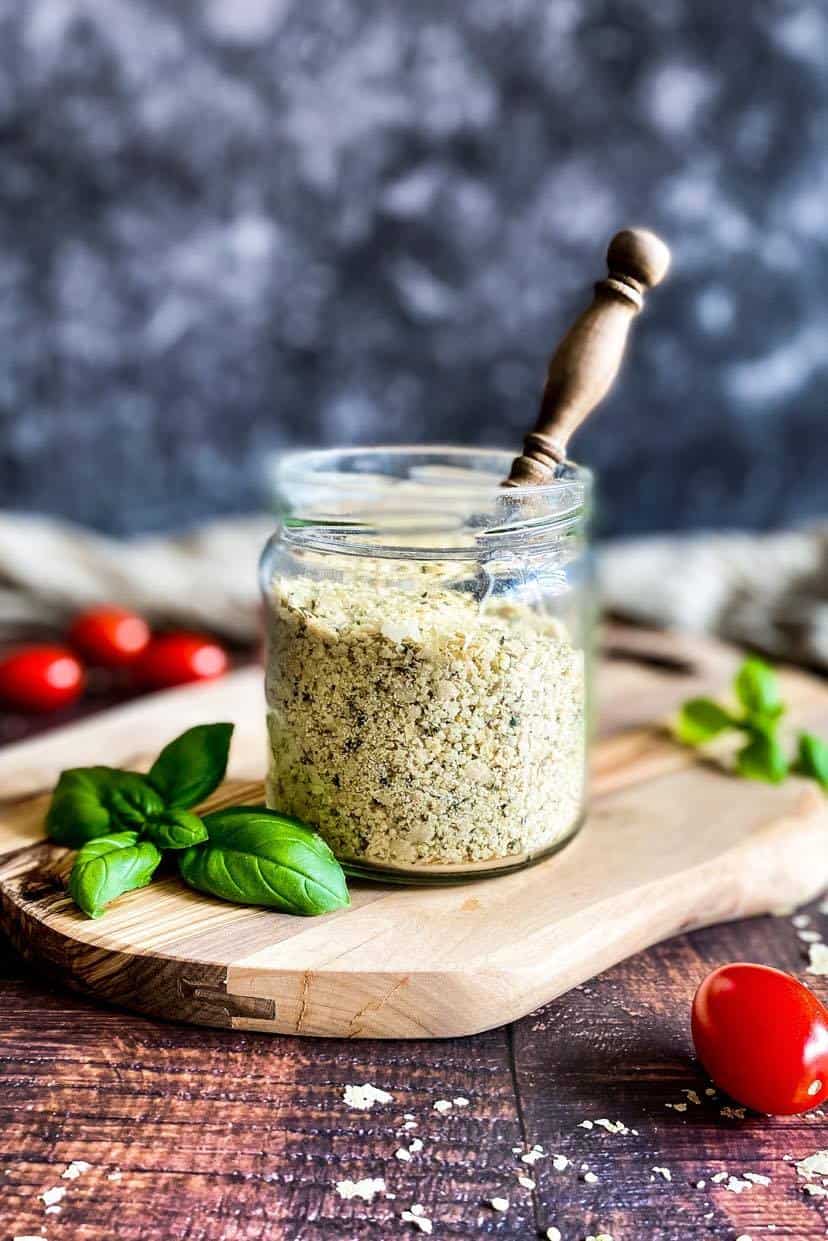 ---
If you love the rich nutty flavor of parmesan cheese, but you're looking for a vegan substitute, then you're in luck! Not only is this vegan parmesan cheese a delicious topping for calssic spaghetti or any type of pasta, a chopped Italian Salad, Roasted Brussels Sprouts, or avocado toast, but it requires just 5 ingredients, comes together in mere minutes, and has virtually no clean-up.
This is vegan parmesan cheese is a healthy alternative to store-bought versions because you get to control the ingredients. Plus the main ingredient is hemp hearts, which are vitamin and protein-rich (not to mention tasty).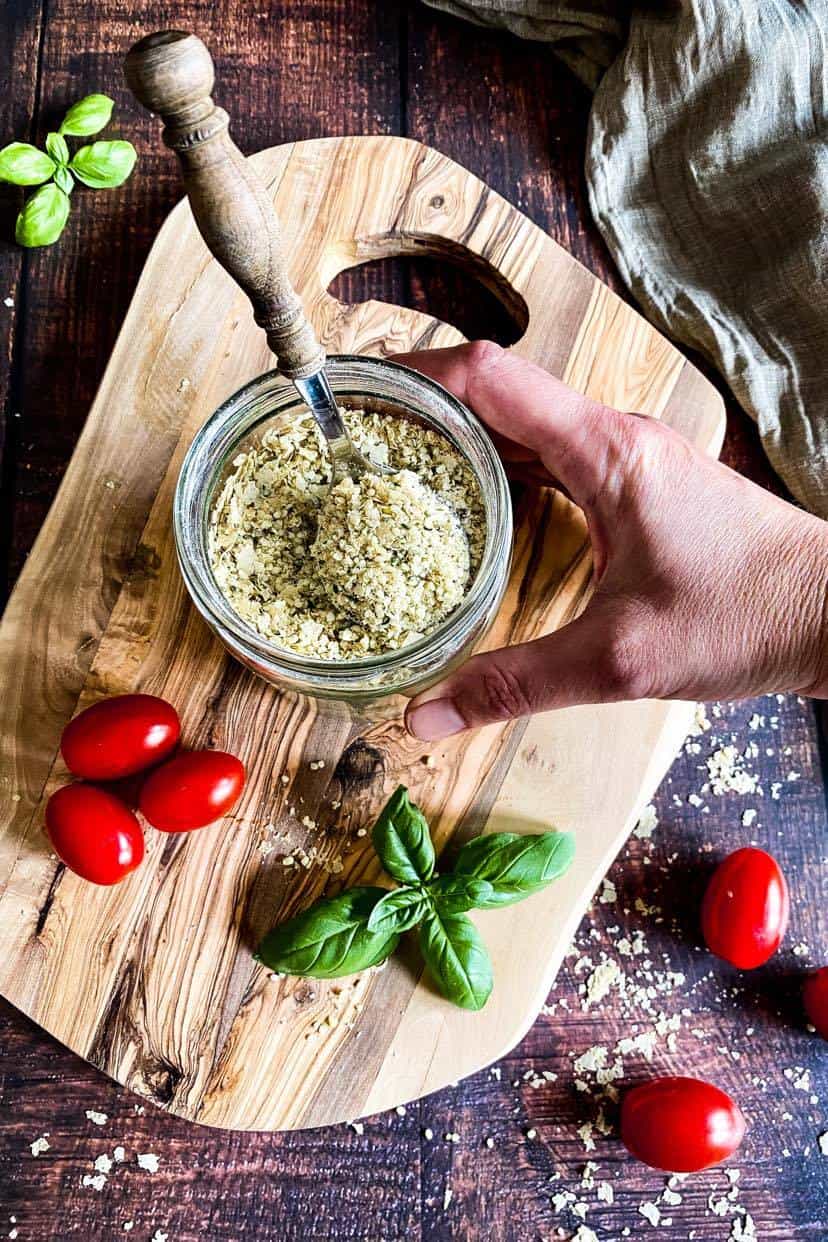 ---
Does this Vegan parmesan taste exactly like parmesan cheese?
Well. . . I'd be lying if I said you won't know the difference. However, given how quick and easy this recipe is, it does a really nice job of replicating the important flavor profiles of parmesan cheese (cheesy, nutty, & salty). When you sprinkle this over pasta, a salad, or even avocado toast it's going to impart all of those flavors and give your dish some extra depth.
Is parmesan cheese cegetarian?
Actually, no. Regular parmesan cheese is not vegetarian. Certain cheeses (like parmesan, pecorino romano, gruyere, and more) contain an ingredient called rennet, which is made from the lining of the intestines of goats and calves. Therefore, vegetarians and vegans alike should also avoid products containing rennet.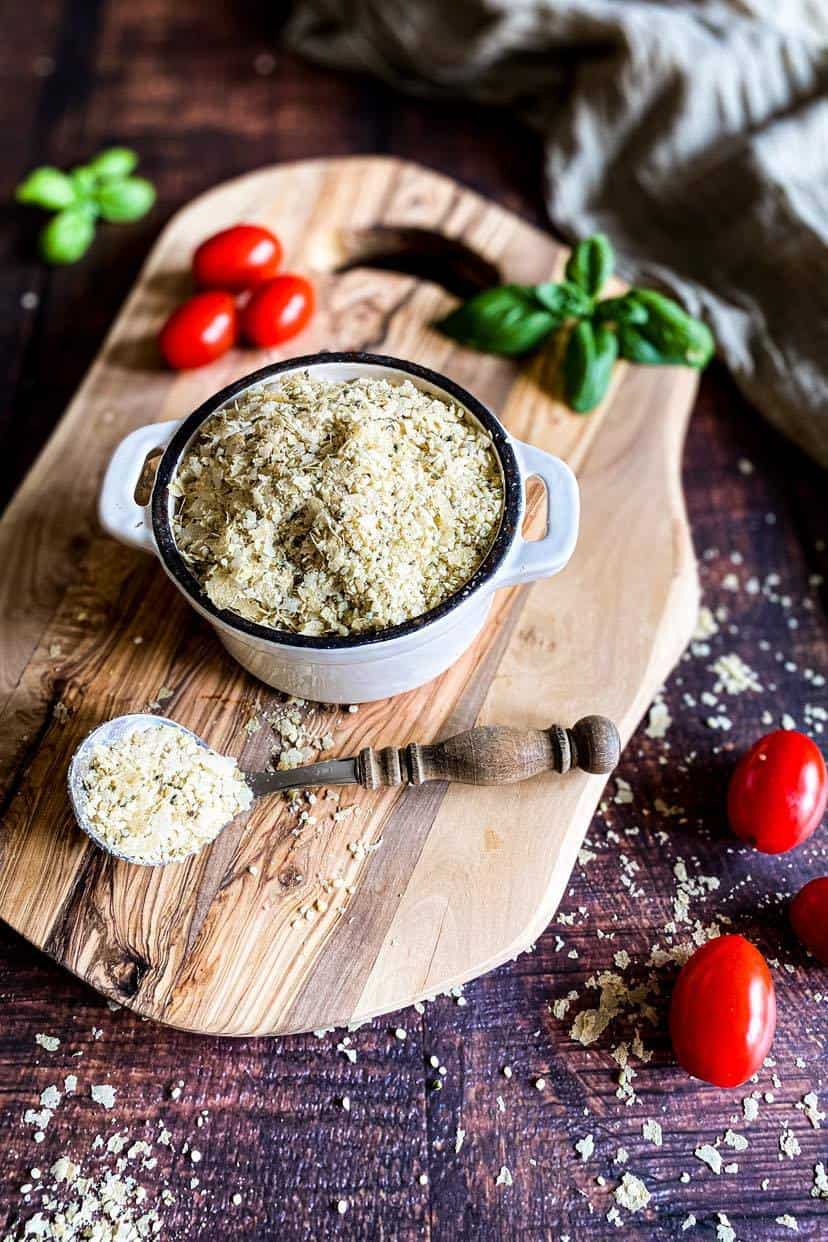 ---
What are hemp seeds/hemp hearts?
Hemp hearts are the shelled seeds of hemp plants, but don't worry! They won't get you high. I promise. Hemp seeds contain only the merest traces of THC, if any. Hemp hearts are incredibly nutritious, with high amounts of protein, fiber, vitamins, and minerals.
Hemp hearts have a subtle nutty flavor and go great with both sweet and savory dishes. I love sprinkling hemp hearts over smoothie bowls or on my morning muesli. They also taste great on avocado toast or as a salad topper. And, of course, they make an excellent addition to a nut-free vegan cheese.
One of the reasons I love using hemp hearts in this recipe is that they are already quite small, so there's no need to pull out the food processor and--more importantly--no need to wash the food processor. I call that a win.
I buy my hemp hearts at a local health-food store, but if you're in the US you can probably find them at your regular grocery store in the organic or health-food section. You can also order Hemp Hearts
online.
Can I use something other than hemp hearts and still keep it nut-free?
Yes! You can also use sunflower seeds to make this Vegan Parmesan and still keep it nut-free. You will, however, need to use a food processor or high-speed blender to pulse everything together and break down the sunflower seeds. On the plus side, sunflower seeds are more budget-friendly than hemp hearts, so if you're on a tight budget it might be worth the added hassle.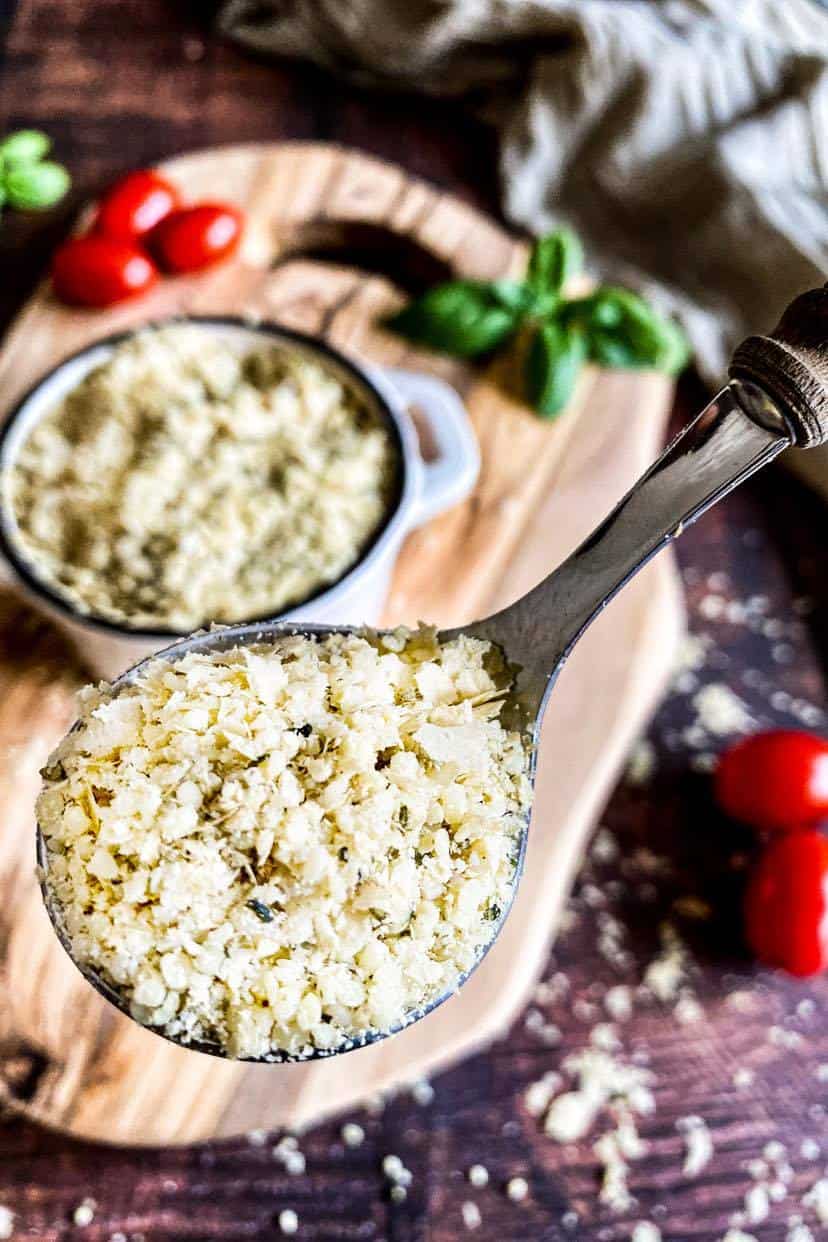 ---
Can I use nuts?
Sure! If you can't find hemp hearts or would just rather use nuts, there are plenty of nut options you could use instead. Cashews, almonds, and macadamia nuts are good substitutes.
However, if you use nuts this recipe will no longer be nut-free (obviously) and you will need to use a food processor to break down the nuts. Simply substitute your nut of choice for the hemp hearts, add to a food processor with the other ingredients, and pulse a few times until everything is broken down and combined.
Ingredients
How to make
Honestly, this nut-free vegan parmesan cheese recipe could not be easier! Simply measure out your hemp hearts, nutritional yeast, granulated garlic, oregano, and salt. Add everything to a glass jar, put on the lid, and shake to combine. Or add everything to a bowl and stir. Ready to serve right away!
Even though oregano isn't a traditional ingredient in parmesan, I like the added flavor boost, but if you don't want it, just leave it out.
If you are trying to avoid extra sodium, you can also leave out the salt, but you will miss an important component of the flavor profile. If you choose to leave out the salt, then I recommend adding a small amount (about 1 tsp) of onion powder.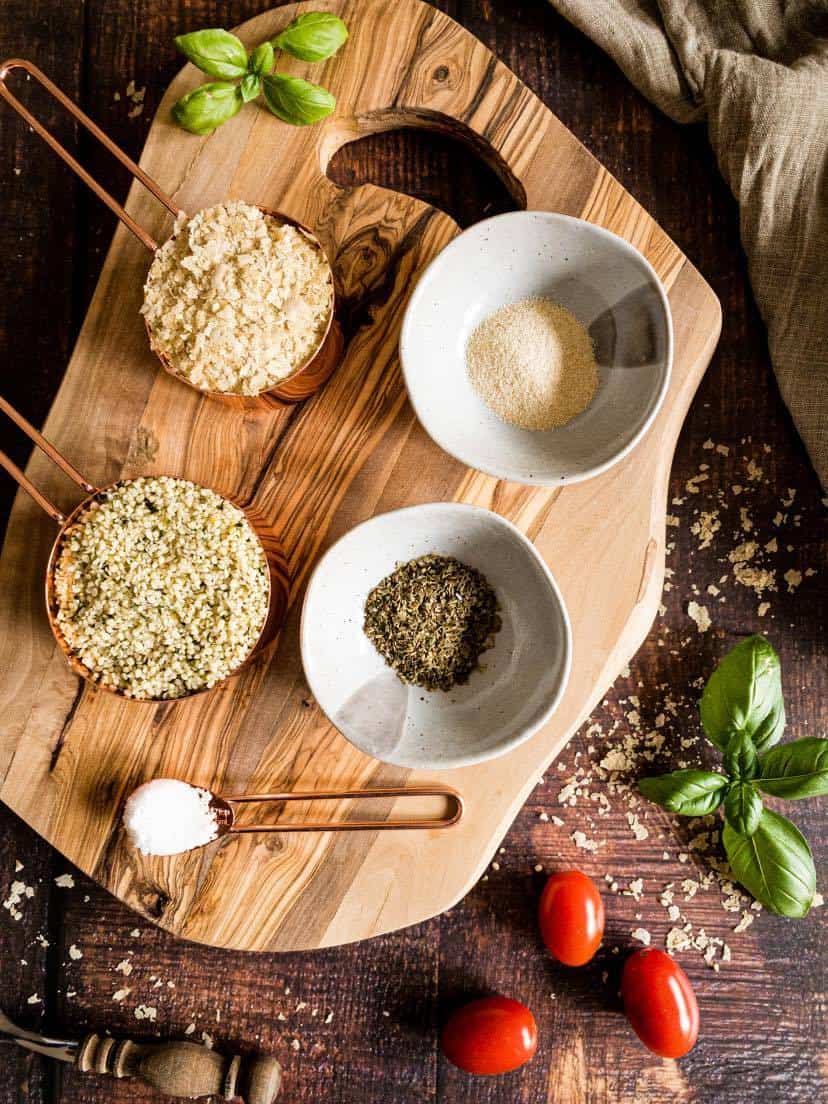 ---
How to serve
Serve this vegan parmesan sprinkled over your favorite pasta dish. Some of my favorites include:
This parmesan also tastes great on roasted veggies, air fryer veggies, pizza, and salads. Try it with any of these:
How to store
All of these ingredients are shelf-stable, so you could store this in a glass jar at room temp for up to 3 months. Alternatively, this vegan parmesan should last in the refrigerator for 6 months.
So that's it! in just a few minutes you'll have a delicious vegan parmesan that's perfect for topping all sorts of dishes and lasts for several months. Best recipe ever! Enjoy!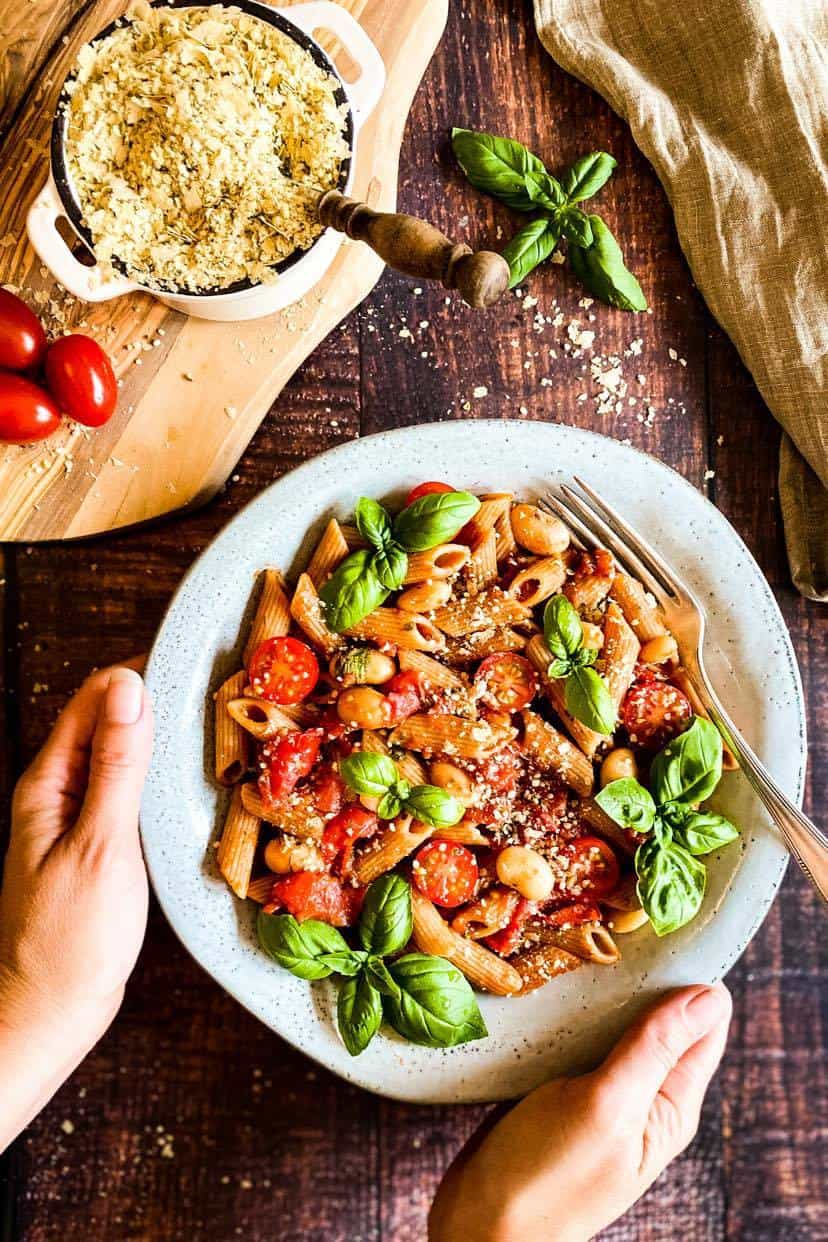 ---
Related recipes
---
📖 Recipe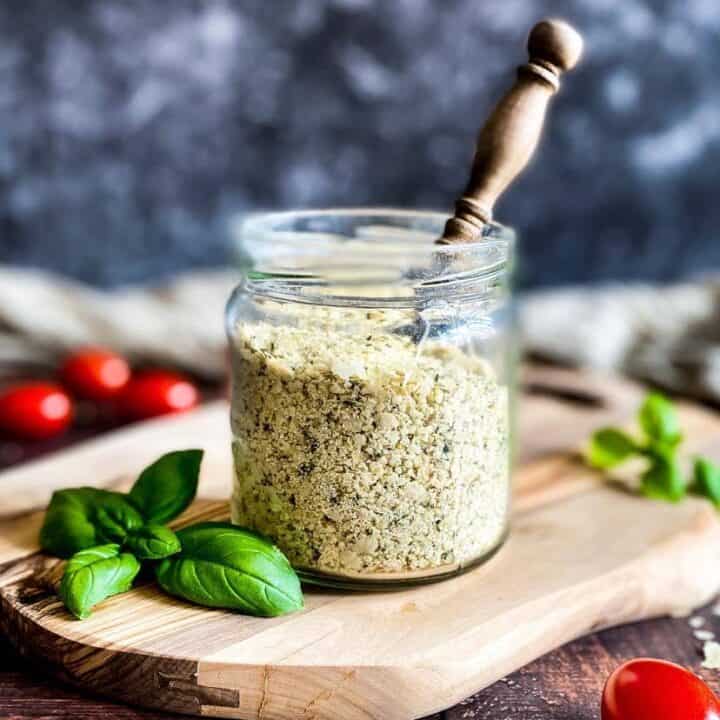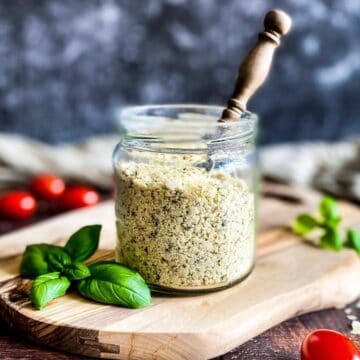 Vegan Parmesan Cheese (Nut-Free & Dairy-Free)
Hemp hearts and nutritional yeast give this vegan parmesan cheese a rich & nutty flavor. It's perfect for topping everything from pasta to avocado toast. Best of all this recipe comes together in 2 minutes!
Instructions
Add all of the ingredients to a glass jar. Place the lid on the jar and screw tight. Shake the jar to combine.

Alternately, you can place all of the ingredients in a bowl and stir to combine.

Use right away and store the rest for later. Sprinkle over pasta, avocado toast, salads, or wherever you'd add parmesan cheese.
Storage
This recipe will make a large batch of vegan parmesan. You can store it in a glass jar or airtight container at room temperature for up to 3 months or in the refrigerator for up to six months.
Save this Recipe
Saved!
Notes
This is a versatile recipe and you can easily change the amounts of different ingredients to suit your taste. For instance, if you want to up the cheesy flavor, add more nutritional yeast.
I tried a version of this recipe with 1 teaspoon of onion powder and found it to be too overpowering. However, if you are avoiding salt, you can try substituting with a ½ teaspoon of onion powder.
For a more budget-friendly recipe, substitute sunflower seeds for the hemp hearts. You will need to pulse everything in a food processor or high-powered blender in order to get the right consistency.
---
Want access to my Exclusive Meal Planning Tips & Printables page?