Penne Pasta with Kale & Vegan Italian Sausage is a healthy twist on a classic Tuscan combination. Whole wheat pasta and colorful veggies will make this quick and flavorful dish a family favorite. If you're looking for a way to eat more greens, give this recipe a try!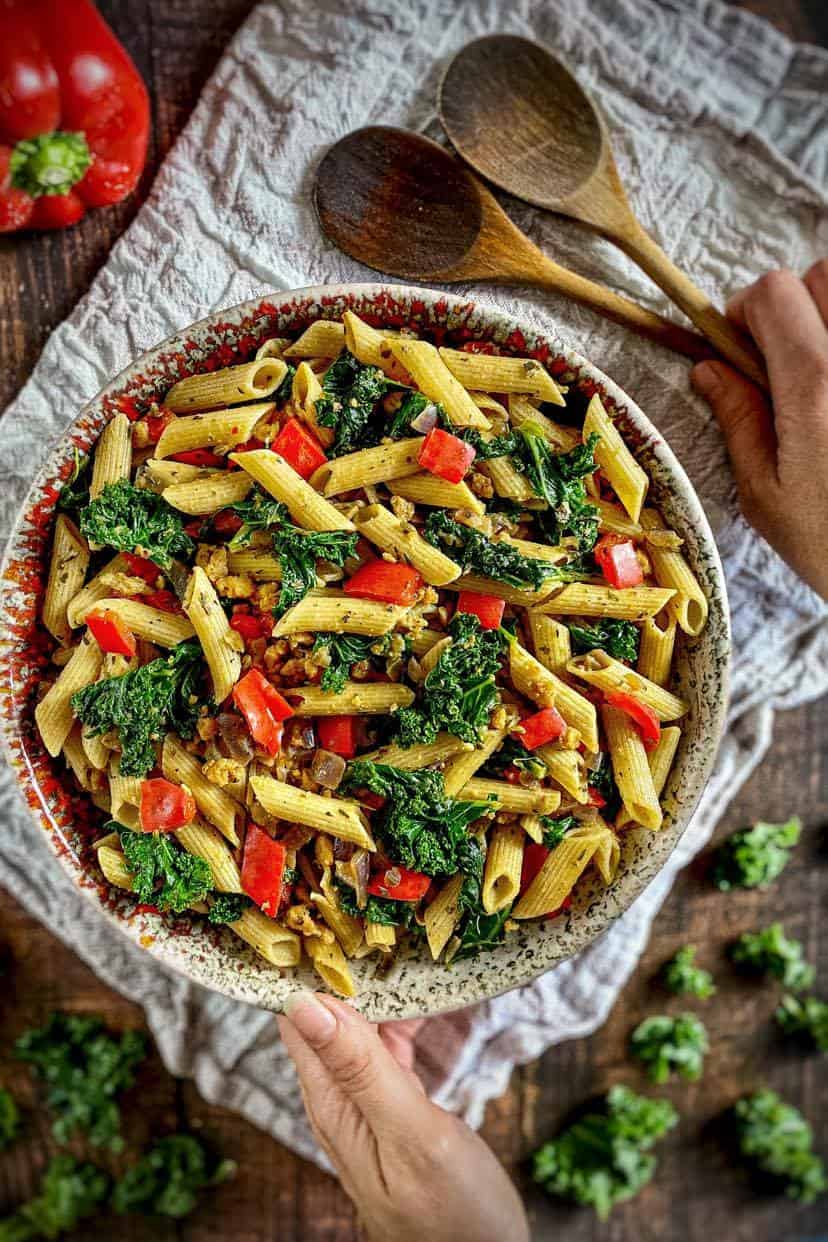 If you love the classic combination of kale and Italian sausage but want to find a healthier, meat-free way of serving it, then this Vegan Penne Pasta recipe is just right. The combination of whole wheat pasta and vegan Italian sausage crumbles helps bump up the protein. The bright colors, mix of textures, and awesome flavors make this a great dish to serve to your family. And since it also tastes delicious as a cold pasta salad it's perfect for lunch prep!
This Vegan Tuscan Pasta is one of my favorite ways to eat kale. The trick to any good kale recipe is massaging the kale first. If you don't believe me, give it a try. You'll be amazed by how easily the bitterness of the raw kale melts away and transforms into a soft and flavorful veggie.
You'll love this Penne Pasta Recipe because it's:
Healthy & Oil-Free
Vegan / Vegetarian / Meat-free
Kid-friendly (Really!)
Rich in Vitamins and Antioxidants
A flavorful way to get your greens and cruciferous veggies
Quick & Easy
A Delicious & Filling Pasta Dish!
---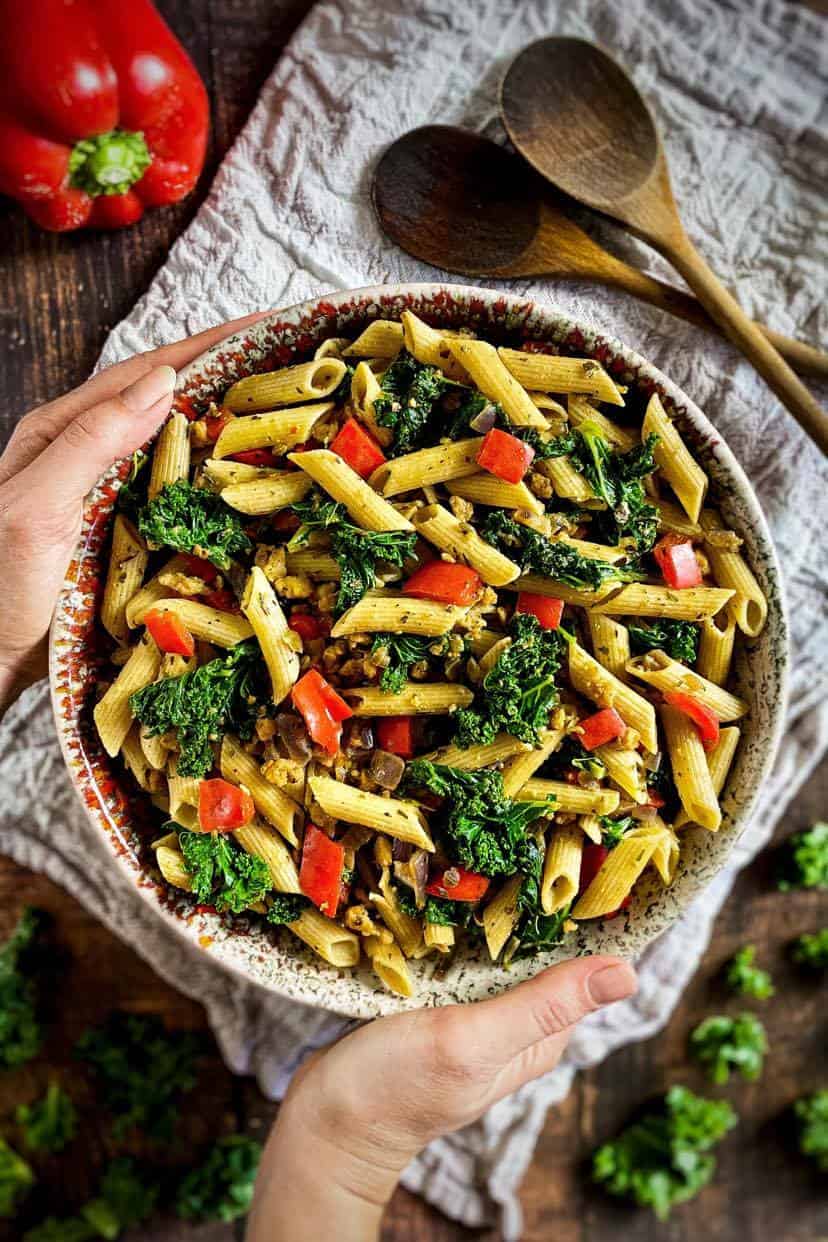 ---
How do you make kale kid-friendly?
The first time I made this dish for my kids, they thought the kale was cilantro! Whoops! I guess it had been a while since I'd made kale. Thankfully, this hilarious slip led to an interesting discussion about what kind of vegetable kale was (cruciferous) and what other types of vegetables it's related to (I went with broccoli since that's a vegetable both of my kids like).
My point is that discussing this curious vegetable in a way that made it both familiar and interesting helped my kids get over the initial "fear of the unknown." After that, it was easy because in this dish the kale loses its bitterness, gets soft, and takes on the flavors of the herbs and spices. Plus it's served with pasta, a food they already like.
Tearing the kale into small pieces might also help some kids (if they are willing to try mixed foods). For other kids, it might help to keep the elements more separate. Experiment to see what works best for your family, but don't live in fear of kale! It's actually one of the easier greens to get kids to eat when served in a dish like this.
Is kale a superfood?
I'm hesitant to start throwing around the term "superfood" because I think all foods that are whole food, plant-based are pretty super. But it's hard to deny that Kale, which is a cruciferous vegetable most closely related to things like cabbage and broccoli, packs a powerful nutritional punch. It's high in fiber, vitamins, minerals, antioxidants, and even protein.
Kale can sometimes seem intimidating because of its rough, chewy texture and bitter flavor, but when it's prepared properly--that is, when you either massage raw kale or cook kale with the right herbs and spices--it actually takes on a soft, pleasing texture and a lovely, mild flavor.
What type of kale should I use for this dish?
For this dish, I used fresh curly kale, which is dark green and has curly leaves, as the name implies. If you live in the US or Europe, this is also probably the most common kind of kale found on grocery store shelves.
But feel free to experiment. Purple or dinosaur kale would also work great. Greens like Swiss chard or spinach could also be substituted. And if you can't find fresh kale, frozen will work great for this dish.
How to clean and prep kale
If you use stalks of kale, you will need to first remove the leaves from the stem. To do this, make a fist around the bottom of the stem, and pull the kale through your fist. As you do this, pull the leaves away from the stem. (This is actually kind of fun and something kids can help out with if you think that might get them more excited about trying kale).
Add all of the kale leave to a colander and rinse thoroughly. (Or let soak in a bowl of cold water for 1 minute). Be sure to clean the leaves well because little bugs and gnats love to live in the curly frills of the kale. Before adding the kale to the pasta, you can either tear or chop the kale into bite-sized pieces.
Can this recipe be soy-free?
This recipe calls for Vegan Italian Sausage Crumbles, which are made from TVP/Soy. To make this recipe Soy-Free, simply substitute 1 can of drained and rinsed white beans for the crumbles. Add more flavor to your beans by incorporating some of the same herbs and spices in the original Sausage Crumble recipe.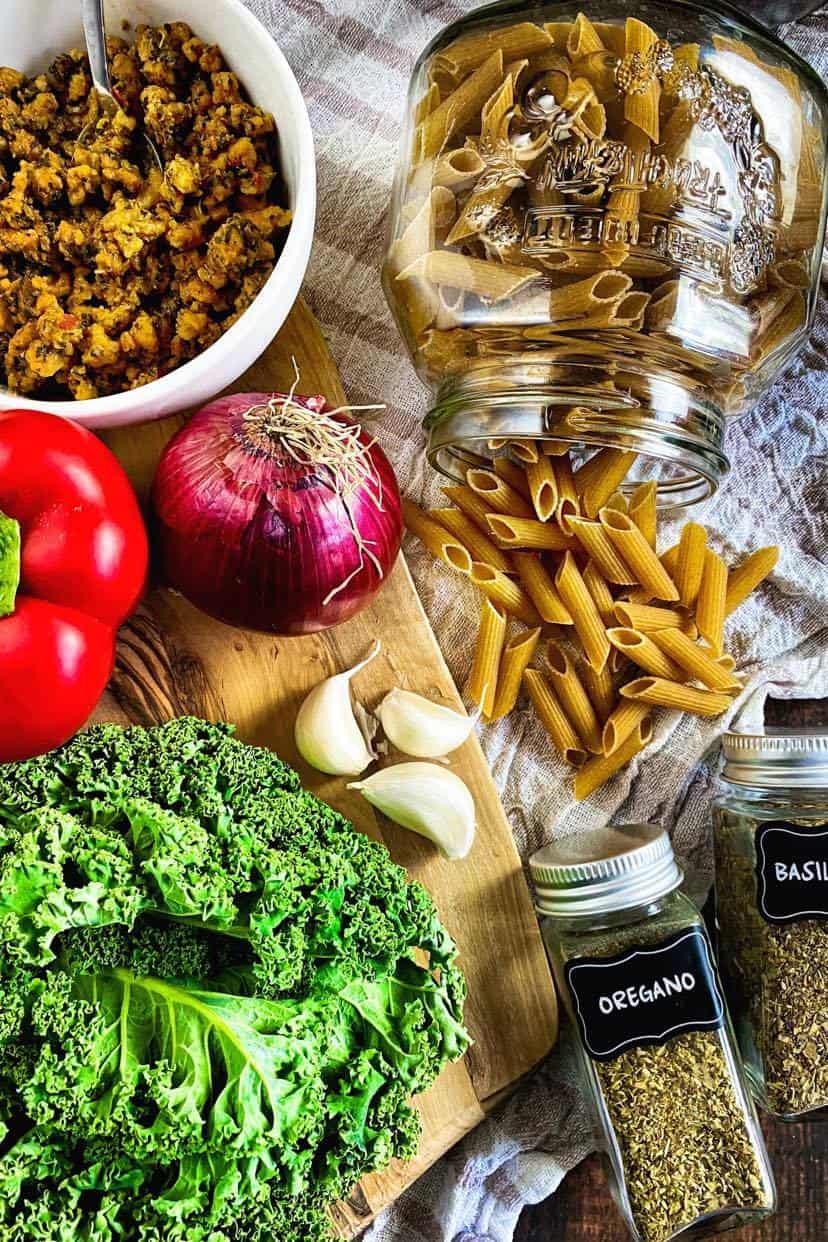 ---
Ingredients
Whole Wheat Penne Pasta -- Penne pasta is the perfect size for this dish, but you could also use bow tie pasta or something similar. I try to use whole wheat or whole grain pasta whenever possible since it's higher in fiber.
Kale -- The kale is really the star of this dish! You'll be amazed by how flavorful and tender it is.
Vegan Italian Sausage Crumbles Not only does this add nice bite to the dish, but the flavors really pull everything together.
Red Bell Pepper -- For a touch of sweetness and color.
Red Onion & Garlic -- These aromatics give this dish depth and earthiness.
Dried Oregano and Dried Basil --For some extra Italian flavors.
Sea Salt and Fresh Cracked Pepper --To season the veggies as you saute them in the skillet.
---
Variations
Even though kale is the star of this dish, it would also work great with spinach or swiss chard.
Frozen kale can be used in place of fresh.
If you prefer to have a red sauce, try adding this easy homemade marinara.
How to Make
This Tuscan Pasta with Kale comes together fairly quickly, in about 30 minutes or less. Start by making the Vegan Italian Sausage Crumbles. Once those are in the skillet you can prep the veggies and get your water boiling.
After the sausage crumbles are cooked, remove them from the skillet and give it a quick wipe down. Then you can start to saute the veggies. Around this time your water is also probably boiling, so go ahead and drop the pasta. Be sure to set a timer according to the package directions. No one likes overcooked pasta!
To Saute the Veggies: Add the onions to the skillet, season them with a touch of salt and pepper, and cook until they start to turn translucent. Then add the bell peppers, season, and saute for about 3 minutes, just until they start to soften up.
Finally, use a Microplane or garlic press to grate the garlic. Add to the skillet and stir a few times. Garlic cooks quickly, so be careful it doesn't burn. It will cook in about 1 minute.
Now add the kale and 1 cup of the starchy pasta water to the skillet. Cook another 3 to 5 minutes, until the kale starts to wilt. Then add the Vegan Sausage Crumbles.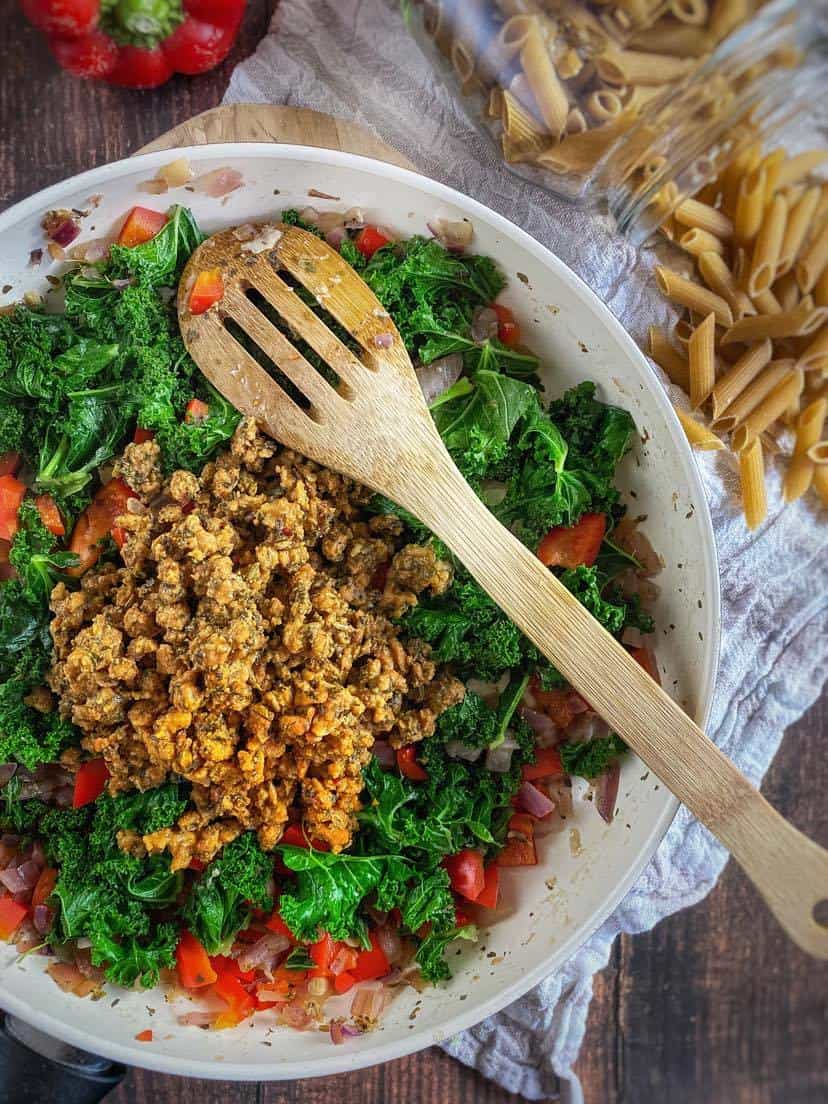 When the pasta is done cooking, reserve another cup of water (just in case you need it). Then drain the pasta and either add it to the skillet, back into the pot, or a big bowl--some vessel big enough to incorporate it with the veggies. If the pasta seems dry, you can add a little more water to the skillet. This will deglaze the skillet and create a light sauce for the pasta.
Once everything is mixed together. Taste and adjust the seasonings if necessary. Serve right away and enjoy!
How to serve
Serve this Tuscan Kale Pasta warm as the main dish garnished with Vegan Parmesan. Or let it chill for a cold pasta salad that's perfect for packed lunches and potlucks.
If this is a warm main dish, it would go great with this Vegan Italian Salad and Creamy Italian Dressing.
How to store leftovers
If there are leftovers or if you want to meal prep your lunches for the week, store the pasta in an airtight container in the refrigerator for up to 5 days. I don't recommend freezing, since the pasta will get mushy when it defrosts.
To reheat, simply warm in a skillet or microwave. This penne pasta can also be served cold as a delicious pasta salad. (I tried it this way and thought it tasted great! But I also prefer not to reheat cooked pasta. You can choose based on your own preference.)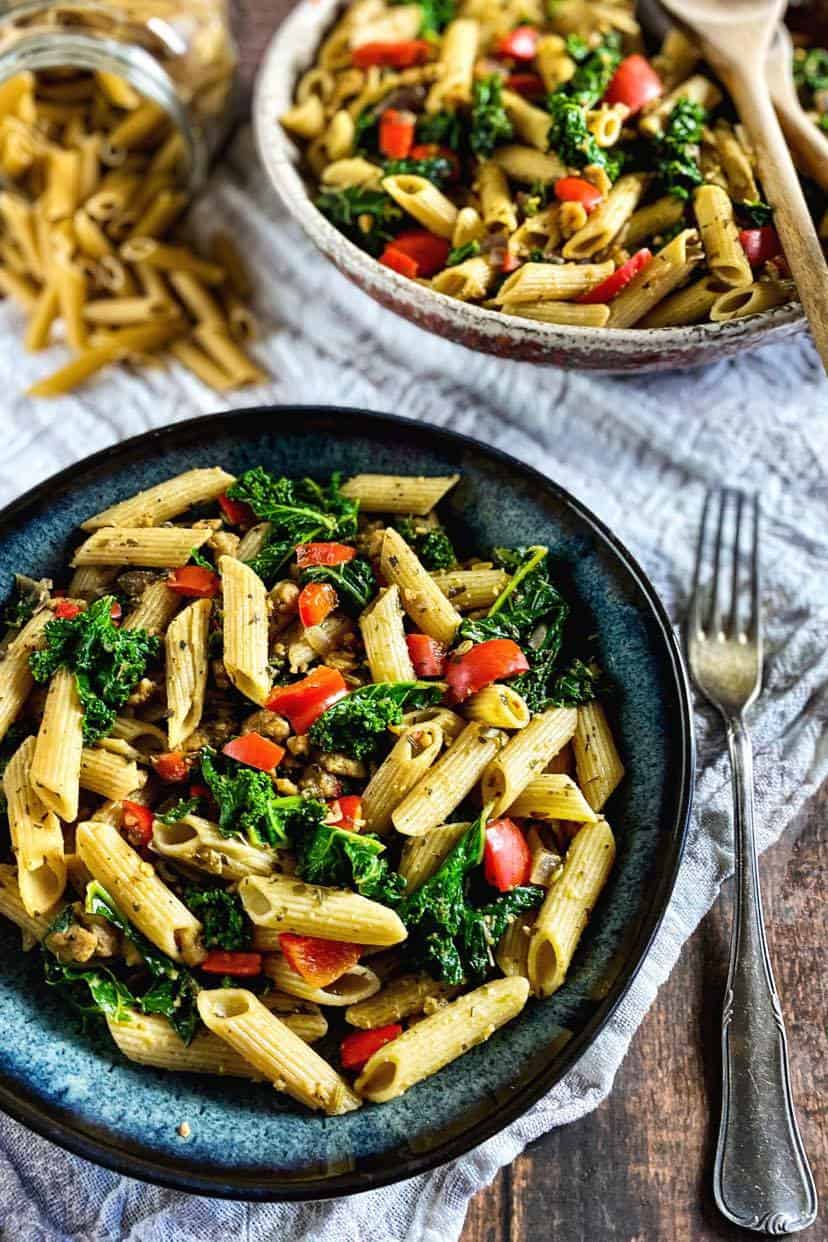 ---
If this recipe for Penne Pasta speaks your language, you might also like these Vegan Italian Recipes:
---
📖 Recipe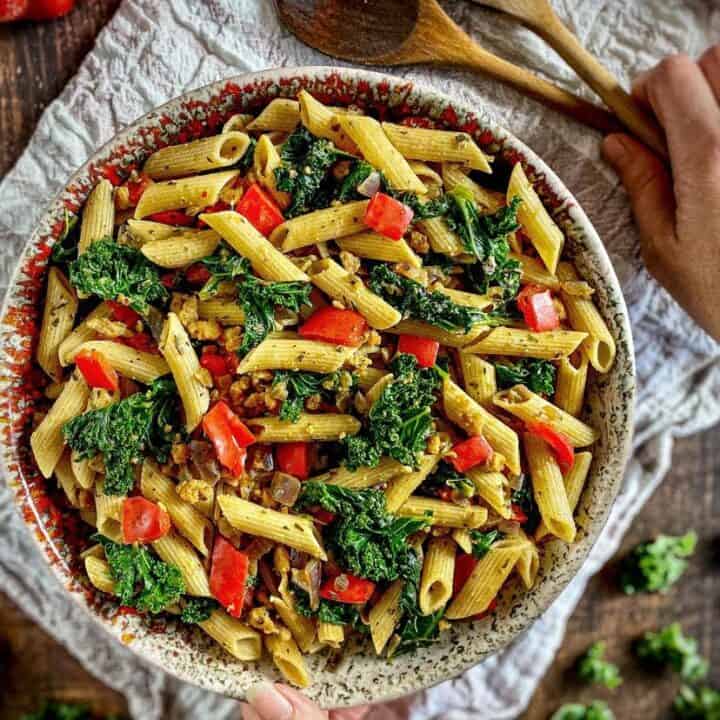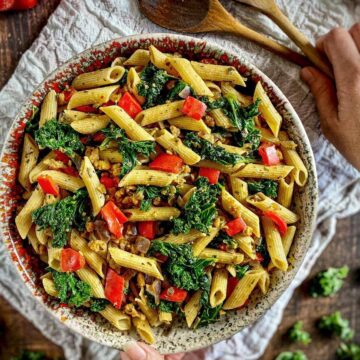 Penne Pasta with Kale & Vegan Italian Sausage
Penne Pasta with Kale & Vegan Italian Sausage is a healthy twist on a classic combination. Whole wheat pasta and colorful veggies will make this quick and flavorful dish a family favorite. If you're looking for a way to eat more greens, give this recipe a try!
Instructions
Prep the sausage crumbles following the instructions linked above. (If using store-bought, you can skip this step).

While the sausage crumbles are cooking, begin to prep the vegetables. Chop the onion and bell pepper. Peel the garlic. Remove the kale from the stalk, wash, and tear into pieces (see more detailed instructions in the blog post above).

Bring a large pot of water to a boil. When the water starts to boil, add the penne, stir, and cook until al dente, about 7 to 9 minutes (see package instructions for exact cooking time). Be sure to set aside two cups of the starchy pasta water.

When the sausage crumbles are cooked through, remove them from the skillet and set aside.

Heat a clean nonstick skillet over medium. Add the onions and season with a pinch of salt and pepper. Cook 4 to 5 minutes, until they begin to look translucent.

Add the diced bell pepper to the skillet and season with salt and pepper. Cook another 3 minutes until they begin to soften.

Use a Microplane or garlic press to grate the garlic. Add to the peppers and onions and stir. Cook about 1 minute.

Add the kale and 1 cup of the starchy pasta water to the skillet. Season with salt and pepper. Stir and cook until the kale starts to wilt (2 to 3 minutes).

Add the vegan sausage crumbles to the skillet and stir to combine.

Finally, add the drained penne pasta and stir to combine. Taste to adjust seasonings. If the pasta seems too dry, add a little more of the reserved pasta water. Serve and enjoy right away!
Save this Recipe
Saved!
Notes
If you forget to set aside the pasta water, just use regular water.
For best flavor, be sure to season the veggies each time you add something new to the skillet. For a low sodium dish, you can substitute a salt-free seasoning.
If you use a nonstick skillet, this recipe does not require oil (unless you want to use it). If the vegetables start to stick just add a few tablespoons of starchy pasta water to deglaze the skillet. Letting the vegetables stick a little at the beginning will actually help them caramelize so that when you add the pasta water a light sauce forms. Just be mindful of the heat so that the vegetables don't burn.
Want access to my Exclusive Meal Planning Tips & Printables page?